Mexico is both enormous and endlessly captivating to visit: a 2 weeks in Mexico itinerary has almost limitless cities, towns, mountains, deserts, and–of course–beaches to choose from… so how do you narrow it down?
After spending 6 weeks carving a Mexico backpacking route through some of the country's most beautiful spots, ranging from wildly popular places to those almost totally devoid of tourists, we put together this itinerary for first-time visitors to Mexico.
Since then, we've returned to Mexico on more multi-week trips, becoming even more passionate about Mexico trip planning in the process.
We recommend this Mexico itinerary to first-timers for a few reasons, starting with the fact that it sticks to some of Mexico's safest regions.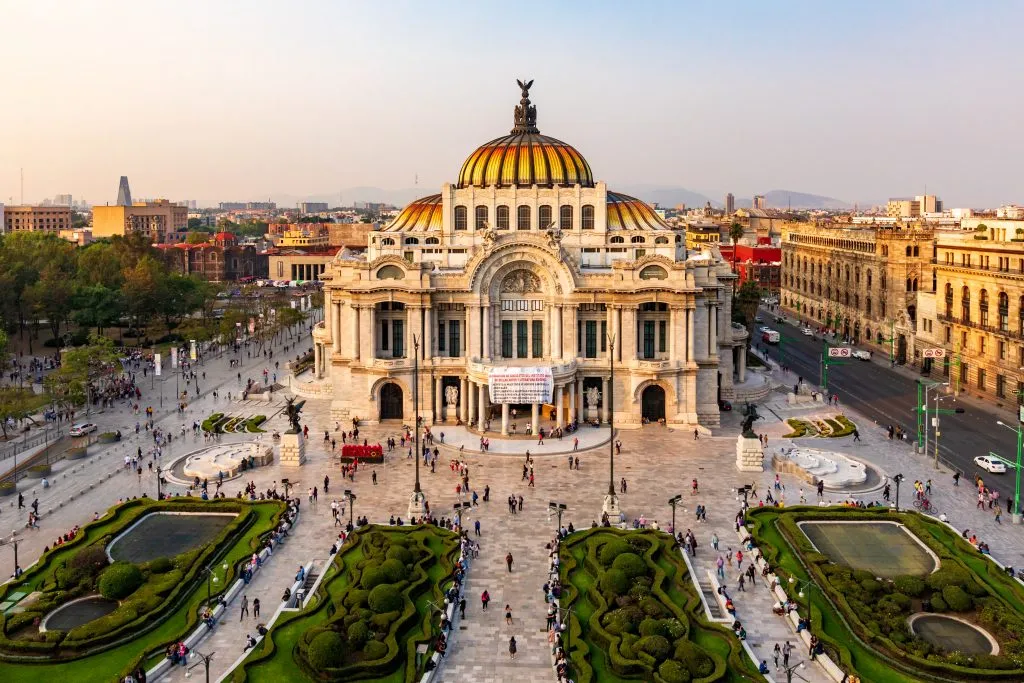 It's also fairly simple to get to each destination.
And finally, this Mexico itinerary samples cities, towns, waterfalls, ruins, and beaches–in other words, it has a little bit of everything.
Will you be able to cover everything in the country with only 2 weeks in Mexico? Absolutely not–we have a personal Mexico travel bucket list that is several lifetimes long.
But if you're looking to fall in love with Mexico in 2 weeks, this is how to do it.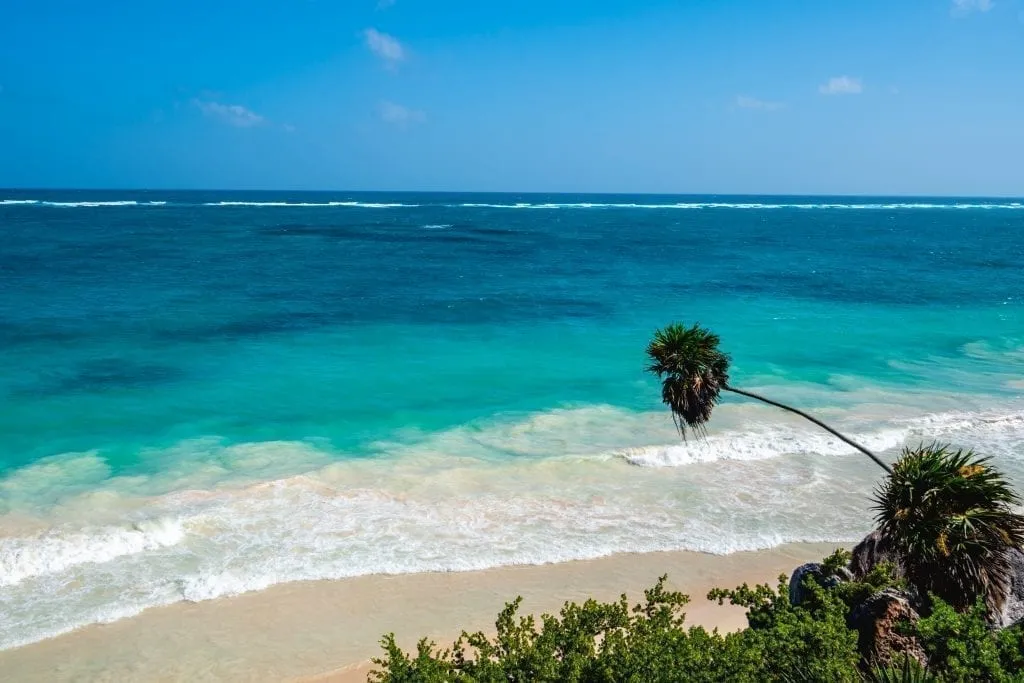 How We Structured This Itinerary for Mexico
Like many of the suggested travel itineraries here on Our Escape Clause, this one doesn't cover 14 solid days but instead provides a plan for 11 days.
This is to allow a few spots blank to serve as travel days between regions and to enter and leave the country.
This 2 week Mexico itinerary can be enhanced by completing parts of it–the Yucatan, for example–as a road trip.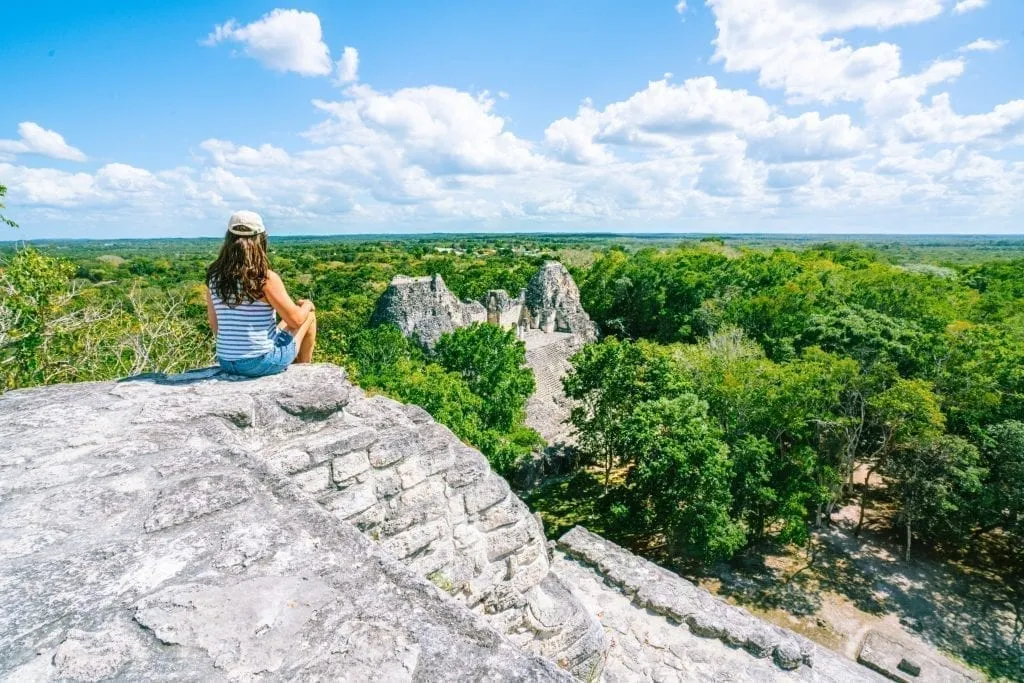 Ultimately, we designed this route with both backpackers and mid-range travelers in mind (and we have personally traveled through Mexico extensively at both price points, and have also sampled the all-inclusive scene).
If you're planning a trip to Mexico hoping for something that feels very adventurous but is also fairly accessible, while also introducing you to the incredible diversity of the country, this is the itinerary for you!
If you'd like to stick to one particular region of the country, we absolutely adore road tripping the Yucatan peninsula and give a detailed suggested route for that here.
The Best 2 Weeks in Mexico Itinerary for First Time Visitors
Mexico City: 3 Days
The Highlights of Visiting Mexico City
Mexico City is one of our favorite cities in the world and the perfect start to a 2 week Mexico itinerary.
It's enormous, bustling, full of delicious food, and home to the only castle in North America to actually be home to sovereign rulers.
With more than 9 million residents, it's the largest city in North America!
While you're in town, don't miss visiting the famous Anthropology Museum, checking out the ruins of Teotihuacan and Templo Mayor, admiring the beauty of Palacio de Bellas Artes, and, of course, eating as many tacos al pastor as you can.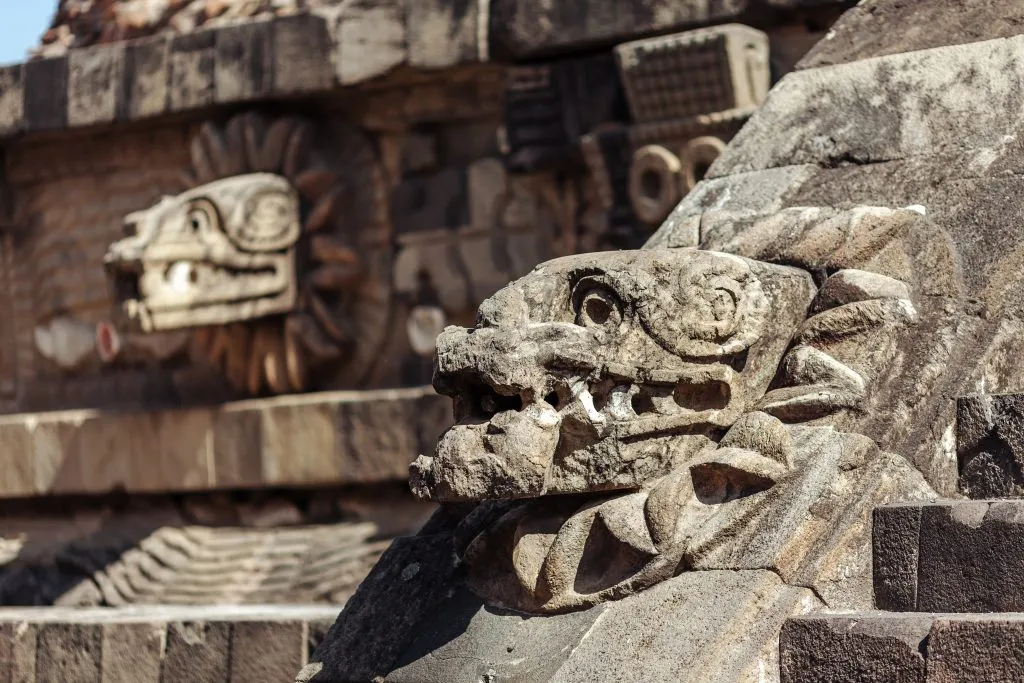 Things to Consider in Mexico City
Though Mexico City is generally safe for travelers (like many large cities, it has some dangerous neighborhoods, but as a tourist, you'll have no reason to ever be near them), if you're not used to traveling in large cities or in Latin America in general, you may consider taking a guided tour on your first day in town to help ease you into the city and get your bearings.
Typically speaking, Mexico City's public transportation is the best way to get around–their subways and buses may be crowded, but they are incredibly inexpensive, efficient, and safe.
It is recommended to avoid hailing taxis on the street–if you need one, call an Uber instead.
If you would prefer a bit more structure on your first day in Mexico City, check out this Mexico City walking tour!
Where to Stay in Mexico City
The Centro Historico neighborhood is home to many of Mexico City's tourist attractions and makes a great, central location to stay in during your first time in Mexico City.
If you'd prefer something a little trendier, the neighborhoods of Roma and Condesa are wildly popular with people seeking a slightly more residential feel and plenty of access to pretty parks and delightful coffee shops.
Here are a few well-reviewed Mexico City hotels that feature excellent reviews and location scores, free wifi, and mid-range prices!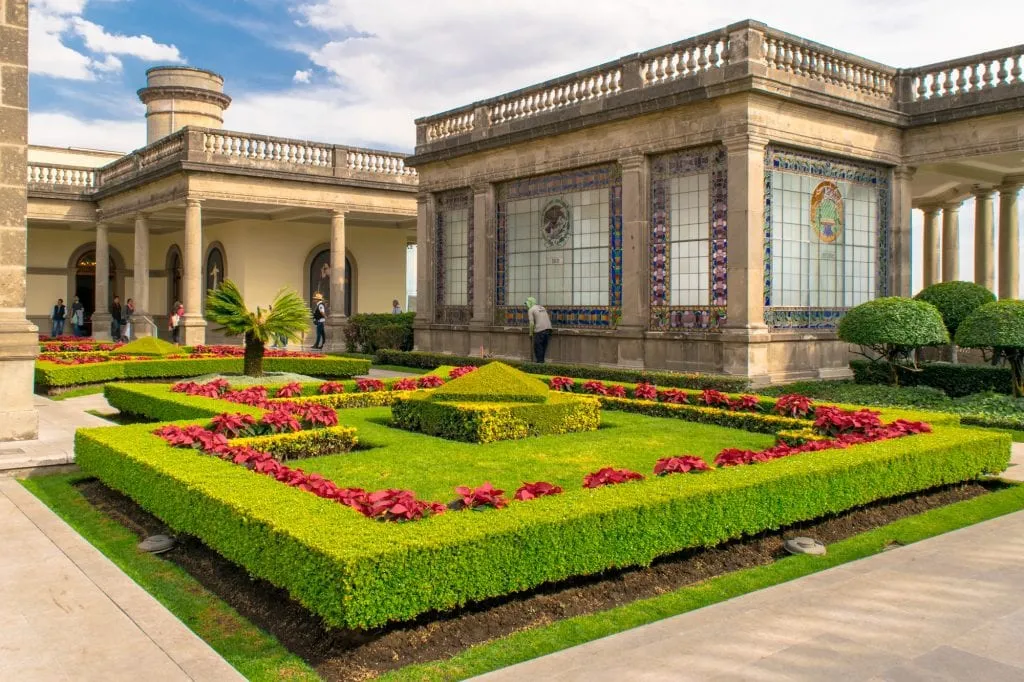 Centro Historico: Hotel Catedral — Less than 400 meters from the Zocalo that the hub of Mexico City tourism, this hotel makes a great choice for a first-time visitor to Mexico.
Centro Historico: Hotel Punto MX — Similarly located to Hotel Catedral, this hotel's central location is a major selling point to first-time visitors to Mexico.
Roma: Casa Colima — Well-reviewed and much more affordable than staying right near the Zocalo, this hotel in the laid-back neighborhood of Roma makes a great base while in Mexico City.
Condesa: Casa Condesa Amatlan 84 — If you're looking for something midrange in the trendy neighborhood of Condesa, this is your spot! Both the location and staff at this property have glowing reviews.
Chiapas: 4 Days
The Highlights of Visiting Chiapas
Chiapas is one of our favorite absolute favorite states in Mexico, and probably the most off the beaten path destination for someone's first trip to Mexico that is included on this itinerary.
Quiet and less touristy than some other Mexican destinations while still having plenty of tourism infrastructure to accommodate first-time visitors, Chiapas is home to incredible nature.
Don't leave Chiapas without staring up at the magnificence that is the El Chiflon waterfall (and ideally, several other waterfalls in Chiapas), taking a horseback ride to the Templo de San Juan to step foot inside what is still the most unique house of worship we have ever entered, climbing over the ruins of Palenque, riding a boat through Sumidero Canyon, and swimming in the beautiful Agua Azul waterfalls.
Chiapas is the Mexico we dream about: home to friendly people, incredible nature, tasty food, and the lowest prices you'll find on this 2 weeks in Mexico itinerary, don't be surprised if it becomes your favorite stop on this itinerary!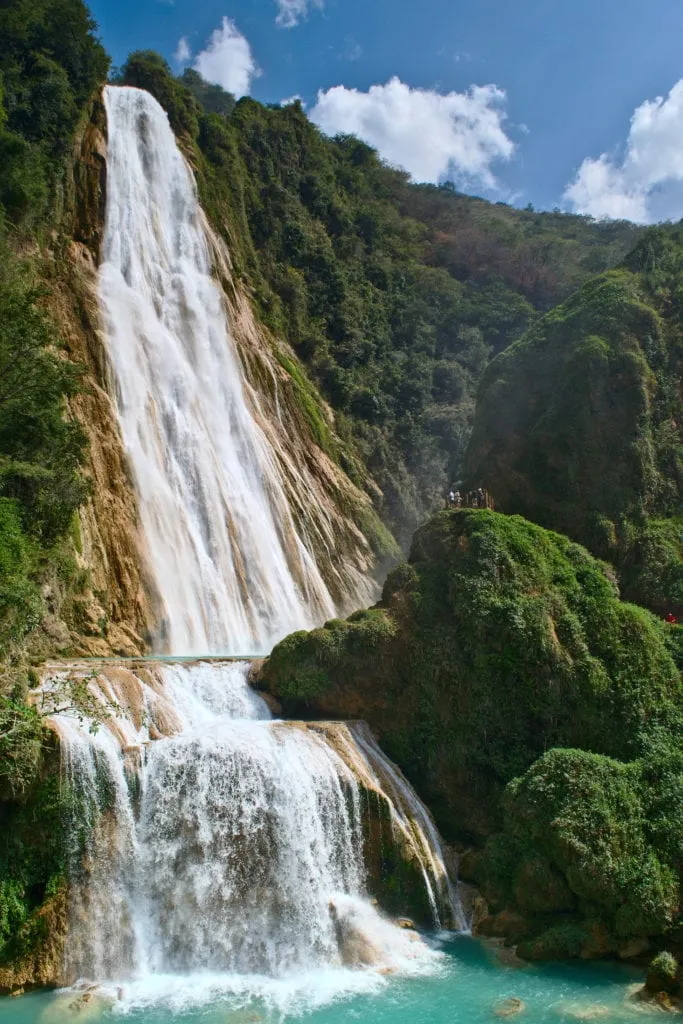 Things to Consider in Chiapas
Chiapas is fairly rural, so for a first-time visitor to Mexico, we recommend seeing most of the above highlights on a guided tour.
This is easier than it sounds–the city of San Cristobal de las Casas, where we recommend you base yourself in Chiapas, is home to dozens of small tourist agencies willing to book you on tours to any and all of the above destinations for incredibly low prices.
Think $15-20 USD for a full-day tour, depending on what you are doing, and around $10 USD for a half-day tour.
Simply go in and arrange what you want to do the next day the afternoon beforehand, and you're good to go!
Don't be afraid to shop around–while prices are generally similar throughout the city, you may want to stop in a few shops before committing to ensure who you book through is selling at a fair price.
If you'd like to plan ahead in order to save money and stress, we love booking tours and attractions through Get Your Guide.
They're very reliable, however, we found online tour prices more inflated in Chiapas than in many other places in Mexico or across the world.
In Chiapas, you'll definitely get better deals by waiting and booking your tours on the ground!
Where to Stay in Chiapas
With 4 days in Chiapas, the question of where to base yourself is easy: San Cristobal de las Casas.
The capital of and largest city in Chiapas, San Cristobal de las Casas is easy and comfortable to travel in, while also being colorful and beautiful in its own right.
In San Cristobal de las Casas, you'll find plentiful food options from grocery stores to restaurants to street food, ATMs, big box stores if you need to pick up anything in particular, tourist agencies to book excursions through, and plenty of places to stay.
Though we stayed in an Airbnb during our time in Chiapas, here are a couple of hotels that we would consider staying in if we visited Chiapas again (like all of our hotel recommendations, they are midrange, with wifi, a great location, and excellent ratings).
Mision Grande San Cristobal de las Casas — Located right in the center of town, Mision Grande makes a great base for exploring Chiapas.
Hotel Posada Primavera — Set a mere 200 meters from the San Cristobal Cathedral and featuring an adorable courtyard, Hotel Posada Primavera is another great option for a base in Chiapas.
Beaches of the Yucatan: 4 Days
The Highlights of the Yucatan Peninsula
The Yucatan Peninsula is made up of two Mexican states (Yucatan and Quintana Roo), and it's this peninsula where a lot of Mexico's most popular attractions are found.
Tourism hot spots like Playa del Carmen, Cancun, Cozumel, and Tulum are all located here, as is Chichen Itza, the pink lakes of Mexico, and more cenotes than you can count.
Your time on the Yucatan peninsula is perfect for soaking up the sunshine on the beach, going scuba diving or snorkeling, sailing in the Caribbean, swimming in cenotes, climbing ruins, and enjoying delicious seafood.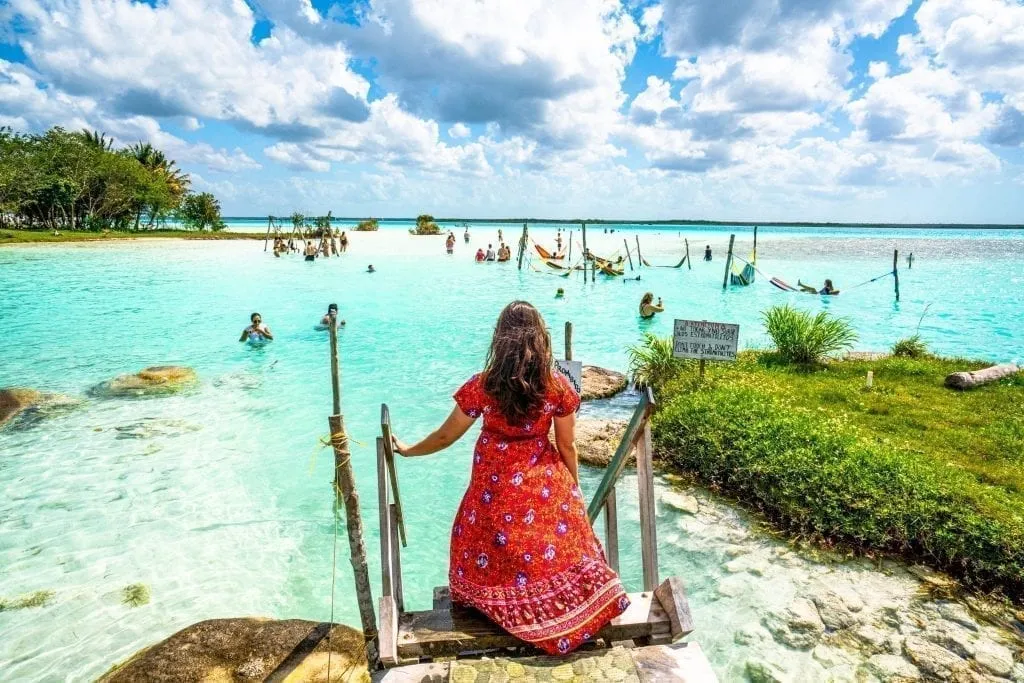 Things to Consider
These four days will undoubtedly be among the most expensive and crowded of your 2 weeks in Mexico.
The Yucatan peninsula is beautiful, exciting, and has an international reputation for being safe, so tourists flock there and tourism-driven services follow.
This is not a reason to stay away, but it is something to be aware of.
Expect higher prices and bigger crowds wherever you go!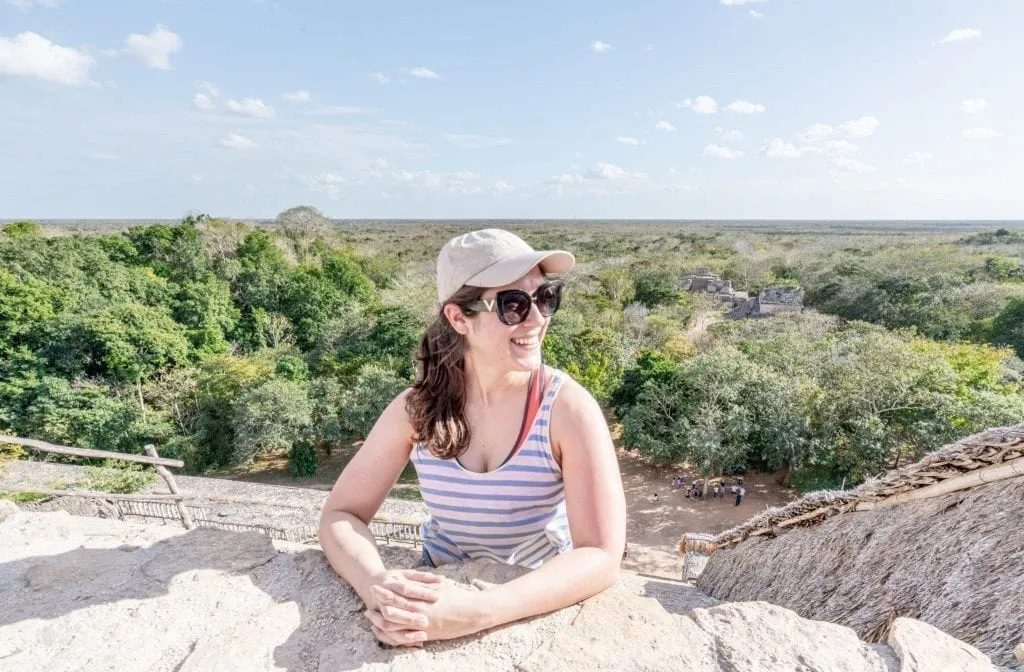 If you're comfortable with independent travel, you might want to consider renting a car to visit lesser-known ruins in the area such as Coba or Ek Balam (or simply use your wheels to beat the crowds to the ruins of Tulum and Chichen Itza).
A car also gives you access to more offbeat cenotes, and if you're willing to drive a few hours out of the way, Mexico's famous pink lakes.
If you'd prefer to keep it simple and stick with groups in this part of Mexico, don't worry: tours abound in the area for just about anything you can imagine.
We adored our in-depth Yucatan peninsula road trip and, if you're considering driving, highly recommend searching for the best rates and inclusions through Discover Cars.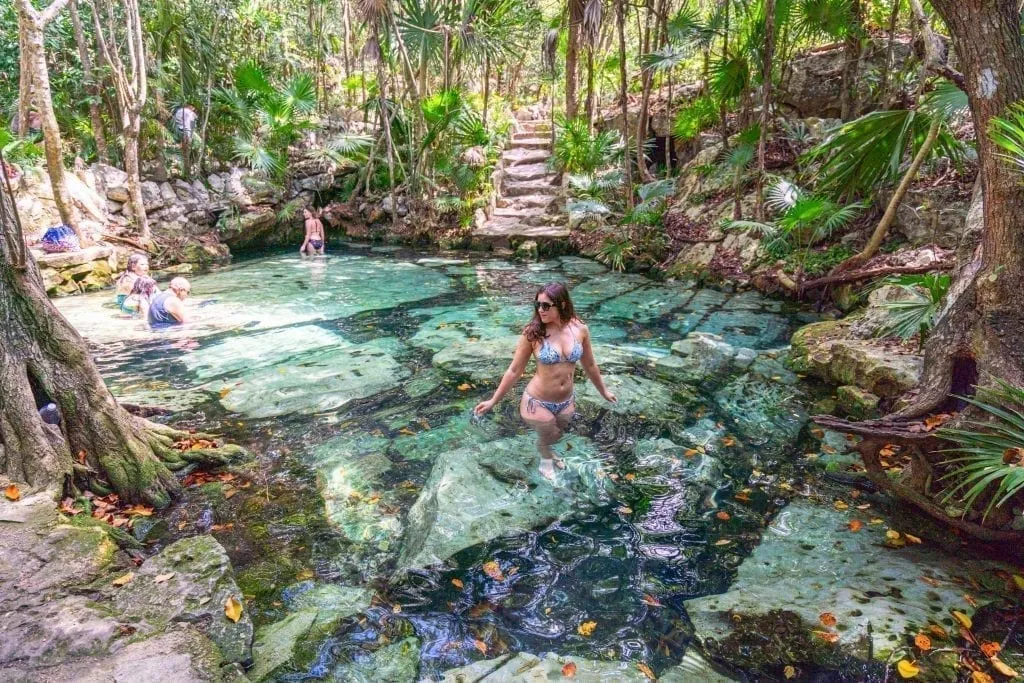 Where to Stay in the Yucatan
Choosing where to stay for your time in the Yucatan peninsula is going to be one of the hardest choices when putting together your 2 weeks in Mexico itinerary.
We recommend Playa del Carmen for new travelers or those who want to be close to plenty of tours and resources, Tulum for those looking for the ultimate trendy atmosphere (and are willing to pay for it–Tulum is incredibly pricey), or the island of Cozumel if scuba diving is your goal.
Isla Holbox is perfect if you're looking for an out-of-the-way, more laid-back destination, far away from high rises and resorts.
Cancun, though not the prettiest town, does undeniably have some of the best beaches in the region (they built Cancun where they did for a reason!).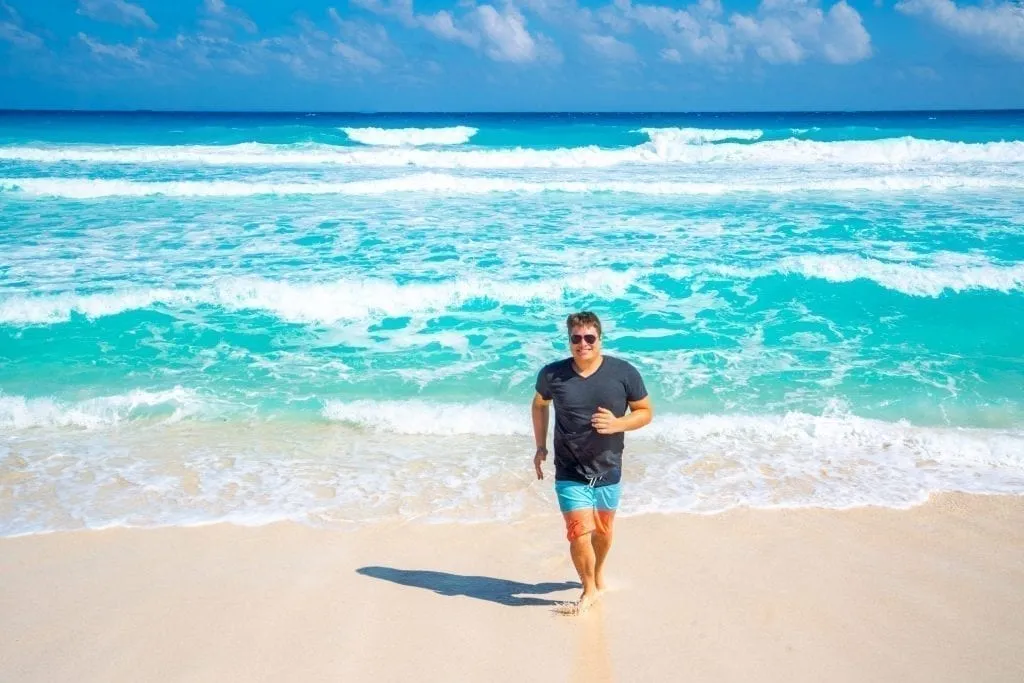 Isla Mujeres is the perfect option for travelers wanting some laid-back island vibes without traveling far: it's located only a short ferry from Cancun.
For travelers hoping to experience what Tulum used to be (or so they say!), Bacalar is magnificent.
Not invested in beaches and more interested in ruins and cenotes? Valladolid is one of our personal favorite places in Mexico and a fabulous option (your life will be much easier with a car here, though).
Keep in mind that the area's largest (and generally cheapest to fly in and out of) airport is in Cancun, though Cozumel does have its own airport as well.
Here are a couple of well-reviewed Yucatan peninsula hotels that feature excellent reviews and location scores, free wifi, and midrange prices.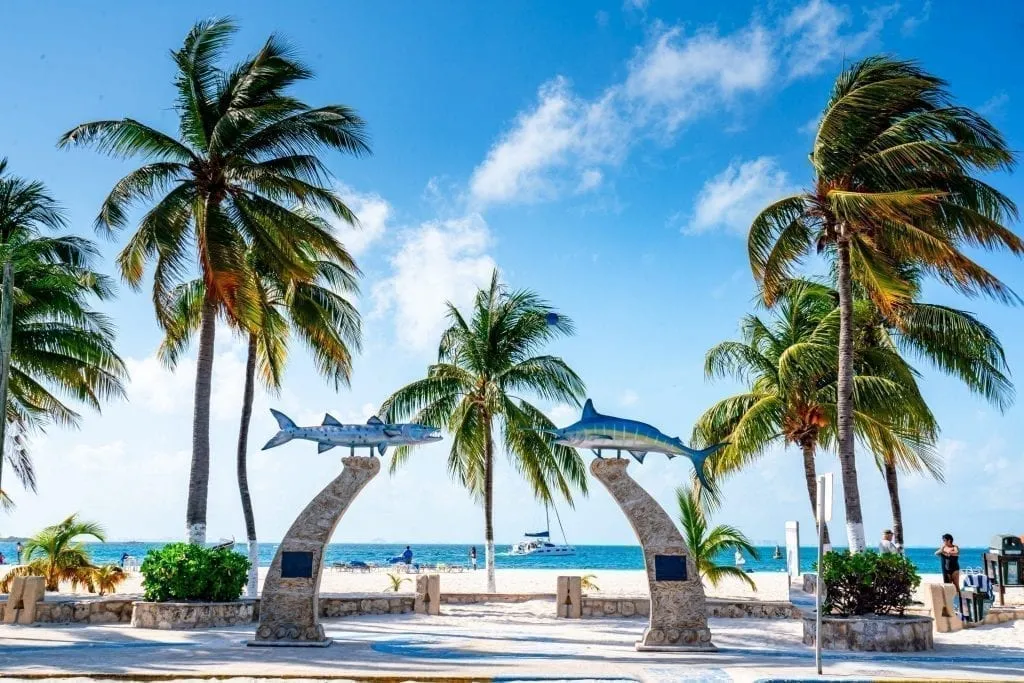 Playa del Carmen
Suites Corazon — Only a 1-minute walk from Playa del Carmen's 5th Avenue and featuring a rooftop pool, you can't ask for a better location at a better price in Playa del Carmen!
Tulum
Azura Boutique Hotel — Set in the heart of downtown Tulum, this location is within easy walking distance to shops & restaurants, and a quick 15-minute bike ride to the nearest beach!
We also have many more detailed hotel recommendations in our Yucatan itinerary post!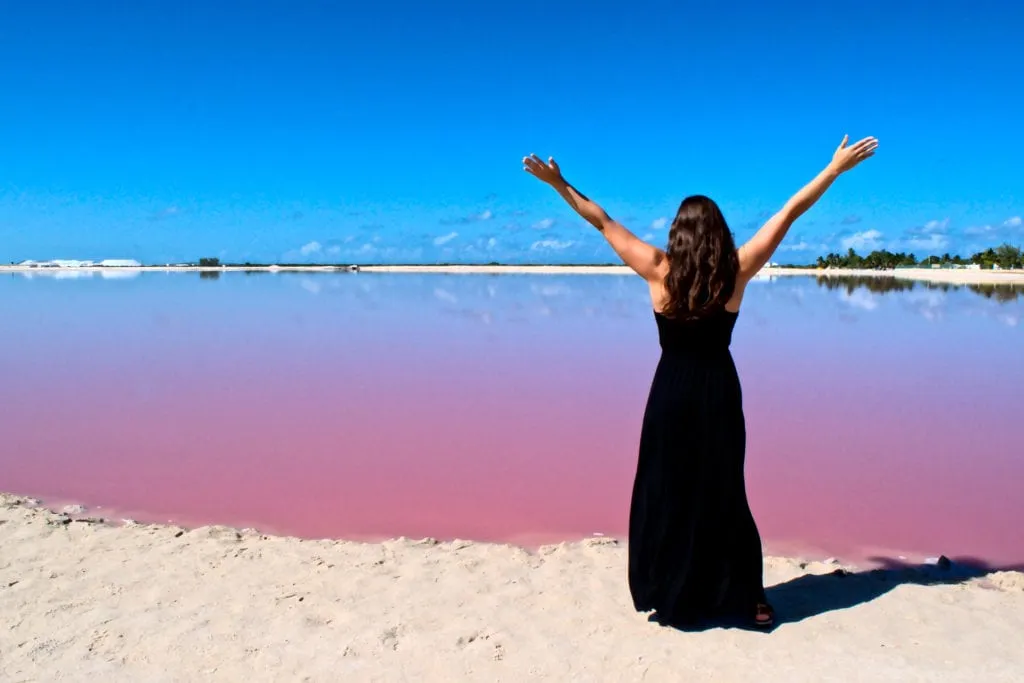 More Than 2 Weeks in Mexico?
You could spend a lifetime uncovering gems in Mexico.
If you have more time, our first recommendation would be to consider adding on some time in Oaxaca to your Mexico itinerary.
Both Oaxaca City and the Pacific coast (we based ourselves in Puerto Escondido) are incredible places to visit–Oaxaca City is home to some of Mexico's best food and the Pacific coast offers a rugged beauty distinct from the Caribbean coast in the east, plus some amazing surfing.
If you'd prefer to head further north, Puerta Vallarta is a Pacific beach town popular with expats and travelers alike.
From there, you could travel all the way to Baja California and hit up Cabo San Lucas.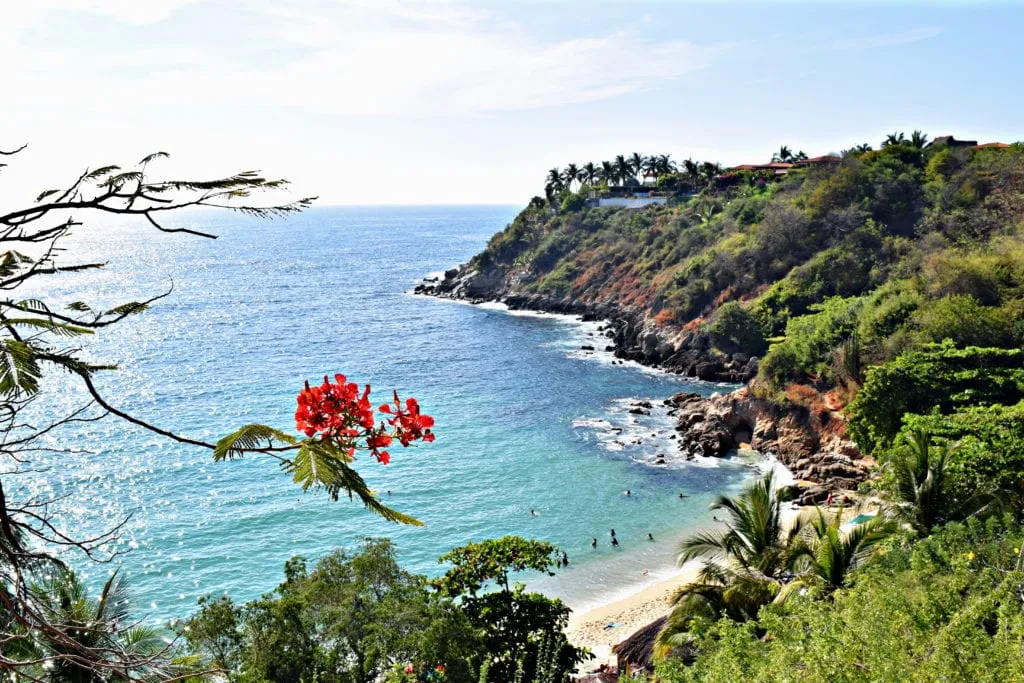 Though you have to be cautious with your safety and we wouldn't recommend it to first-time visitors to Mexico unless they are very experienced in Latin America, the stunning Copper Canyon (larger than the Grand Canyon by some measures!) is also in the north.
Near Mexico City, consider hitting up popular Puebla, beloved San Miguel de Allende, and colorful Guanajuato, known for its very Instagrammable brightly colored houses.
In the Yucatan peninsula, your options are limitless, but consider stays in Merida and Valladolid–both offer great access to attractions like ruins and cenotes with fewer of the crowds that the Yucatan often brings, as they don't have immediate beach access.
For a different kind of Mexico experience, head to Bacalar–this small town is set on a lake so bright, you'll think you're looking at the Caribbean.
Getting Around During 2 Weeks in Mexico
During most of your 2 weeks in Mexico, you'll find you have a couple of different choices for traveling between regions.
More most travelers, the best choice will be either using the ADO bus system, which is comfortable and cheap but eats into your 2 weeks in Mexico itinerary, or flying on a domestic flight, which is faster but much more expensive.
Check prices on both before deciding what to do!
We used the ADO buses for the bulk of our travels through Mexico as we weren't on a strict timeline, but with limited days in Mexico, flights might be a smoother option.
Mexico has several domestic carriers that offer budget flights, but Volaris and AeroMexico are among the most popular.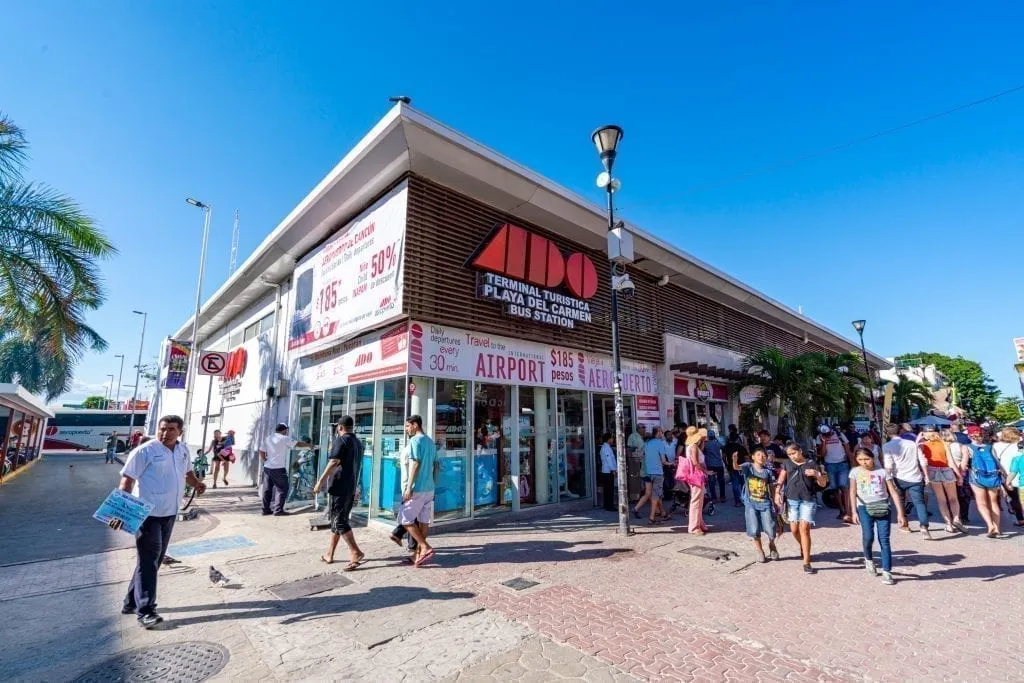 When to Plan a Trip to Mexico
Mexico is fabulous to visit at any time of year, but for this 2 weeks in Mexico itinerary specifically, there are a couple of Mexico travel tips to keep in mind.
Fall will see heavy rainfall in Chiapas, making certain rural sights harder to access, and that time also coincides with hurricane season on the Yucatan peninsula, which takes place between roughly July and October.
For those reasons, you may want to be hesitant about planning a trip using this Mexico itinerary during those months.
Also keep in mind that December through April (aka, Christmas through Spring Break) is the high season on the Yucatan peninsula, where crowds will be at their heaviest.
We've visited during this time and didn't have a problem, but if you are wary of visiting during peak season, it's something to keep in mind.
Safety When Traveling in Mexico
There's no getting around it: any post about planning a travel itinerary for Mexico requires a discussion about safety.
In the international media, Mexico does not have the best reputation for safety.
Yes, the Mexican government and people do still have to grapple with the very real issues that the cartels create for Mexico.
And yes, no destination–Mexico included–is immune to occasional tragedy that touches tourists.
That being said, generally speaking, as a cautious visitor, there should be no reason to worry excessively about cartel violence when visiting touristic parts of Mexico.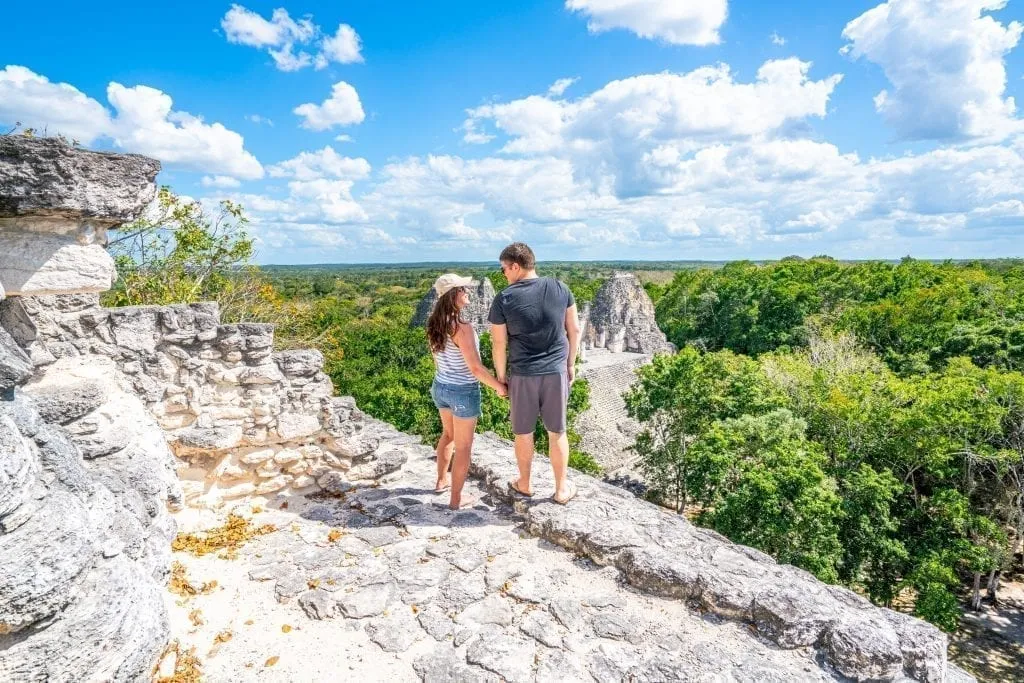 By using common sense, planning a route through safe areas, not buying or using drugs, and not engaging with any aspect of the prostitution trade, you can lower your risk of violence at the hands of a cartel to roughly zero during your 2 weeks in Mexico.
Mexico is an enormous country, the 16th largest in the world by geography.
What happens in Ciudad Juarez or Acapulco is not going to impact you as a tourist in Playa del Carmen, San Cristobal de las Casas, or Mexico City.
Yes, traveling in Mexico requires caution–but I'm willing to guess that you'll end up feeling safer in Mexico than you think before you arrive.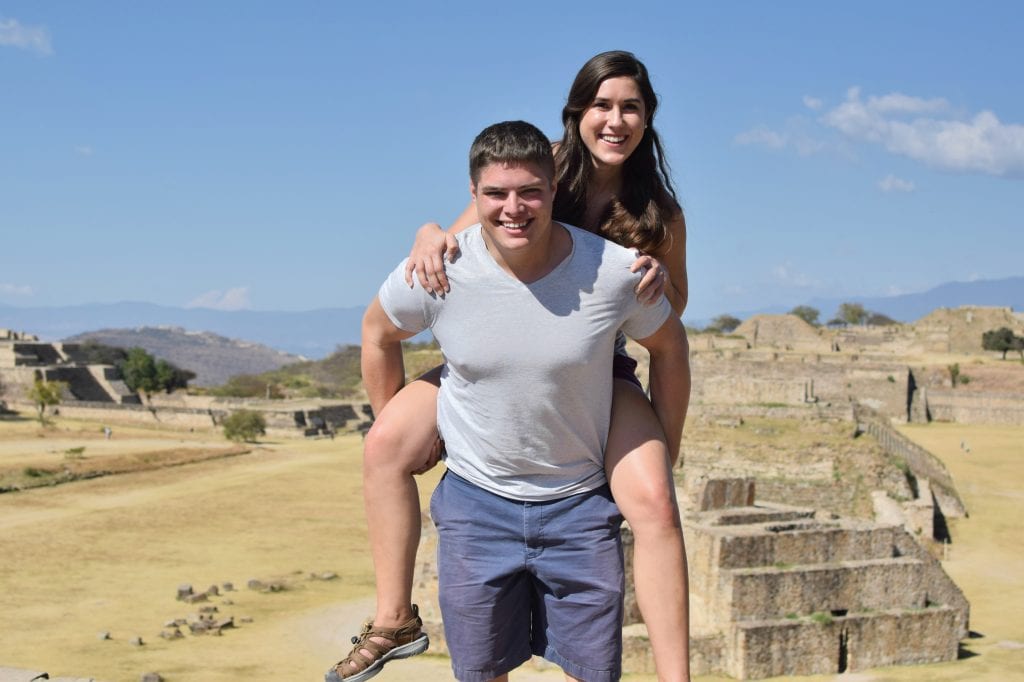 When we followed our Mexico backpacking route for six weeks, we visited nine different destinations (not including day trips from those places) and behaved just as we would at home–carrying our camera, taking photos, speaking with locals, using public transportation–and never once felt threatened.
We've returned for multiple trips since, falling more in love with Mexico travel each time we visit.
Be cautious: don't visit Mexico without travel insurance!

We use and recommend Safety Wing for their affordability, ease of purchasing, and the clarity of their contract.
Do You Need to Speak Spanish in Mexico?
Can you travel through Mexico without speaking Spanish?
Yes.
Would it make your 2 weeks in Mexico immensely easier and more fruitful to learn even a little Spanish before you go?
Again, yes–absolutely.
Jeremy speaks quite a bit of Spanish, and I speak some (I can hold short conversations for a few minutes, he can talk for hours at a time), and it definitely made our trip to Mexico easier than it otherwise would have been.
Unlike in many parts of the world where people speak at least some English, Mexicans tend to speak Spanish only.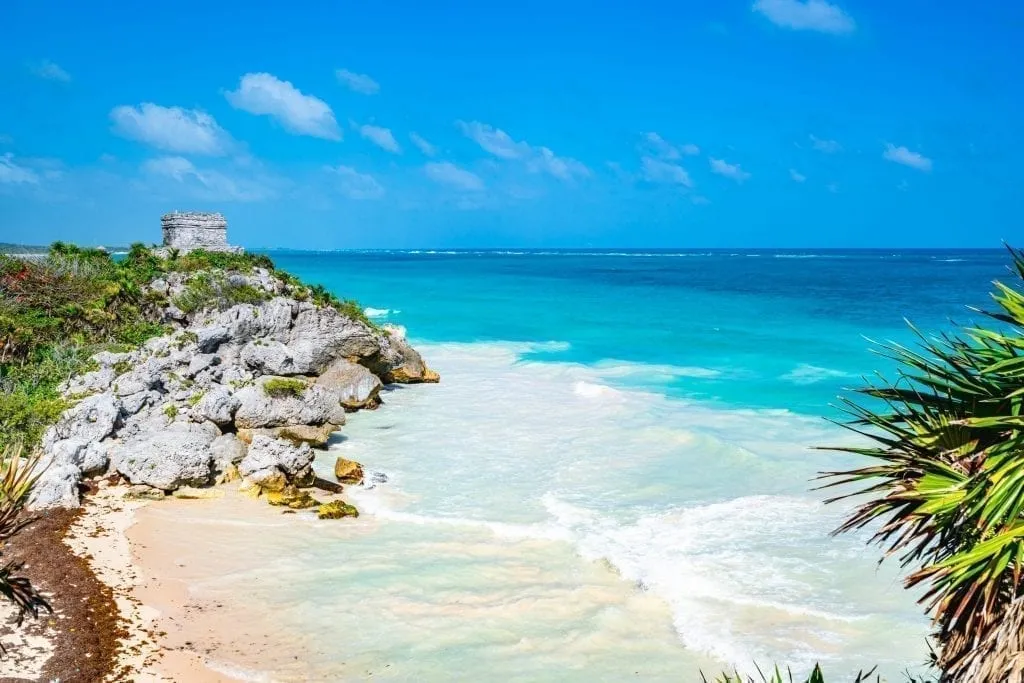 After all, Mexico is dominated by the Spanish language and is surrounded in large part by other Spanish-speaking countries–like in the US to the north, there's little motivation to learn additional languages in Mexico like there is in, say, Switzerland.
(And, it's worth noting that for many Mexicans, Spanish is not their first language, either: listen closely, and you'll probably hear Native languages on your trip, in Chiapas in particular).
If you don't speak Spanish now, start learning–even basic phrases and numbers can help.
If all else fails, remember that Google Translate and writing phrases down in advance to show people can go a long way.
We've found that Mexicans are almost always willing to help you get around!
What to Pack for 2 Weeks in Mexico
Travel Insurance — We don't ever suggest traveling without travel insurance–anything can happen, and an epic 2 week trip to Mexico is definitely a case of better safe than sorry.
We use and recommend World Nomads for trips to Mexico.
Pacsafe Travelsafe — The best way to keep your belongings safe in hotel rooms: simply fill it with your valuables and attach and lock it to the sturdiest thing in your room (we usually use a pipe or the base of a sink or toilet), and voila!
Your things will be safe while you're out exploring Mexico.
Sunscreen — On the beaches of the Yucatan peninsula, be sure that your sunscreen is reef-safe!
You'll almost certainly pay more for sunscreen in Tulum or Playa del Carmen than at home, too.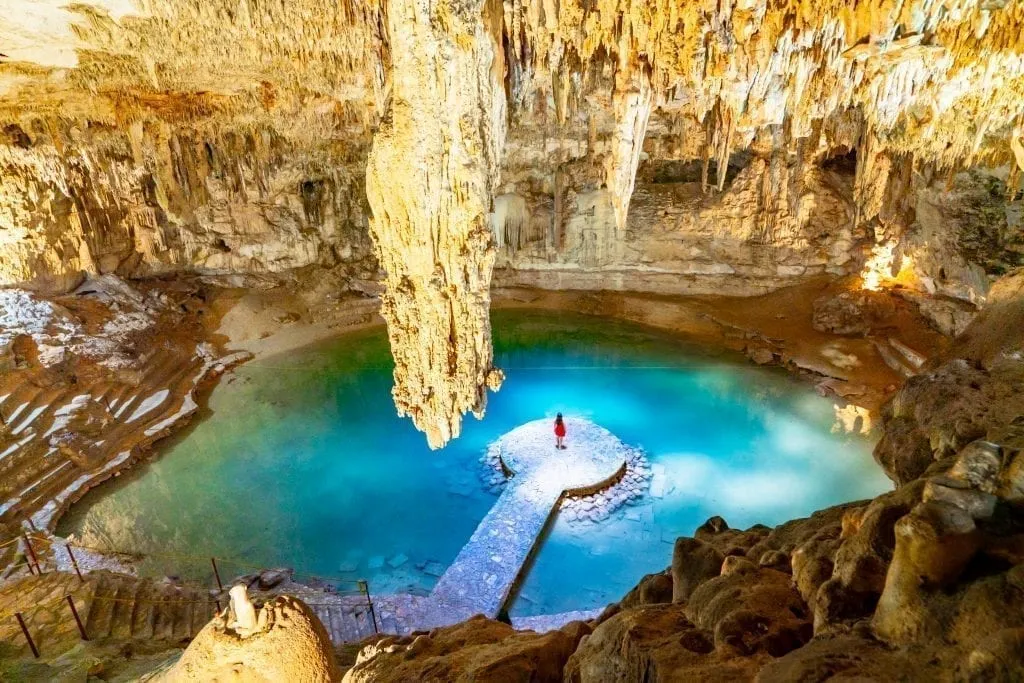 Portable USB Charger
— Don't stress about your phone dying during your long days at the beach or on ADO buses: throw a portable USB charger in your beach bag and you'll be good to go.
Comfortable Day Bag — We currently use Pacsafe's sleek anti-theft backpack and love it, but if you don't want to shell out the cash for this trip, that's totally understandable.
Just aim for something comfortable to wear, not flashy, and medium-sized–we used a Northface Jester backpack for years and loved it as well.
Swim Goggles
— We love to have goggles with us at beach destinations–it makes swimming so much more fun when you're able to see.
Sea Bands
 — If you're prone to motion sickness like I am, these things can work miracles on long bus and boat rides.