When you only have 3 days in Paris, you need to get your Paris itinerary just right.
With a nearly unlimited number of incredible things to do (and eat, and see) in the City of Light, it's important to plan a short trip carefully.
Sure, you want to see as much as you can–but you'll also want to prevent yourself from burning out and/or wasting too much time in transport bouncing all over the city.
As first-time visitors to Paris quickly learn, the city is enormous and quite spread out, and without a solid plan, it's easy to get overwhelmed.
That being said, Paris ranks among our absolute favorite cities in the world, and we want you to love it as much as we do!
After roughly 10 trips to Paris (and counting!), we've designed this itinerary for Paris in 3 days to cover the best of the city, fast.
Follow this travel itinerary to see a solid chunk of Paris' best highlights, eat some delicious food, wander stunning neighborhoods, and make sure you travel home with a snapshot of Paris that leaves you dying to plan your next trip to the city.
Here's exactly how to make the most of a few days in Paris, France!
The Perfect 3 Days in Paris Itinerary
Day 1: Classic Paris Highlights
Start your morning on Île de la Cité near Notre Dame.
What better way to start 3 days in Paris than to visit one of Paris' most famous landmarks?
Even after the awful April 2019 fire, Notre Dame's status as an icon of Paris and its convenient location in the center of the city still make it a great place to kick off your few days in Paris.
While you're nearby, check out the view from the corner of Rue de la Cite and Quai de Montebello, near the Pont de Coeurs, where you can photograph the tops of the towers and some of the front of the cathedral looking semi-normal.
Unfortunately, though, the damage to the cathedral is extensive, and Notre Dame is not expected to reopen before 2024.
I'm leaving our photos from the rooftop of Notre Dame in place in this 3 day Paris itinerary out of nostalgia, but scroll down for a look at the current view from the corner mentioned above for a more realistic take at the moment.
Step inside Shakespeare & Company.
5-minute walk from Notre Dame
Paris' most famous bookstore is known as the former haunt of Lost Generation writers like James Joyce, F. Scott Fitzgerald, and the ever-present Ernest Hemingway (he knew all the good travel destinations before the rest of us).
What some don't know is that the present Shakespeare & Company is a bit different than the original!
The original location closed during the Nazi occupation, and this store was opened by new management in 1951, in order to nurture a new generation of writers–think Henry Miller, Ray Bradbury, and Langston Hughes.
I could wax poetic about bookstores forever, but I suggest you check out this great article from Vanity Fair if you're interested in a thorough history of Shakespeare & Company.
Here's what you need to know to visit: it's delightful and beautiful, they'll stamp any books you buy with their seal on the title page (which make wonderful souvenirs from Paris), there's a cat who lives upstairs, and the view from the second-floor window over the Seine and toward Notre Dame is divine.
Photos are forbidden inside, so you'll just have to step across the Seine from Île de la Cité to see the beautiful interior for yourself!
I will note that we've after almost a decade of visiting this bookstore on the majority of our trips to Paris, we skipped it on our July 2022 visit because of the huge line in front–we had never seen one there before.
When we returned in December 2022, we were able to walk right in, but if you are planning to visit Paris during the high season, we recommend visiting as early in the morning as you can (Shakespeare & Company opens at 10:00 AM).
Grab a coffee and pastry from a beautiful Parisian cafe.
Having checked a tiny bit of Paris sightseeing off your list, it's officially time for a traditional French breakfast of a delicious coffee and pastry.
Here are a few cafes nearby (and by nearby I mean practically hidden in plain sight) that you may want to check out.
Odette
Famous for its beautiful building nestled into the corner of a cobblestone street near Notre Dame, Odette is a lovely (and photogenic) choice for grabbing breakfast on your first morning in Paris.
Shakespeare & Co. Cafe
Surprisingly affordable and home to delicious coffee, if you want to keep your 3 days in Paris itinerary simple this morning, head next door to Shakespeare & Company for breakfast at their popular cafe by the same name.
(Odette is mere steps away from here, so if you're a huge Parisian cafe lover, you could even visit both).
A. Lacroix Patissier
This cafe isn't famous, but it is delicious, cozy, and boasts views of Notre Dame!
We've been eating here for years and can highly recommend it.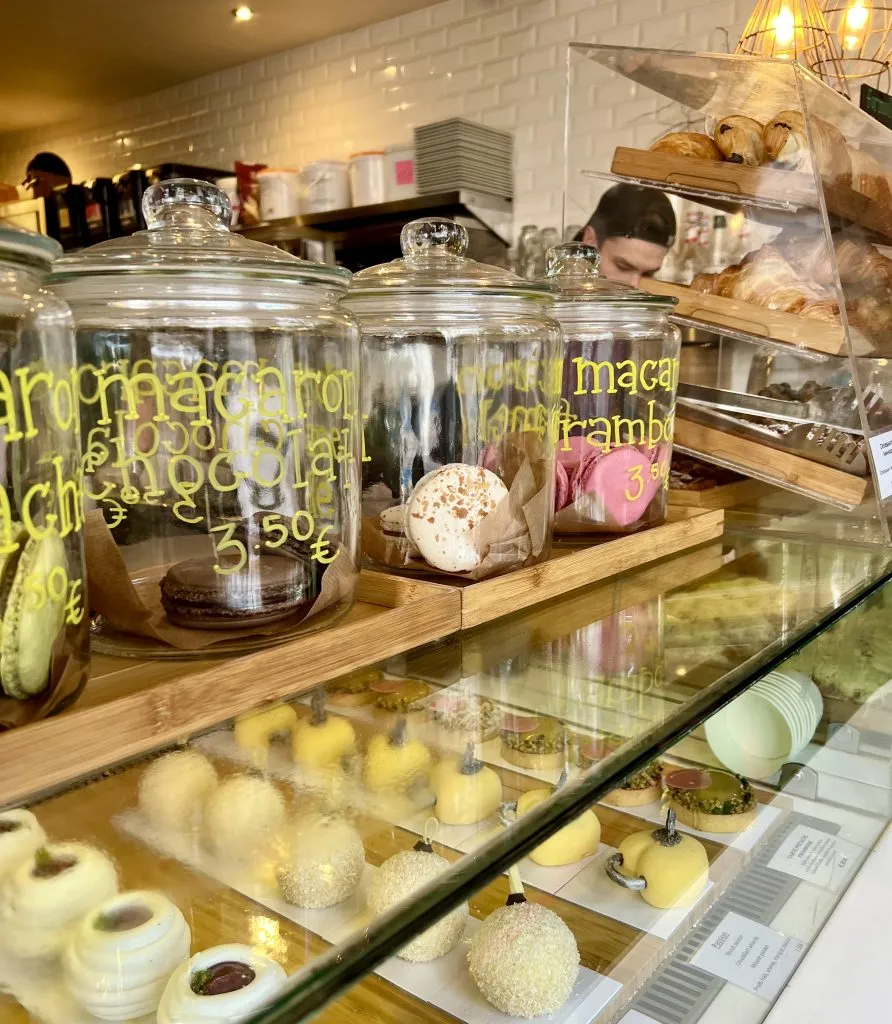 Au Vieux Paris d'Arcole
This one is more for the photo snappers and late risers among us, as it doesn't open until noon, but Au Vieux Paris d'Arcole is worth mentioning as an option here.
Famous for its gorgeous wisteria, this Parisian cafe is practically next door to Notre Dame, is quite well known among places to eat in Paris, and is incredibly charming.
Pay a visit to the oldest clock in Paris.
8-minute walk from Odette or Shakespeare & Company.
En route to Sainte-Chapelle during your 3 days in Paris, be sure to make your way past the Tour de l'Horloge on the side of the Conciergerie.
Here you'll be able to take a peek at the oldest clock in Paris, which was installed in the 14th century, is still steadily ticking to this day, and also happens to be incredibly gorgeous.
Stroll over to Sainte-Chapelle.
6-minute walk from Shakespeare & Company
Sainte-Chapelle boasts one of my favorite church interiors in the world, but you likely won't notice when you first enter: the first floor is rather typically decorated and quite dark.
Climb up to the second floor, though, and you're in for quite a show: nearly every inch of the 50-foot walls (about 15 meters) are covered in elaborate stained glass.
It is colorful, magical, and absolutely beautiful–I haven't seen anything quite like it anywhere else in the world, and it's well worth fitting into your itinerary for Paris.
We recommend grabbing a skip-the-line in advance (for no extra fee!) to save time in lines and ensure that this (small and very popular) attraction doesn't sell out.
Get your ticket for Sainte-Chapelle today to skip the ticket line!
Make your way to the Luxembourg Gardens.
15-minute walk from Sainte-Chapelle
Obviously, the Luxembourg Gardens are most impressive in the spring and summer, but they're worth visiting regardless of time of year: the gardens feel distinctly Parisian and are a joy to visit.
The Luxembourg Palace sits to one side, and be sure to stop by to admire it.
If you want to take a peek at some of the garden's hidden treasures, the Medici Fountain and Luxembourg Gardens' very own beehives are both nearby.
If you're trying to stay on a budget, this is a great place for a picnic lunch!
Simply pick up some Parisian staples (a baguette with cheese and fruit, perhaps) and bring them into the gardens to eat.
If you'd prefer a restaurant, the area surrounding the park is lousy with them (Le Prince Racine is close by and a favorite of ours, and Restaurant Polidor is both tasty and served as a Midnight in Paris filming location!).
During your 15-minute walk over from Sainte-Chapelle, a slightly longer route will also take you by the Pantheon if you'd like to stop by.
Walk toward the Louvre via St. Germain.
18+ minute walk from the Luxembourg Gardens.
Head to the Louvre through St. Germain, one of the most classically Parisian neighborhoods.
As you explore, you'll pass by some beautiful boutiques, great restaurants, and gorgeous architecture.
Those classic Paris streets you see in photos? St. Germain is a great place to photograph them!
In addition to the restaurants mentioned above, we've also enjoyed eating at Eggs & Co. while here, which specializes in omelets.
The food is tasty, and the decor is adorable.
The walk from the Luxembourg Gardens to the Louvre is technically under 20 minutes, but depending on how much you want to meander around the neighborhood, it could take quite a bit longer!
Pay a visit to the largest art museum in the world.
The Louvre is a hard thing to budget time for–for people who aren't very into art, an hour or 2 of checking out the most famous works might be enough.
For art and history lovers, weeks would be needed.
With only 3 days in Paris, we'd recommend booking timed entry skip-the-line tickets and spending around 2-3 hours in the Louvre, and doing a bit of research before you go.
If there are particular works you're dying to see (say, the Venus de Milo or the Mona Lisa), make sure you plan accordingly and head in the right direction.
Alternatively, you can book a tour (we absolutely loved this one) to ensure you see the best of the Louvre in an efficient way!
We've now visited the Louvre three times and have seen almost none of the same exhibits on any of our visits!
Personally, one of my favorite things I've found in the Louvre is the Napoleon III apartments, which are an unexpected surprise amongst all of the paintings, sculptures, and historical artifacts.
It took us a few trips to Paris before we splurged on a Louvre tour, but we're so glad we did.
This tour was amazing and gave us great context for the pieces we saw in the museum, and we can heartily recommend it. For a different take, this tour is also well recommended.
Lines at the Louvre get notoriously long–plan ahead and book your visit to the Louvre today!

You can get timed entry skip-the-line tickets here, book the same amazing tour we took here, or book another well-reviewed tour of the Louvre here.
Stop by the Colonnes de Buren or grab a hot chocolate at Angelina.
Once you finish exploring the Louvre, it's time for a quick Paris sightseeing pitstop before heading off to the Eiffel Tower.
If you're searching for popular Paris photo spots, this is a great time to stop by the Colonnes de Buren in the Palais Royale.
The columns are free to visit and fun to see in the evening, when there will be plenty of people hanging out (and even working out–we've seen everything from group lunges to kids playing soccer) nearby.
After you finish at the Colonnes de Buren, the Galerie Vero-Dodat is just around the corner and is another one of Paris' beautiful covered passages, so you can consider swinging by there for a quick look as well.
If you're done seeing the sights and simply want to sit down and indulge, famous Angelina is a short walk away, ready to serve you a steaming cup of their legendary hot chocolate.
Admire the Eiffel Tower from the Trocadero Gardens.
50-minute walk or 30-minute metro ride from the Louvre.
Are your feet killing you yet?
If so (and depending on the time), you may want to consider a metro ride at this point.
If not, we highly recommend the long walk along the Seine to the Trocadero Gardens, which will take you along some beautiful Paris views and past the famous Pont Alexandre III.
Regardless of how you get there, it's safe to say that your first day spent visiting Paris isn't complete without a picture-perfect view of the Eiffel Tower!
Head to the river to take a Seine river cruise before sunset.
To be perfectly honest, it took us many trips to Paris before we signed up for a Seine river cruise… and after taking one, we can't believe that we waited so long!
Yes, they're a bit touristy, but there's nothing quite like admiring Paris and its many gorgeous monuments from the water.
Add in the possibility of a sunset, and the view is even better.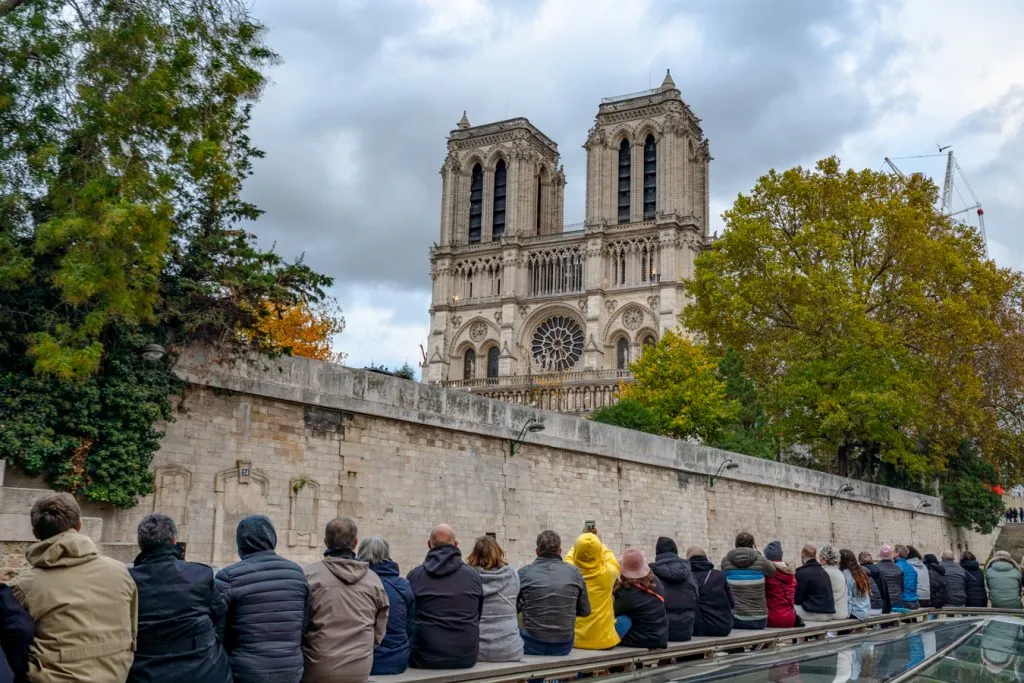 Many Seine river cruises leave from very close to the base of the Eiffel Tower, too, making taking one an easy addition to this 3 day Paris itinerary!
Want to splurge a bit for your first night in Paris?
You can even sign up for a full dinner cruise if a standard one-hour cruise doesn't sound like quite enough time on the Seine.
Book your Seine river cruise today!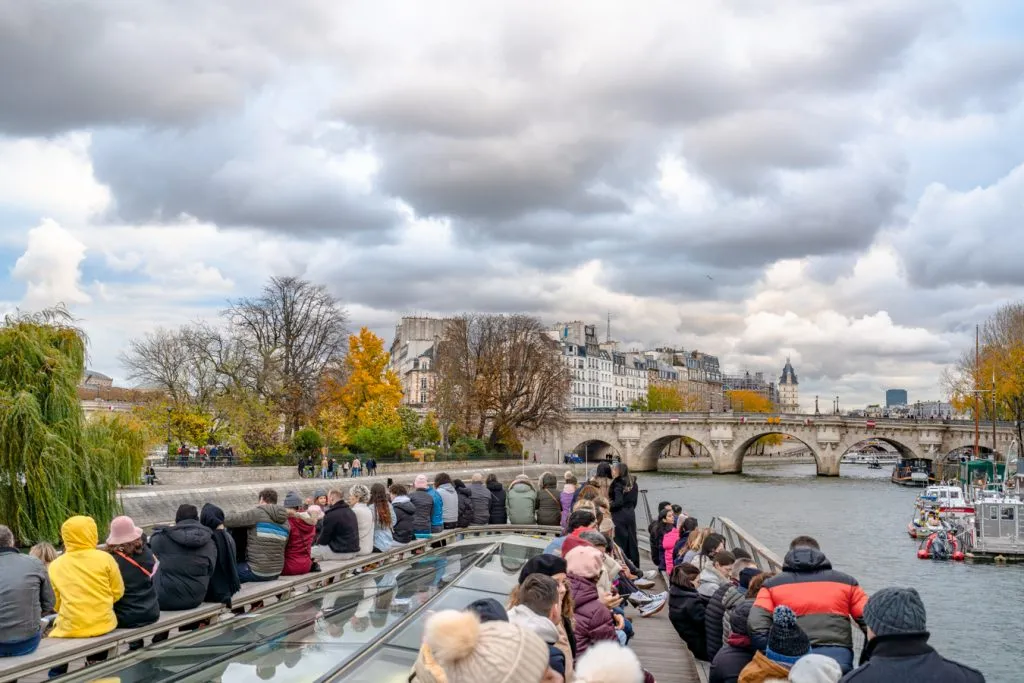 Day 2: The Elegant Side of Paris
Begin your day at the Arc de Triomphe.
What better way to kick off your second day in the City of Light than by admiring one of the best views in Paris?
Climb (all 284 steps of) the Arc de Triomphe for great views over Paris, including views of the Eiffel Tower, Champs-Élysées, La Defense, Montmartre, and more.
If you would like to zoom in (especially on faraway spots like Montmartre) it would be a great idea to pack travel binoculars so you don't miss out on the details.
Be sure to stroll under the Arc de Triomphe as well–it is ornate and beautiful in a way that is hard to pick up from a distance.
Like most of Paris' most famous attractions, the line to climb the Arc de Triomphe gets very long.
We love using skip-the-line tickets to walk right in–and there's no extra charge for booking ahead!
Stroll down the Champs-Élysées.
The famous Champs-Élysées dead ends into the Arc de Triomphe, so after snapping photos both from the top of the monument and of the arch itself, continue your morning by heading down one of the most famous shopping streets in the world.
If you have time in your Paris itinerary (ie, depending on how early in the morning you got started!), consider continuing all the way to the Place de la Concorde before heading outside the city to enjoy one of the most iconic day trips from Paris!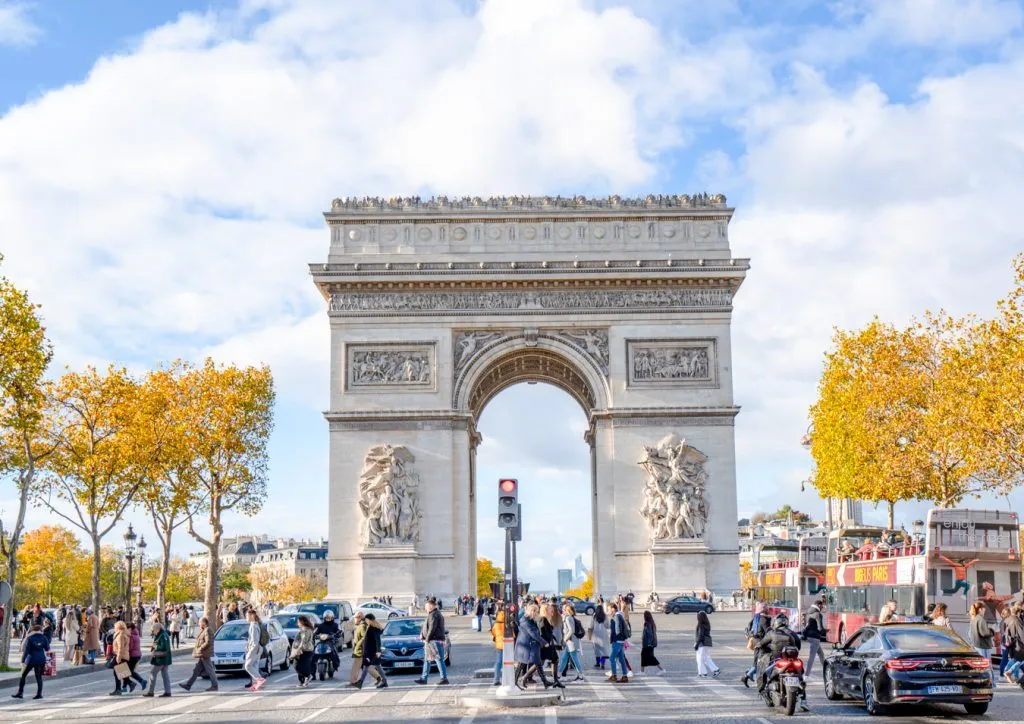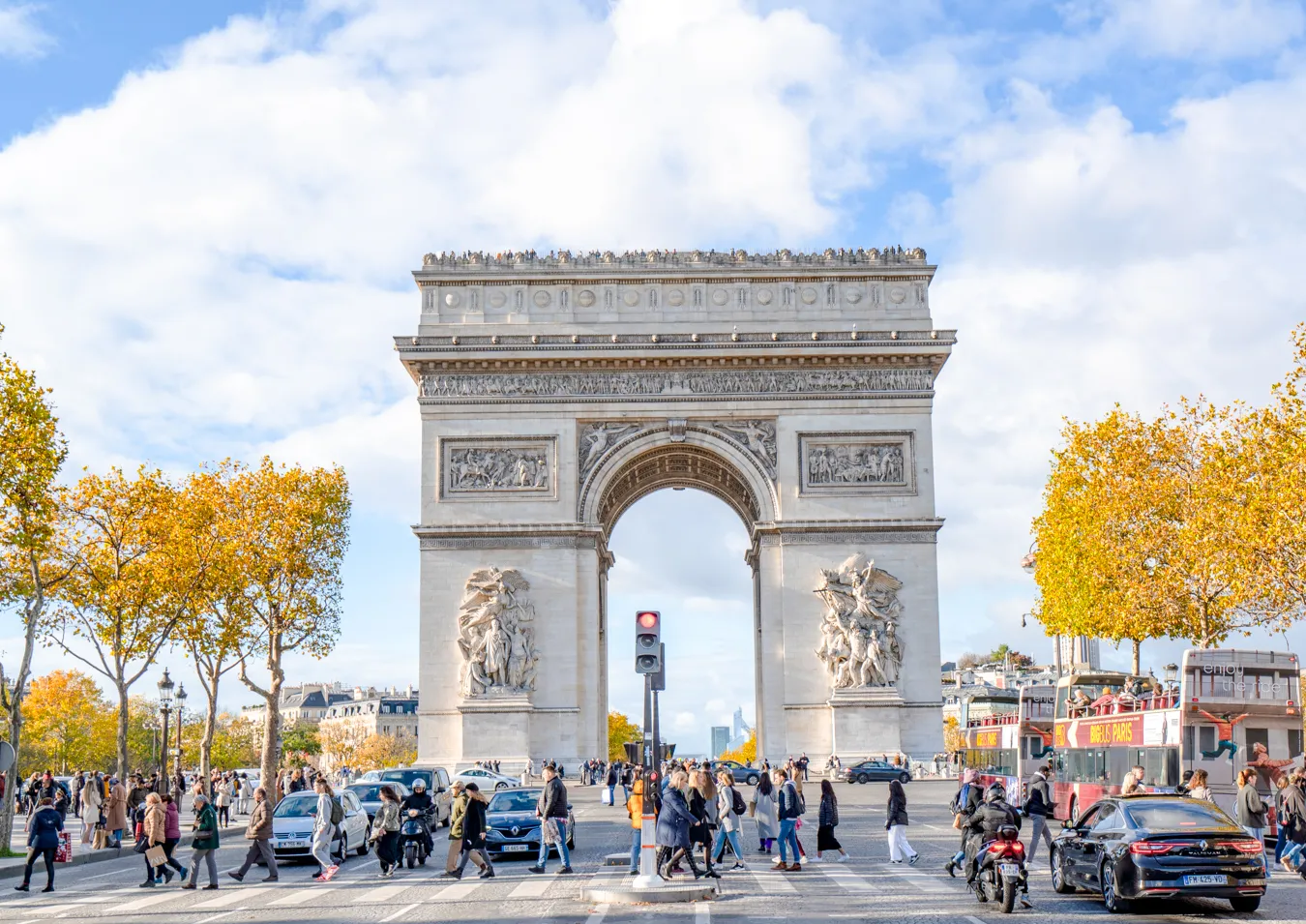 Jump on the RER and spend most of the day at Versailles.
A day trip to Versailles is a perfect addition to 3 days in Paris: while some people do spend a whole day there, when trying to see Paris in 3 days, it makes more sense to squeeze in the Arc de Triomphe first.
(If you have no desire to visit the Arc de Triomphe, though, feel free to head right to Versailles after breakfast).
While at Versailles, be sure to tour the palace itself (be sure to book tickets in advance if you're not taking a tour), and then head outside to the gardens for a long stroll.
Bear in mind that the property is the largest royal domain in the world and it is therefore predictably difficult to see absolutely everything!
The gardens alone take up 230 acres, and that's without even considering attractions like Grand Trianon, Petit Trianon, and the Queen's Hamlet.
Booking a tour is a great way to get a thorough oversight on your first visit!
After seeing the popular main gardens near the palace, which boast the opulent fountains of Versailles seen in so many photos, consider taking a 25-minute walk through the gardens to visit the other palaces on site (plus Marie Antoinette's hamlet, of course).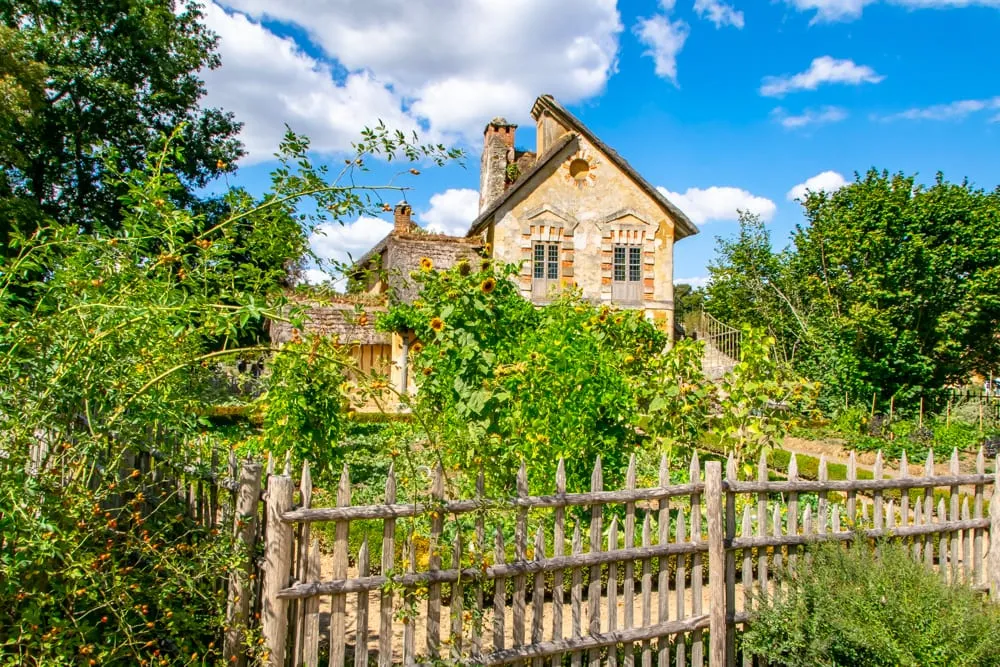 How to Get to Versailles from Paris
To get to Versailles from Paris, take the RER C line to Versailles.
Transit takes less than an hour, and bear in mind that the RER is separate from the metro.
You'll need to purchase an RER ticket to head to Versailles.
Be sure to validate your ticket before you travel!
Book your timed entry skip-the-line tickets or guided tour of Versailles today!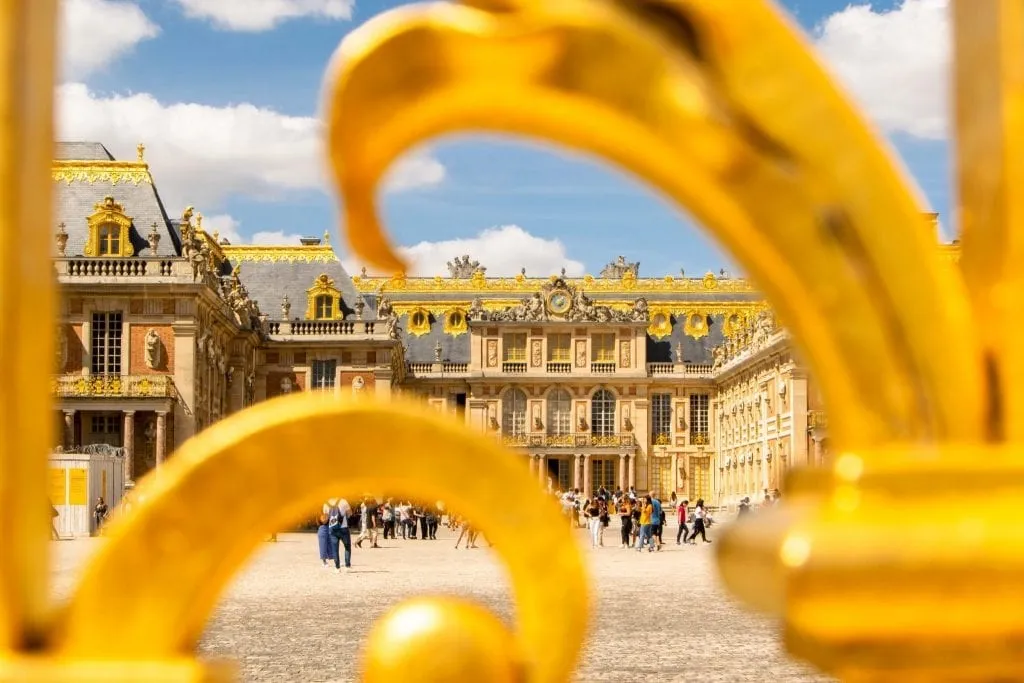 Day 3: Parisian Food, Art, and Grit
Start your morning with a Parisian food tour.
It's no secret that French food is some of the most delicious in the world–and before leaving Paris, it's a great idea to take some time to learn all about it!
We absolutely loved our experience on the Paris Ultimate Food Tour with Devour Tours, which focuses on the trendy La Marais neighborhood.
Taste award-winning pastries and macarons, delectable meats and cheeses, a memorable soup, and much more on this delicious (and extremely filling) food tour.
Devour Tours is one of our favorite food tour companies in Europe, and one of the many reasons for that is the history and culture that is woven into every tour.
The fight for the survival of long-standing traditional markets, the history of the Jewish community in Le Marais, and how French food gets its various designations are just a few details that made their way into our tour, and we walked away very satisfied with the experience.
(As is usual for us, we paid our own way for this tour and told no one we were travel bloggers while there).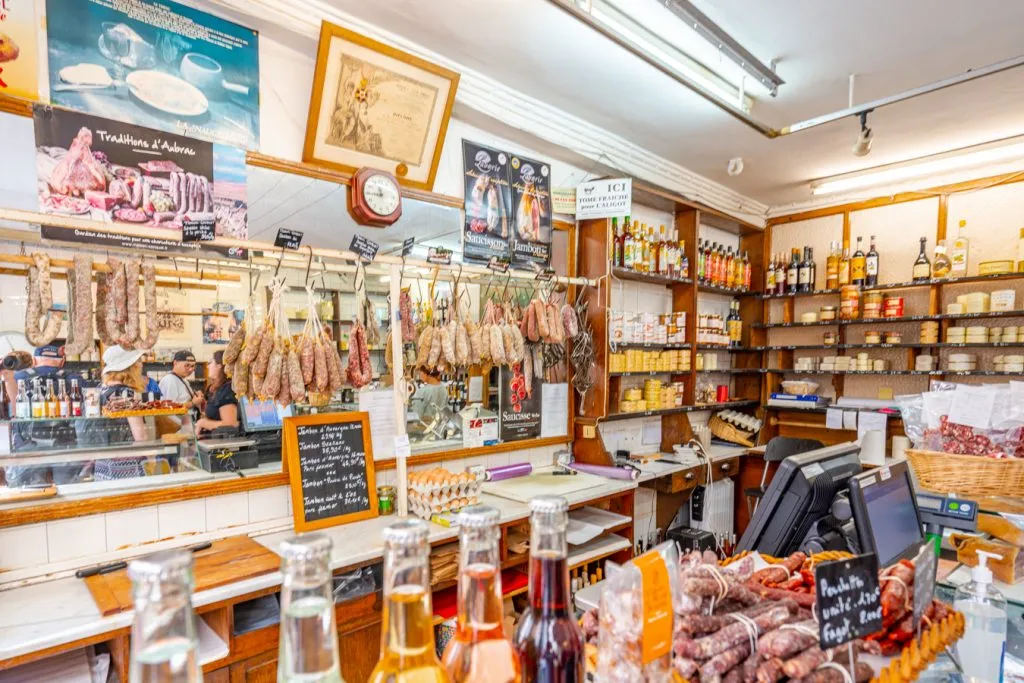 Choose Your Own Parisian Adventure: Catacombs vs. the Musée d'Orsay
As your 3 days in Paris rapidly come to a close, it's incredibly ambitious to try to fit both the catacombs and Musée d'Orsay into the itinerary, especially as they're quite far apart!
For that reason, I'll leave your next stop up to you.
Travelers looking for something funky, offbeat, and unusual will love the catacombs.
Art lovers (especially impressionist lovers) will delight in the Musée d'Orsay.
Here's what to love about each!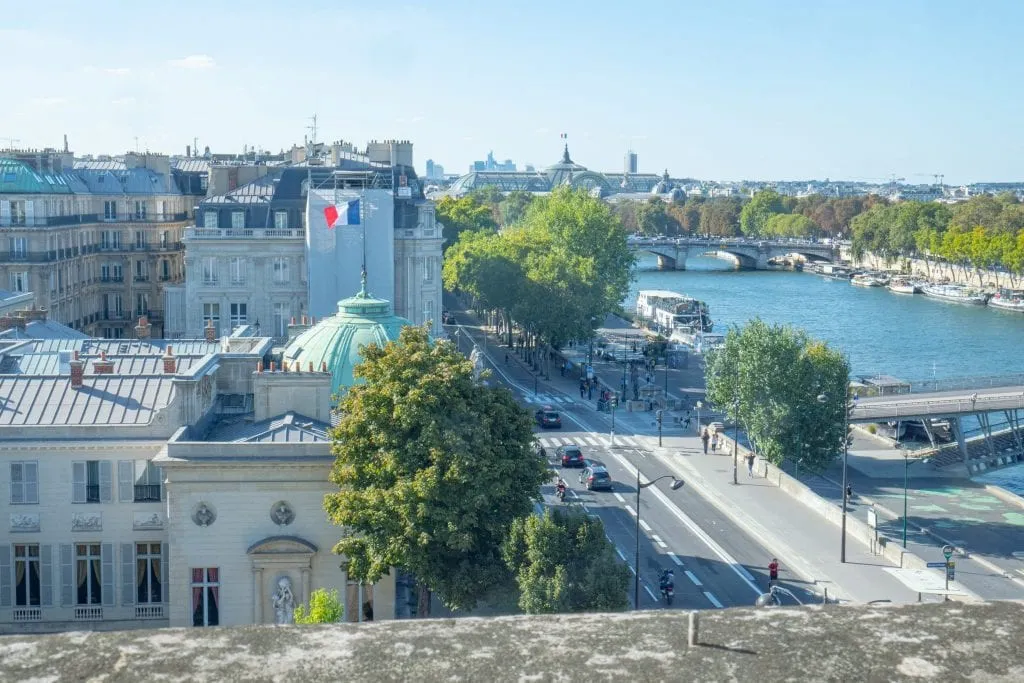 Option 1: See a different side of Paris at the Catacombs.
50-minute walk or 25-minute metro ride from the end of the Paris Ultimate Food Tour.
Technically an ossuary and not catacombs, this Paris highlight is a bit spooky and unusual, but a fascinating place to visit while in Paris for 3 days (unless you get freaked out by bones, that is).
Skip-the-line tickets are essential here, or you can even sign up for a guided tour to learn more about the (absolutely wild) history.
Set in Paris' former quarries, the catacombs hold millions of former Parisians… but they didn't start their time in the afterlife there.
From the late 18th to the mid-19th century, many of Paris' cemeteries were emptied out due to health concerns, and the skeletons were relocated to the catacombs.
Artfully arranged and complete with cemetery-appropriate art (Bible verses and such, but also a sign saying "Stop! This is the empire of the dead" over the entrance, so, there's that), the catacombs are a bizarre mix of fascinating, creepy, historical, and artistic.
The catacombs themselves go on for over 200 miles/320 kilometers, and we have loved each of our visits–and also loved staring down the dark paths that are not intended for tourists to visit.
Fair warning: it's easy to get lost down there and people have died by breaking in and then getting too lost to find their way out. Stick to the path!
Even during our January visit, the line for the catacombs was still more than 2 hours long!

Book your skip-the-line tickets here or epic in-depth guided tour here!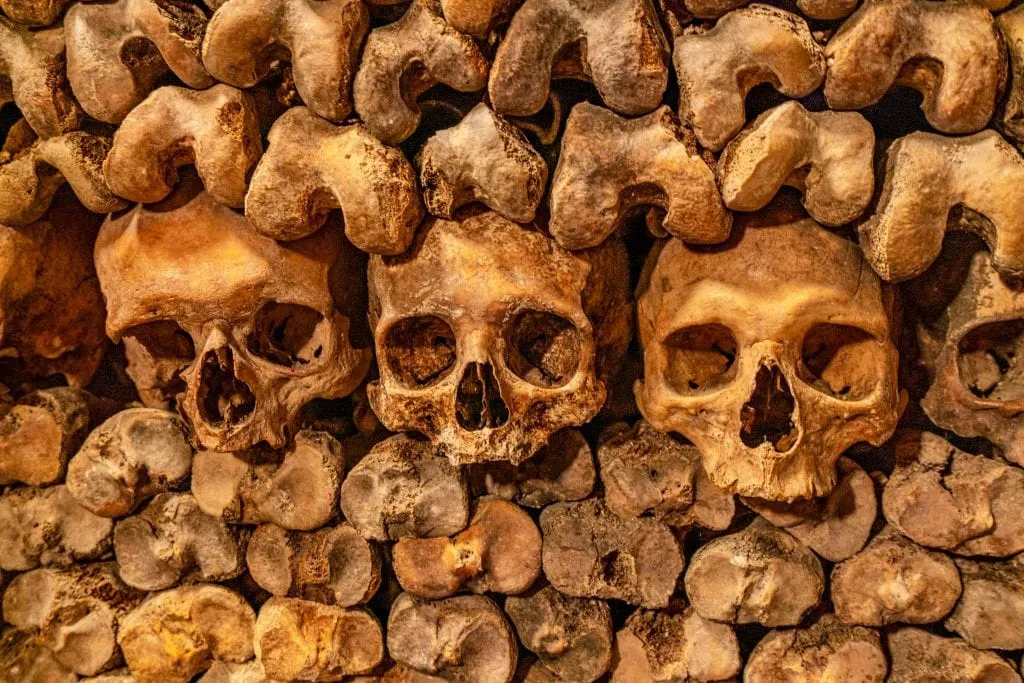 Option 2: Enjoy Paris' second-most-famous art museum, the Musée d'Orsay.
40-minute walk or 25-minute metro ride from the end of the Paris Ultimate Food Tour.
Many first-time visitors to Paris walk away saying that the Musée d'Orsay, not the Louvre, is their favorite museum in Paris.
We wouldn't go quite that far (we love both too much), but it's easy to see what draws people in.
Not only is the Musée d'Orsay home to some incredible art, including iconic works by Monet and Van Gogh, but the building itself is a bit of an attraction.
The Musée d'Orsay is set in a gorgeous former train station built at the end of the 19th century, complete with the famous clock on the top floor that provides a unique view of Paris.
In addition, the Musée d'Orsay is much smaller than the Louvre, and therefore less overwhelming and easier to visit without getting turned around.
Book your timed entry skip the line ticket for the Musée d'Orsay today!
Spend the rest of the afternoon and evening in Montmartre.
25-minute metro ride from the Paris catacombs or 20-minute metro ride from the Musée d'Orsay.
Your last afternoon and evening in Paris are dedicated to a neighborhood that's not quite as old or as stately as some Parisian neighborhoods… but it is delightfully fun and very well known.
Montmartre is home to Sacré Coeur, the Moulin Rouge, the famous Place du Tertre, and some incredibly adorable streets, squares, bakeries, cafes, and bars.
Once the haunt of artists and Bohemians, and today the haunt of travelers seeking out some of the prettiest streets and best views in Paris, Montmartre is a beloved favorite among Parisian neighborhoods for good reason.
This area is great for taking iconic Parisian photos, we take our Sony a7R III along with us and end up using it constantly.
While you're there, be sure to visit Sacré Coeur (the 300 steps to the top of the dome are worth it), see the artists at the Place du Tertre, and duck into the art shops along the nearby side streets.
The steps of Sacré Coeur are one of the most popular sunset spots in Paris, and a wonderful place to watch the light disappear from your last full day in Paris (though the top of the dome is even better–you can see the Eiffel Tower from there!).
If you feel like sticking around for the evening, Montmartre is the perfect place to find nightlife in Paris, too.
Whether you want to go crazy and see a show at the Moulin Rouge (which is just downhill from Montmartre in the Pigalle area) or find a quieter bar to settle down at, you'll have plenty of options.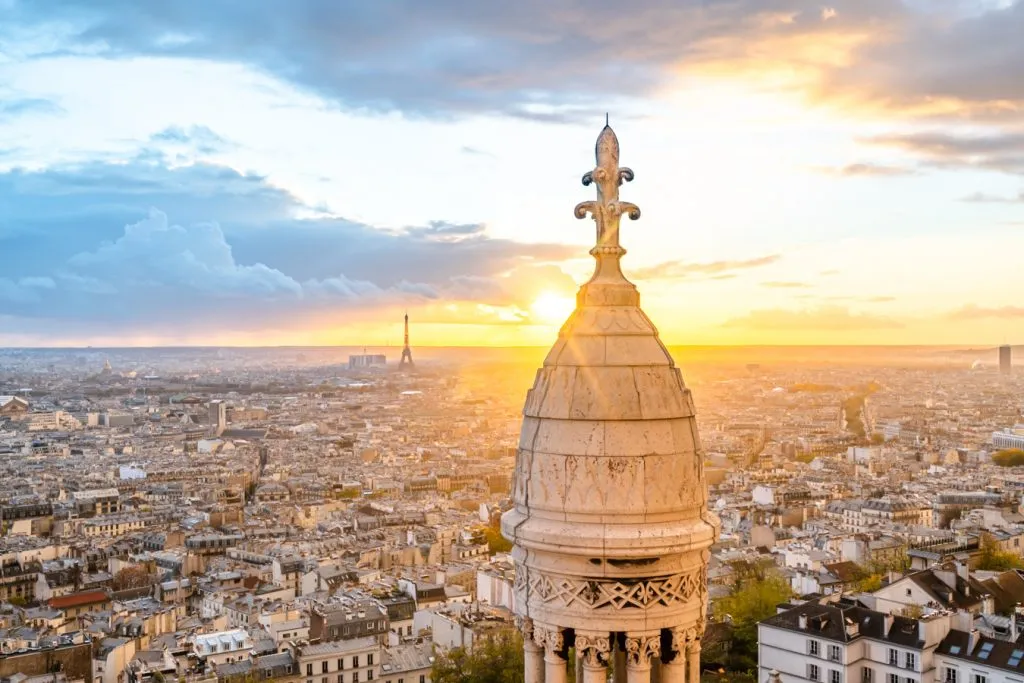 Say goodbye to Paris.
Three days in Paris go by so fast: it's already time to say goodbye.
As you head back to your hotel on your last night in Paris, you may be able to squeeze in one more experience off your Paris wish list.
There are a million worthy options, but one reliably magical one is to grab a warm street crepe and admire the Eiffel Tower twinkling at night.
In our opinion, there's no better image to end your trip to Paris with than that one.
Where To Stay in Paris
In a city as large and dense as Paris, deciding where to stay can be quite daunting!
Paris is famously divided into 20 arrondissements, or neighborhoods, that are named via a number system that starts with 1 in the center of the city (where you'll find the Louvre) and circles outward like the shell of a snail.
After roughly 10 trips to Paris, we've stayed in many neighborhoods spread across the city, from Montmartre (we loved this aparthotel) to the Bastille area (an underappreciated place to stay, and this hotel was wonderful).
And, while everyone has their own opinions about where to stay in Paris (there's no one right answer) we love and highly recommend Saint-Germain-des-Prés (6th arrondissement) or the Latin Quarter (5th arrondissement) to travelers visiting Paris for the first time and frequently choose to stay there ourselves.
In these areas, you'll be within walking distance of attractions like Île de la Cité (home of Notre Dame and Sainte-Chapelle), the Seine, the Luxembourg Garden, the Louvre, and many more.
And, by choosing a hotel near a metro stop, you'll also have the rest of Paris at your fingertips!
Here are a few hotels we've personally stayed in and loved in the 5th and 6th, arranged more or less from most budget-friendly to most luxurious (though if it's Parisian charm you're after, this one is the clear winner).
We love this cute boutique hotel in Paris, mostly because of its truly unbeatable location less than a 10-minute walk from Notre Dame and therefore an easy walk away from much of the attractions of Île de la Cité (and a metro stop, of course).
Despite the super central location, the streets outside were still quiet at night, a huge benefit, and the views during the day were lovely.
The customer service was excellent, the bed cozy, and the room, while still very small by global standards, was a bit roomy compared to what we've gotten used to in Paris.
We'd be happy to stay again!
Relais Hôtel du Vieux Paris (Classic Parisian Charm)
Located on a quiet street less than a block from the Seine and Île de la Cité, Relais Hôtel du Vieux Paris offers all the advantages of a central location while maintaining its peace and quiet.
… and it does all that while still managing to have one of the most charming interiors we've experienced in a Paris hotel!
The ceilings, wallpaper, and overall decor never let you forget that you're in the City of Light, and we loved every second.
The breakfast is also delicious, served at the table, and includes a generous selection of pastries as well as fruit, cheese, orange juice, coffee, and tea.
Located right on the Seine in one of the most convenient locations in Paris, the crisp and modern Citadines Saint-Germain-des-Prés Paris offers ease at every turn.
And, that includes the fact that studios and apartments here include kitchens or kitchenettes!
If you're looking for a peaceful retreat from sightseeing in Paris, a chance to enjoy an occasional dinner of cheese and baguette you picked up at the market, and a bit more elbow room than is traditional in the City of Light, this is the place for you.
We loved our stay here–and, thanks to the hotel being pet-friendly, so did Ranger.
Check rates & book your stay at Citadines Saint-Germain-des-Prés Paris!
More than 3 days in Paris, France?
Paris is a city that can occupy a lifetime and still not be fully discovered–no matter how much time you have in Paris, you will never leave feeling that you've unturned every stone.
After about 10 trips to Paris and counting, we still find ourselves discovering new gems every time we visit!
A few things to consider adding to your Paris itinerary if you have longer than three days in the city include a visit to the Pere Lachaise Cemetery, or heading to the top of Montparnasse Tower (this tower is generally reviled for disrupting Paris' beautiful skyline, but it does have quite the view at the top!).
You could also splurge on a Michelin Star meal, take a class on learning how to bake macarons or croissants (we did the macarons and adored it!), tour the Paris Opera House, duck into a smaller museum like the Musée de l'Orangerie (one of our favorites)… you get the picture.
Our gigantic Paris bucket list and/or our guide to the hidden gems of Paris are great blog posts to peruse if you're looking for fun ideas to round out your itinerary for Paris!
There are plenty of hidden gems in Paris that lurk in plain sight, from the former home of Nicholas Flamel to lesser-known but interesting churches like the Church of Saint Sulpice to fascinating flea markets, all of which are worth seeking out if you have more than a few days in Paris.
If you're looking to head out of town on one of your additional days in Paris, popular day trips other than Versailles include the town of Rouen, the castle of Fontainebleau, and Giverny to experience the water gardens that inspired Monet.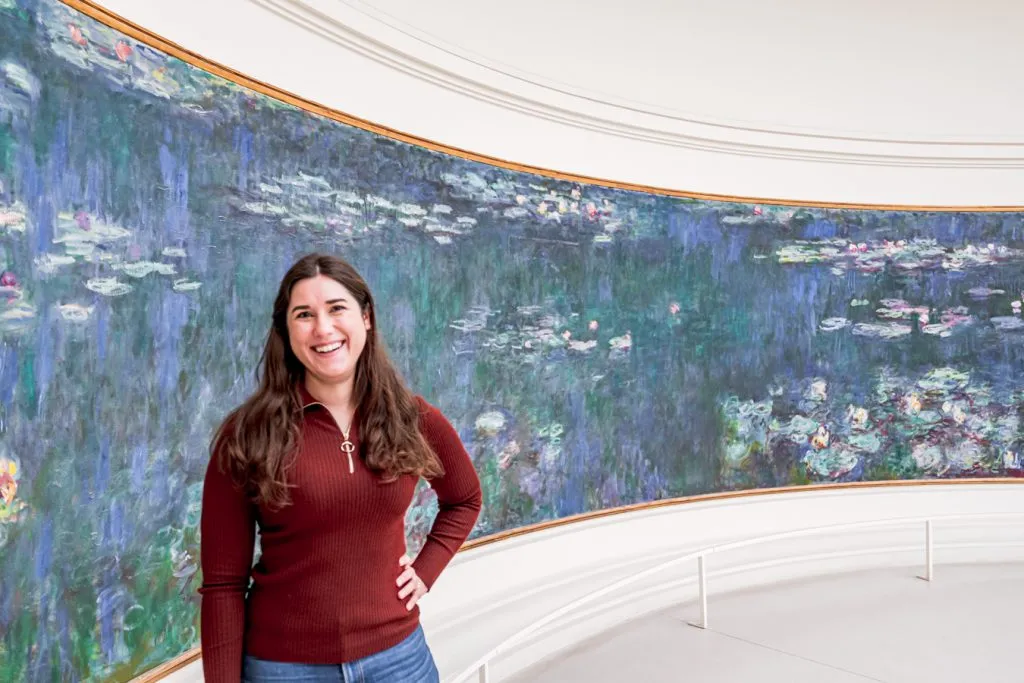 Getting Around During Your 3 Day Paris Itinerary
Paris is a large city, but it is surprisingly easy to get around.
As I mentioned above, the City of Light is made up of 20 arrondissements, or districts, starting with the 1st in the center (this is where you'll find the Louvre), and spiraling outward from there.
When deciding where to stay in Paris, try not to put too much stock in being near any particular attraction.
Paris' main sights are spread far and wide in its arrondissements (a few examples: the Eiffel Tower is in the 7th, the Louvre in the 1st, Montmartre in the 18th, and Notre Dame in the 4th), and wherever you end up staying, you'll be traveling through the city during your stay.
Here's how to get around during your itinerary for 3 days in Paris!
The Metro
Paris' metro system is extremely dense and developed.
Other than walking, we recommend using it as your main method of transportation while in Paris.
The easiest way to purchase tickets is as a carnet, or group of 10 tickets at a time, and replenish as you run out.
However, if you happen to purchase the Paris Pass, access to the bus, metro, and RER systems are all included, so you won't need to purchase separate tickets.
Taxis & Uber
Taxis and Uber are both prevalent in the city, though high prices and heavy traffic make them a less attractive option than the metro.
Lyft is not available in Paris.
Walking
Walking is our absolute favorite way to get around Paris, which is part of why this 3 days in Paris itinerary includes the option to walk so much.
Not only do you save money and work off the copious amounts of pain au chocolat you're probably consuming, but you also get to discover Paris at its very best!
Meandering through adorable side streets, sampling cute cafes, admiring gorgeous buildings, enjoying the enormous dog population, and more, are all part of the essential Parisian walking experience.
Do not rent a car in Paris.
Parking is an expensive nightmare, driving is difficult and traffic-laden, and the metro system is extensive and functional.
Renting a car in Paris is far more trouble than it is worth, and that's without even including the cost of doing so as a factor. Just don't do it.
The Paris Pass & Paris Museum Pass: Worth the Money?
If you follow this 3 days in Paris itinerary, a full Paris Pass likely won't be worth the money unless you are going to be using a lot of transportation.
If you want access to benefits like a Hop-On-Hop-Off bus tour, you may want to consider it.
The Paris Museum Pass, though a better fit for this 3 day Paris itinerary than the Paris Pass is, still isn't likely to be worth the money as compared to buying tickets individually.
In 2022, with so many tickets easily available for online purchase in advance, a lot of the convenience of city passes and museum passes has been left behind, leaving only monetary benefit as a reason to buy one.
If you have your heart set on visiting several other small museums in Paris not covered on this itinerary that are included with the pass (check the list carefully, as what is included and excluded can be a bit surprising), you may be able to get a good deal.
Please note that if you do purchase a Paris Museum Pass, you'll still need to sign up for a timed entry reservation for the Louvre.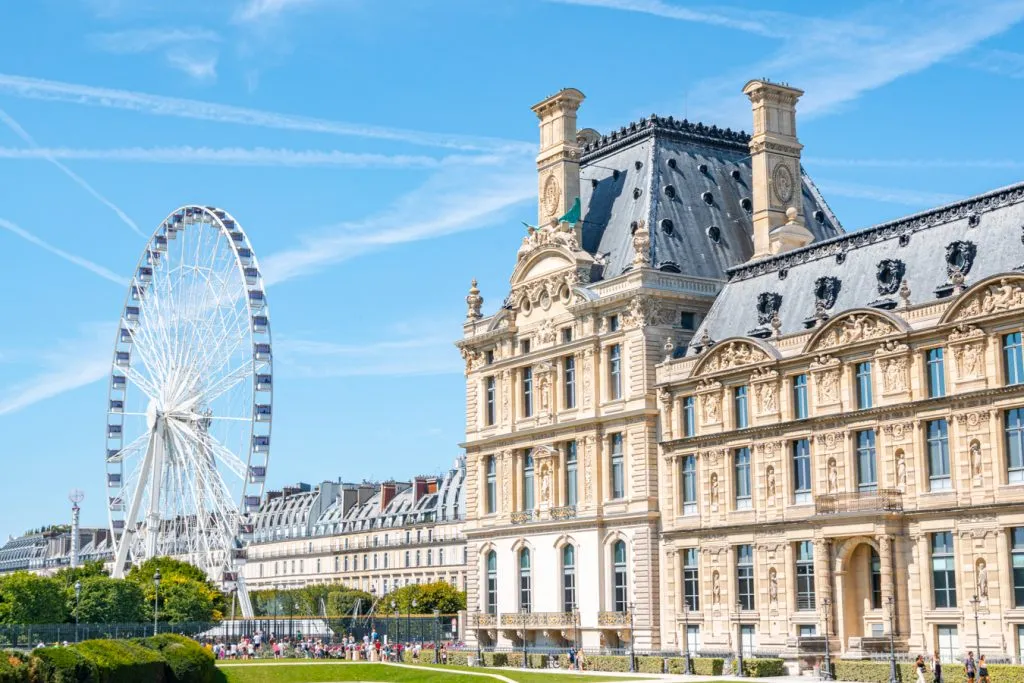 When to Visit Paris for 3 Days
There is no bad time of year to spend 3 days in Paris.
In the spring, you'll see beautiful flowers (and if you're lucky, even cherry blossoms!), and get to see the city in full bloom.
In the summer, Paris is at its sunniest and warmest, and it's the perfect time of year for long evenings spent outside of adorable cafes.
In the fall, the autumn foliage is stunning.
In the winter, you can experience Paris at its emptiest and with its lowest prices (but it's all relative–this is still Paris).
It doesn't typically snow in Paris, but December does offer the bonus of Christmas decorations and decor!
We've now been lucky enough to visit Paris during most months of the year, and haven't had a bad trip yet.
Whenever you have a chance to visit, go: no matter what time of year it is, it is the perfect time to be in Paris.
Staying Safe During This Itinerary for Paris
Traveling in Paris is generally a very safe activity, but like in all large cities (and especially large cities crawling with tourists), scams and petty crime run rampant.
Beware anyone approaching you asking you to sign a petition, offering you a rose or "friendship bracelet", or enticing you to buy a "gold" ring that they "found".
In general, keep an eye on your belongings, watch out for pickpockets (especially in crowds), and avoid getting overly intoxicated (especially alone or late at night).
In other words: use common sense.
Generally speaking, the riskiest places for encountering potential scams or pickpockets are in the areas most dominated by tourists–near the Eiffel Tower, for example, or in front of the Louvre.
Keep your wits about you, but there's no reason to be overly worried: millions of people safely visit Paris each year, and we've never had any trouble.
An anti-theft purse or backpack can help add a layer of protection from petty theft, though of course you'll still need to be vigilant.
We've happily used this anti-theft backpack for years, and a couple of our friends swear by this one.
If you're not used to traveling in large cities, you could also consider using a money belt during your Paris vacation.
This is up to you: we no longer use one, and thieves are certainly aware of them, but if you're more comfortable having your valuables more secure than they are in your pockets while exploring, it's an option.
We used to use this one
 and had no complaints. These days, we prefer just to leave valuables in our Pacsafe
during the day.
What to Wear in Paris, France
Our general rule of traveling is that we never expect to (or try to) pass as locals, but we aim to look like ex-pats or frequent travelers that at least know what we're doing… and, okay, in Paris, we want to look somewhat good.
It is Paris, after all.
The big key to blending in and looking fashionable in Paris? Less is more.
Think lots of dark colors (I swear, 90% of Parisian women we saw on our most recent winter trip were wearing a black coat), fashionable jeans or pants, and cute dresses.
Flats or boots for women depending on the season and casual loafers or boots for men are just fine–much more important than the exact shoe is that they're very comfortable and well broken in.
For men, think fitted slacks or jeans, and fitted shirts. Not particularly fancy or dressed up, but not sloppy, either.
We generally consider the whole "Europeans don't wear jeans!" rule to be either complete fiction or at least wildly outdated, but Parisians certainly don't tend to wear ill-fitting, or worn-out ones, either.
Bottom line?
Don't worry too much about what to wear in Paris–we find that people tend to overthink it.
Pack clothes you're comfortable in, leaning toward classic, basic styles, and dark colors, and you'll blend right in (as much as any tourist can).
And hey, if you get there and feel completely out of place in your wardrobe, Paris is a pretty fantastic place to shop!
What to Pack for Paris
Travel Insurance — We don't ever suggest traveling without travel insurance–anything can happen, and this is definitely a case of better safe than sorry.
Travel Adaptors for France — If you're coming from outside of Europe, you'll definitely need adaptors for your electronics.
Swiss Army Knife  — AKA, your handy baguette-and-cheese-slicer plus wine bottle opener all in one–it's a Parisian essential!
Pacsafe  — We bring this with us everywhere these days. Simply place your important belongings inside before you leave for the day, string the safe around the sturdiest thing in the room (the base of the toilet or a pipe under the sink is a good option), and voila! You're good to go.
Travel Journal — I personally love the One Line a Day Journal that covers 5 years–you write one sentence a day, and every date is on the same page through the years (so, for example, you can easily see what you were doing on all the April 18th's).
I adore the concept (I'm currently on my second volume), and a quick sentence each day is about all I can commit to in a journal!
Camera — This one comes from personal experience: on our first trip to Paris in late 2013, we took all of our photos on our cell phones, and we definitely regret it.
While phone photography has come a long way in the last decade, if you're even the tiniest bit into photography as a hobby, definitely bring the camera.
We recently upgraded to our Sony a7R III and absolutely love it, but whatever camera you're comfortable with works–just make sure you have something with you to preserve your memories! 
Tote Bag
— Incredibly light and easy to pack, a tote bag can serve as a grocery bag, beach bag, laundry bag, or just about anything else.
They're incredibly handy and we recommend adding one to your packing list. We've been carrying ours for years and it never stops coming in handy!
Reusable Water Bottle — Even in fashionable cities like Paris, we always prefer to keep water with us—it saves both money and plastic as compared to buying water bottles along the way.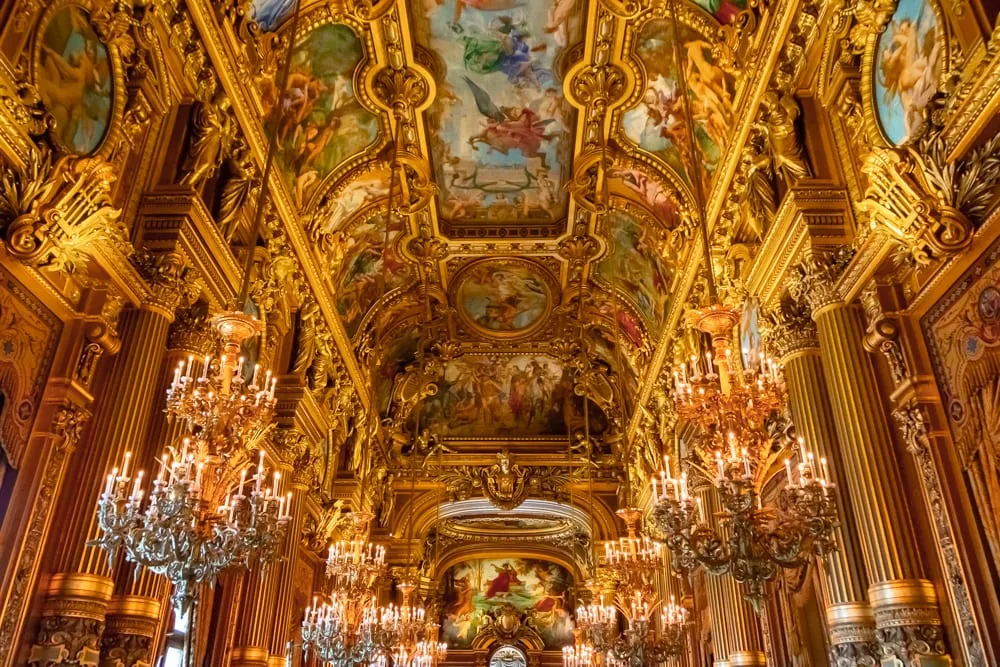 Hand Sanitizer — We've never been sorry to have this floating around in our day bag.
Money Belt — This is up to you: we no longer use one, but if you're more comfortable having your passports with you at all times in Paris, you can consider bringing one.
We used to use this one and had no complaints. These days, we prefer just to leave valuables in our Pacsafe during the day.
Your 3 Day Paris Itinerary Map
Take This Map With You! Click each highlight to pull up the name of the destination. To save this map to "Your Places" on Google Maps, click the star to the right of the title. You'll then be able to find it under the Maps tab of your Google Maps account! To open the map in a new window, click the button on the top right of the map.
---