November 15, 2018
A Whimsical Weekend Getaway: The Albuquerque International Balloon Fiesta
United States
The Albuquerque International Balloon Fiesta is, hands down, one of the most unique and downright fun events that I have ever attended.
Every October, hundreds of hot air balloons descend upon New Mexico from all over the country (there are even some international guests–we spotted a Mexico balloon!) for hot air balloon competitions and awe-inspiring, non-competitive events–what else could you expect from a place where even the bright and colorful New Mexico state flag has a whimsical story behind it?
The festival is growing each year, and it is incredibly enjoyable to attend–even as someone who knows next to nothing about hot air balloons and has never been in one! From feeling the heat of the balloon's flames warm my face at the Twinkle Twinkle Glow event, to taking in just how much the balloons towered over me when I walked by them, to standing in awe of the sheer number of balloons in the sky at the Mass Ascension, this weekend getaway quickly became one that I will never forget.
Albuquerque International Balloon Fiesta Fast Facts
1. The Fiesta began with 13 balloons in 1972, and now hosts almost 600 balloons–it grows bigger every year.
2. You can't steer hot air balloons. I had never really thought about this before, but it makes sense: you can take balloons up or put them down, but when it comes to directions, the colorful beasts do their own thing.
As a result, balloons regularly land all over Albuquerque during the Fiesta, causing occasionally intense traffic for locals and creating an entire job description of people in pickup trucks designated as "balloon chasers", who go and fetch the balloons (and their occupants) wherever they decide to land.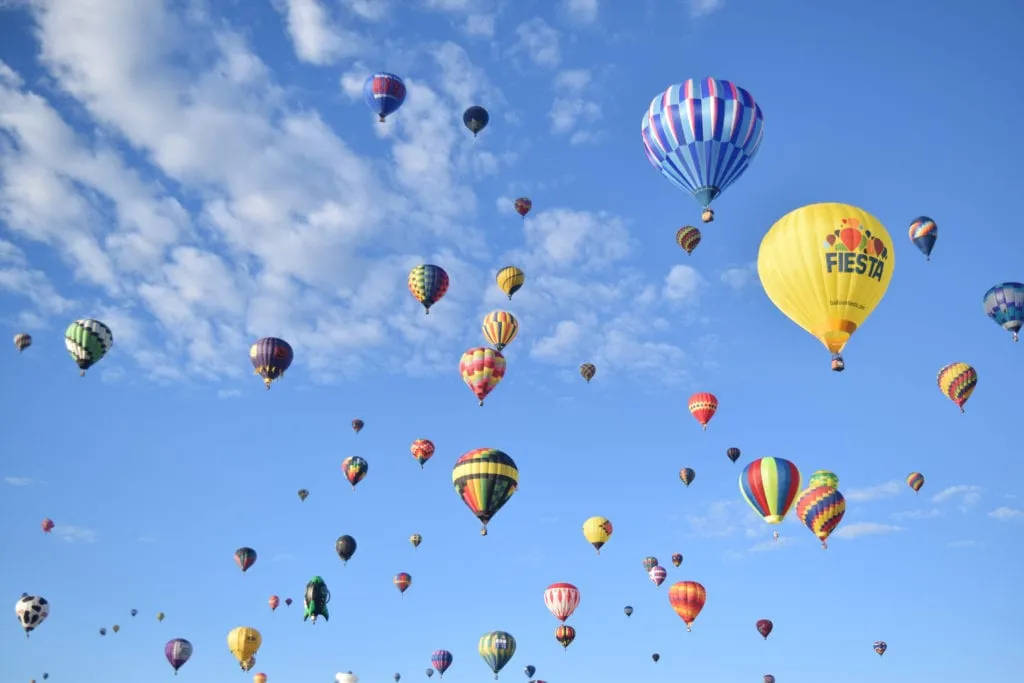 3. The steering issue is somewhat mitigated by what is known as the "Albuquerque Box Effect". At my fifth-grade level of understanding, Albuquerque's environment is fairly unique its lower winds blow in a different direction than its higher winds.
Because of this, balloons are more likely to be able to be put down right where they started, making Albuquerque a fantastic place to be a hot air balloon pilot.
4. You can take a balloon ride during the Albuquerque International Balloon Fiesta, but only one company is allowed to take you: Rainbow Ryders. When we looked into it, we found that prices started at $449/person–YIKES. Even if we had wanted to fork over a grand for the experience, the rides may have been sold out anyway–they are said to be in very high demand.
5. The Fiesta is divided into two "session" per day, a morning session and an evening session. One ticket (as of the time of writing, $10 at the park, or $8 at local 7/11 stores) will get you into half a day's activities.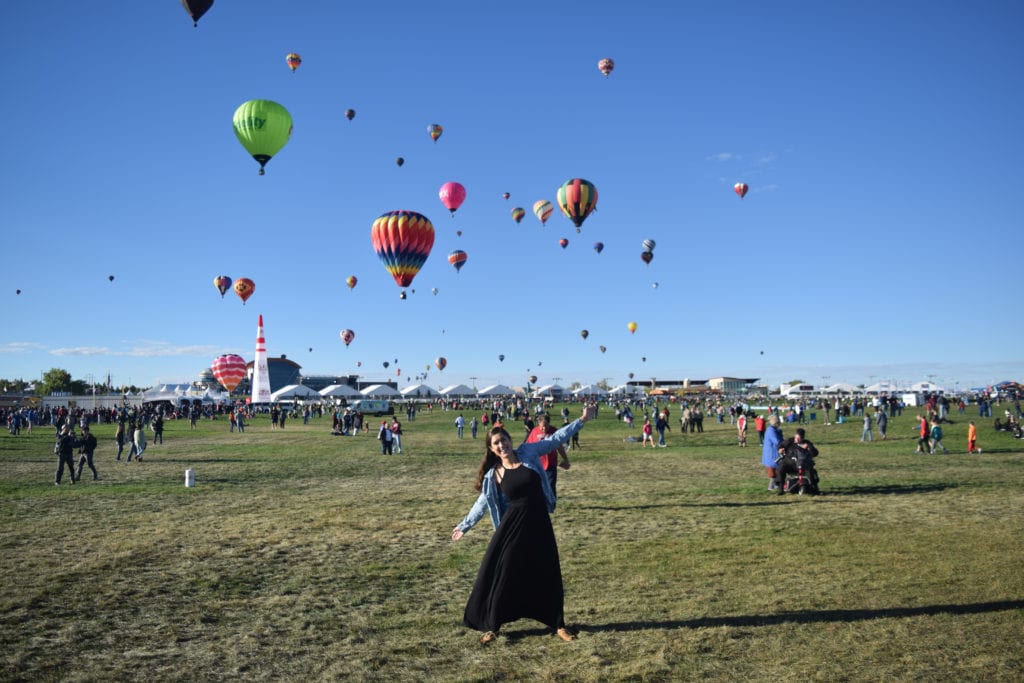 6. Show up early! Crowds can reach in excess of 80,000, making parking a nightmare. There are park and ride shuttles around Albuquerque, as well as some parking on site.
7. There are plenty of souvenirs and (overpriced, fair-style) food sold at the Fiesta. As this is New Mexico, almost every food item will have an option of being doused in Hatch Green Chile.
Must-see sessions at the Albuquerque International Balloon Fiesta
1. The Mass Ascension
If you've seen photos of the hundreds of colorful balloons in the sky during the Fiesta, odds are that you've seen photos of the Mass Ascension.
These events, held on certain mornings of the Albuquerque International Balloon Fiesta, are exactly as they sound: all of the balloons attending the Fiesta rise into the air in waves so that eventually the sky is covered in colorful balloons.
The field where the balloons take off from is open to visitors, so we were able to wander amongst all of the balloons as they got ready, and watch them get further and further away as they took off–it's amazing how fast the giant balloons start to look like pinpricks in the sky.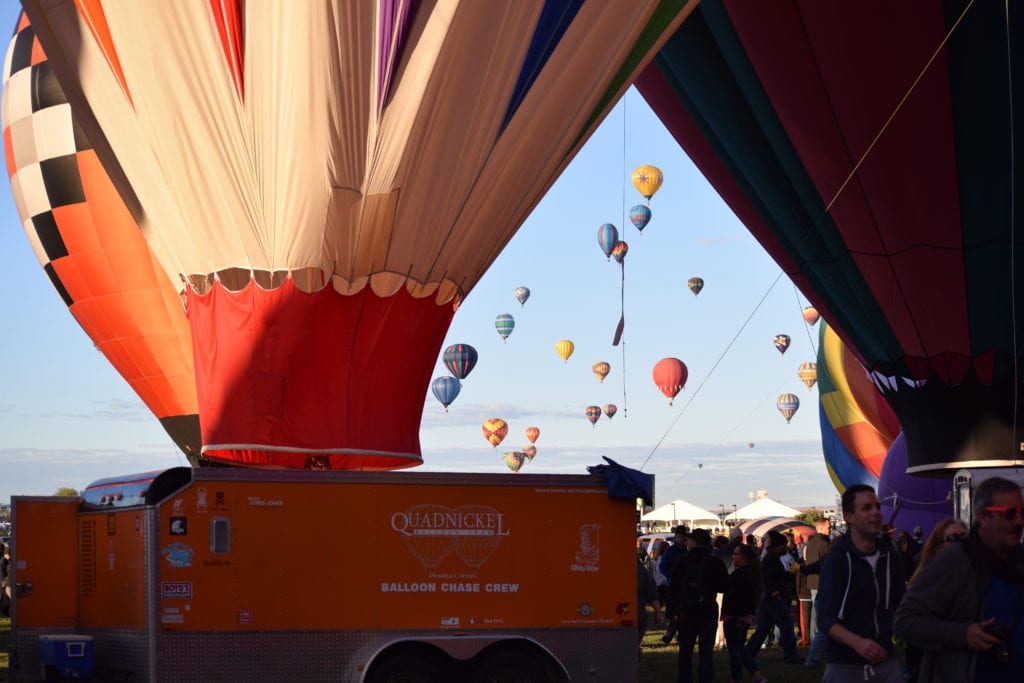 2. Twinkle Twinkle Glow
We had no idea what to expect for this session, but it was gorgeous to watch. All of the hundreds of balloons gather onto the field, wait for dark, and then light themselves up. Since the balloons are powered by gas, flames will appear when the balloons are inflated and they "glow" all around the audience that is wandering among them.
The balloons won't leave the ground that night, but it is unbelievably fun to walk around, admire the most whimsical balloons, and enjoy the show.
The Glow will typically be followed by a fireworks show that, while not as fascinating as the balloons in my opinion, was incredibly well done and a beautiful way to end the evening.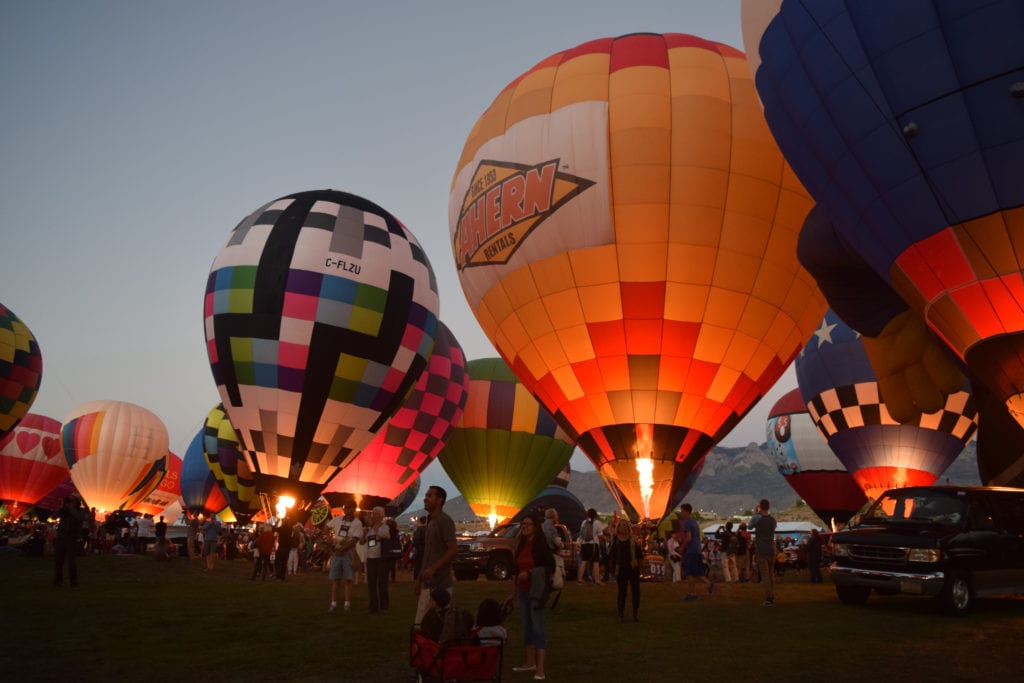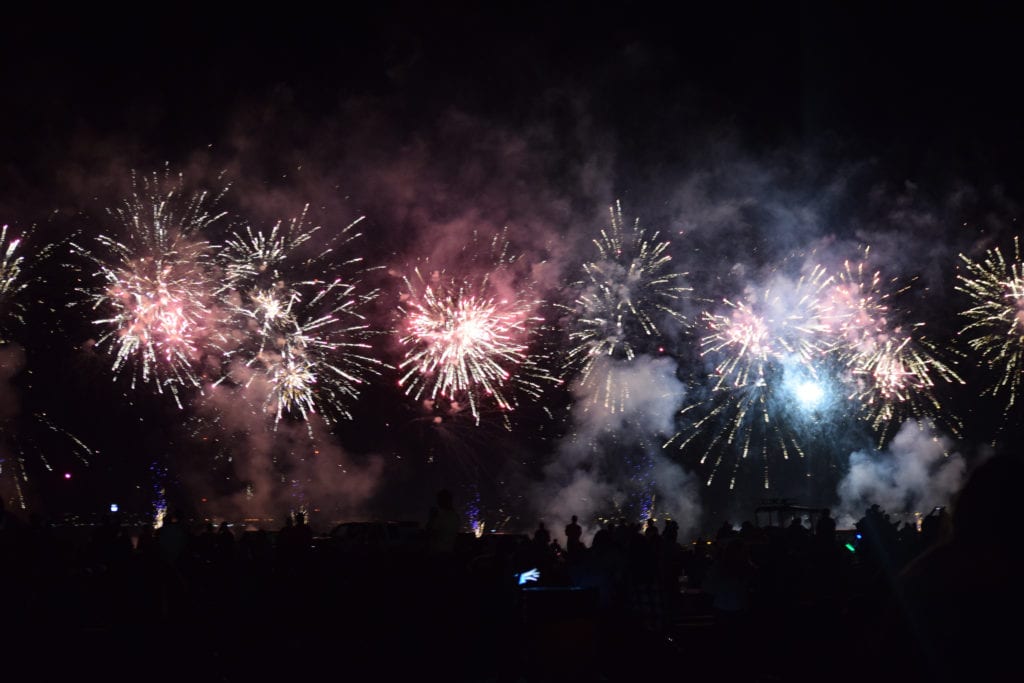 When to Go
The 2019 Albuquerque International Balloon Fiesta will be held Saturday October 5–Sunday October 13. The bulk of the tourist-friendly activities such as the Mass Ascensions and nighttime glows are held during the opening weekend and then Thursday–Saturday before the close of the festival.
During the week, the festival is more focused on the balloon competitions. The full schedule is available here.
Jeremy and I adored the Albuquerque International Balloon Fiesta: it was beautiful, engaging, light-hearted and downright whimsical.
We ended up here at the spur-of-the-moment due to the generosity of family and new friends (many thanks to Alex, Allen, and Georgia!), and it was well worth the 8-hour drive just days after flying back from Cambodia!
If you're looking for a quick, fall weekend getaway to something that is easy to access, reasonable on the wallet, and completely unusual–the Albuquerque International Balloon Fiesta is exactly what you're looking for.