This was the month that we finally made it to Turkey, a long-awaited destination that has eluded us for years.
It was wonderful… and also not exactly the trip we had expected.
April was incredibly busy, packed full with twists and turns we did not anticipate: our fast travels through March caught up to us in Turkey, and we ended up rearranging the bulk of our trip and skipping several destinations there to accommodate our dwindling energy levels and skyrocketing workloads.
We'll make it back to Turkey one day to finish our wish list, but in the meantime, we still managed to have a magnificent month.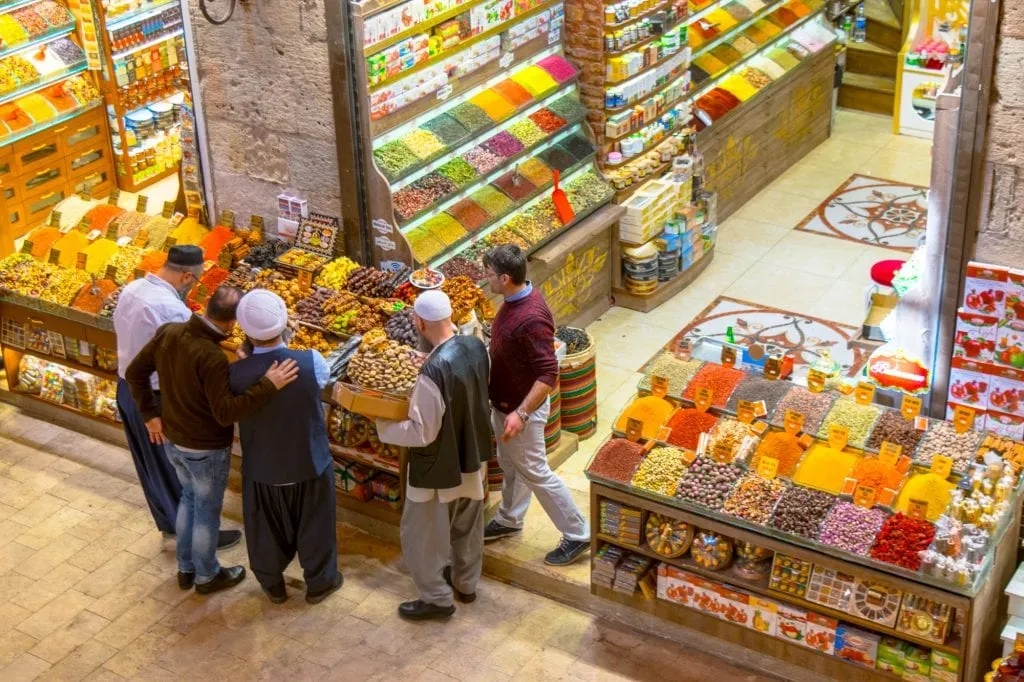 Where We've Been:
Munich, Germany
Istanbul & Cappadocia, Turkey
Bologna, Italy
Highlights of April 2018:
Finally touching down in Turkey. We have been dying to make it to both Turkey and Istanbul specifically for years: after starting to plan trips in both 2016 and 2017 that ended up getting scrapped, it felt amazing to finally feel the plane touchdown in a destination that had eluded us for so long.
Riding in a hot air balloon in Cappadocia. Neither of us had ever ridden in a hot air balloon before April, and we couldn't have picked a more magical spot for our first ride than Cappadocia. Rising gently through the air while admiring the fairy chimneys below us and the hundred other balloons in front of us is a feeling we will never forget.
It was even magical enough to make me (briefly) forget my fear of heights!
Eating all the Turkish breakfasts. Jeremy teases me all the time for my obsession with breakfast: wherever we are in the world, I'm always tempted by the first meal of the day.
Turkey is the perfect place for that obsession, because Turkish breakfasts are legendary: delicious and enormous, they are generally made up of large spreads of bread, cheese, eggs, olives, jam, honey, and various dips and pastes, served with buckets of Turkish tea–in other words, they're a piece of heaven on Earth.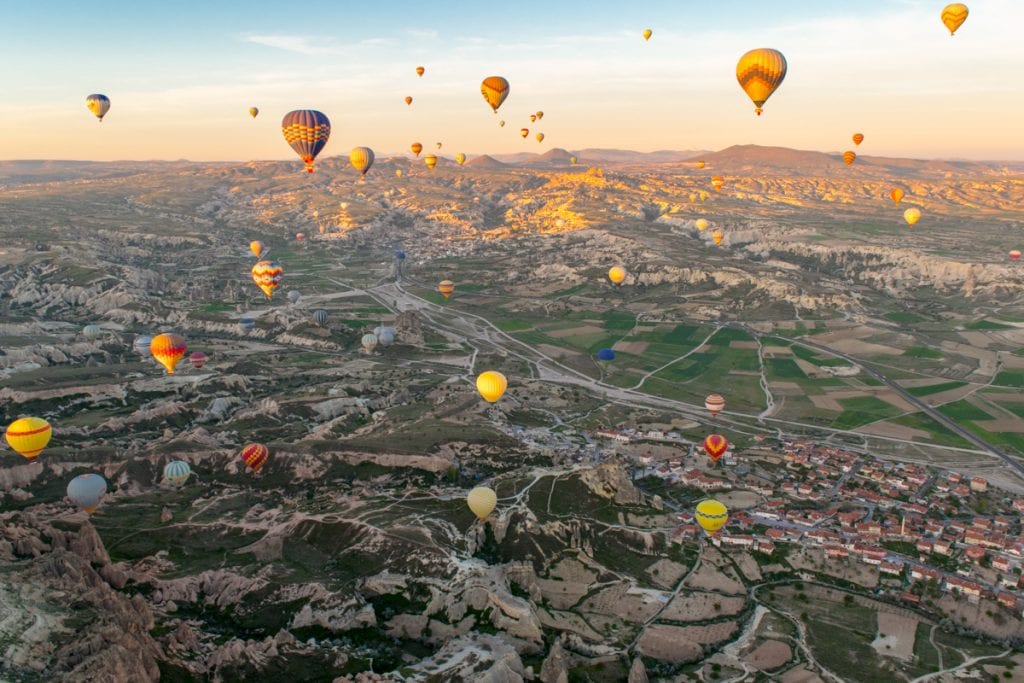 Challenges of April 2018:
Our first Airbnb in Istanbul was the worst Airbnb experience we've ever had. When we checked into our Airbnb apartment in Istanbul, we quickly realized that what we had thought was going to be our haven to rest and catch up on work for two weeks, was… anything but that.
The promised kitchen was non-existent, the host was nowhere in sight and couldn't be reached (he had an employee available who didn't have access to the Airbnb account), the bathroom reeked of mildew… and it was after dark and we had just arrived in the city.
We ended up leaving the following morning and, after many back-and-forths with Airbnb's customer support, got our money back.
We've never had to leave an Airbnb before, and the whole thing was unsettling–the employee eventually admitted to us that they were speaking to Airbnb customer service on the phone on behalf of the host, so as far as we know, the host never once spoke with us or Airbnb–who even knows who he is.
At the end of the day, we got our money back, but ended up bouncing around hotels during our first stint in Istanbul–hardly the relaxing time to work that we anticipated.
As a direct result of that fiasco, we logged onto Airbnb and booked a month-long stay in Bologna. No regrets.
We paid for moving around too much in March with crashing energy levels in April. In Turkey, we planned to see Istanbul, Cappadocia, Pamukkale, Fethiye or Bodrum, and Selcuk. We ended up seeing… Istanbul and Cappadocia.
Don't get us wrong–we loved and enjoyed both, and are sorry to have missed the others–but after fast-paced travel in March and the Airbnb fiasco that ended up killing our two-week planned rest in Istanbul, we just weren't up to more fast travel.
Oh, well–at least we have an excuse to plan another trip to Turkey one day!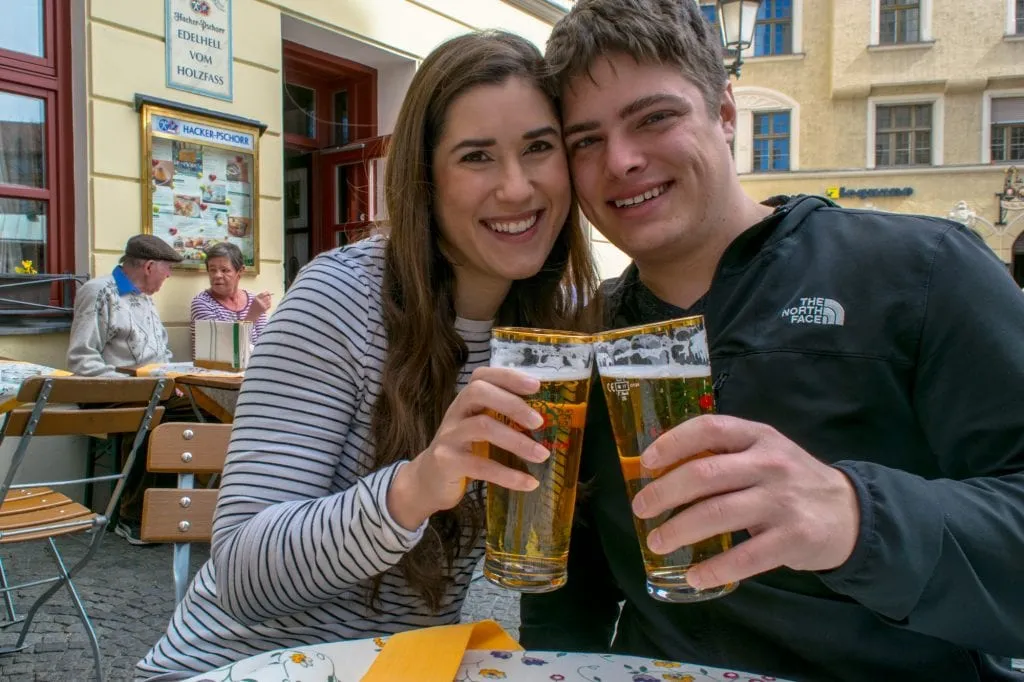 Featured Travel Product of the Month:
Being in a destination where we do more grocery shopping than restaurant dining (hello, Italy) always reminds me of how handy having a built-in, washable, reusable tote can be: our RuMe bag weighs basically nothing and holds up to 50 pounds–this month, it's carting pasta, pesto, and wine, and later this summer, it'll (hopefully) double as a beach bag again.
Recommended Travel Book of the Month:
I love the idea behind this anthology: fiction authors are tasked with the job of telling their most memorable true travel story–and they pull it off beautifully.
These stories captivated me from start to finish, pulling me across place and time to destinations as different as Kazakhstan and New Orleans and to settings that span across decades.
If you love travel stories, I can't recommend this book enough.
Most Popular Instagram Photo:
We adore this shot of Jeremy and I with Neuschwanstein Castle in Bavaria, and Instagram agreed!
April 2018 Posts:
2 Weeks in Colombia: The Ultimate 14 Day Itinerary — Looking to plan a trip to Colombia? Here's how to see the country's highlights in just two weeks!

Discovering What to Eat in Lisbon With Taste of Lisboa — We arrived at our Lisbon food tour in the Campo de Ourique neighborhood jetlagged and starving, and we left caffeinated and stuffed to the gills. Plus, there was chocolate cake–our kind of food tour for sure!
The Perfect 3 Days in Paris Itinerary for First-Timers — One of the most detailed posts we have ever published, this 3 days in Paris guide will walk you through a Parisian trip you'll never forget.
4 Days in Lisbon Was the Perfect First Taste of Portugal — Sailboat trips, castles, sunsets, pastries, bookstores–we found a lot to love about Lisbon (and Portugal) in just four days.
The 10 Prettiest Bookstores in Europe — We teamed up with several other travel bloggers to show off some of the prettiest bookstores in Europe–we've only visited four of the ten ourselves, meaning that we have some more book-centered tourism to do in the future!
What's Next:
Excluding a brief trip to the microstate of San Marino, it's all about Italy in May: we're going to be spending the bulk of the month exploring Emilia-Romagna from our base in Bologna before heading up to Bolzano for some quality time with family in the Dolomites.
In addition to San Marino, we hope to also make day or overnight trips to nearby Modena (home to true balsamic vinegar), Parma (home to parmigiano reggiano), and Florence (home to wonderful memories from last fall and one of our favorite cities on Earth).
So far, we are absolutely loving being back in one of our favorite countries of all time–we have been happily binging on one of the world's best cuisines ever since we got here.