May 4, 2020
15 Best Day Trips from San Antonio, Texas
United States
During the years that we called San Antonio home, we spent the majority of our weekends traipsing around Texas, seeking out the best day trips from San Antonio along the way!
From small towns to state parks, we ended up experiencing some incredible San Antonio day trips–here are the best places to visit surrounding San Antonio.
All of these day trips are within a couple of hours of San Antonio, making them easy to fit into one day, and include something for every interest.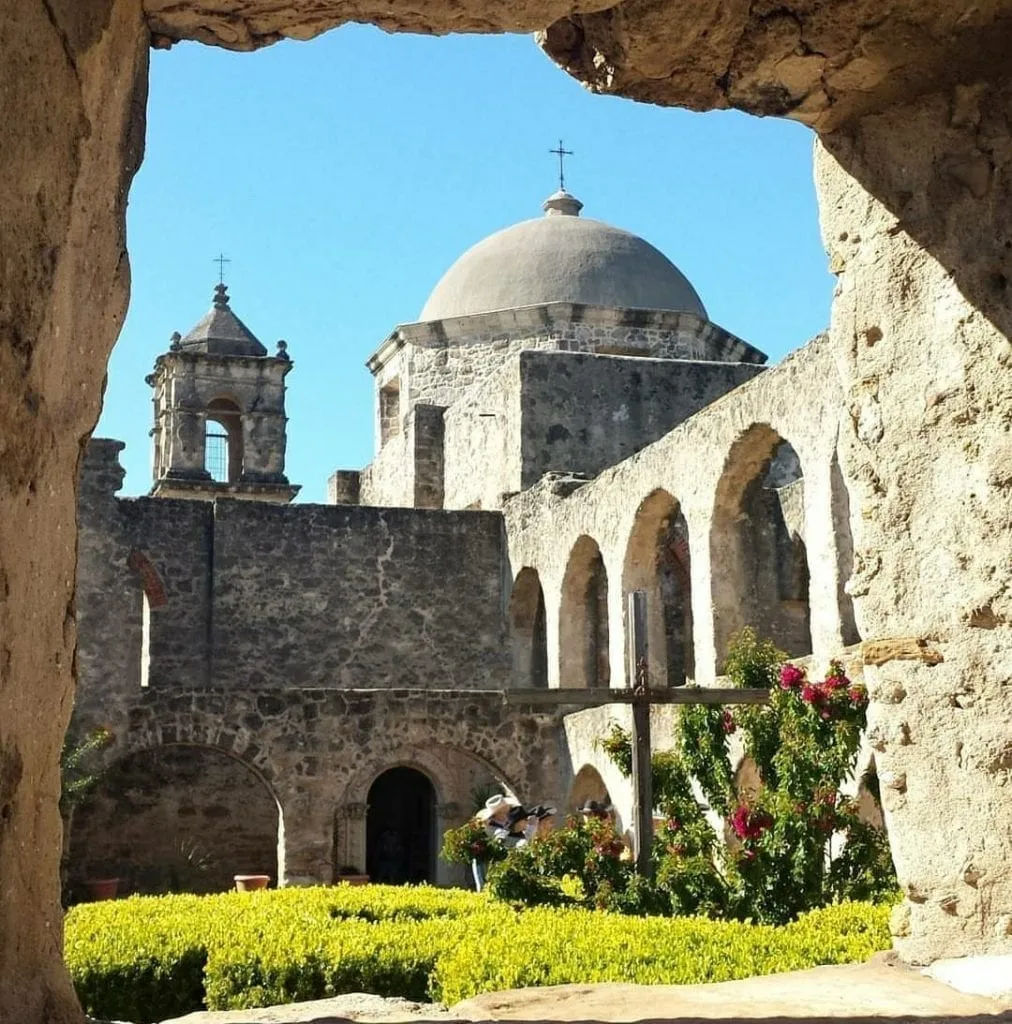 City + Small Town Day Trips from San Antonio
If you're looking for an adorable small town or fun city, these are the best day trips from San Antonio for you!
Fredericksburg
Known for its prevalent German heritage and many, many wineries, Fredericksburg is the perfect getaway for wine lovers.
With plenty of vineyards to choose from, not to mention a plethora of great restaurants and shops in town, Fredericksburg is easily among the top day trips from San Antonio.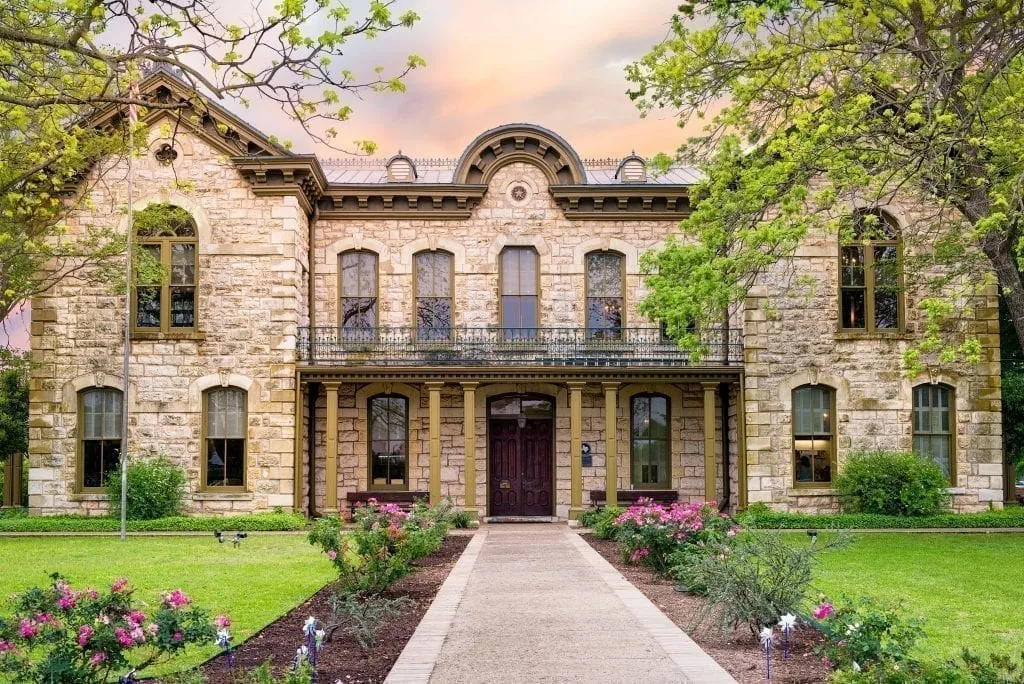 Johnson City
The hometown of President Johnson is best-known to daytrippers these days as the home of the LBJ Ranch and the Texas White House, but it's also located very close to Pedernales Falls State Park!
Austin
As the best-known city in Texas on the national and international tourism scene, Austin is an incredibly fun day trip from San Antonio, but as someone who has driven the (supposedly) less than 1.5-hour route between the two cities dozens of times, let me warn you: the traffic between Austin and San Antonio is notoriously terrible, so try to plan your drives for well outside of rush hour!
If you do make the drive, though, you'll find no lack of fun things to do in Austin: perusing the street art and boutiques around South Congress, watching the bats fly out from under the Congress Avenue Bridge, touring the state capitol, and enjoying Austin's famous live music scene are just a few things that might be on your agenda!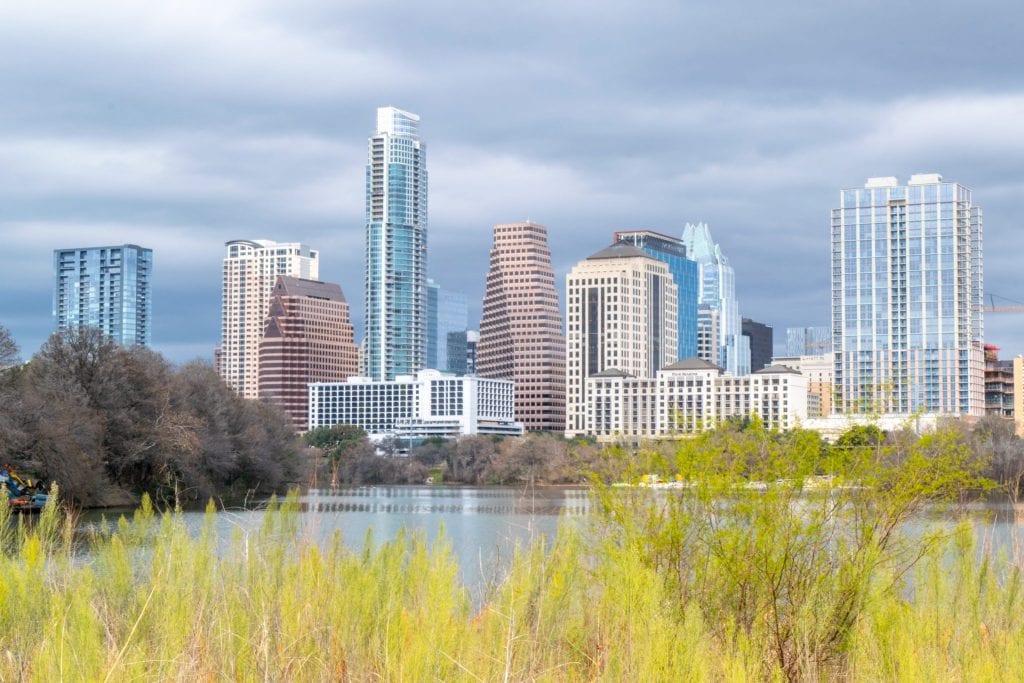 Boerne
The adorable small town of Boerne, Texas is one of the easiest day trips from San Antonio–it's located so close to the city that some Boerne residents even commute into San Antonio for work!
With a strong German heritage, a beautiful downtown packed with restaurants and antique shops, and plenty of year-round festivals to hit up, Boerne is a fun and simple way to enjoy a classic small Texas town without traveling far.
Lockhart
Known as the "barbecue capital of Texas", be sure to come hungry when you head out to Lockhart on a day trip from San Antonio!
Smitty's, Kreuz, and Black's are among the most legendary barbecue spots in the area, but Lockhart is also home to plenty of breweries and big helping of small-town Texas charm.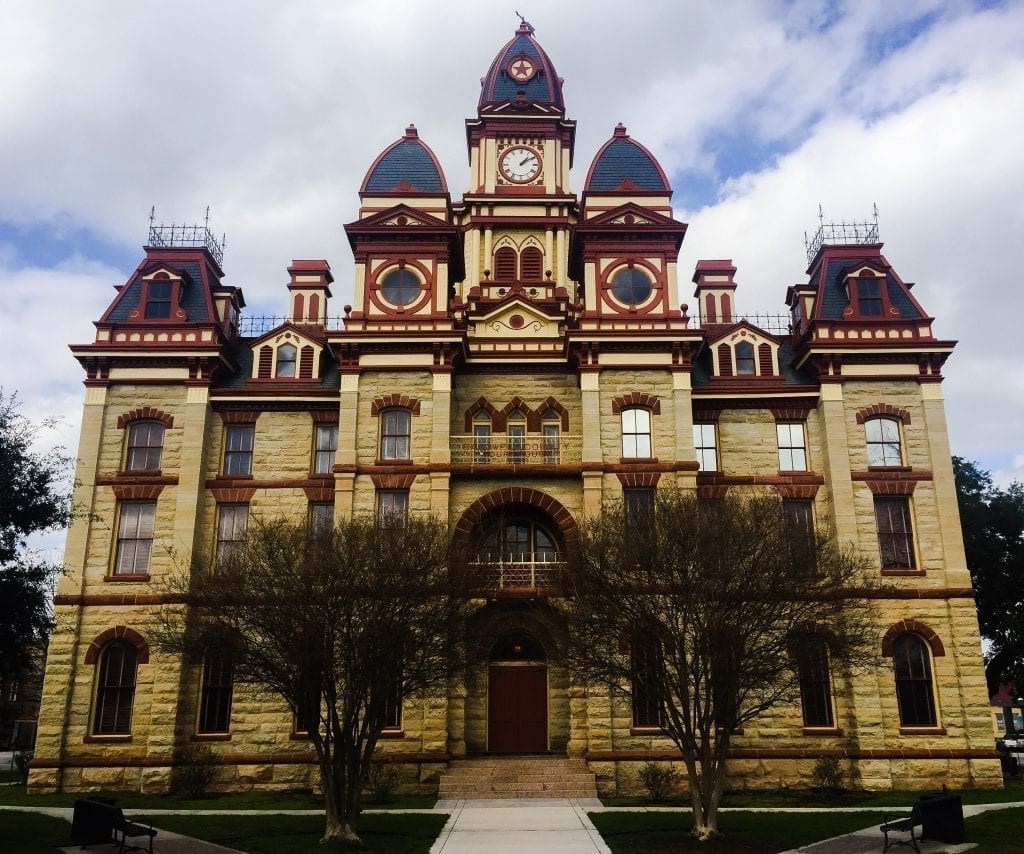 Shiner
Shiner beer is a staple of Texas bars and barbeques everywhere–and in the small town of Shiner, Texas, you can tour the Spoetzl Brewery and learn all about the process of making the classic drink–and, of course, sample some while you're at it.
Dripping Springs
Located just outside of Austin and nestled in the Texas Hill Country, the small town of Dripping Springs is primarily known for two things: weddings and the Hamilton Pool.
The many wineries surrounding Dripping Springs make it a prime wedding venue in Texas, though of course its vineyards, distilleries, and even olive farm all make the town worth visiting even without a wedding.
Then, of course, there's Instagram-famous Hamilton Pool, the natural pool that was carved out of limestone when a river caved in thousands of years ago, leaving a refreshing hangout (complete with a 50-foot waterfall!) behind for generations of Texans to enjoy.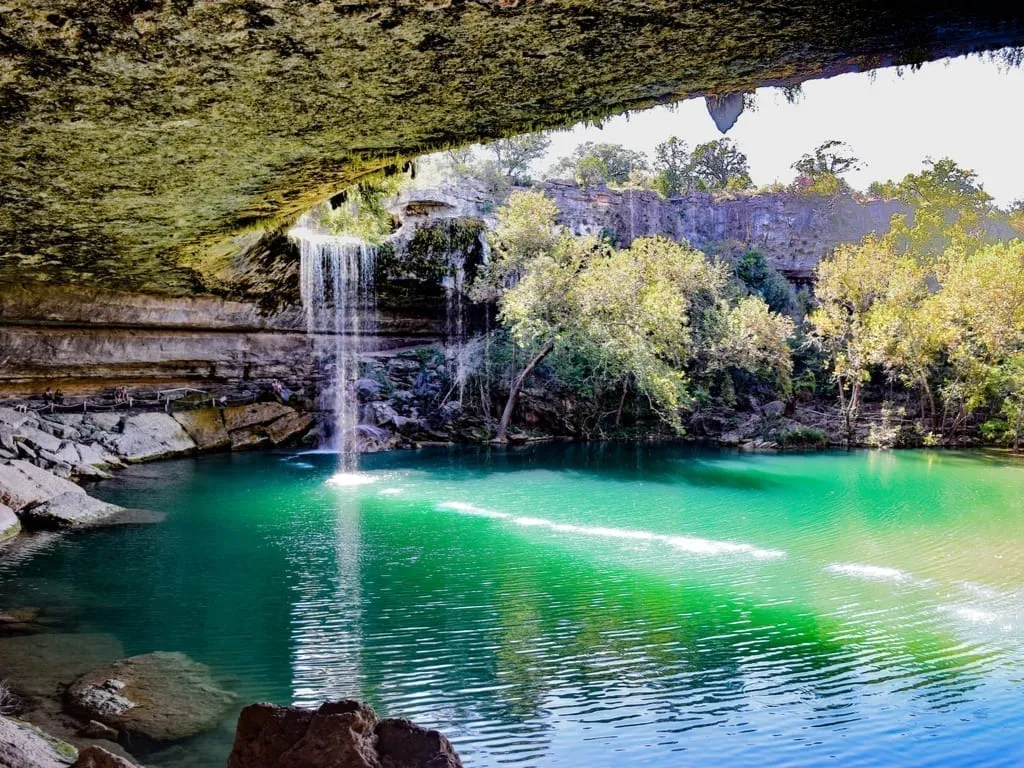 Luckenbach
Home to just 13 official residents, the positively minuscule town of Luckenbach is well-known as a country music hotspot, with a popular dance hall and far more live shows than one would expect from a town of merely 13 people!
Nature-Focused Day Trips from San Antonio
Looking to enjoy a bit of nature?
These San Antonio day trips include some of the best natural beauty in the area–but you don't need to leave the San Antonio area at all to find beautiful hikes.
If you're looking for a quick hike but don't want to travel outside the city, Government Canyon State Natural Area and Friedrich Wilderness Park were our two favorite places to hike within San Antonio, and we visited them both dozens of times each.
Guadalupe River State Park
Floating the river is a time-honored tradition all over Texas–and nearby Guadalupe River State Park is one of the most accessible places to float near San Antonio.
For those not inclined to grab a tube, the park has some lovely hiking as well.
Pedernales Falls State Park
With plenty of places to both hike and swim, Pedernales Falls is an incredibly fun place to enjoy the great outdoors–and it's also located right next door to Johnson City, which it can be combined with for a great San Antonio day trip that balances multiple interests.
Cascade Caverns
The stunning Cascade Caverns are located just a few miles south of Boerne and date back 140 million years, making them a fascinating place to visit.
While the typical daily tours are very interesting, if you're the adventurous sort and can get a group together for the tour through the lower cave system, we highly recommend it.
Even after traveling full-time for years through nearly 50 countries, we still consider our spelunking tour of Cascade Caverns to be one of our favorite tours that we've ever taken!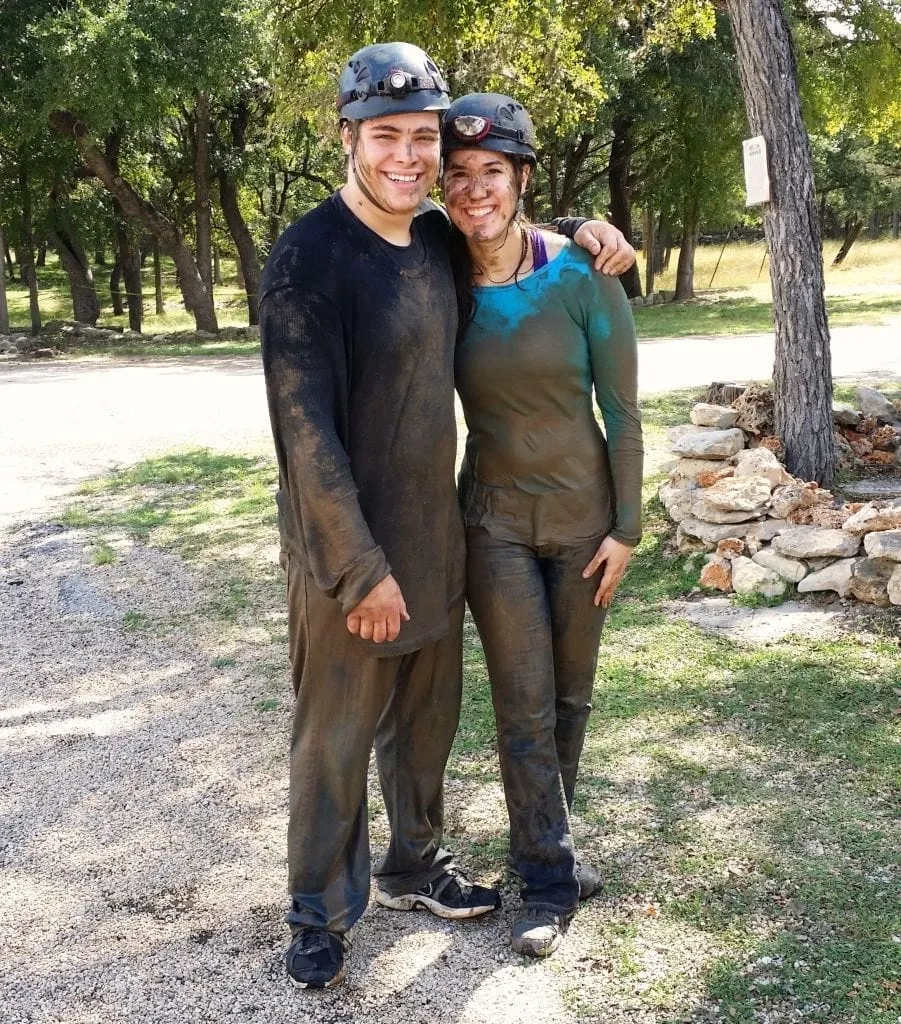 Garner State Park
Located on the beautiful Frio River, Garner State Park makes an excellent day trip for visitors looking to hike, swim, or float the Frio River (which we personally loved to do there).
Lost Maples State Park
Lost Maples, as you can probably guess from the name alone, is best known for its stunning fall foliage–but it's a beautiful place to hike and explore year-round!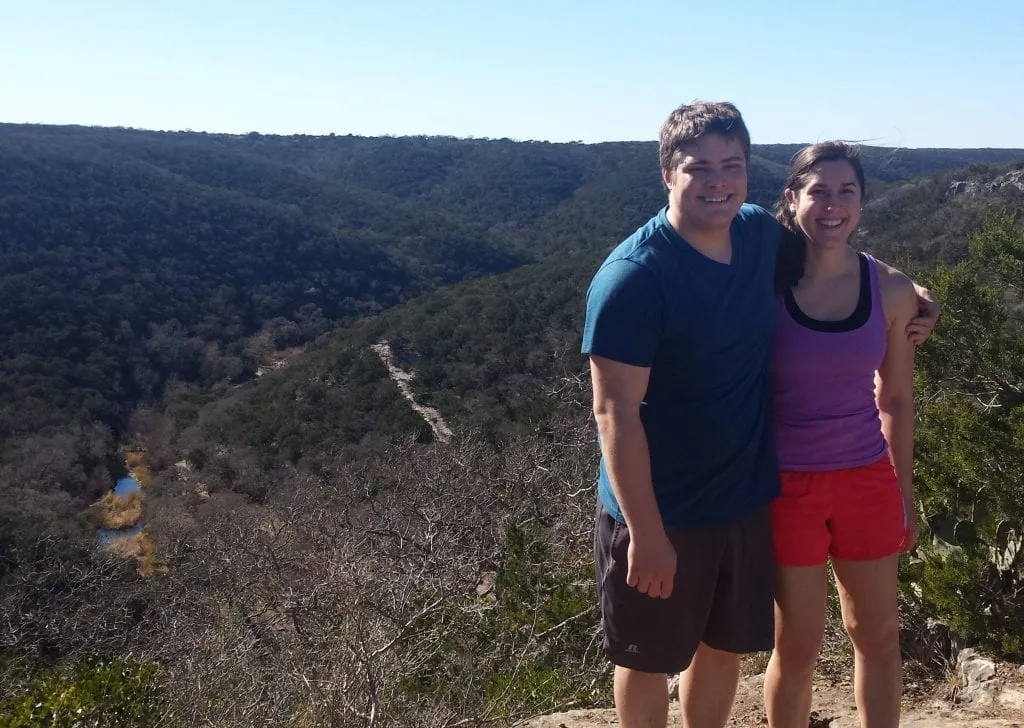 Natural Bridge Caverns
Named for its famous, naturally-occurring, 60-foot limestone bridge, the Natural Bridge Caverns as we know them today were discovered in 1960, and are part of the largest cave system in Texas that is open to the public.
With a wide variety of tours to choose from (varying in both price and intensity), there's a visit to Natural Bridge Caverns that works for everyone.
Enchanted Rock State Natural Area
Enormous, pink, and mostly free of vegetation, Enchanted Rock is unmissable as you approach it.
Made of granite and soaring 425 feet into the air, summiting Enchanted Rock is a classic Texas Hill Country experience.
The hike doesn't take long, but it is very unprotected, so be sure to bring a hat and plenty of water, especially if you're hiking on a hot summer day.
Enchanted Rock can be visited independently on a day trip from San Antonio, or combined with a stop in nearby Fredericksburg.
Canyon Lake
Beautiful Canyon Lake, located on the Guadalupe River and known for being an excellent place to hit the water, is one of the most popular day trips from San Antonio and an excellent place to cool off on those brutal summer days!