If we could only eat in one city for the rest of our lives, we would instantly choose to enjoy the food in Rome.
Typical Roman cuisine is so varied, so delicious, and so memorable, that a lifetime's worth of meals wouldn't be enough to satiate our cravings for Italian coffee in the morning and carbonara in the afternoon.
After spending months exploring Rome–and even longer exploring Italy as a whole–we still find ourselves more enchanted with Roman food with every visit.
Here's a complete rundown of what to eat in Rome (hint: many dishes are quite different than what you'll want to eat in Venice or Florence or Sicily), as well as several tips on how to find and enjoy the best food in Rome!
How to Try a Wide Variety of Roman Foods At Once
Want to sample several of the best foods in Rome in one fell swoop, or simply want to be able to try small bites of each so you don't accidentally order something you don't like?
Consider signing up for a Rome food tour!
We've enjoyed many food tours in Italy over the years, including 2 food tours in Rome, and walk away every time feeling a bit more knowledgeable about both the local cuisine and the city as a whole.
We loved this food tour in Trastevere, for example, which will allow you to sample far more dishes in one evening than you could try in a few days worth of "normal" eating!
If you would like to enjoy a food tour in Rome (or any other city), consider signing up for it as early in your trip as possible: that way, you'll have plenty of new favorite dishes to order in restaurants throughout the rest of your trip.
Book your Rome food tour today!
What to Eat in Rome, Italy
The Classic Pasta of Rome
If there's one category of food in Rome that everyone is eager to try, it's pasta–and Rome is famous for its four traditional (and delicious) pasta.
Be sure to try each and every one of these when exploring the food in Rome!
Carbonara
Dating to WWII, carbonara is one of the most popular kinds of pasta in Rome.
Made with guanciale (pork jowl/cheek), black pepper, egg, and cheese (usually pecorino-romano or parmigiano-reggiano, or sometimes a mixture of the two), carbonara is creamy and delicious.
And, importantly, traditional carbonara contains exactly zero actual cream or milk.
Outside of Rome, including in other places in Italy, the dish is often made with cream–but it's much, much better in its traditional version.
Gricia
You can think of gricia as essentially an egg-less carbonara, made with black pepper, cheese, and guanciale.
Despite its smaller list of ingredients, gricia is just as rich and delicious as the more-famous carbonara.
Cacio e Pepe
This simple and fantastic Roman pasta is made with copious amounts of cheese and pepper.
If you're looking for comfort food in Rome… add cacio e pepe to your list of things to eat.
Amatriciana
Amatriciana is the Roman pasta that will likely look most familiar to first-time visitors to Rome when they arrive, as it is the only one of the four with a red, tomato-based sauce.
In addition to tomato, the dish includes pecorino romano, guanciale, and sometimes onion.
Amatriciana is a bit spicy, too–be prepared for a bit of a kick!
Meat-Based Dishes to Eat in Rome
Saltimbocca
Veal served with prosciutto and sage makes up this very traditional food in Rome.
Saltimbocca isn't necessarily on the top of most visitors lists of what to eat in Rome, but it's worth sampling if you're looking for a traditional dish!
Trippa
Tripe may not be the most popular of these foods, especially with visitors, but it is a traditional food in Rome!
Coda alla Vaccinara
Oxtail stew made with celery (plus several other vegetables, depending on the version) and tomato is a hearty Roman dish that is popularly served in trattorias.
Traditional Roman Sandwiches to Sample
Non-Italians may more readily associate Rome with pasta than sandwiches, but when exploring the food in Rome, be sure to try at least one of these traditional sandwiches!
Trapizzino
Trapizzino is a very new food in Rome, only dating to 2008, but it has quickly become a very popular Roman street food.
Part pizza and part sandwich, a trapizzino is made of pizza dough cut into a triangle and stuffed with various meats, sauces, and vegetables.
Porchetta
Boneless pork roast stuffed with liver, as well as many spices and herbs, including fennel, and then cooked for at least 8 hours: this is porchetta.
Porchetta is definitely worth trying if you're looking for the best things to eat in Rome!
While porchetta isn't always served in a sandwich, it is popularly prepared as one.
Tramezzino
These simple, tasty sandwiches aren't going to win any awards in the culinary hall of fame, but they're a staple of bars across Italy and you'll see them behind the counter at bars all over Rome.
Made of two slices of crustless white bread cut into triangles and then stuffed with general sandwich ingredients like meat and cheese, a tramezzino is a popular snack food in Rome.
More Interesting Things to Eat in Rome, Italy
Pizza al Taglio
Completely different from the more-famous Napoli-style pizza that hails from Naples, pizza al taglio (pizza by the slice) is cooked in gigantic rectangle trays and then cut and sold in increments, and generally sold by weight.
While you'll see pizza al taglio available for takeaway in cities across Italy, this pizza style was invented in Rome!
Roman-Style Pizza
That's right, Rome has not one, but 2 specific styles of pizza that it calls its own!
Roman-style pizza has a very thin, almost flat crust.
It's very different than the chewy crust found further south in Naples, but also delicious.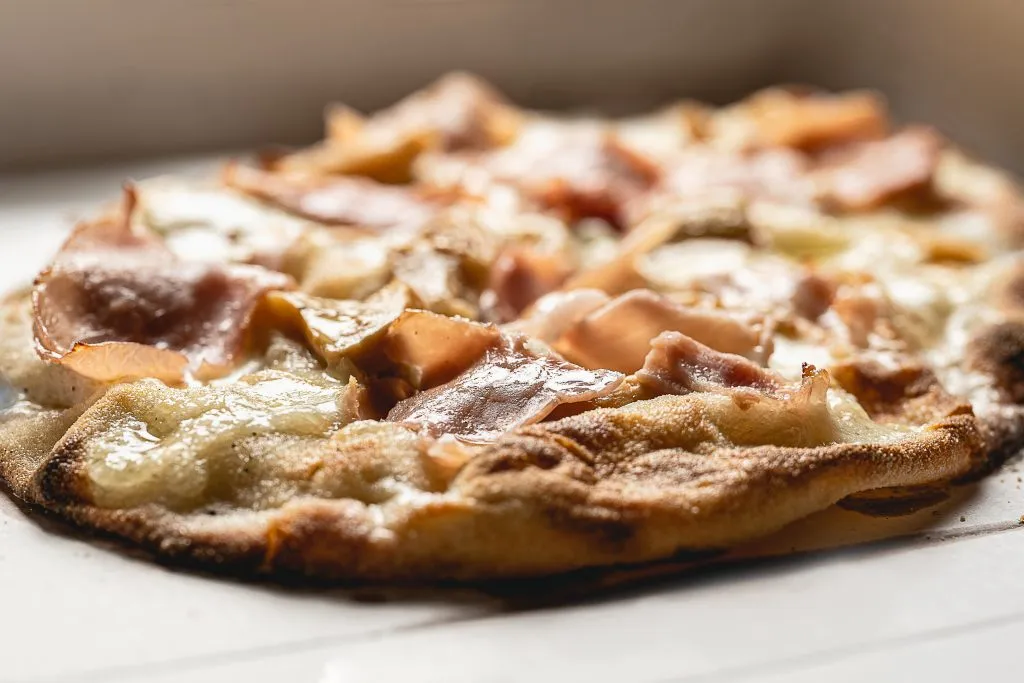 Suppli
Suppli are tasty fried snacks that bear a striking resemblance to arancini from Sicily, but have their own unique twist.
These rice and tomato sauce balls are stuffed (most traditionally with chicken giblets, now often with cheese) before being soaked in egg, coated in breadcrumbs, and fried.
Suppli are definitely worth adding to your list of things to eat in Rome.
Artichokes
Artichokes are a very typical food in Rome and are in season over the winter (which for foodies, can serve as a great excuse to visit Rome in winter).
They are prepared in two distinct styles, though they may appear similar at first glance.
Roman-style artichokes, unlike their Jewish-style counterparts, are stuffed, and the cooking methods for the two dishes differ as well.
Jewish-style artichokes are fried in oil, while Roman-style artichokes are cooked in a pan with oil and water.
Both versions are delicious, though, and it's worth trying them both in Rome!
Cornetto
Essentially Italian croissants, a cornetto is typically the pastry of choice to eat as breakfast when at an Italian coffee bar.
Cornetti are most commonly stuffed with nutella, cream, or jam.
Maritozzi
These sweet bread rolls are traditionally served stuffed with whipped cream, and long ago, they were a traditional food in Rome to eat during Lent.
These days, they're cooked year-round, and are a delicious, traditional Roman food worth trying out when you have a sweet tooth!
Pecorino Romano
One of the oldest cheeses in Italian cuisine, pecorino romano dates back to the diet of the Ancient Romans!
Made from sheep's milk, pecorino romano is very salty, very hard, and very tasty.
Cicoria Ripassata
Roman-style chicory is cooked twice to reduce bitterness and is one of the most traditional side dishes in Rome.
What to Eat in Rome for Dessert
Gelato
While gelato wasn't invented in Rome, there's no doubt that it's ubiquitous in the city today, and it's definitely worth trying at least a few flavors of gelato while in Rome.
Tiramisu
Mascarpone cheese, ladyfingers, eggs, sugar, and of course coffee make up Italy's famous tiramisu.
Tiramisu is a fairly new dessert to be added to Italian cuisine (it only dates to around the 1960s), but it's one of the most famous worldwide!
While tiramisu served outside of Italy frequently has a more cake-like texture, tiramisu in Rome is generally more of a pudding consistency–and it's all the tastier for it.
Panna Cotta
Made of sweet cream combined with gelatin and cooked into a mold, panna cotta doesn't come from Rome specifically, but it is very popular in the Eternal City!
And, like carbonara and tiramisu, panna cotta is more modern than many visitors realize, as it didn't become popular until the last few decades.
However, it is delicious and one of the most popular desserts in Rome!
You'll see panna cotta all over menus in Rome, typically served topped with fruit, caramel, or coffee sauce.
Crostata Ricotta e Visciole
One of the most traditional desserts to eat in Rome, crostata ricotta e visciole comes from Rome's Jewish population.
Made of sweet pastry stuffed with ricotta cheese and sour cherries, it is absolutely delicious and a must-add to your list of what to eat in Rome.
What to Drink in Rome
Coffee
Italian coffee may not be specific to Rome, but it definitely belongs on any list of what to eat in Rome!
Whether you prefer a cappuccino, an espresso, or something else entirely, drinking a coffee standing up at the bar in Rome is definitely an essential part of exploring Roman food culture.
Spritz
While the spritz–the most popular version, of course, being the Aperol Spritz, though a Campari Spritz is also easy to find–wasn't invented in Rome, it is now wildly popular there for aperitivo!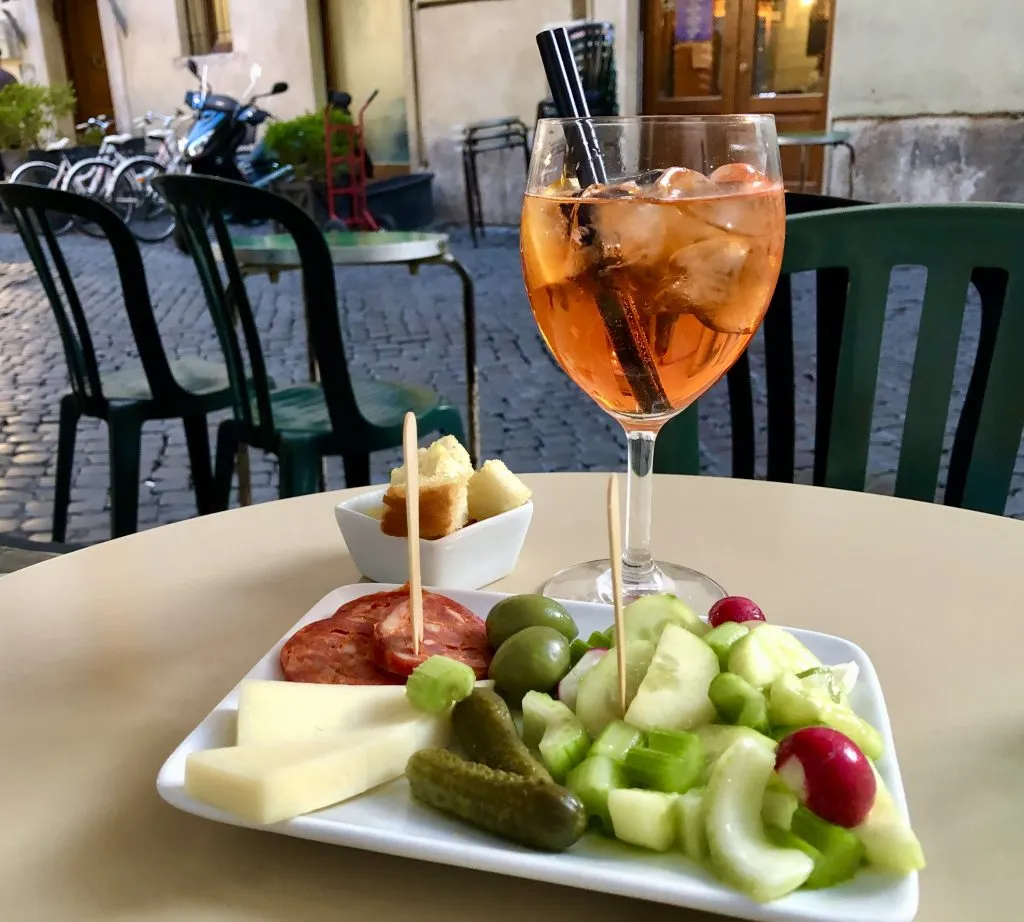 Wine
No list of the best things to eat in Rome–or anywhere in Italy–could possibly skip over the wine.
You don't need to spend a lot to enjoy the wine in Rome, either!
The house wine sold by the liter in virtually every restaurant tends to be both delicious and affordable.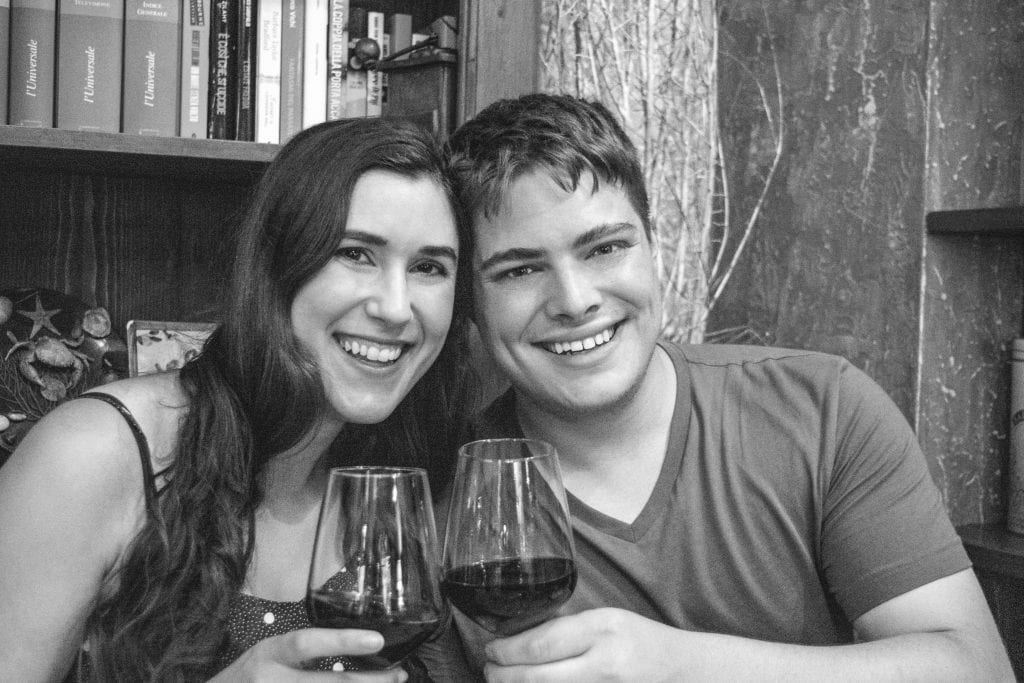 Tips for Exploring the Food in Rome
Eat breakfast like a Roman.
A cappuccino or shot of espresso and a cornetto, consumed while standing at the bar, is a traditional cafe breakfast in Italy.
It's also an incredibly fun ritual to participate in when exploring food in Rome!
Keep an eye out for lunch specials.
Generally, lunch is a far more affordable meal to eat in a restaurant than dinner, in large part due to generous lunch specials that you can find throughout the city.
Typically made up of 2-3 courses (appetizer and/or dessert, plus a main course) and often including wine, lunch specials generally have a flat price and a limited (but delicious) menu to choose from.
Strongly consider taking a food tour in Rome.
We absolutely adore taking food tours around the world, and that includes in Rome–we consider our food tour through Trastevere to be one of our favorite tourism experiences in the city!
If you can add a food tour to your Rome itinerary, you won't be sorry: food tours are a fantastic way to learn about Rome's food culture and history while enjoying delicious treats along the way.
We loved this food tour in Trastevere and can highly recommend it!
Book your food tour in Rome today!
Research where to eat in advance.
One of the worst mistakes you can make when looking for restaurants in Rome is simply sitting down at a random one and hoping for the best.
By doing so, you're just as likely to end up at a tourist trap as a delicious hole-in-the-wall restaurant, especially if you're remotely near major tourist attractions.
There are lots of excellent restaurants in central Rome, some even within a quick walk of Rome's most beloved sights–you just have to know where to look.
Luckily, the internet can help with that: a quick Google search for restaurants near you can easily help you avoid the worst of the tourist traps.
Don't shy away from making reservations.
Romans love reservations, and popular places do fill up, especially in the evenings.
If you have your heart set on a particular restaurant or rooftop bar, give them a call to make reservations a few days in advance (or have your hotel concierge help you if you prefer).
Don't have reservations and want to give yourself the best shot of getting a table?
Show up as soon as the restaurant opens for dinner.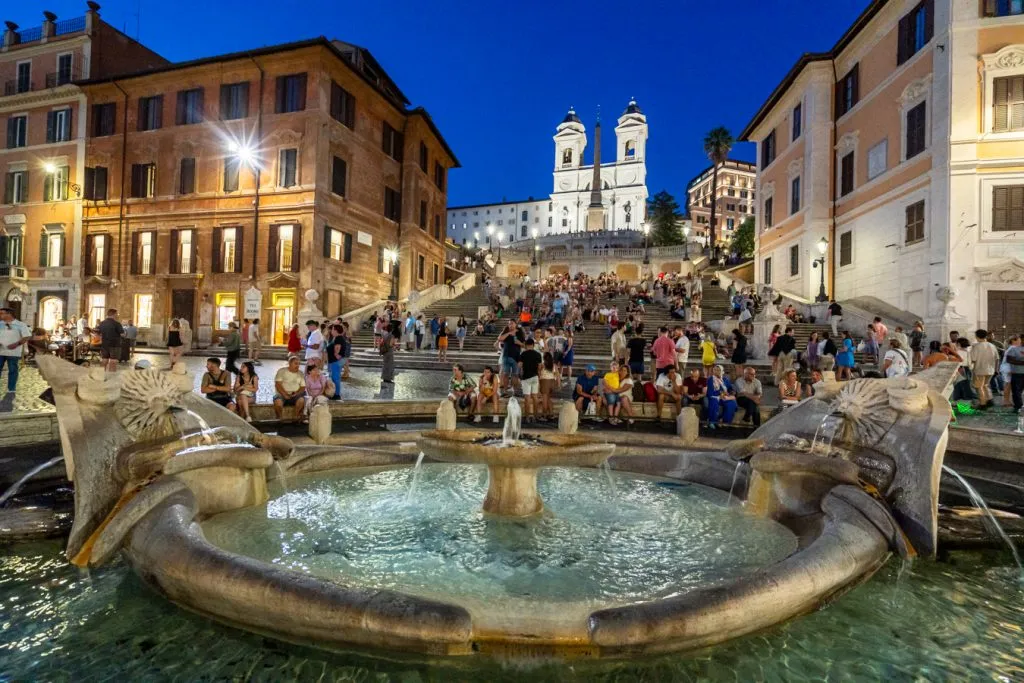 Plan to eat dinner on the late side.
Generally speaking, we've found that Romans tend to eat later in the day than North Americans.
Here's a vague schedule to keep in mind:
Breakfast of coffee and pastry at the bar when you wake up (pretty flexible, the bars will stay open through the day, though the best pastries can go early-ish).
Lunch between 12-3. Aperitivo between 5-7. Restaurants open for dinner at 7:30–occasionally 7. They'll really start to fill up around 8:30-9.
Know how to navigate Italy's coffee culture.
Want to feel comfortable ordering coffee in Italy?
There are a few things to know first, including what kinds of coffee you can expect to find in Italy, how (and when) to pay your tab, and what to eat with your coffee.
We put together this Italy coffee guide to help you navigate Italy's bars!
Rome doesn't have a coperto. Sort of.
An Italian coperto, or cover charge, is expected at restaurants across Italy… except in Lazio, the region where Rome is.
However, Roman restaurants have taken to having a "pane", or bread, charge that covers a very similar purpose.
The fee is usually 1-3 Euro per person, and we go over more details about the coperto in Italy here.
If you'd like to avoid the charge in Rome, you can ask for the bread to be removed from your table.
That works sometimes, but so does giving into the delicious carbs and enjoying more food in Rome!