If there's one word that sums up all of the best places to visit in Utah, it's unique.
With its enormous variety of landscapes, its incredible collection of national and state parks, and its huge number of interesting things to do, Utah just may be one of our favorite US states to explore!
If you're looking for the best Utah vacation spots to add to your itinerary, this travel guide is for you.
We teamed up with several other travel writers for this roundup of the best travel destinations in Utah, and one thing is for certain: they definitely show off just how diverse Utah is.
From beloved national parks set in the desert to cherished ski towns located high in the mountains, the Beehive State is a year-round destination that is deserving of a very long bucket list.
Here are the best places to visit in Utah!
Best State + National Parks to Visit in Utah
Arches National Park
With over 2,000 sandstone arches within its borders, Arches National Park definitely ranks among the most unique places to visit in Utah–or, in fact, the entire USA.
Packed with trails and desert views, a visit to Arches National Park feels a bit like visiting a playground that's big enough for adults.
The best hikes in Arches are exciting but not too difficult, the views of and through the arches themselves are magnificent, and the variety of places to visit will ensure that you'd need to spend several days in the park in order to cover most of its most famous arches.
(But that being said, even one day in Arches NP is worth the effort to get there).
Located just outside of Moab in southeastern Utah, Arches National Park is easily combined with a visit to Canyonlands National Park and Dead Horse Point State Park–but more on those below.
Dead Horse Point State Park
From Allison of Eternal Arrival
If you're in Moab enjoying all the amazing hikes there are to do in nearby Arches National Park and Canyonlands National Park, don't forget about some of the lesser-known hidden gems in the Moab area as well!
One of these such gems is Dead Horse Point State Park, just a 45-minute drive from Moab.
This little-known state park offers one of the most marvelous vistas in all of Utah, which is saying quite a bit given how many incredible views there are in the state.
Dead Horse Point is best known for its incredibly impressive outlook over the Colorado River, in a particularly beautiful canyon where the powerful river has etched a gorgeous landscape over the millennia.
At this point, you can look out from the mesa over the Colorado River 2,000 feet below you.
It's an incredible spot for sunset and you'll often find plenty of keen photographers prepping their tripods each night at the overlook. 
Despite its famous overlook, there are other reasons to visit Dead Horse Point State Park, including hiking and mountain biking trails.
The landscape itself is really interesting, an arid high desert nearly 6,000 feet in the sky, a riot of red rock strewn with purplish and orange tones as well.
The colors become even more impressive during the golden hour and time just after sunset, when the reds richen and turn even more vibrant.
It's possible to camp at Dead Horse Park State Park: there are 40-some-odd spots for RVs, a few yurts you can rent, and some spots for tent camping as well.
However, there is also plentiful free camping in Utah even in the pricy Moab area, so there are plenty of places to get even more lost out in Utah's beautiful nature.
Canyonlands National Park
From Adriana of Czech the World
Breathtaking canyons, beautiful views, and fantastically formed buttes: welcome to Canyonlands, the largest national park in Utah!
If you want to see the true wild west, this is the place.
One can sit at these magical viewpoints for hours and it doesn't get old!
Canyonlands is perfect for everyone – either you just drive from one viewpoint to another or you are searching for a real backcountry adventure like hiking or cycling.
Canyonlands National Park is divided into four districts: the Island in the Sky, the Needles, and the Maze.
The Island in the Sky is the closest district to Moab, and can easily be enjoyed while driving your car on a paved park loop.
This is also where you'll find the famous Mesa Arch.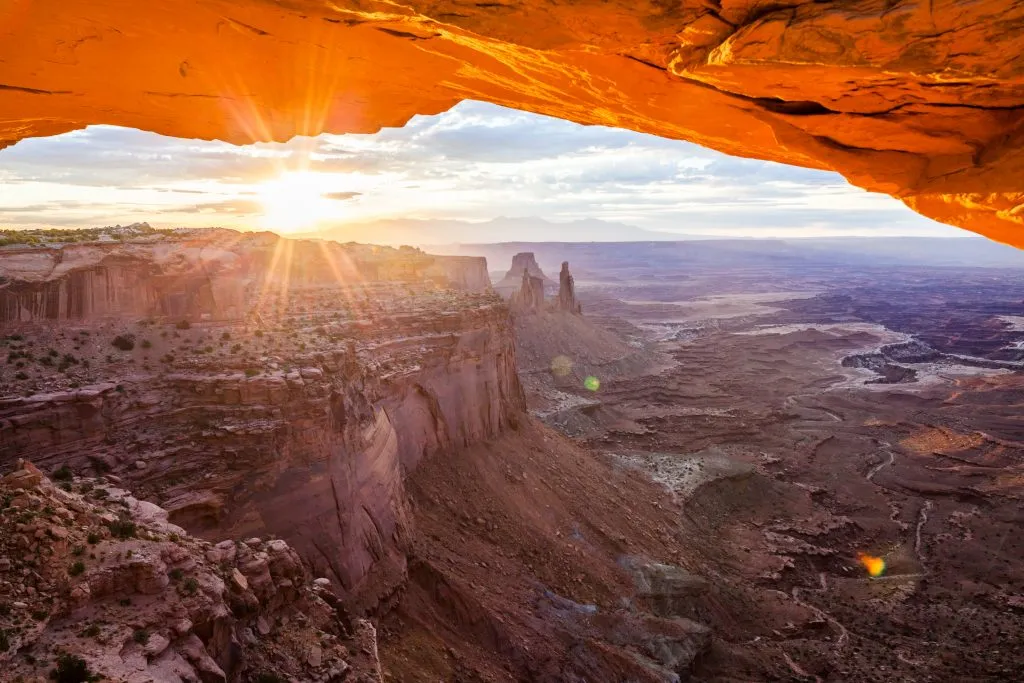 The Needles District is the perfect place for hikers because there are more than 100 hikes leading into the backcountry full of amazing sandstone spires!
The Maze is the least accessible district of Canyonlands and requires more time, proper equipment, and self-sufficiency.
In case you want to enjoy the rivers, several rafting companies offer guided tours from half-day excursions to week-long floats.
If you are staying overnight in the park, don't forget about stargazing!
Canyonlands is one of the International Dark-Sky Reserves and it's possible to see up to 15,000 stars throughout the night.
Canyonlands National Park is simply an amazing destination and shouldn't be left out of any western road trip.
Coral Pink Sand Dunes State Park
From Lauren of Ready, Set, PTO
Coral Pink Sand Dunes State Park should definitely be on your Utah travel bucket list!
The sand dunes were formed from the erosion of Navajo sandstone, which is where it gets its light pink coloring, and the dunes are nestled between red sandstone cliffs.
Coral Pink Sand Dunes State Park is very picturesque and one of the best state parks in Utah.
Located near the town of Kanab, Utah, about 30 minutes southeast of Zion National Park, Coral Pink Sand Dunes is a great stop along a southwest Utah road trip.
I recommend visiting for a day to hike, go sandboarding down the dunes, or just capture some epic photos!
However, there's also a campground in the park if you want to spend more time there. 
Entrance to Coral Pink Sand Dunes costs $10 per car
I recommend hiking up to the top of the dunes to soak in the views!
It's harder than it looks to walk up to the top, and it might help to keep your shoes on if the sand is hot.
If you're feeling adventurous, you can rent a sled or sandboard from the front office to slide down the dunes once you reach the top!
Go early in the morning to have the place to yourself, before people start riding ATVs, and also for a chance to see wildlife tracks in the sand. 
Natural Bridges National Monument
From Cosette of KarsTravels
Natural Bridges National Monument is in Southeast Utah and has 3 beautiful natural bridges, named Sipapu, Owachomo, and Kachina.
It was the first national monument of Utah on April 16th, 1908, and definitely belongs on your Utah bucket list!
The Owachomo bridge is the oldest, smallest, best accessible, and the most photographed of the 3.
Sipapu Bridge is the largest of the 3 and the second-largest natural bridge in the USA.
Kachina bridge is the widest and youngest of the 3 bridges.
To reach all the natural bridges you can use a trail and an overlook. They're along the main driving loop.
The overlooks are 10-minute hikes and a must-visit for everyone.
With more time on your hands try one of the hikes leading to the bridges, they take 1 to 2 hours.
For more strenuous hiking go on one of the 3 loop trails, they pass all 3 or 2 of the natural bridges and the canyon. The hikes vary from 5.7 to 9.8 miles.
The natural bridges are the main attraction at the national monument, but not the only ones.
There's also the Horse Collar Ruin, an ancestral Pueblo site, which is exceptionally well preserved.
The overlook for the ruin is a little further than the others, it's a 30-45 minute hike, and well worth it to learn more about the human history of the monument.
For lovers of stars and dark sky, Natural Bridges National Monument has some of the darkest skies in the USA and was the first International Dark Sky Park.
Zion National Park
Home to what is arguably Utah's most famous hike–the formidable yet widely loved Angel's Landing–Zion National Park is the most visited of all of Utah's Mighty Five National Parks.
Standing in the stunning canyon and looking down on the Virgin River, it's not hard to see why!
Zion National Park is stunningly beautiful, and home to a wide variety of hikes.
In addition to ascending high into the air at Angel's Landing, you can also go completely in the opposite direction by hiking in the bottom of a canyon right through the river in The Narrows.
Other popular hikes in the park include the Canyon Overlook Trail, the Subway (permits required), and the Observation Point Trail.
Whatever your skill level, there is definitely an unforgettable hike for you within Zion National Park!
Due to its popularity, Zion is also one of the most crowded vacation spots in Utah–if you have your heart set on visiting, be sure to plan ahead and/or visit during winter!
Winter trips to Zion, while a bit different than more typical spring and fall trips, can be magical.
Kodachrome Basin State Park
From Daria of The Discovery Nut
Located 20 miles away from Bryce Canyon National Park, Kodachrome Basin State Park is one of Utah's best hidden gems.
Compared to more popular national parks in Utah, Kodachrome isn't crowded.
The area boasts over 2,000 acres of prime wilderness with bright orange colors and clear blue skies.
It's surrounded by the Grand Staircase Escalante National Monument and can be accessed through the northern entrance from Cannonville.
What makes this park special is the sandstone spire-like formations and towering sand pipes, that dominate its bright-orange landscape.
These geologic formations are believed to be the remains of geysers that once populated this area.
After the sandstone eroded, these colorful layers of sediment became exposed giving the area an array of unique colors that change under the bright sun. 
Kodachrome offers multiple hiking trails with relatively low elevation gain which makes it a perfect place for hikers of all levels.
Some of the best trails are the 1.5-mile Angel's Palace Trail, and Shakespeare Arch and Sentinel Trail, a 1.7-mile loop that offers a stunning overlook of the Grand Staircase Escalante National Monument. 
Aside from being an excellent hiking destination, Kodachrome is also a photographer's paradise. Many people come here to snap photos of amazing bright rock formations, especially during sunrise and sunset.
Unfortunately, the arch collapsed in April 2019, but although you no longer can see it, you can still hike the trail and enjoy the great views.
Bryce Canyon National Park
From Francesca of Homeroom Travel
Bryce Canyon National Park is one of the most unique places to visit in Utah.
One of the "Mighty 5" National Parks of Utah, it offers majestic sites and has miles of amazing hiking trails.
Opt to spend at least one day in Bryce Canyon National Park on any Utah trip. You will not be disappointed!
Bryce Canyon is about 270 miles from both Las Vegas and Salt Lake City. From there, visitors will need a rental car to get out to the park.
Although there are many places to stay near Bryce Canyon, you can opt to stay in Springdale near Zion National Park if you do not want to continually move hotels.
April through October is the best time to visit the park, but visiting in the wintertime will also get visitors some snow-covered views!
The most popular hike in Bryce Canyon is the Queen's Garden Trail combined with the Navajo Loop.
Combined, this 2.5-mile trail takes visitors through Wall Street, a trail lined with tons of gorgeous rock formations.
Visitors will also see Thor's Hammer and the Queen Victoria Hoodoo (both popular formations).
Besides hiking, visitors can take in one of the many gorgeous viewpoints.
Bryce Point will give visitors the best view of the park and is a popular place to watch the sunset.
No matter what adventure visitors choose, Bryce Canyon National Park is well worth a visit.
Goblin Valley State Park
Wandering into Goblin Valley feels a bit like wandering into a classic Mario game on an old Nintendo 64.
The unique hoodoos that are found in this valley give the desert landscape a distinctly whimsical appearance, and depending on who you ask, look a bit like overgrown mushrooms… or curious goblins.
While there are some trails in the park, the valley where you'll find the largest concentration of goblins has no distinct trails.
Instead, when visiting Goblin Valley State Park, you can wander through an absolute maze of formations.
Goblin Valley State Park is located conveniently between Moab and Capitol Reef National Park.
If you're road-tripping Utah's Mighty Five, consider adding this quirky state park to your list of places to go in Utah!
Capitol Reef National Park
From Taylor of Travel Outlandish
Capitol Reef is often forgotten on a southwest road trip, being overlooked for the jagged canyons of Zion and the spectacular geology of nearby Arches nearby.
But, cruising right past Capitol Reef National Park on Highway 24 would be a massive mistake.
The grandest feature of Capitol Reef National Park is the Waterpocket fold, a 160km bend in the earth's crust.
It's hard to understand what that actually means until you've seen it for yourself. Climb up high to see the sloping effect of rock layers tilting from west to east some 2100 meters.
Another feature of the park is that scenic Highway 24 meanders right through it.
It's possible to drive the length of Capitol Reef and see many of its most impressive features out your window!
The other scenic drive in the park, the creatively named Scenic Drive, is also a good way to experience the slickrock, slot canyons, and sandstone formations. 
While hiking isn't the main draw of Capitol Reef, the Upper Muley Twist Canyon and Rim Overlook and Navajo Knobs are a couple of the best trails in the park.
And perhaps the most unexpected thing to do in Capitol Reef is to pick fruit in the Fruita Rural Historic District.
Between June and October, you can pick fruit from some of the 3,000 fruit trees flourishing in the desert.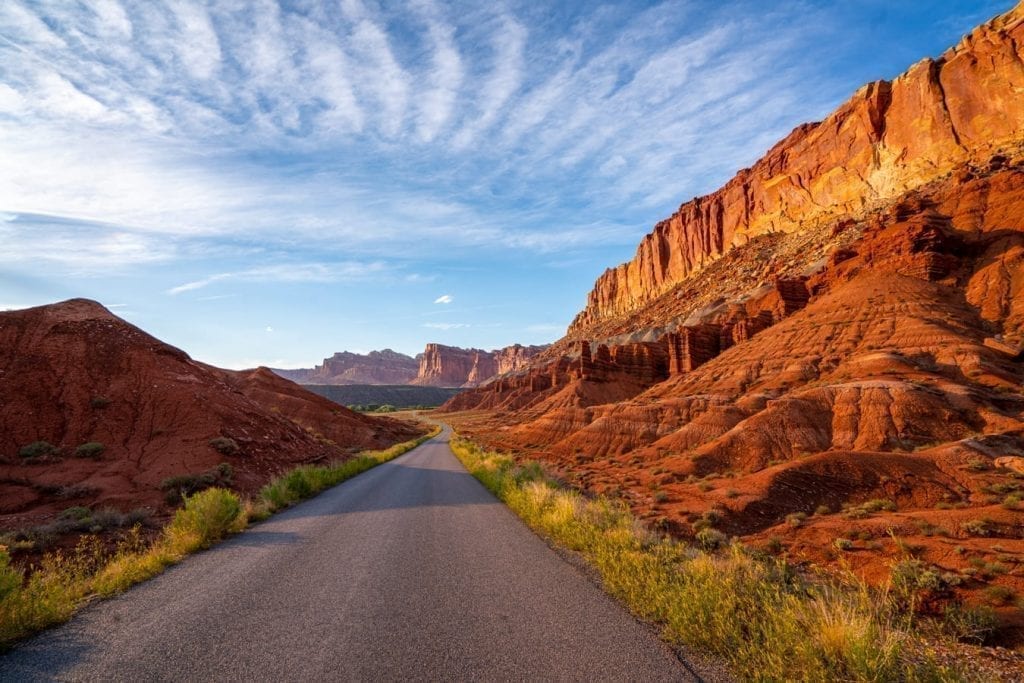 Cool Utah Vacation Spots in Cities + Towns
Salt Lake City
From Stella Jane of Around the World in 24 Hours
Salt Lake City is one of the most unique cities in the United States. Where else can you visit Brigham Young's old house or eat funeral potatoes?
There are enough museums, botanical gardens, and other cultural wonders to keep a visitor to Salt Lake City occupied for several days.
The most visited tourist attraction in Salt Lake City is Temple Square.
This National Historic Landmark belongs to the Church of Jesus Christ of Latter-Day Saints, so it's the best place to go to learn more about this church's history.
The sister missionaries lead free tours of the square every day. But if you're not interested in the tour, you can explore the lovely square on your own.
You can also hear the famous Tabernacle Choir perform here. They have open rehearsals on Thursday and a broadcast every Sunday, but you should definitely reserve tickets in advance.
Don't make the mistake of thinking Temple Square is the only thing to do in SLC!
If you want to learn what life in 19th and early 20th century Utah was like, be sure to check out the living history museum This is the Place.
If you are more interested in science, stop at the Natural History Museum of Utah to see some amazing dinosaur bones.
The stunning Red Butte Garden is just a short distance away, and it offers amazing views of Salt Lake City and its surrounding mountains.
Finally, remember Salt Lake City is Utah's capital, so take a moment to tour the Utah State Capitol Building. Keep an eye out for the beehive sculptures. After all, Utah's nickname is the Beehive State!
Hurricane
From Becky of Two Wheeled Wanderer
For many travelers, Hurricane, Utah is simply the gateway town into Zion National Park, but it's actually an incredible area to explore.
There are miles upon miles of world-class mountain biking singletrack, a great state park, endless off-roading opportunities, and a surprising number of great restaurants. 
For mountain bikers, the most popular network is Gooseberry Mesa. Explore slickrock riding, incredible views, and trails for every level of rider.
If you're looking for an epic day in the saddle, head out on the 24-mile Hurricane Rim Loop that showcases amazing views of Zion and a pedal along the Virgin River.
If you have kayaks or want to spend an afternoon by the water, Sand Hollow State Park is one of the prettiest parks in the state.
The blue waters of Sand Hollow Reservoir contrast with the surrounding red rock making it a very picturesque and special place. You can also camp overnight.
Off-roading is one of Hurricane's most popular draws. The surrounding area is scattered with fire roads that can be explored by truck, jeep, or OHV.
A popular drive is to head out to beautiful Toquerville Falls, 35 minutes from Hurricane, to swim in the idyllic swimming hole and watch the cascades fall down the red rock. 
And for those looking for a meal or snack, Hurricane is home to some really good food.
The Dixie Pizza food truck makes homemade pizza every weekend (call to order ahead!) and the River Rock Roasting Company serves incredible breakfasts and really good coffee.
Park City
From Dan of Cabin Critic
Whether visiting in winter or summer, Park City is a gem in Utah located an easy 45-minute drive from the Salt Lake City airport.
In the winter months, the city is alive and the slopes are filled with skiers and snowboarders at the largest lift-served ski resort in the USA, Park City Mountain Resort.
At the Utah Olympic Park, you can see the structures and memorabilia from the 2002 winter Olympics.
One of the many unique experiences is going on a thrilling bobsled ride on the Salt Lake 2002 Olympic Winter Games Sliding Track. 
When you aren't enjoying winter sports you can stroll the shops on Park Slope's picturesque Main Street and enjoy the hearty local cuisine.
End your day relaxing in a hot tub or keeping warm around a firepit.
The summer comes with beautiful weather and smaller crowds.
The ski resorts offer unique activities like an alpine slide, mountain coaster, zip lines, mini-golf, and a few ski lifts are open you can take up enjoy hiking and mountain biking.
Take the opportunity to be outside, enjoying fly fishing, mountain biking, hot air ballooning, horseback riding, river rafting, and golf all summer long.
Park City has a unique charm unlike any other area in Utah.
If you love enjoying the snow or being outside in the summer, you might find Park City to be perfect for you.
Vernal
From Leigh of Campfires and Concierges
Vernal is definitely one of the best places to visit in Utah. Known as "Dinosaurland," the geology of this region has allowed for the amazing preservation of dinosaur bones and fossils.
While the majority of the best things to do in Vernal are outdoors, there are some key Vernal museums to include in your trip as well.
Start your trip to Vernal at the Utah Field House of Natural History State Park Museum, where dozens of dinosaur skeletons are on display.
Next, head to Dinosaur National Monument, where you can view 1,500 fossils still embedded in the Quarry Wall exhibit.
Don't miss the scenic drive out to Harper's Corner, with several hikes and scenic overlooks along the way.
About an hour south of Vernal is a spot on BLM land known as Fantasy Canyon. This surreal area is full of unusual rock formations that will make you question if you are still on Earth.
It's a small area that you can explore in about an hour, but well worth the drive from Vernal.
Other things to do in Vernal include a rafting trip on the Green River, where day trips and overnight camping trips are both an option.
Red Fleet State Park and Flaming Gorge National Recreation Area are both great spots for water recreation, hiking, and camping.
Moab
From Jarrod of Ramble Around the World
Moab, Utah is a tiny little town in the middle of the desert, packed with all the lodging, supply shops, and restaurants an adventurer could need to appreciate the surrounding landscape.
Its deep red cliffs shoot toward the sky forming arches, balancing rocks and skyscrapers made of pure sandstone in the desert.
It's a place of extremes, where summer heat quickly rises above 110 degrees and winter coats its landscape in snow.
Moab is a paradise for outdoor lovers, including hikers, rock climbers, mountain bikers, and off-roaders. It offers an untamed version of fun for each of those and many more.
Its extremes lend themselves to the surrounding landscape, which includes easy access to 2 national parks.
At the town's center, Moab sits just 10 minutes from Arches National Park, 30 minutes from Canyonlands National Park, and 40 minutes from Dead Horse Point State Park, an astounding landscape in its own right.
But those who seek adventure don't have to go far from town. Corona Arch sits outside of both national parks and is one of the best and most underrated arches in the area.
Those seeking a taste of history can drive the banks of the Colorado River down Highway 279 or Kane Creek Boulevard in search of pictographs, an ancient art form of the Ute Indians from more than 500 years ago.
Pictographs can be found carved into the sides of those precious red rock sandstone cliffs that surround the town in every which way.
Whatever kind of adventure you're searching for, you'll have a great chance of finding it in Moab.
Kanab
From Samantha of My Flying Leap
Nestled between Zion, Bryce, and the Grand Canyon lies a small town packed full of amazing scenery and set against a tapestry of gorgeous red rock.
Just a little over an hour north of Page and Lake Powell, you'll find the town of Kanab, Utah.
This area is known for its Western Legends Roundup festival, an ode to lovers of the Old West, and the filming of some notable classic western films like "Gunsmoke." 
Kanab is filled with some beautiful scenery including the Vermillion Cliffs overlooking the town.
The Grand Staircase-Escalante National Monument holds many of the sights including the Peek-a-Boo and Spooky Slot Canyons and the famous and often-elusive area in Coyote Buttes North known as The Wave.
A permit is required to view this stunning striped slickrock painted in streaks of orange, red, and gold and it's challenging to secure one. 
A striking alternative with much easier access is Coyote Buttes South with similar features including arches, thin fins, and teepees.
Hike out to see the free-standing wind-sculpted erosional statues with names like Dali Rock, the Frog, and Turtle Rock.
Then head over to the photo-worthy expanse of the Coral Pink Sand Dunes State Park where you can see the wind-blown erosion of these striking sandstone buttes and plateaus. 
Now that your heart is pumping from some great hiking and stunning scenery, head over to the Best Friends Animal Sanctuary to do your heart some more good.
Located in a stunning red-rock canyon, Best Friends is home to over 1,500 animals including dogs, cats, horses, pigs, bunnies, and others. 
Though many people pass through this amazing area on their way to some of the most famous national parks in the area, Kanab is worthy of its own stop.
Admire the gorgeous surroundings or fill your heart with love by visiting the largest animal sanctuary in the country—you'll have it all in Kanab.
Grafton Ghost Town
From Hannah of HH Lifestyle Travel
The ghost town of Grafton sits on the Virgin River, hidden from view beyond the town of Rockville.
A mere 5 miles from Zion National Park, this ghost town is a great stop while you're in the area.
Settled by Mormons fleeing persecution in 1859, when the area was Mexican territory, Grafton was fraught from the beginning.  
The first settlement was washed away in the floods of 1862. The location was contentious for the local Indigenous population too, and the Black Hawk War broke out in the mid-1860s and decimated the population of Grafton.
Eventually, peace was restored, but continued irrigation issues meant that viable farmland was limited. The last inhabitants left Grafton in 1945.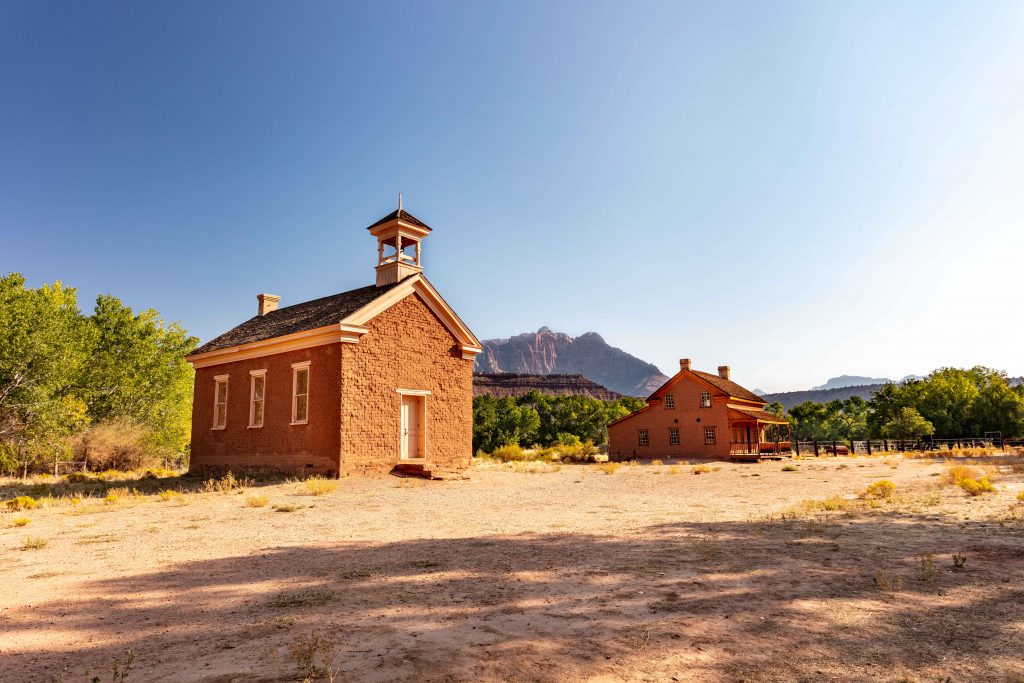 As Grafton became a ghost town, its destiny lay not in dusty ruin, but by being immortalized in Hollywood movies!
Butch Cassidy and the Sundance Kid, In Old Arizona, and The Arizona Kid were all filmed in Grafton.  
The abandoned town of Grafton has now been preserved – a legacy of pioneer Utah and Hollywood heritage, frozen in time.
The town hall (which was also used as a church and school), the founders' house, a weaving shed, the cemetery, and a few other homes and farm buildings have been restored and maintained.
Grafton Ghost Town is a fascinating place to visit on your way to or from Zion National Park.
St. George
From Nicole of American SW Obsessed
St. George Utah often gets overlooked in favor of other Utah cities and towns, but there are so many fun things to do in St. George.
First, St. George is located close to Zion National Park and two state parks, Sand Hollow and Snow Canyon. All three parks are known for their hiking and cycling.
Snow Canyon is located on the edge of the Mojave Desert and has some pretty incredible landscapes.
From the rock formations to the sand dunes, this is one of the most beautiful places in Utah.
Sand Hollow State Park is a unique and deservedly popular corner of Utah, offering something a bit different than many of the parks surrounding it.
The warm waters and the red rock formations make it a favorite with locals. It's a popular place for fishing, boating, and swimming.
And you can't forget about the things to do in towns such as Dinosaur Park and Pioneer Park. 
Yes, there is an actual Dinosaur Park where you can see footprints and fossils and learn all about dinosaurs.
And Pioneer Park may not have a playground, but this is a great outdoor park where kids can play and run around.
Other Beautiful Places to Visit in Utah
Bonneville Salt Flats
From Rachelle of Adventure is Never Far Away
Ready to visit a place that will mess with your senses and make you believe you've stepped foot onto an alien planet?
The Bonneville Salt Flats in Utah is the perfect place to experience the wild nature of forced perspective for the first time!
You don't need to go all the way to Bolivia to visit incredible salt flats: these are located just a short drive west of downtown Salt Lake City.
If you're ready to get away from the city and be surrounded by silence, the Bonneville Salt Flats is the perfect destination.
Pack up your car with blankets, sunscreen, water, and props, and head towards one of the most unique ecosystems in the world.
The salt pan ecosystem is essentially a desert, unable to support most forms of life, with the exception of some microorganisms. 
If you have a high-clearance vehicle and want to do some off-roading into the middle of the salt flats, go for it!
Many record land speeds have been reached at the nearby Bonneville Speedway.
One of the best things to do at the Bonneville Salt Flats is to take unique perspective pictures.
Putting a prop in the foreground and having human subjects walk a quarter of a mile behind the prop creates an interesting illusion.
With this kind of perspective, you can take pictures of people standing on the roof of cars, being stepped on by a giant foot, or running out of a Pringle's can!
Monument Valley Tribal Park, Navajo Nation
From Mae-Gene of The Wandering Suitcase
Monument Valley Tribal Park is part of the Navajo Nation which sits on the border between Arizona and Utah.
As one of America's most recognizable places, Monument Valley is famous for its large sandstone buttes.
Many travelers might recognize Monument Valley from old John Ford country films or the movie Forrest Gump.
Most travelers experience Monument Valley from a distance, by stopping at Forrest Gump Hill, where Tom Hanks' character, Forrest stops running on the US-163 highway, with Monument Valley in the background. 
Despite this, the Monument Valley Tribal Park is more than a brief photo stop.
If you're looking for the best places to vacation in Utah, actually visiting the park is highly recommended for its incredible views and to learn about its significance for the Navajo people. 
Entry fees are $20 per car (remember the Monument Valley Tribal Park is not a US National Park and National Parks Passes are not valid here).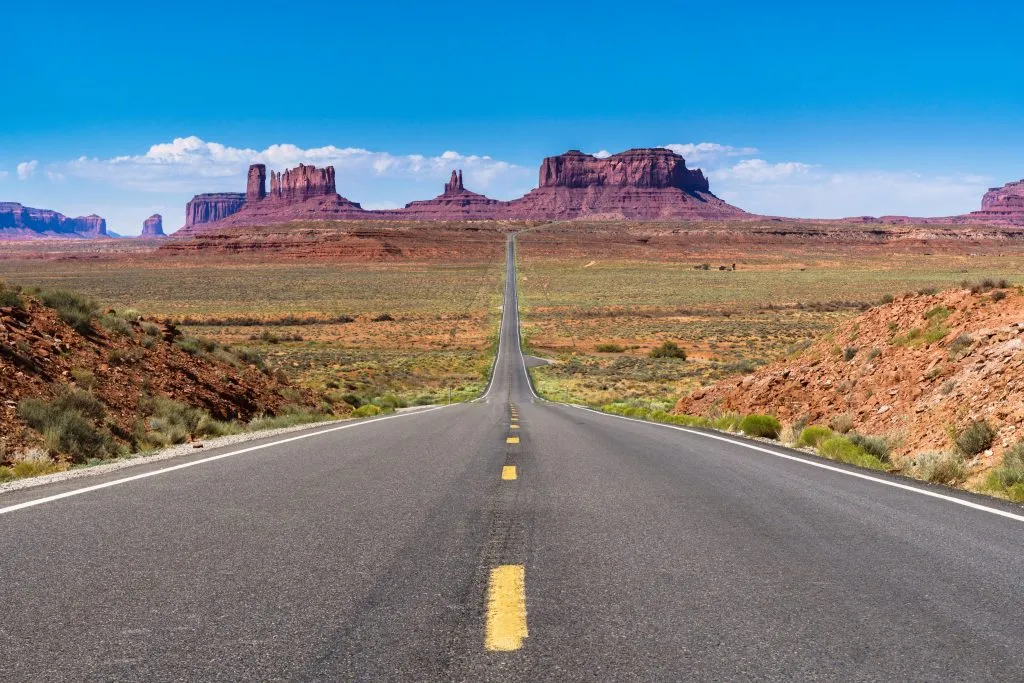 Once in the park, travelers can drive the 17-mile Tribal Park Loop which includes the most popular spots in monument valley.
The roads aren't paved, with lots of gravel and dirt, so this is not recommended on a rainy day or for those who are precious about their cars!
A great alternative to the self-drive is to go on a backcountry tour, where you are taken out on a 4WD to parts of Monument Valley inaccessible to self-drivers.
Tours are operated by the Navajo Nation, and this is a great way to learn about the history, significance, and importance of the Monument Valley Tribal Park.
For active travelers, you can also go hiking! The Wildcat Trail is a 4-mile return loop that takes 2-3 hrs and is the only self-guided hike in Monument Valley.
There are also longer hikes with incredible views, but these require a tour guide to access them. 
Regardless of your interests, there are so many things to do at the Monument Valley Tribal Park.
If you've worked up an appetite at the end of your visit, don't forget to visit The View Hotel for Navajo-inspired food and get a window seat for your last glimpse of Monument Valley's iconic views.
Powder Mountain
From Nicole of Wandering With a Dromomaniac
Located 55 miles north of Salt Lake City, Powder Mountain is Utah's best-kept secret.
For the ski and snowboard enthusiasts out there, Powder Mountain has the most skiable terrain in the county with 8,464 acres.
The beauty of this mountain is it does not have the traditional ski mountain feel, it's very backcountry and the lodge has a comfortable cabin-in-the-woods feel. This location is very much a local's mountain.
You will never have to worry about crowds here, as tickets are capped at 1,500 a day ($99 for adults/day).
The best part is that you don't have to "ski within the boundaries." The wide expanse of the mountain provides terrain that allows you to ride the groomers or head into the trees at a moment's notice.
It's recommended that you take the local bus ($4 each way) to the mountain from Ogden as the roads can get a little hairy in the winter.
So, unless you have chains for your tires, the bus is an easy solution.
The views here are incredible and the powder is second to none. Powder Mountain does not make any snow as the location provides more than you could ever need.
Of course, the best time to visit is on a "powder day" after some fresh snow has fallen but the groomed trails provide a good variety if the fresh powder is in short supply.
You can also pay ($25) to take a snowcat up to some of the backcountry runs. Each of these runs leads to a road where buses regularly come through to pick you up.
This mountain is more for moderate to advanced riders, though there are sections of the mountain where beginners could spend their day learning the ropes.
Valley of the Gods
From Jenifer of The Evolista
Valley of the Gods is a sandstone valley with incredible rock formations and monoliths that is one of the coolest places in Utah and should definitely be on your USA bucket list.
The richly colored geologic masterpiece was formed 250 million years ago, carved by water and erosion.
It is a favorite Utah hidden gem due to its backcountry location where camping, backpacking, hiking, and biking are allowed without a fee or permit.
Some people heading to Monument Valley on the border of Utah and Arizona dismiss a visit to Valley of the Gods since it's smaller, thinking they will see the better version in 30 minutes.
But, it's a mistake. Unlike super touristy Monument Valley, what Valley of the Gods lacks in size, it makes up for in intimacy.
Best accessed with an SUV, you can take a 17-mile, self-guided tour that weaves through the valley.
The bumpy, unpaved road is also passable by cars in dry weather. Just make sure there's no rain in the forecast.
Park anywhere along the road to get out and explore. You will be blown away by the beauty of this remote location.
If you are here in the evening hours, the stargazing is phenomenal.
There is no staff or facilities like restrooms, food, or trash cans. Be prepared with everything you need, including water, food, sunscreen, and a first aid kit.
As always when visiting Utah's incredible nature, pack out whatever you bring in.
Ice Castles of Midway, Utah
From Melissa of Parenthood and Passports
Utah may be known for its red rocks and stunning desert landscapes, but in winter one small town in the Beehive State is known for its icy and Instagrammable attraction.
Less than one hour from Salt Lake City, the charming town of Midway, Utah is transformed into a winter wonderland each January through March.
If you're visiting Utah in winter, especially with kids, the Ice Castles belong at the top of your list of places to visit in Utah!
The Midway Ice Castles are made entirely from ice and span across roughly an acre of land at the Homestead Resort.
The man-made structures resemble frozen waterfalls and boast ice slides, beautiful fountains, crawl tunnels, and narrow slot canyons.
Adults and kids alike will enjoy roaming through the maze-like tunnels and exploring secret passageways made from ice.
At night, the ice is illuminated with color-changing lights that fade from brilliant blue to vibrant red, pink, and purple.
Visiting the Midway Ice Castles requires some pre-planning.
The attraction is only open for about 2 months each winter. It typically opens in early January and closes in early March when the weather starts to warm up. 
Pro tip: For those visiting the frozen paradise, snow pants, boots, and a warm coat are a must.
Plan your visit for around sunset for a chance to see the ice in both daylight and nighttime hours.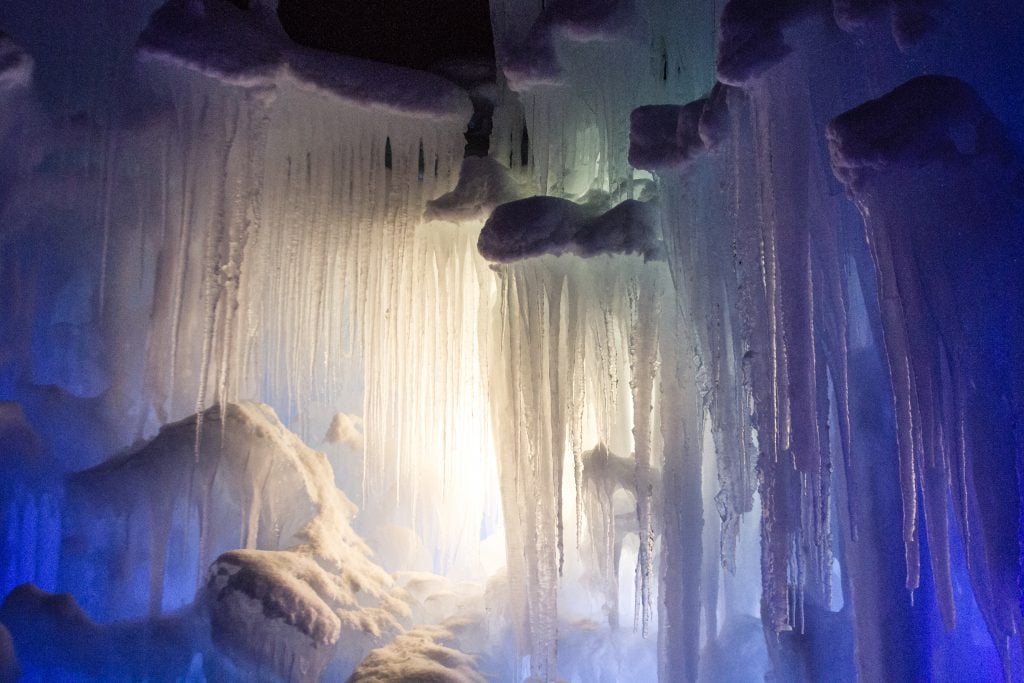 Lake Powell
From Chantae of Chantae Was Here
Wedged along the border of Utah and Arizona, Lake Powell runs 200 miles long and has hundreds of winding inlets to explore.
The rust color landscape is unique to the region and the sculpted buttes on Lake Powell's coastline formed over millions of years, making it a geological wonder.
One of the best ways to explore Lake Powell is on a houseboat trip. If you venture out of the main bays, you'll find untouched sandstone beaches to enjoy all by yourself.
Since much of the lake lacks phone service, you'll be able to disconnect and enjoy water skiing on mirror-flat water, wakeboarding, kayaking, and standup paddling through the many coves of Lake Powell.
Pack a pair of sturdy shoes and head out on a hike–there are panoramic views at the top of just about every hill!
A houseboat trip will allow you to truly experience the lake, embedding yourself into the scene.
If you can only visit Lake Powell from the shoreline, camp at Lone Rock Beach at Wahweap Bay, or consider going on a one-day cruise through Glen Canyon.
No matter how you visit Lake Powell, it is sure to be memorable. 
Mystic Hot Springs
From Jeanine of Le Wild Explorer
The fascinating Mystic Hot Springs is located in the city of Monroe in central Utah.
This small city has a population of just over 2,000 but has a lot of geothermal activity. It's home to natural hot springs that can reach up to a temperature of 168°F.
Mystic Hot Springs is one of Monroe's hot springs and one of the most interesting Utah vacation spots.
Many visitors arrive at Mystic Hot Springs just to soak for the day and you can do so by booking a soaking pass.
However, if you want to extend your stay a little longer you can spend the night in one of the authentic pioneer cabins or retrofitted buses.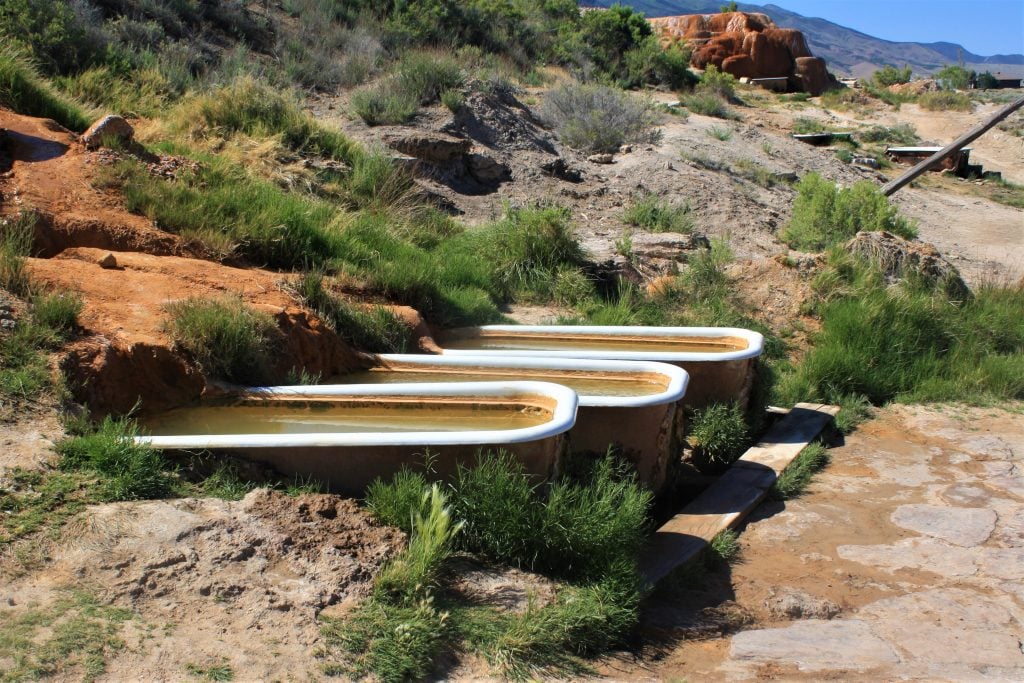 Each cabin and bus are unique and offer a cool experience.
If you're driving your RV, you can park the night as well or set up a tent at the campsite.
Staying the night is an experience to remember as you can opt to relax and watch the sunset or even enjoy a midnight soak to stargaze.
And you'll be nice and cozy in one of the pools that range in temperature from 100 -111°F.
Mystic Hot Springs is an out-of-this-world gem you will not forget, and definitely one of the most unqiue places to visit in Utah!
Map of the Best Places to Visit in Utah
Take This Map With You! Click each highlight to pull up the name of the destination. To save this map to "Your Places" on Google Maps, click the star to the right of the title. You'll then be able to find it under the Maps tab of your Google Maps account! To open the map in a new window, click the button on the top right of the map.