Confession: it took me two visits to Bangkok to go from being skeptical to truly enjoying the city.
Jeremy had no such qualms and adored Bangkok from the moment that the plane touched down on the tarmac, but I was hesitant: it was the epitome of a concrete jungle, it was sweltering hot (I found myself enjoying malls more than I have since the age of 16, partially because of the powerful air conditioning), the pollution in the air made me vaguely nauseous, and it was utterly chaotic.
The Chatuchak Weekend Market (or "JJ" to the locals) displays all of these classic Bangkok traits proudly–and yet, unlike Bangkok itself, I adored this popular Bangkok market immediately, and consider it one of my favorite things to do in Bangkok.
How could I not love a place that would serve me delicious and dirt-cheap food, while also providing opportunities to buy clothes, hats, dream catchers, cowboy boots, furniture, art, massages, fabric, children's toys, electronics, phone accessories, figurines, and more… all within walking distance?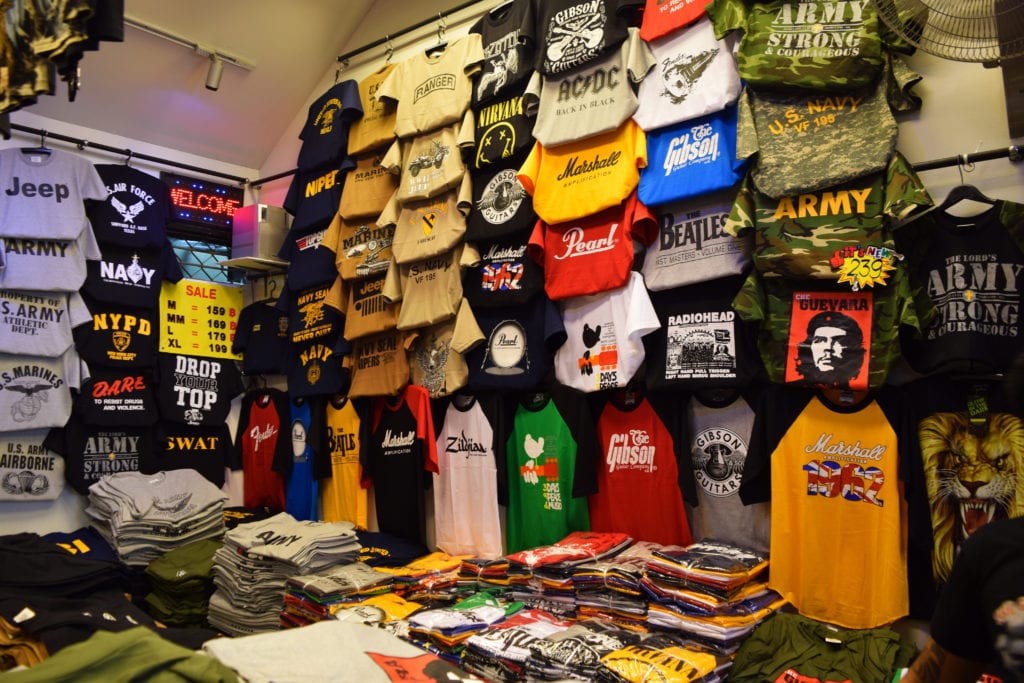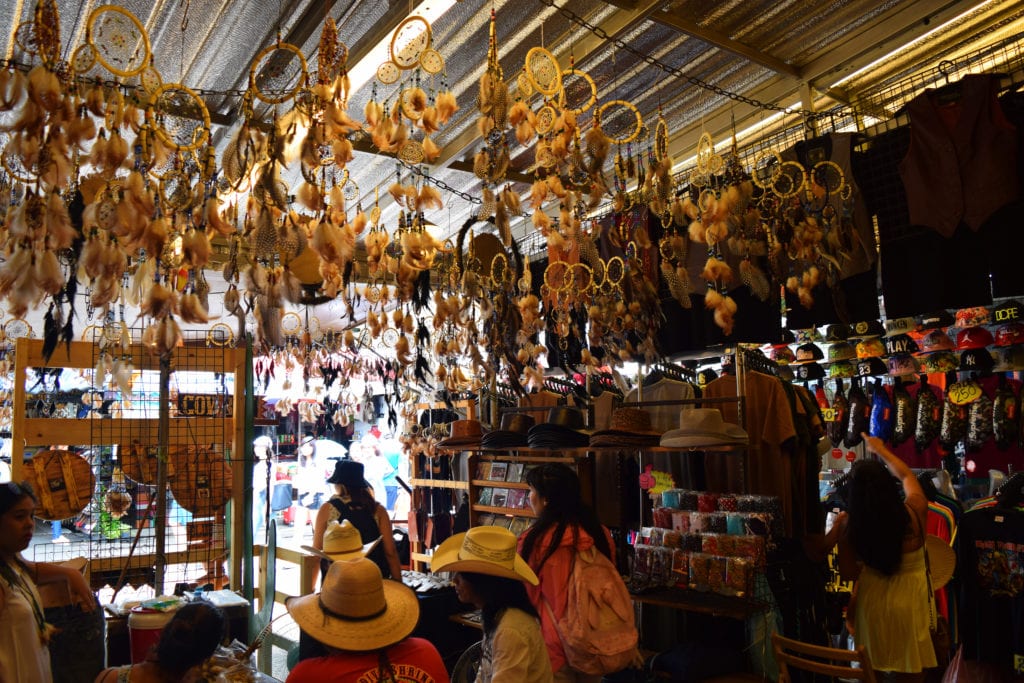 On Saturdays and Sundays, the Chatuchak Weekend Market is packed with locals and tourists, all vying for a piece of the action. Bargaining is the name of the game, and I walked away with my first souvenirs from Asia: a hat and an elephant-print romper.
We've now been to plenty of other markets in Southeast Asia, but this one remains my favorite due to the sheer size and breadth of the place. The entire Chatuchak Weekend Market is stuffed to the gills with products, people and noise–we passed several places playing music, and saw more than one group collecting money for what I assume were different charities.
Be sure to come to the market hungry: there is food around every corner. We ate our way through the place, sampling egg rolls, pad thai, noodle soup, milk tea, a passion fruit shake, and bizarrely, a piece of garlic toast on a stick.
The Chatuchak Weekend Market is divided into 27 sections, and there are maps available online. If you're on a quest for something specific, you may want to look into downloading one before you go–personally, we weren't in a hurry and thought that wandering aimlessly was half the fun (or more than half, for Jeremy: he'd be thrilled to spend every day wandering aimlessly).
In my opinion, this is a must-do on any Bangkok itinerary that includes a weekend in the city. It captures the spirit of the city in such a fun way, and while it is hot (what place in Bangkok isn't?), the cheap fruit shakes and lack of cars and motorbikes in the immediate area were enough to keep me happy.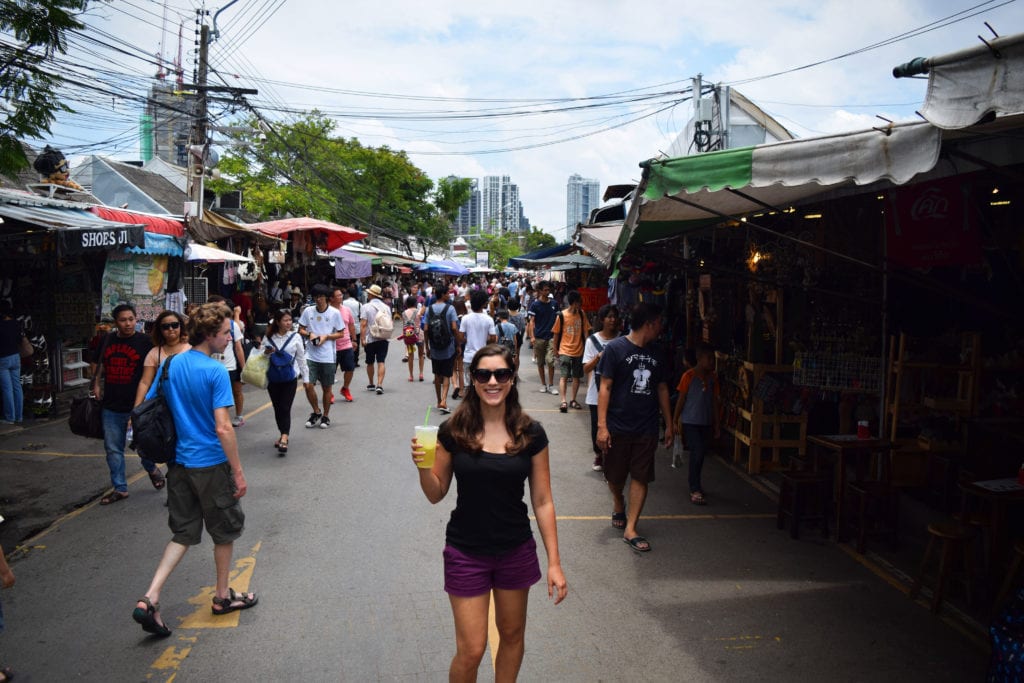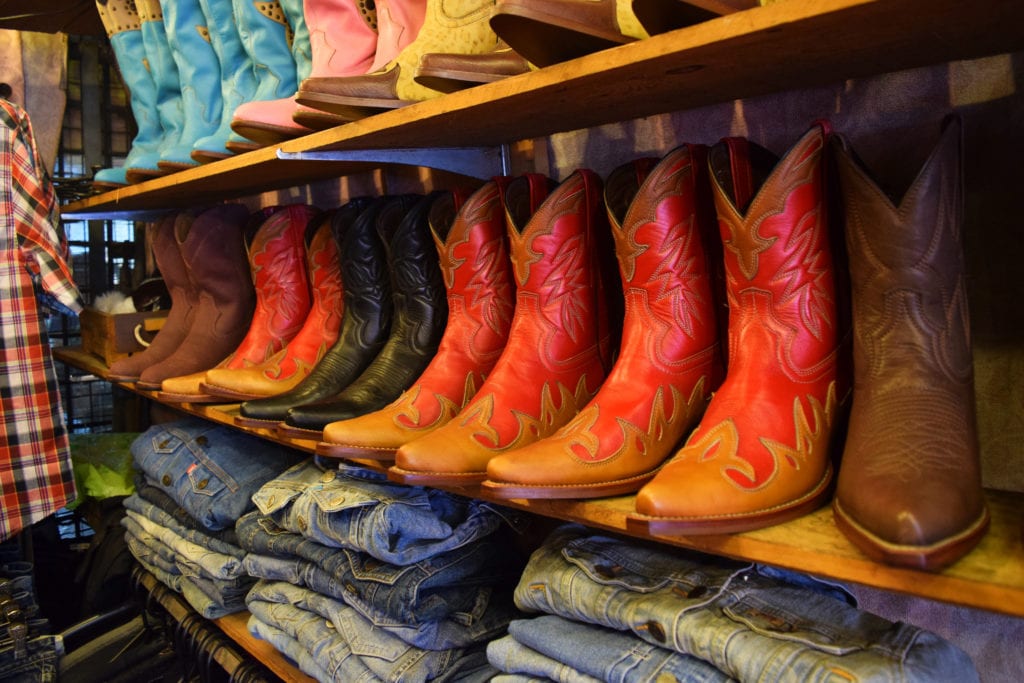 Logistics for the Chatuchak Weekend Market:
The Chatuchak Weekend Market is open every Saturday and Sunday, from 6:00 AM to 7:00 PM, and belongs on any Bangkok itinerary that intersects with the weekend!
The market is located just off the BTS skytrain: take the train to station Mo Chit, and you'll arrive just steps away from the market. Just remember to keep an eye on where you came in–wandering back out can take a while!
If you're looking for more markets to explore, check out Bangkok's floating markets, and be sure to read about what to know before going to Thailand before hopping on your plane as well!