Celebrating Christmas in Bavaria, Germany is easily one of the most festive things to do in December–and this guide will show you exactly how!
From what to expect at Germany's world-famous Christmas markets to how to design your itinerary to how to get around, we've put together this guide to visiting Bavaria in December to help first-timers to the region make the most of Christmas magic.
We are full-on Christmas market enthusiasts and have spent several Advent seasons hopping around Europe to enjoy the best of them.
And, there's no doubt about it: Bavaria's Christmas markets are among the best.
We've put together this guide to allow newcomers to skip the stress and move right to enjoying the glühwein, lebkuchen, and gebrannte mandeln.
Whether this is your first European Christmas market experience or just your first one in southeastern Germany, here's how to make the most of celebrating Christmas in Bavaria!
Where to Find Beautiful Christmas Markets in Bavaria
While virtually every city, town, and hamlet in Germany features a Christmas market of some kind during December, the cities and towns outlined here are among the most popular for good reason!
Famous for their beauty, each of these destinations also boasts the benefits of being reasonably accessible from the others and features Christmas markets that are open throughout the Advent season.
If you have your heart set on visiting any smaller towns than these listed, it can definitely be done–but pay close attention to dates as you plan, since some tiny villages can be home to Christmas markets that are open just a few days a year.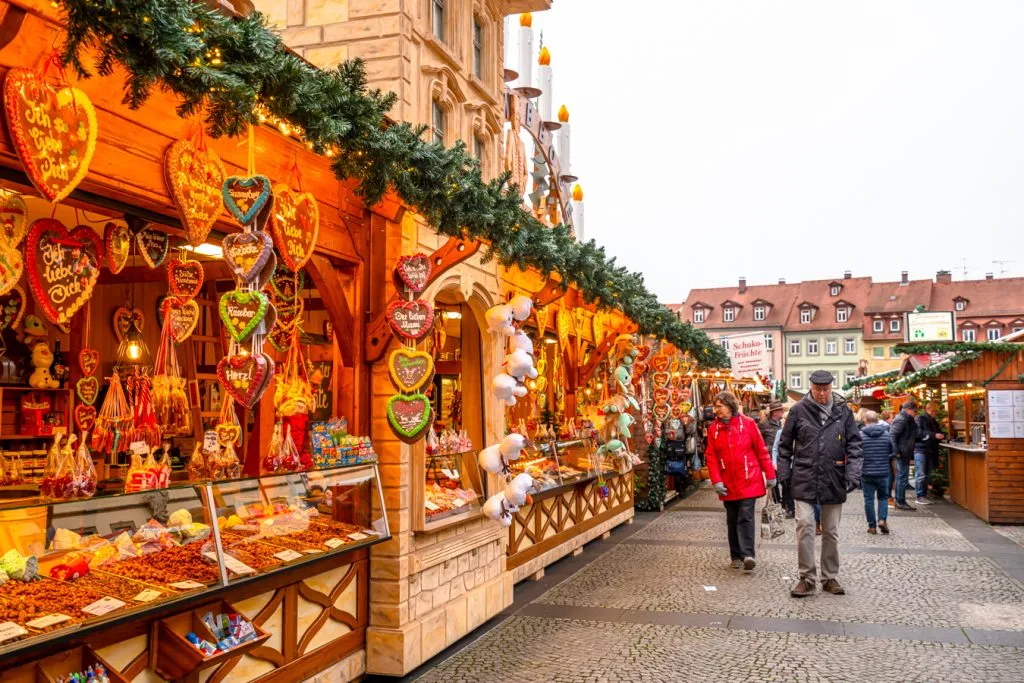 Munich
The capital of Bavaria, a year-round tourism hotspot, and an all-around beautiful city, Munich is a fantastic place to kick off a German Christmas market trip.
… And that's not just because its large airport and train station make it a logical hub!
With 10+ Advent markets to visit every year (don't skip the Medieval Market!), Munich offers takes on Bavarian Christmas traditions ranging from the very traditional to the fully modern, offering a wide variety of shopping, food, and sightseeing throughout December.
Bamberg
Small, walkable, and utterly charming, the bite-sized Bavarian city of Bamberg is a delightful addition to a German Christmas trip!
Though it only features one Advent market, held in the central Maximiliansplatz, the market is expansive, beautiful, and features wonderful food and shopping (we ended up doing a decent bit of our annual shopping here).
Bamberg is also famous for its many nativity scenes strewn throughout town and for its famous Rauchbier (smoked beer–and yes, it's worth a try!).
Regensburg
Enchanting and picturesque year-round, beautiful Regensburg is set right on the Danube River, and is one of the best places to visit in Bavaria in December!
There are a handful of Advent markets to explore in town, but the two most iconic are the "main" (and biggest) Christmas market at Neupfarrplatz, and the Romantic Market that is located just outside of the Thurn und Taxis Castle.
Not only is the Romantic Market incredibly idyllic, but it's also one of the only Christmas markets in Europe to charge an entrance fee.
Given its popularity, though, it's safe to say that the Romantic Market is widely considered to be worth the money!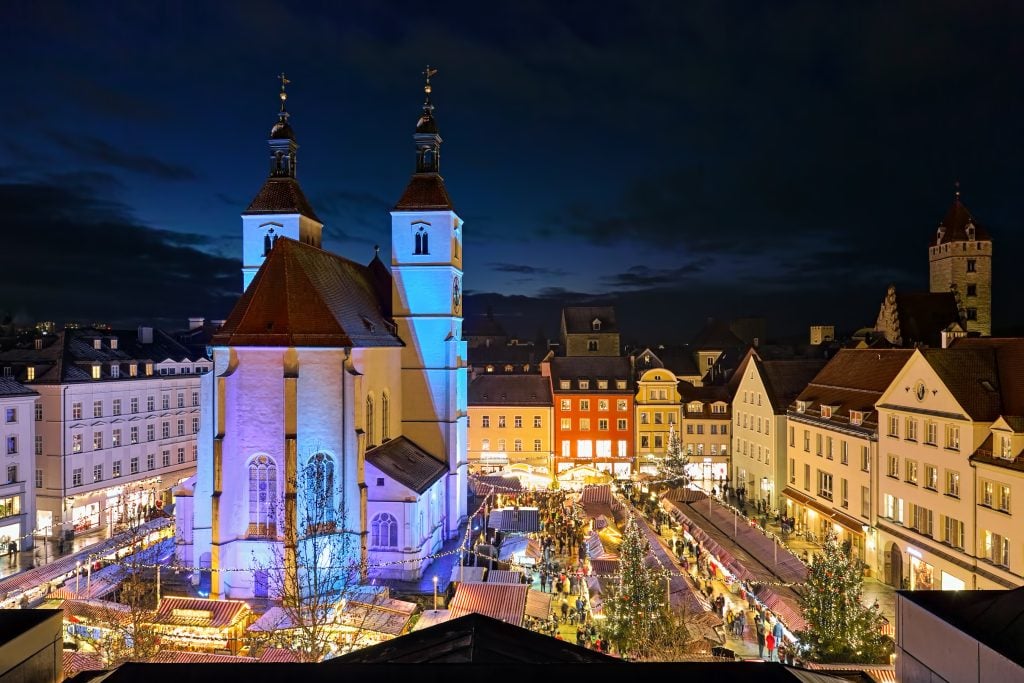 Nuremberg
Dating to 1628, Nuremberg's Christmas market (or Christkindlesmarkt) is the oldest Advent market in Bavaria and also one of the most iconic examples of a Christmas market in the world!
As the traditional origin of lebkuchen (gingerbread), it even has a claim to one of the season's most iconic foods.
There are a few Christmas markets in Nuremberg today–a few of which you'll pass by on the walk into town from the train station–but the primary market is held in the city's main square, Haupmarkt.
Nuremberg's fame combined with its relatively small size means that the market can get very crowded, but we count it among our favorites regardless.
Rothenberg ob der Tauber
Widely considered one of the most beautiful small towns in Germany, Rothenburg ob der Tauber is a favorite with visitors year-round–and December is no exception!
While slightly trickier to get to from Munich than, say, Nuremberg or Augsburg, Rothenburg ob der Tauber is worth the effort.
Located along Germany's Romantic Road and enclosed in medieval town walls, Rothenburg ob der Tauber is incredibly picturesque, and its Christmas market (Reiterlesmarkt) is just as charming as the rest of it.
Don't forget to stop by Das Plönlein during your visit: odds are, as you've been planning a trip to Germany, you've come across a photo of the iconic spot a few times before!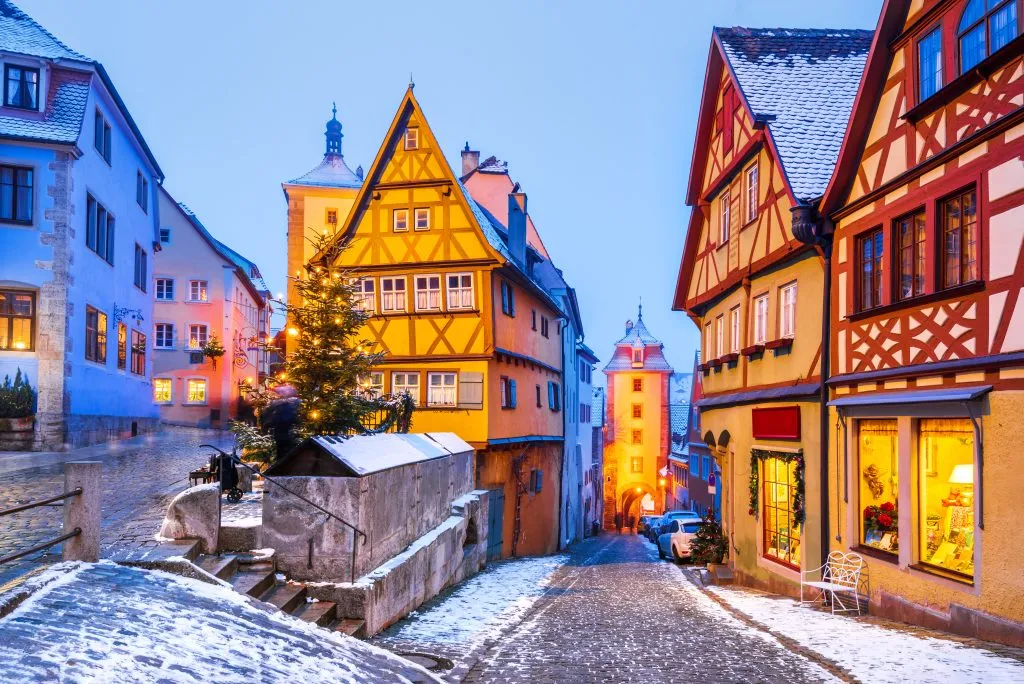 Augsburg
Popular without being overwhelmed by visitors, Augsburg offers a beautiful Christmas market experience centered around the Rathausplatz and fanning out from there.
Don't miss the Engelsspiel, or angel performance, that takes place on the facade of City Hall if you're visiting on a Friday, Saturday, or Sunday evening during the Christmas season!
Located only a short, direct train ride away from Munich, Augsburg is an easy and festive addition to a Bavaria Christmas itinerary.
How to Design a Bavaria Christmas Itinerary (+ Sample Itineraries!)
When putting together your itinerary for Christmas in Bavaria, we recommend starting from a simple decision point: would you rather stay in one place the whole time, or move around?
There are pros and cons to each approach, namely a trade-off in the amount of travel for day trips versus the hassle of changing hotels during your time in Bavaria.
If you do decide to stay based in one city, you simply can't beat Munich for its convenient location, ease and variety of day trips, and the number of things to do there (both Christmas-related and more traditional).
Here are two sample Bavaria Christmas itineraries that allow for a week of exploring!
7 Days in Bavaria at Christmas: Base in Munich
This Bavaria itinerary is all about taking it slow and soaking in the Christmas magic.
Since we've already covered the cities in more detail above, we'll keep it simple here with only a brief description of our recommendations for each day.
Day 1: Arrive in Munich and start exploring (we loved staying at Hotel Concorde).
Day 2: Visit several Munich Christmas markets, plus another attraction like the Residenz.
Day 3: Take a day trip to Nuremberg.
Day 4: Take a day trip to Regensburg.
Day 5: Explore more of Munich, including additional Christmas markets.
Day 6: Take a day trip to Augsburg, Bamberg, or–to mix things up–Salzburg.
Day 7: Say goodbye to Munich and head home… or to your next destination!
A Week in Bavaria in December With 2 Base Cities
Prefer to base yourself in a couple of different places during your trip to Bavaria?
Here's what that could look like!
Day 1: Arrive in Munich and start exploring (we loved staying at Hotel Concorde).
Day 2: Visit several Munich Christmas markets, plus another attraction like the Residenz.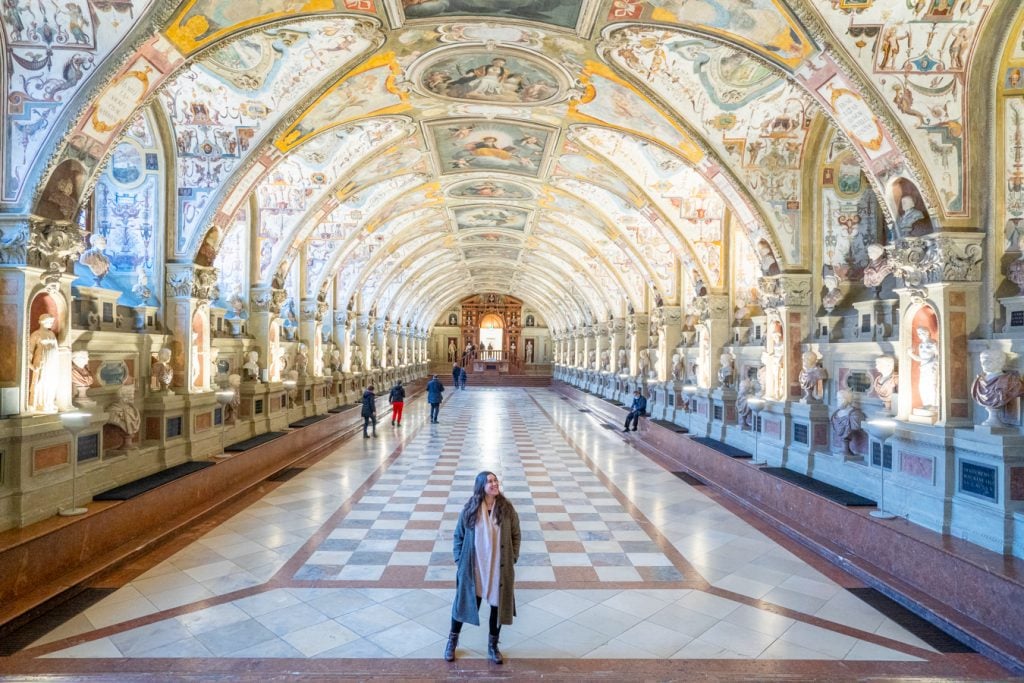 Day 3: Take a day trip to Regensburg.
Day 4: Take the train to Nuremberg and check into a convenient place to stay (like Hotel Five).
Day 5: See the best of Nuremberg's Christmas markets and beyond.
Day 6: Take a day trip to Bamberg or Rothenburg ob der Tauber.
Day 7: Say goodbye to Nuremberg and head home… or to your next destination!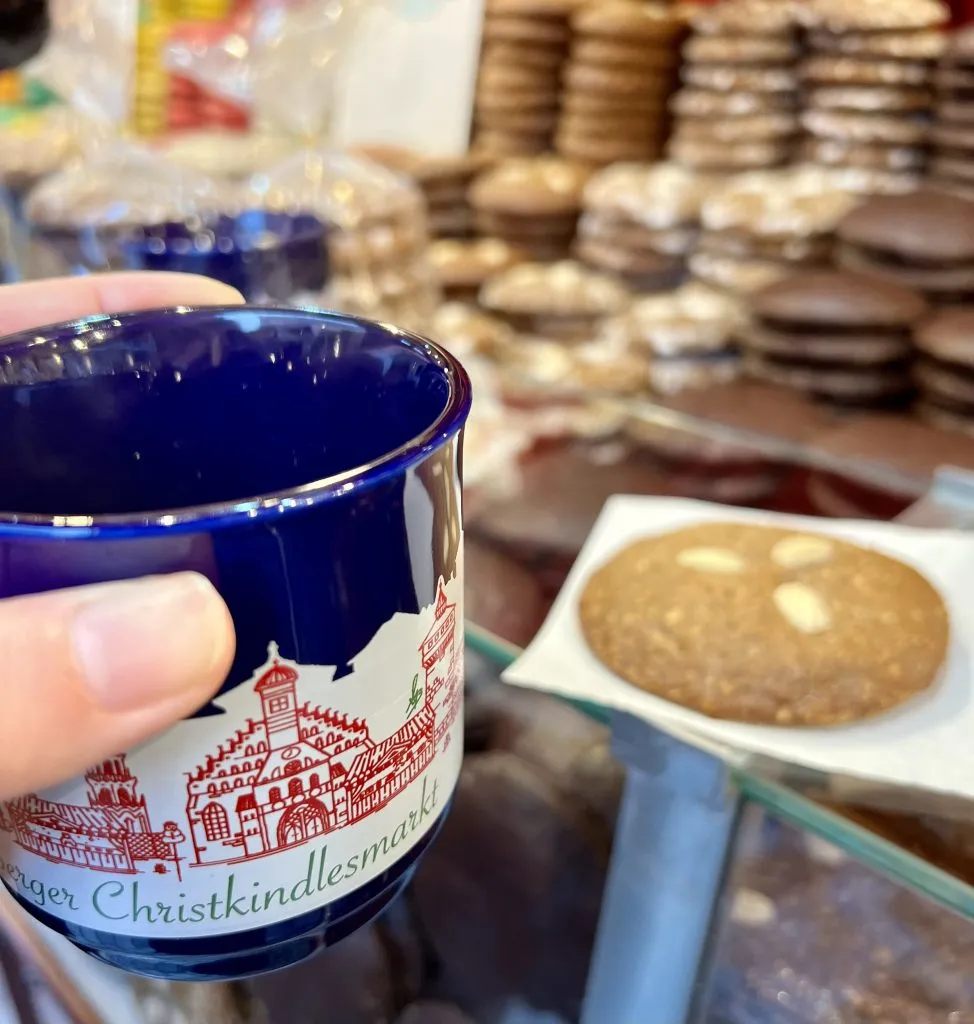 Beyond Bavaria: Possible Festive Itinerary Additions
Want to extend the Christmas market magic beyond Bavaria?
You have plenty of options!
First off, of course, you can easily extend your Bavarian Christmas trip to include more of Germany.
Wonderful additions could include Dresden (home of the original Christmas market), Berlin (home to 80+ markets!), and Cologne (home to some of the best Christmas market decor we've ever seen).
Even closer than these cities, though, lies Salzburg, Austria: at just an hour from Munich, Salzburg is both easy to reach and a remarkable December destination in its own right (here's our guide to winter in Salzburg).
From Salzburg, cities like Vienna, Budapest, and Prague are easily reachable.
Alternatively, you could head east to the gorgeous Alsace region in northeast France (and perhaps mix in the German Black Forest region on your way), south to Switzerland, or even a bit further south to the South Tyrol region of Italy.
Looking for even more ideas?
Here are 31 of the best Christmas market destinations in Europe.
How to Get Around During Your Bavaria Christmas Trip
While your exact Christmas itinerary will influence how you get around, we strongly believe that, when possible, trains are the best option for traveling between destinations during the holiday season in Europe.
They're far less hassle than driving (and you won't need to worry about inclement weather or competitive parking), more comfortable than buses, and more convenient than flights.
(Though it's worth pointing out that you will likely need to use a few buses if you want to visit smaller villages and towns during your Christmas trip to Bavaria–and they're also a solid option!)
We love traveling Europe by train year-round, but that's especially true during the winter months.
There's something so comfortable and satisfying about watching the cold landscape zip by out the window while you're cozy inside the train.
And, when you arrive, you'll most likely be dropped off in the heart of your next destination!
Train and bus stations are typically in or near the historic center of major European cities, and as a result, they make changing destinations as simple as possible.
High-speed trains–like the ones you use to connect between major cities–can get pricey, especially as dates get closer.
Because of this, we recommend booking your tickets for high-speed routes in advance if possible!
This is less necessary for regional routes (say, heading from Munich to Nuremberg for the day) but can make traveling further afield (like from Munich to Berlin) or across borders much cheaper and easier.
We use and recommend Omio to plot train and bus routes around much of Europe, and also to shop for tickets.
What to Eat (and Drink) at Bavarian Christmas Markets
While the list of things to eat at European Christmas markets is a mile long, ever-changing, and subject to new whims and trends that mix in with old traditions (churros and langos, for instance), there are definitely a handful of specific German Christmas market foods to keep an eye out for in Bavaria!
Here are some of the most popular things to eat at Bavarian Christmas markets.
Glühwein
Glühwein, or mulled wine, is the ever-present hot, spiced wine that is the icon of Christmas markets around the continent… but it's most at home in Germany!
Prefer not to drink alcohol?
Kinderpunsch, a somewhat similar (but alcohol-free) spiced punch, is absolutely delicious!
Feuerzangenbowle
Prefer your wine with a side of fire?
Feuerzangenbowle is a popular drink at Christmas markets in Bavaria that features a rum-soaked sugar cube that is lit on fire in order to melt into the glühwein below.
It's definitely one of the most eye-catching drinks you can find!
Eierpunsch
Made with egg liqueur, white wine, and cozy spices like vanilla and cinnamon, eierpunsch is often referred to as "German eggnog".
The flavor and consistency are definitely different, but they're both festive drinks perfect for enjoying over the holiday season!
Lebkuchen
Lebkuchen, or German gingerbread, is easily one of the most delicious things to eat at Bavarian Christmas markets… as long as you buy the right kind!
The big, colorful, frosted hearts of gingerbread that are synonymous with the holiday season in Europe are a kind of lebkuchen… but they are designed as decor and to give as gifts, and aren't particularly tasty to eat.
Nuremberg-style lebkuchen, though, which you'll find all over Bavaria in December, is among my favorite foods on the planet, and a must-try at the markets!
Chewy, spicy, sweet, and distinguished by the thin water wafer on the bottom, these are the perfect Christmas cookie.
You can buy traditional ones, like the one in the photo below, but you'll also find options coated in chocolate or icing.
Handbrot
Handbrot, or hand bread, is one of those delightful foods that we had never heard of until we started visiting Germany at Christmastime… and it is a downright wonderful snack!
Made of yeast dough that is traditionally stuffed with ham and cheese (though you'll find plenty of varieties out there) and topped with a dollop of chive cream, handbrot is a great savory balance to the often sweets-heavy Christmas market diet.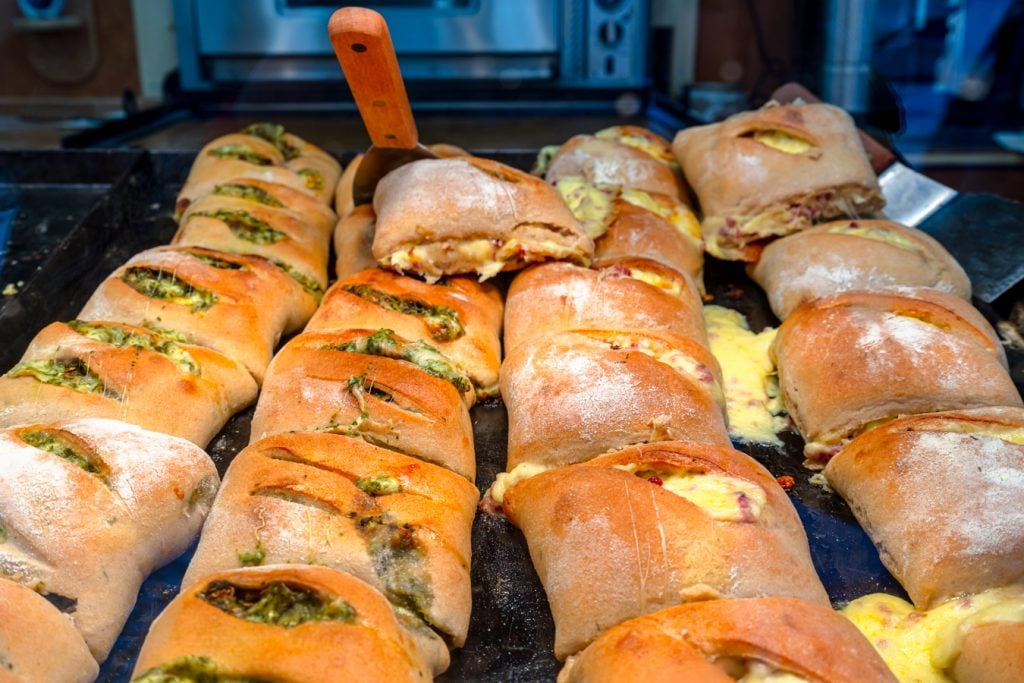 Wurst
Sausage of all kinds is a must-try when enjoying Christmas markets in Bavaria!
The eye-catching displays of grilled meat are practically synonymous with the season, and for good reason.
Local specialties, like the white sausage of Munich (fun fact: this is traditionally a breakfast food) and the iconic Nuremberg sausage, are definitely worth seeking out–but when it comes to deciding which sausage to order in Bavaria, you really can't go wrong.
Gebrannte Mandeln
Iconic and delicious, gebrannte mandeln (German candied almonds) are one of the most intoxicating scents present at a Bavarian Christmas market… and they somehow manage to taste even better than they smell.
While technically one of the most portable Christmas market snacks, they definitely taste best when served hot right from the stall, so dig right in!
Not a big fan of almonds?
You'll find varieties made with all kinds of nuts–I'm also partial to the candied cashews.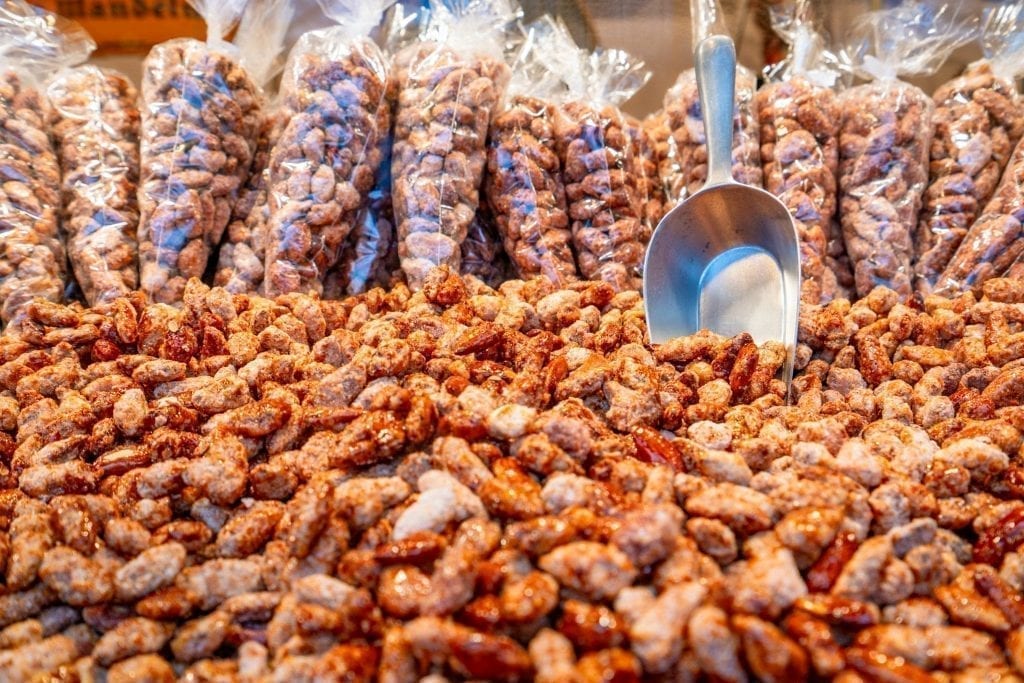 Käsespätzle
You could reasonably call käsespätzle German macaroni and cheese… but truthfully, that would be selling it a bit short!
A savory favorite among Christmas market visitors, käsespätzle is made with pasta, a generous helping of Emmental cheese, and onion.
You'll sometimes find more creative varieties as well, but the original is hard to top.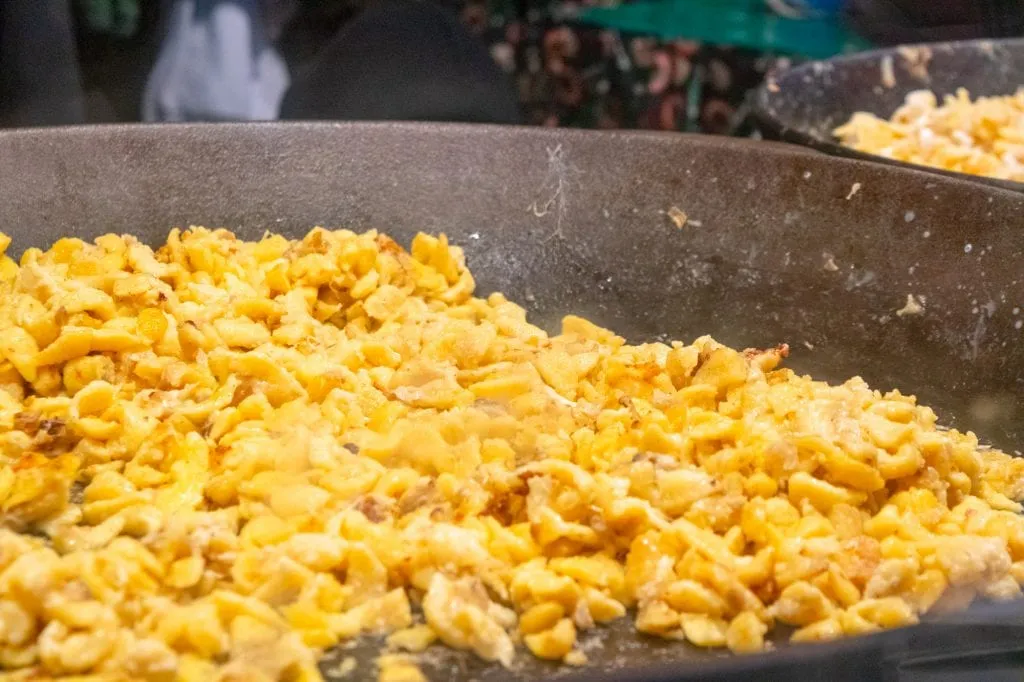 Kartoffelpuffer/Reibekuchen
For a treat as simple as it is delicious, reach for a kartoffelpuffer (also known as a reibekuchen)!
These simple German potato pancakes don't require a lot of ingredients to be worth snacking on.
At Christmas markets, you'll most often find them being served sweet, with applesauce or fruit, though you can enjoy them with savory flavors as well.
Flammkuchen
Loosely related to a thin-crust pizza, flammkuchen is a German-French hybrid of a delicacy that is popular across the country.
While flammkuchen has its origins in the region of Alsace in northeast France (which incidentally is also home to some of the most magical European Christmas markets–check out more details on our guides to the holiday season in Strasbourg and Colmar), its popularity as an Advent market food has stretched much further.
Flammkuchen is traditionally topped with crème fraîche, bacon, and onions, and while you can't go wrong with that combination, you'll find other varieties as well!
What to Buy at Christmas Markets in Bavaria
While the list of everything you can buy at Bavarian Christmas markets would be incredibly long–and you'll generally find a few more unique stalls in each city–there are definitely local favorites!
While items like ornaments and snow globes are popular at Christmas markets throughout Europe, here are a few more region-specific (or at least German-specific) items to consider adding to your shopping list!
That's not to say you won't find some of these for sale outside of Germany–but Bavaria is a wonderful place to purchase any of them.
Advent Wreaths
In Germany (and Austria, and beyond), Advent wreaths are an incredibly popular Christmas tradition, and you can pick up your own when shopping at Christmas markets in Bavaria!
Made up of a wreath featuring 4 candles, one candle is lit each Sunday leading up to Christmas.
Star-Shaped Paper Lanterns
Beautifully designed and easy to transport home, you'll find star-shaped paper lanterns for sale all over Bavaria at Christmas.
We brought a red one home and love the reminder of Christmas cheer!
Christmas Pyramids
Classic German Christmas pyramids don't have their origins in Bavaria, but the tradition reaches across the country (and well beyond) now!
These wooden pyramids are designed to rotate on their own using the heat from the candles at their base to move the rotor at the top.
It's a beautiful effect, and I have very fond memories of admiring my grandmother's each season as a child!
In Germany today, you'll notice that many Christmas markets include a gigantic Christmas pyramid (usually marking the location of the biggest glühwein stand at that market).
While those decor pieces might be a bit out of reach for shoppers, you'll find smaller versions for sale!
Nativity Scenes
Nativity scenes are a big part of celebrating Christmas in Bavaria, and if you'd like to take home your own, the Advent markets are the perfect place to shop!
When browsing, you'll find everything from small nativity sets sold together to intricate statues meant to be purchased piece by piece.
Miniature Christmas Villages
Want to build your own miniature Christmas village?
Pieces of tiny villages are sold at virtually every Christmas market, in materials ranging from ceramic to wood.
Buildings can be as generic as a cute holiday-themed house, or as specific as a carving that represents a certain building in town!
We're making a tradition of building our personal village by acquiring one more building each year.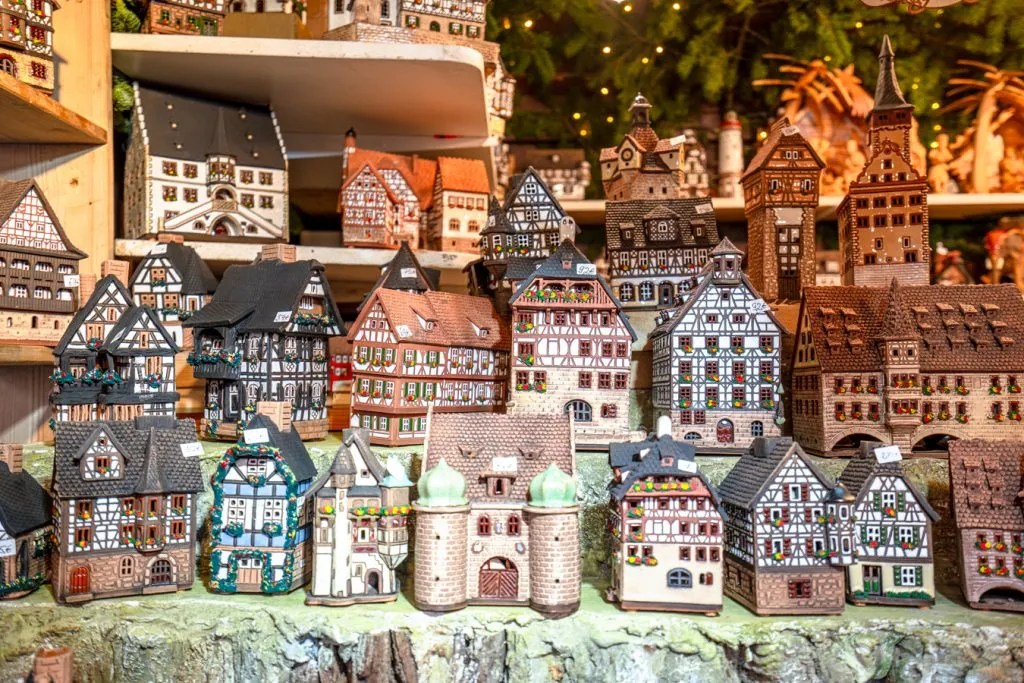 Wooden Toys and Carvings
In a country as forested as Germany, is it any surprise that wood carvings are popular, traditional Christmas gifts?
Whether you're looking for a toy (we've spotted some absolutely gorgeous puzzles, dolls, and chess sets) or for a decor piece, you'll have plenty of options.
We picked up this cute hedgehog in Bamberg!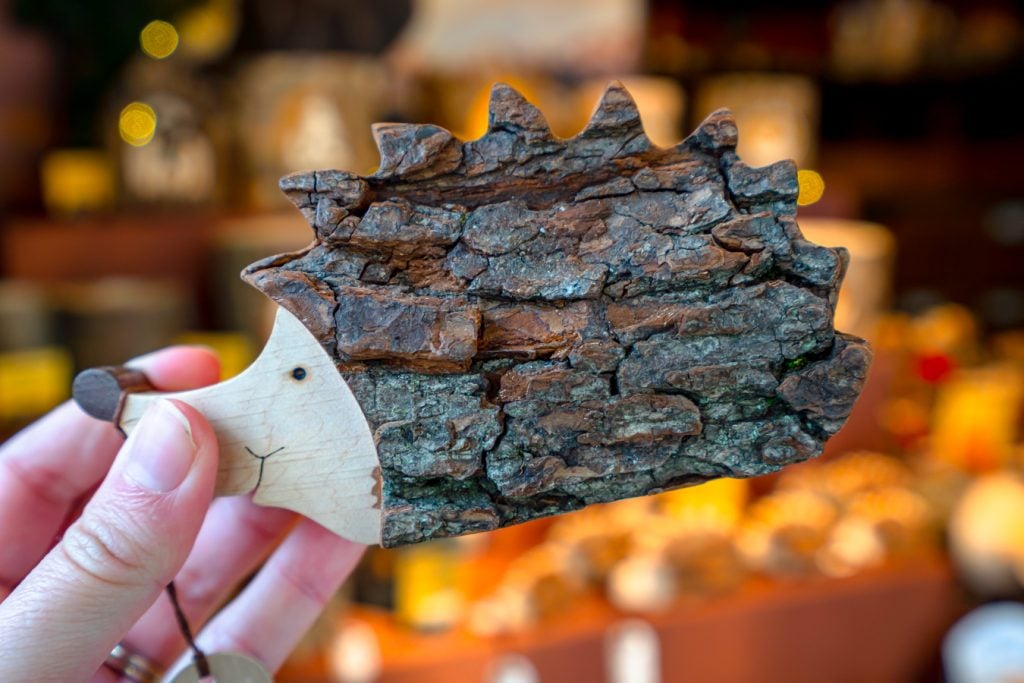 Nutcrackers
While traditional German nutcrackers didn't originate in Bavaria, they're certainly very popular there (and all over the country).
If you're looking for a memorable souvenir from your December trip to Bavaria, a wooden nutcracker is a wonderful option.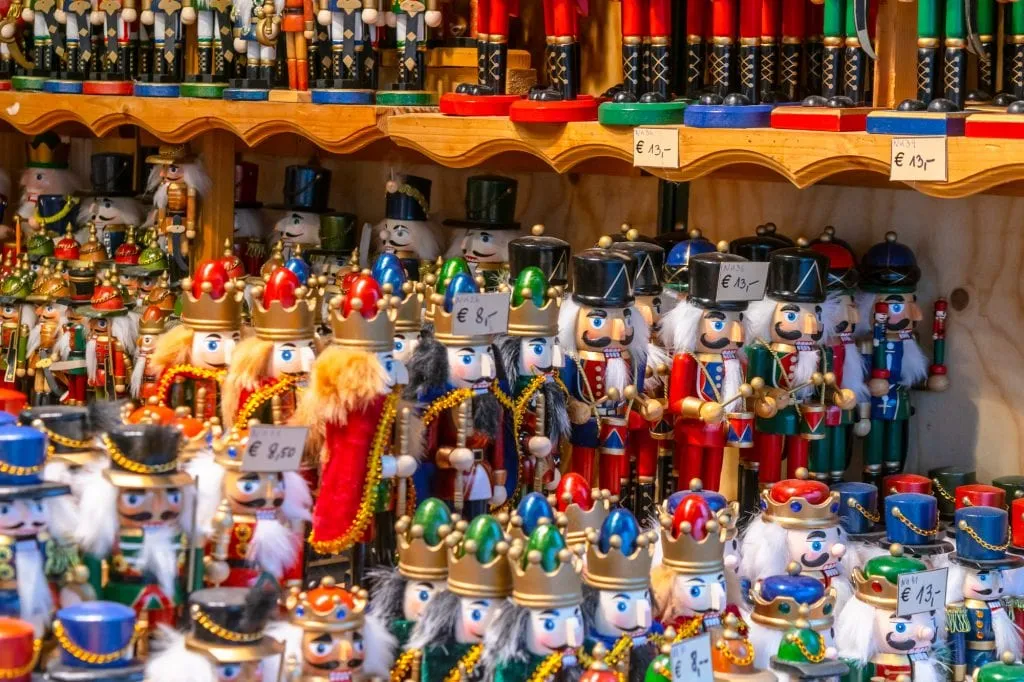 Wool and Sheepskin Products
Warm, cozy wool and sheepskin products, from rugs to scarves to slippers, are available in abundance at Advent markets in Bavaria (and throughout Germany).
These slippers that I bought in Munich are my favorite pair that I've ever owned!
(And, with classic (and appreciated) German frugality, the woman who sold them to me was careful to explain that I could come back and buy replacement soles if they wore out several years down the line–no need to replace the entire slipper.)
Essential Tips for Celebrating Christmas in Bavaria, Germany
Visit the markets both during the day and at night.
Generally speaking, the days are better for shopping and taking photos, and the nights are better for ambiance and people-watching.
Most locals come out to the markets in the evenings, and that's also generally when you'll find events like caroling happening!
Bring cash for shopping at Bavarian Christmas markets.
Though credit cards are more popular every year, Germany is still a much more cash-based country than many of its neighbors, and that extends to the Christmas markets!
Especially for small items like snacks, paying with cash is preferred, and sometimes explicitly required.
Enjoy a view from above the Christmas markets at least once!
Most cities in Europe have a gorgeous tower or 20 to climb for a bird's eye view of the city–and often, these towers are at churches!
Add this to the fact that Christmas markets are typically held in the plazas underneath the aforementioned churches… and you can imagine why the view can often be particularly special in winter.
Bavaria is no exception to this, and admiring bustling Christmas markets from above is a special experience!
Consider heading to the top of St. Lorenz or St. Sebald Church in Nuremberg, or to the top of the New Town Hall (Neues Rathaus) or St. Peter's Church in Munich.
Don't forget about "normal" tourism in between the festivities.
We are full Christmas market enthusiasts around here, but we have to admit that a full week or 2 or 3 of nothing but markets–no matter how delightful–can get a bit repetitive.
Don't forget to leave room for some typical attractions like museums, neighborhood strolls, and viewpoints, too!
Taking a day trip to Neuschwanstein Castle, paying a visit to the gorgeous Munich Residenz, and marveling at the stunning Frauenkirche in Nuremberg are just a few of the many wonderful non-Christmas-specific things to do in Bavaria.
… but keep an eye out for reduced hours.
Most major attractions in Bavaria are open year-round (just ask the surfers at Munich's Englischer Garden: Germans are not intimidated by cold and gray weather!), but many operate for fewer hours a day over the winter than they do in the summer.
Be sure to double-check operating hours before committing to any visits.
Plan your trip before Christmas Day.
Unlike in some places around Europe, Bavarian Christmas markets are not typically open after December 25!
December 24 is frequently the last day of the Christmas market season in Bavaria, with some cities even closing on the 23rd.
Add in the fact that December 24-26 will see most things closed in Bavaria while people celebrate with their families, and it's best to end your trip (or move on to a different place) before "actual" Christmas.
Book your accommodation as soon as you can commit to dates.
Christmas is one of the most popular times of year to visit both Bavaria and Germany as a whole.
In other words, despite the gray and chilly weather, don't expect any hotel deals in Bavarian cities in December!
Popular hotels do fill up, and we highly recommend booking yours as soon as you can commit to dates.
We particularly enjoyed our winter stays at Hotel Weierich in Bamberg (charming, cozy, and central) and Hotel Concorde in Munich (great location and expansive included breakfast).
Typically, we look for hotels or apartments with an 8.0 rating or greater on Booking.com when planning trips!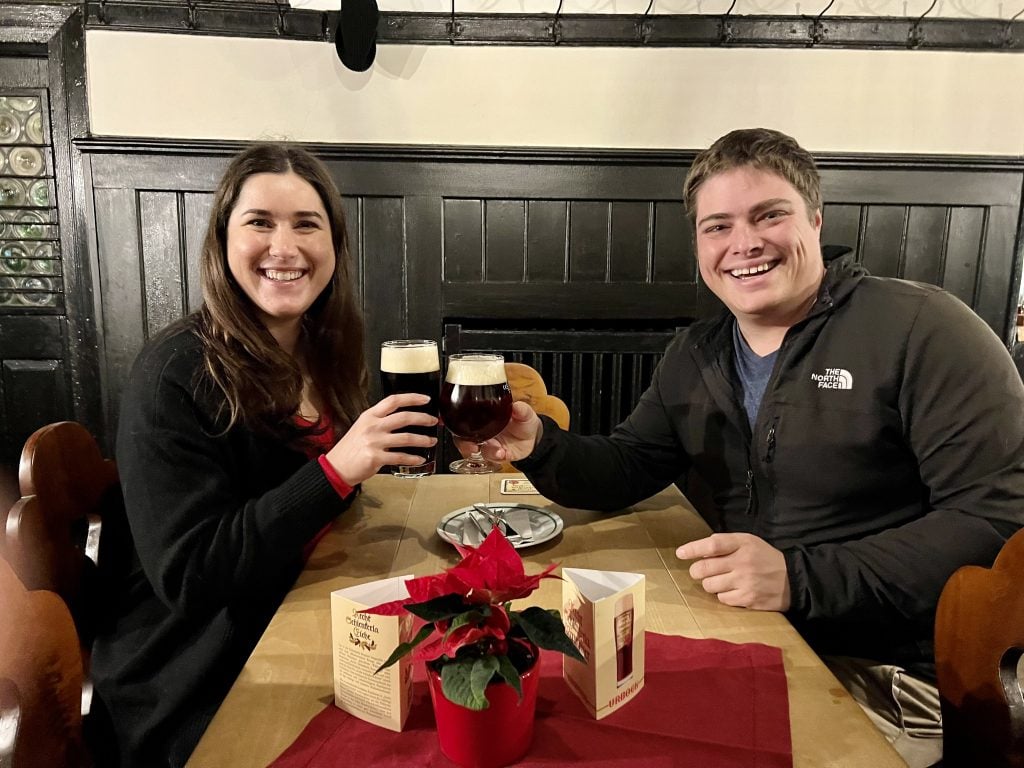 Think twice (or three or four times) before renting a car for a Bavaria Christmas trip.
Germany is world-famous for its efficient train system, and taking ample advantage of it is definitely the best way to get around Bavaria at Christmas!
If you happen to have plans that aren't very compatible with trains–say, visiting some of the smaller towns on the Romantic Road or heading out for a winter hike–then we recommend renting a car only for the days you need it.
Having a rental car is far more of a liability than an asset on a standard Christmas market trip in Bavaria!
If you do need to rent a car, we recommend renting a small car through Discover Cars, which will allow you to compare the prices and inclusions of multiple companies at the same time and choose the best car for you from there.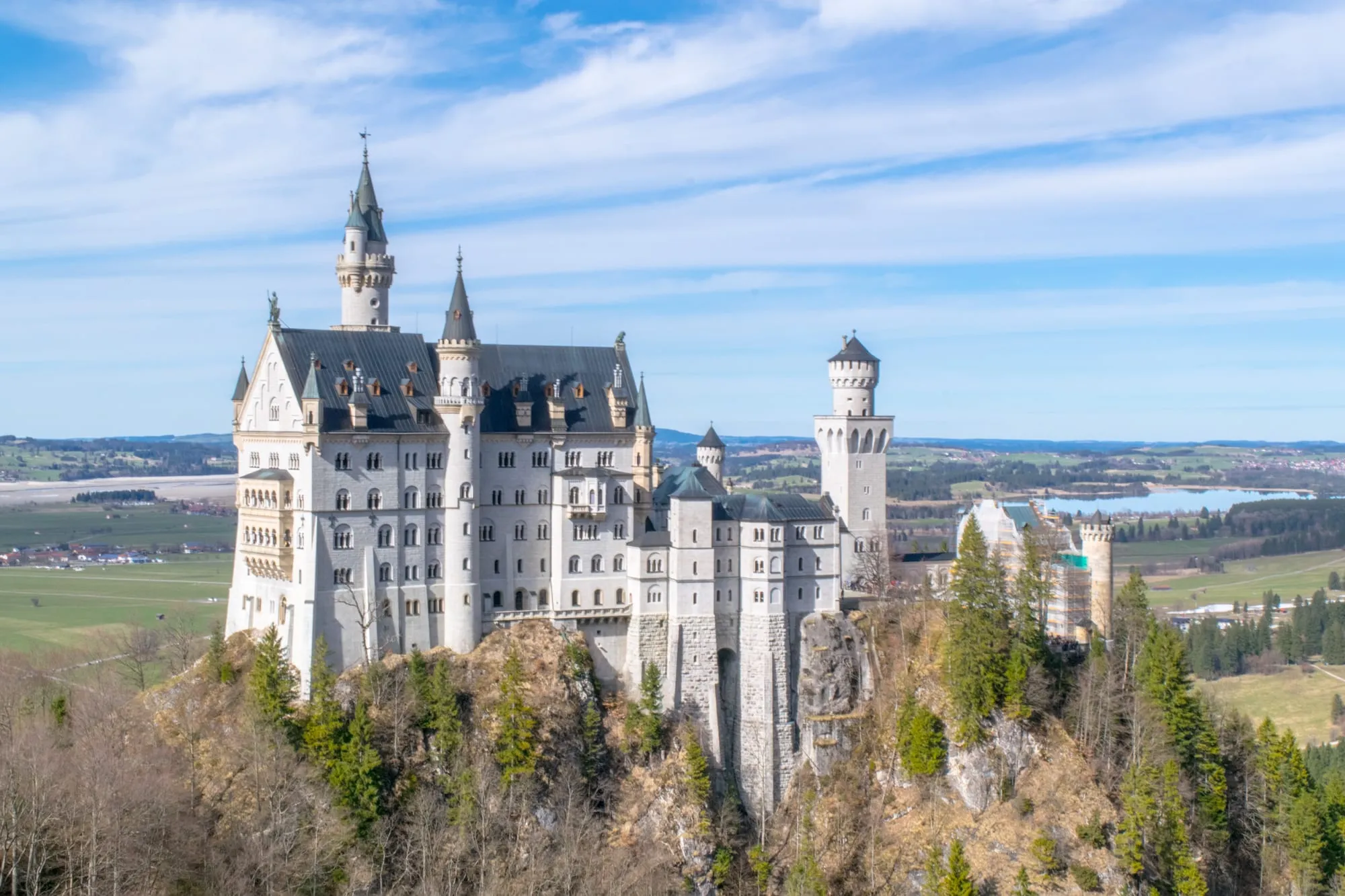 Expect to visit more than one Christmas market in each city.
While you can think of each city as having a general Christmas market experience as you plan, the reality is that most cities with a particular love of markets have several!
For example, Munich has more than 10 markets (including but not limited to a memorable medieval market and even a Christmas market in the airport!).
The exceptions to this tend to be very small cities, like Bamberg.
You certainly don't need to visit every market in each city you visit, but try to sample a handful.
The markets are often within a short walk of each other and can have very different vibes, and it's lots of fun to compare and contrast!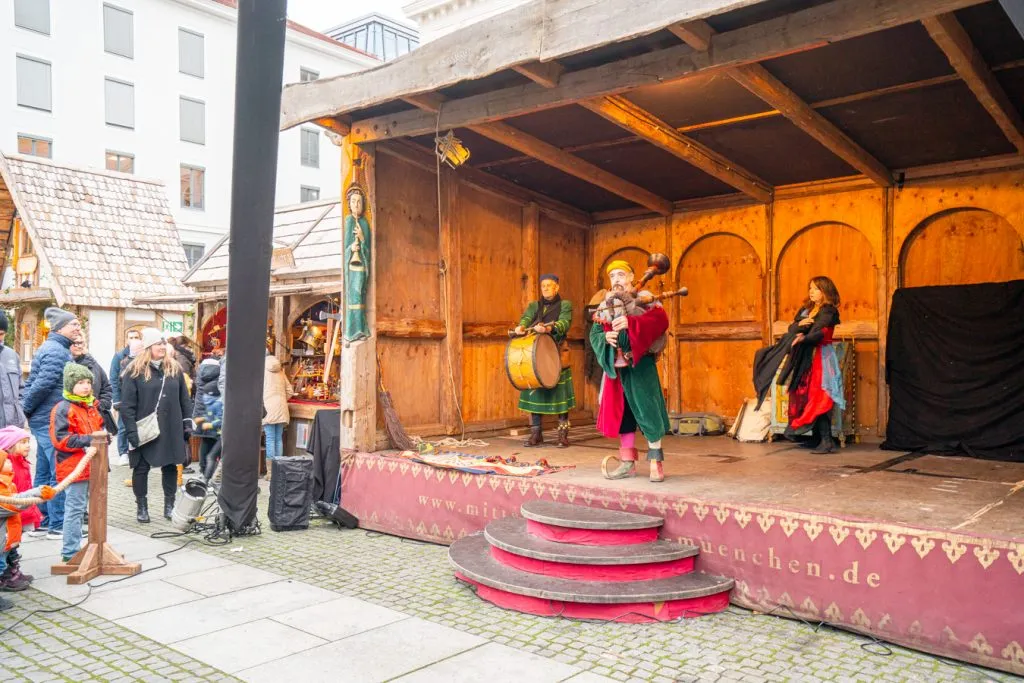 Keep an eye out for Advent concerts.
Music is an integral part of German Christmas celebrations, often featuring choirs singing in historic churches and palaces–and it's a magical experience.
You'll find Advent concerts all over the place, as well as many other classical music concerts designed to add a festive air to the (physically) dark holiday months.
Leave plenty of room in your luggage when packing for Bavaria.
Perhaps this goes without saying, but it bears mentioning in a guide about planning a trip to Bavaria at Christmas: the shopping is excellent, and you're going to want to come home with more things than you started with!
From small trinkets like ornaments to edible delights like Nuremberg lebkuchen (I truly cannot rave about them enough), and from wool sweaters to paper stars, the holiday season is our favorite time for souvenir shopping in Germany.
Packing accordingly as you get ready for your Bavarian Christmas vacation!
FAQ for Visiting Bavaria at Christmas
How do mug rentals work at Bavarian Christmas markets?
Mug rental (or in German, pfand) is a highly entertaining practice (or maybe that's just the glühwein talking), but it can be a bit confusing if it's your first Christmas market trip and you don't know what you're getting into.
When you buy your first drink at a given market, you put down a deposit (normally 2-4 Euros) for the mug, and you can then refill it however many times you want at the different stalls.
Often, different markets throughout a city will each have their own individual mugs.
Add in the fact that the mugs are also dated and change from year to year, and they become quite the collectibles!
When you're finished, you can either turn your mug in and collect your deposit back, or you can keep the mug as a fun and inexpensive souvenir of your time spent celebrating Christmas in Bavaria.
Keep in mind that while mugs are the only souvenirs you're like to put down a pfand for, some food stalls that serve items with actual dishes and cutlery may collect one as well.
What's the best time to plan a Christmas vacation in Bavaria?
While some Christmas markets in Europe offer extended dates that stretch as late as the first week of January, Bavaria (and Germany in general) tends to operate on a much more limited schedule.
Christmas markets tend to be concentrated during Advent, or the 4 weeks leading up to December 25.
Most markets close on December 23 or December 24, and don't reopen after that.
Markets in major cities tend to open at the very end of November, though smaller towns and villages may have more limited hours.
Visiting Bavaria in December, but before the 25th, is the ideal time to plan a Christmas vacation in the region.
How soon should I book my Bavaria Christmas trip?
As soon as you can commit to dates!
Contrary to the popular image of winter being off-season for tourism in Europe, December is one of the most popular times to visit Bavaria, thanks to its status as a world-famous Christmas destination!
The best hotels do fill up (especially in smaller cities with fewer accommodation options), and prices are definitely not low.
We book our hotels and most short-term apartments via Booking.com when traveling throughout Europe.
Not only does Booking.com have an expansive inventory, but it also tends to have very competitive cancellation policies–a must when planning a holiday season getaway well in advance.
Does it snow in Bavaria over Christmas?
It does, but definitely don't count on having a White Christmas–especially in the cities.
If you're determined to see snow as part of your winter trip to Bavaria, consider planning part of your trip in the mountains (even just a day trip to Zugspitze) to greatly improve your odds of seeing snow.
How much does it cost to visit Christmas markets in Bavaria?
With very rare exceptions (looking at you, Regensburg Romantic Market), Christmas markets are completely free to visit!
The only costs come from what you choose to purchase.
How cold is Bavaria in December?
Bavaria is a fairly large region, so temperatures can vary quite a bit depending on your location, but generally speaking: expect cold, damp weather during a trip to Bavaria in December.
Bundling up in multiple layers, a coat, hat, scarf, gloves, and warm boots (mine are similar to these and I adore them) is a must to stay comfortable!
In Munich, for example, average high temperatures in December are around 39°F/3.8°C, and the city gets about 10 days of precipitation throughout the month.
What to Pack for Celebrating Christmas in Bavaria
Our detailed winter packing list for Europe covers virtually everything you need for a trip to Bavaria in December.
That being said, here are some essentials you'll want to be sure to bring along!
Travel Insurance — We don't ever suggest traveling without travel insurance–anything can happen on the road, and traveling abroad is definitely a case of better safe than sorry.
Check prices and inclusions with Safety Wing for your trip to Germany!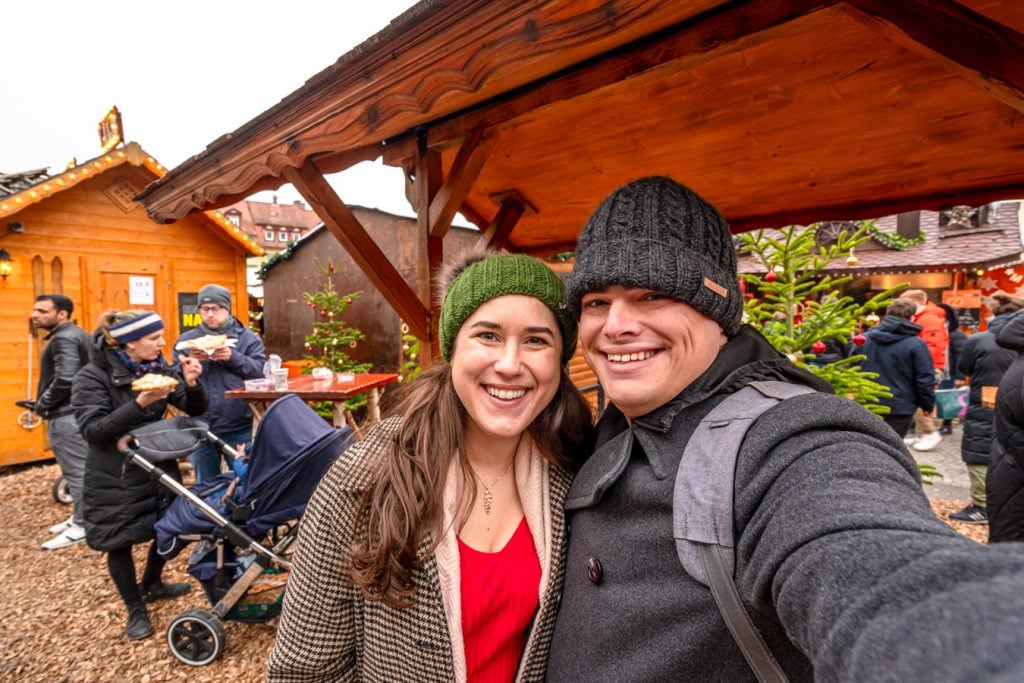 Travel Adaptors for Europe — If you're coming from outside of Europe, you'll definitely need adaptors for your electronics.
Reusable Water Bottle — Save both money and plastic when exploring Bavaria at Christmas by adding a reusable water bottle to your packing list! I love this metal one.
Comfortable Day Bag — You'll need something to carry around all your Christmas market purchases in, after all!
We currently use Pacsafe's sleek anti-theft backpack and love it, but if you don't want to shell out the cash for this trip, that's totally understandable.
Just aim for something comfortable to wear, not flashy, and medium-sized–we used a Northface Jester backpack for years and loved it as well.
Hand Sanitizer — We reach for this constantly when snacking at European Christmas markets!
Portable USB Charger — The same cold weather that drains your camera batteries will impact your phone as well.
When traveling through Bavaria in winter, your phone will likely die much faster than in the summer.
Be sure to come prepared by packing a portable USB charger!