One day, we will go back to County Clare, Ireland. Three full days was simply not a long enough visit, and we definitely need both an Ireland road trip and more time spent on the Wild Atlantic Way in destinations such as Donegal and the Causeway Coast in our future, not to mention plenty of visits to Irish castles, but it did give us enough time to have several highlights from our trip, including visiting the Cliffs of Moher and Inisheer, the smallest of the Aran Islands.
I can't move on from Ireland, though, without discussing two other highlights: horseback riding through Burren Way, and also enjoying the village of Doolin itself.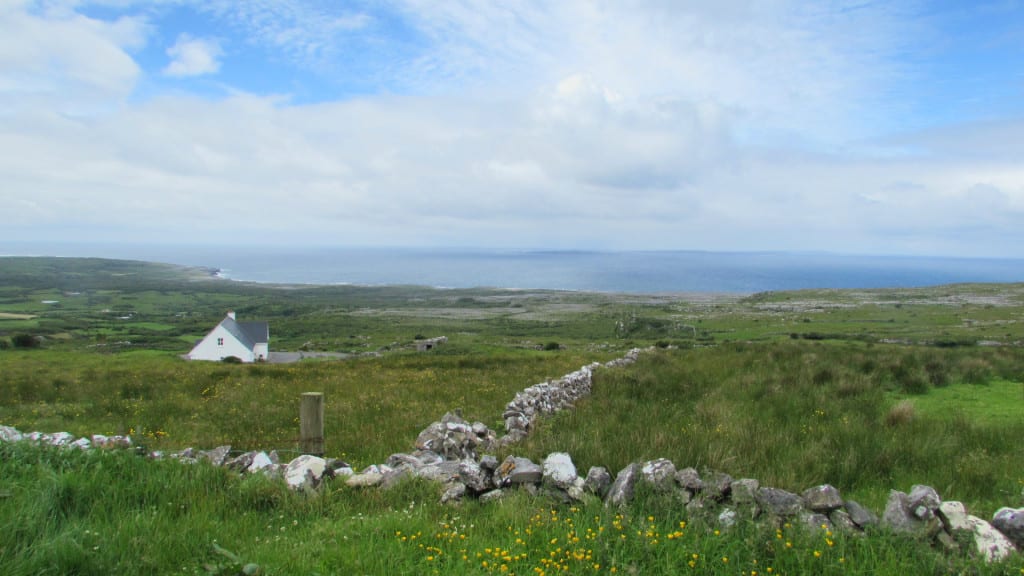 Departing from our habit of staying in various Airbnb properties earlier in this trip, we stayed at a bed and breakfast, Killilagh House. It is owned by a married couple: Irish husband, American wife. It was a relaxed place–we paid in cash (at a rate less than we anticipated), and ate a delicious homemade breakfast every morning that was served by a sweet teenager who couldn't have sounded more like Evanna Lynch's Luna Lovegood if she tried.
Just across the street (and by "street", I mean one-lane-each way narrow drive with no paint denoting the separate lanes, and minimal traffic–we walked it with ease) is the adorable Doolin Cafe, which is anything you can want in an Irish cafe: small, quaint, with delicious baked goods, and (to Jeremy's delight) entire pots worth of hot tea.
We knew that one of our "must-do's" for this area was horseback riding. I adore riding and took lessons for several years as a teenager. Jeremy never took lessons, but discovered a love of it when we took a ride on the beach for our first wedding anniversary on South Padre Island, TX.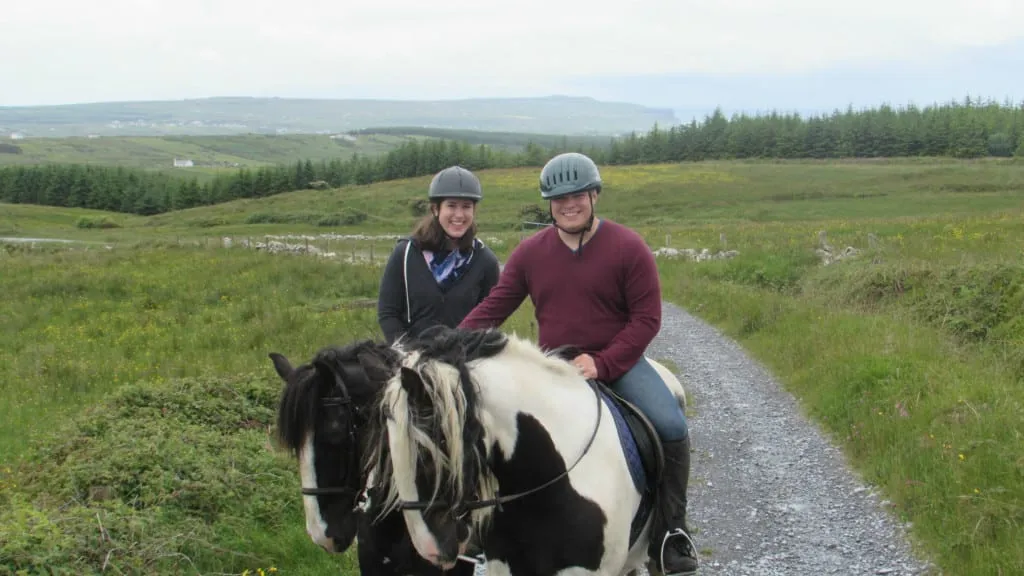 Rather than trying to find information and book something online, we ended up asking the owner of our bed and breakfast where to go, which turned out to be far more reliable in this area.
We drove 15 minutes outside of Doolin to the small farm that was, according the owner of Killilagh House, the place for horseback riding in the area. It turns out that taking the tourists out is actually a side business: the primary business is breaking/training young horses bought inexpensively and reselling them for a profit.
Our guide was adorable and personable: in her late teens or early twenties, she was technically Danish, but had wild, bright red curls that made her look remarkably like Brave's Merida. Best of all, for less than we would pay for an hour's boring group ride in the States, we got our guide all to ourselves for 4 hours of exploring County Clare and the Burren Way.
The entire experience was so different from the States: where normally it's, no we can't canter, we need to watch the clock, this is our path, we only go this way… this experience was completely free-flowing. We turned when we saw something interesting. Our guide was having so much fun relaxing with her horse that she didn't much seem to care about the time or where we were going.
There's nothing like hours with limited distractions and a sort-of local on hand (our guide had been living in Doolin for a couple of seasons) to end up with great impromptu tours: she was happy to chat away about various landmarks of Irish history that we passed, give recommendations on the best pub to visit, and give honest reviews of potential attractions we were considering for our trip.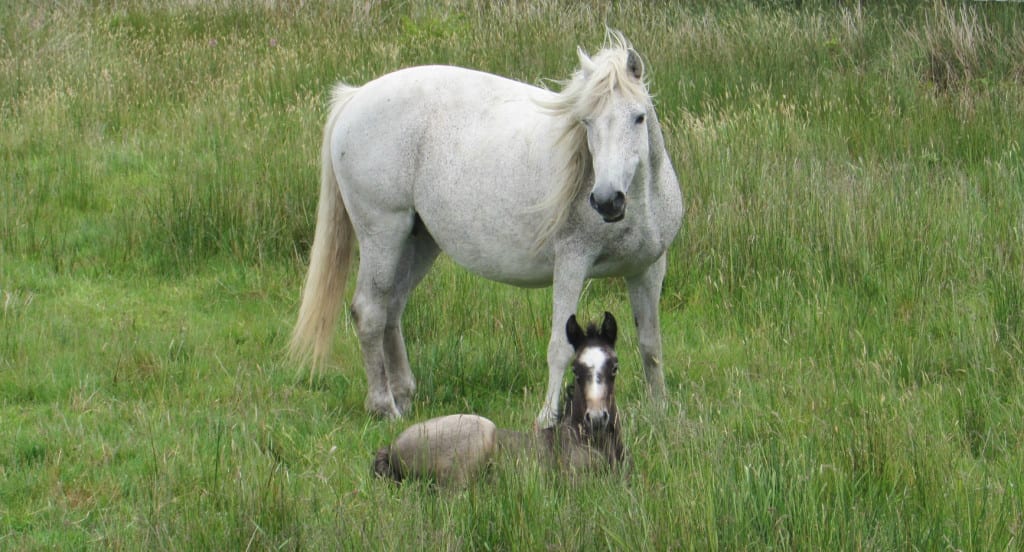 There is something special about horseback riding in the Irish countryside: the green, the views, the soft clip-clop of the horses feet and their sweet twitching ears–all of that with very little interruption of visuals or sounds that suggest the modern era.
The only downside to four hours on a horse (other than the resulting soreness, a given for non-regular riders) was the cold and the rain. We were so lucky with the sunshine at the Cliffs of Moher, but our luck ran out here. We didn't get soaked, and the sun came out for brief visits here and there, but I couldn't feel my fingers by the end, either.
As a minor downside, though, it didn't do much to damper our spirits. After eventually meandering back to the barn, we were happily exhausted and ready for a hot shower, followed by the perfect ending to a day in County Clare: heading to the pub and eating enormous amounts of food.
Where We Stayed in Doolin:

The Killilagh House — We loved this B&B! The tiny village of Doolin is perfect for accessing the Cliffs of Moher, the Aran Islands, and Burren Way, and the Killiagh House made us feel right at home there. The inn itself was clean and full of charm, the breakfast was delicious, and it was walking distance to Doolin's pubs and restaurants. The owner was incredibly kind, and quick with helpful recommendations. We would love to go back here for a week or more.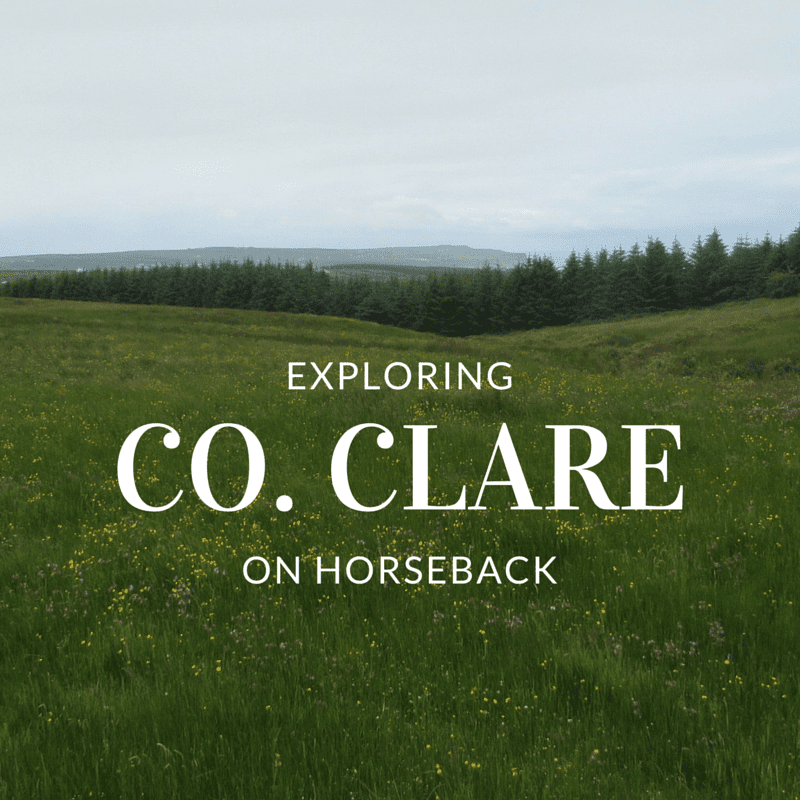 *Some links in this post about horseback riding in County Clare are affiliate links. If you click through one of these links, we may earn a small commission at no extra cost to you. We are committed to only ever recommending products and services that we personally use and like.