Ljubljana took us by surprise.
Going in, we had fairly low expectations for Slovenia's capital city–we knew that it was small, it was supposed to be cute, there was a Dragon Bridge (sounded awesome), and generally a couple of days was considered enough time to spend there.
What we found was that what Ljubljana (hard to spell, hard to say: pronounced lyoo-BLYAH-nah) lacked in size it made up for in personality. The word that kept coming to mind over and over there was funky. This was a fun, bright, and colorful city that rapidly captured our attention and held it for our entire visit.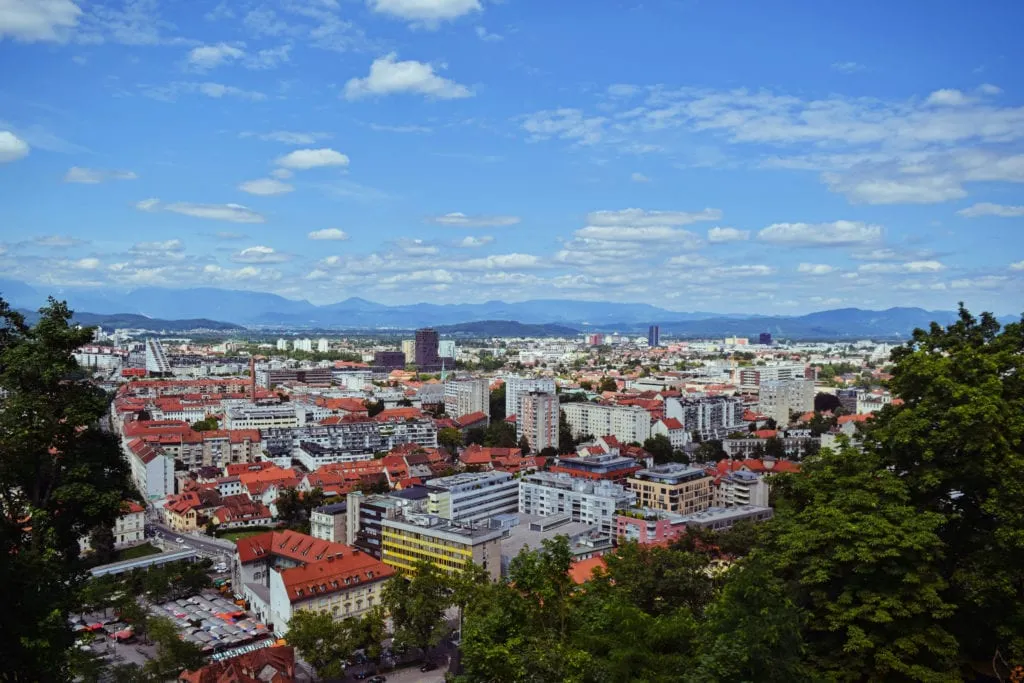 Here are some of Ljubljana's highlights in our eyes:
Metelkova
Ljubljana was home to a large amount of street art, but nowhere was that more apparent than in the district of Metelkova. Metelkova was once made up of army barracks, but the area was abandoned by the military in the '90's, after the breakup of the former Yugoslavia.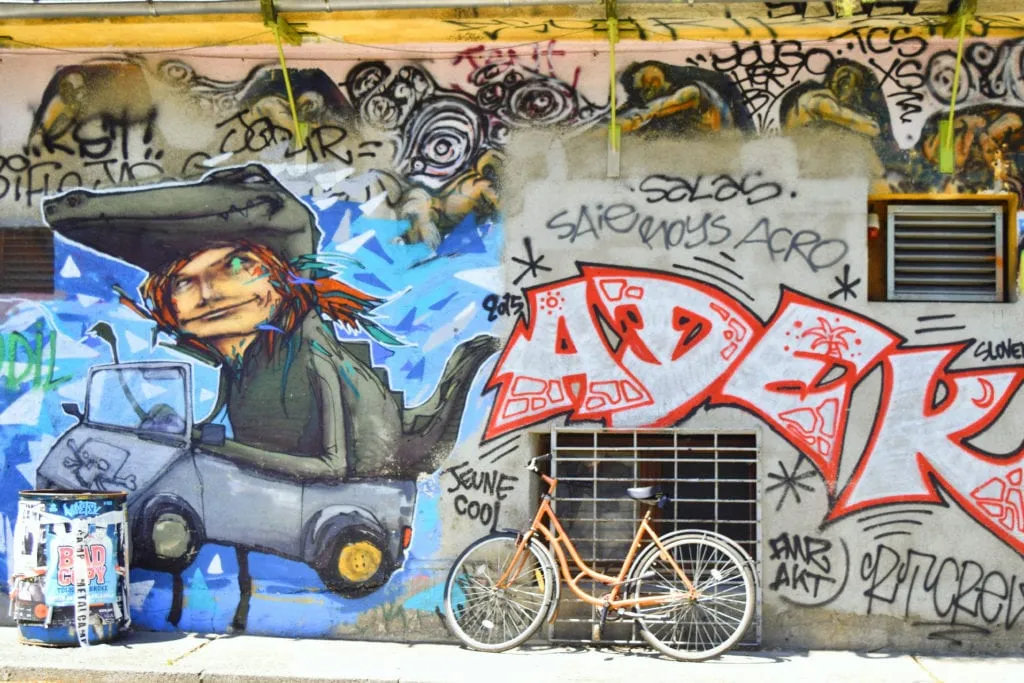 A whole host of artists, hippies and dreamers moved into the now-available space, and they haven't left.
We visited during the day, so the area was quiet, but not abandoned: a few people were around who looked like they worked at the clubs and were preparing for the night ahead, an occasional visitor would come by with a camera, and teenagers in a chemical-induced euphoria occupied the jungle gym.
This was one of my favorite places to photograph in Ljubljana: it was vibrant and colorful everywhere we turned, and downright bizarre in some spots. The entire district was, in a word, captivating.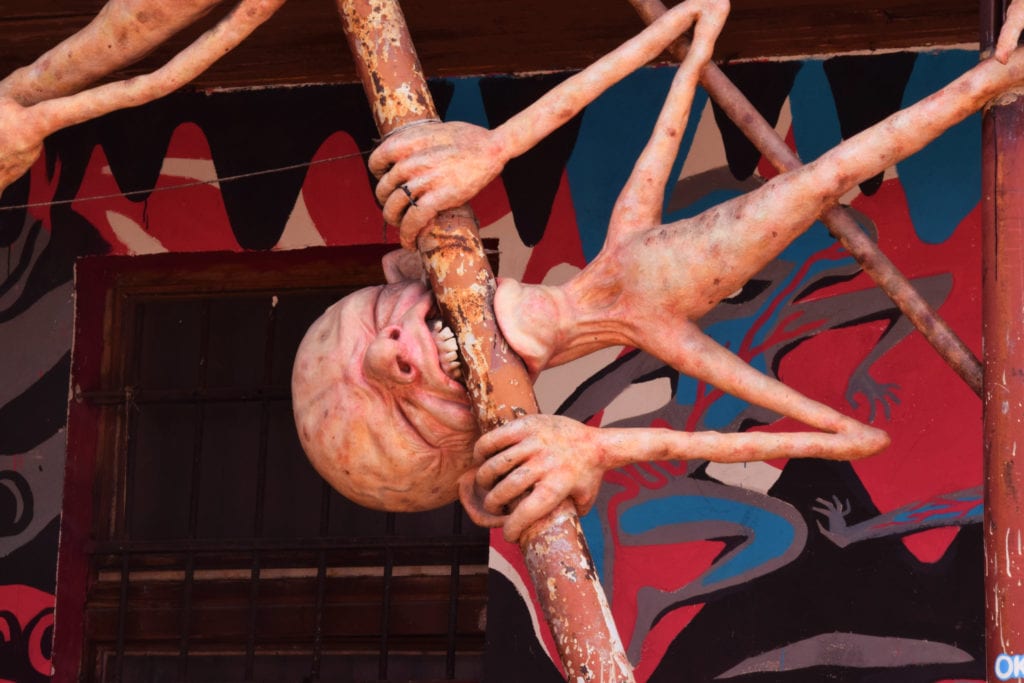 The Dessert Culture
Location after location on our Europe trip seemed to be home to places that were lacking what Jeremy and I would consider incredible desserts: pastries and gelato are delicious, but they're not exactly in the same league as a decadent cake or a tasty piece of pie.
Ljubljana was happy to satiate these cravings.
Every restaurant we saw had a dessert menu that involved more than 1-2 items and didn't seem like an afterthought–we hadn't seen that since the USA. Cakes, elaborate sundaes, cheesecake… the possibilities seemed endless.
We ended up trying chocolate cake (amazing), classic New York style cheesecake (also amazing), and giant mugs of hot cocoa (yes, amazing, but also too big to finish).
The Dragon Bridge
Of course the Dragon Bridge would make the list.
This is possibly the most famous landmark in Ljubljana, and even though the bridge is small, it lived up to the hype: a large green dragon guards each of the four corners of the bridge.
There are multiple theories as to how dragons ended up part of Ljubljana's culture, but the bottom line is that they have long played a role in it, and still do. There is a dragon present on Ljubljana's coat of arms, and they have also been known to show up in the labels for various companies who are from the city
The Statues
Staying in line with its funky attitude, Ljubljana's center is home to many bronze statues. Rather than being the predictable themes that you see in many of Europe's statues (men on horses, topless women in fountains, noblemen standing tall in squares), these are decidedly… different.
Most memorable, to me, is the statue of a human-looking figure, complete with tail.
The Eclectic Architecture
From the medieval Ljubljana Castle overlooking the city to a dramatic, triangle-shaped building on the other side of the river, Ljubljana is carpeted in wildly varying architecture. It makes for an unforgettable mix, and fits in with the city's vibe well.
The famous Triple Bridge is directly next to a clear, modern one that looks almost designed for the locks that hang on it.
Lock Bridges are everywhere in Europe these days, and are controversial for a reason–but it greatly amused me to see how neat and orderly these locks were hung. This was very different from the Lock Bridge that we saw in Paris a few years ago, where the locks were stuffed on it haphazardly, one on top of the other.
Overall, we had a blast in Ljubljana. We found Ljubljana Castle itself to be forgettable, but everything else that we encountered was tons of fun. The city's funky vibe made it a great place to explore, and while we'd never want to spend a week in a row there, we'd be happy to pass through for a few days each time we're in the area.