Did you carefully plan a trip to Charleston, only to show up and find rain clouds hovering the sky? I can relate! I've learned what to do in Charleston when it rains by necessity, as it seems like every time I visit, the rain follows (of course, the fact that I tend to visit in the spring is probably as much of a reason for this as anything).
If you're looking for some fun indoor activities in Charleston to make the most of a rainy day, here's where to look.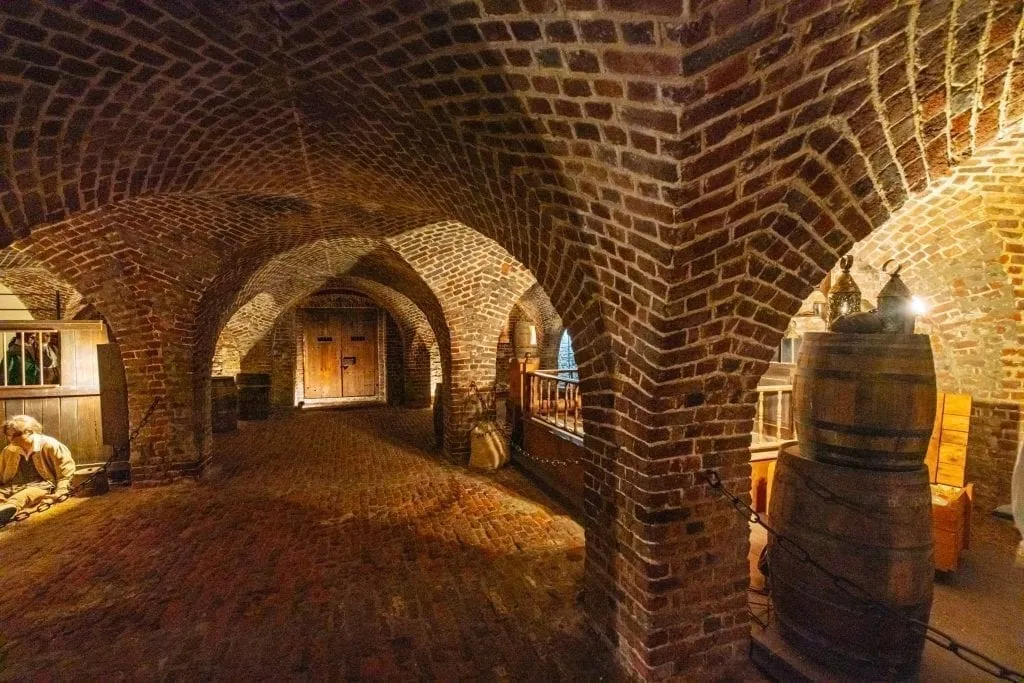 Some links in this post may be affiliate links. If you make a purchase through one of these links, we may earn a small commission at no extra cost to you. Please see our

disclosure policy

for more detail.
What to Do in Charleston When it Rains
Visit the Gibbes Museum of Art.
Home to an impressive collection of American art dating back to the 18th century, the Gibbes Museum of Art makes it easy to remember that Charleston was once the wealthiest city in what would become the United States.
Their collection focuses on art connected to the city of Charleston, and it is a fantastic place to visit.
Dodge the rain at Patriot's Point.
Not all of Patriot's Point is indoors, but the USS Yorktown sure is–and since this ship is truly more like a city, you can easily spend hours on a rainy day in Charleston entertained here.
It rained the entire time we toured the ship, but once you get deep into the tour, you'll completely forget that it's raining.
Touring the USS Yorktown is one of the most memorable indoor activities in Charleston, and should be on your list of what to do in Charleston regardless of the weather.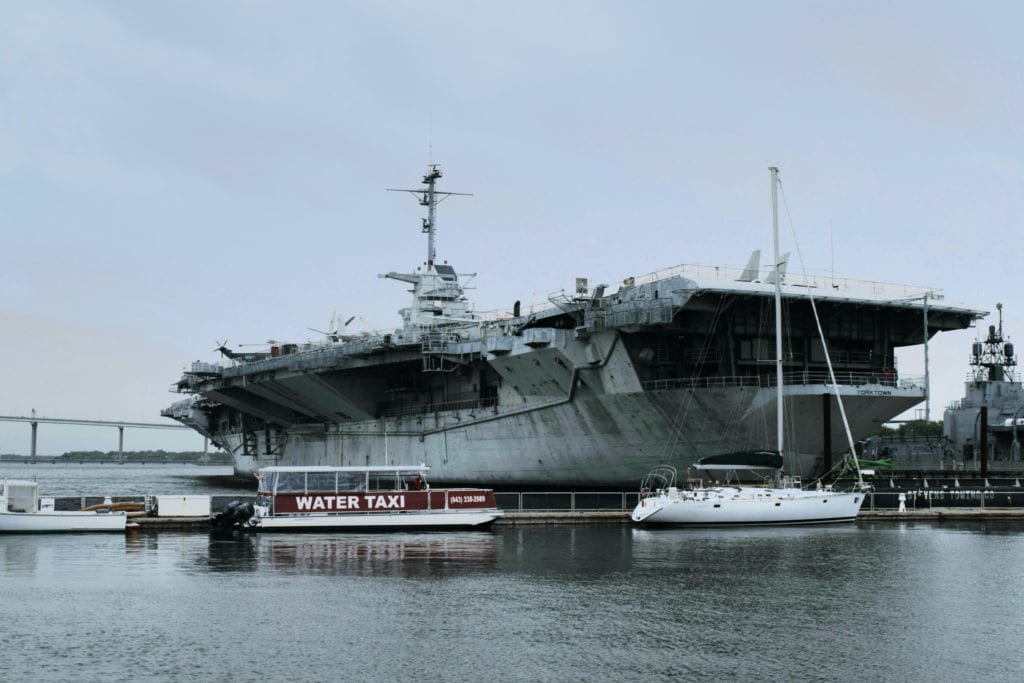 Learn important history at the Old Slave Mart Museum.
Housed in a building that was once an auction house where human beings were bought, sold, and held against their will, the Old Slave Mart Museum tells the dark story of the slave trade in Charleston, complete with many primary sources.
Visiting is a very sad but important experience–it is impossible to understand the history of Charleston without understanding the history of the slave trade.
Duck into the Charleston City Market.
You may get a bit wet on your way there, but the famous Charleston City Market is covered, and an incredibly fun place to peruse when looking for indoor activities in Charleston!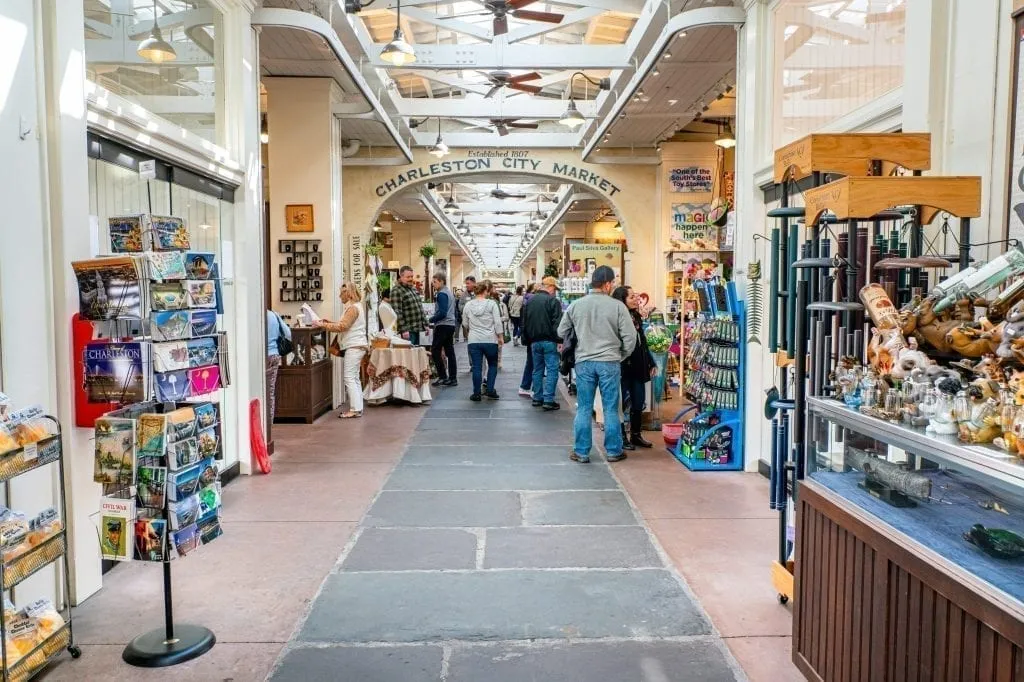 Tour a historic house museum.
The stunning homes of what were once Charleston's wealthiest citizens make fascinating places to explore, both for their beauty and their complicated history.
Of course, lurking beneath the surface is the fact that their incredible beauty was only possible through the forced labor of enslaved people–for the starkest look at that reality, head to the Aiken-Rhett House.
Check out The Charleston Museum.
Founded in 1773, The Charleston Museum is dedicated to exploring the history and culture of the Lowcountry, complete with many first-person artifacts and enormous archives–their about us section on their website is enough to make any history lover want to visit.
Without a doubt, this is one of the best indoor activities in Charleston!
Visit the Old Exchange & Provost Dungeon.
Built in 1771, the Old Exchange & Provost Dungeon has a long history of being one of the most consequential buildings in Charleston.
During its centuries, it has operated as a customs house, as a military prison during the American Revolution, as the site of horrific public auctions of enslaved people, and as a place to entertain elite members of society (including George Washington).
Today, it is one of only four remaining buildings where the US Constitution was ratified.
Touring the museum, including the dungeon, is a very interesting look into the many layers of Charleston's past, and is one of the most interesting indoor activities in Charleston.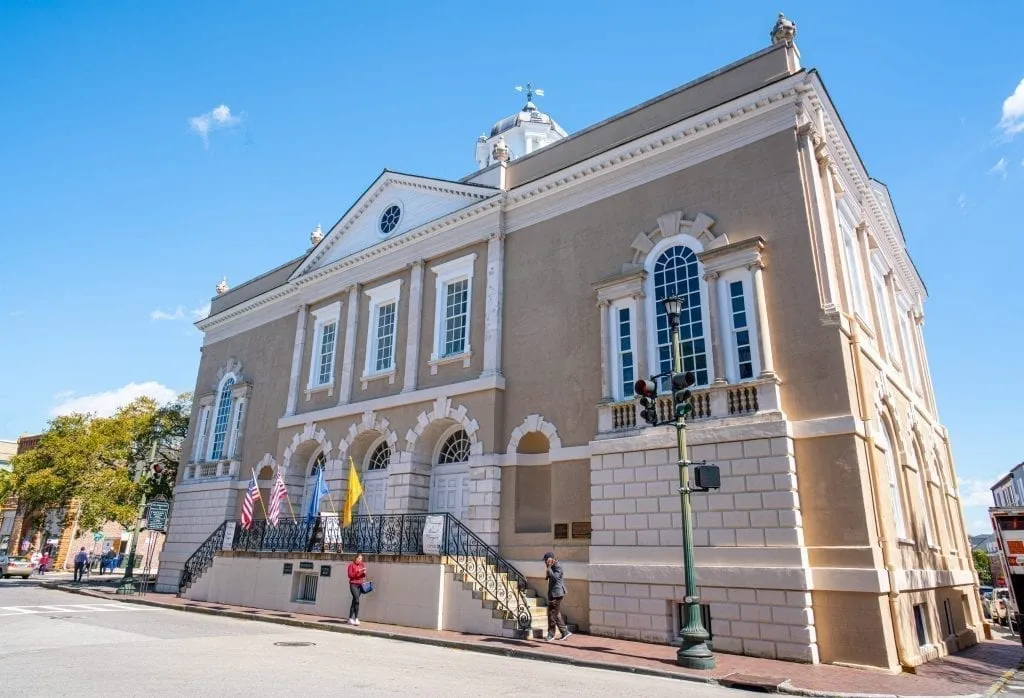 How to Get Around During a Rainy Day in Charleston
Even on a rainy day in Charleston, driving from your hotel to another part of the city for sightseeing isn't practical.
To get around when bouncing between things to do in Charleston when it rains, consider using Uber or Lyft, which both operate in the city (though be prepared for surge pricing during heavy downpours).
Of course, there's also the old-fashioned way to get around Charleston in the rain, which happens to be my favorite: grab a travel umbrella and maybe some rain boots, and walk the beautiful streets regardless of the weather!
Map of the Best Indoor Activities in Charleston