By the time we reached Costa Rica, we were at the tail end of our trip through Mexico and Central America.
At that point, we had already been scuba diving in Honduras, climbed Volcano Acatenango in Guatemala, ridden horses on the beach in Nicaragua, and eaten our way through oodles of Mexico's delicious food–and that doesn't even scratch the surface!
As much as we adored our time in the region, when we arrived in Puerto Viejo, Costa Rica we were, quite frankly, tired and ready for a change of pace. Next time we visit, it'll be all about beaches, volcanoes, even more beaches like Playa Junquillal, and Costa Rica's national parks–but this trip was about family.
Most of our time in Costa Rica was spent as a family trip with my grandparents, dad, and two little brothers, so Jeremy and I were able to stick with two very low-key goals for the week: 1) soak up the family time (including a thousand rounds of card games and the always addicting Rummikub
) and make sure everyone else enjoyed their time in Costa Rica, and 2) see a sloth up close.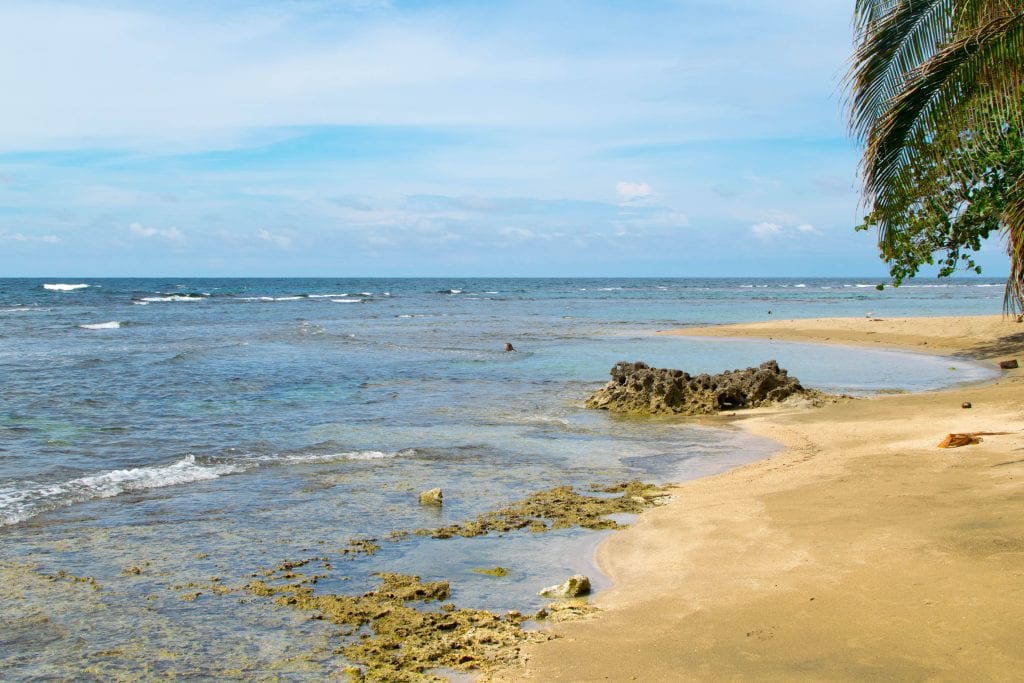 Yes, despite all of our adventures in Central America, the creatures that we had been most excited to see while there had eluded us until almost the very end (minus a few sightings from far away in Bocas del Toro, anyway).
Enter the Jaguar Rescue Center.
The Jaguar Rescue Center is located in Puerto Viejo, a convenient 10-minute drive from our Airbnb, and is the best kind of animal experience we could hope for abroad. It's also a fabulous thing to do on a family trip to Costa Rica!
While we were able to get very close to the sloths (!!!), monkeys, birds, and more, it was abundantly obvious throughout our time at the Jaguar Rescue Center that the rehabilitation of the animals in their care, and the eventual release all those who are able to go back to the wild, was the main goal and purpose of the center–us tourists were simply background music, which is exactly as it should be.
Our tour of the Jaguar Rescue Center lasted about an hour and a half, and our guide chatted away happily throughout the process, pointing out the names, characteristics, and backgrounds of many of the animals in their care.
As much as I enjoyed following along, though, Jeremy and I spent most of the tour completely distracted and staring at all the sloths we could find: from adults sloths napping in trees and eating leaves at the slowest pace I could imagine, to the literal baskets of baby sloths that we passed by later in the tour, they were all completely adorable and well worth the trip.
You can't handle any of the animals at the Jaguar Rescue Center, which is definitely a plus–better for the animals, even if it was maddening not being able to reach out and pet some of the little guys!
Considering a trip to Puerto Viejo, Costa Rica? These photos may convince you to visit the Jaguar Rescue Center: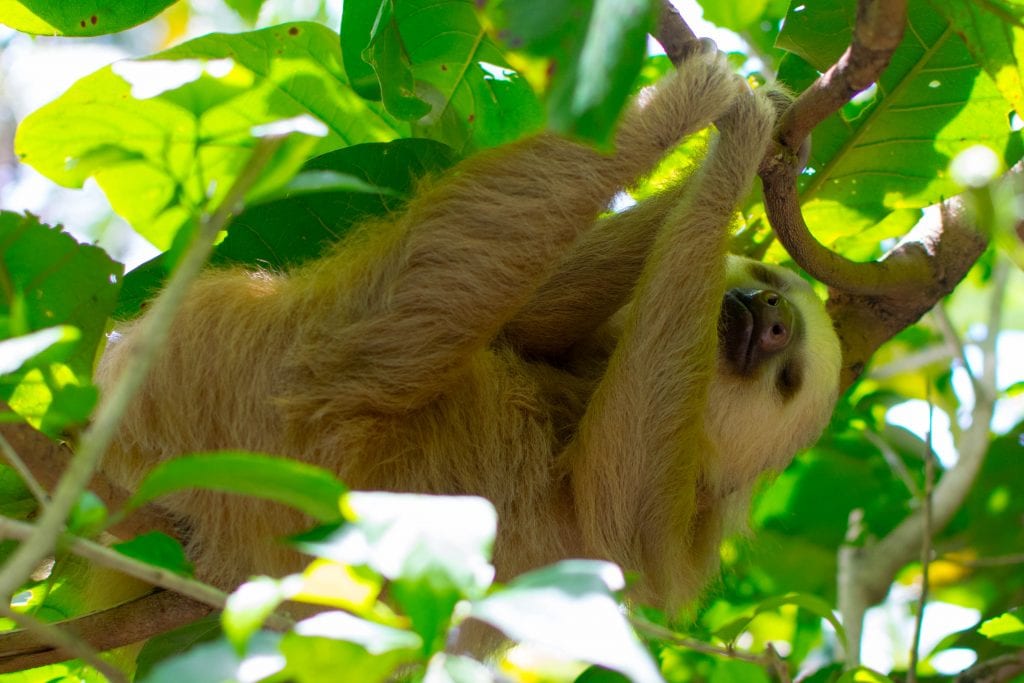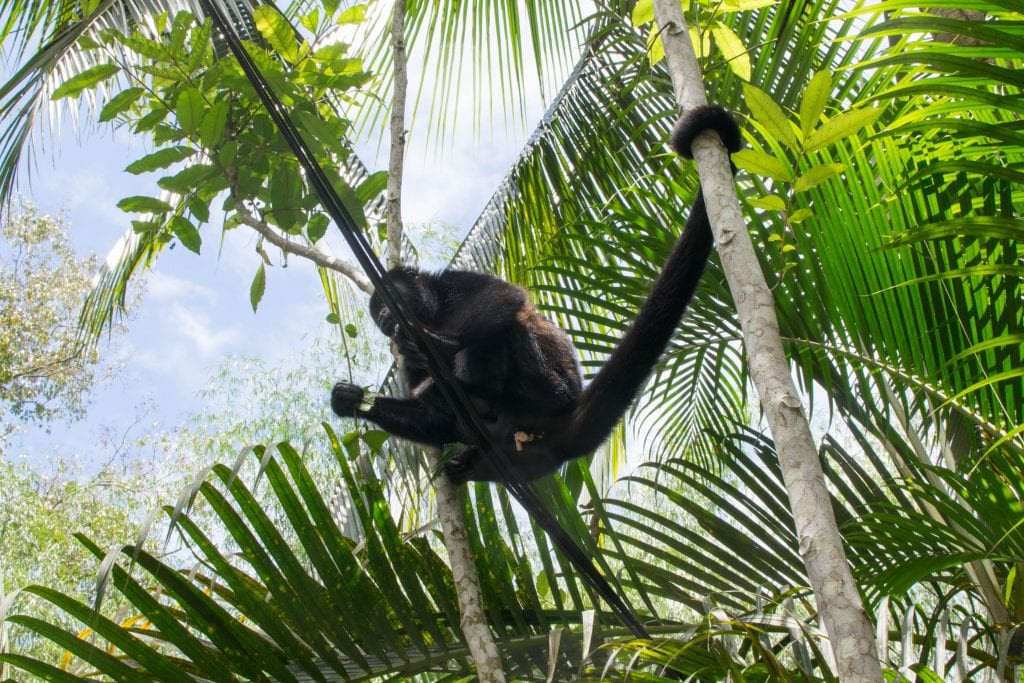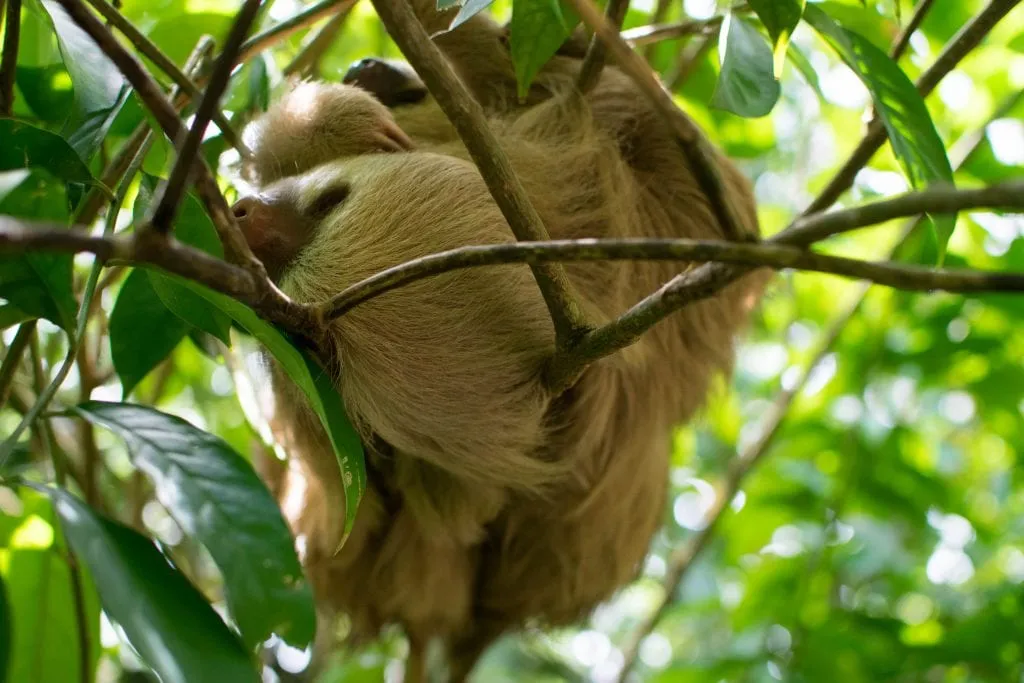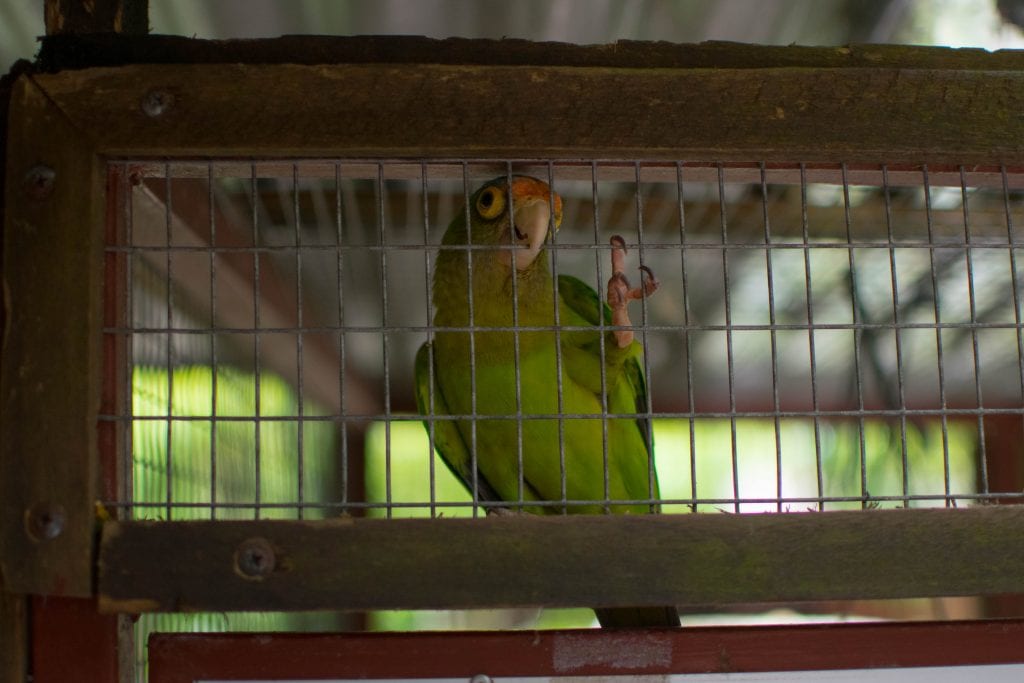 Read Next: Costa Rica vs Nicaragua: Which One Should You Visit?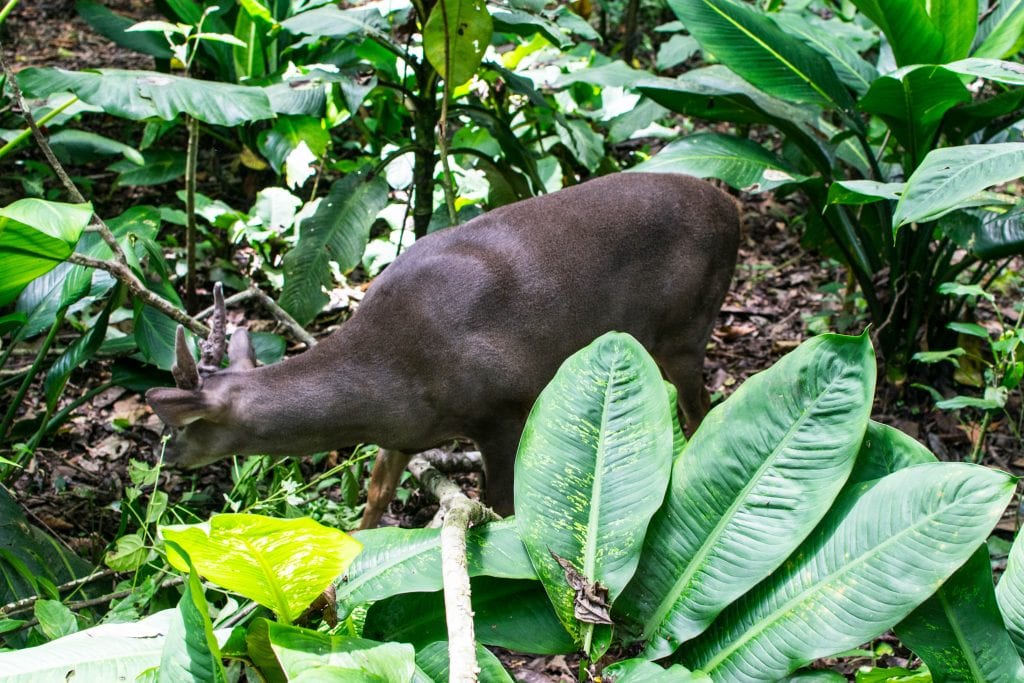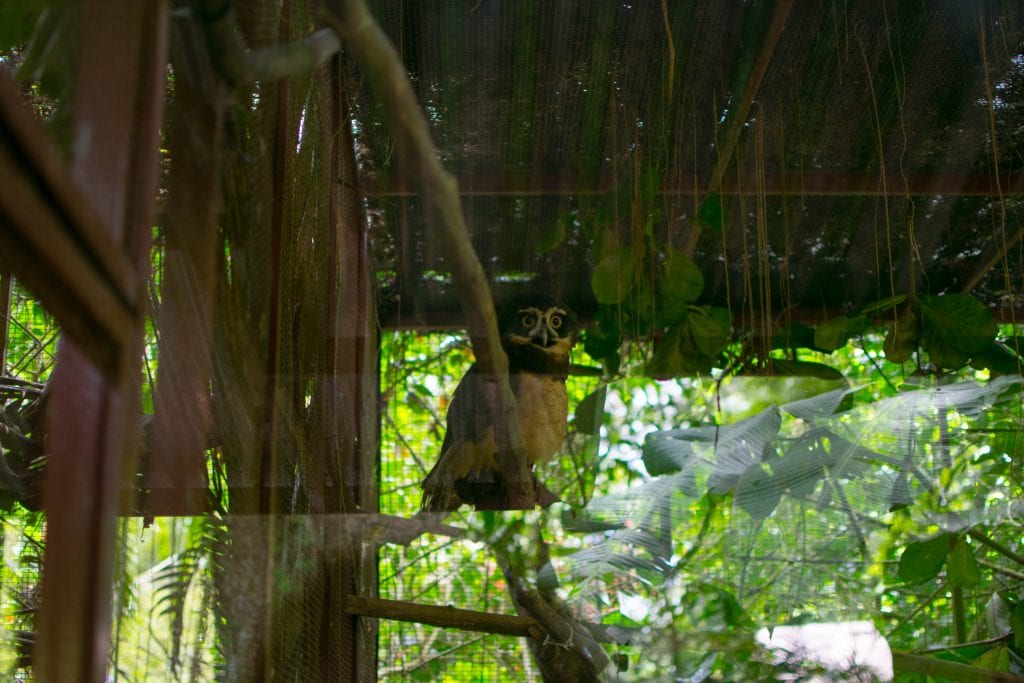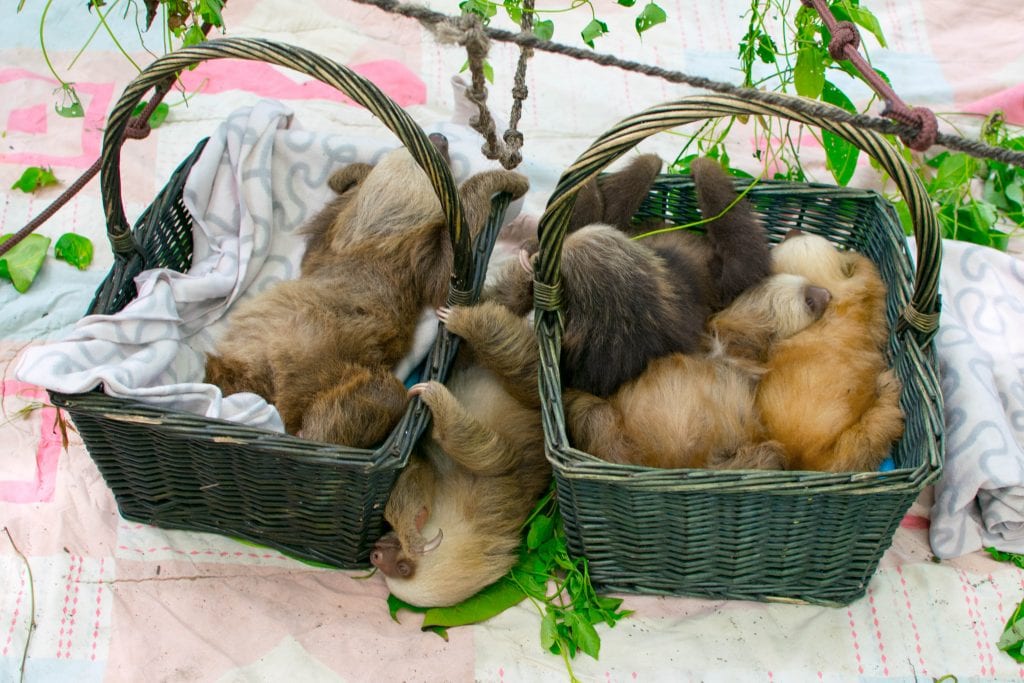 Where We Stayed in Puerto Viejo:

Beachfront Villa in Puerto Viejo — This Airbnb was a bit different than our usual ones: it sleeps 16 guests! While we didn't have that many people on our family trip, it was wonderful to spread out. We loved that this property was a short drive to the center of Puerto Viejo and a five minute walk from a semi-private beach–we had it to ourselves almost every time we went out there! The house itself was fairly nice for the most part, with the exception of the kitchen. The kitchen was outside, and therefore predictably bug infested.

Haven't used Airbnb before? Sign up here for a discount on your first stay!