A new US city, a new country, and a new continent–January has been a very exciting month for us!
After spending the first two weeks of January finishing up the last of our family-oriented time in the USA, we hit the road again with plans to be gone until who knows when.
The second half of the month was focused on tying up some travel loose ends in destinations that have eluded us for ages.
Our first stop? Beautiful New Orleans, which has been one of those travel destinations that just kept getting away from us–we started to plan several trips there when we lived in San Antonio, but they never materialized.
After New Orleans, we were finally bound for South America!
Those of you who have been following us for awhile might remember that our original six-month RTW trip that we planned to take from May-November 2016 was supposed to include two months in South America, but that plan ended up getting derailed.
We then tried to plan another trip down here in late 201–early 2017, but ended up scrapping those plans and heading to Mexico and Central America instead (which was also an epic trip).
Now, we're finally, finally, here, and we have big plans for our first foray into South America: we're hoping to see 3-4 countries here in the next few months!
Where We've Been:
Edmond & Oklahoma City, Oklahoma
New Orleans, Louisiana
Cartagena, Santa Marta, Tayrona National Park & Minca, Colombia
Highlights of January 2018:
Finally stepping foot in South America. This is our fifth continent, and while we (clearly, based on our rather slow pace and tendency to keep returning to countries we like) don't focus too much on country-counting and continent-counting, it's still lots of fun to see our map get a little more filled in!
Eating our way through New Orleans. We fell hard for beautiful New Orleans, and unlike many destinations, we came ready to play when it came to the food scene: armed with restaurant reviews and must-try dishes, we savored every bite in New Orleans.
Spending a day as beach bums on Playa Blanca. Near Cartagena sits the famous Playa Blanca in Colombia: it's the longest beach in the area, has powder-white sand and bright blue water, and is therefore predictably crowded.
These crowds made the reviews we saw for the beach a bit mixed–some people said the touts and crowds ruined their experience–but we ended up adoring our time there.
We did spend about $10 USD to rent a cabana and chairs for the day, which we believe ended up serving the double purpose of keeping us from getting sunburned while also keeping some of the touts at bay, as we were set a little further back than the main drag of beachgoers.
Our ghost tour in New Orleans was one of our favorite tours in a long time. The stories were fascinating, walking through the French Quarter at night was beautiful, our guide, Evian, was a natural storyteller, and the 2-for-1 Hurricanes that came with our tickets combined with New Orleans' lack of an open-container policy meant that we got to drink a bit on the tour–and it's hard to imagine a tour better suited for a cocktail than a late night ghost tour!
If you're going to New Orleans soon, you can book the ghost tour we took here!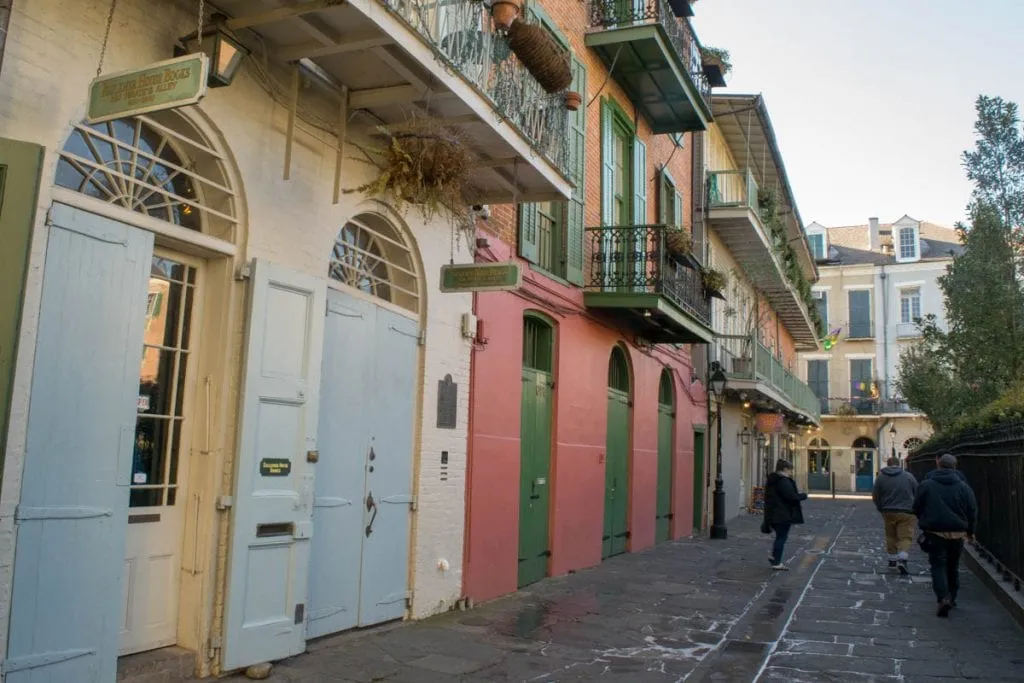 Challenges of January 2018:
The water went out for 3 days in New Orleans. The problem wasn't just in our hotel, but in the whole French Quarter and beyond–and after it came back on, we still had a boil water warning for a couple of days.
At some point between hauling water up from the pool to flush the toilet and collecting bottled water from reception, Jeremy and I joked to each other that this is exactly the kind of thing Americans fear having happen to them when they travel abroad… but it totally happens at home, too.
Saying goodbye is never fun. Leaving home means leaving family members, and as our plans are more open-ended now than ever before, we couldn't even offer an estimate as to when we'll visit again when we said goodbye.
Featured Travel Product of the Month:
We love our Pacsafe!
We actually purchased this and brought it when we went to Europe this fall (we wish we would have had it in Mexico and Central America!), but we didn't use it much over there–we stayed in several Airbnbs, and generally just didn't feel it was necessary in most locations.
That's a false sense of security, of course–just look at the water in New Orleans story above, things go wrong everywhere–but there's no denying we were lazy about it.
It has already brought us huge peace of mind in South America though, and I know we'll continue to use it daily. Especially since we earn our money on our computers, losing them to a theft would be devastating on many levels.
Most Popular Instagram Photo:
Italy never stops being popular on Instagram!
Now that we're in South America, our feed will likely be Italy-free for the next several months, but we did just publish a video on Facebook about Florence and Tuscany–go check it out if you haven't already!
January 2018 Posts:
2 Days in Rome: Your Complete Itinerary — Everything you need to know to see all of Rome's highlights in just two days! It's surprisingly easy to do–the city divides itself in half nicely.
2 Weeks in Italy: The Perfect Itinerary for First-Time Visitors — If you're looking for that classic first time in Italy trip, this is the itinerary to use! Work your way through Rome, Florence, Tuscany, Cinque Terre, and Venice–without overwhelming yourself.
The Ideal 3 Days in Budapest Itinerary for Your First Visit — Budapest is one of our favorite Central European cities, and we want to show off the best of it to everyone we meet! If you're headed to Budapest, this itinerary will cover everything from the classic sights like Parliament, to more obscure ones that we love like the Szabo Ervin Library, to downright adventurous ones like caving!
Buda or Pest: The Best Place to Stay in Budapest — If you're trying to choose which side of the river to stay on in Budapest, this guide will help you decide!
An Epic 3 Days in New Orleans Itinerary — This is our longest post to date, mainly because I couldn't stop writing about all the amazing food! This itinerary is packed full of things to do, places to go, how to get around NOLA, restaurant recommendations, and more!
What's Next:
South America, you're stuck with us for awhile!
We plan to stick to this continent through April or so (though plans could always change).
We'll most likely spend the bulk of February in Colombia, as there is simply so much to see here and it'll take awhile to work through a decent chunk of it (we won't get close to seeing it all).
Toward the end of the month, we plan to head off to Ecuador!
Nothing firm is really planned out as far as dates, cities, or hotels beyond the next week or so–we appear to be getting lazier and lazier about planning in advance the longer we travel, or I suppose you could call it going with the flow–but we are going to try to see Medellin, Guatape, Salento, and a few more spots while here in Colombia!