With the exception of a few very memorable days in Romania, October was a month solely dedicated to Italy!
Italy now officially beats out Mexico as the country other than the USA that we have spent the most cumulative time in: as of the end of 2017, we will have spent more than two months total in Italy since we started traveling full time in May 2016… and after the October we have had, we solidly expect that amount to continue rising over the next few years.
Where We've Been:
Rome, Florence, Arezzo, San Gimignano & Bologna, Italy
Bucharest, Romania
Highlights of October 2017:
Our time in Florence has been packed full of highlights, from riding a Vespa for the first time through the Tuscan countryside to eating plate after plate of pasta smothered in pesto to admiring the masterpiece that is David.
It's impossible to pick a single highlight from our time in Tuscany, so I'll give a blanket shout-out to the food: we have eaten incredibly well here, and enjoyed every second of it.
Our time in Bucharest was also a major highlight: we were hosted by Experience Bucharest for three days to explore the city, and loved having the chance to explore this funky, quirky, tons-of-fun city that reminded us a bit of our beloved Ljubljana.
We even got to climb Romania's Arch de Triomphe, which was opened especially for our group of bloggers–typically, it is closed 364 days out of the year!
Just as much of a highlight as the city itself, though, was getting the opportunity to hang out with all kinds of amazing people, turning internet-blogger-friends into IRL friends and making brand new friends along the way.
I'll be writing more about our experience in Bucharest in the future, but for now, to sum it up, we had a blast, and don't be surprised if we head back to Romania for more travel in the future! The mountains and the villages of Transylvania in particular are calling our names…
Challenges of October 2017:
Handling the sleep deprivation during and after Bucharest! A packed schedule and tons of interesting activities around every corner meant that we made it back to Florence completely exhausted and a little worse for the wear–it took a few nights of solid sleep for it to wear off!
Other than that, though, we truthfully had a pretty easy month–renting our apartment in Florence for a whole month has allowed us to keep what feels like a downright leisurely pace, sightseeing a couple hours a day during the weekdays and working the evenings.
Best Money Managing Move:
I feel like every time we stay still for awhile I end up talking about how good it was for our wallets in this section of the monthly review… but it's true, slower travel really does pay off!
Not only did having more time in Florence allow us to stretch out our sightseeing costs such as visiting galleries, etc, across more days, the monthly discount for the Airbnb apartment we rented less than a ten minute walk from the Duomo brought the total price down to only around $42/night after all taxes and fees.
To get a private apartment with a full kitchen (that we have made ample use of, saving us even more money) in such an amazing location would have cost much more per night without taking advantage of the longer time period.
Most Popular Instagram Photo:
Everyone loves the Colosseum–including us! We were even more impressed by it than we expected to be.
October 2017 Posts:
11 Marvelous Things to Do in Malta — We did very little research before our trip to Malta, but we found no shortage of things to do in the tiny island country once we arrived!
Quick Malta Travel Guide: What to Do in Malta, Where to Stay & More — Planning a trip to Malta? Start here!
26 Things I Did While I Was 26 — This was my second year of sharing my annual birthday tradition on the blog, and I'm glad that I continued. I suspect I'll share one next year, too!
Food, Food, Food: Delicious Experiences & Things to Eat in Florence — With how much we've talked about food during our month in Florence, is it any surprise that our first Italy post of the year is all about eating? We've eaten some amazing things and had some great food-centered experiences during our stay–here's what we've been up to.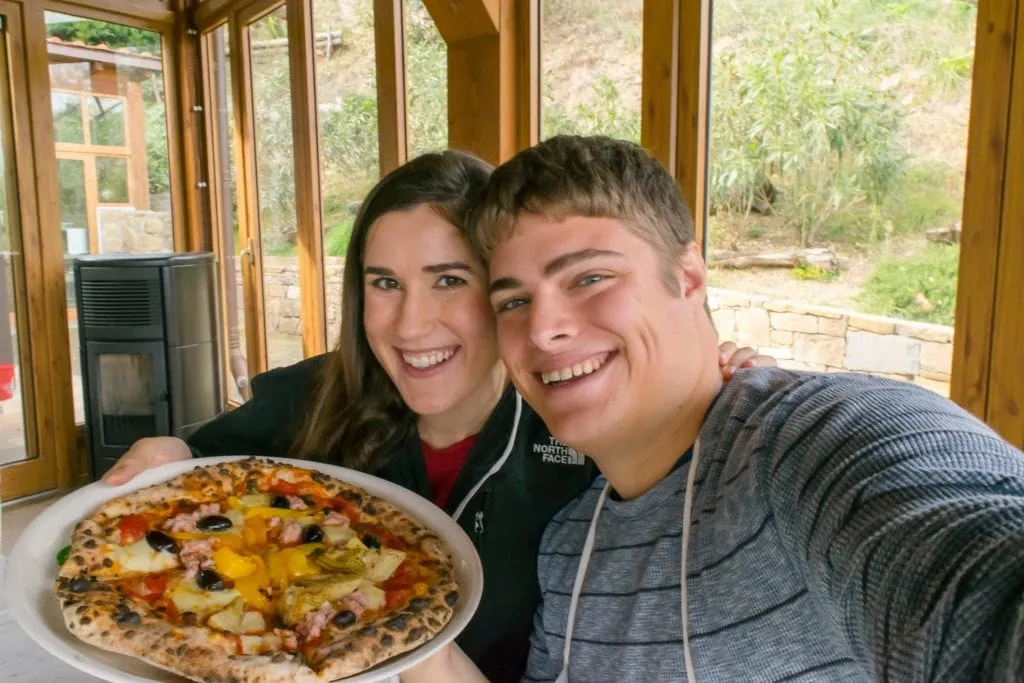 What's Next:
About a month ago, I made a poll on Instagram Stories asking whether we should end this leg of our European travels in Belgium or Paris.
Truthfully, I expected Paris to win by a landslide, but it ended up being a virtual tie: the poll ended around 52% to 48%, with Paris pulling out a very narrow lead.
Well, we finally made a decision… and we're going to Belgium!
After leaving Florence, we're going to make a quick stop in Venice for a few days and then head to Belgium, where we'll split our time between Bruges and Ghent.
We're excited to experience Flemish architecture, learn some history (we really know astonishingly little about Belgium), admire the canals, and of course, eat plenty of Belgian Waffles and Belgian Chocolates.
After that, it's back to the USA for the holidays: we'll definitely be visiting NYC, Austin, San Antonio, and Oklahoma City, with plenty of other short trip ideas being tossed around to go in between some of those.
Family time (and hopefully catching-up-on-projects-and-writing time) will take us through the New Year, but come January, who knows? Let's just say that multiple continents are on the table as possibilities.
Many thanks to Experience Bucharest for hosting us on our trip to Romania! All opinions are, as always, our own.