It didn't take long into our first of several visits for Porto to become one of our favorite small cities in Europe–and we designed one day in Porto itinerary to show you the best of the city, fast!
With its majestic (and surprisingly easy to access) viewpoints, its setting on the picturesque Douro River, its famous port wine, and its seemingly endless walls of azulejos, the small city of Porto, Portugal is a delight for the senses.
While Porto is a small city (population 215,000, give or take), it is a dense one, with something new to discover around every corner.
With 24 hours in Porto or less, you certainly won't be able to see it all–but with careful planning, you'll leave with an excellent taste of the beauty, history, food, and wine that the second-largest city in Portugal has to offer.
Here's how to make the most of one day in Porto, Portugal!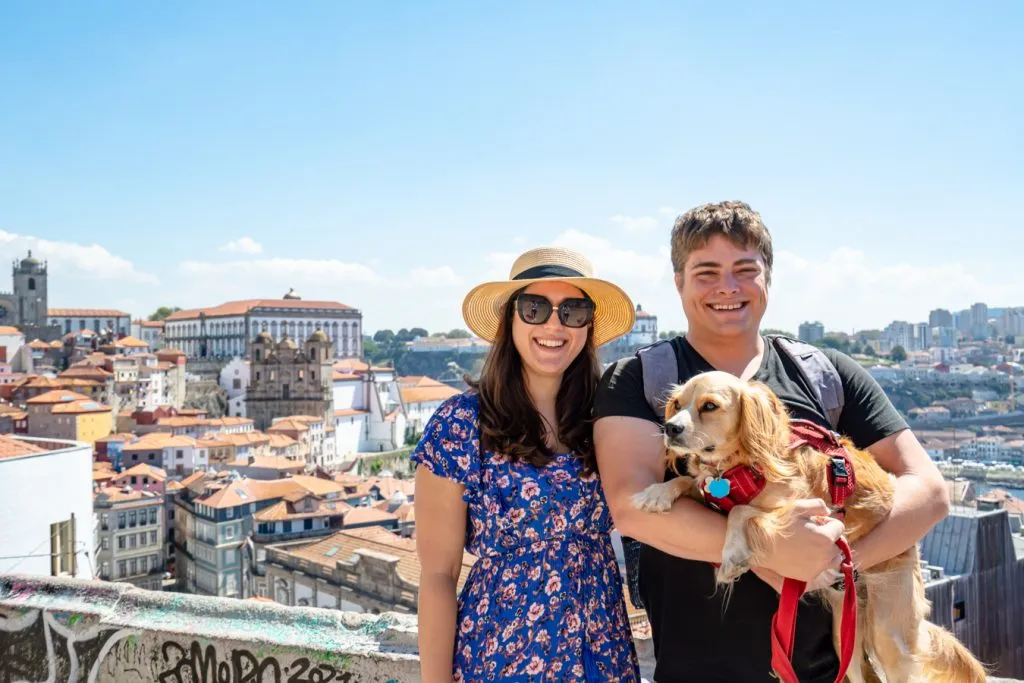 The Perfect One Day in Porto Itinerary
For bibliophiles, start your morning at Livraria Lello.
Depending on what kind of traveler you are, there's a good chance that Livraria Lello is either at the top of your Porto bucket list… or that you couldn't care less about paying money to get inside a bookshop.
If you do hope to visit this gorgeous bookstore during your one day in Porto, there's only one time to do it: right when they open, at 9:30 AM.
Livraria Lello rose to fame for a convoluted reason: the store kind of looks like it could be in Hogwarts, and J.K. Rowling worked on Harry Potter and the Philosopher's/Sorcerer's Stone in Porto, ergo, Livraria Lello could have inspired Hogwarts!
It's a stretch, yes, but the store is stunning, and I'm convinced that in the age of social media, it'd be famous regardless.
To enter, you'll need to pre-purchase a ticket voucher for 5 Euro.
The cost of the ticket is redeemable toward the purchase of a book (we bought a pretty copy of Love in the Time of Cholera).
Take a short walk over to the Igreja do Carmo.
Just up the street from Livraria Lello, you'll find the beautiful Igreja do Carmo.
This church is home to one of the most popular walls of azulejos (Portuguese hand-painted tiles) in Porto!
As you approach, the wall will be right in front of you, and it's quite the sight.
Now, as far as going inside: there are many churches on this itinerary for Porto in a day, and going inside every one of them would get tedious (for the most part, they have a similar interior style).
We recommend choosing a couple to go into and simply enjoying the rest from the outside.
The Igrejo do Carmo is one of the better churches to enter, as it's particularly large and ornate, plus the nominal entrance fee also covers a museum in the former monastery that's worth a look.
And, if you got an early start and are making great time, it's worth noting that the Miradouro da Vitoria is a short walk away and offers a beautiful (and free) view of the city!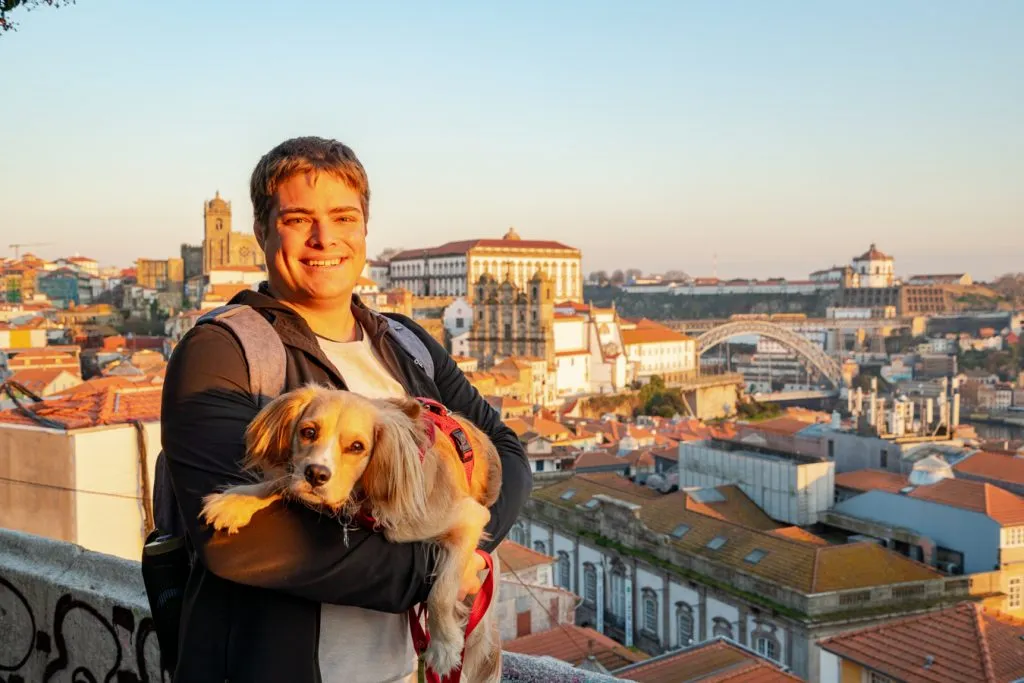 Stroll over to the famous Sao Bento Train Station.
From one set of famous azulejos to the next!
Your next stop during your day in Porto is the gorgeous Sao Bento Train Station, with its magnificent walls of azulejos complemented by the hustle and bustle of a working train station.
The famous views are located just inside the main doors, you won't need a ticket to access them.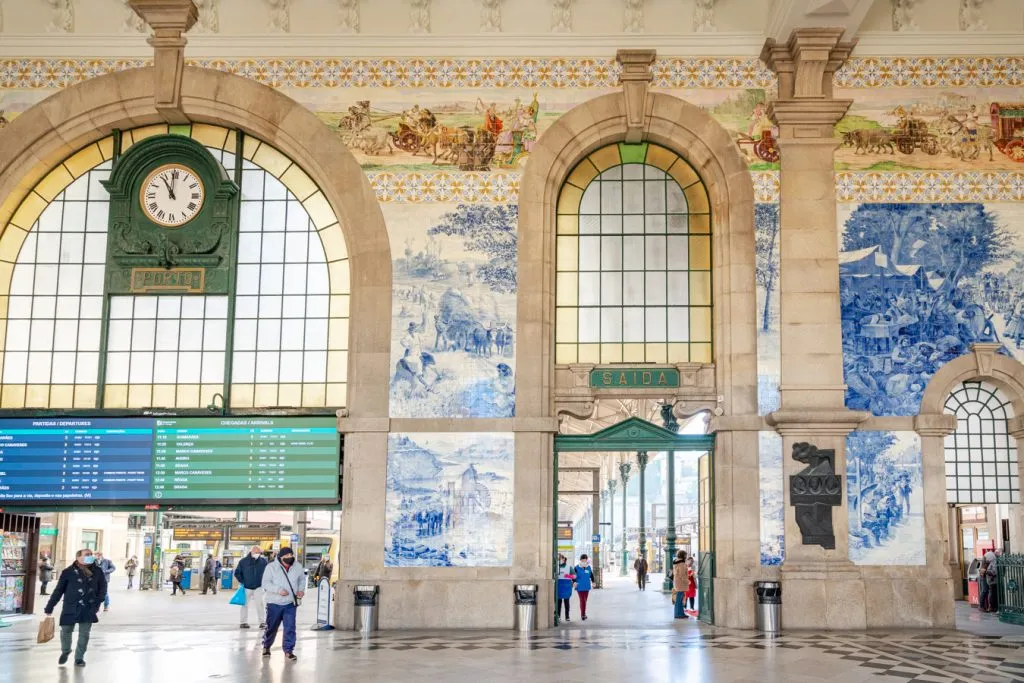 Make your way to the Igreja de Santo Ildefonso.
About a 15-minute walk away from Sao Bento, you'll find yourself at the Igrejo de Santo Ildefonso, one of the most photographed churches in Porto!
Along the way, depending on which route you take, you'll pass by either city hall (it's beautiful) or the newly reopened Mercado do Bolhão (which is definitely worth a quick look inside if you have time).
Looking for a great lunch near the Igrejao de Santo Ildefonso?
The tasty, unpretentious Gazela is just around the corner, and is one of the delicious Porto restaurants where Anthony Bourdain ate!
We're also big fans of Casa Guedes (specifically the roast pork and soft cheese sandwiches), which you'll also find nearby.
Check out the Chapel of Souls.
I feel like I keep repeating this, but it's only because it's true: The Chapel of Souls is home to some of the most gorgeous azulejos in Porto!
Unlike the other churches on this one day Porto travel guide, the Chapel of Souls doesn't incorporate azulejos into its exterior decor–the exterior is entirely azulejos.
It's quite the sight, especially viewed from the corner when you can appreciate both angles.
While small, this chapel does also boast a similar (beautiful) interior style to other Porto churches, it is both fast and free to visit.
Something to keep in mind if you're traveling Porto on a budget and aren't sure which churches to go inside!
Grab a snack (or not) at the Majestic Cafe.
Strolling from the Chapel of Souls to the Majestic Cafe, you'll find yourself on the busy, pedestrianized Rua Santa Catarina.
This is where you'll find Porto's most popular shopping, as well as plenty of cafes and restaurants catering to tourists.
By far the most memorable of them is the stunning Majestic Cafe, where J.K. Rowling wrote part of the first Harry Potter book.
The cafe's beauty combined with its fame means that prices are, to put it mildly, incredibly high, but we found the coffee and desserts delicious (order the apple cake) and the experience worth the cost… once.
Admire the Porto Cathedral (and nearby views).
Completed in the 1700s after several centuries of effort, the massive Porto Cathedral features soaring architecture and–you guessed it–beautiful azulejos.
There's a small fee to visit the cloisters, but they are one of the most beautiful parts of the cathedral, and well worth stepping into.
In front of the cathedral, you'll also find plenty of beautiful viewpoints over Porto!
The Miradouro da Rua das Aldas is particularly gorgeous.
Head down to the Ribeira Promenade.
There are essentially 3 ways to get from the Porto Cathedral to the famous Ribeira Promenade.
The first is the Funicular dos Guindais (2.5 Euro).
The second is the Lada Elevator (free).
The third is the least efficient but certainly fun option of simply winding your way down the maze of streets until you hit the riverfront.
Whichever way you choose to get there, the colorful, vibrant Ribeira Promenade will be waiting to impress you once you get there!
Stroll across the Ponte Luis I.
After meandering up and down the riverfront for a bit, it's time to cross the Douro River!
There are two ways to cross the famous Ponte Luis I: on the bottom (which you'll do now) and on the top (more on that later).
As you cross, you'll be moving from the city of Porto to the city of Vila Nova de Gaia, home of gorgeous views and the many traditional port wine lodges.
While technically separate cities, both sides of the river are well worth visiting, even with only one day in Porto.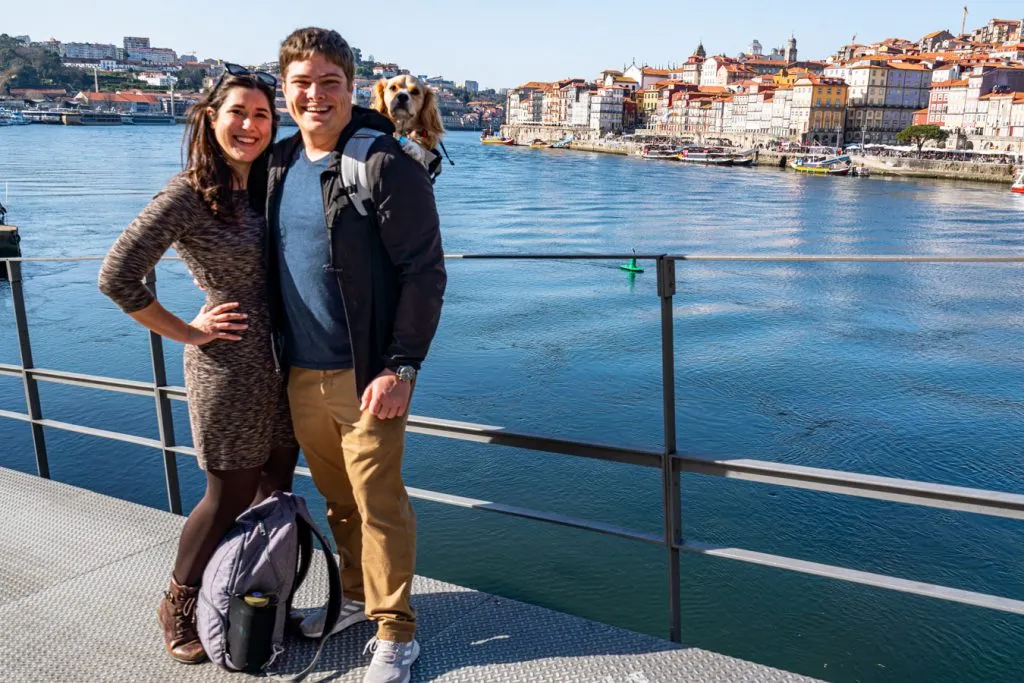 Enjoy a port tasting or a Douro River cruise (or both).
Depending on your travel tastes, there are two wonderful things to do in Porto that you can take advantage of when you cross the river!
Option one: a beautiful river cruise through the 6 bridges of Porto, on a traditional boat that–up until the 1960s–was responsible for bringing wine from the Douro Valley to Porto.
This is one of the most popular things to do in Porto, and is perfect for virtually all ages and groups.
Option two: head directly to a port wine lodge for a tour and tasting!
We love Quinta dos Corvos and have a tendency to return again and again, but there are tons of port lodges to choose from (if you're a big fan of port, you may even want to sign up for a tour like this to make the most of your tastings).
Option three: squeeze them both into your Porto itinerary–it's ambitious, but doable with an early start and keeping an eye on the time!
No matter what you choose, you're bound to have an unforgettable Porto travel experience.
Book your Porto river cruise and/or Porto wine tour today!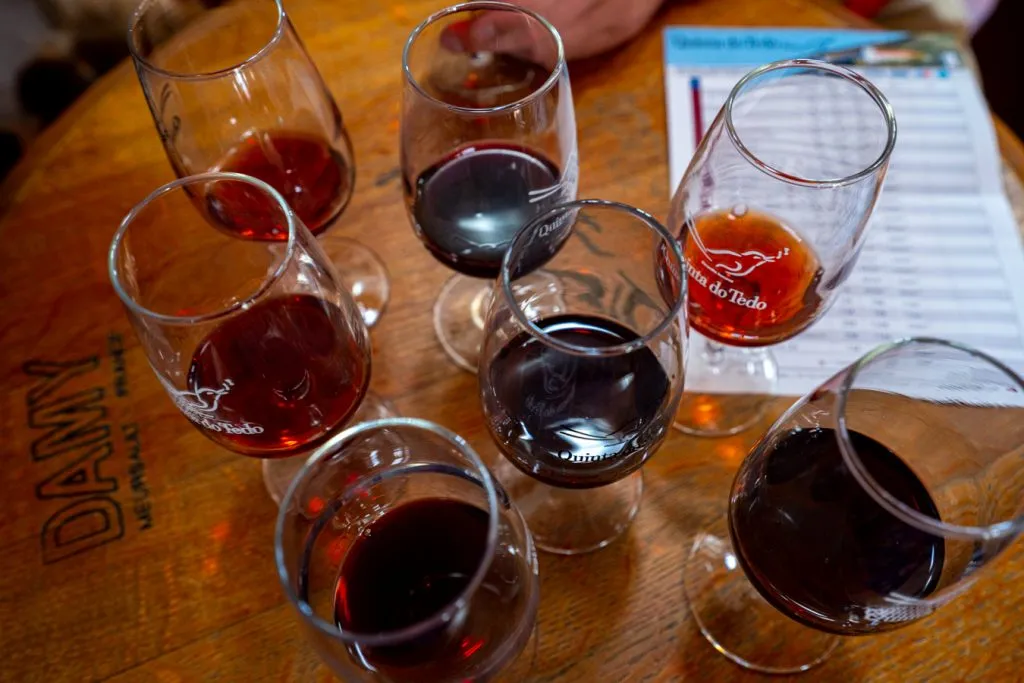 Take the cable car up to the top of the Ponte Luis I.
Odds are very high that after a long day of sightseeing and a possible port tasting, you aren't going to be in the mood to climb a huge hill!
Luckily, there's a much better solution.
The Teleferico de Gaia will deliver you from the riverfront right up to the upper edge of the Ponte Luis I while offering some of the best views of Porto along the way!
We love this cable car ride and are sure to bring all of our out-of-town visitors here–there's something extra fun about enjoying beautiful city views from the comfort of a cable car after an afternoon port tasting!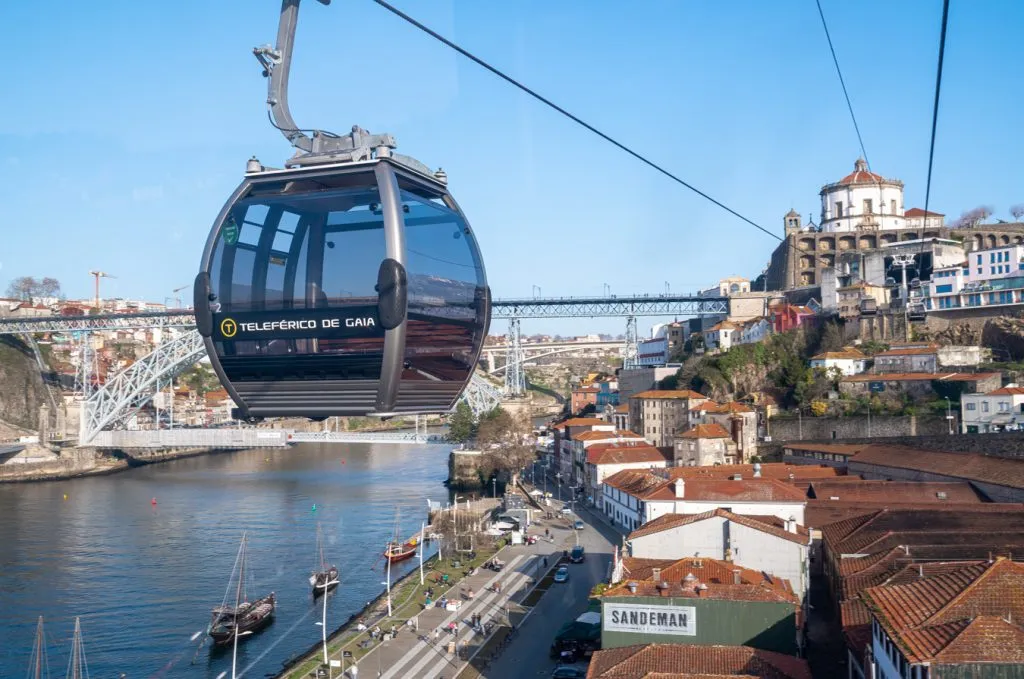 Enjoy the sun setting over your day in Porto.
Before making your way back across the bridge, consider pausing to enjoy the sunset.
The nearby Serro di Pilar Monastery, the Jardim do Morro Park, and the Ponte Luis I itself are all fantastic sunset spots in the immediate area.
Regardless of whether or not you linger at the other viewpoints, though, you'll no doubt be tempted to stop in your tracks a few times as you cross the Ponte Luis I (on the top, this time) back over to Porto!
Tuck into a francesinha for dinner.
Of course, no Porto itinerary would be complete without a francesinha!
Bread, ham, sausage, steak, more sausage, cheese, more bread, all smothered in a tomato and beer sauce: these are the general ingredients behind Porto's iconic francesinha sandwich.
The sandwich is generally served with french fries and sometimes topped with a fried egg–and yes, it's quite gluttonous.
It's also fairly new: despite its fame, the sandwich was only invented in the 1950s by a French-Belgian emigrant who was adapting a French croque-monsieur.
For a reliable option, consider heading over to Cafe Santiago to try one.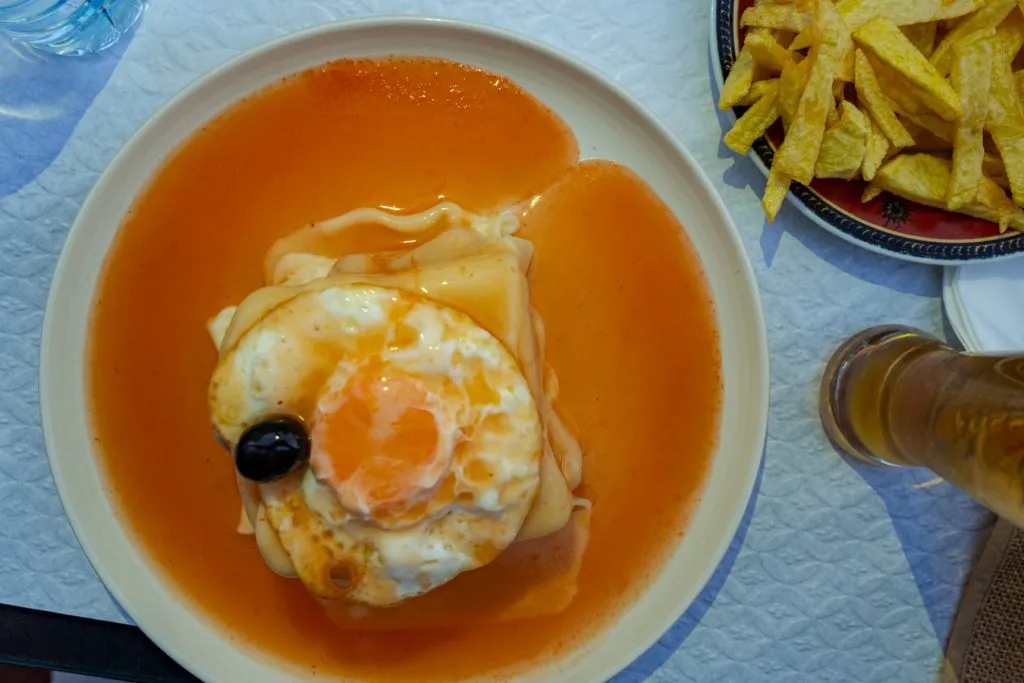 Where to Stay in Porto, Portugal
With only one day in Porto, we highly recommend staying in a centrally located hotel on the Porto side of the Douro River, within walking distance of some of the city's best attractions.
Luckily, Porto's compact size and generally affordable rates make this pretty simple to accomplish!
Here are a few highly-rated, well-located places to stay in Porto, including the hotel we adored.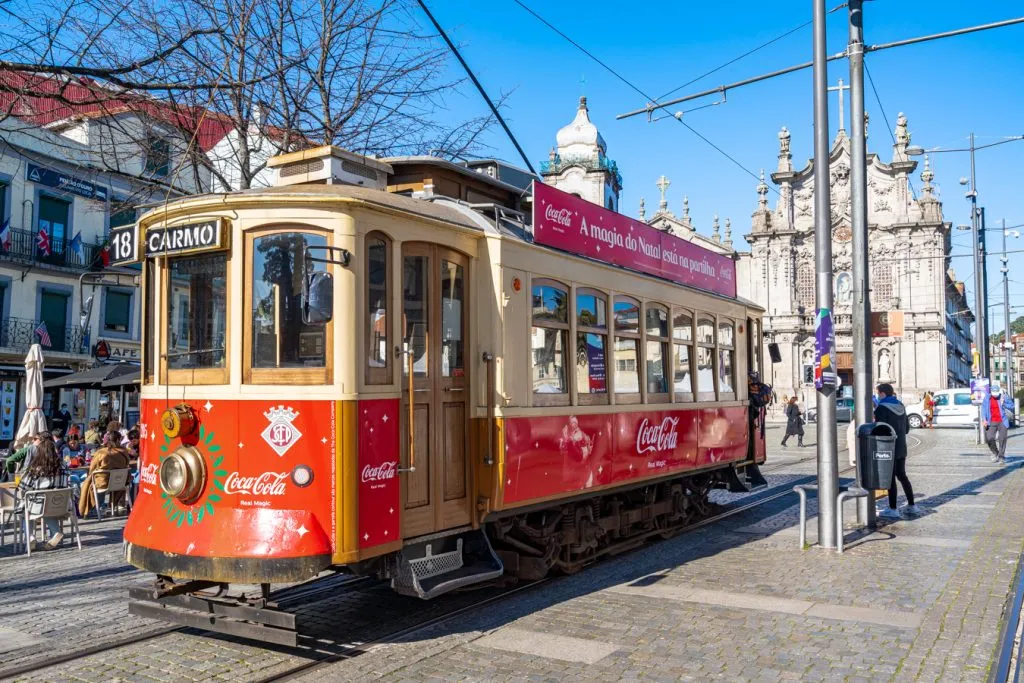 Budget
Zero Box Lodge Porto — Housed in a former bank, the wildly popular Zero Box Lodge offers you the chance to visit Porto on a budget… by staying in a box.
In a good way, that is!
This unique concept accommodation offers amenities like a rooftop terrace and a prime location just a few steps off the Rua Santa Catarina, plus the chance to stay somewhere truly memorable during your time in Porto.
Mid-range
Catalonia Porto — With sleek, modern rooms, a beautiful garden, and an outdoor swimming pool, there's a reason that Catalonia Porto is such a popular place to stay!
The fabulous breakfast buffet is included with some rates, and the hotel's prime location less than a 5-minute walk from the Igreja de Santo Ildefonso are also both excellent reasons to check-in.
Luxury
Pestana Porto – A Brasileira — We absolutely adored our (self-funded, as always) stay in this 5-star property in the heart of Porto!
The location inside a historic building is perfect, the high-end espresso machines available on each floor were incredible, and the above-and-beyond customer service ensured we had an incredible stay.
Our favorite touch was the dog bed and bowls provided for Ranger, though the snacks left in our room one night were a close second.
The Porto Card: Is it Worth the Money?
Like many city cards, the Porto Card is a popular choice for visitors who are trying to keep their Portugal travel costs down.
However, for this one day Porto itinerary, you likely won't come out ahead on using it.
Many of the popular attractions included here, for example, the cloisters at the Porto Cathedral are only discounted (in this case, 35% off of a 3 Euro fee), not included.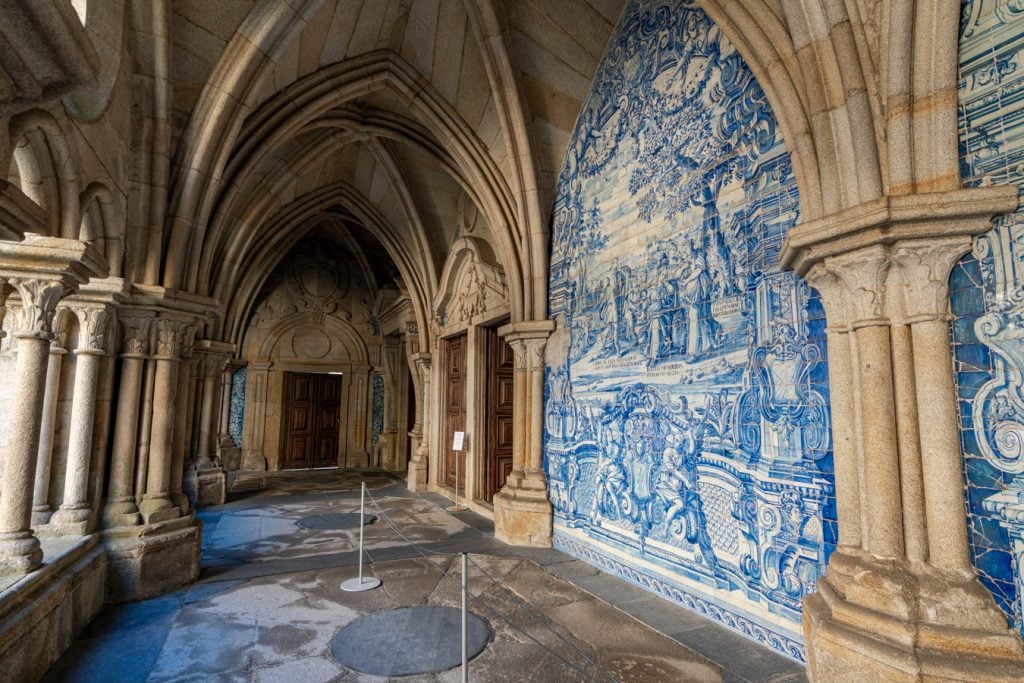 If you plan to visit popular attractions that are not included on this Porto itinerary, such as the Church of Sao Francisco, and/or you're staying from the city center and will need to use public transportation to get around, it's worth running the numbers on.
If you're staying in a central area, there is a cheaper version of the Porto Card without transportation available, too.
Generally speaking, though, sightseeing in Porto is extremely affordable and the city is very walkable.
Unless you're planning to visit a few of the 6 included museums, it's likely that the math won't work out in your favor.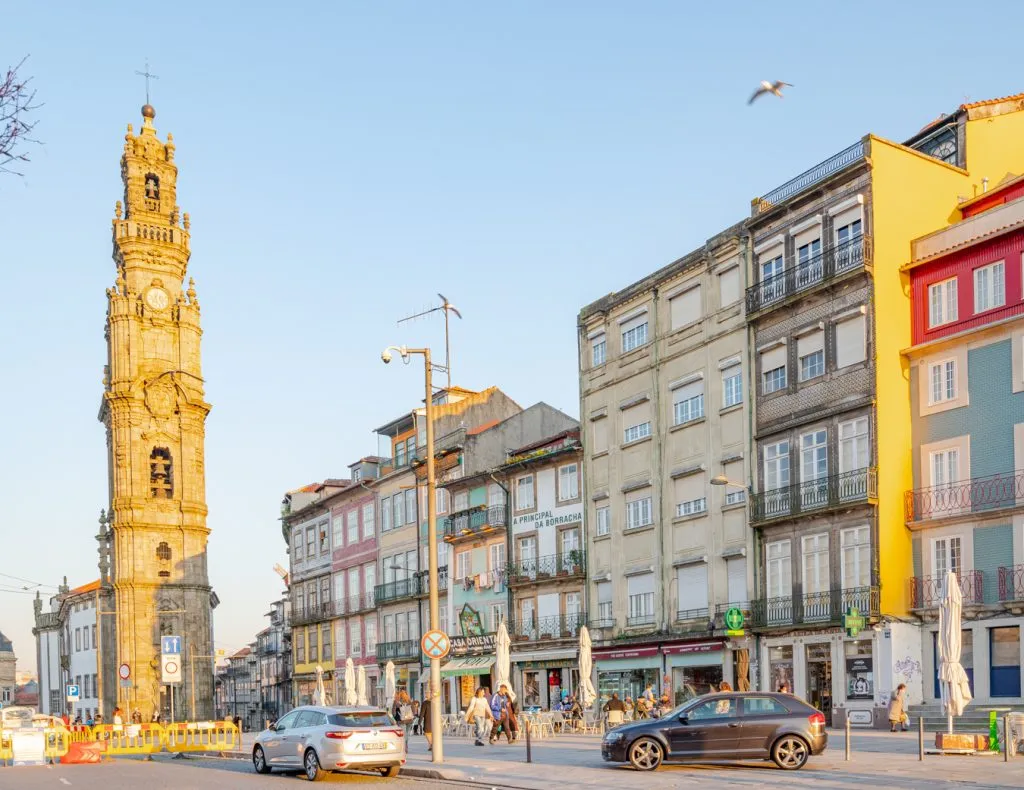 More than one day in Porto?
One day in Porto, Portugal can't possibly hope to cover all the city has to offer!
If you have 2 or 3 days to explore the best things to do in Porto, be sure to also climb the Clerigos Tower, visit the Church of Sao Francisco (home to the most stunning church interior in Porto), and tour the Bolsa Palace (which requires a guided tour).
Soaking in the views from the Serro di Pilar Monastery (which is a UNESCO World Heritage site) is also a great experience.
With extra time in Porto, you can't beat the opportunity to take a day trip to the Douro Valley to sample port wine at its source, ride in a beautiful Rabelo boat, and soak in the absolutely stunning scenery of the region.
In fact, the Douro Valley is so delightful that if you don't have an overnight stay booked out there and you have even one extra day in Porto, we'd recommend putting a day trip there at the top of your priority list!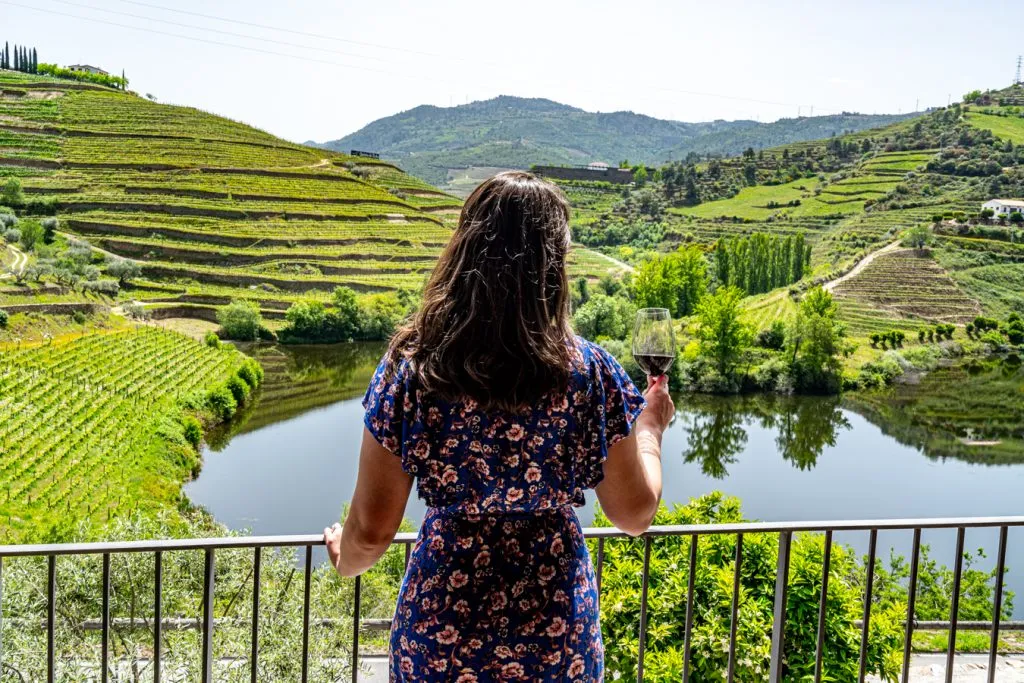 Getting Around During One Day in Porto, Portugal
If you choose a centrally-located hotel on the Porto side of the Douro River, you'll easily be able to walk almost anywhere you need to go during your 24 hours in Porto!
Some exceptions include possibly taking the funicular or elevator to the Ribeira Promenade, and taking the cable car back up to the top of the Ponte Luis I.
If you're arriving in Porto by train, you'll likely arrive at the Campanha Train Station and need to catch a 4-minute train to Sao Bento, which will deposit you right in the middle of the action.
If you're traveling to Porto from Lisbon, this step-by-step guide will show you exactly how to get there!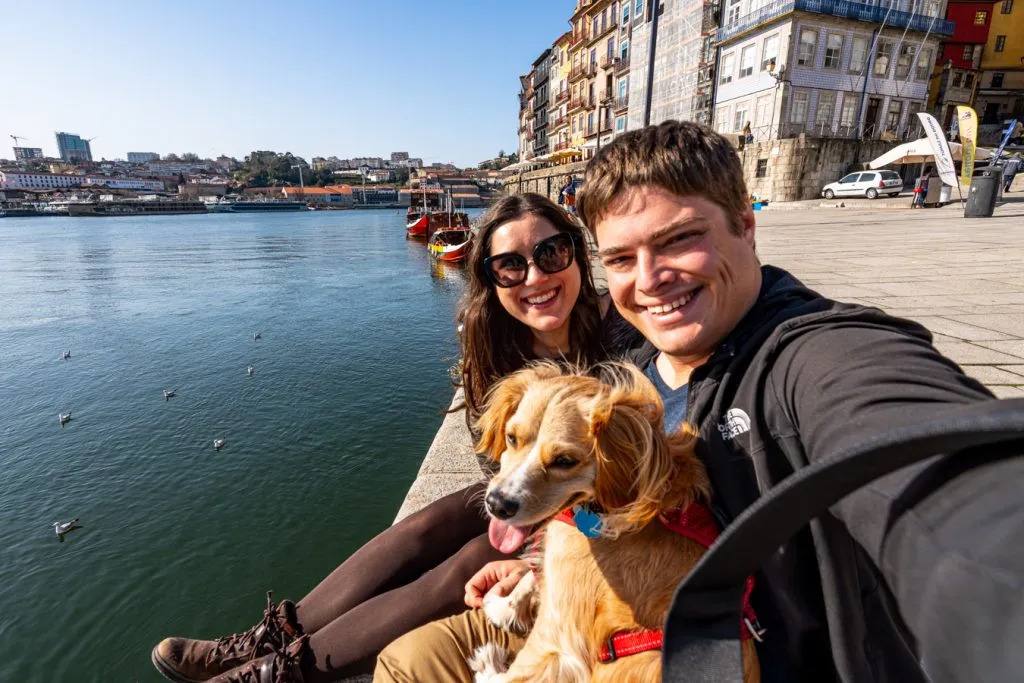 Read More About Visiting Porto (and Portugal)
Planning a trip to Portugal soon and want to keep reading?
You can browse our many Portugal blog posts here, or check out these guides:
Your One Day Porto Itinerary Map
Take This Map With You! Click each highlight to pull up the name of the destination. To save this map to "Your Places" on Google Maps, click the star to the right of the title. You'll then be able to find it under the Maps tab of your Google Maps account! To open the map in a new window, click the button on the top right of the map.
---