All terracotta rooftops, sunshine, and seaside views, the beautiful Dalmatian city of Split hugs Croatia's coastline and is home to a bustling port, making it a logical and fun stop on many trips through the country. If you're planning a trip to Croatia, stopping to spend one day in Split is an easy and rewarding choice.
Before jetting off to Hvar, Plitvice, or Dubrovnik, take a moment to pause in Split for a taste of history dating back to the Roman Empire, a (literal) taste of some delicious Dalmatian seafood, and a chance to enjoy some gorgeous seaside views.
Here's how to pull off the perfect one day in Split itinerary.
Some links in this post may be affiliate links. If you make a purchase through one of these links, we may earn a small commission at no extra cost to you. Please see our

disclosure policy

for more detail.
Two Options for Spending One Day in Split
There are essentially two ways to handle spending one day in Split, and which one is right for you probably depends a lot on what the rest of your trip to Croatia looks like.
The one day Split itinerary I've outlined below can easily take up an entire day if you move slowly through the city, lingering over meals and views.
It can also be condensed, and by moving quickly and skipping a couple of the sights that appeal to you the least, you can cover the bulk of this Split itinerary in half a day… leaving half the day available to take a trip to the islands.
If you're not going to get another chance to explore Croatia's islands, we absolutely recommend the second option: sightseeing in the city center for part of the day, and an epic tour like this for the other part.
This tour covers swimming in crystal-clear water at the Blue Lagoon, a chance to briefly tour the beautiful town of Trogir, and a visit to Šolta Island. It gets rave reviews and still leaves enough time in your day to independently explore Split using the one day Split itinerary I've outlined below.
Book your fun day trip to the islands near Split today!
Of course, if your overall Croatia itinerary already includes plenty of sights like those included in the tour, you may want to concentrate all of your one day in Split in the city itself, which also makes for an incredibly fun day.
The Ultimate One Day in Split Itinerary
Start your morning with a stroll through Diocletian's Palace.
Diocletian's Palace is a bit of a misnomer: while most destinations marketed as palaces are single sightseeing destinations, Diocletian's Palace is Split's entire old town!
It's not enormous, but it's not exactly one single destination, either.
Start your one day in Split by heading into the palace–here are a few sights inside that you won't want to miss.
St. Domnius Cathedral + Bell Tower
Built in 305 AD as a mausoleum for Diocletian himself, St. Domnius Cathedral is an unmissable sight during one day in Split.
If you're in the mood for some morning views over the city, you can also climb the bell tower, but fair warning–if you're scared of heights like me, it feels a little perilous… and in our biased opinion, it's not the best view of Split (which is coming up later in this Split itinerary).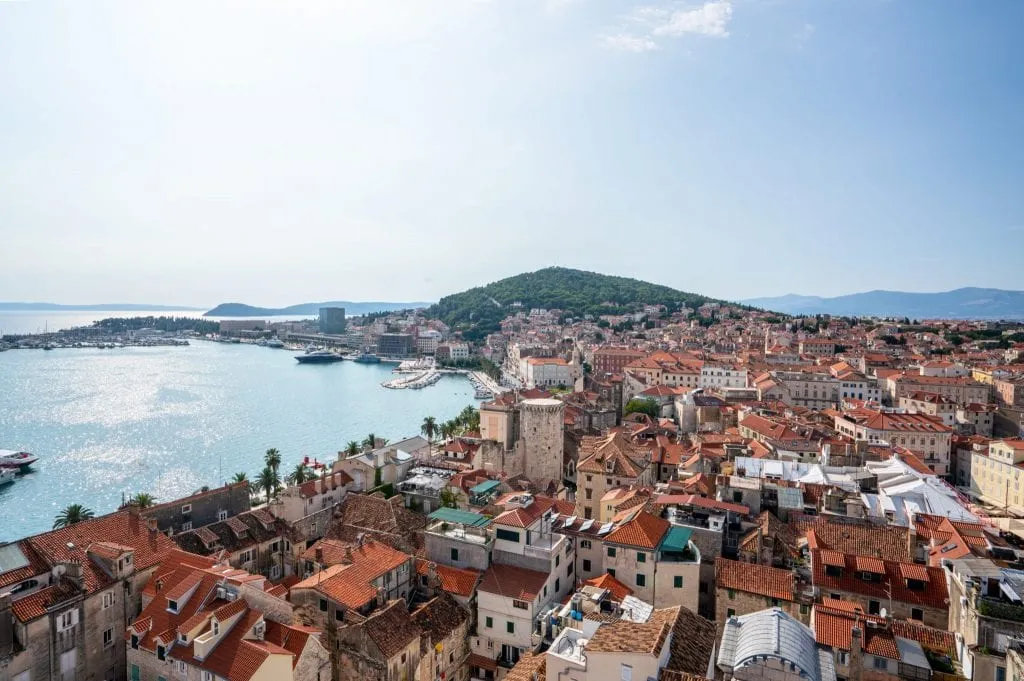 Jupiter's Temple
Built in honor of the Roman god Jupiter, this temple is quite small, but definitely worth checking out for Roman history buffs visiting Split.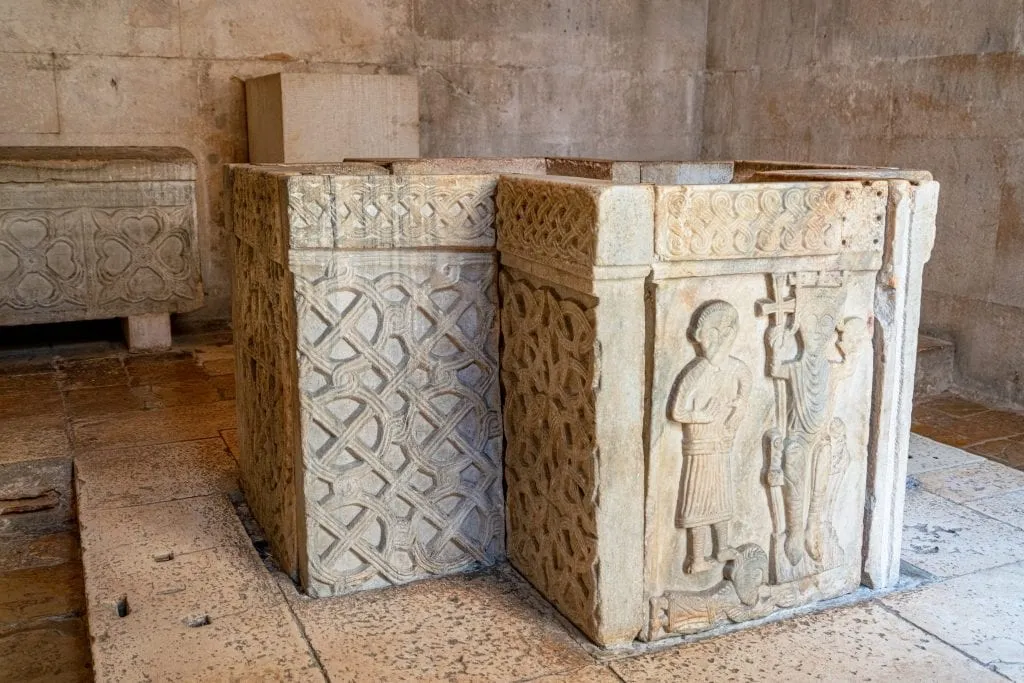 Basement Halls
The basement of Diocletian's Palace serves a few purposes in modern Split: it's a beautiful walkway from Peristil Square to the Riva, it's a place for souvenir shopping, and for Game of Thrones fans, it's a place to check out the city of Meereen (Daenerys' throne room was located here, among other scenes).
Vestibule
Located just behind Peristil Square, the beautiful vestibule is known today primarily for its architecture and acoustics–but in Dicoletian's day, it acted as the first room visitors would enter on their way to the imperial apartments in the palace.
Peristil Square (Peristyle)
Once the location where Diocletian would receive and greet subjects, this beautiful square remains one of the heartbeats of Split's tourism center and a fabulous place to grab a spot in the shade (and perhaps a pricey cup of coffee, if you're so inclined) and watch the world go by.
Stroll through Pazar Market.
Located to the east of Diocletian's Palace, the Pazar Market is a bustling feature of Split's city life, selling everything from souvenirs to vegetables.
Be sure to stop by as part of your one day Split itinerary, even if you're not in the market for anything, and to duck into the nearby fish market as well (if your nose can handle it, that is).
On our most recent trip to Pazar, I bought a basket of raspberries from the market nearly every day to snack on while sightseeing and absolutely loved having them so accessible.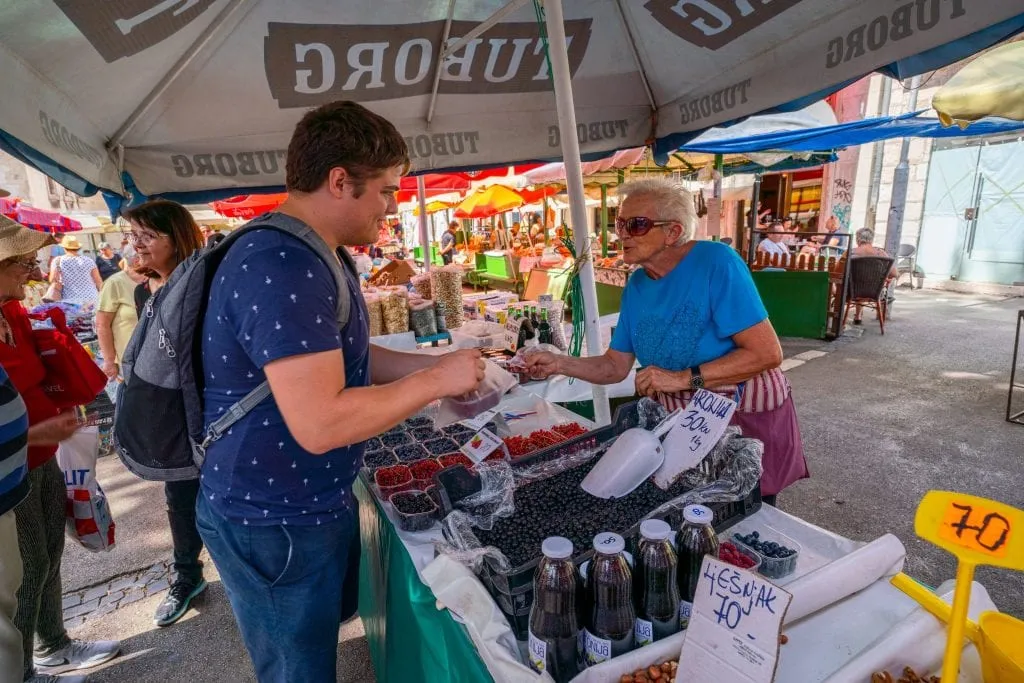 People watch in People's Square.
Larger and more vibrant than Peristil Square, People's Square is lined with shops and cafes, home to a beautiful Renaissance clock tower, and the perfect place to enjoy some people-watching in Split, whether you have 2 minutes or 2 hours to relax there.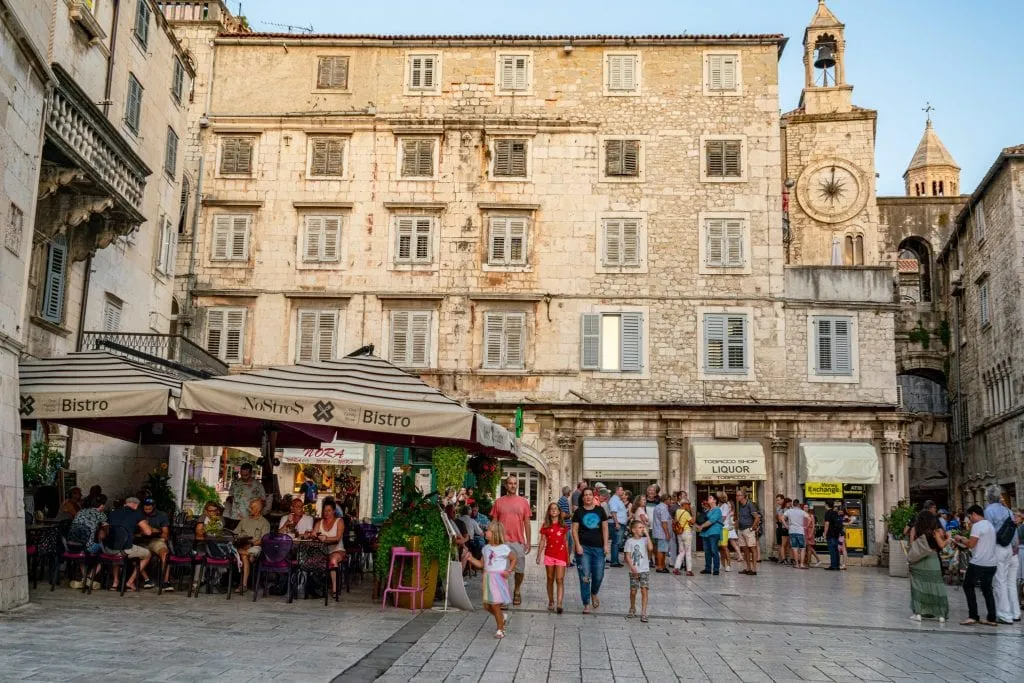 Climb Marjan Hill for amazing views of Split.
Home to the best view of Split, a climb up Marjan Hill is an excellent way to spend part of your one day Split itinerary.
While you can climb all the way to the top, the terrace in front of Teraca Vidilica restaurant is free to visit, doesn't take too long to reach, and offers incredible views–so even if you're short on time and trying to pack a ton of sightseeing into your day, definitely try to make room for it!
Head to the Riva for a sunset stroll and drink.
Split's Riva is an absolutely beautiful palm-tree-lined promenade, and the perfect place to close out your one day in Split.
While restaurants here are, unsurprisingly, expensive and often mediocre, it's worth sitting down to enjoy the beautiful view for one drink and watch as evening settles over the city.
Once you're done, enjoy a walk along the promenade, admiring the seaside views and park-like atmosphere–perhaps while enjoying a scoop of gelato from one of the many nearby stands.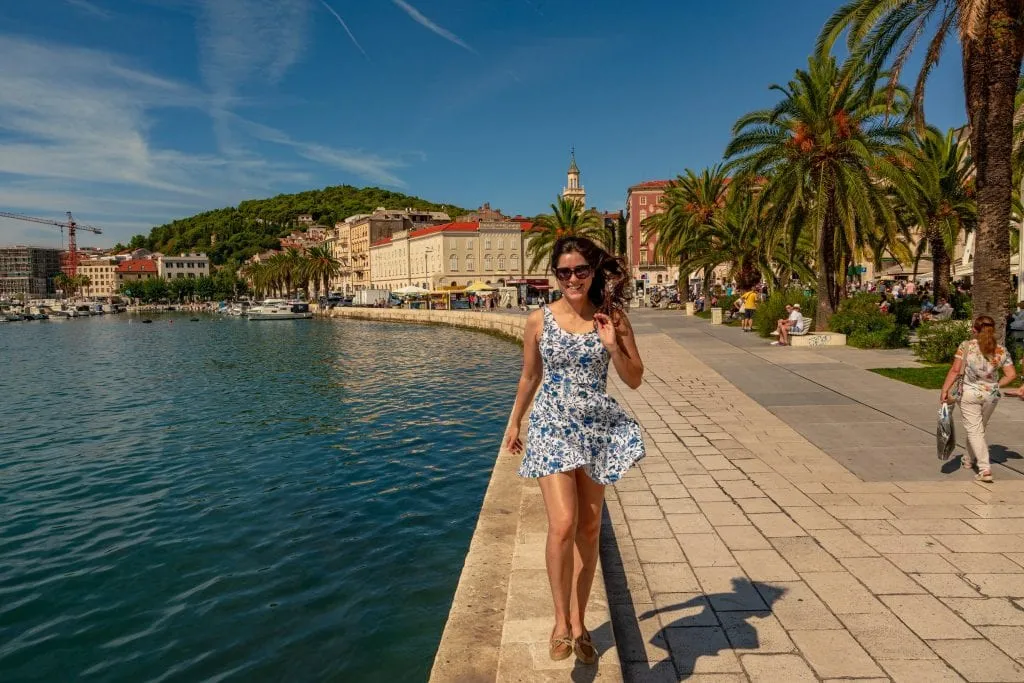 Where to Stay in Split
If at all possible, we highly recommend staying within walking distance of Diocletian's Palace and the Riva for your one day in Split.
You'll be able to accomplish far more sightseeing, enjoy the atmosphere of the city, and avoid the hassle of getting in and out of the center via local buses (which is exactly what we did on our first trip).
Lodging prices for Split, like many beach destinations, vary dramatically depending on the time of year you visit. If you're looking to save money, definitely check shoulder season rates to compare them against the prices in, say, August.
Budget
Rooms Šećer — Boasting excellent reviews and a prime location right outside of Diocletian's Palace, Rooms Šećer is the perfect option for a budget traveler looking for something a bit more comfortable than a hostel dorm while still staying in a fabulous location on a budget.
Mid-range
Rooms Supreme Spalato — With rave reviews for its prime location nearby Diocletian's Palace and the Riva, its superb included breakfast, and excellent hospitality, Rooms Supreme Spalato is a go-to choice for mid-range travelers in Split.
Luxury
Murum Heritage Hotel — Forget staying near Diocletian's Palace: with a luxury choice like Murum Heritage Hotel, you can stay directly inside the palace!
With near-perfect reviews, a fantastic included breakfast, and spacious rooms housed in a beautiful, historic property, you won't forget a stay here anytime soon.
Getting Around Split
If you choose to stay within walking distance of Diocletian's Palace, this entire one day Split itinerary can be accomplished on foot.
The bus station and harbor are also within walking distance of Diocletian's Palace, so you may not need any alternative transportation during your trip to Split at all!
Tips for Spending One Day in Split
Don't expect to find fantastic swimming near the center of town.
While there are a few local beaches within walking distance of Diocletian's Palace, the phenomenal, crystal-clear waters that Croatia is famous for aren't so easy to access–for the best possible swimming in the area, head out to the islands.
The crowds aren't quite at Dubrovnik levels, but they aren't far behind.
Dubrovnik is well-known for its struggles with overtourism and intense crowds, but the truth is, Split isn't far behind–most of those cruise ships that stop in Dubrovnik also pull up to Split, making the crowds in Diocletian's Palace downright overwhelming when the ships are in town.
Split's old town is a bit larger than Dubrovnik's, allowing tourists to spread out a bit more, but make no mistake: Split is absolutely on the beaten path for tourism in Croatia.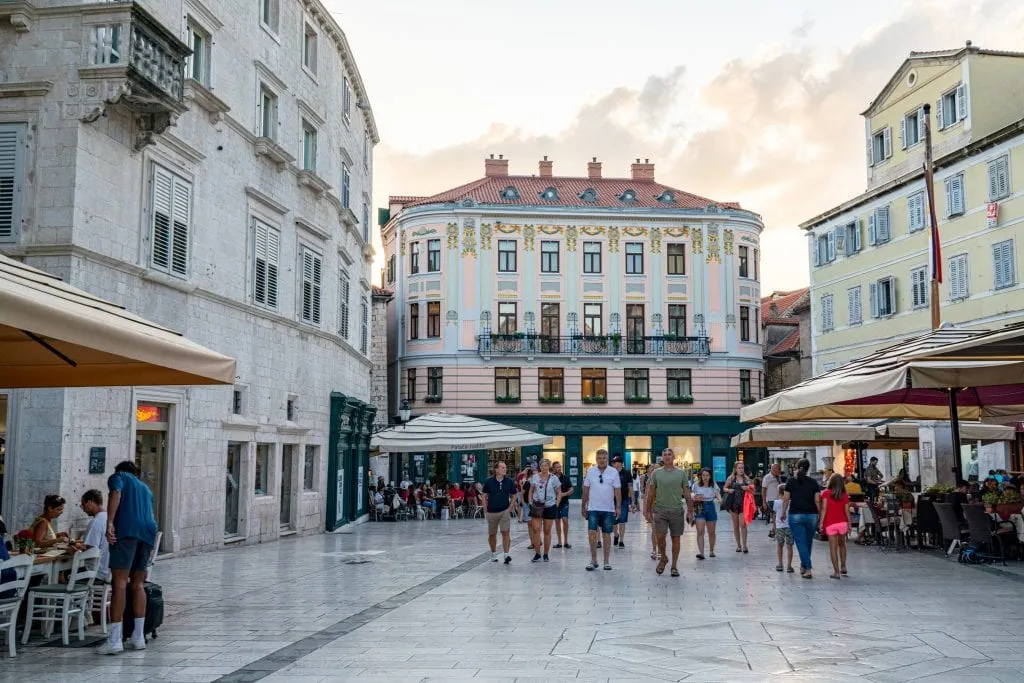 … and neither are the prices.
While Split is a bit cheaper than Dubrovnik or glitzy Mediterranean getaways like the French Riviera and the Amalfi Coast, it's not exactly a bargain destination, either.
Traveling in the shoulder season can help limit costs, but overall, don't count on Split as an extremely affordable destination as compared to beach getaways a bit further east.
If you want to go swimming, bring water shoes!
The pebble beaches of Croatia are absolutely beautiful, but they're hard on the feet–sadly we've both cut our feet on the rocks over the years.
If you're planning on doing a lot of swimming, be sure to bring along a pair of water shoes to protect your feet!
If possible, stay within walking distance of Diocletian's Palace.
I mentioned this above, but just to reiterate: your experience in Split will be much smoother if you stay close to the center of tourism.
We stayed a bus ride away from the center of Split on our first visit, and much, much preferred our later trip when we were able to stroll right to the palace or Riva in just a few minutes.
---