Even one day in Strasbourg is a dream come true.
It did not take much for the capital of the Alsace region in northeast France to charm us completely: part French and part German, with a dazzle of its own magic, Alsace is a region like no other, and Strasbourg is quick to show that off.
Known for its wine, food, and idyllic half-timbered houses, Strasbourg is a new favorite destination of ours, and we will absolutely be back.
Trying to narrow it down and decide what to see in one day in Strasbourg? Here's what to do.
Some links in this post may be affiliate links. If you make a purchase through one of these links, we may earn a small commission at no extra cost to you. Please see our

disclosure policy

for more detail.
What to See in Strasbourg in One Day
First, pick up a Tasty Trips Pass.
When we first got in contact with Tourism Alsace and they offered us a Tasty Trips pass to use during our time in Strasbourg, we weren't entirely sure what it was–but once we started using it, we quickly realized that it was not only one of our favorite things about our time in Strasbourg, we can't understand why every city doesn't have one!

Once you have your Tasty Trips pass in hand, simply use it as a self-guided food tour of Strasbourg, making your way to different shops and restaurants throughout the city and sampling food and/or drinks at each.
No schedule, no group–simply follow the map to quick tastings of gingerbread, munster cheese, wine, a pretzel, a kougelhopf, and more at various participating shops around town.
It's a fabulous way to get a taste of Alsatian food and gastronomy, and it includes a surprising amount of food, as well!
Note: The Tasty Trips Pass is not available while the Christmas markets are going on.
Book your Tasty Trips self-guided tour today!
Visit the Strasbourg Cathedral.
Also called Notre-Dame (not to be confused with the one in Paris), the opulent Strasbourg Cathedral is located in a central square, not far from the canals and right near the Strasbourg Tourism office.
There are a few things you need to be sure to do here: check out to beautiful interior, visit the impressive astronomical clock that is inside, and climb the tower–the view of Strasbourg from the top is incredible!
While you're nearby, be sure to spend some time wandering around the Strasbourg Cathedral Square–it is incredibly picturesque!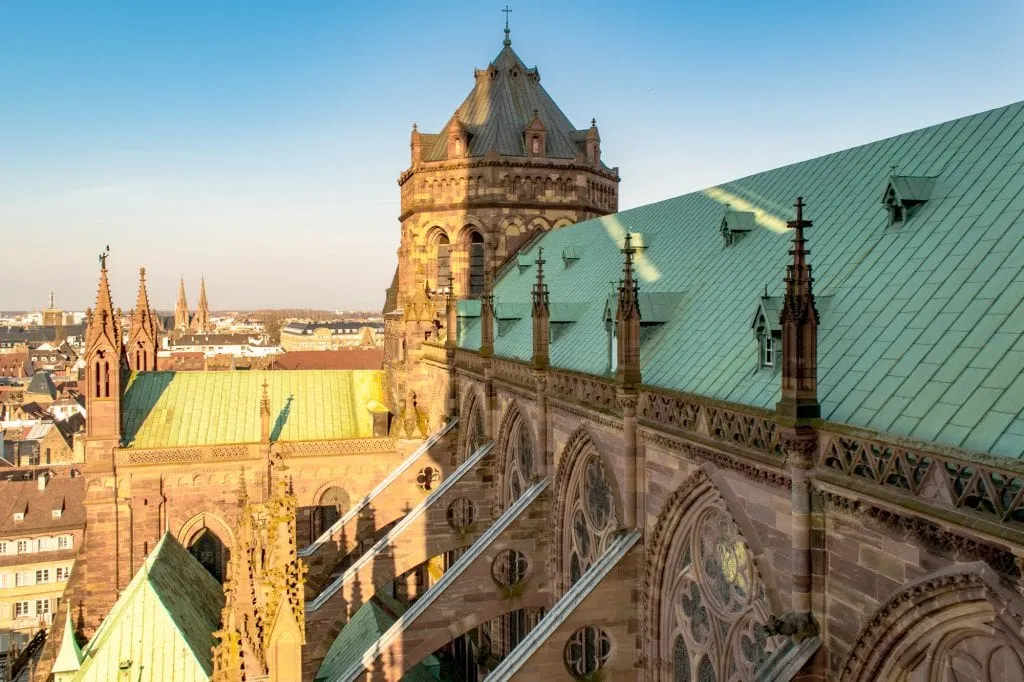 Take a Batorama Boat Tour.
With only one day in Strasbourg, there's no time to waste: with a boat tour, you'll be able to get an overview of Strasbourg's history, see the European Parliament, and experience views of Strasbourg from the water (including the beautiful La Petite France), all in one fell swoop.
With limited time, it's a great way to work through some of the best things to see in Strasbourg quickly, and also leave room in your schedule for things closer to the center of town.
Wander through La Petite France.
This is the Strasbourg you see on Instagram, Pinterest, and tourism adverts: La Petite France is Strasbourg's most picturesque neighborhood, home to colorful half-timbered houses that are perched right on the edge of the canals and plenty of pedestrian bridges over the canals so you can search for that perfect view.
We couldn't get enough of La Petite France, and I recommend spending around half of your one day in Strasbourg here (several of the stops on the Tasty Trips Pass are in this area as well).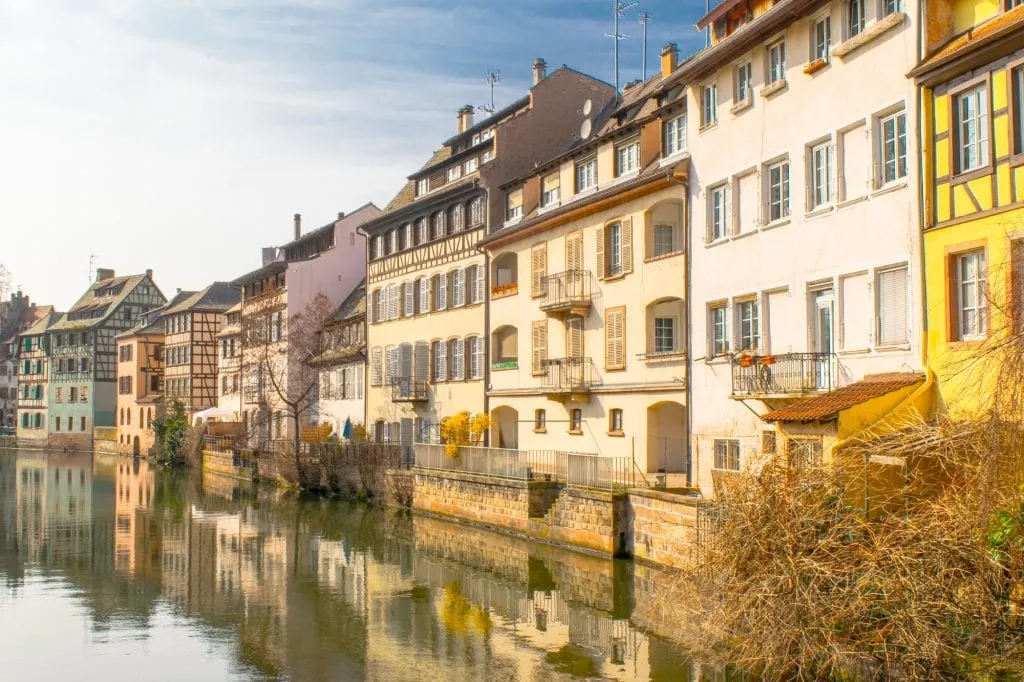 Taste some Alsatian wines.
Alsace is known for its wines, and they are delicious.
With only one day in Strasbourg, you won't have time to visit the Alsace Wine Route outside of town, but luckily, plenty of vineyards offer tastings at storefronts set up in the city as well.
Prices range dramatically depending on how big of a tasting it is and what is included, so if you're a wine buff, do some research before you arrive.
Your Tasty Trips Pass does include a small wine tasting (one glass), but we'd recommend spending a bit more time on the region's famous wine!
Check out the Alsatian Museum or the Historical Museum of Strasbourg.
As the capital of the Alsace region, Strasbourg has plenty of museums to choose from–but one day in Strasbourg isn't enough time to justify spending much of it inside.
I recommend picking just one museum–the Alsatian Museum covering life in the region in the 18th and 19th centuries (it was founded in 1902 as pushback against the Germanization of Alsace, which was then under German rule), and the Historical Museum of Strasbourg (which covers the history of the city from the 13th century to 1800) are both highly recommended.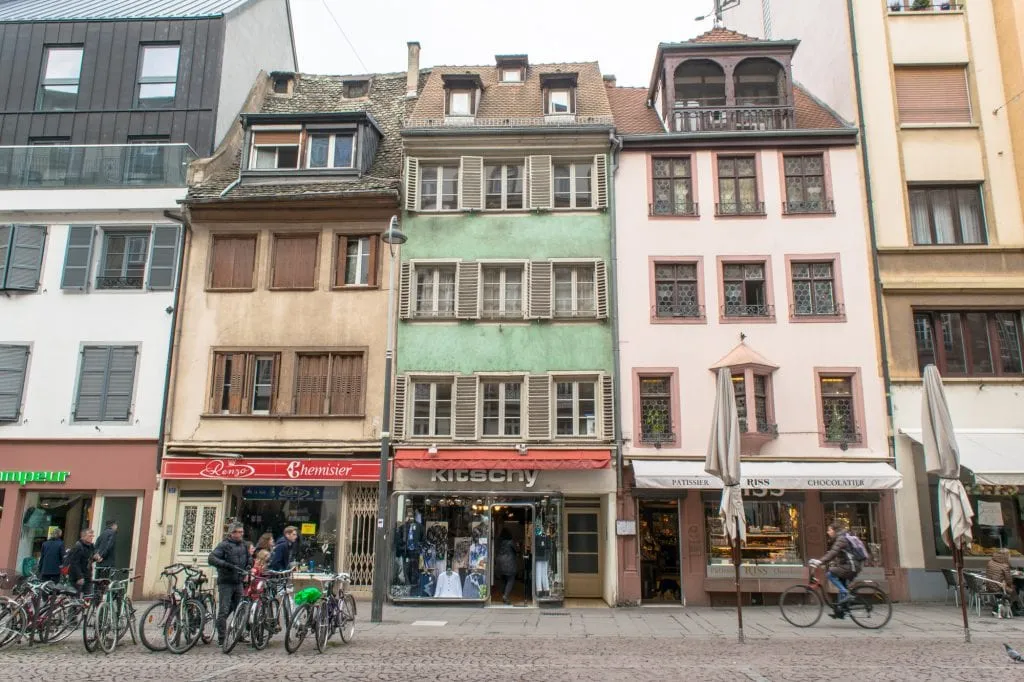 Grab dinner in a winstub.
Winstubs are traditional Alsatian restaurants, and like Alsace itself, they feel like a cross between German and French cultures, with a little something extra thrown in.
Think of a laid-back German pub–low ceilings, exposed timber beams, low lighting, beer, comfort food like sausages and pretzels–paired with a French country kitchen.
That's pretty much a winstub: they're cozy, they're relaxed, and they tend to serve incredible food.
There's no better place to eat dinner in Strasbourg–like in any city, the touristy areas are going to see higher prices and a need to do some research in advance to make a safe bet on quality–but for your one day in Strasbourg, I'd recommend eating at a well-reviewed winstub in La Petite France, where the environment is excellent and the views are lovely.
The Strasbourg Pass: Worth the Money?
By following this one day in Strasbourg itinerary, you'll at least break even with the Strasbourg Pass, and potentially save a few Euros–and for that reason, we recommend purchasing one.
With a little extra time in Strasbourg (the Strasbourg Pass is good for three days) or a desire to knock off a little more sightseeing than what we suggest here, you can easily save even more.
Plus, as a bonus, you'll have all your tickets sorted out ahead of time and be able to spend your one day in Strasbourg focused on enjoying and eating your way through the city!
Purchase your Strasbourg Pass before you go!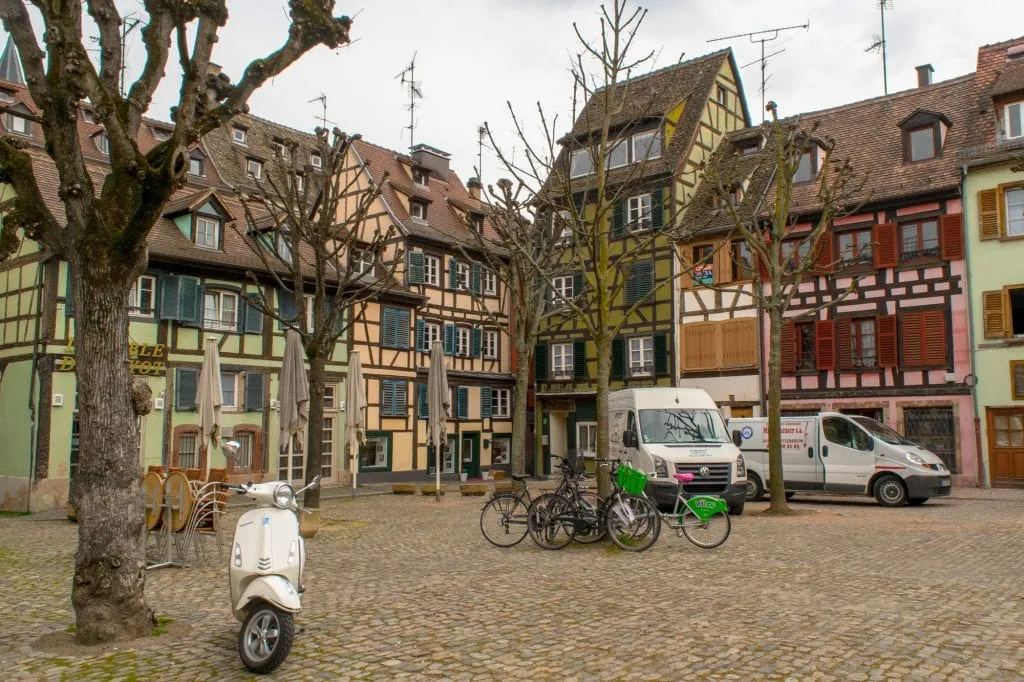 More Than One Day in Strasbourg?
You definitely can't see everything there is to see in Strasbourg in one day: with more time, we recommend more visits to La Petite France and various winstubs, possibly biking across the pedestrian bridge to Germany (Strasbourg really is right on the border!) for the sheer novelty of it, and potentially visiting the European Parliament if you can (there are very limited sightseeing hours).
The real beauty of more time in Strasbourg, though, is that you have more time in Alsace: head out on the Alsace wine route to tour some vineyards, make your way to the towns of Colmar, Kaysersburg, or Riquewihr for some incredible Alsatian charm, or take a bike tour in the beautiful countryside.
Please make sure that you enjoy the wine route responsibly–if you're a wine drinker, we recommend making a tour to the vineyards a splurge on your trip. Clearly, driving yourself is not the best option–this is a time that it pays to have someone else be in charge of transportation.
Shop Alsace wine tours leaving from Strasbourg!
Getting Around Strasbourg
Strasbourg is compact: if you stay near La Petite France or the Strasbourg Cathedral Square, you likely won't need any transportation at all while in Strasbourg–we stayed in town for nearly a week using only our own two feet to get around!
The exception to this was coming into Strasbourg from the train station, when we took a tram: Strasbourg's bus and tram system makes it easy to get around the areas that are a bit further out if needed.
When to Visit Strasbourg
There is no bad time to visit Strasbourg (or the surrounding villages of the Alsace region), but there are two wildly different seasons that are the most popular for a reason.
First, you can consider a visit to Strasbourg in the spring or summer–Strasbourg in full bloom looks absolutely magnificent, with flowers planted all throughout the parks, along canals, and on the edges of the pedestrian bridges that criss-cross the city.
Sadly, we were just a few weeks too early to see the flowers bloom on our trip in late March and early April.
Second, a Christmas trip to Strasbourg is spectacular–Strasbourg (and Alsace in general) is known for its beautiful Christmas markets, and since the entire city looks like something that belongs in a snow globe, it's no surprise that their Christmas markets are something special.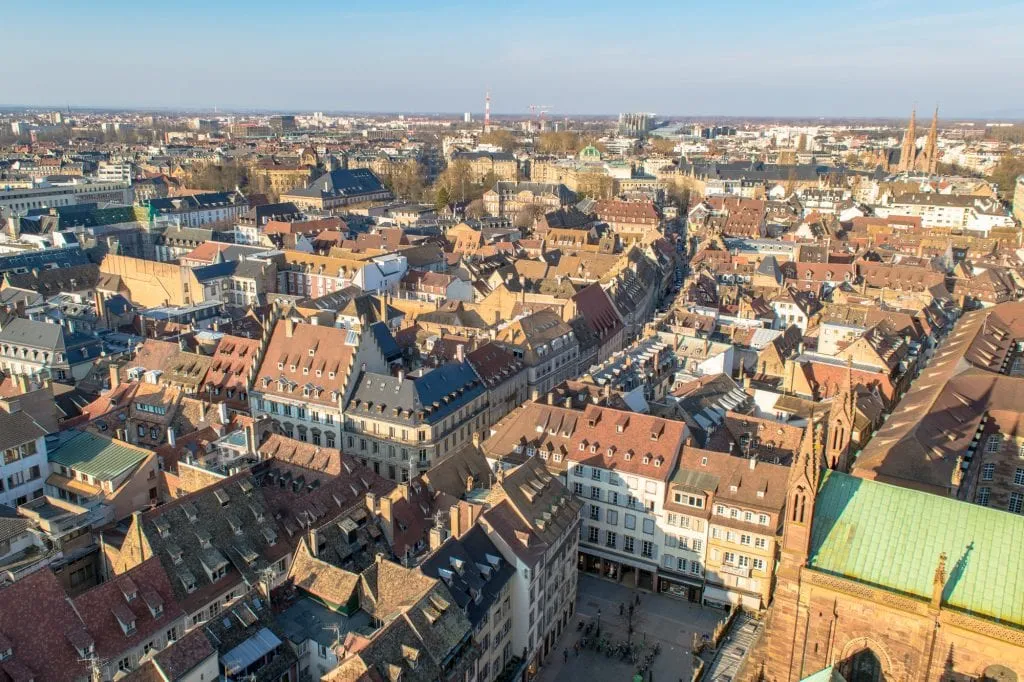 Where We Stayed in Strasbourg
The Roof of Strasbourg Airbnb — We loved this adorable Airbnb: it had an amazing view of the Strasbourg Cathedral and a canal from the front window, it was located a short walk from anywhere in Strasbourg we wanted to go, and the apartment itself was cozy and homey. As a bonus, there was a delicious Italian grocer located right next door that sold delicious pesto!
Never used Airbnb before? Sign up with our link for a discount on your first stay!
Looking for more traditional lodging? Here are a couple of properties in Strasbourg from Booking.com that we would consider be thrilled to stay in:
Apartment Strasbourg Centre Cathedral — Located less than a 5-minute walk from the centrally located Strasbourg Cathedral, you couldn't ask for a better location in Strasbourg!
Midpoint — This studio is a very short walk from the Strasbourg Cathedral, St. Paul's Church, the Historical Museum of Strasbourg, and in the winter, the Christmas Markets!
---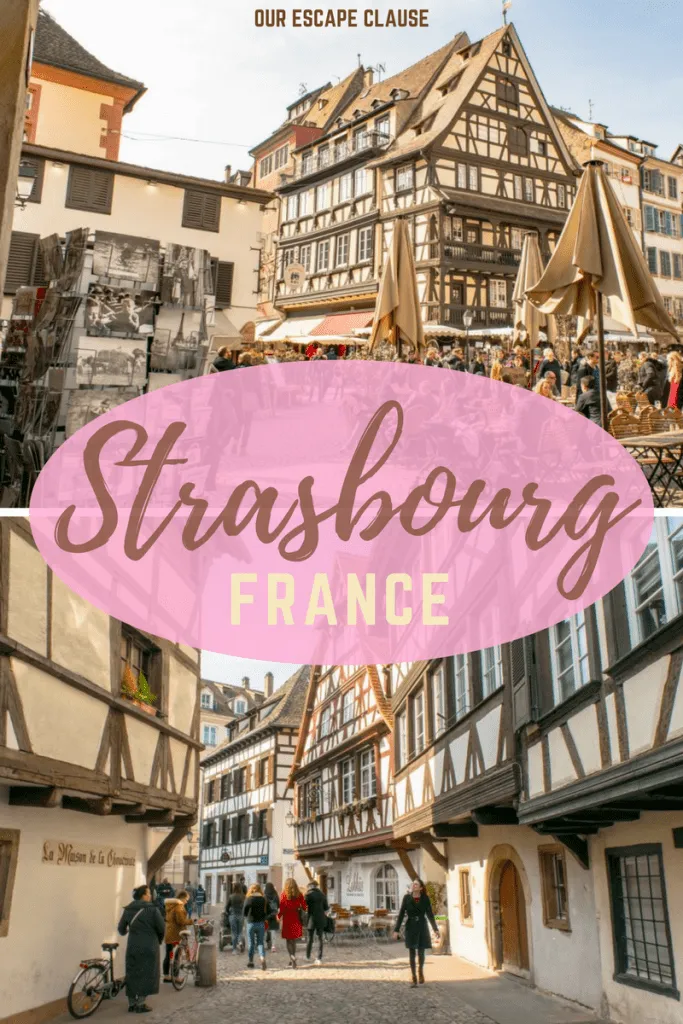 Many thanks to Tourisme Alsace for providing us with two Strasbourg Passes, Tasty Trips Passes, and Alsace Passes during our time in the region. All opinions are, as always, our own.