You know that high that comes when you buy something? The lightheartedness of consumption, the airy happiness bought with fresh packaging and a new smell–whether for a book,  a car, a piece of clothing?
Well, as it turns out: the joy of unloading items and downsizing is twice as much fun (at least for us).
When Jeremy and I officially decided to do this RTW trip, we found our eyes quickly wandered to the enormous pile of… stuff… that had gathered in our relatively short lives.
It was everywhere. Heirloom furniture from my family. New furniture we bought together. Piles of unidentifiable things in drawers, cabinets, closets. More picture frames than two humans could ever possibly need, and over 600 books (we counted).
Don't even get me started on our giant weight set, hilariously high count of kitchen gadgets, and the eight (eight!) large boxes marked with vague descriptors like "childhood memories" that we had been lugging around since hauling them out of forgotten corners of our parents houses–despite the fact that most of the items inside hadn't been thoroughly vetted in about 15 years.
And really, as dramatic as I'm being, it was still a laughably small pile of things by "normal" American standards: the movers we had come to do a baseline estimate on costs asked if we had already gotten rid of everything… before we even started.
In determining what we would keep and what we would get rid of, we set a few ground rules:
If it had no obvious purpose either before we left, during our trip, or shortly after returning, it had to go.

If we would have never remembered it existed had we not pulled it from its hiding place and gotten nostalgic, it had to go.

If it no longer brought us either joy or utility, it had to go (borrowed from one of my best friend's Mom's: it was a piece of advice given to my friend when she was moving that she then passed to me).
Our major goal was to get all of our possessions down to a level that could reasonably fit in my dad's spare bedroom and attic, with the exception of a few large items like my mom's furniture that was going back to her. Once we started the purge… it was hard to stop.
The buyers for our house made it easy on us: the took a large bookshelf, an occasional table, our entire weight set, our breakfast table, and all our master bedroom furniture (for a price).
Next up: a garage sale. Jeremy had never had one before, and I had only had one if you count getting underfoot at my mom's when I was a kid. It was hilariously easy and such a fun experience. We advertised on Cragislist, yardsales.net and a couple Facebook groups, as well as some old-fashioned neighborhood signs.
Business boomed: people were standing on our driveway before dawn, and when we opened the garage door, several of them literally dove on their hands and knees under the opening door to be the first inside. Within a few hours, 75% of the stuff we had put out for sale was sold and we were $406.25 richer.
Within the next week, we had dug out and sold my old flute ($200), hauled a couple of boxes of books to Half Price Books ($43), listed and sold Jeremy's car on Craigslist ($1000), and took a carload of stuff to Goodwill and scheduled a pick up for a beat up couch and chair (good karma and simplicity).
In the months leading up to moving out of our house, our 96-gallon trash bin was hauled chock-full to the corner almost every week, full of things with no purpose to anyone anymore.
The biggest lesson in all this purging has been the growing ease in letting go. When we first started going through clothes and deciding what to keep, or setting aside items for the garage sale, there was an emotional component to each decision.
Now, while there are still things I am very attached to (my grandmother's oil paintings, some nicer pieces of furniture that have been in my family for decades, more books than is healthy), the amount of those things has decreased significantly. Since our garage sale, I have stumbled across well over a dozen items, large and small, that I am kicking myself for not selling.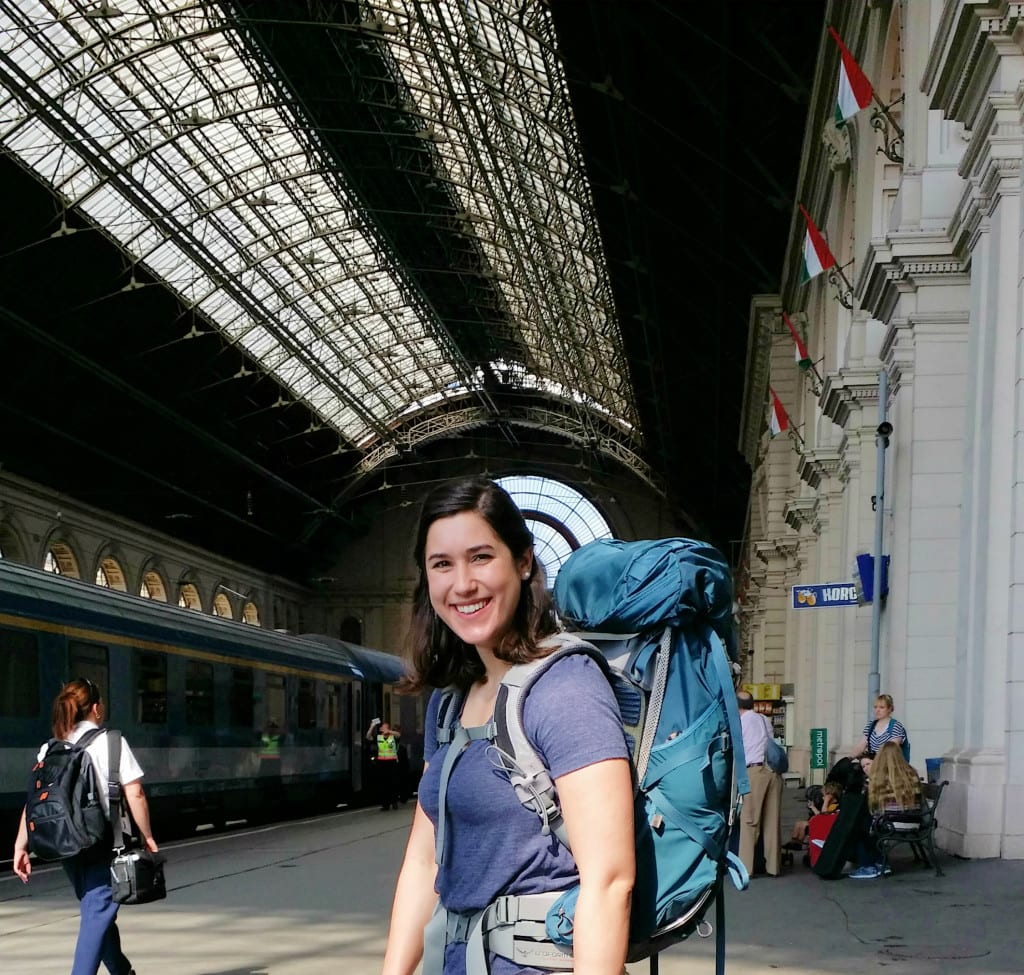 When weighing the "price" of moving an item, at a minimum, into storage, back out of storage into a temporary home after returning, and then a permanent home (and let's be real, it's going to be more places than that), it's easy to let the physical weight and space of that item translate into an emotional weight: something holding you down and back.
In the end, we successfully downsized our stuff: everything we own fits into either my dad's attic/spare bedroom, or on our backs (oh, plus our Honda Fit that is going to live in my mom's garage). We may never be pure minimalists, and you won't ever catch me living in a Tiny House, but I think the spell of desiring a 2600-square-foot house decorated like a catalog has been broken forever.

Now, my dream house is smaller, older, and on a larger piece of land, with more original touches and pieces of decor picked up over time, preferably on many continents. And, honestly, I doubt that house will exist for another decade or so–and I am perfectly okay with that.