My fierce love for all things literary is a disease that I have been happily cursed with for as long as I can remember. I'm the kid who got into trouble more than once for reading under the covers in the middle of the night, I've been known to check out a dozen books from the library (or buy a dozen at the bookstore…) and not be seen for an entire weekend other than occasionally emerging for food, and I obsessively reread my "comfort books" when I'm upset or stressed the way that some people eat macaroni and cheese.
Even better, books are one of the first things that Jeremy and I bonded over when we started dating as teenagers–at that time, we were both into Russian literature: he was happy to impress me with having read War and Peace in its entirety, and I was happy to return the favor and brag about completing Anna Karenina (which is fantastic).
Needless to say, then, we both love bookstores and they have been the site of many dates and many impromptu stops while traveling.
We had already explored The Book Lady in Savannah on our Southern US road trip, and I must say: Waynesville, NC was the last place I expected to find another exceptional bookstore, but as it turns out, we did.
I mentioned in my post about making the most of travel not going your way that most of our bad weather during this trip was concentrated over our time in–but there was one exception to that. Our second day in the Great Smoky Mountains, tucked away in the tiny Appalachian tourist town of Maggie Valley, it rained again… All. Day. Long.
While Maggie Valley is a fantastic place to access the Great Smoky Mountains (it's not quite as close as Gatlinburg, TN, but far more peaceful, and completely devoid of the Branson-levels of kitsch that you'll find in Gatlinburg), it is not a great place to be when it is raining: with the exception of a motorcycle museum (zero interest from us) and a few restaurants in nearby Waynesville, there is very little to do that doesn't involve the outdoors.
Even so, we were not about to wait out our day going stir-crazy in our hotel room, so we started driving in desperation, hoping to find something to do. As it turns out, we got lucky.
Not ten minutes away from our hotel, we saw a gigantic blue sign pointing toward a residential road: "BOOK STORE — 200,000+ BOOKS". It was hand-painted, nothing elaborate, but we took the turn and started making our way past several houses. This was not a business district at all, but lo and behold, a bright blue bookstore appeared on the right. It was a very simple building, no windows, with another hand-painted sign. The official name of the store is "Bargain Book Shop", though that is not referenced anywhere on the exterior. No other cars were in the parking lot.
I don't know exactly what I was expecting from a book store in a tiny town, but what we got was this:
Hundreds of thousands of books. Tons of records. Hundreds of cassette tapes. Again: cassette tapes. There were no windows, it was dusty, everything felt vaguely like it was going to fall on top of you, and there were no exits other than the front door. This place was fascinating and fun, but the thought of what a gigantic fire hazard the whole thing was passed through my mind more than once.
The aisles were so stuffed with books that we had to literally shuffle down them and look at one side of shelves, turn around at the end, and shuffle back to see the other side–you could not turn around in some of the aisles at all. For some unknown reason, the entire place was randomly decorated with cast iron pots and pans: they were hanging from the ceiling, sitting on top of records, and none appeared to be for sale.
At one point, we attempted to remove a paperback from the shelf, only to find after a significant effort that it would be impossible: the shelf above it had cracked, leaving a couple of paperbacks to act as impromptu support columns for a bookshelf that towered over our heads and was stuffed to the gills.
The owner, Mary, scurried into the store from her house (directly behind the shop, naturally) when she saw us pull up: her first words were to demand to know why we would dare to bring a backpack into a bookstore. When we explained that we wanted to take photos, she happily let us take the camera, but insisted that the backpack stays up front under this sign:
When we saw some of her creative communications throughout the store, her intense demeanor made some sense: either this lady has a huge problem with shoplifting, or she's quite paranoid… maybe a little of both?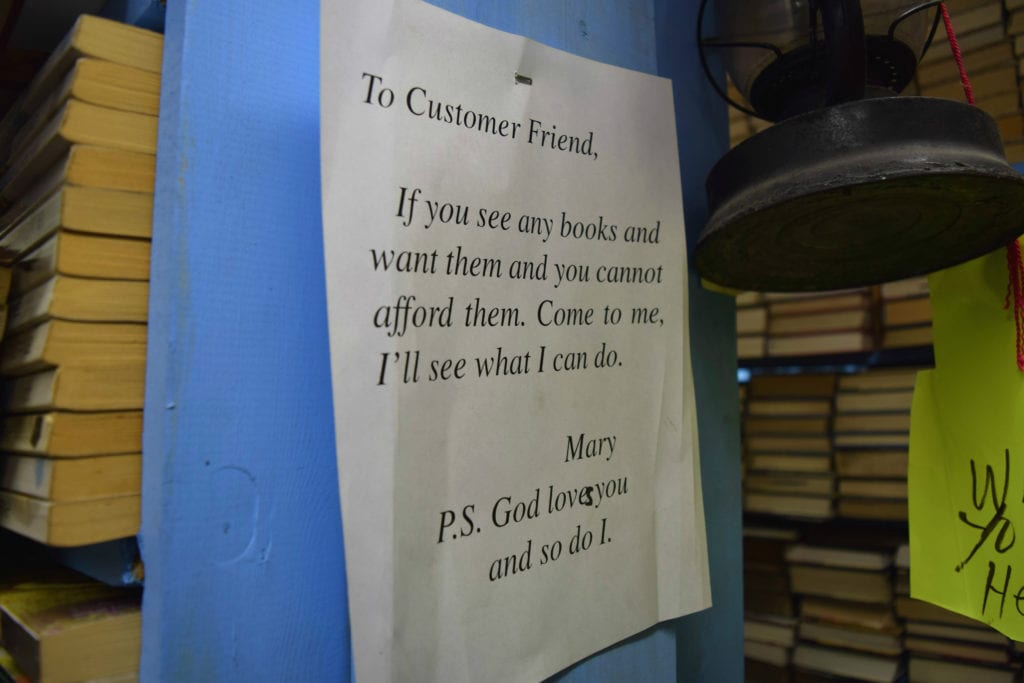 The books themselves were fascinating–I'm quite convinced that the shop didn't contain anything published in the last 5 years. Someone hunting down out-of-print books could probably have quite a field day in there if they knew what they were looking for.
There were also (and it pains me to admit it as an ardent bibliophile), hundreds of books than should have been destined for the recycling bin: "How to Sell Your Home in the 90's" and "Princeton Review: SAT, 1993" are just not going to sell.
Mary kept up chatter with us throughout our stay: she had been operating Bargain Book Shop for 48 years. She wanted a bigger place as she had outgrown this one (clearly), but was having trouble getting a loan. She had written a book, and her sons didn't support her dream, but she was hoping for success. She had a spotty eighth grade education (evident in her writing), but my goodness, that woman loves books.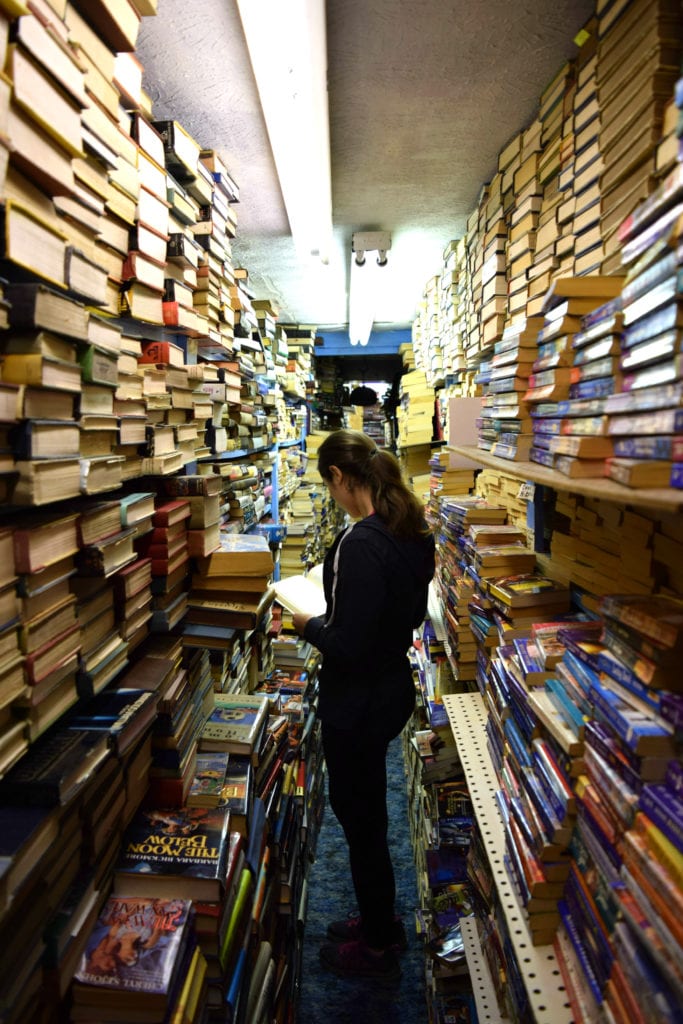 Truthfully, her prices were not great: we ended up spending $21.60 on two musty Stephen King paperbacks and a hardback of Gavin de Becker's The Gift of Fear. Not bad, but not an enormous bargain either. After her watchful eye and careful attention though, I must admit that we would have felt bizarrely awkward walking out without a purchase, so we chuckled and chocked it up to an entrance fee to a fascinating museum that we didn't expect to enter.