Featuring a walkable, charming downtown, river views, and excellent restaurants and breweries overlooked by the towering Rocky Mountains, the beautiful views and many things to do in Estes Park make it one of the most beloved places to visit in Colorado!
As the gateway to Rocky Mountain National Park, Estes Park is bound to be popular–but it's a delightful town in its own right, featuring plenty of fun attractions and an atmosphere you can't help but love.
Hoping to visit soon?
Here are the best things to do in Estes Park, CO!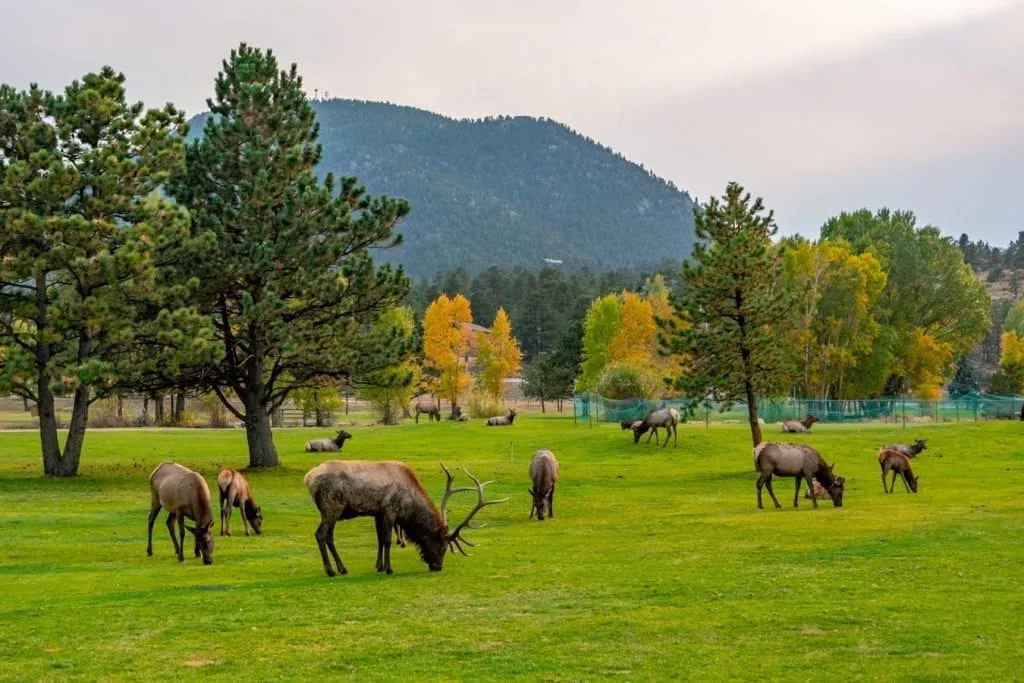 Some links in this post may be affiliate links. If you make a purchase through one of these links, we may earn a small commission at no extra cost to you. Please see our

disclosure policy

for more detail.
Fun Things to Do in Estes Park, CO
Ride the Estes Park Tramway for incredible views.
A mere 3 and a half minute ride in Estes Park's charming red tramway will deliver you to the top of Prospect Mountain, where you'll be treated to stunning views of the surrounding valley and mountains.
The tramway is one of the most popular attractions in Estes Park, so consider going outside of peak hours to avoid the crowds!
It is open daily from May-September, and then only on weekends in September (if the weather allows, of course).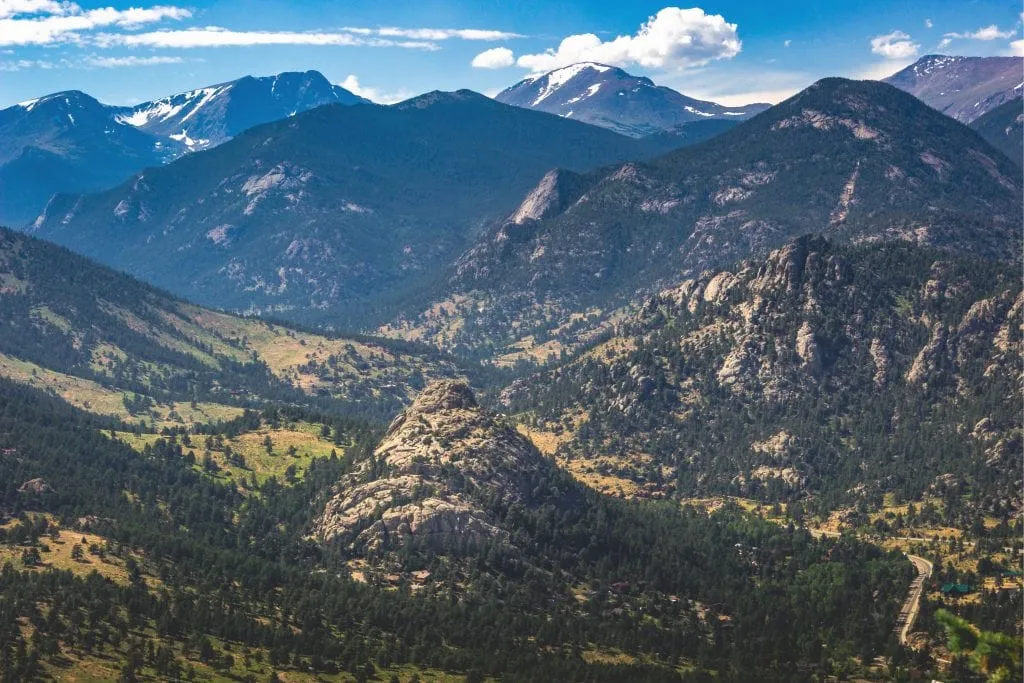 Browse the shops downtown.
Though small, Estes Park has one of our favorite downtown centers of any small town we've visited in the USA.
With its charming architecture, beautiful river views, and a huge variety of restaurants and shops selling everything from standard souvenirs and homemade fudge to local art, it's a joy to wander through (in our case, with a cup of coffee in hand each morning).
If you love perusing historic treasures, don't miss Fall River Jewelry and Antiques, which is one of the coolest antique stores we've ever visited!
Whether you're looking for a unique souvenir or a letter handwritten by George Washington (seriously), you're bound to find something memorable.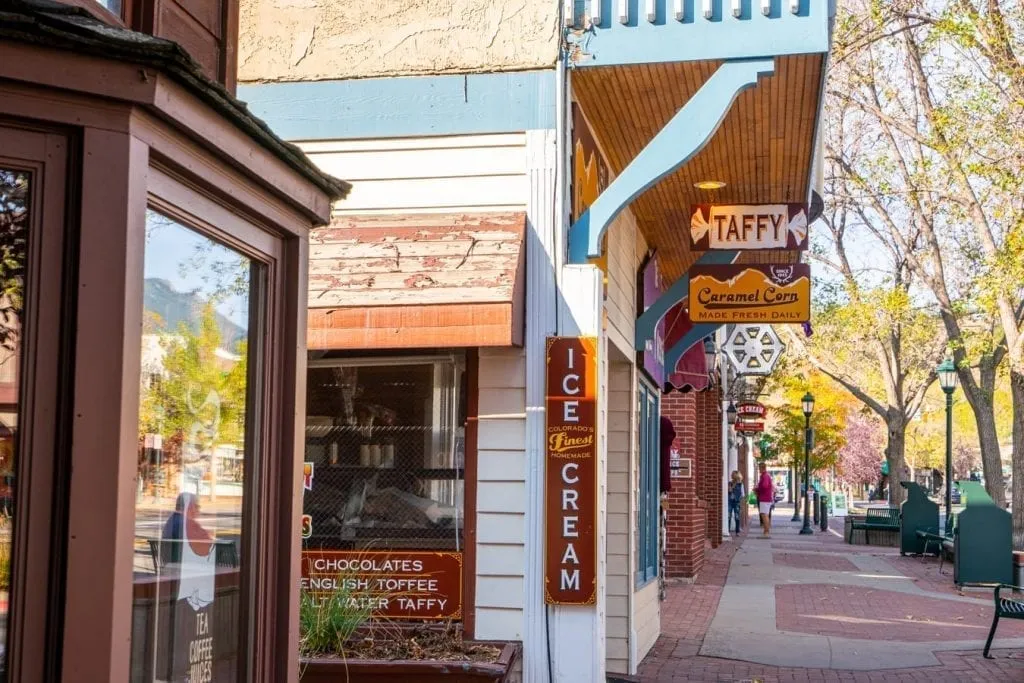 … and snap a photo with the beautiful Park Theatre.
Built in 1913, the distinctive Park Theatre is one of the most recognizable buildings in Estes Park, and a must-see while in town (follow the river into the center of town, and you'll find it).
If you happen to have bad luck with the weather during your vacation, you can even add seeing a movie here to your list of what to do in Estes Park.
The theatre plays both classics and new releases.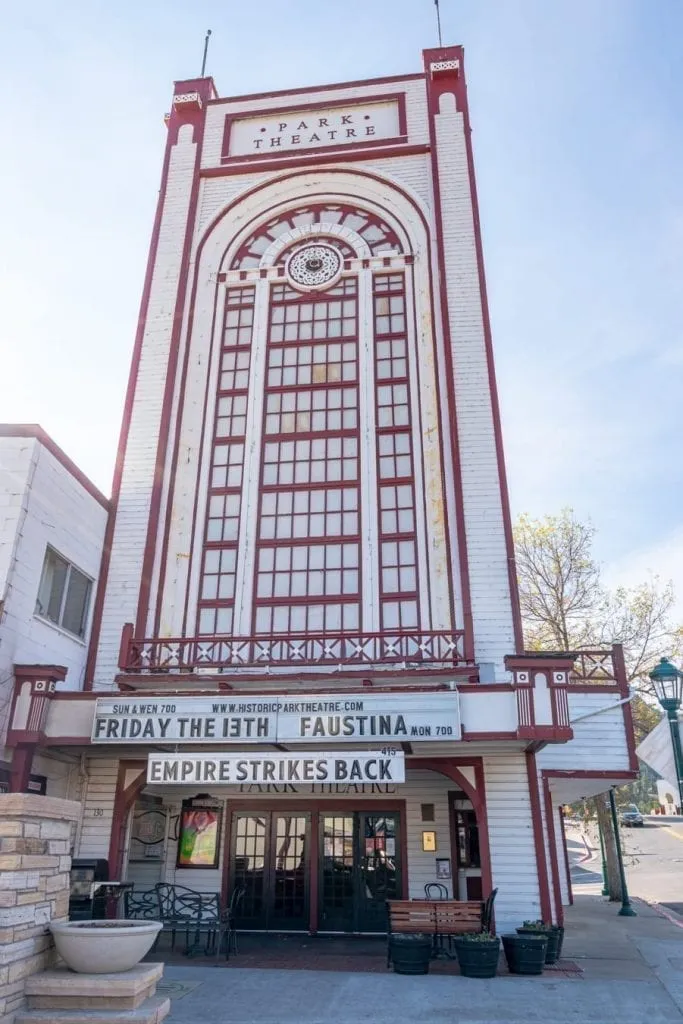 Get incredible views at the Estes Park Memorial Observatory.
To experience beautiful night skies near Estes Park, all you need to do is go outside and look up!
For the best views, though, head to the Estes Park Memorial Observatory.
Visit Estes Park's laid-back breweries.
It wouldn't be a trip to Colorado without a trip (or several) to a local brewery!
Estes Park has several breweries to choose from (plus a winery thrown in for a bit of variety), so you'll have no problem finding a delicious burger and local beer to enjoy after a long hike.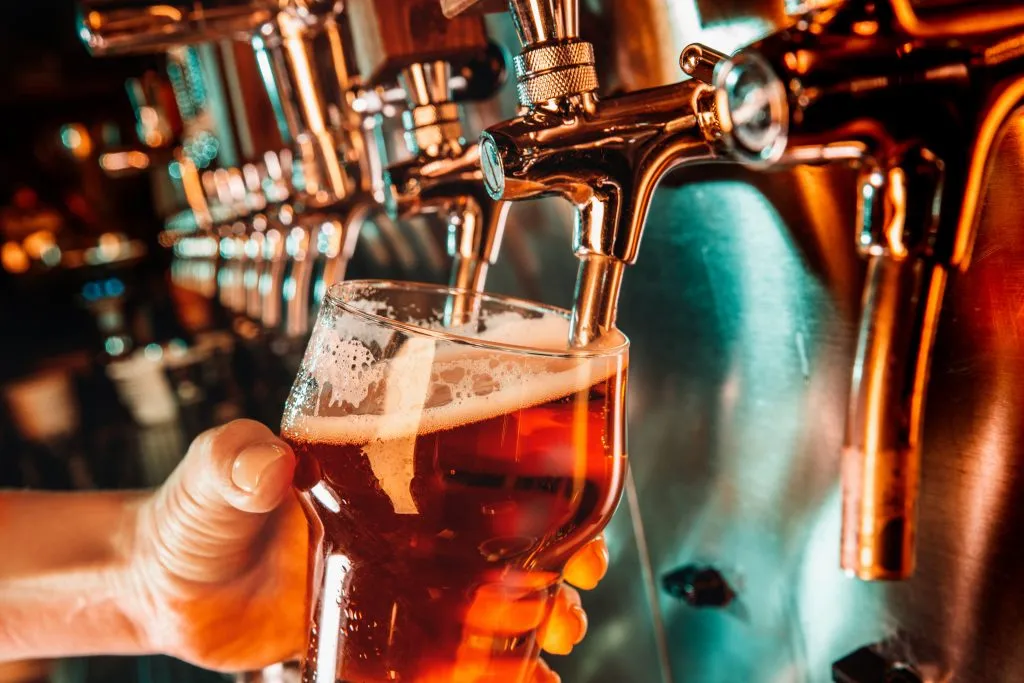 Stroll along the Riverwalk.
Winding through town parallel to the Big Thompson/Fall River, the Estes Park Riverwalk is one of my favorite places in town.
Combining all the charm of downtown (and the resulting easy access to snacks and shops) with all the beauty that people come to Colorado to experience, it's one of the best places to visit in Estes Park, CO.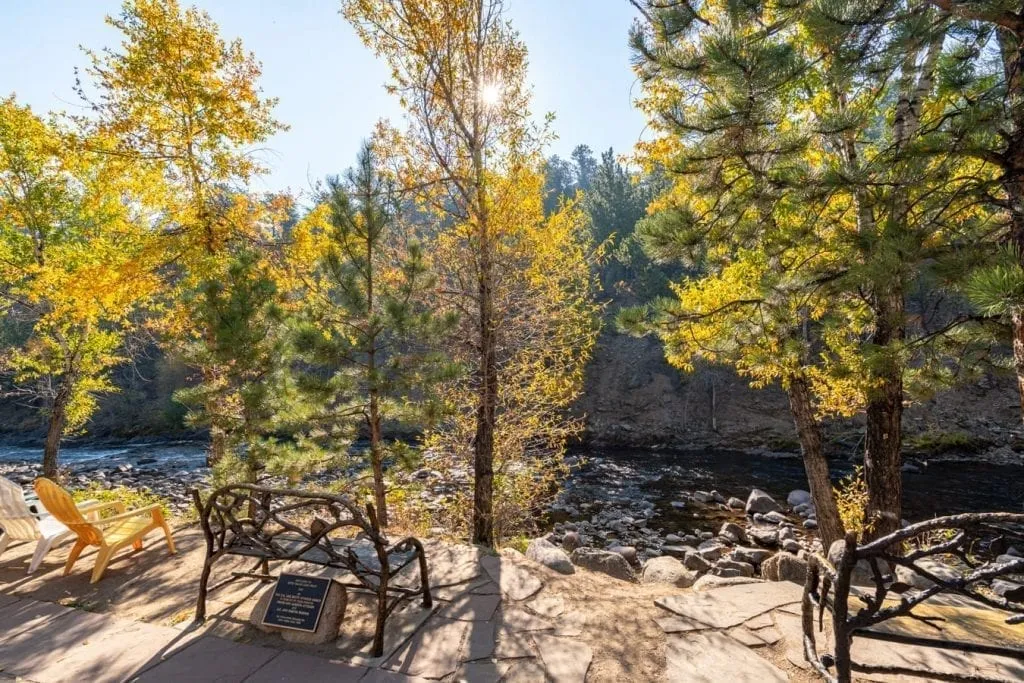 Go horseback riding in the Rockies.
While there are many ways to enjoy the iconic soaring peaks and sweeping valleys of the Rockies during a trip to Estes Park, horseback certainly has to be one of the best!
There are stables available for trail rides both in and outside Rocky Mountain National Park.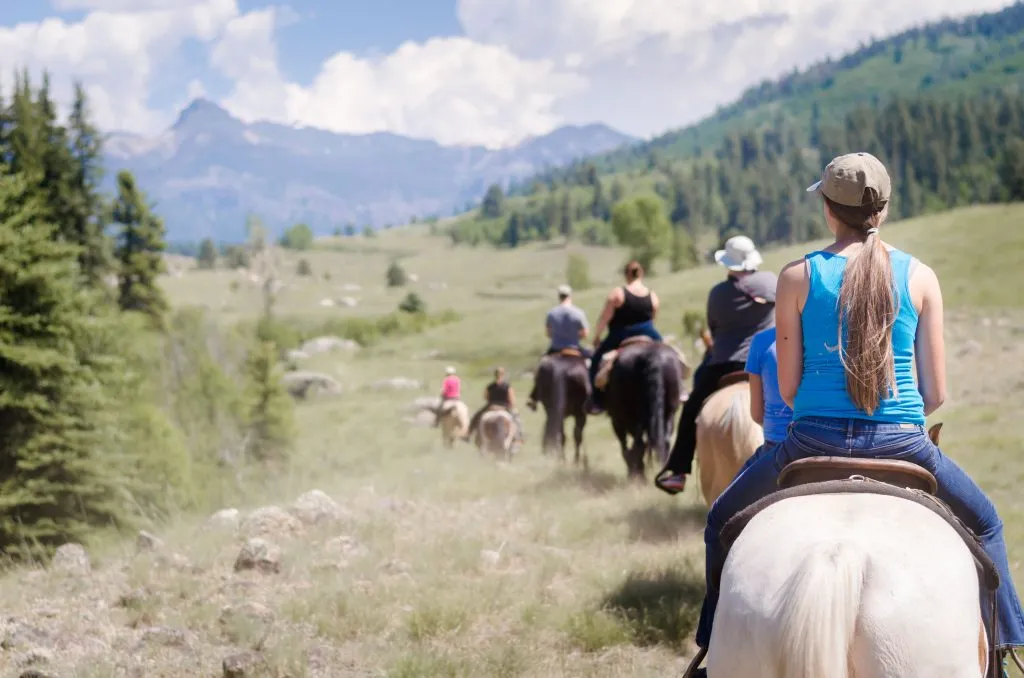 (Safely) observe elk.
You can find elk just about everywhere in Estes Park, from the visitor's center to the golf course to the river itself.
It's one of the coolest things about visiting Estes Park–but as elk have been known to charge visitors who get too close, be careful to keep a safe distance (25 yards is the minimum distance recommended).
One of the most interesting (but also dangerous) times to observe the elk is during the rutting season, which generally starts in mid-September and lasts for about a month.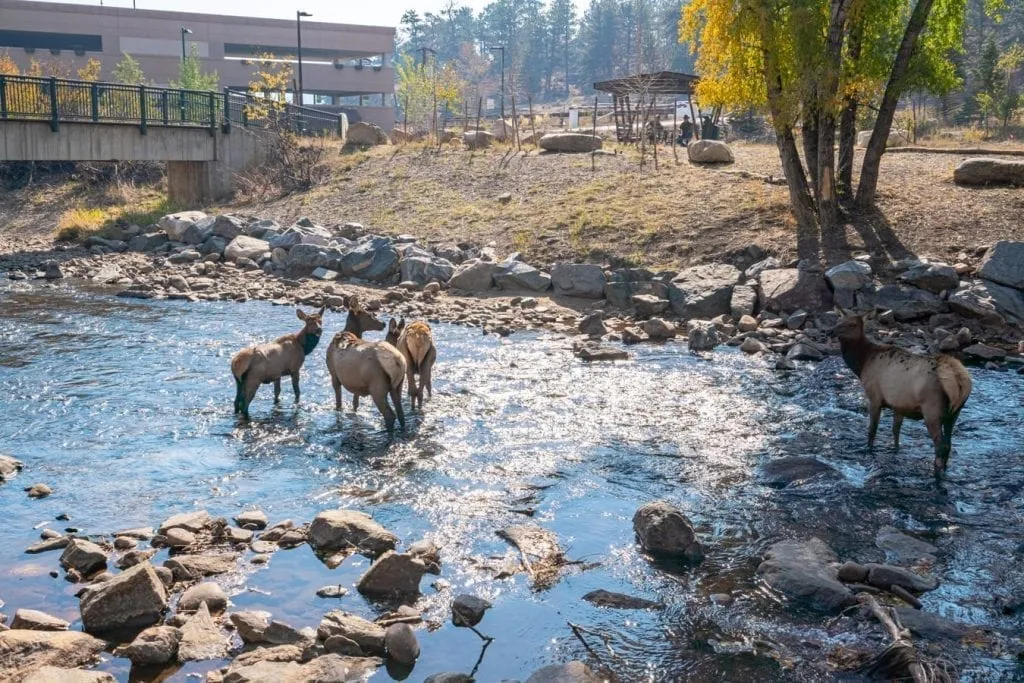 Visit the Estes Park Museum.
Dedicated to the history of Estes Park, this local museum features everything from a historic cabin dating to the early 20th century to oral histories detailing events in the region.
Take a scenic drive.
Estes Park is located right by some of the most stunning scenic drives in the USA, ranging from RMNP's Trail Ridge Road to the ever-popular Peak to Peak Scenic Byway–the oldest scenic byway in Colorado!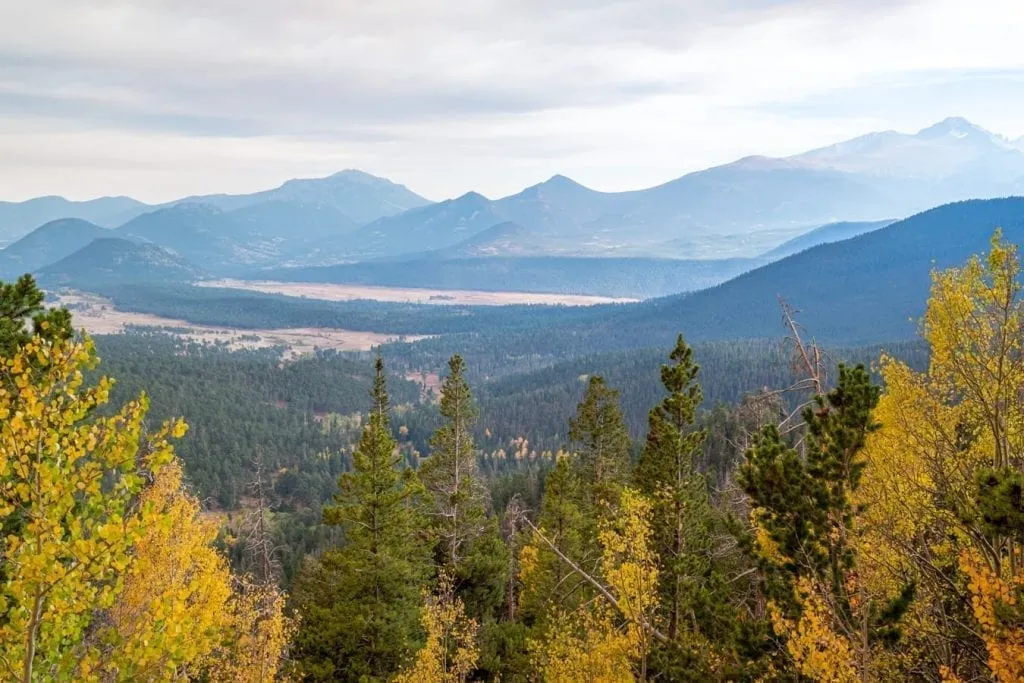 Check out Enos Mills' cabin.
One of the most unique things to do in Estes Park is to visit the beautiful 19th-century log cabin built in 1885 by Enos Mills, the "Father of Rocky Mountain National Park".
Mills lived an extraordinary life, and his descendants maintain this small museum in his honor.
Visits are by appointment only, so plan ahead if you'd like to visit during your Estes Park vacation!
Pay a visit to the Stanley Hotel.
Looming tall over Estes Park, the gorgeous Stanley Hotel served as the inspiration for Stephen King's The Shining.
King was inspired to write the book based on his experience staying at The Stanley Hotel with his wife at the very end of the season when they were the only overnight guests in the hotel.
The hotel opened in 1909, catering to wealthy customers, and is still operational to this day.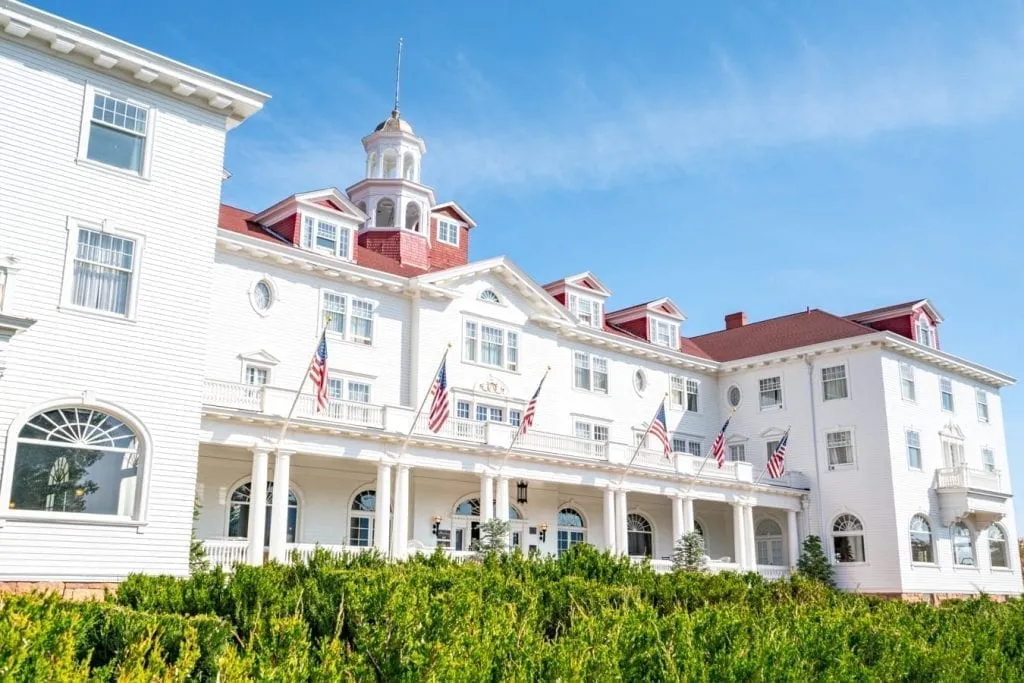 We hadn't ever read or seen The Shining before visiting Estes Park, so took the opportunity to watch the 1980 Stanley Kubrick movie while there–and it definitely made our experience visiting The Stanley more interesting (though it's worth noting that the movie wasn't filmed there).
Grabbing a drink at the historic Whiskey Bar is the perfect way to cap off a quick visit.
If you'd like to stay longer, consider signing up for a tour–the hotel offers both historical tours during the day and spooky, paranormal-centered tours at night.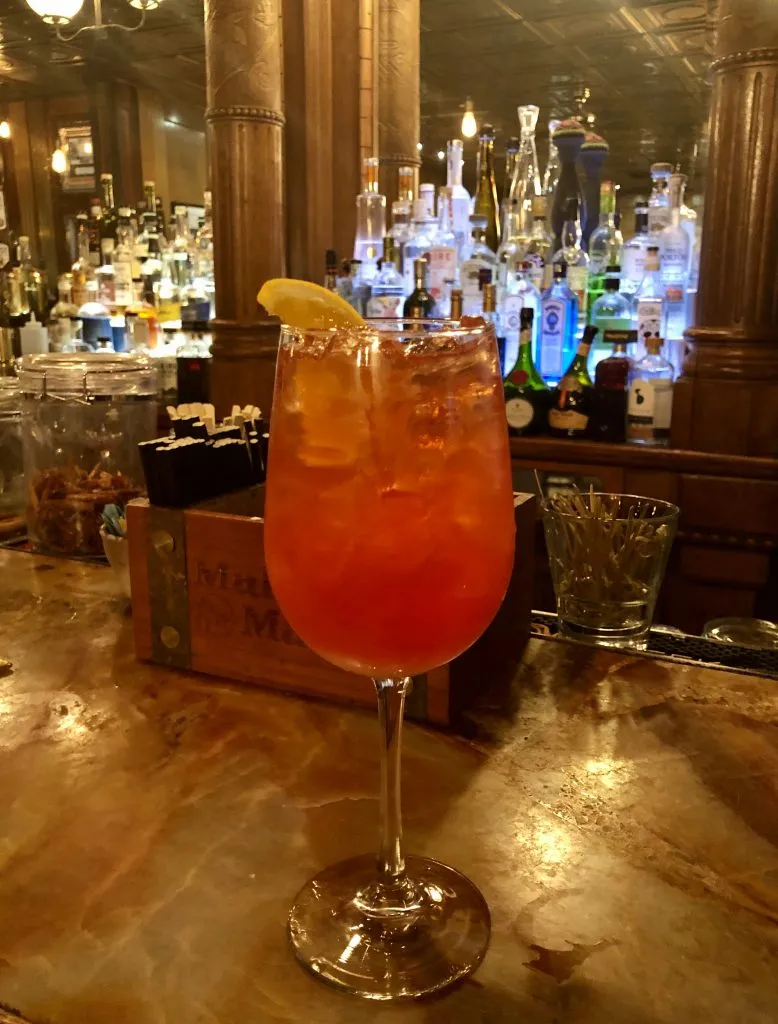 Go whitewater rafting.
You can't go whitewater rafting directly in Estes Park–but it does make for a fantastic day trip!
There are several whitewater rafting companies based in Estes Park that will take you to the Poudre or Colorado River for an exciting adventure on the water.
Take a walk along Lake Estes.
The peaceful, beautiful Lake Estes is within walking distance of downtown and is the perfect spot for a quiet morning stroll.
For those of us traveling to Estes Park with dogs, just across the road from Lake Estes is also where you'll find the Estes Valley Dog Park, complete with water access for the pups!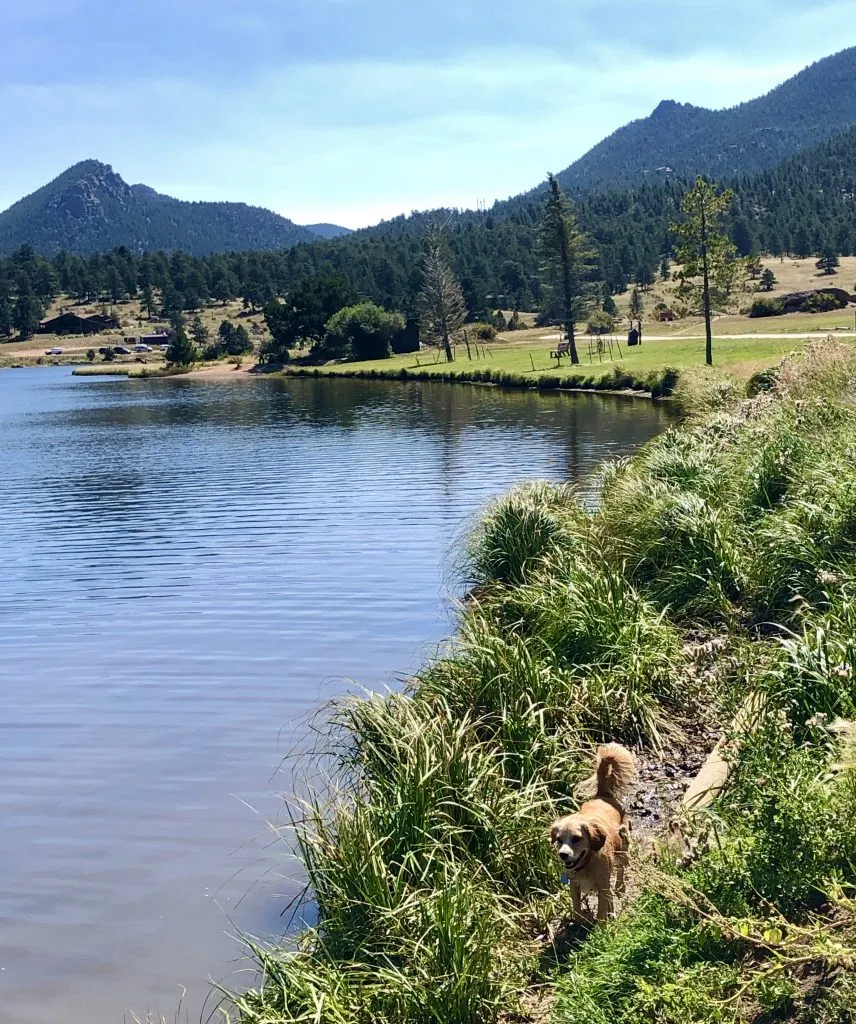 … or paddle across it.
Prefer a bit more of an active visit?
Consider renting a canoe, kayak, or even a paddleboat to enjoy the lake instead.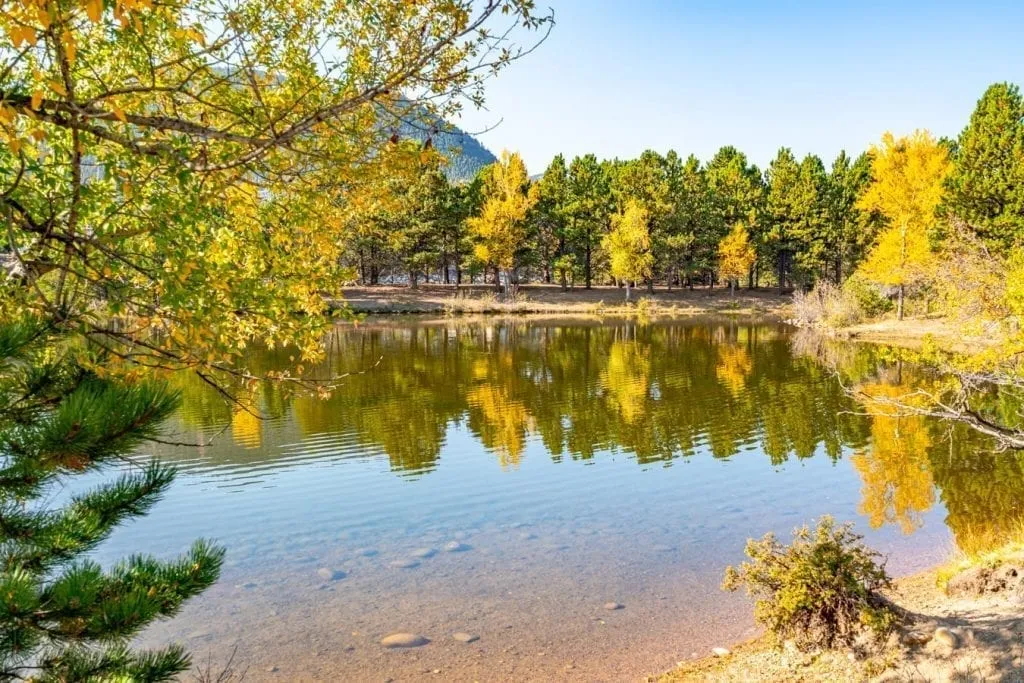 Take the kids to Fun City for the afternoon.
Featuring family vacation classics like bumper boats and go-karts, along with more Colorado-themed fun like gem panning, Fun City makes an excellent place to spend an afternoon as a family.
Grab a slice or two at You Need Pie!
A guide to where to eat in town could easily be its own Estes Park blog post, however, You Need Pie! deserves a special mention.
This homegrown pie shop has been enchanting visitors since 2006 (it has moved locations within Estes Park since then), and their fruit pies remain some of my absolute favorite in the world.
Breakfast is served all day, and their diner food is tasty, but seriously–don't miss the pie (I'm personally partial to the fruit pies).
In fact, if you're renting a cabin or a place with a kitchen, do yourself a favor and pick up a full pie on your first day in town to eat once you get home from each of your hikes.
You won't regret it!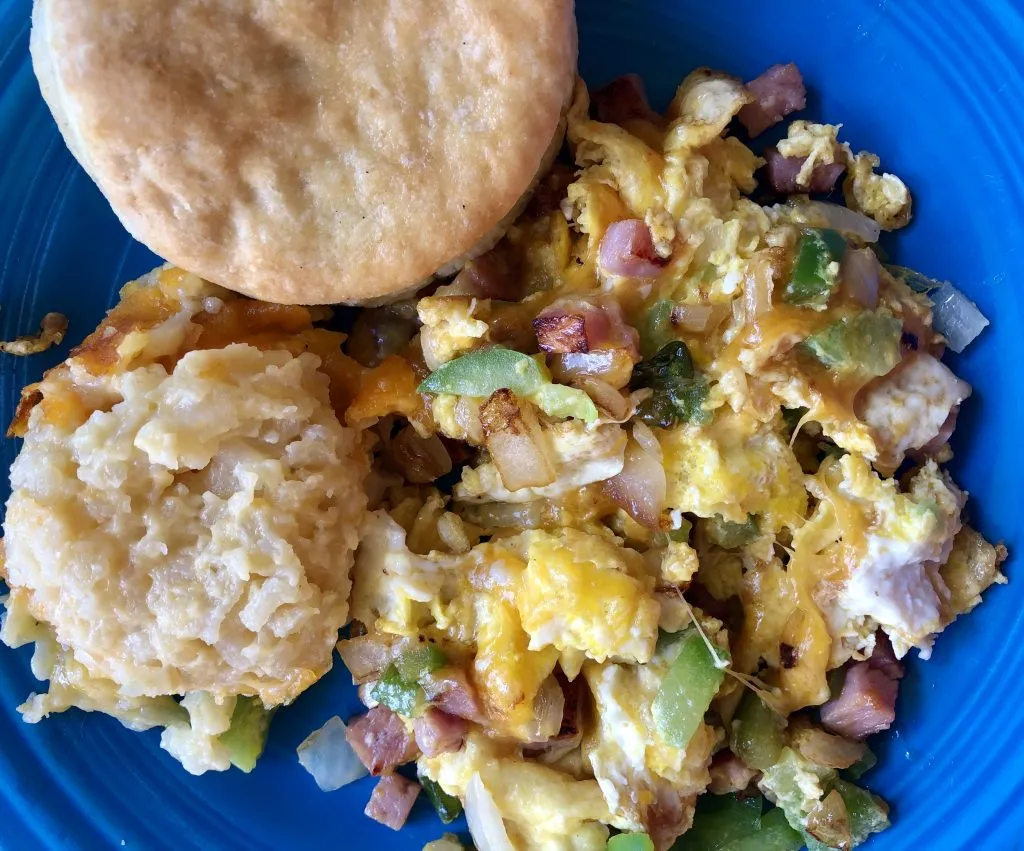 Last but not least: visit Rocky Mountain National Park!
Of course, absolutely no list of things to see in Estes Park would be complete without mentioning the reason everyone comes in the first place: Rocky Mountain National Park (RMNP)!
Known for its gorgeous lakes, great wildlife spotting opportunities, stunning mountain peaks, scenic drives, and of course legendary hikes, there's a reason that Rocky Mountain National Park is one of the top five most-visited national parks in the country: it is both incredibly beautiful and has something for everyone.
Estes Park is about a 10-minute drive from the closest national park entrance, making it one of the best places to base yourself when heading to RMNP.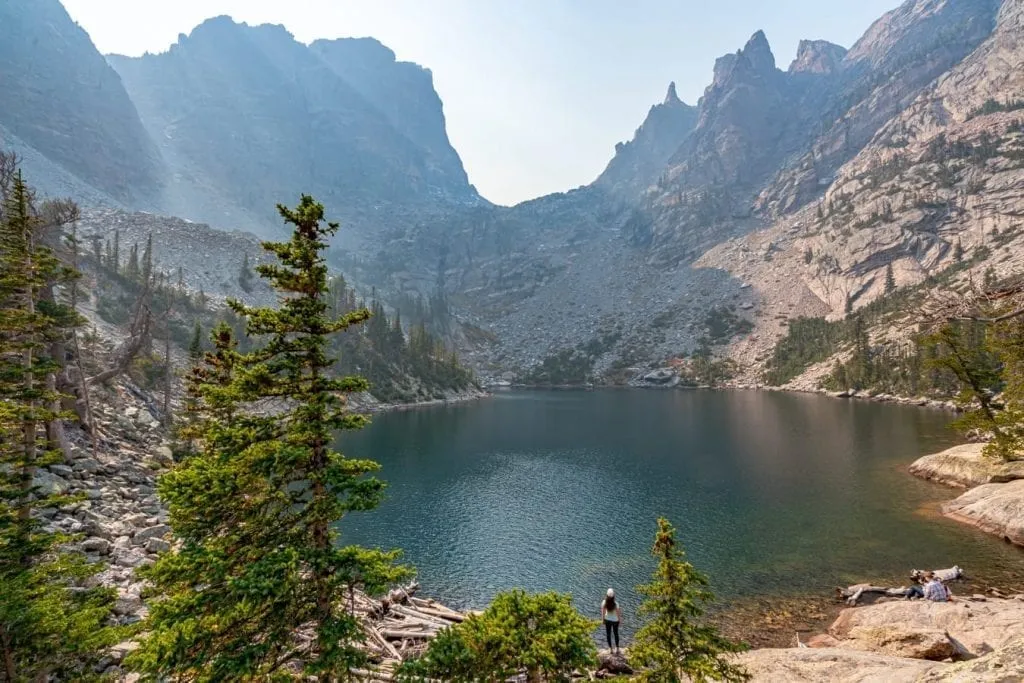 Where to Stay in Estes Park
There is no shortage of places to stay in Estes Park, ranging from luxurious log cabins set right on the river to no-frills, comfortable lodges, and even includes the most famous haunted hotel in America (according to The Shining, anyway).
No matter what your taste in lodging, this classic Colorado mountain town has plenty of options for you.
Personally, we prefer to stay within walking distance of downtown when possible.
Given that there is limited parking downtown and that it's so close to Rocky Mountain National Park, it's the perfect choice for us–and each of the properties we recommend here is within walking distance of Estes Park's center.
Budget
Discovery Lodge — We initially chose to stay at this property recently for one important reason: our dog, Ranger, was welcome!
We ended up loving it enough to re-book for a second visit, though: with an excellent location less than a 10-minute walk from downtown and perfect views of the many elk that liked to gather at the Estes Park Golf Course next door, it was a great retreat.
Rooms are spacious, and while basic, have clearly been updated in recent years and are very comfortable.
We'd be happy to continue returning here when traveling to Estes Park with Ranger.
Mid-range
Nicky's Resort — With absolutely gorgeous architecture, including a mostly-glass wall in the lobby to better enjoy the mountain views, excellent service, and cozy touches like stone fireplaces in some rooms, Nicky's Resort is a fantastic place to stay in Estes Park.
While the resort is located within walking distance of Estes Park, there is also a restaurant on-site for easy and delicious meals.
Luxury
The Stanley Hotel — For absolutely classic, luxurious accommodation with a perfect location and a side of ghost stories, you can't beat The Stanley Hotel in Estes Park.
However, be sure to book carefully–with multiple buildings on the property, you'll want to make sure the room you book is what you have in mind!
If you want to be in the main building, for example, don't book in the (nearby and also lovely) Aspire Residences.
Getting Around Estes Park
While central Estes Park is fairly walkable, and if you choose a hotel close to downtown you can likely walk to some meals and shops, you absolutely need your own car to effectively visit Estes Park and the surrounding area.
If you're flying into Denver, the best company to rent from will likely vary dramatically depending on exactly when you're traveling.
Sometimes large international carriers offer the best prices, sometimes local outfits. Sometimes one company has an excellent base price, but terrible rental requirements.
The best way to find your rental car is to search through Discover Cars, which will sift through dozens of companies to find the best combination of low prices and reasonable rental terms for your road trip.
Shop rental cars for your trip to Colorado today!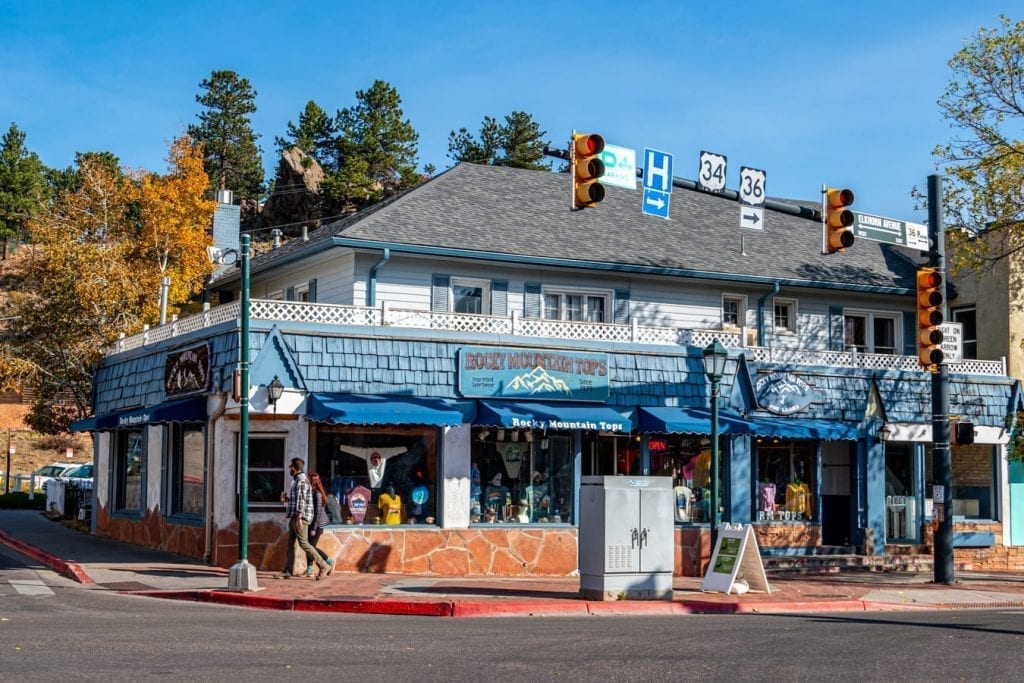 The Best Time to Visit Estes Park
This beautiful mountain town is truly a year-round destination, but the best things to do in Estes Park vary dramatically based on when you visit!
We focused primarily on non-snow activities in this blog post about what to do in Estes Park, but winter also has its charms, including excellent wildlife watching, skiing, and the opportunity to go snowshoeing in Rocky Mountain National Park!
Contrary to popular belief, though, winter isn't when Estes Park experiences its biggest snowstorms: those are reserved for the spring, specifically March and April.
Spring also brings beautiful wildflowers and young wildlife, though–it's a season when you need to be prepared for anything!
Summer is the most popular time to visit Estes Park and to take a Colorado road trip in general: beautiful weather, high prices, and big crowds are to be expected.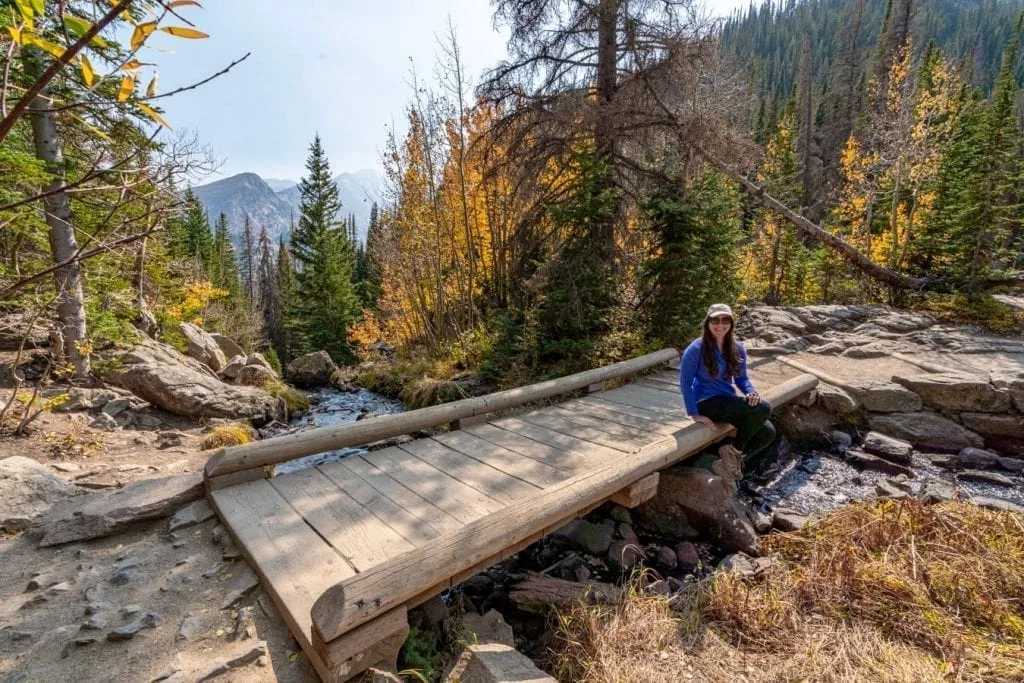 Fall is also a magnificent time to visit, bringing the changing colors of foliage, the mating season for wildlife (particularly elk), and often stunning weather.
Foliage in Rocky Mountain National Park tends to peak in late September, and some places in Rocky Mountain National Park like the Trail Ridge Road tend to close by mid-October.
Whenever you choose to visit, you're bound to have a wonderful time as well as you are flexible with what to see in Estes Park.
Visiting the Colorado mountains means signing up for unpredictable weather in any season, so come prepared to shift plans around if Mother Nature doesn't cooperate with yours!