Simultaneously lively and laid-back, there is no shortage of fun things to do in Lucca, Italy!
This beautiful, fully walled Tuscan city may not have the fame of cities like Florence or even Siena, but enchanting Lucca is absolutely worth a visit.
Years ago, Lucca was one of the first places we ever visited in Tuscany, and many visits later, we remain captivated by its magic.
If you're looking for a place to base yourself in Tuscany that is more lively than a hilltop town but more lowkey than Florence, Lucca is a fantastic option.
This is one of those cities that gets better and better the longer you savor it–and while you can see most of the top attractions in Lucca in a day if needed, there's a good chance you'll find yourself planning to stick around longer.
Here's what to do in Lucca, Italy, plus tips for planning your trip!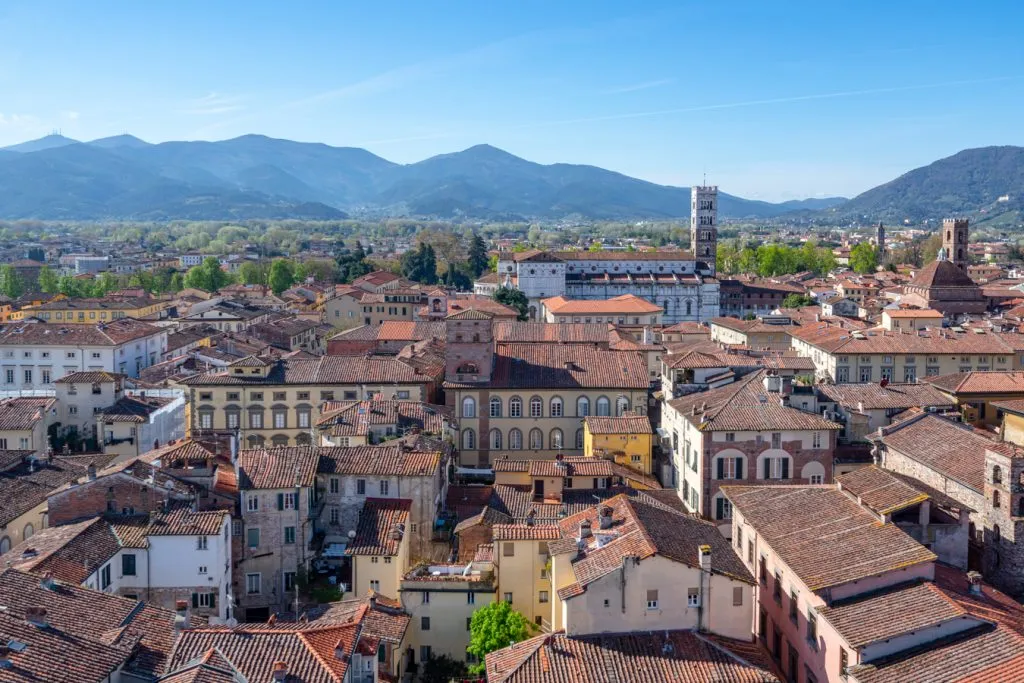 The Best Things to Do in Lucca
Stroll or bike along Lucca's city walls.
The historic center of Lucca is still entirely encircled by its thick, imposing medieval walls.
What was once an important defense system, though, has morphed into being one of the best places to visit in Lucca.
The tops of the walls are wide, shady, and offer excellent views of the city–in other words, they are the perfect place for a long walk or bike ride!
People-watch in Piazza dell'Anfiteatro.
Lucca's striking Piazza dell'Anfiteatro is notable for several reasons: its bustling nature, the beauty of the oval shape surrounded by colorful Tuscan buildings… and the fact that is built on the former site of a Roman amphitheater!
Dating back about 2000 years, this one-time amphitheater is now a charming public playground and the perfect place to grab a drink and watch the world go by.
We have found prices for drinks in the piazza to be more reasonable than you might expect and enjoyed a lovely afternoon of sipping spritzes at Da Gherardo.
Discover the best of Lucca quickly with a walking tour.
While you can absolutely explore the best things to see in Lucca independently, if you're short on time and want to make sure you don't miss a thing, a walking tour is the perfect solution!
This 2-hour tour will show you some of the best attractions in Lucca quickly, with plenty of historical context and no concerns about getting turned around.
From there, you'll be perfectly oriented in order to continue exploring on your own!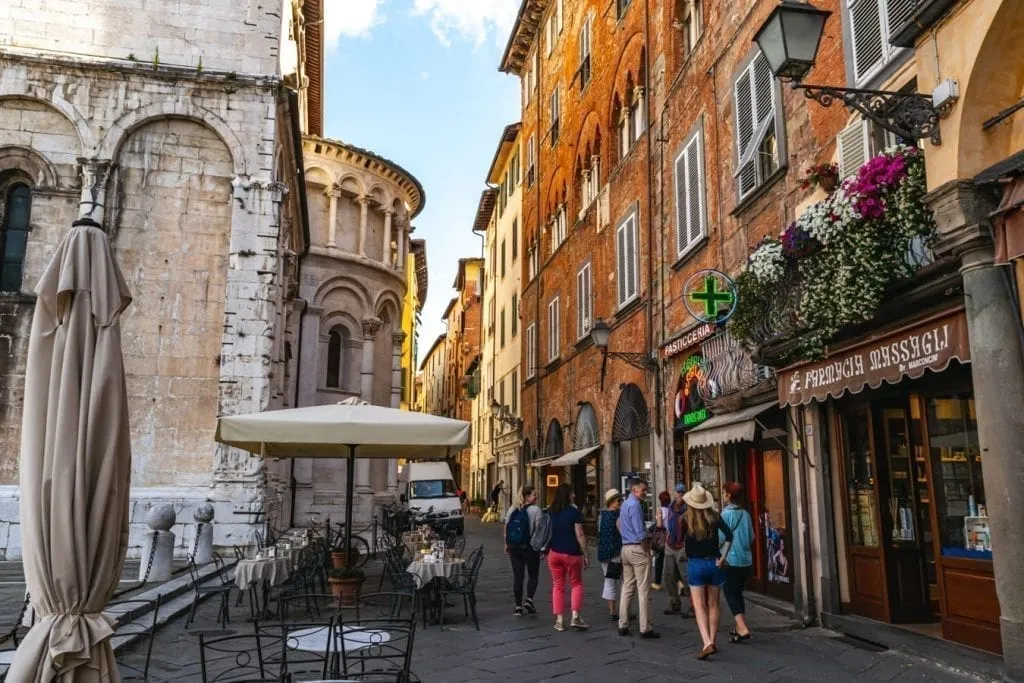 Step inside the St. Martin Cathedral.
One of Lucca's many nicknames is the "City of 100 Churches"… and it is certainly a well-earned nickname!
For a city with so many churches, though, you may be surprised to learn that the city's cathedral is a bit off the beaten path.
It's still in the historic center, but probably not the first church you'll happen across if you're meandering through the city (or, as has been the case for many pilgrims over the centuries, if you're walking the Via Francigena).
At the time of its construction, it's believed that the center of the city was already too congested for a new cathedral, so this one is built near the city walls.
It's a beautiful, peaceful place, and well worth visiting during your trip to Lucca.
(Also, side note for any people like us who travel with their dogs: you'll also find a nice, grassy lawn for your dogs here!).
You can also climb the bell tower if you choose, but unless you want to climb more than one, we'd recommend saving that experience for…
Climb up to Lucca's garden in the sky at Torre Guinigi.
There is certainly no shortage of towers to climb in Tuscany, but Lucca's Torre Guinigi just may be the most unique of them all.
Climb the 233 steps to reach the top of this 14th-century tower, and you'll be greeted by several oak trees growing in the sky!
The views of Lucca and the surrounding area from the top are incredible, but there's no denying that it's the trees that make climbing this tower one of the most unique activities in Lucca.
As of the time of writing, tickets are 5 Euro and are cash only, so come prepared!
Explore Lucca by bike.
I already referenced this when discussing the city walls, but the walls are far from the only place to ride bikes in Lucca!
Unlike many cities in Tuscany, Lucca is very flat, which lends itself to getting around the historic center by bike.
One of the top things to do in Lucca is to rent bikes for the day and explore the historical center and beyond.
Take a memorable Tuscan cooking class in a local home.
One of the best things to do in Lucca is to take a small–or even private–cooking class in the home of a local chef.
A few years ago, my grandmother, aunt, stepmom, and I took one of these classes together, and we had an absolute blast!
From olive oil tastings to a market visit to the delicious meal we enjoyed at the end of the session, it was a delightful way to spend a day in Lucca, and not one that any of us will forget anytime soon.
This well-reviewed class is similar to the one that we took, and would make an excellent excursion for any group of foodies visiting Lucca.
Shop Lucca cooking classes today!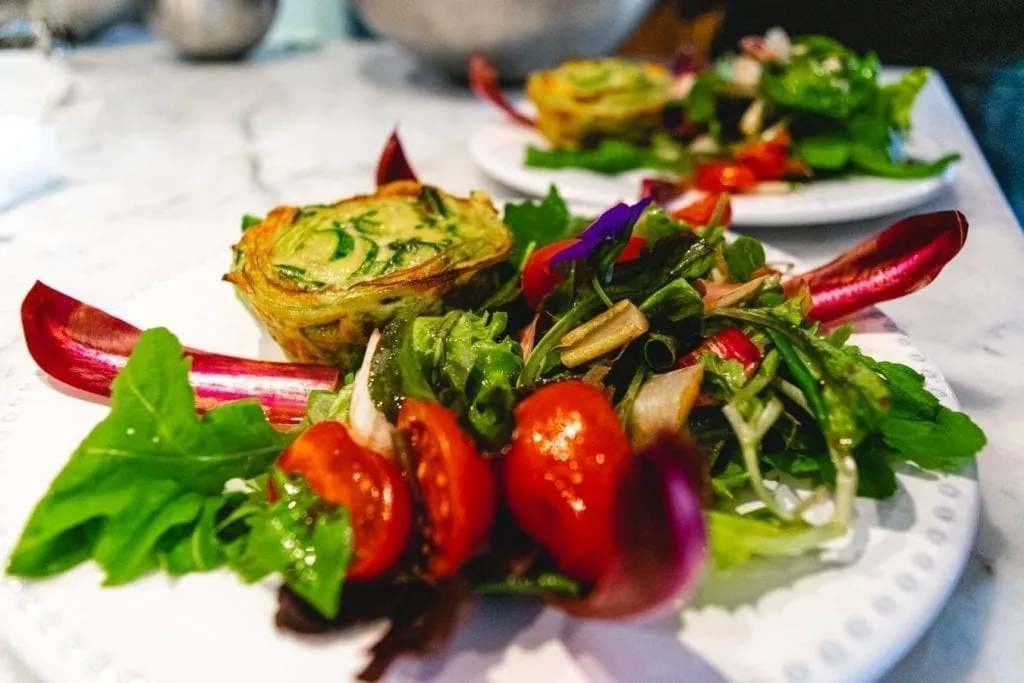 Shop 'til you drop on Via Fillungo.
If you're looking for handmade ceramics, unique art, beautiful textiles, well-crafted home goods, or beautiful clothes, Lucca is the place to be!
In general, we've found shopping in Lucca to be more pleasant than in nearby Tuscan cities: it's big enough to have plenty of selection and lots of charming shops, but small enough that it's less packed with souvenir stores (though there are plenty of those).
While there are excellent finds all over the city, Via Fillungo is Lucca's main shopping avenue and is a great place to start.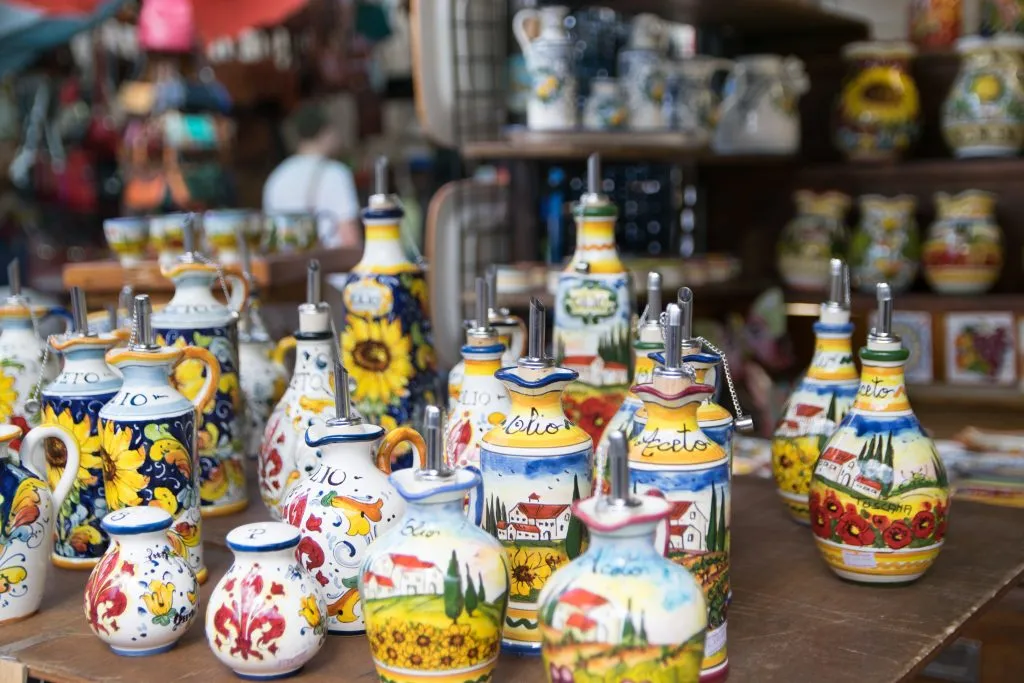 Visit a mummy in the Basilica of San Freidano.
In a city packed with churches, the Basilica of San Freidano is both one of the oldest (it dates to the 6th century!) and one of the most memorable.
Immediately upon walking up to it, the Basilica of San Freidano catches the eye: the glittering 13th-century mosaic on its facade is gorgeous and belongs on any list of what to do in Lucca.
Step inside, though, and you'll find yet another surprise: the mummy of St. Zita, an "incorruptible" peasant girl who passed away in 1272 and was naturally mummified.
Perhaps even more surprising, though, is the fact that she isn't the only mummy on display in a church in Lucca…
… and in the Basilica of San Michele in Foro.
Dating to 795 AD, the Basilica of San Michele in Foro is one of the most prominent churches in Lucca.
It also happens to be built on the site of the former Roman Forum, and the paved piazza surrounding it remains a feature of public life.
From students hanging out to tourists sipping coffee, there's always plenty of activity outside the Basilica of San Michele in Foro!
Walk inside and stroll up to the altar, though, and you'll be met with a surprising sight: the mummy of San Davino encased in glass under the altar.
San Davino was an Armenian pilgrim in the 11th century, and today calls the Basilica of San Michele in Foro his final resting place.
Meander through baroque gardens at Pfanner Palace.
Step into the gorgeous baroque garden at Pfanner Palace, and you just may forget that you're in the center of Lucca!
While you can tour part of the palace as well, only a small section of it is open to the public.
The gardens are where the Palazzo Pfanner truly shines, and are worth prioritizing over the building itself when exploring the best things to do in Lucca.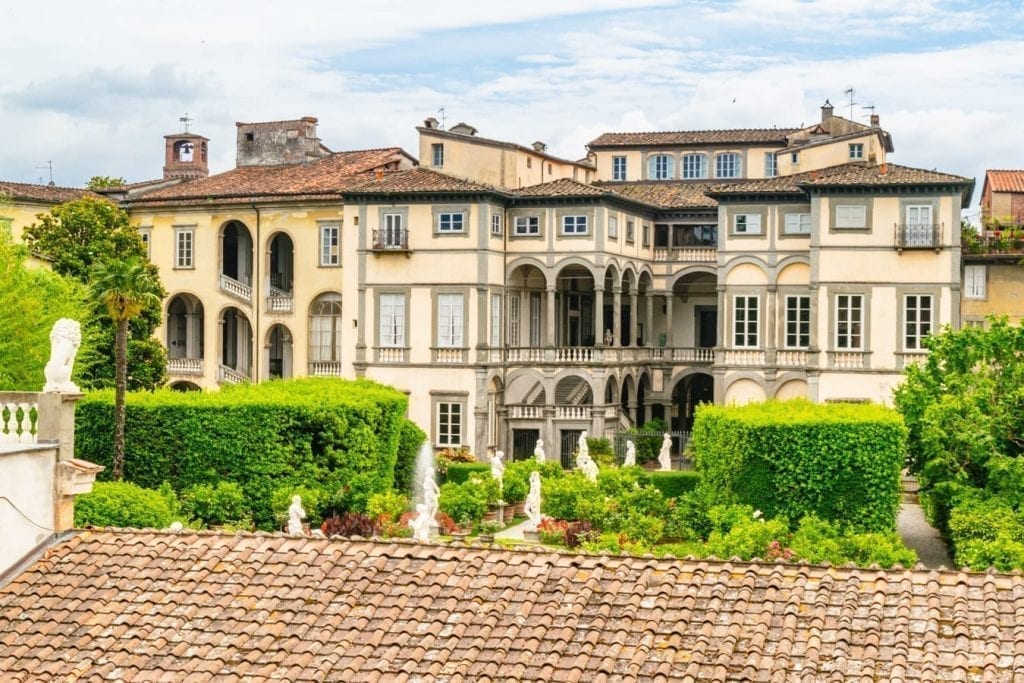 Soak up the views at Torre del'Ore.
Dating to the 13th century, Lucca's clock tower–like the Torre Guinigi and so many other towers in Tuscany–was built as private defense tower by a local family.
The city acquired it in 1390, and it became Lucca's clocktower.
Today, you can climb to the top for sweeping views of the city!
At 50 meters tall, it is the tallest viewpoint in Lucca (the Torre Guinigi is "only" 45 meters high).
While the Torre Guinigi is more unique, climbing the Torre del'Ore allows you to admire the oak trees on top of the Torre Guinigi from a distance.
Whichever tower you choose to climb (if you feel like a workout, you can always climb both!), you'll be rewarded with beautiful views of Lucca.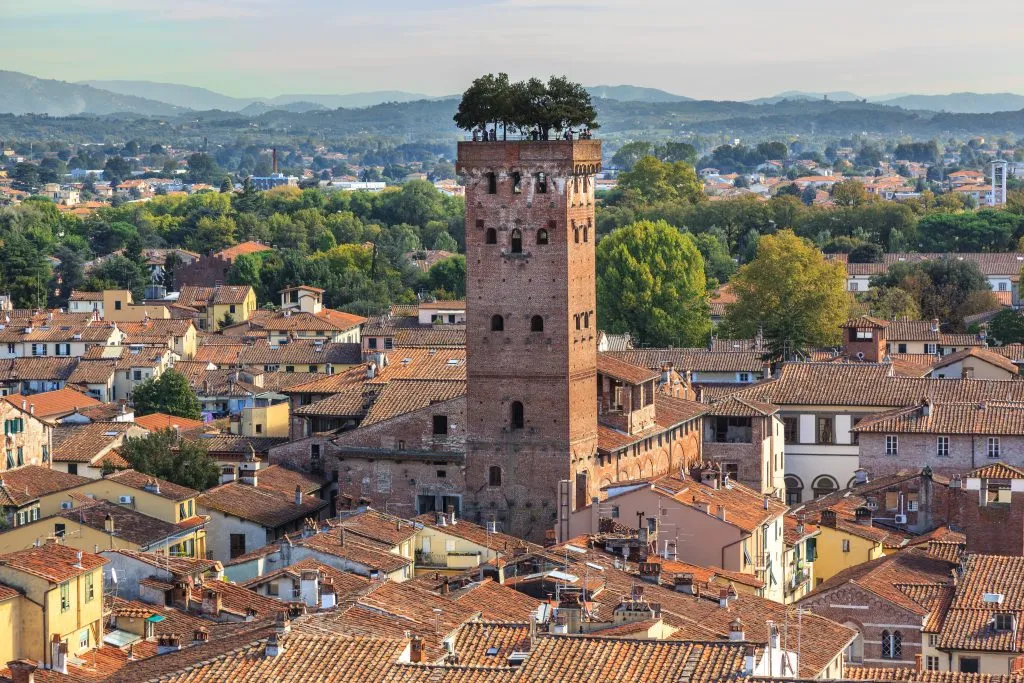 Visit Lucca's botanical garden.
Tranquil and charming, Lucca's small botanical garden features plenty of shade, plants from around the world, and beautiful views.
Founded in 1820 by Maria Louisa Bourbon, the then-duchess of Lucca, the garden is situated within the town walls.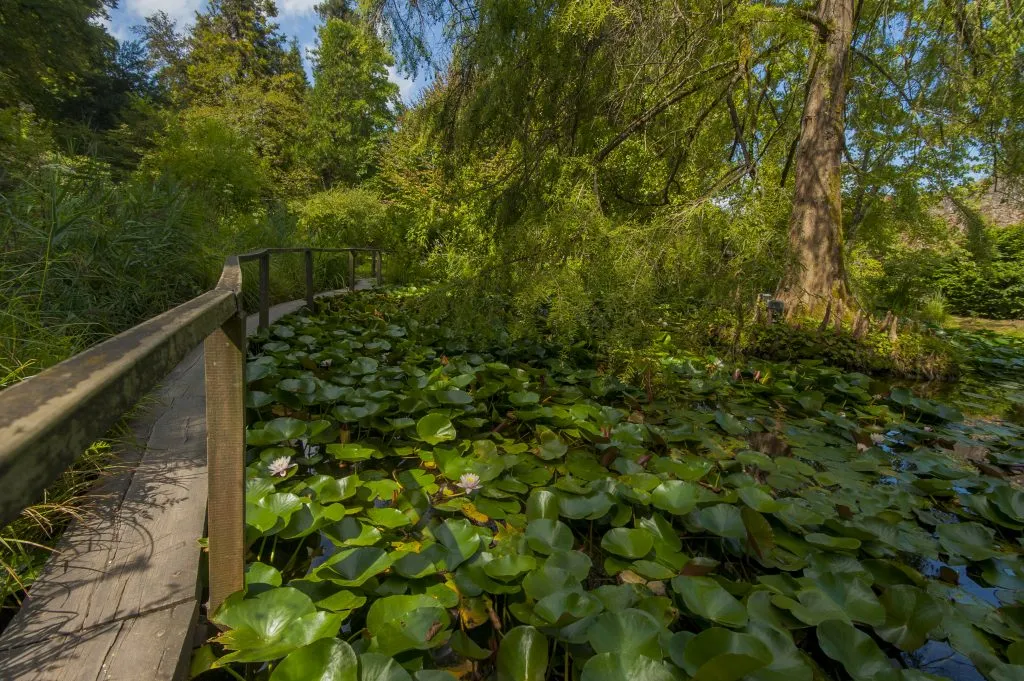 Devour delicious focaccia at Forno a Vapore Amedeo Giusti.
This bakery has quite a well-deserved following, and while they make all kinds of delicious breads and cakes, the focaccia stands out!
We first visited this bakery years ago, and it's now a staple stop on trips to Lucca.
The focaccia is served by the kilo, and while you can take it home, it's even better eaten fresh.
Be sure to sample both the sweet and savory varieties!
Dive into opera history at the Puccini Museum.
Giacomo Puccini, one of the most famous composers of all time, called Lucca his hometown.
Puccini was responsible for masterpieces like Madama Butterfly and Tosca, and almost a century after his death, he continues to be a well-known Italian composer.
The Puccini Museum is located in the maestro's former home and is the perfect place to get to know the man behind the music.
If you'd like to experience Puccini's music for yourself, consider attending one of the regular Puccini concerts put on in a local church!
Stroll through Piazza Napoleone (Piazza Grande).
This spacious, tree-lined piazza is best known for its history (the remains of Napolean-era buildings that were torn down have been found here) and for being a popular place to hold festivals in Lucca!
Whether there's a festival in town or not, though, it's worth strolling through this piazza when visiting Lucca, Italy.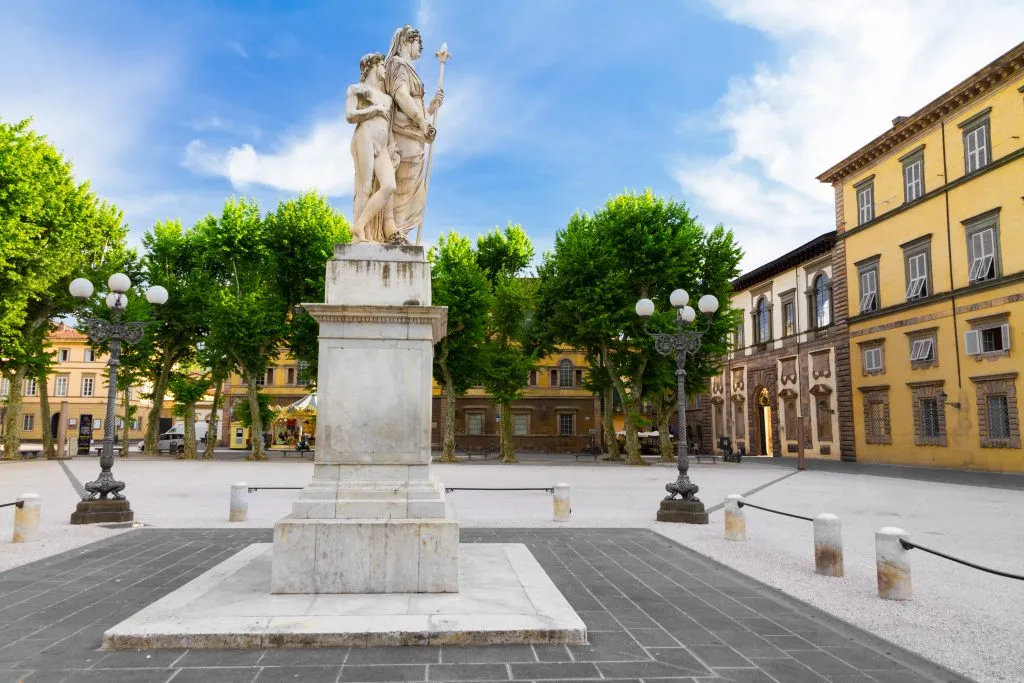 Sample Buccellato di Lucca.
This ring-shaped cake is typical of Lucca, and fun to try if you're hoping to sample traditional foods in the city.
Made with raisins and aniseed, it's a traditional Sunday treat in Lucca.
You can find it at bakeries all over town!
Where to Stay in Lucca, Italy
Planning to spend a night or more basing yourself in Lucca?
You're in for a treat: if anything, Lucca is at its most charming in the early mornings and the evenings!
We've stayed in Lucca several times, both in the historic center and in a villa we rented as a family a few miles from the center.
Here are a few excellent, well-reviewed places to stay in Lucca in every price range.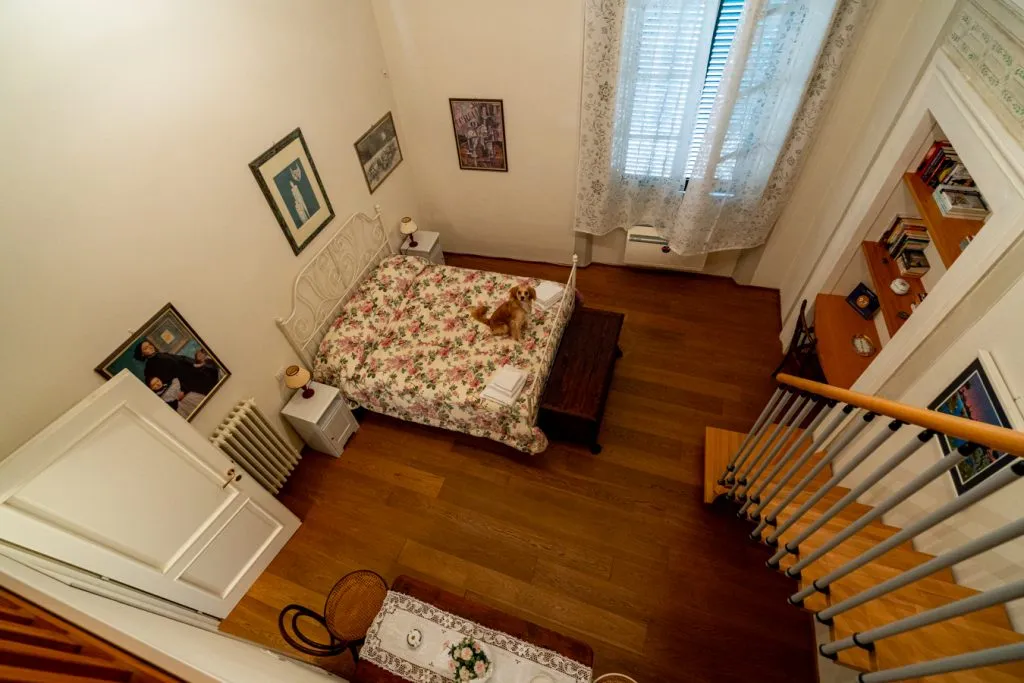 Budget
Affittacamere del Centro — Situated inside the city walls, Affittacamere del Centro gets excellent reviews for its simple, clean rooms located in an ideal location for exploring Lucca.
If you're hoping to visit Lucca on a budget without needing to stay in a hostel or outside the city walls, this is the perfect choice!
Mid-range
Lucca in Villa Lucrezia — Located just outside of the city walls, practically next door to the Porta Elisa entrance gate, sits the beautiful Villa Lucrezia.
If you're looking for a bed and breakfast experience that combines easy access to all of the best things to do in Lucca on foot with a villa stay (the included breakfast gets excellent reviews), this popular villa is the place for you!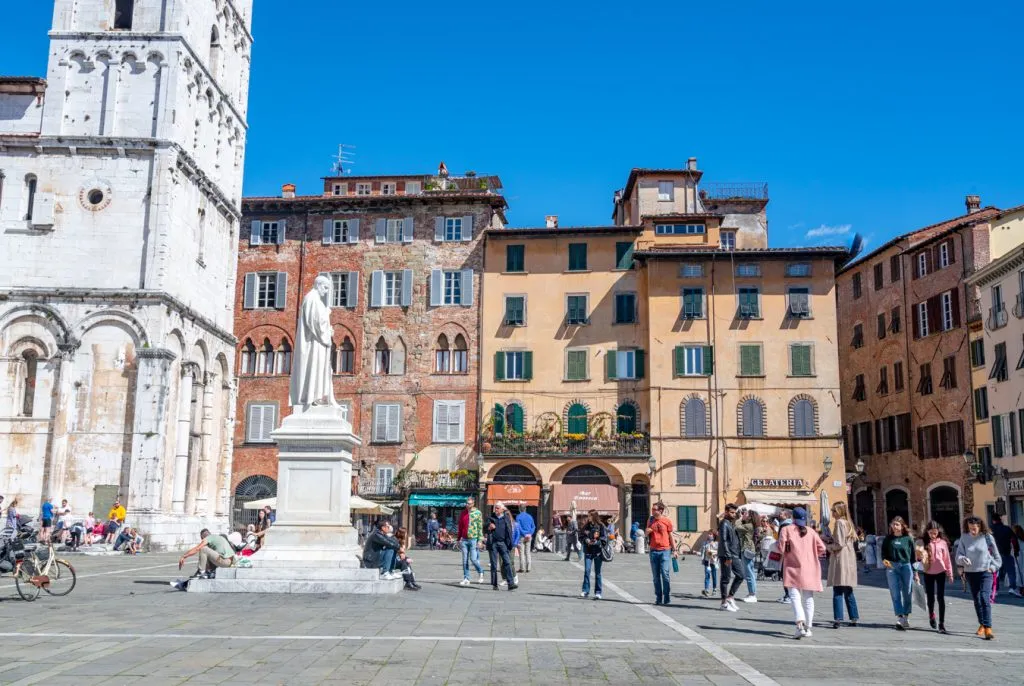 Luxury
Palazzo Rocchi — Housed in a historic palazzo, this gorgeous property in the heart of Lucca's historic center is the perfect place to stay in the City of 100 Churches!
With a mix of suites and apartments to rent, Palazzo Rocchi offers unforgettable decor, views, and service–plus breakfast, of course.
Vacation Rentals
Hoping to rent a private home or apartment instead of checking into a hotel?
For a large group, we can enthusiastically recommend this villa about 15 minutes outside of Lucca–my extrended family enjoyed it so much that we rented it twice!
For a couple or small family, we loved staying in this beautiful apartment on a quiet street in the historic center.
Can you visit Lucca and Pisa in one day?
One of the most popular day trips from Florence is to visit both Pisa and Lucca on the same day, which is unsurprising when you realize that many trains between Florence and Lucca stop for a transfer in Pisa!
While you can absolutely spend more than a half-day in Lucca and I firmly believe that it makes an excellent base in Tuscany, if you only have a short amount of time to work with, you can absolutely take a day trip that includes both Lucca and Pisa.
In Lucca, we recommend prioritizing the city walls, Piazza dell'Anfiteatro, and Torre Guinigi, plus some general wandering in order to appreciate the atmosphere of the city.
In Pisa, you'll want to head directly to the Piazza dei Miracoli, or "Field of Miracles", where you'll find the leaning tower (you'll need an advance reservation if you'd like to climb it), the Baptistery, the Duomo, and the associated museum.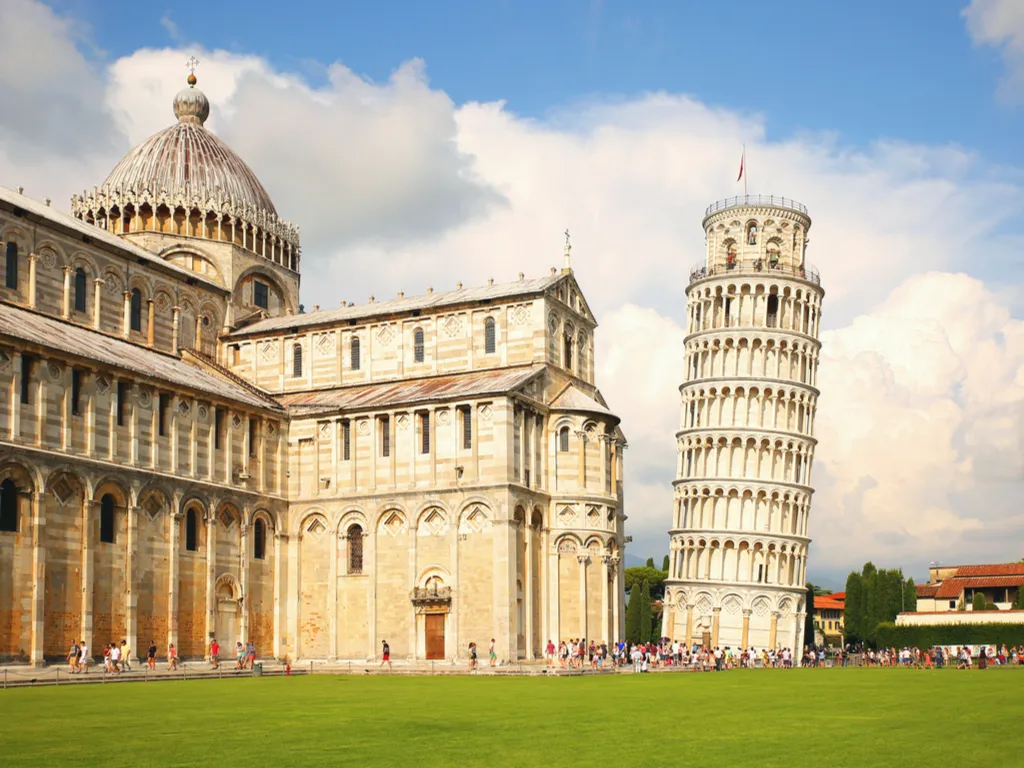 If you're traveling independently, the best way to visit both cities is via train, and you can search timetables and ticket prices through Omio.
Prefer the context of a tour?
This day trip to Lucca and Pisa gets great reviews and will allow you to see both cities without needing to manage transportation.
Shop train tickets to Lucca or book your tour today!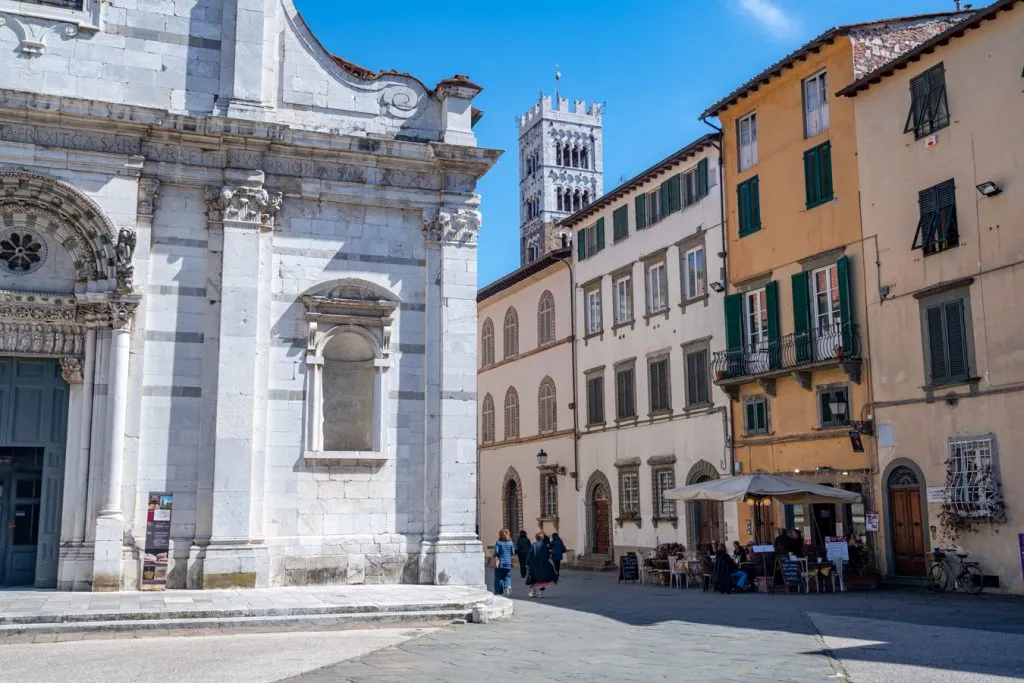 Getting Around When Visiting Lucca
Lucca's historic center is a delightful (and almost perfectly flat!) maze of cobblestone streets, making it the perfect place to get around by foot or on bike.
If you're staying in the historic center, you won't need anything else to get around during your stay in Lucca.
The train station is located just across the street from the city walls.
If you arrive by car, there's ample parking available around the edges of the walls, too.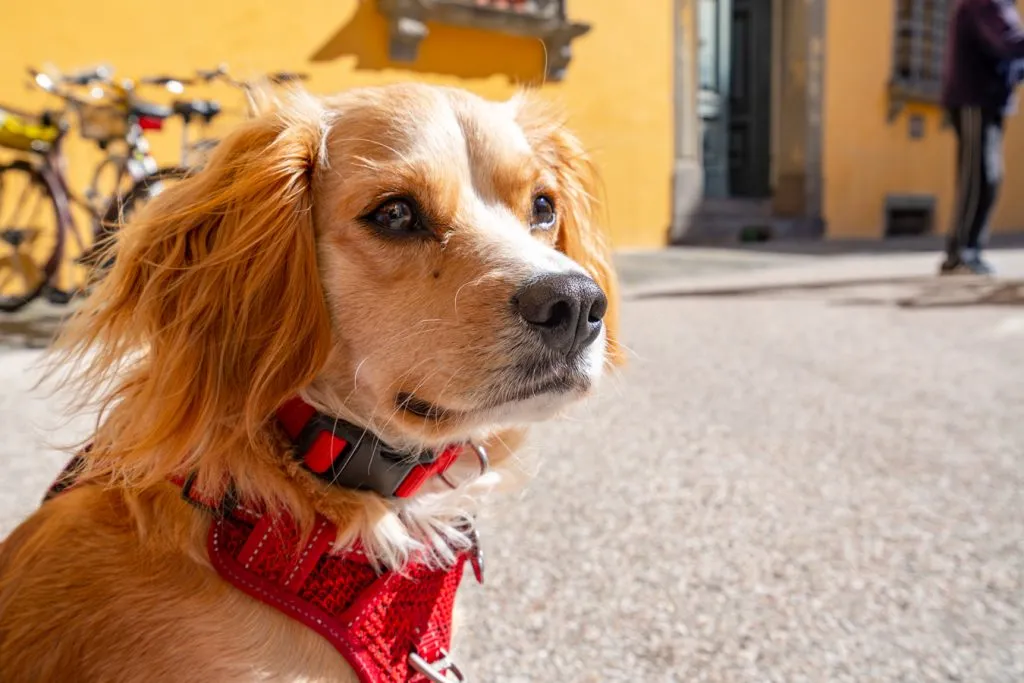 When to Visit Lucca, Italy
Like much of Tuscany, Lucca can be both hot and crowded during the popular summer months (though it does stay a bit cooler than nearby Florence).
Spring, especially April and May, and fall, especially September and October, are ideal times to visit.
Apart from weather concerns, Lucca is also known for its festivals.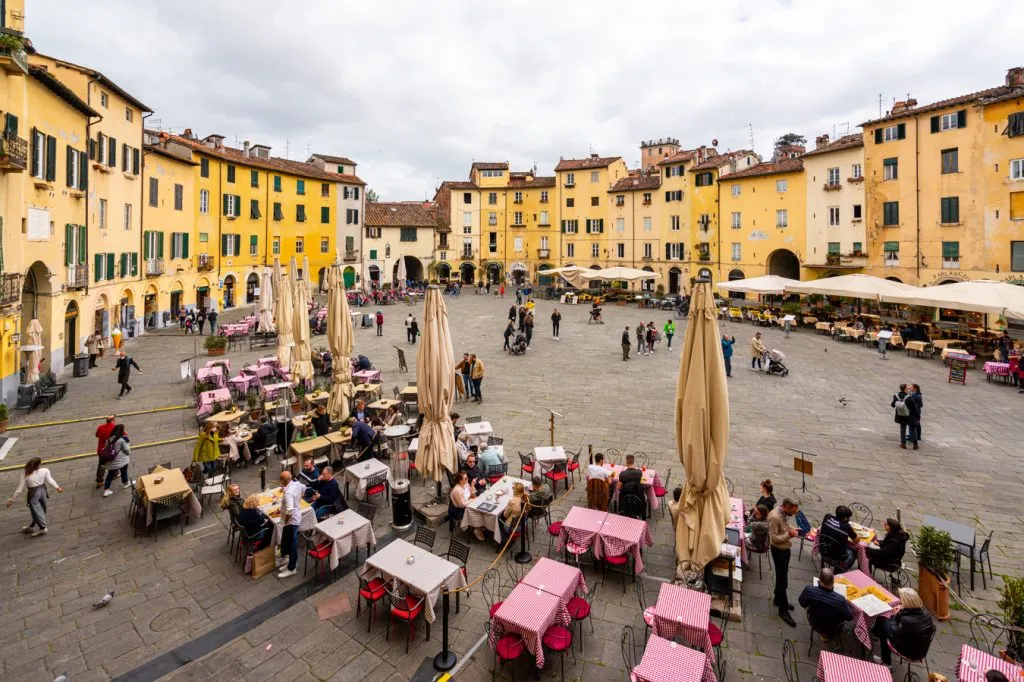 The Lucca Summer Festival (held in July) and the Lucca Comics & Games Festival (held in late October) in particular can draw crowds.
Depending on your plans, visiting Lucca when a festival is going on might be the best or the worst time to visit.
At its heart, though, laid-back, beautiful Lucca is enjoyable year-round, and you can enjoy the best things to do in Lucca no matter when you arrive!