It didn't take long for Nicaragua to become one of our favorite countries in Central America. It's more affordable than Costa Rica, Panama, or Belize. It feels safer and more laid back than Honduras. It has enough adventure activities available to rival Guatemala.
And, as a plus, the landscape is varied and gorgeous, and the entire country is dripping in color.
What's not to love?
Truthfully, by the time we got to Nicaragua, we were tired. We'd been traveling south from Mexico City for about four months at that point, and weren't as excited about organized excursions or touristy things to do in Nicaragua as we were at the beginning of our time in Latin America.
Nicaragua became a favorite anyway, though, and part of the reason for that was that it didn't demand a lot of excursions to enjoy: Nicaragua simply swallowed us up, allowed us to relax, and still managed to show us some incredible sights along the way.
Here are some of our favorite photos:
The Leon Cathedral is an UNESCO World Heritage Site for a reason–the blindingly white rooftop (seriously, we could barely keep our eyes open–every photo of us on the rooftop that shows our faces features some very dramatic squinting) is incredibly beautiful. It's also reminiscent of another far-flung destination: we haven't visited the village of Oia on Santorini yet, but I kind of felt like we were there when standing on this rooftop!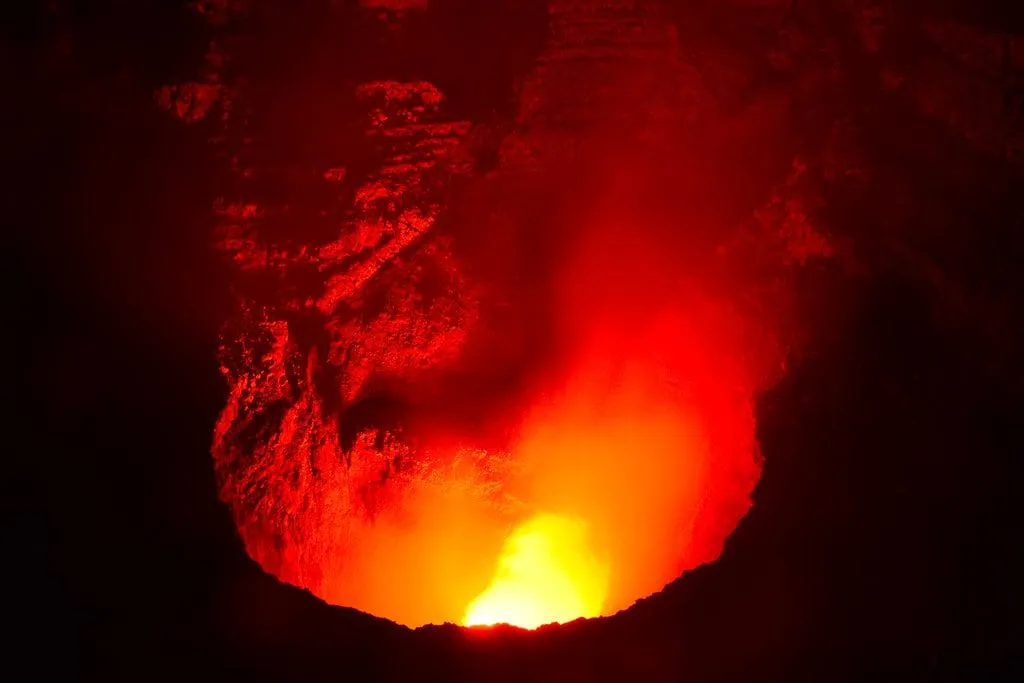 There's just something about staring at lava that pulls you in and demands your full attention. Visiting the Masaya Volcano and peering into a lava-filled crater at night should absolutely not be skipped while visiting Granada.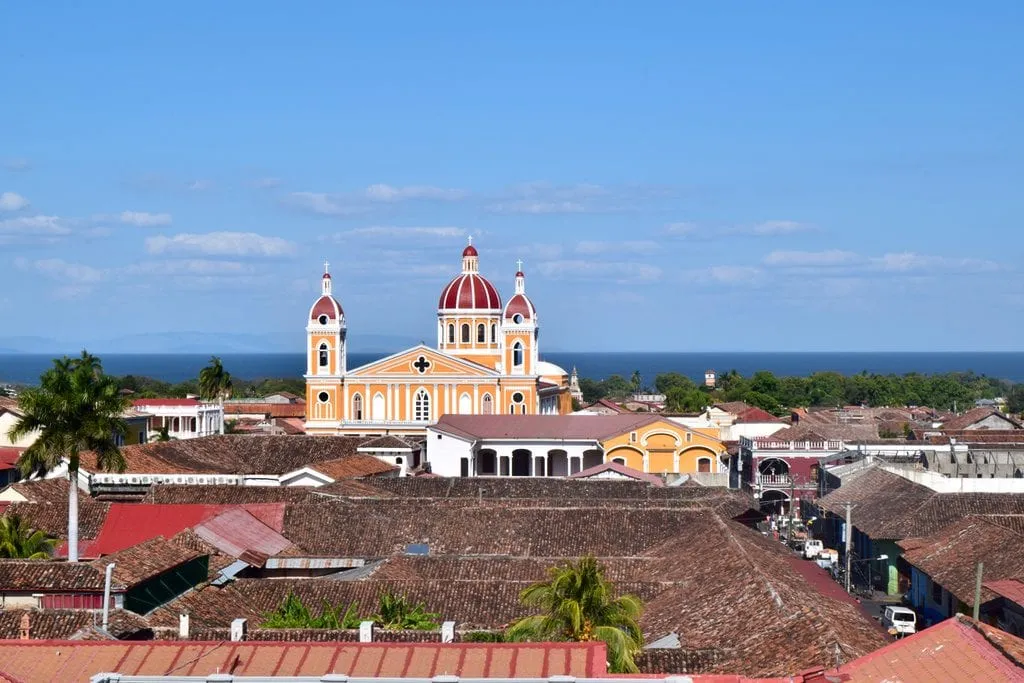 The classic view of Granada's mustard-colored cathedral from the top of Iglesia de Merced is as good as advertised. If you didn't know better, the massive Lake Nicaragua in the background is easy to mistake for the ocean.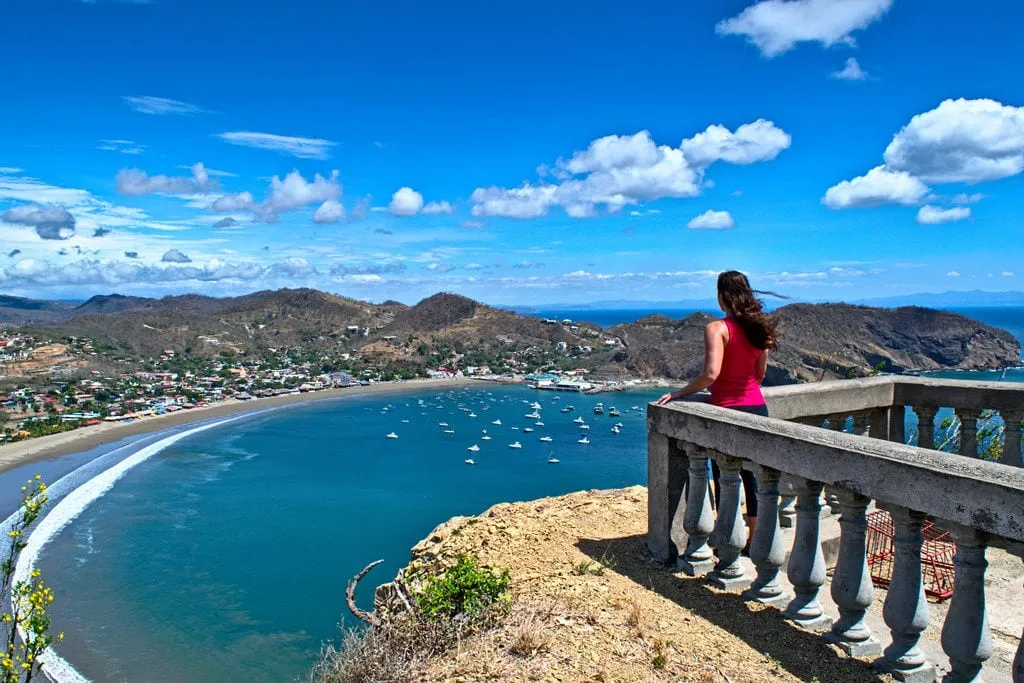 Possibly my favorite view in Central America is the view of San Juan del Sur from the Christ of the Mercy statue that overlooks the town. The hike up to the statue will leave you sweaty, but look at that beach–easily one of the prettiest beaches in Nicaragua if you ask us.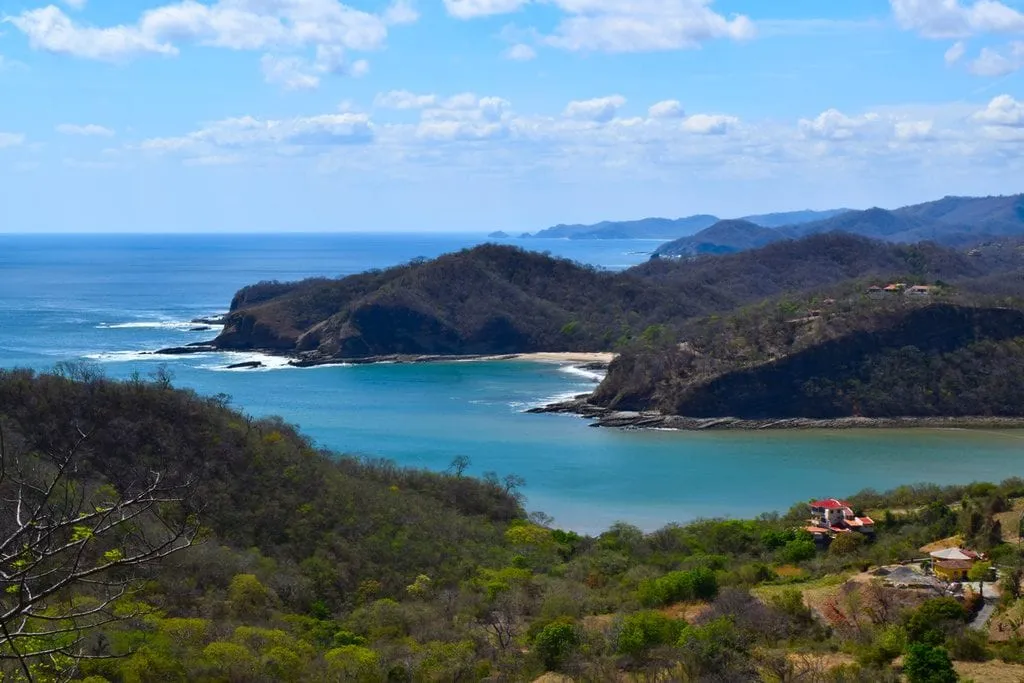 … And if you turn around and start hiking back down, you get views of wild coastline like this. Swoon. Is it any wonder we found ourselves falling for Nicaragua?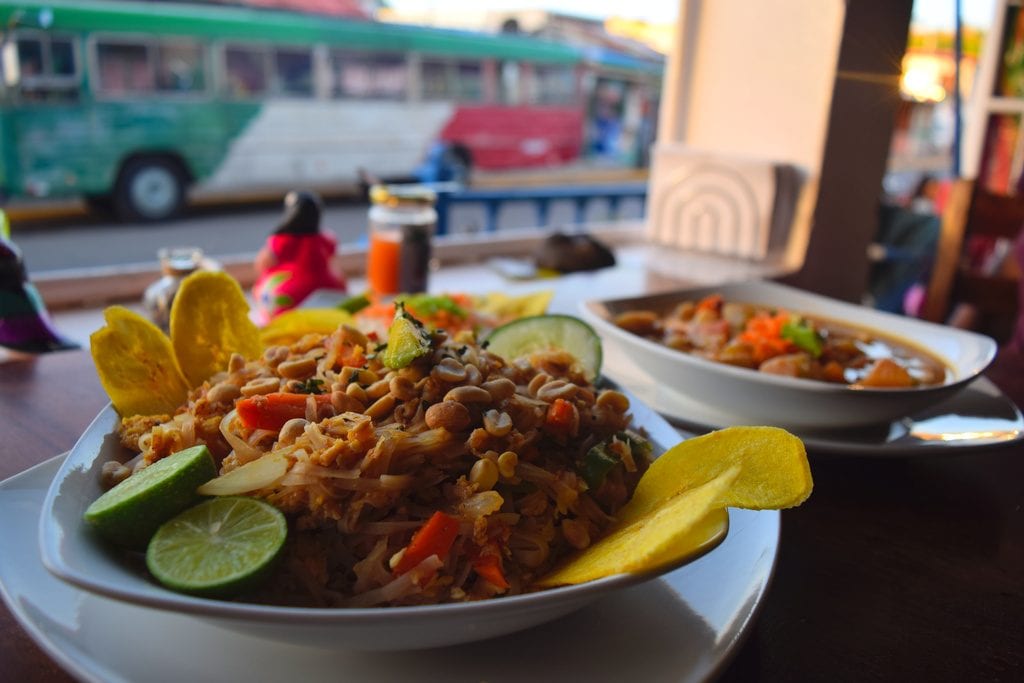 Truthfully, this Thai food that we ate in San Juan del Sur was pretty terrible (and very expensive). But, I have to admit that I still love having a photo of Pad Thai and Thai Red Curry with a Nicaraguan chicken bus in the background.
Our day horseback riding with Rancho Chilamate was easily one of our favorite days in Central America–even without the incredibly awesome experience of galloping the horses along this beach at sunset, the views of the Pacific coast alone were magnificent.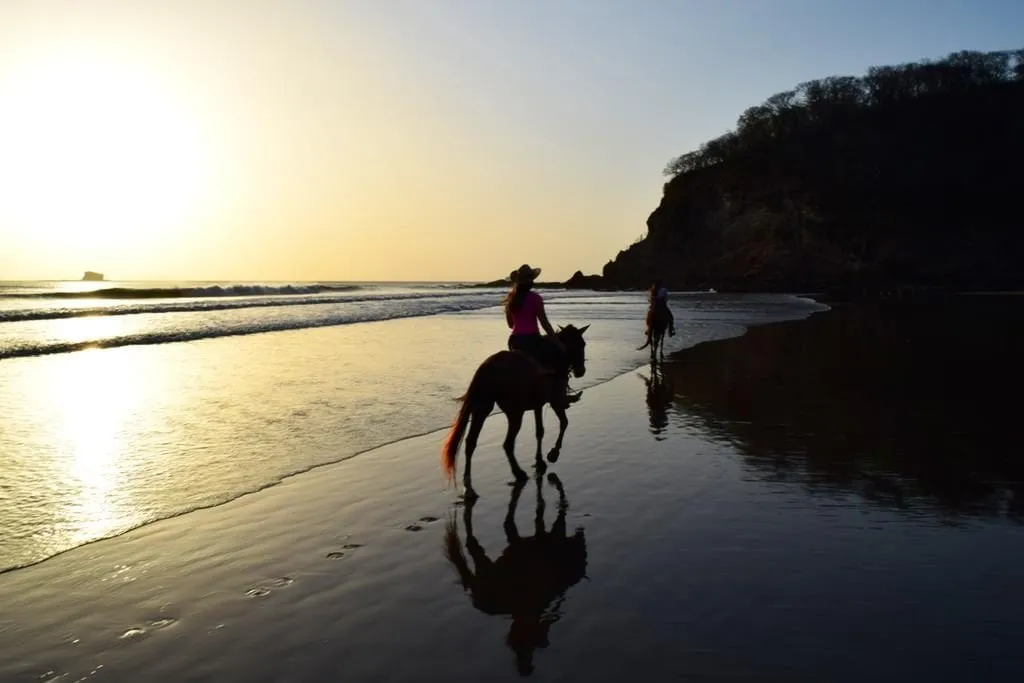 Seriously, that sunset. That horse. Those waves.
Read Next: Horseback Riding in Nicaragua with Rancho Chilamate
San Juan del Sur's main beach is considered fairly dirty, though it didn't seem too bad to us. The view of the sailboats definitely makes it worth stopping by!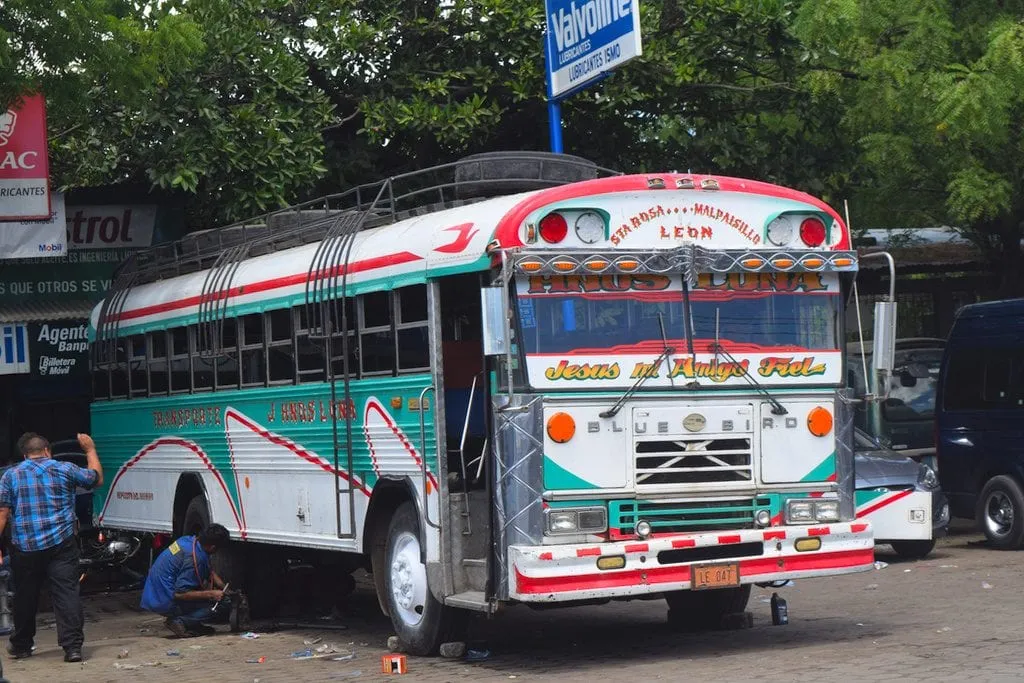 A chicken bus in Nicaragua is not ready to hit the road until it is insanely colorful and decked out with plenty of Jesus references–each bus is unique, and we found ourselves photographing them every chance we could.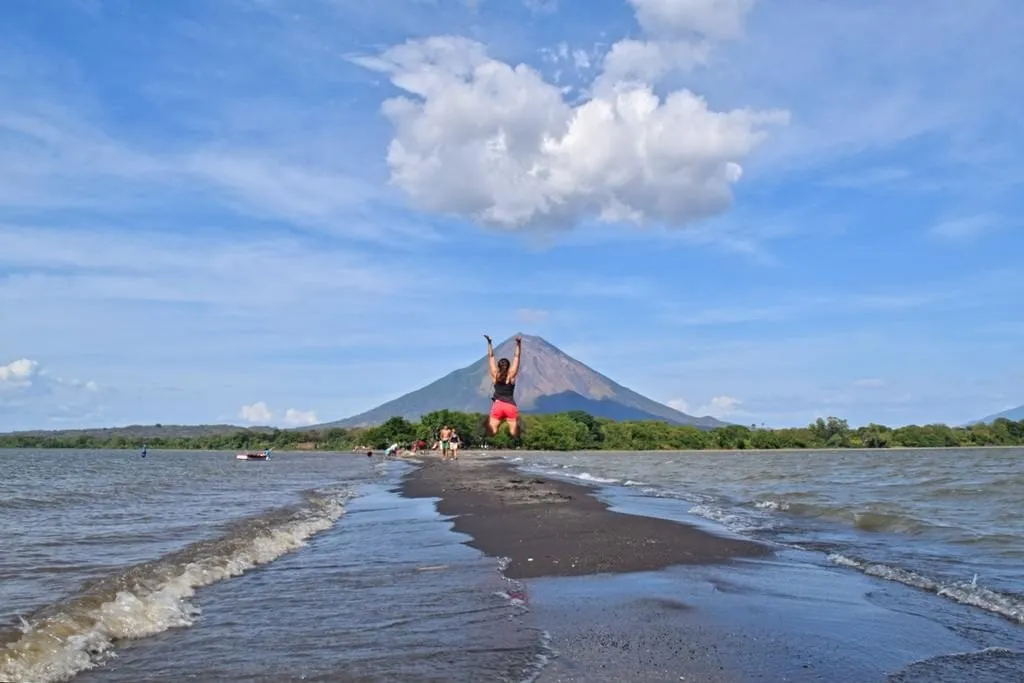 This sandbar on Isla de Ometepe stretches far out into Lake Nicaragua, allowing us to get great views of both of the island's volcanoes–with minimal effort. Our hike up Volcano Acatenango in Guatemala was still fresh in our minds during our time on Ometepe, and we were not interested in climbing one of Ometepe's challenging volcanoes on this trip. Maybe next time!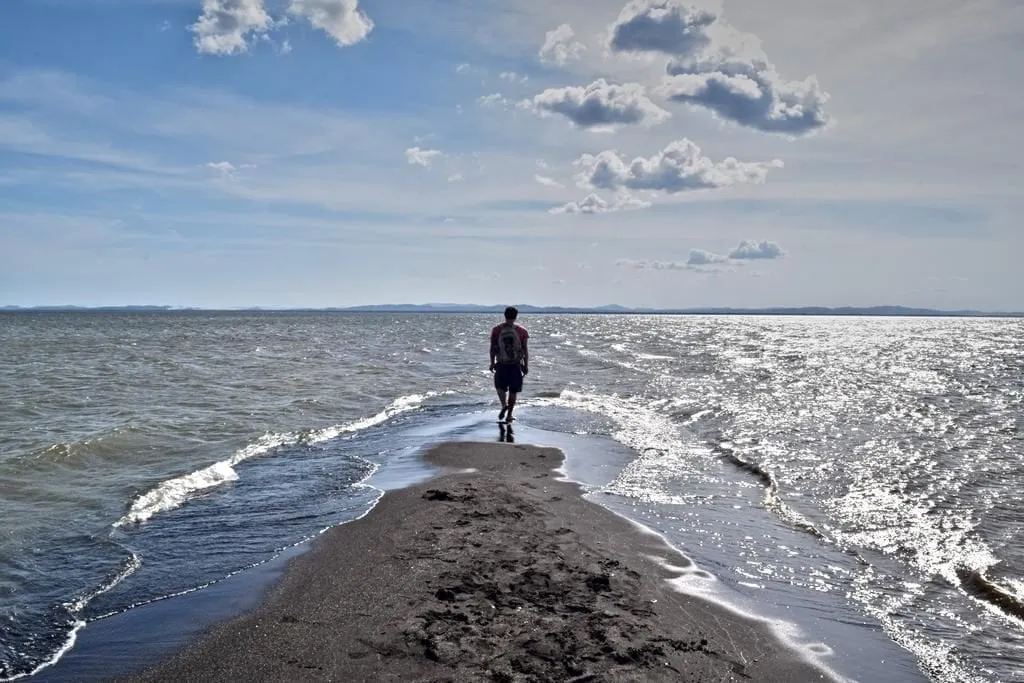 The view looking out toward the end of the point wasn't bad, either!
There's no doubt about it: the best sunsets we saw in Nicaragua were on Ometepe.
Where We Stayed in Nicaragua:

Leon: Central Lodge Hostel — This small hostel was basic, but exactly what we needed. It was quiet and clean, the a/c worked, and it was just a five minute walk to the main square of Leon.

Granada: Our Airbnb in Granada was one of our favorite Airbnbs of all time: it was extremely clean, very modern with plenty of nice finishes, and had a private plunge pool inside the apartment–what's not to love? The owners couldn't have been nicer or more helpful. Never used Airbnb before? Sign up here to get a discount on your first trip!

San Juan del Sur: Moke Huhu Guesthouse — We called Moke Huhu home in San Juan del Sur. The property is in a great location, right in the center of town and a short walk from the beach. The first room we were put in here was both cramped and loud, but when we upgraded to a larger room with an ensuite bathroom for an extra $5/night, our experience at Moke Huhu got much better. We wouldn't hesitate to stay here again if we head back to San Juan del Sur and are looking for a budget hotel.

Ometepe: Hotel La Punta Resort — This hotel wasn't sure what it was trying to be. It billed itself as a resort, but operated more like a hotel–the large dining room was only open for breakfast (even though most restaurants and shops cost $15 USD round trip to access by tuk-tuk and were too far away to walk to). They didn't sell tours, but there wasn't a good place to access any outfitters within walking distance. Essentially, it was a nice, quiet hotel that didn't make any effort to compensate for its beautiful, but remote, location. We will definitely stay closer to town if we visit Ometepe again.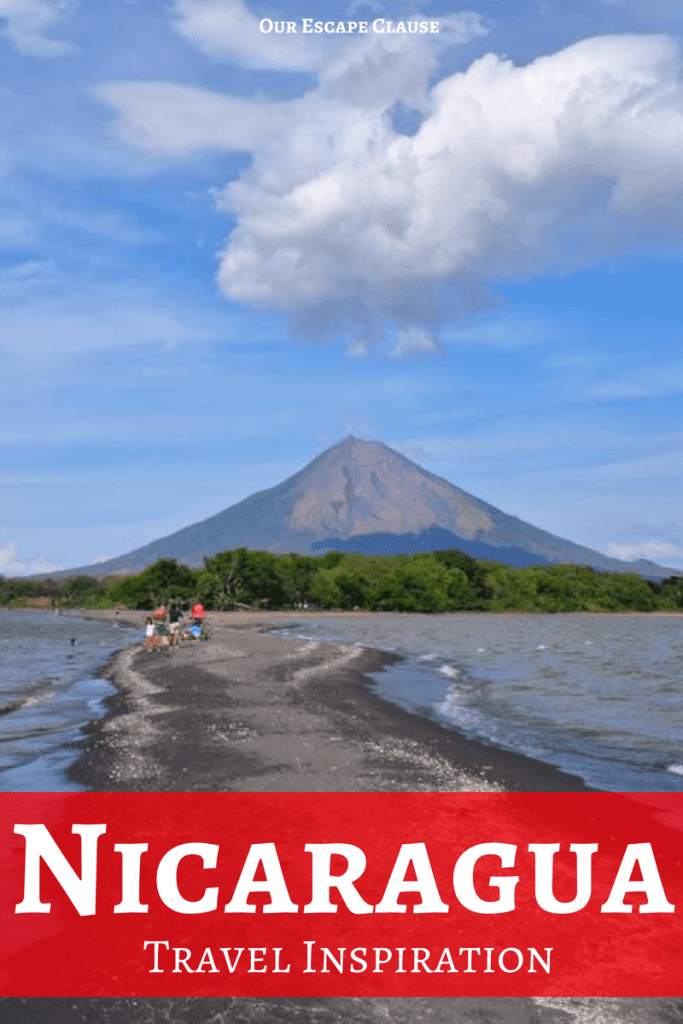 Some links in this post are affiliate links. If you click through one of these links, we may earn a small commission at no extra cost to you. We are committed to only ever recommending products and services that we personally use and like.