Confession: we touched down in Palermo expecting to find a hectic, potentially overwhelming city. A city somewhat like Naples–somewhere where the traffic felt vaguely perilous, hawkers crowded the streets, and getting oriented required effort. That is not at all what we found.
Sure, there are plenty of fun things to do in Palermo, and the city certainly feels a bit rough around the edges in a way that is expected in southern Italy, but overall, we found Palermo to be an incredibly laid-back, relaxed place.
Palermo is a city where palm trees are ubiquitous, the food and wine are both delicious and affordable, the history is compelling, and the architecture beautiful.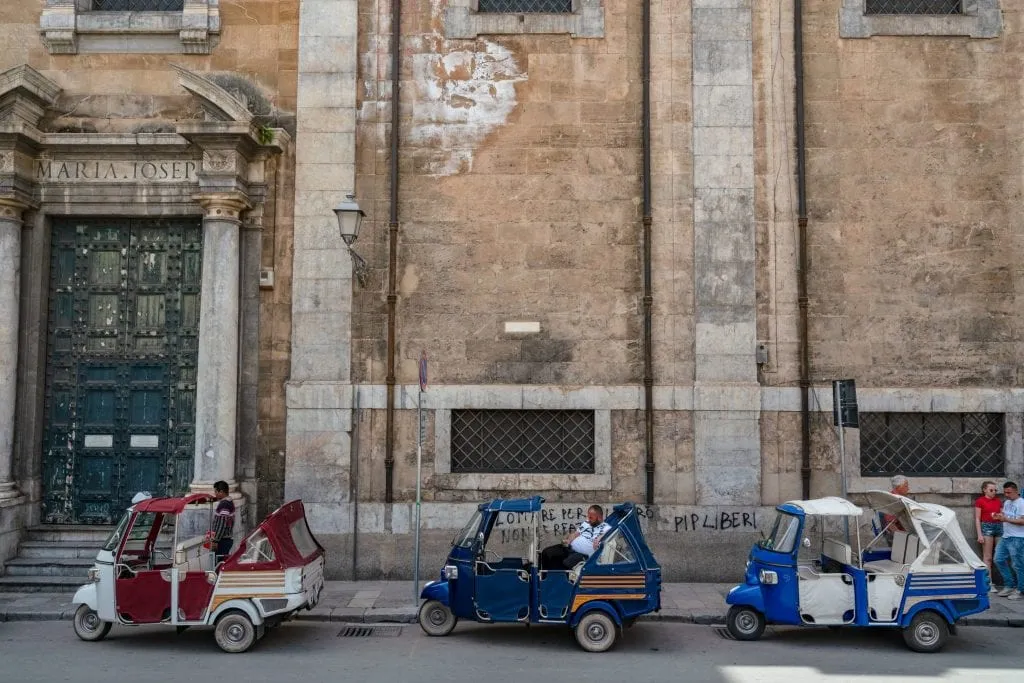 Some links in this post may be affiliate links. If you make a purchase through one of these links, we may earn a small commission at no extra cost to you. Please see our

disclosure policy

for more detail.
It is also a city that is, to be perfectly honest, is slightly disheveled in a way that is somewhat stereotypical of Sicily. Graffiti and crumbling buildings aren't hard to find, especially if you step outside the usual tourist trails. Take a wrong turn, and you might suddenly find yourself in a very different looking Palermo.
Even still, Palermo is somewhere we found ourselves excited about exploring each day, where every day felt like a bit of an adventure, but the travel was still fairly… easy. Our normal Italy morning routine of coffee at a bar followed by exploring was easy to fall into here, and when our time was up, we found we weren't at all ready to leave Palermo.
If you're hoping to fall in love with the city, here are some of the best things to do in Palermo!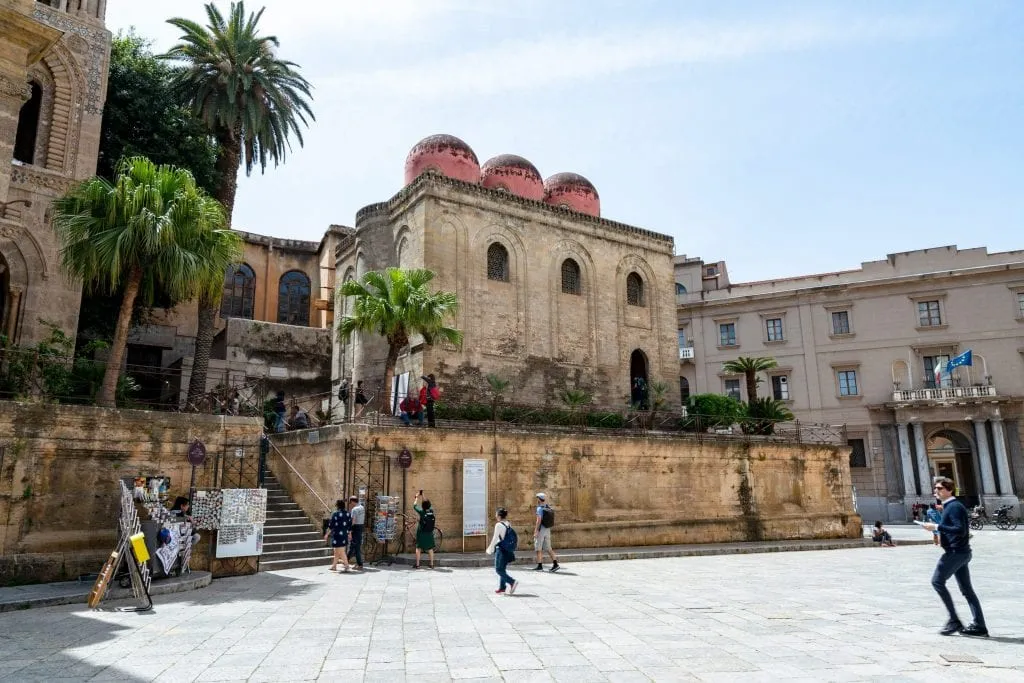 The Best Things to Do in Palermo
Marvel at the Palermo Cathedral.
The distinctive and beautiful Palermo Cathedral absolutely belongs at the top of your list of things to do in Palermo: dating back to the 12th century, this cathedral is one of the most important religious buildings in the city.
Like many structures, it grew and changed many times over the centuries, resulting in a beautiful cathedral that is home to a combination of many architectural styles.
It's also home to some very unique touches, like a sundial on the floor marked with zodiac signs and an inscription from the Quran on one of the columns near the entrance–both highly unusual for a Catholic church!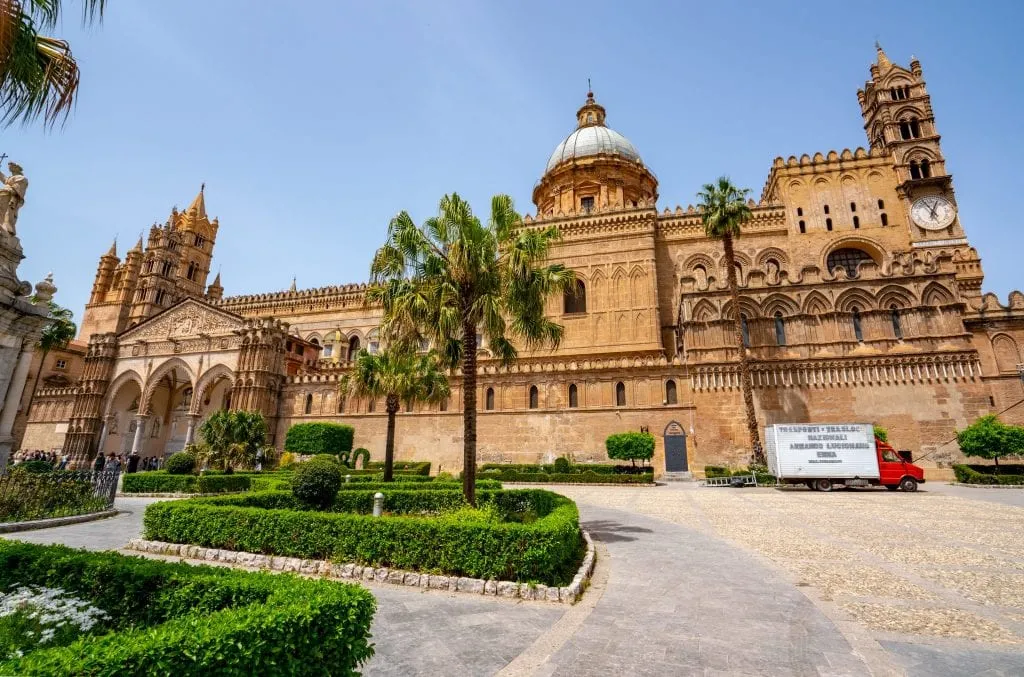 Hit up the markets.
Palermo's markets are absolutely among the best things to see in Palermo: food is such an important cultural component to the region, and the markets are an excellent place to get a (literal) taste of it, whether that's through picking up fruits and veggies, haggling over fish, or grabbing a piping hot arancina to munch on.
Here are three of the most popular markets to visit in Palermo.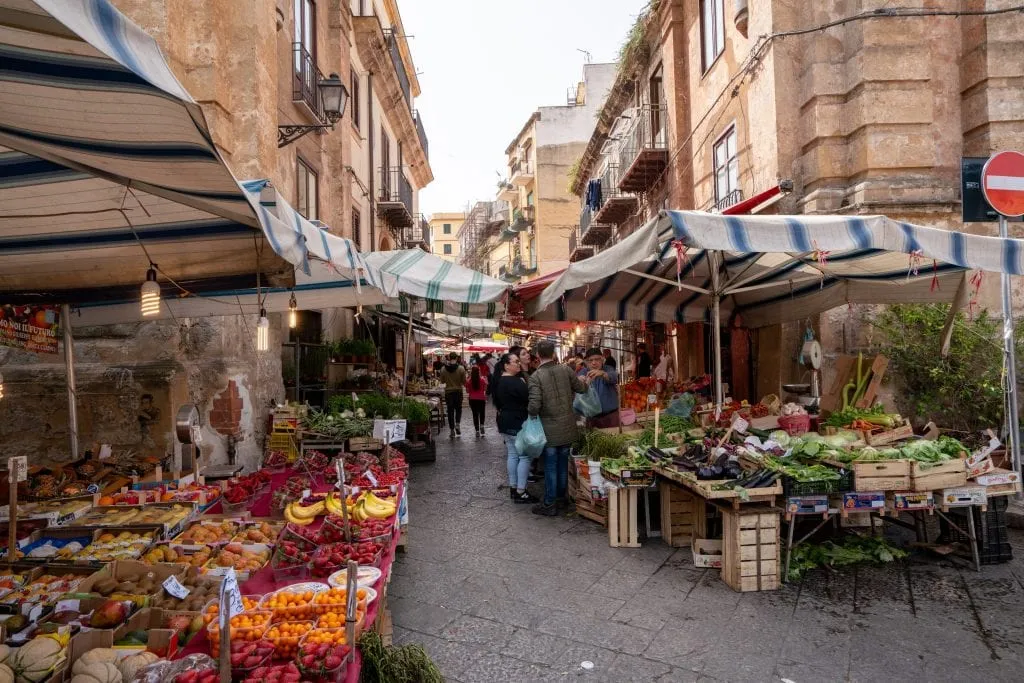 Vucciria
Once a major food market in Palermo, Vucciria's daytime offerings have quieted down over the decades (and more and more tourist stalls have popped up in their place). We heard from several Sicilians, and confirmed with our own eyes, that the best time to visit Vucciria is at night–if you want to see this market, consider heading this way for an apertivo!
Ballaro
The largest (and sometimes considered the oldest, though that's tough to verify) food market in Palermo, Ballaro is a place of sensory overload: sights, smells, and sounds (especially from the vendors!) all combine to make the Ballaro market a distinct and unforgettable place to visit in Palermo.
Capo
This is the market we heard quoted as the most "local" and active food market in Palermo–and from what we could see on our visit, that certainly seems accurate!
Tourists and tourist-centered stalls were definitely present (us included), but so were many locals picking up their lunch, as well as ingredients for the night's dinner.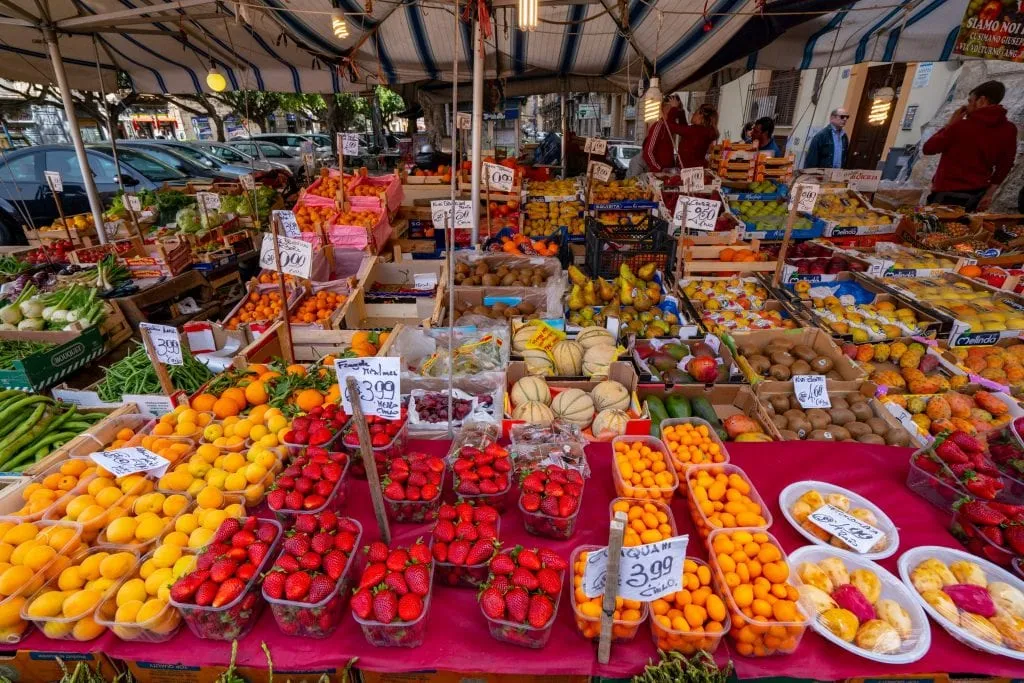 Get to know the city on a street food + walking tour.
Walking tours are a fun way to orient yourself in a new city–add in some delicious Sicilian street food, and the morning is bound to be just about perfect!
We adored our street food tour that we booked with Fabrizio through Get Your Guide. Not only was Fabrizio a fabulous, knowledgeable, and entertaining guide, the street food was incredible.
Throughout our 3 hour tour, we stopped by city highlights like the Massimo Theatre and Palermo Cathedral, wandered through the Capo Market while learning about Sicilian cuisine, and ate hearty portions of some incredible street foods. Sicily's two most famous street foods, arancina and cannoli, were of course both included (and completely delicious).
We would highly recommend this tour to anyone heading to Palermo who wants to combine a bit of city knowledge with tasty food! Since this is a combo walking + food tour, don't expect to leave completely stuffed–but even with that consideration, we still skipped breakfast and weren't sorry about it!
Book your history + street food walking tour today!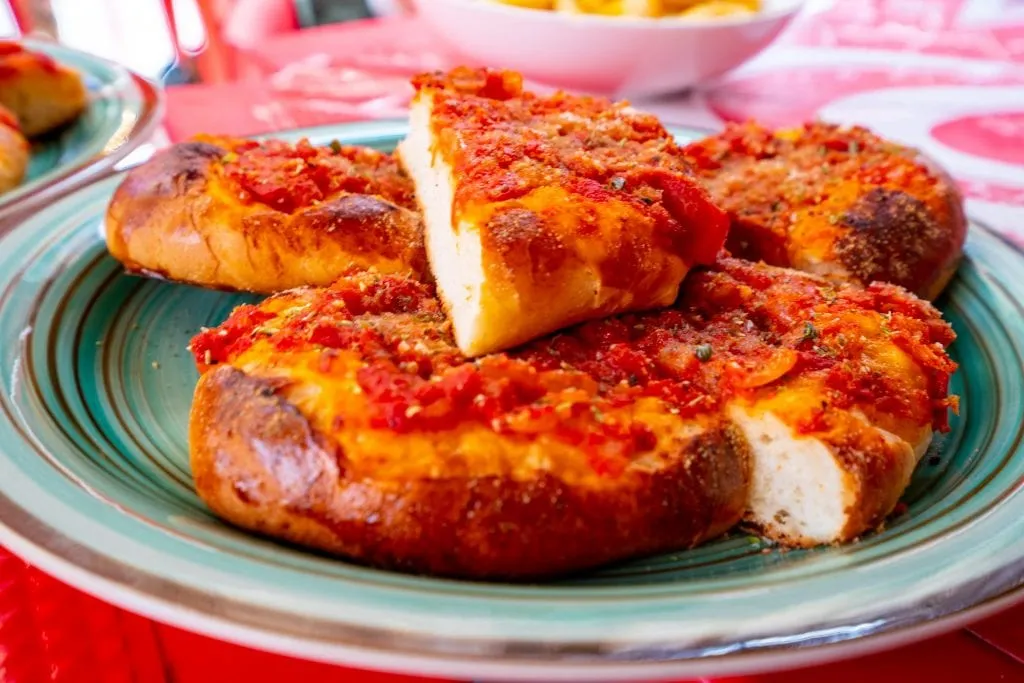 Tour the Palazzo dei Normanni.
Sicily has spent many centuries at the crossroads of power, and that is certainly evident in its palace: the Palazzo dei Normanni is built over an Arab palace, served as the seat of the Norman Kings of the Kingdom of Sicily beginning in the 11th century, and has been used by many others since–including the Sicilian Regional Assembly.
Today, visitors mostly come to see the stunning Cappella Palatina with its UNESCO-listed mosaics, though other parts of the palace are sometimes open to visitors as well.
Check out the Porta Nuova.
Located right next to the Palazzo dei Normanni, the Porta Nuova is one of the few remaining city gates in Palermo and opens right into Cassaro, Palermo's main street, so to speak (the Palermo Cathedral is just a short walk down the street, for example).
It's easy to stop by the Porta Nuova and doesn't take long to see–definitely be sure to add it to your list when deciding what to do in Palermo!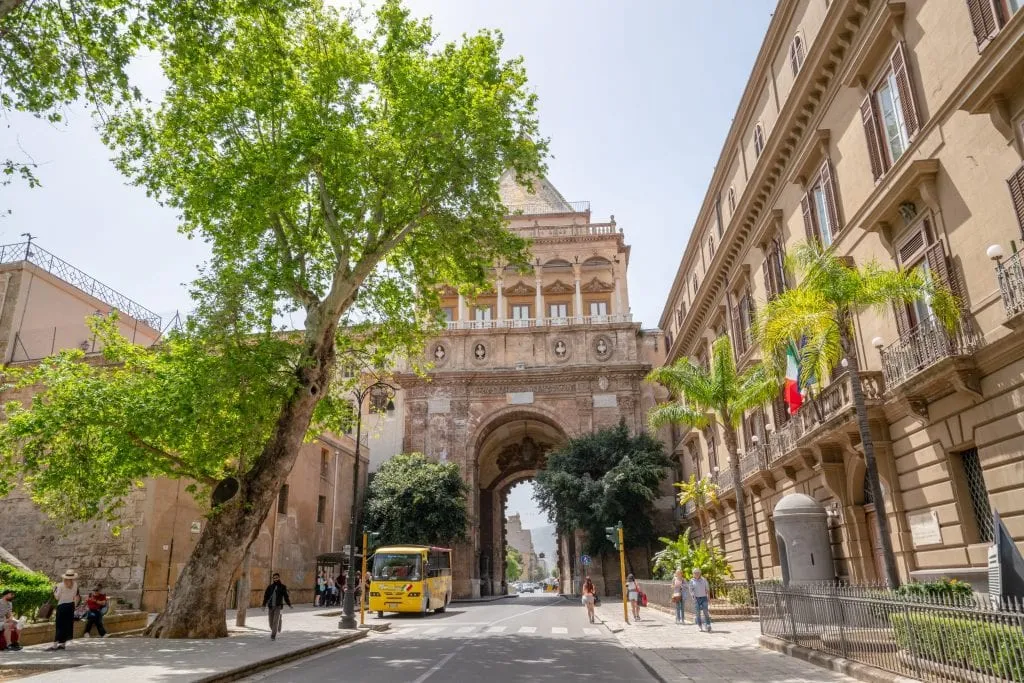 Stop by the Quattro Canti.
The most famous intersection in Palermo, Quattro Canti is situated at the crossing of Palermo's two main streets–and it is beautiful enough that even though its main purpose is still to be a functioning intersection (cars and Vespas weave between the gawking tourists), it's well worth a visit.
Though we passed through Quattro Canti just about every day that we were visiting Palermo, it was on our tour with Fabrizio that we first learned at each of the four sections each represent one of the four seasons, one of the four Spanish kings of Sicily, and one of the patronesses of Palermo (though not the best-known one, Saint Rosalia, because she was sainted after Quattro Canti was built).
It's those kinds of details that are so easy to overlook without a guide, and we're glad we got to hear the history of the area firsthand!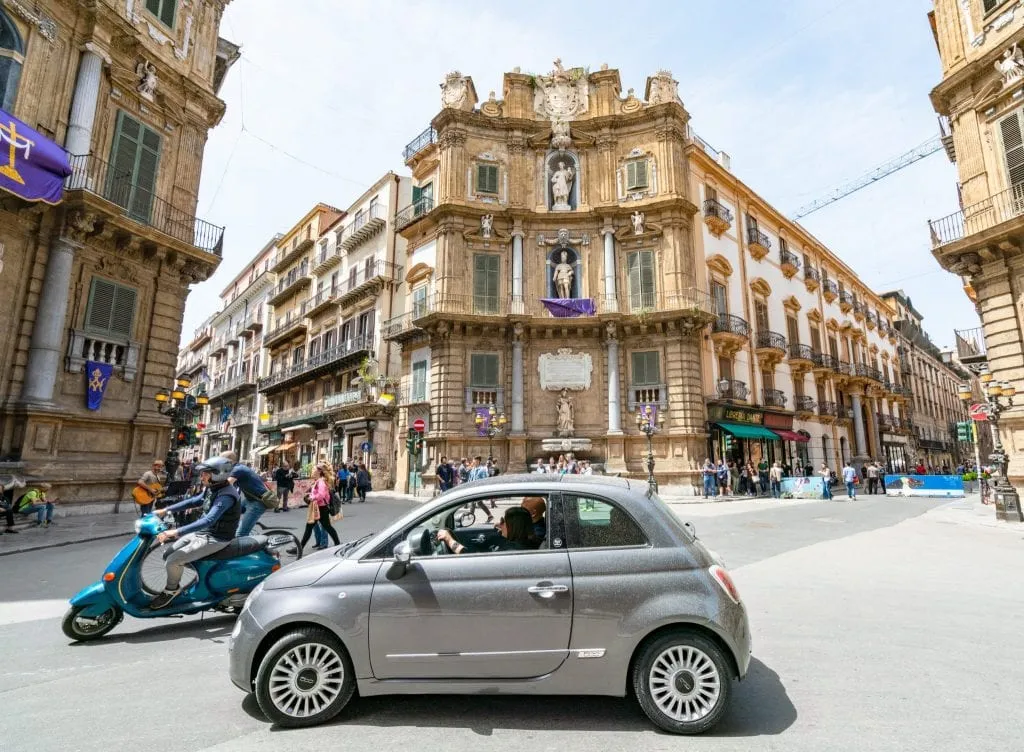 Indulge in some Sicilian desserts.
Cannoli are possibly Sicily's most famous export and arguably one of the most delicious Sicilian foods: the crunchy pastry shell is deep-fried and then stuffed with ricotta cheese, and is an incredibly delicious treat.
Cassata, though not as well-known as cannoli, is another ubiquitous Sicilian dessert. Made from a sponge cake soaked in liqueur or fruit juice, the cake is then layered with ricotta and topped with marzipan. We most commonly saw it served with candied fruit on top as well!
Cassata wasn't our favorite dessert–it is just so rich–but it is tasty, and if it sounds like your kind of cake, is definitely worth trying while visiting Palermo!
Cannoli (which is the plural form–a single treat is a cannolo), on the other hand, are exactly our kind of dessert, and we couldn't get enough of them.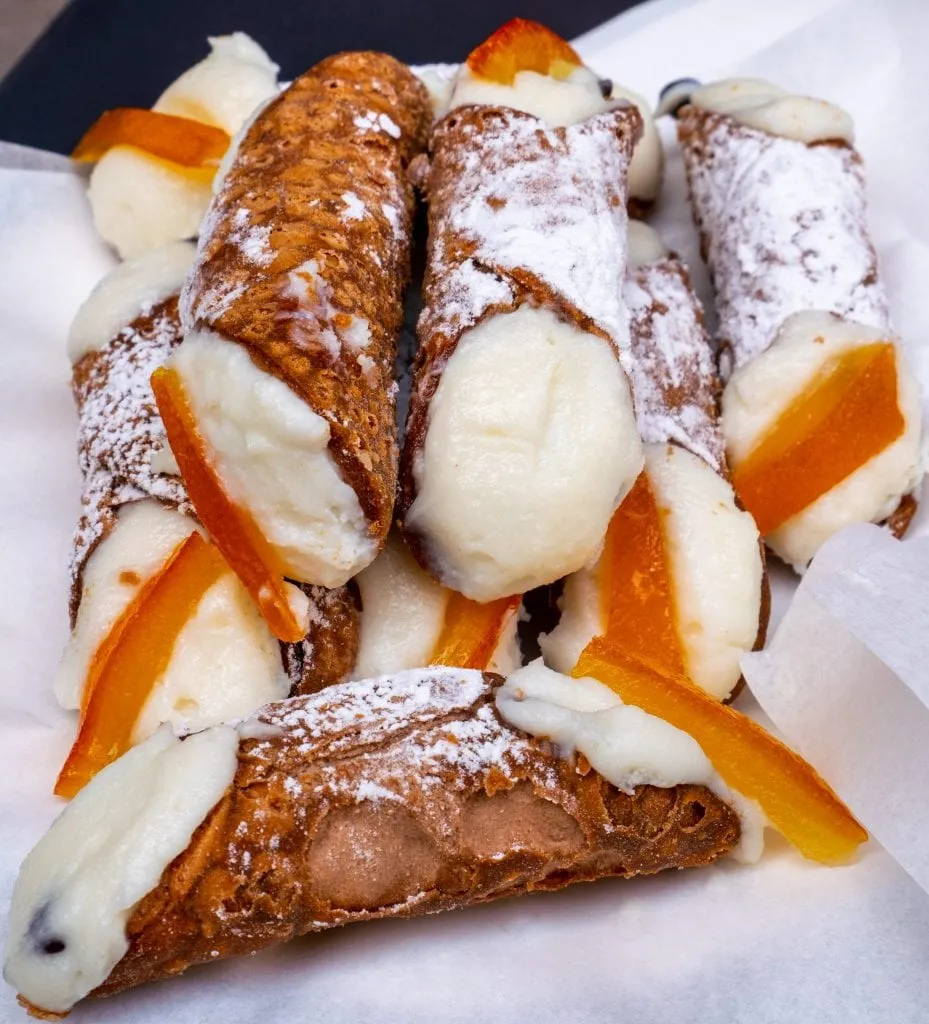 Visit the wildly interesting (and very creepy) Capuchin Catacombs of Palermo.
The Capuchin Catacombs of Palermo are, hands down, the creepiest and most bizarre catacombs we have visited–and that includes the Capuchin Crypt in Rome, which previously held this record.
From the 17th to the 19th century in Palermo, increasing numbers of people were mummified in these catacombs–some naturally, and later intentionally, preserving them for all eternity.
The walls of the catacombs are lined with clothed bodies that have their full skeletons intact, staring down at visitors with sometimes disturbingly aware facial features. The catacombs are divided into sections and hold corridors for men, women, children, priests, and even a separate section for virgins.
There's also a mummy of a two-year-old that is considered to be the "most beautiful mummy in the world" that calls these catacombs home. "Beautiful" and "mummy" are two words that don't really belong in the same sentence as far as I'm concerned, but the preservation is impressive.
No photos are allowed inside, but I can't impress enough the creepiness of this place–I think it has something to do with the fact that these people are preserved as themselves that adds an extra layer of disturbing to it all, as opposed to places like the catacombs of Paris where the bones are more or less repurposed into artwork using human remains.
If you find catacombs interesting, I highly recommend adding the Capuchin Catacombs to your list of things to do in Palermo–whatever else they are, they are certainly unforgettable.
Step inside the Church of Martorana.
Set overlooking the Piazza Bellini, this beautiful church is an obvious example of just how many cultures have influenced Sicily over the centuries–and for that alone it is worth a visit!
Islamic influences are obvious on the exterior of the church, and touches of Byzantine, Romanesque, and Baroque architecture are clear as well.
My personal favorite part of the church is the stunning 12th-century, Byzantine mosaics that decorate the interior–they are truly spectacular, and I would argue the church is worth visiting for them alone.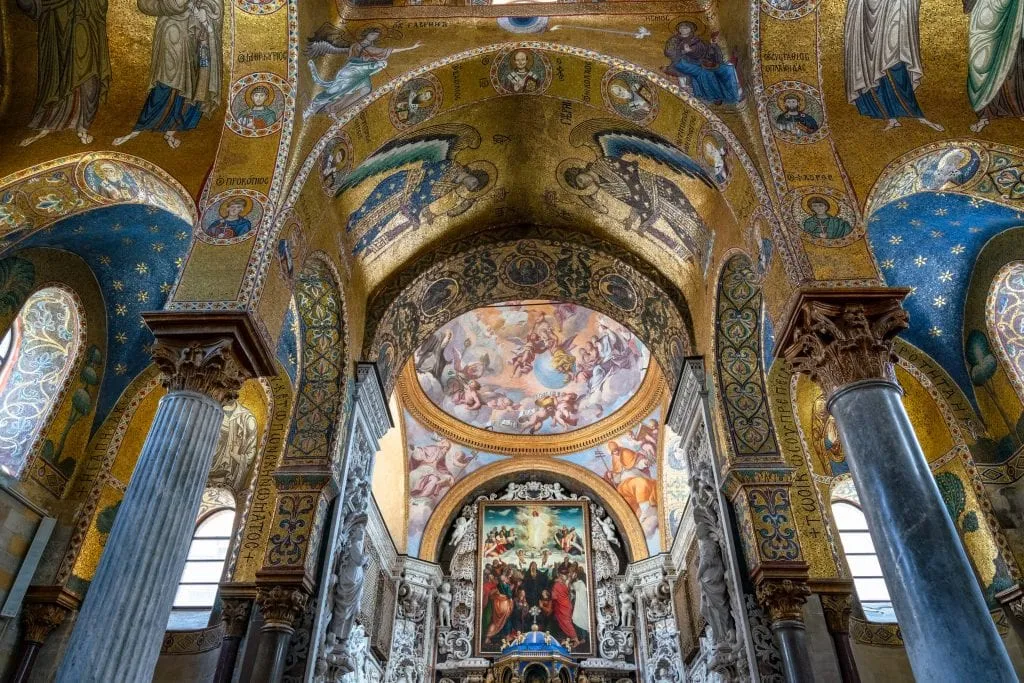 Sip an espresso at the Antico Caffe Spinnato.
Originally opening in 1860, the beautiful Antico Caffe Spinnato is the perfect place to savor a coffee and relax in between jetting around to all the best things to do in Palermo.
Order a drink and a dessert, grab a small outdoor table, and enjoy watching the world go by for a while.
We first tried cassata here, and though it doesn't rank among our favorite Italian desserts, we're glad we tried it and loved sampling a slice in such a peaceful setting!
Admire the incredible Pretoria Fountain.
Originally built in Florence in the 16th century before being bought and moved to Palermo (in a whopping 644 pieces) just a few decades later, Pretoria Fountain is among the largest and most beautiful fountains we have ever seen in Italy, and it absolutely dominates the Piazza Pretoria it calls home.
Though the fountain is considered beautiful now, and should absolutely make your list of things to do in Palermo, Piazza Pretoria was once known as the Square of Shame due to the (many) nude statues that adorn the intricate fountain.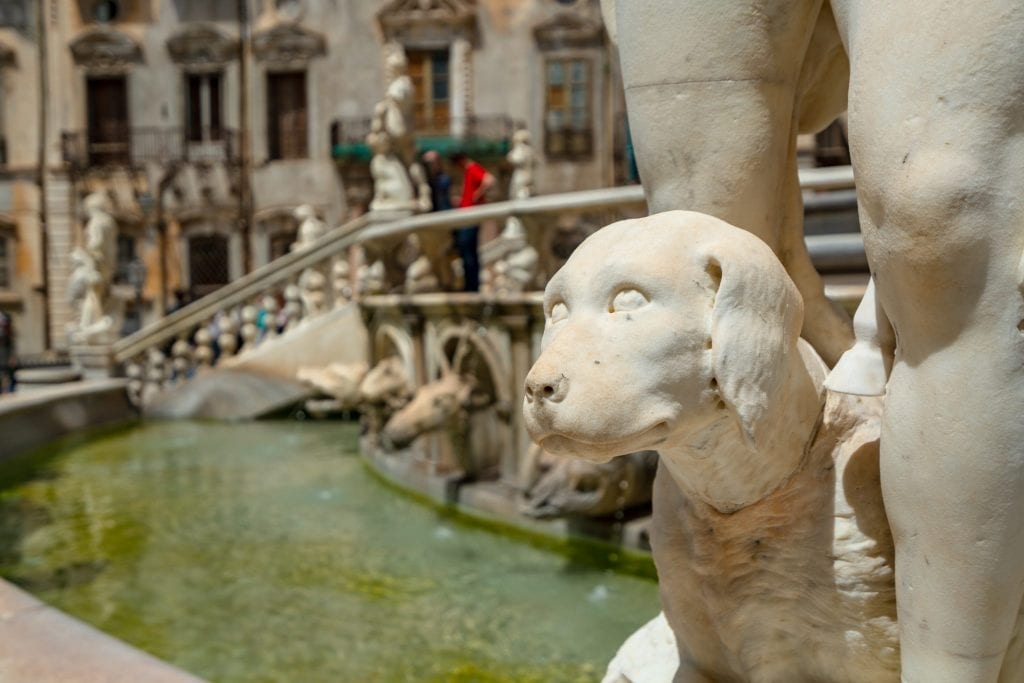 Read The Leopard.
Okay, this is perhaps something you should do before coming to Palermo, but it would also be fun to read here!
One of the most famous novels from Sicily, The Leopard tells the story of a local prince and his family around the time of Italy's unification in the late 19th-century. It's considered a classic and was written by the descendant of the prince himself.
Though the details of the story and personalities of the characters were somewhat invented (or at least interpreted) by the author, the names and basic events are essentially true, and provide a curious look back in time to Palermo and Sicily during its last days before being absorbed into modern Italy.
I considered the book to be a bit slow-moving, but overall very interesting, and I'm glad that I read it before visiting Palermo.
Buy your copy of The Leopard today!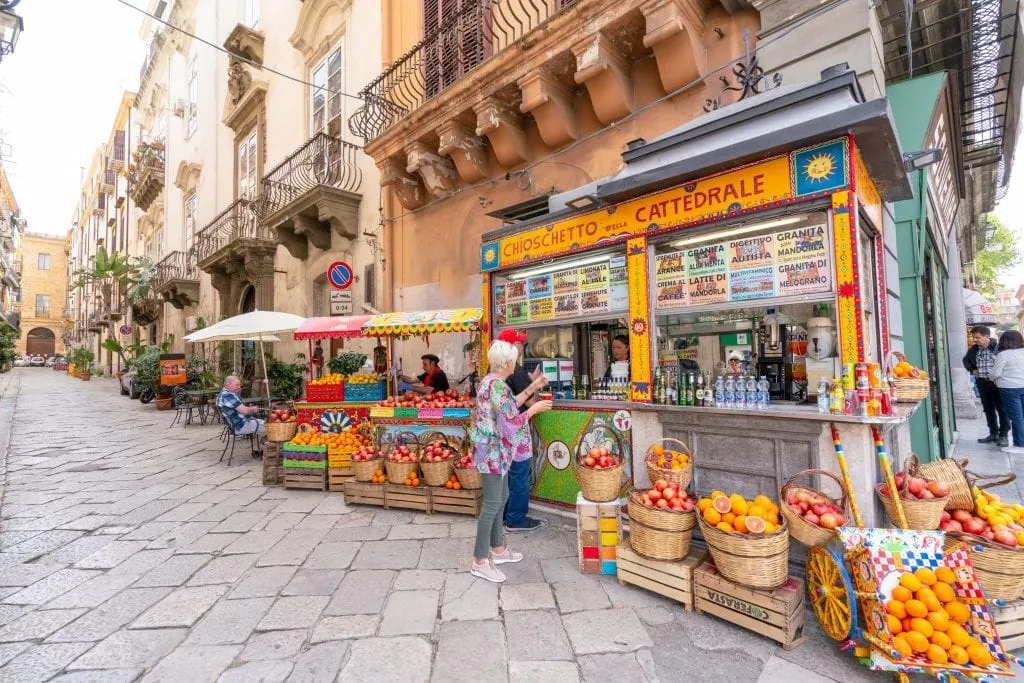 Head over to the impressive Massimo Theatre.
Built in the 19th century, the imposing Massimo Theatre is one of the largest opera houses in Italy, and its grandness is evident even just while climbing the steep steps to the entrance.
Opera fans are welcome to catch a show here–you'll certainly find more affordable tickets here than, say, at the Fenice in Venice–but even those not interested in the opera should stop by to admire the beautiful structure while visiting Palermo.
Plan ahead and get inside the Palazzo Constantino.
The abandoned Palazzo Constantino may just be one of the coolest things to see in Sicily: this 18th-century palace was occupied by both allied and German forces during WWII before eventually being abandoned after the war.
Today, if you're lucky, you can tour the interior, but opening times are spotty and have a tendency to change. If you're trying to decide what to do in Palermo and want to add Palazzo Constantino to the list, we recommend planning ahead and checking opening days before arriving in the city.
Stroll through the Giardino Garibaldi.
The peaceful Giardino Garibaldi is a nice, quiet break from some of the busier streets of Palermo. That's not why you should go, though: the gigantic ficus macrophylla tree, with a trunk that is both greater than 20 meters in diameter and is possible to peer through, is a fascinating sight.
The tree alone is what makes the Giardino Garibaldi worth adding to your list of things to do in Palermo!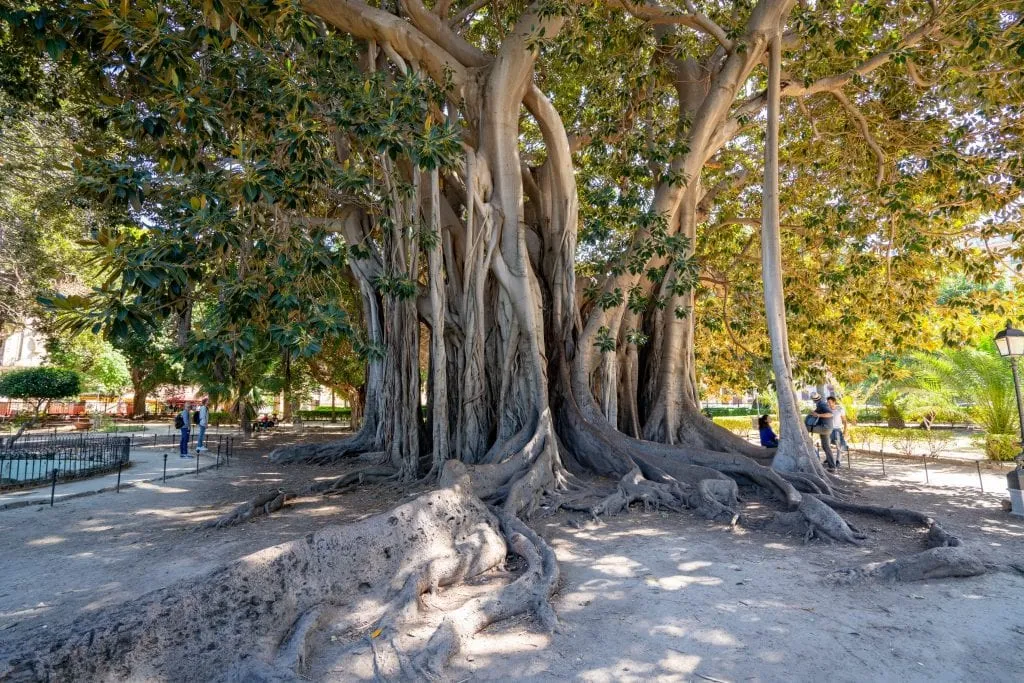 What to Do With One Day in Palermo
If you only have one day in Palermo, we recommend starting with the street food and walking tour that we took–it's a great way to see some of the city's highlights, hit up a market, and taste typical Sicilian street foods without eating up too much time.
From there, consider hitting the Palazzo dei Normanni and the Porta Nuova (which is essentially located right next door).
If you're interested in catacombs, head to the Capuchin Catacombs after that–they are disturbing, but for people who find catacombs interesting, they're also an incredibly unique thing to do in Palermo.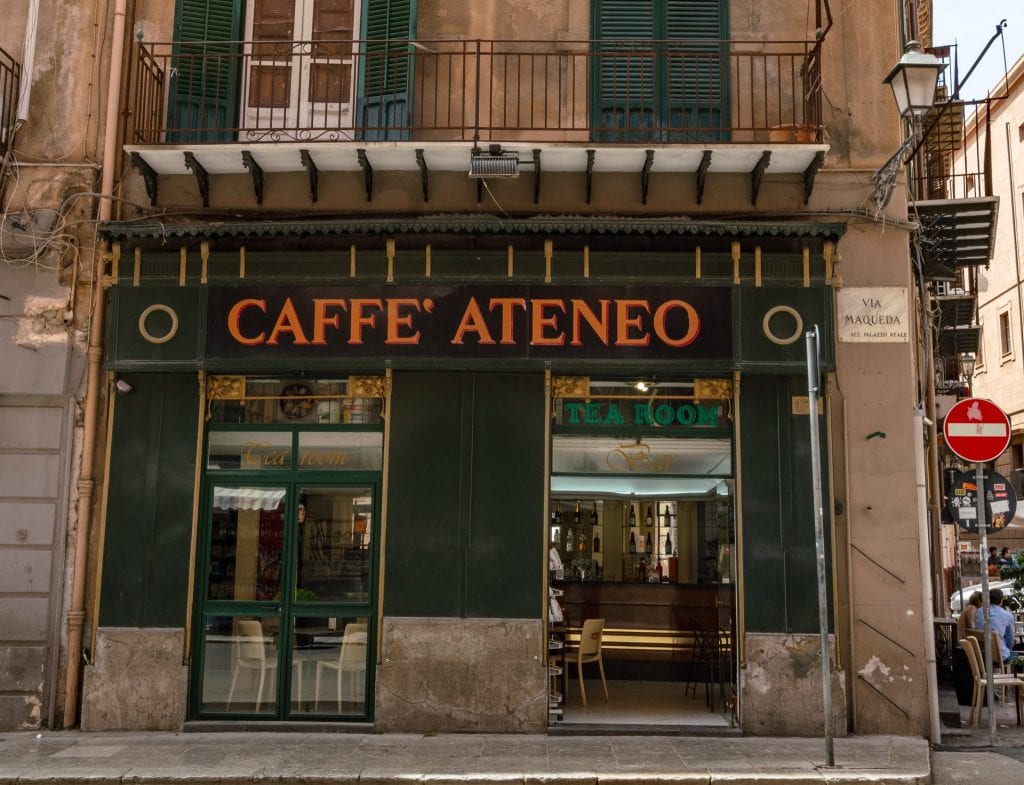 Where to Stay in Palermo, Sicily
Palermo is easily one of the best places to stay in Sicily for first-time visitors: even if you don't spend your whole trip here, Sicily's capital makes a wonderful place to kick off a trip.
And, when choosing where to stay within Palermo, location is the biggest factor.
If at all possible, we recommend staying within a comfortable walking distance from the Palermo Cathedral and Quattro Canti.
If you are easily able to walk to both of those spots, you'll be able to reach just about all the best things to do in Palermo on foot!
Budget
Il Lapino — Home to simple rooms (some with shared bathrooms) and located only a 10-minute walk from the Palermo Cathedral, Il Lapino is very well-reviewed and is an excellent place to stay in Palermo for those on a budget.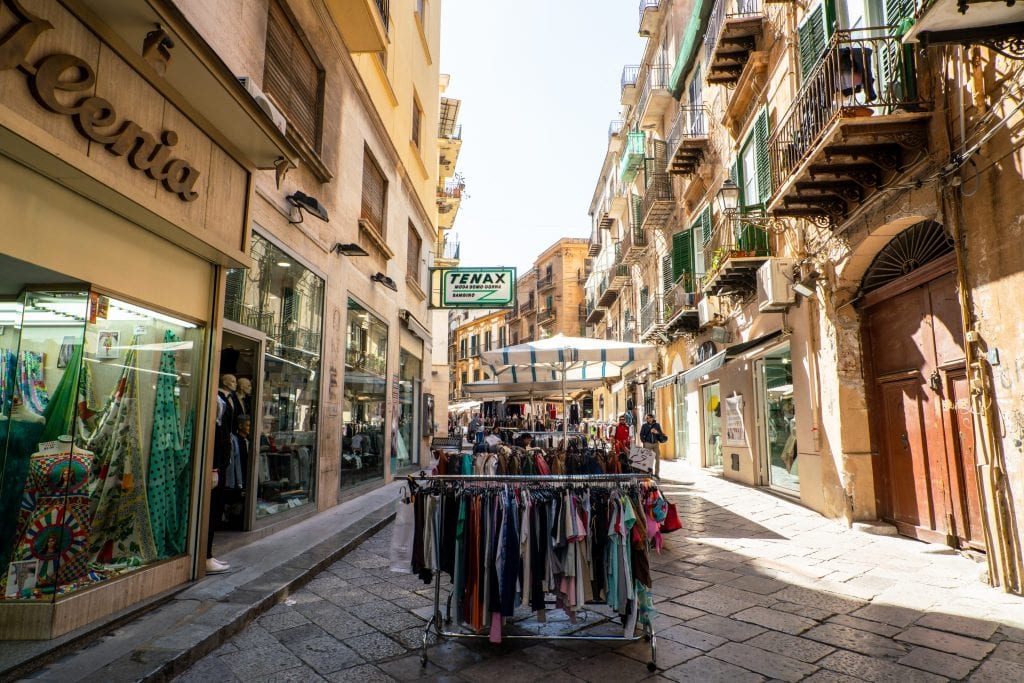 Mid-range
Ciuri Ciuri B&B — Featuring spacious rooms, included breakfast, and an excellent location, mid-range travelers can't go wrong with a stay at Ciuri Ciuri B&B while in Palermo!
Luxury
Palazzo Natoli Boutique Hotel — Boasting near-perfect reviews, Palazzo Natoli is located in the heart of Palermo, just steps from some of the city's best highlights. Private balcony views, exceptional customer service, and a delicious daily breakfast are all included here–if you're looking for the ultimate relaxing stay in Palermo, this is it!