Bosnia and Herzegovina was cheap. Just, insanely cheap. We couldn't quite believe that we were still in Europe–Bosnia and Herzegovina is the cheapest European destination that we've visited, beating out even Krakow, Poland.
Keeping the cost even further down, our travel budget for Bosnia and Herzegovina didn't include any big excursions or tours that we planned for this destination. We wanted to take it easy in anticipation of taking off for Asia very soon, and the almost non-stop rain in Sarajevo definitely helped us keep to that.
Regardless, we had lots of fun, learned tons of history, and ate all kinds of tasty food–for prices better known in southeast Asia and Central America than any part of Europe.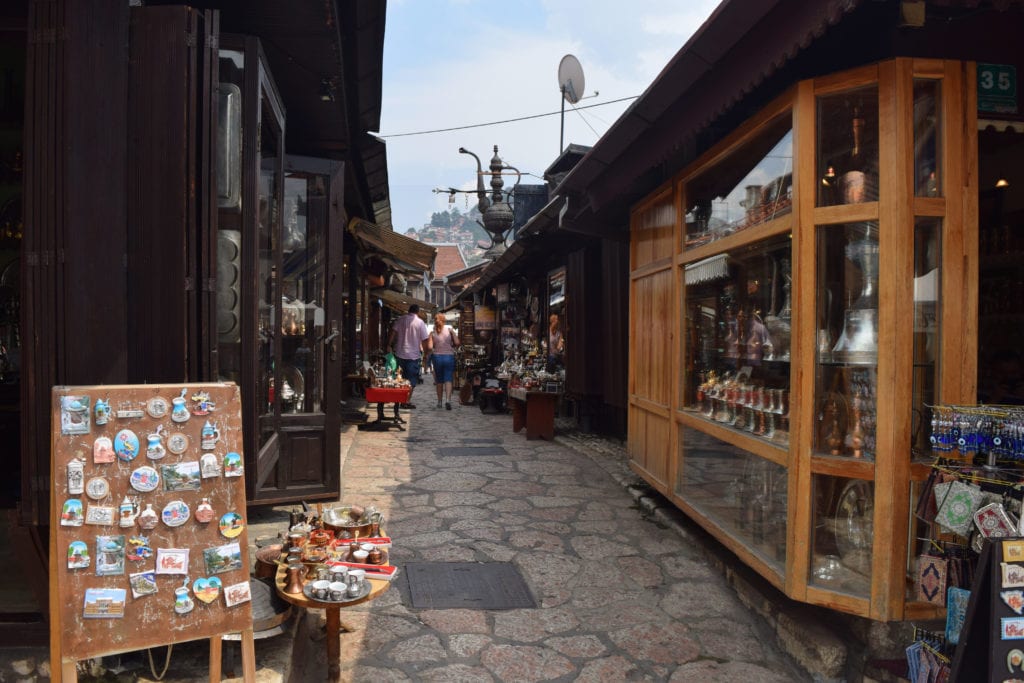 Trip Length: 7 full days
Total Cost (excluding transportation in/out): $509.62, $72.80/day, $36.40 per person/per day
Lodging: $288 for 8 nights
All eight nights that we spent in Bosnia and Herzegovina were spent in private Airbnb apartments, for an average of $36/night.
Our Sarajevo Airbnb was possibly the best one that we've had yet–a 16th story penthouse apartment, roughly 700 square feet, that included the sweetest host we've ever had. She was an older lady, very grandmotherly, who lived up to the stereotype by having a hot meal on the stove for us when we arrived.
We adored the place, and it was definitely a bargain. We weren't in the heart of downtown, though it was a short trolley ride away. As compensation, we enjoyed views like this from the windows: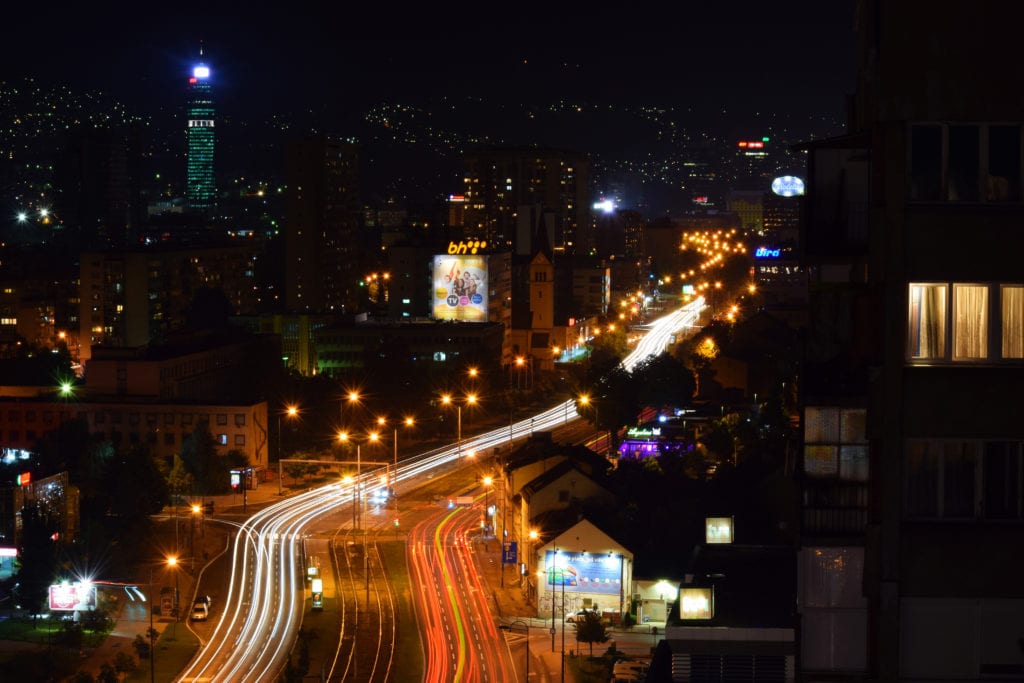 Transportation: $54.64
About half of this cost was for the two of us to take a bus from Mostar to Sarajevo (hint: get to the station early–it was standing room only on our bus, so they'll sell you a ticket, but that would be an uncomfortable ride), and the other half was for local transportation around Sarajevo.
The trolley tickets in Sarajevo run just over $1 USD/each, which was wonderful for getting to and from old town–except on the night that the trains randomly stopped running, to the confusion of both us and the nearby locals (I checked local news for awhile afterward and couldn't find any explanation there, either).
Luckily, taxis are also fairly reasonable, and all of our drivers used the meter without prompting. We paid about $8 per 15-minute ride, with fares from $6 to $12 during our stay in Sarajevo.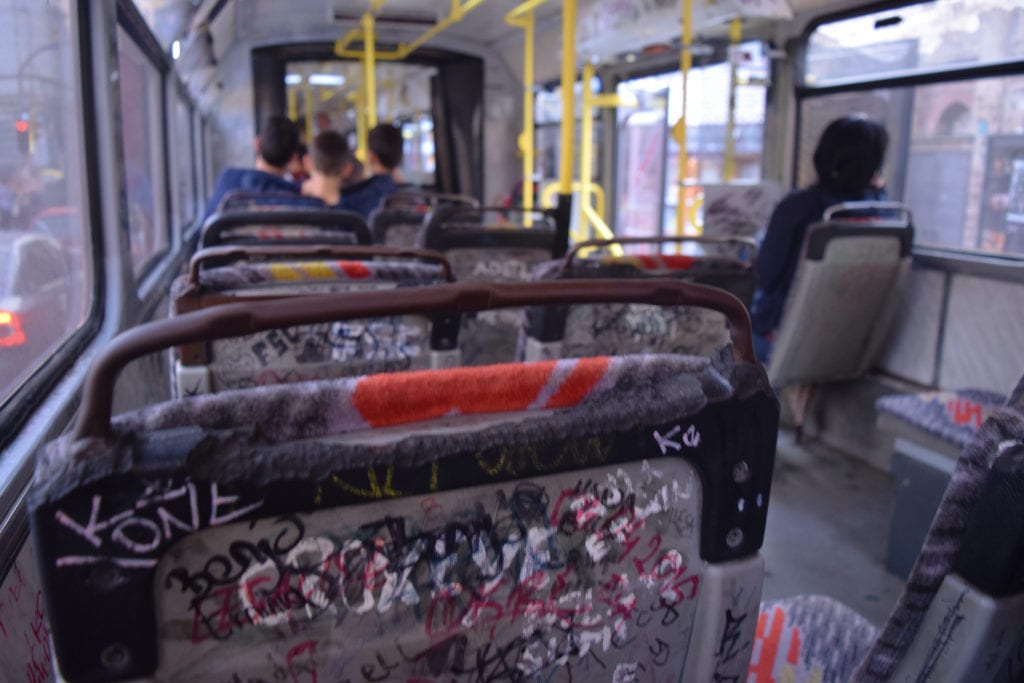 Restaurant Food: $55.67
Six inexpensive restaurant meals and four rounds of dessert purchases each (two cake/baklava shops, two rounds of gelato)… all for less than we would spend on one dinner at a chain restaurant in the USA.
There was very little impact to our travel budget for Bosnia and Herzegovina from this category, and zero complaints here.
Groceries: $64.55
Groceries were cheaper than in the USA, especially if you stayed away from familiar brands. Basics like eggs, cheese, milk, bread and fruit were easy and cheap to come by.
On a personal note, I also found that grocery stores in Bosnia and Herzegovina were more likely to stock a variety of peanut butter choices (so, 3 or 4 instead of maybe 1) than other European countries, which I found endlessly exciting.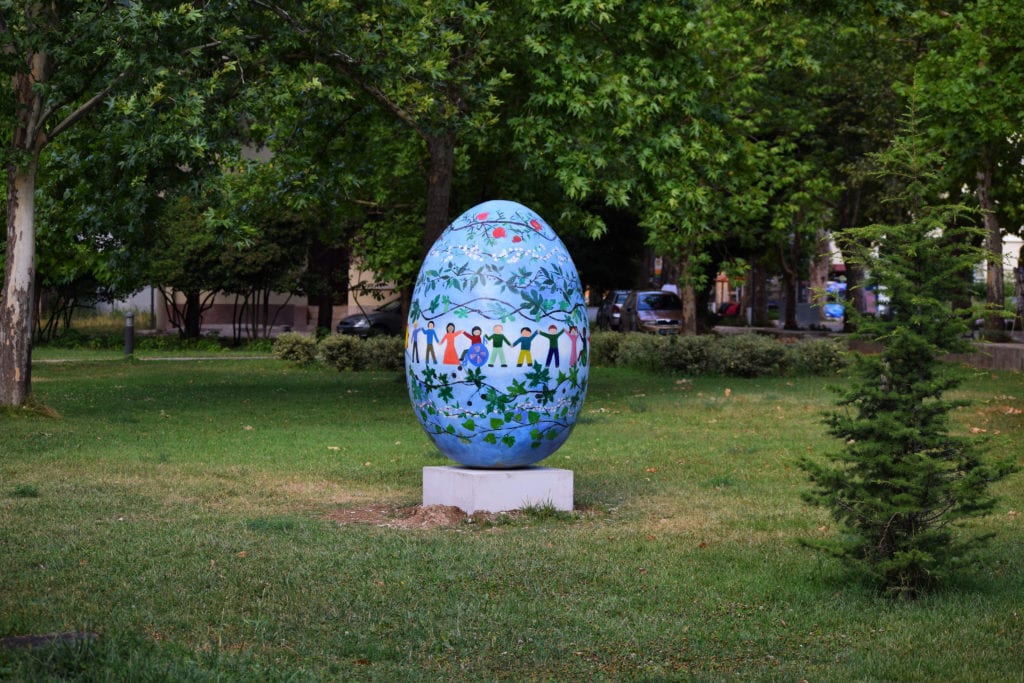 Tours: $21.41
No excursions here–just a few small entrance fees, and an expensive (and memorable) $1.13 USD given to a jumper on the Mostar bridge.
Miscellaneous: $25.35
We had several odds and ends make it into our travel budget for Bosnia and Herzegovina, mostly related to things like sunscreen that we wanted to grab before landing in Bangkok. This was also where Jeremy got his first haircut abroad — $8.45 USD out the door, including tip!
Bosnian SIM cards are also extremely affordable for visitors.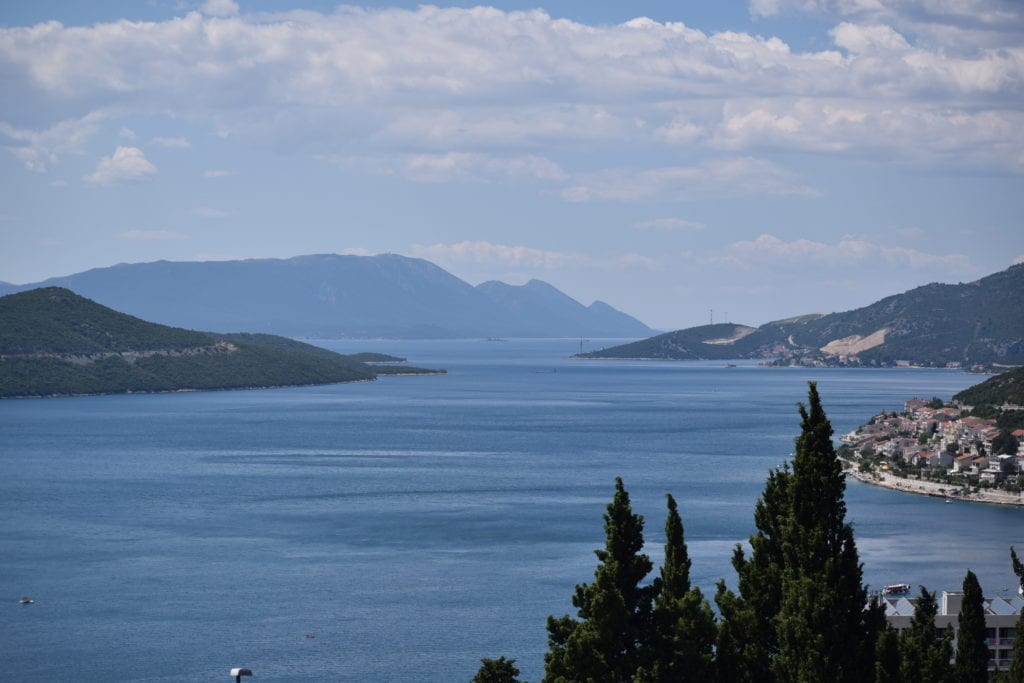 We are perfectly happy with our travel budget for Bosnia and Herzegovina–the only thing we would do differently on a return trip would be to add an excursion to the Kravice waterfalls, which got cut due to time. It undoubtedly would have been the most expensive line-item in our budget, but there was certainly plenty of room for it.