So far, most of my budget breakdown posts have been written while on the road. Writing this one after being at home for a few weeks is a very different experience.
On the road, we got into a rhythm with our daily allotment of funds. That was great, and it kept us on track… but it also distorted the value of things.
Looking back, I remember being satisfied with how much we spent on lodging (why oh why did we spend so much!) and food (same issue) in Laos. I also remember being concerned about the cost of tours–but the things we did were so inexpensive, perhaps we should have done more.
We were a little burned out after Thailand, and I think that shows itself quite clearly in our travel budget for Laos–we spent a huge percentage of our funds on creature comforts such as nicer hotels and overpriced food.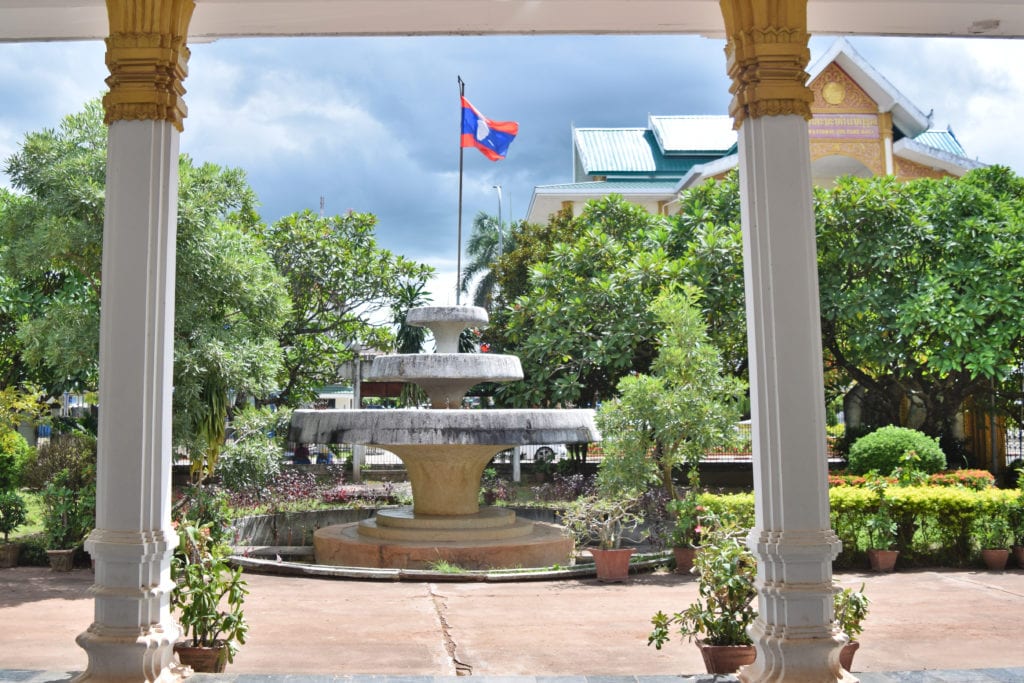 Trip length: 10 full days
Total cost: $923.33 — $92.33/day, $46.16 per person/per day
Lodging: $472.10 for 11 nights, average $42.92/night
This was a ridiculous splurge. At the time, it made sense: 4-star hotels were offering deals on Agoda that ended up placing them, in some cases, just $10/night above what looked like much less appealing budget hotels and private rooms in hostels.
On a day to day basis, that jump in comfort made sense. I can't even say that we would have made different choices looking back–but I'm still cringing a bit at this number.
Transportation: $65.20
Transportation in Laos was insanely affordable. Our memorable minibus ride from Luang Prabang to Vang Vieng cost $24.52 for the two of us, and Vang Vieng to Vientiane only ran $9.81–yes, for both of us.
Tuk tuk rides were never more than a couple of dollars, though we did have to rely on them more in Luang Prabang than we would have preferred, because we weren't staying a comfortable walking distance from the center of town.
Restaurant Food: $218.25
Way too much of our travel budget for Laos went to food.
Part of this was a room service problem: those nice hotels with their nice rooms came with the option of having food delivered to you on a tray. That was magical, especially on rainy days and when we got sick in Vang Vieng.
Part of this problem was that we were less impressed by Laos' street food than Thailand's, and therefore spent more time in restaurants.
A (very small) part of it was that food is more expensive in Laos than in surrounding Thailand and Cambodia… but really, we can't blame much of our costs on that.
Together with the grocery category below, we spent $12.62 per person/per day on feeding ourselves.
Groceries: $34.17
Like in Thailand, this cost was made up of convenience stores and water bottles–we didn't do any cooking in southeast Asia.
Tours & Excursions: $36.61
We didn't go on many excursions in Laos–several of the things that we wanted to see were impacted by the wet season, and we were a little burned out anyway–but those excursions that we did do were reasonably priced.
We paid $15.94 for the two of us to be transported and get entrance to Kuang Si Waterfall near Luang Prabang (which even with the wet season was one of our favorite things to do in Laos), and $16.25 for transport and entrance to Tham Phu Kham Cave and the Blue Lagoon by Vang Vieng.
Attractions in Vientiane were ridiculously inexpensive–I'm never going to get over paying $0.37 per person to climb Patouxi.
Miscellaneous: $97.00
We had a few miscellaneous purchases in Laos, including a dry bag for our camera and paying $6.62 for incredibly overpriced laundry.
By far and away, though, the biggest expense in this category was our visas, which we paid $37.00 each for–including a $1.00 fee for not providing a passport photo (a bargain in my opinion).
Frankly, I wish we would have spent less money on our travel budget for Laos.
We let our immediate desires for comfort override our more consistent desire of adventuring around the world. But, whenever caving into comfort and blowing some budget categories still comes in at under $50 per person/per day, life is pretty sweet–hopefully we'll still make it back to Laos one day soon to experience Luang Prabang during the dry season, to explore the Bolaven Plateau by motorbike, to finally make it to Buddha Park in Vientiane, and more!