Planning to explore Thailand and wondering how much a trip to Thailand costs?
We've shared our real-life example Thailand travel budget to help!
The theme of our travel budget for Thailand (and Laos and Cambodia, for that matter) was this: we could have done it cheaper, but we simply didn't want to.
We kept to a great moderate or flashpacker budget in many ways, such as sticking to private rooms in hostels or budget guesthouses for all of our lodging.
On the excursions, well–we had a blast. We got our Open Water certifications on Koh Tao, and then went back for two more fun dives each in honor of celebrating Jeremy's birthday. We also spent a fantastic day with elephants outside of Chiang Mai.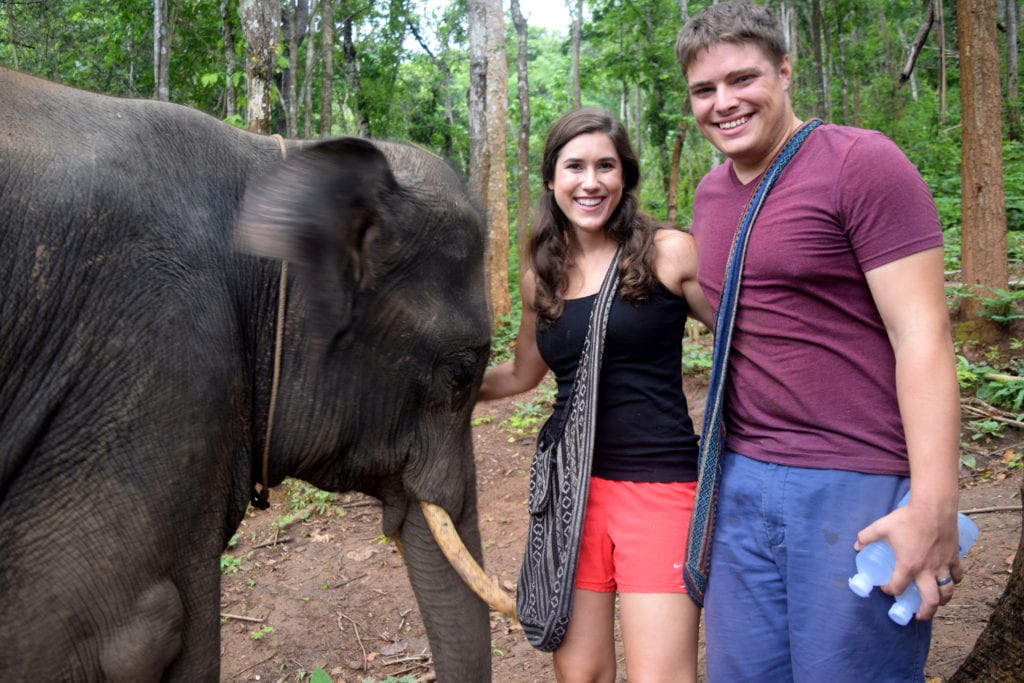 Some links in this post may be affiliate links. If you make a purchase through one of these links, we may earn a small commission at no extra cost to you. Please see our

disclosure policy

for more detail.
If you take out our Open Water Diver certifications alone, our daily average cost drops by almost $20.00–so, can you visit Thailand cheaper than this? Of course.
But for us, the incredible memories that we made by letting loose a little bit were worth it.
We spent 25 full days in the country, averaging a total Thailand travel budget of $96.32/day for two people, or $48.16 per person, per day. This added up to a total cost of $2407.92 for our nearly month-long trip.
Our time spent backpacking Thailand took us to Bangkok (twice), Koh Tao, and Chiang Mai, following steadily along the banana pancake trail.
All prices for our trip to Thailand costs are listed in USD unless otherwise noted, and, as usual for our travel budget roundups, we don't include the costs of entering or leaving the country here, as those expenses can vary so dramatically depending on your starting point (in our case, we flew from Sarajevo to Bangkok to enter the country, and then took a bus to Luang Prabang to exit).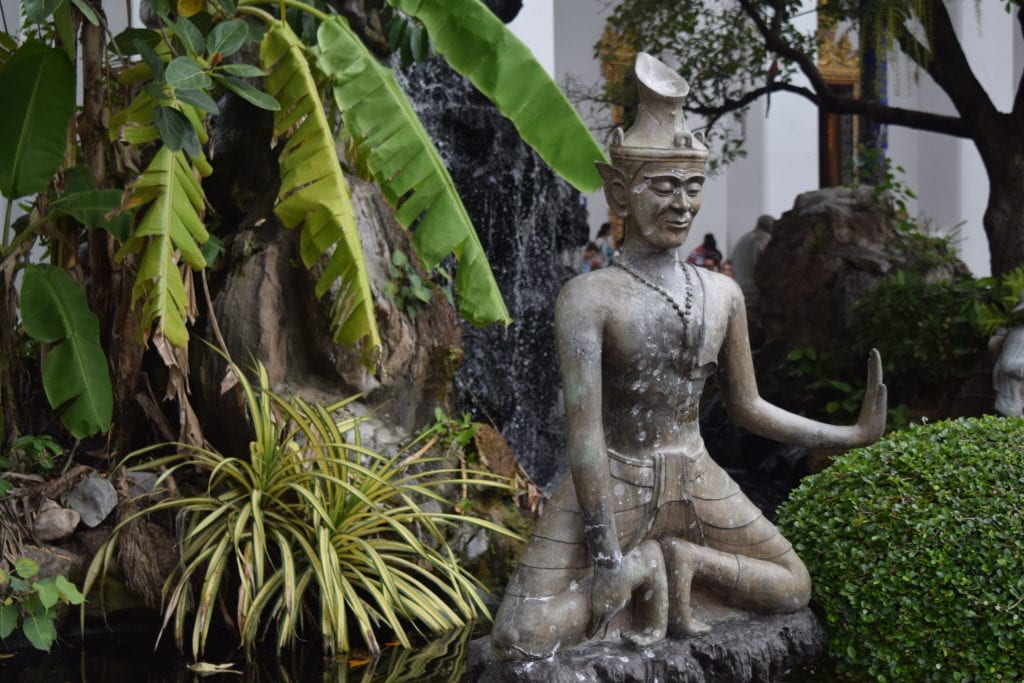 Our Lodging Costs in Thailand
Total: $615.58 for 22 nights, an average of $27.98/night.
Lodging was kept to a very moderate level in Thailand–we never stayed anywhere either grungy or flashy. We took three overnight trains during our stay, which trimmed off three nights of lodging.
Cost varied wildly across the country: most expensive was Koh Tao, where we spent about $40/night on a budget guesthouse, and the cheapest was Chiang Mai, where $14/night got us a reasonable private room in a hostel.
The cost in lodging can also vary dramatically based on what you're getting: from budget hostels to romantic villas, you can pay anywhere from a few dollars to hundreds for lodging in Thailand.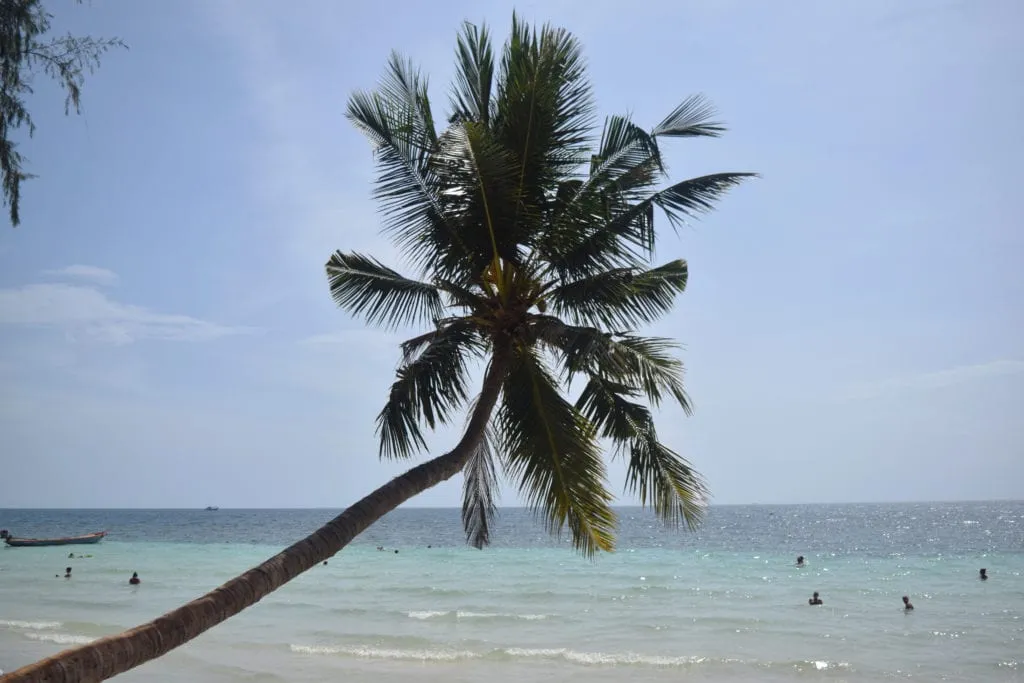 Where We Stayed in Thailand
Bangkok
Chan Cha La 99 Hostel — On our first visit to Bangkok, Annie took great care of us at this hostel. This lady knows what she is doing!
The hostel is clean and efficient, and Annie is a wealth of information about Bangkok.
The hostel is roughly 5 minutes from the BTS. The downside? It's a little out of the way–you'll spend about 40 minutes getting to any major sites.
Lub D Bangkok — Siam Square — This hostel is actually one of several in a chain, and we adored it. The rooms were clean, the bathrooms spotless, and the location was perfect for us–right in the heart of Siam, easy walking distance to MBK or the Jim Thompson House.
It doesn't have the personal touch that Annie provided, but we wouldn't hesitate to stay here again on our third visit to Bangkok.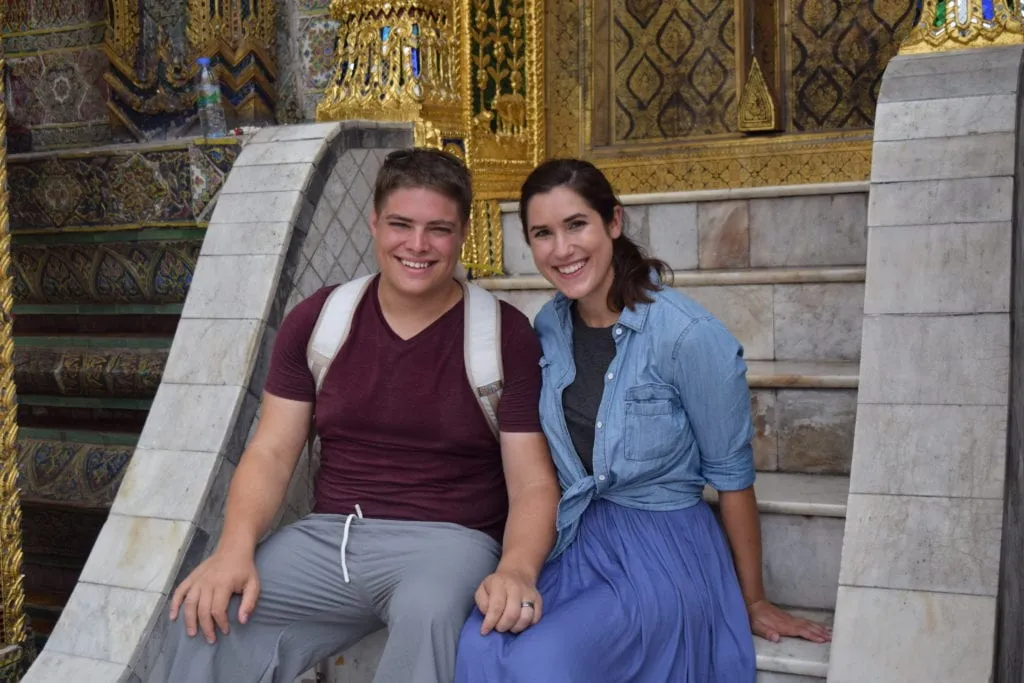 Koh Tao
Nirvana Guesthouse — Located right in the heart of Mae Head, we loved this guesthouse! It was only a short walk from the pier, reasonably priced, clean, and the owner was very accomodating.
We would be happy to stay here again–in fact, the only reason we moved guesthouses was because they were fully booked and we couldn't extend our stay any further.
Jom Thong Guesthouse — We didn't move far: this guesthouse is just a five-minute walk from Nirvana Guesthouse.
It is located even closer to the pier and the dive shop we were using. We walked to Sairee Beach in about 15 minutes from here.
The room was slightly smaller, though just as clean, as Nirvana–but the real prize was the view of the water out the window. We wouldn't hesitate to go back here, either!
Chiang Mai
Sirikamsan House — This guesthouse was clean, a 10-minute walk from several of Chiang Mai's markets, and reasonably comfortable… but it was also the guesthouse that convinced us to upgrade our lodging in Laos and Cambodia.
There was absolutely nothing wrong with it, but the tiny rooms and shared bathroom that was regularly out of toilet paper just left us feeling over it after about a month of budget accommodation.
If you're looking for a reasonably comfortable bargain, this is your place! This was also the guesthouse of the $1.45 broken glass mentioned above–an absolute steal, in my opinion.
Our Transportation Budget in Thailand
Total $285.16
Our most notable transportation costs were the three overnight trains we took (Bangkok to Koh Tao, Koh Tao to Bangkok, Bangkok to Chiang Mai), which ran about $30-32 per person each.
Bangkok's BTS skytrain is paid for by pre-loading money onto small "Rabbit Cards" that you then scan whenever you enter and leave the train system.
The costs of these added up faster than we expected, especially on our first trip to Bangkok.
Since we were staying in a less-than-ideal (read: far away from everything) location, we ended up spending almost $1.00 each on every ride into the center of town.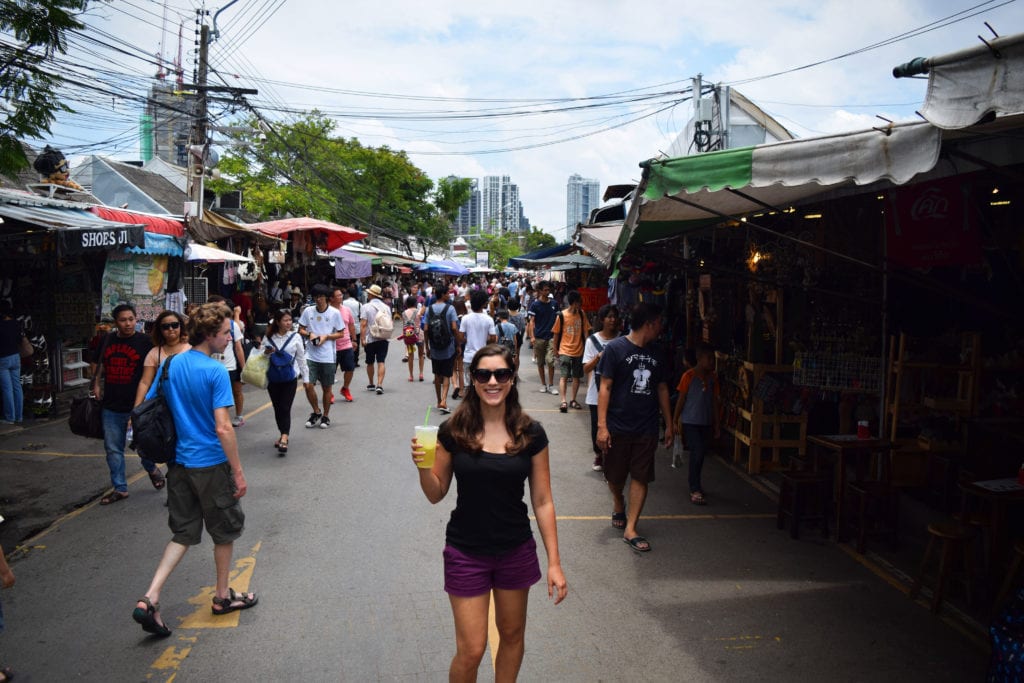 Our Restaurant Travel Budget for Thailand
Total: $455.92
There's really just no way around this: way too much of our travel budget for Thailand was blown on Western food.
Looking back, it's easy to be frustrated with myself for not sucking it up and eating more street food (and we did eat tons of street food!), but at the time, my stomach was desperately craving familiarity.
I do say "I" for a reason–Jeremy would have happily put himself on an exclusive diet of pad thai, noodle soup and red curry for the entire month (or more).
Even with our far-too-frequent stops for Western food, our total food cost was $11.21 per person/per day–including the grocery category below.
Not a terribly impressive number, but not one to lose much sleep over, either.
Luckily, I think we will be able to easily trim this number the next time we go to Thailand. Also, if you looking for vegetarian or vegan meals in Thailand, there are plenty of options for you!
Our Grocery Costs in Thailand
Total: $104.41
"Groceries" weren't much to write home about in Thailand–we didn't have access to a kitchen anywhere we went, and street food was so cheap and accessible that cooking seemed like more trouble than it would have been worth, anyway.
This category of our travel budget for Thailand is essentially made up of water, convenience foods from 7/11, and fruit stands.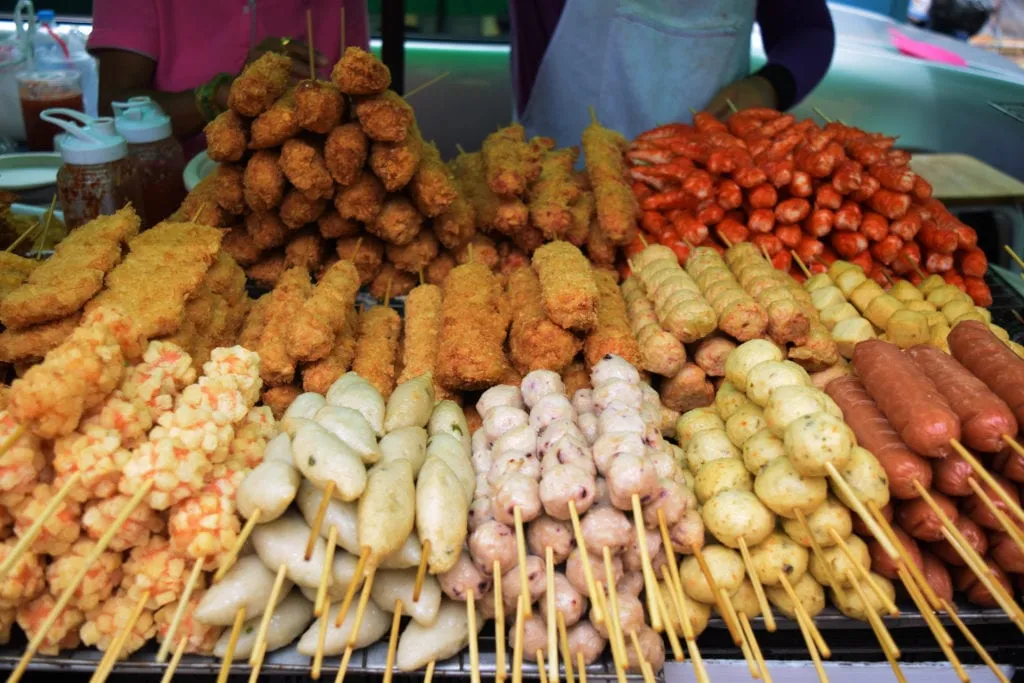 Our Tour + Excursion Expenses in Thailand
Total: $818.16
… And this is where our trip to Thailand cost really escalated.
Our biggest numbers in this category were our Open Water Diver certifications ($475.71), two additional fun dives each ($92.08), and our elephant experience ($138.81).
At least Jeremy resisted the temptation to try out Muay Thai training in Thailand, which also would have added to the cost–maybe next time!
I also threw the three movies we saw in Bangkok into this pile, even though that defies the definition of the word "tour".
Most Wats in Thailand charge a modest fee, if any, but there is an exception: the Grand Palace was almost $15/person.
While I'm glad that we saw it, I don't think that we'll ever go back there again when there are beautiful (and significantly less crowded) Wats available for a fraction of the price.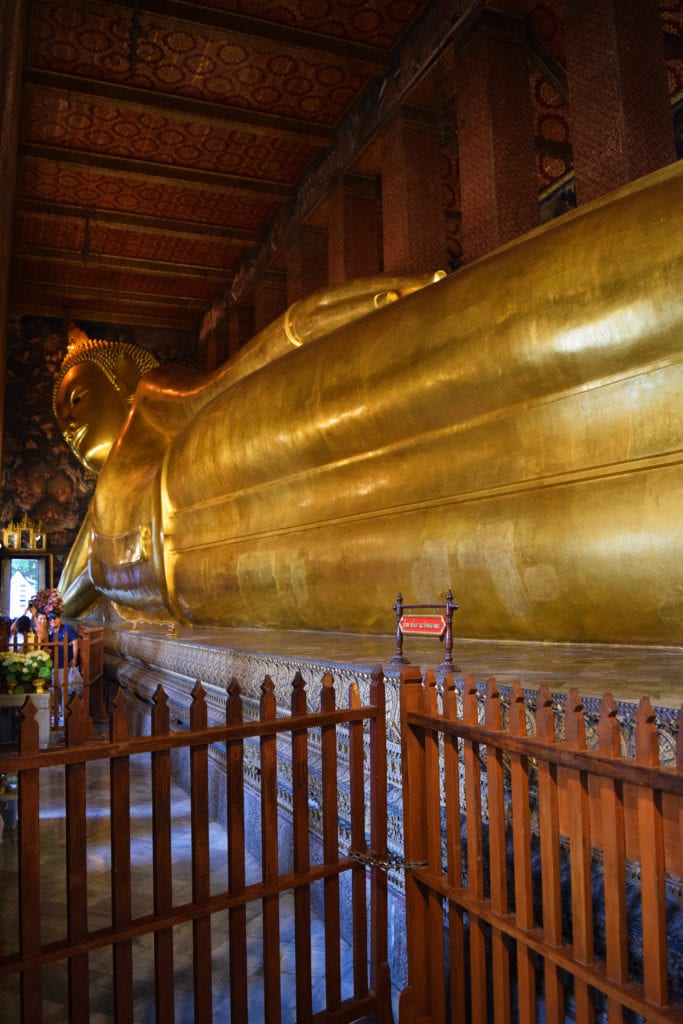 Miscellaneous Thailand Travel Budget Costs
Total: $128.69
Since our Thailand travel budget covered almost a month of expenses, the random costs added up: toiletries, clothes (both fun clothes and basics to replace some worn-out ones), a few rounds of laundry.
We already miss $3.00 loads of laundry that were washed, dried, and folded for us!
This category also includes souvenirs, which we bought more of in Thailand than anywhere else in the world. Almost all of our souvenirs, including a beautiful teak figurine that is my favorite souvenir ever, were elephant themed. Go figure.
Our massages also fall under here–glorious hours spent getting all the kinks out for only $6.00 each.
The most unexpected cost under miscellaneous? We paid $1.45 to replace a glass that Jeremy broke in one of our guesthouses. I couldn't get over how inexpensive that was–an American hotel would have happily charged $20.00.
Looking at the total numbers for the cost of our trip to Thailand, it would be easy to wish that we had spent a little less–there would have been so many ways to make it cheaper, and the budgeter in me can't help but wonder.
Even saying that, though, I know that there are experiences we didn't get to and are still hoping to experience on our next trip to Thailand: visiting the Andaman Coast, a lot more scuba diving, some hiking, visiting Chiang Rai, and motorbiking in Pai–just to start.
There is absolutely nothing that I would have wanted to miss out on–our trip to Thailand costs over 25 days, while occasionally a little pricey, were absolutely money well spent.