I expected to adore Luang Prabang.
That didn't quite happen.
It's not that we didn't enjoy the city–it's easy to see why it's loved. We simply never jived with it.
Luang Prabang was our first stop in Laos, and we arrived right after finishing a month in Thailand–most recently, Chiang Mai. In many ways, Luang Prabang felt like a slightly different, slightly more boring version of Chiang Mai (minus the plethora of no-riding options for elephant encounters and my current favorite street food night market in the world).
Would we have felt differently if spending a few days in Luang Prabang was our first stop in Southeast Asia, or if we came during the dry season, or if we opened our wallets for more excursions? Maybe.
Luang Prabang is extremely popular, and there are definitely a few activities that we missed due to either circumstance or not finding out about them until too late that could have potentially changed our opinion of the city.
Highlights of Luang Prabang
Visiting Kuang Si Waterfall.
Even during the wet season, taking an excursion out to this waterfall was completely worth it. We may have missed the turquoise blue waters of the dry season, but the powerful waterfall was impressive–we got soaked through walking across the bridge in front of it! The entire river was flooded, which made for an interesting (if very different than "normal") experience.
Attached to the park that holds Kuang Si is a bear preserve, home to some sun and moon bears. They were absolutely adorable, and watching them was a highlight of our visit to the falls.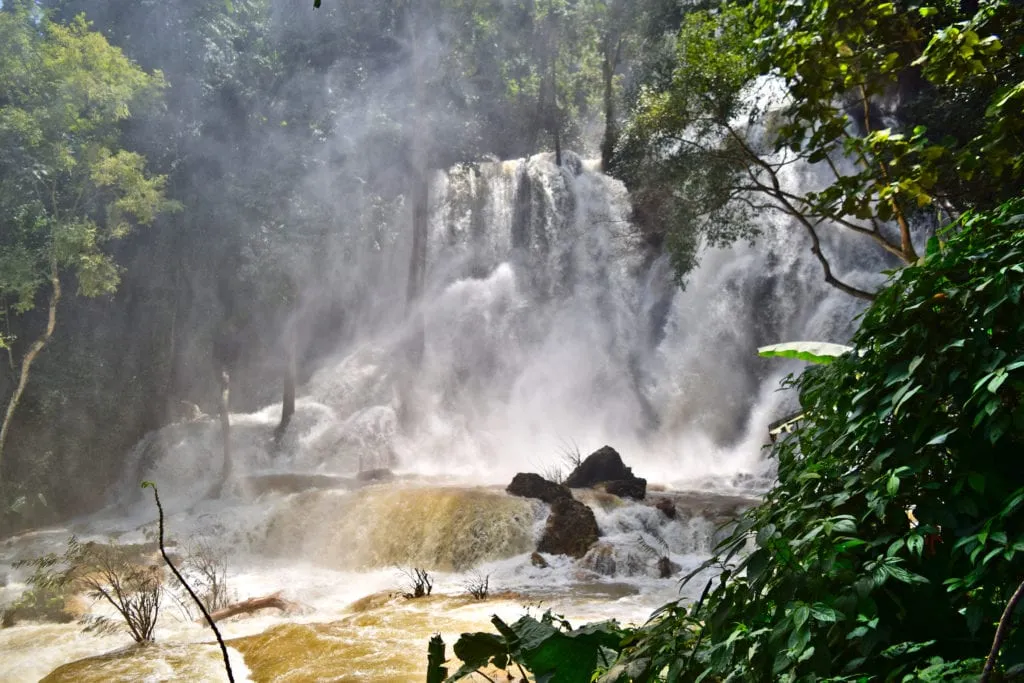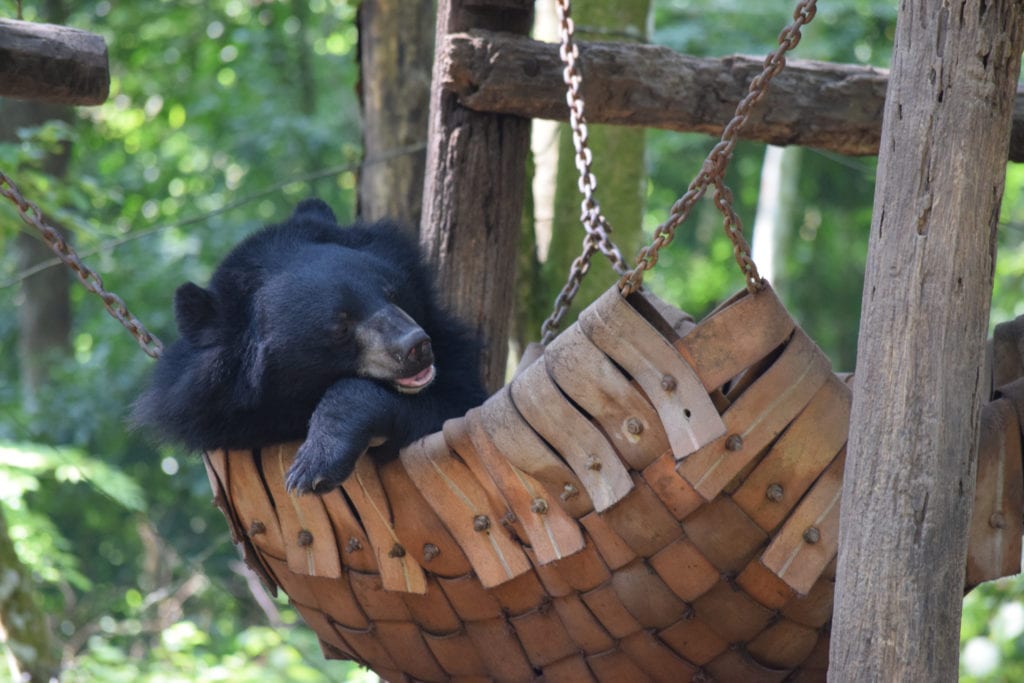 The charming architecture.
Luang Prabang is well-known for its French Colonial architecture, and it was as good as advertised. You certainly won't think that you're in France, but the French style mixed with Lao influences makes for a gorgeous and interesting combination. Photographing the streets was one of my favorite things that we did here!
Soaking in views of the Mekong River.
The views of the Mekong in Luang Prabang are breathtaking. Watching the river from an outdoor cafe on a quiet street (and all the cafes seemed quiet in Luang Prabang–though this was likely partially a function of visiting during the wet season) was so much fun, especially while sipping on a fresh orange shake.
Stumbling into a… fair?
When we were in Luang Prabang, we set off in search of dinner one night, planning to reach Luang Prabang's night market, only to walk into a fair. There were bumper cars, a small roller coaster, a handful of other rides, the biggest clothing market that we saw in Asia, and (most importantly to me), insanely cheap Pad Thai–we're talking a mountain that fed both of us for $0.60.
Visiting the fair (I've tried Googling for what this thing was, if you have any idea, please fill me in!) was also an unexpected trip off the tourist trail–we were literally the only non-Asian people in the crowd.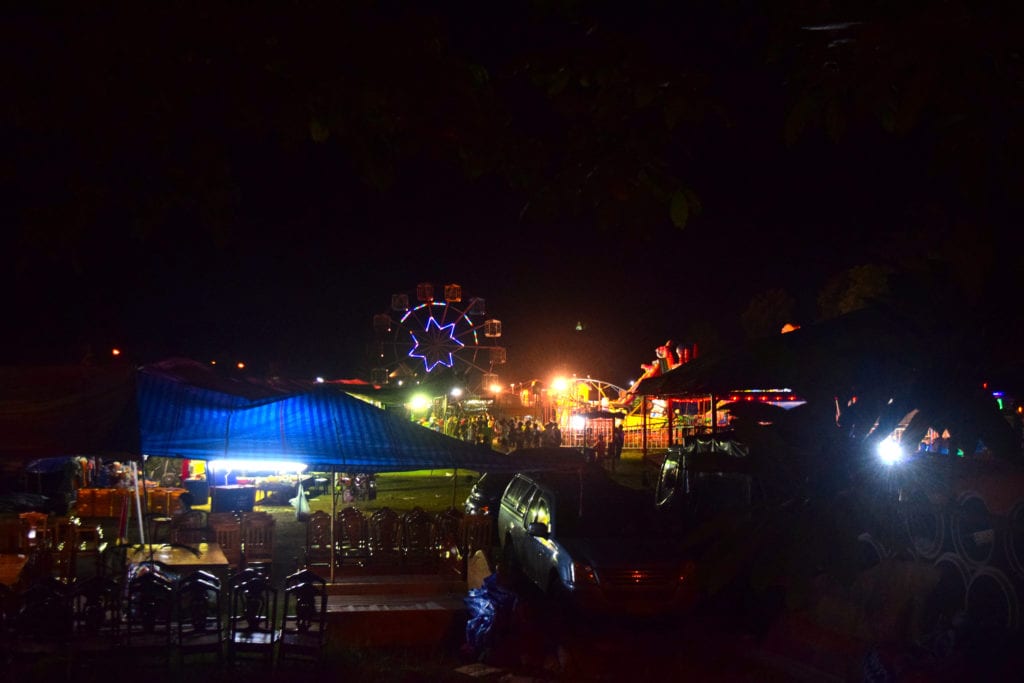 Downsides of Luang Prabang
It was dull.
I'm sure that this is partially our fault, simply because we weren't in the right mood for the place, but Luang Prabang often felt like anything that wasn't a Wat or small museum required a commitment to an all-day excursion–many natural highlights were far out of town.
We take some responsibility for this, as we could have done better research (and gone during the dry season–it didn't rain while we were there, but the waterfalls and rivers were impacted), but overall the verdict on Luang Prabang is that it's a place to enjoy the atmosphere rather than the activities, and we weren't in an atmosphere sort of mood.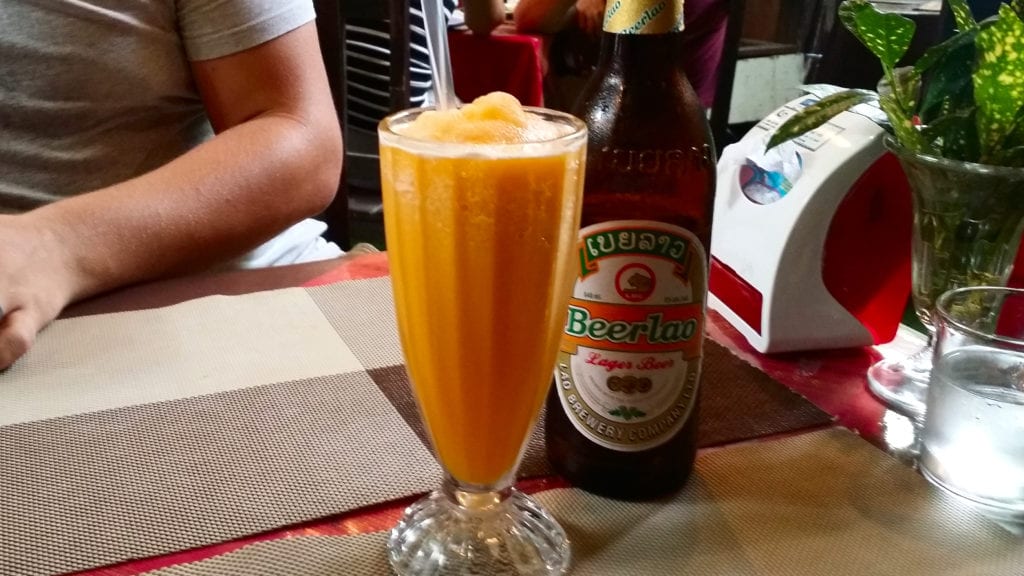 It was (comparatively) pricey.
When looking at prices for seeing the Pak Ou Caves or visiting the Tad Se Waterfall, the prices just weren't worth it, especially knowing that the sights might not be at their best due to the season.
While some haggling did happen, of course, we found that the companies selling excursions and inter-city transportation were less open to negotiating in Luang Prabang than in other cities in Laos.
We lost almost all of our photos.
Okay, this one isn't a downside of the city itself, just of our trip: somehow, almost every photo that we took of Luang Prabang didn't make it to our computer. No photos of the beautiful colonial streets, no photos of the slow-moving Mekong River, no excessive numbers of photos of orange shakes.
We honestly have no idea how it happened–we triple checked all of our uploads, but apparently, we needed to quadruple check them.
Learn from our mistakes: BACK UP YOUR PHOTOS. Even though this wasn't our favorite destination, we're still incredibly sad to have lost our images of it.
Would we go back to Luang Prabang? Maybe, one day. If we do, we'll do it during the high season, after learning more about traveling in Laos, and see Kuang Si Waterfall and Tad Se Waterfall in all their glory. We'll also obsessively back up our photos and hike to the top of Phu Si Hill to capture the stunning views of Luang Prabang from the top–not doing both are my biggest Luang Prabang regrets.
Most importantly, we'll go at a time when all we want to do is relax, not sightsee and take in a new country–in fact, I think we may have liked Luang Prabang more as our last stop in Laos than our first!
I'm glad that we saw the pretty city, but the five full days that we spent there was too much–given that we were traveling during the wet season, I wish that we would have dedicated two of those days to another part of Laos instead.
Where We Stayed in Luang Prabang:

Sada Hotel — We would never go back to stay here again for one simple reason: after we received confirmation that an airport transfer was included in our rate, and after we then took the transfer, the front desk absolutely insisted that we pay the driver $10.00 for the ride. We ended up paying the money, but it was absolutely a scam. The literature in the room later confirmed that the service was included. I didn't throw a fit about it (probably should have), but I'm still a little irritated.

Other than that, though, the hotel was the most beautiful one we stayed in while in Southeast Asia. Everything was clean, the room was huge, breakfast was delicious, and we had our one and only bathtub of the trip here. It wasn't a comfortable walking distance to the tourism centers of Luang Prabang, but a $2.00 tuk tuk ride got us there quickly and easily. We got a great deal due to the off-season, which put this hotel in our price range for the trip.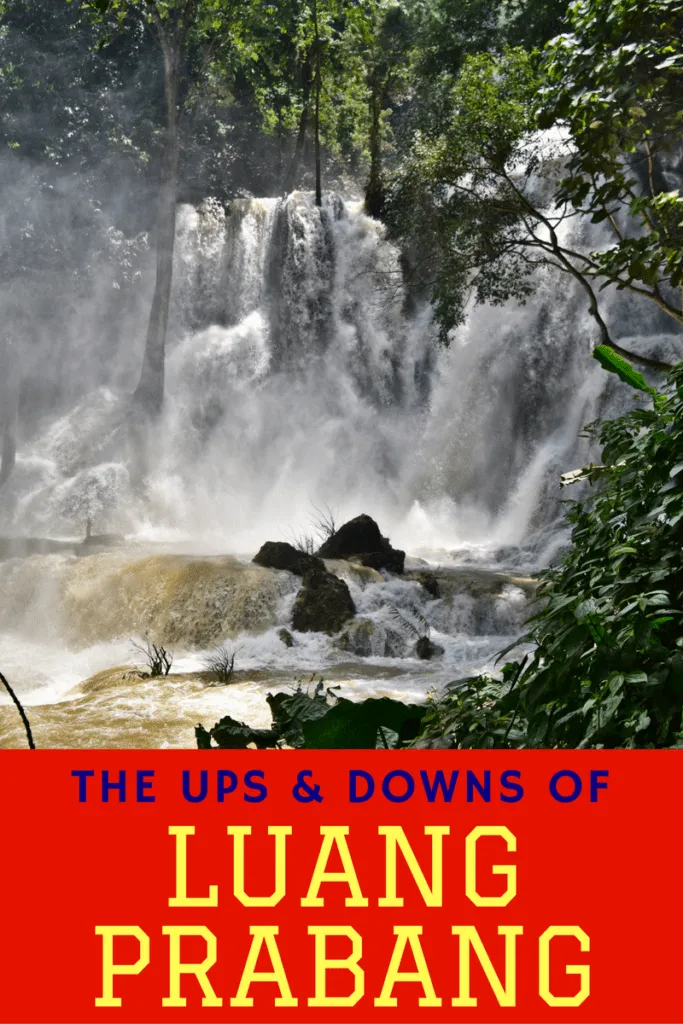 *Some links in this post are affiliate links. If you click through one of these links, we may earn a small commission at no extra cost to you. We are committed to only ever recommending products and services that we personally use and like.