With their long histories, excellent food, distinct cultures, and often whimsical (to put it nicely) layouts, the most beautiful East Coast cities easily rank among the best weekend getaway destinations in the USA!
From the beaches of Miami to the lighthouses of New England, there is no shortage of variety when looking for unique East Coast weekend getaways, and we adore them all.
While covering everywhere worth visiting on the US East Coast is a project for a lifetime (we're constantly adding places to our wish list!), when it comes to cities on the East Coast to visit, there are some that consistently rank among the best.
For this guide, we've focused (with one exception), on East Coast cities with a population of over 100,000 people.
We love small American towns and beautiful beaches as much as the next road trippers, but we'll save those for another post.
Planning an East Coast weekend getaway soon and looking for the perfect city break destination?
Here are the best East Coast USA cities to visit!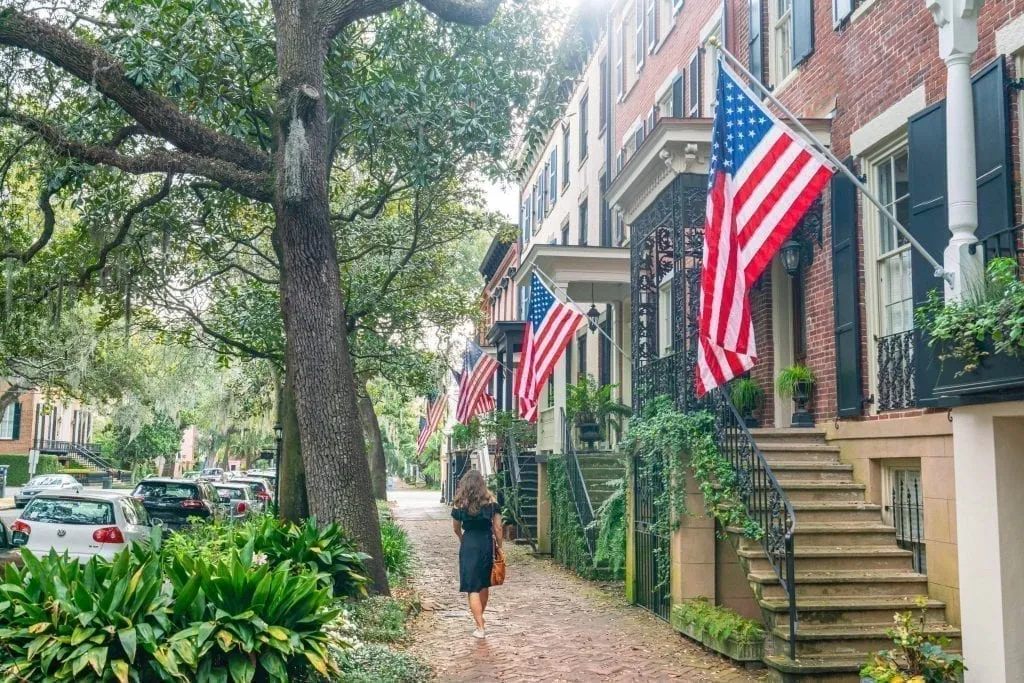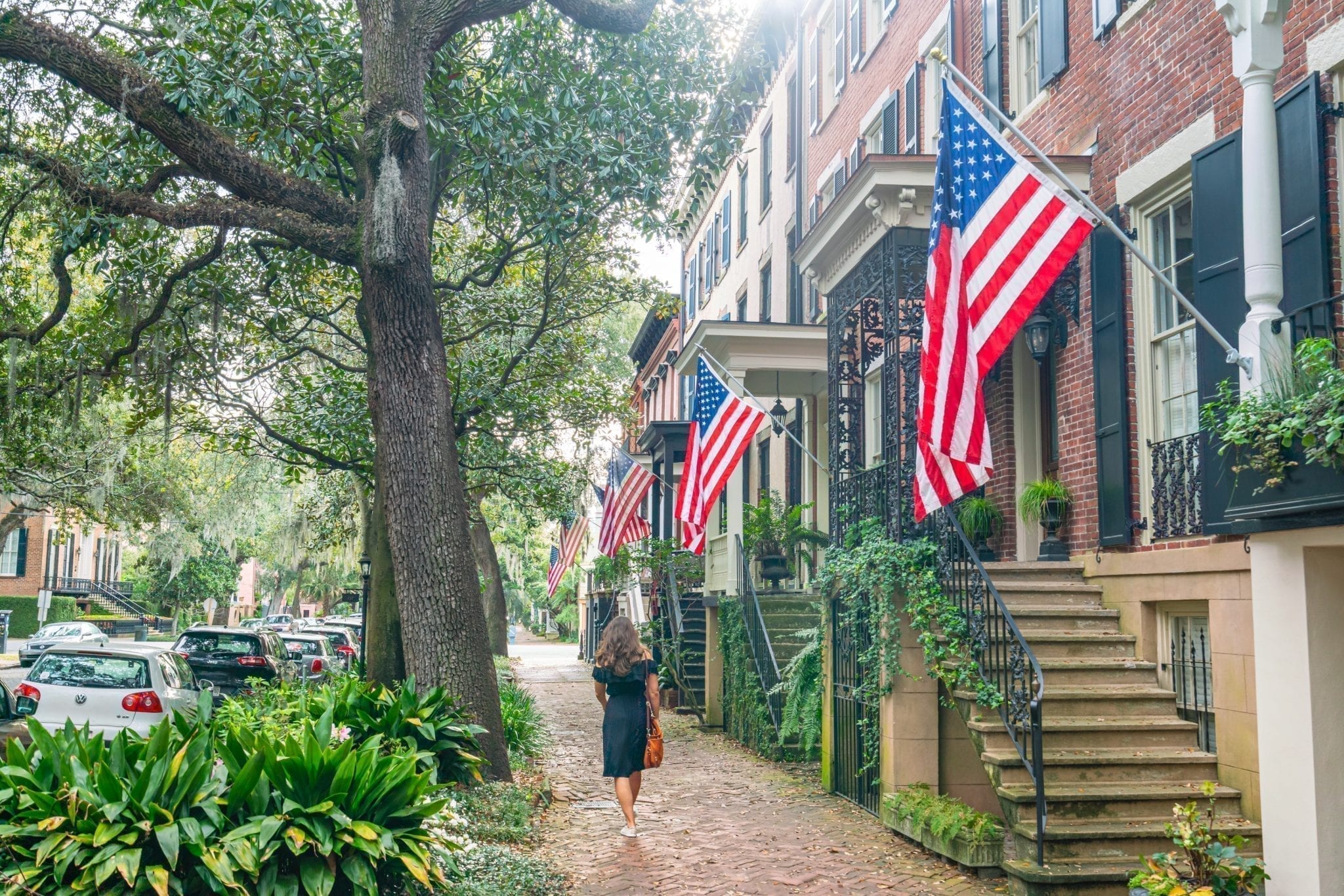 New England Cities for Weekend Getaways
Boston
As the largest city in New England and the birthplace of the American Revolution, Boston is undoubtedly one of the absolute best places to visit on the East Coast.
With its coastal location, gorgeous architecture, a dizzying array of distinct neighborhoods, and world-class museums (not to mention universities), you'll never run out of incredible things to do in Boston.
We've been obsessed with Boston since we spent a summer living there, and will forever count it among our favorite East Coast weekend destinations.
During your trip, be sure to walk the Freedom Trail, relax at the Boston Public Garden and the Common, and enjoy the views from the water on a whale-watching cruise.
When it comes to neighborhoods, make sure to visit the picturesque North End, fashionable Back Bay, and grand Beacon Hill–three Boston neighborhoods you absolutely can't miss.
Where to Stay in Boston
Portland
No, not Portland, Oregon–the lighthouse-and-lobster loving Portland, Maine!
Known for its charming Portland Head Light, its warehouse-district-turned-trendy-neighborhood of Old Port, and many, many breweries, Portland is an absolute blast to visit.
While you're there, be sure to take a quick ferry over to nearby Peaks Island for a day, tour the beautiful Victoria Mansion, and enjoy (at least) one afternoon on a sailboat.
Of course, no trip to Portland is complete without snapping photos at the Portland Head Light, but Bug Light deserves a quick look, too!
Portland is also less than an hour by car from famous Kennebunkport–so if you want to mix a famous small town into this weekend getaway on the East Coast, you absolutely can.
Where to Stay in Portland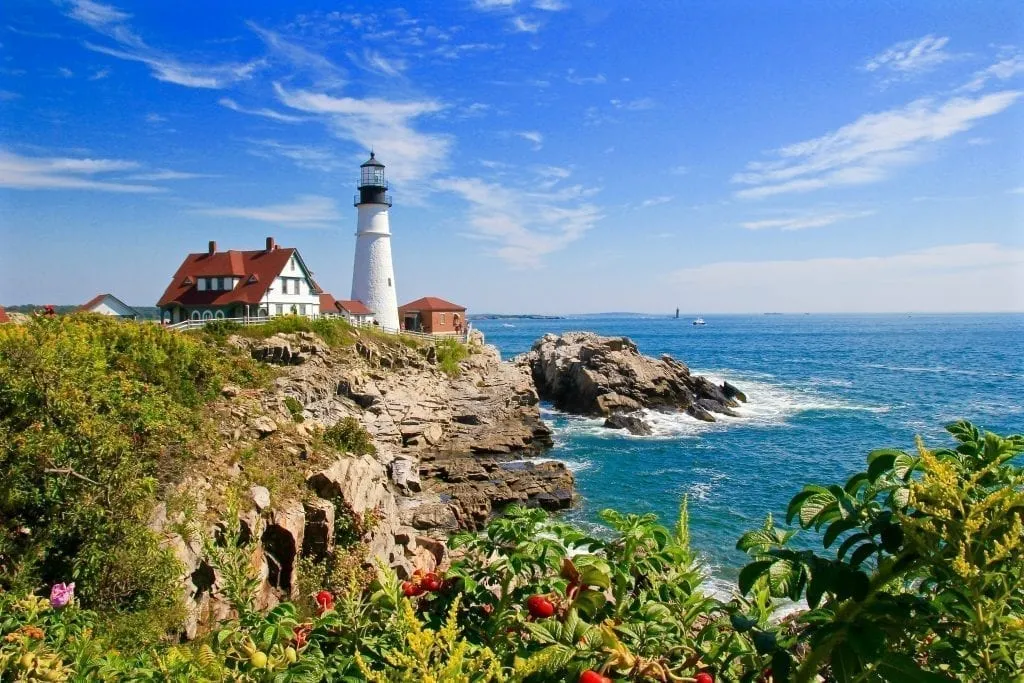 Mid-Atlantic East Coast Cities to Visit
New York City
How much of New York can you see on just a quick weekend trip?
Enough that you'll want to come back immediately!
New York certainly can't be "done" in a weekend–nor can it be done in a lifetime–but the great thing about New York City is that no matter who you are or what your interests are, you can find something to captivate you.
Whether you want to seek out the iconic sights of Midtown, find hidden gems in the outer boroughs, pay a visit to the Statue of Liberty, museum-hop your way through iconic attractions, or simply eat your way through the city, you'll be able to find all you're looking for (and more) in New York.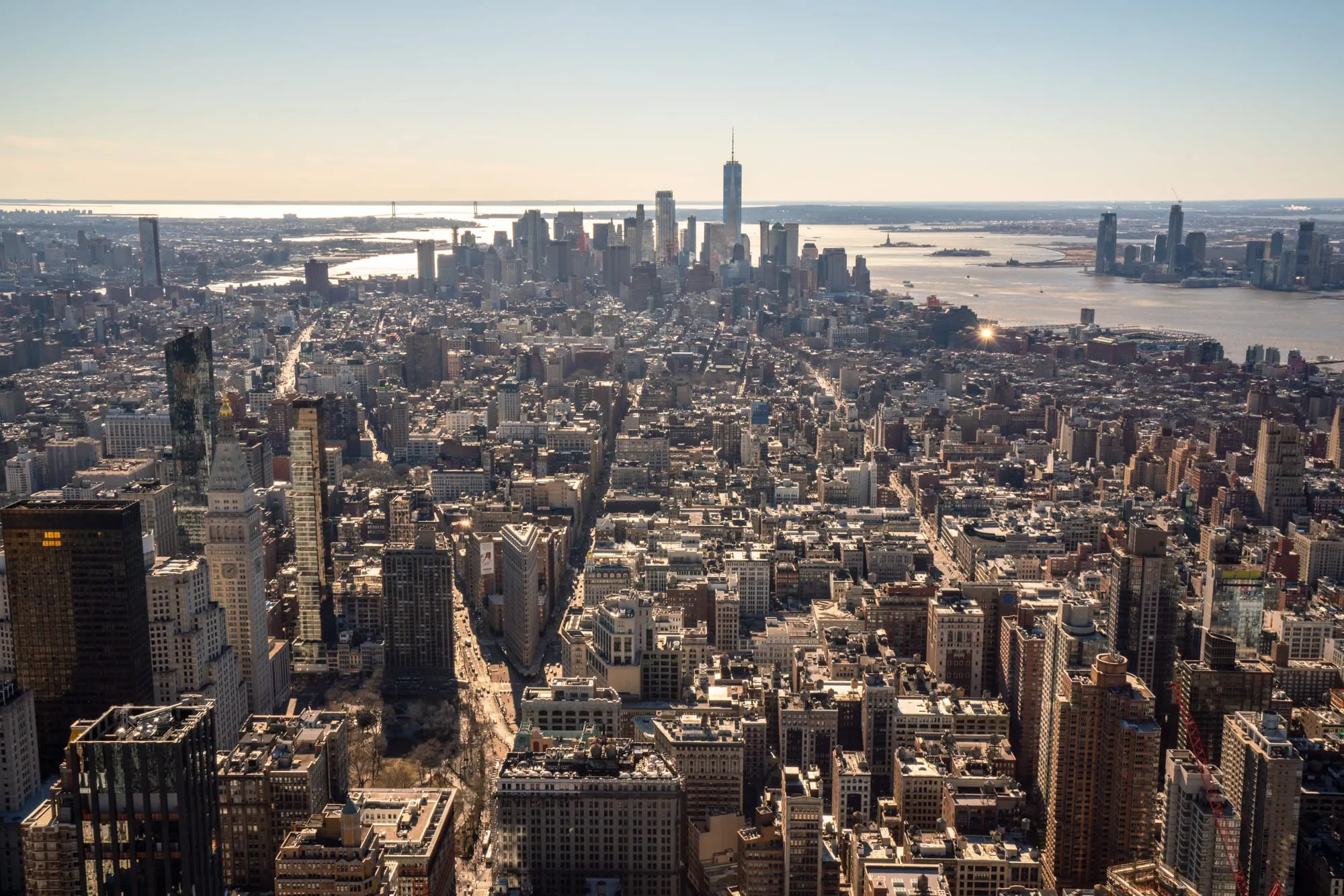 For tourists hoping for the classic NYC experience like we were on our first few visits, a weekend in New York is certainly long enough to see many of the highlights that we've all seen over and over in movies and shows throughout our lives!
Central Park, Fifth Avenue, Grand Central, Times Square, the New York Public Library, a Broadway show or two, a visit to Top of the Rock or the Empire State Building, the Brooklyn Bridge–on a weekend, you can see all of that and more.
If you're into museums, we also recommend hitting just 1-2 (no more–there's too much else to do!) during your weekend in New York: the Met, MOMA, and the Natural History Museum are all great, classic choices.
Where to Stay in New York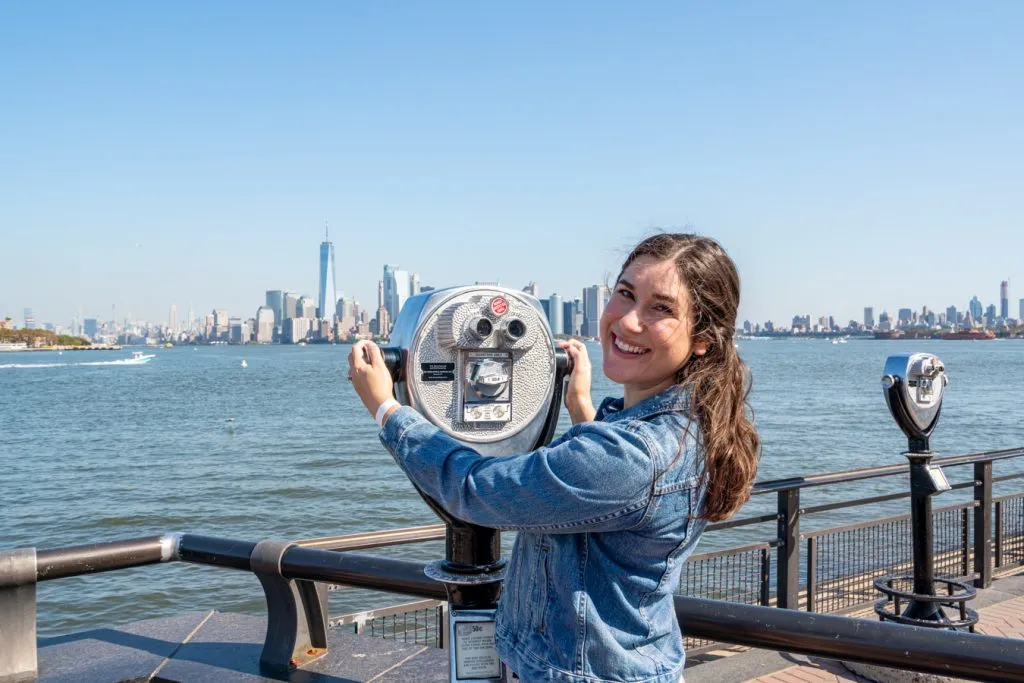 Philadelphia
Philadelphia has been one of the best East Coast cities to visit for centuries, and–like Boston–it features strong ties to the American Revolution.
This is where the Declaration of Independence and the Consitution were signed, touring Independence Hall and visiting the nearby Liberty Bell are among the best things to do in Philadelphia today as a result!
You can't miss Philly's food scene when visiting, either–from whoopie pies to Philly cheesesteaks, the city has a (literal) flavor all its own.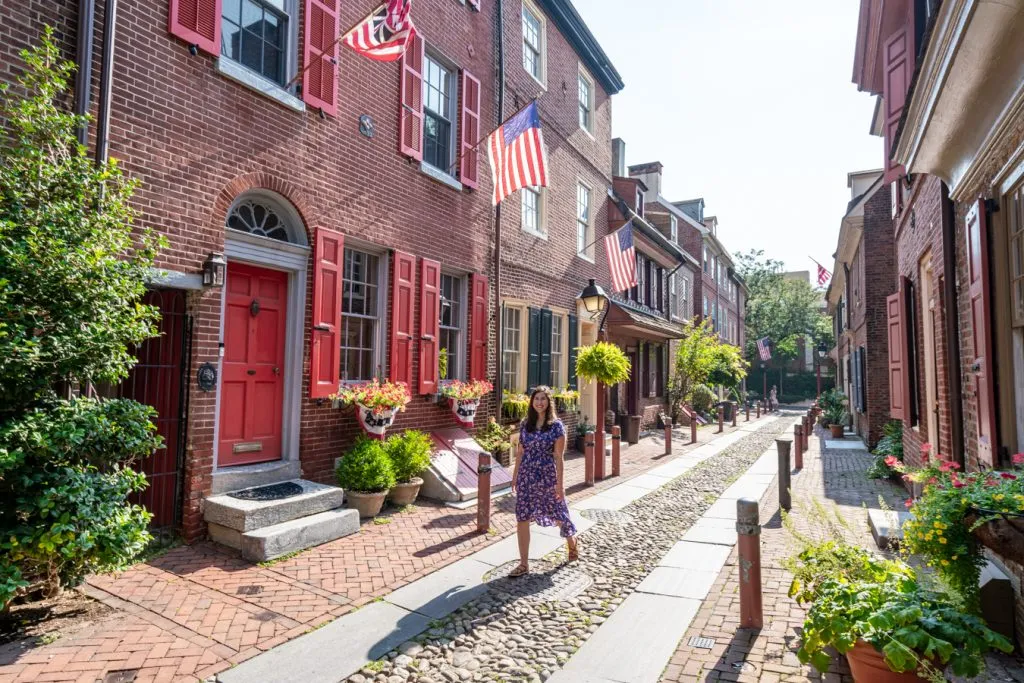 We loved taking this fun food tour when visiting Philadelphia, and of course, eating our way through Reading Terminal Market.
Be sure to also make time to visit some of Philadelphia's incredible museums during your visit, including the Philadelphia Museum of Art, the Museum of the American Revolution (we loved this one), and touring the dark but fascinating Eastern State Penitentiary.
The Philadelphia Museum of Art is also home to another essential stop in this iconic East Coast City: the Rocky Steps (and if you're willing to work up a sweat, definitely consider running up them yourself.
Where to Stay in Philadelphia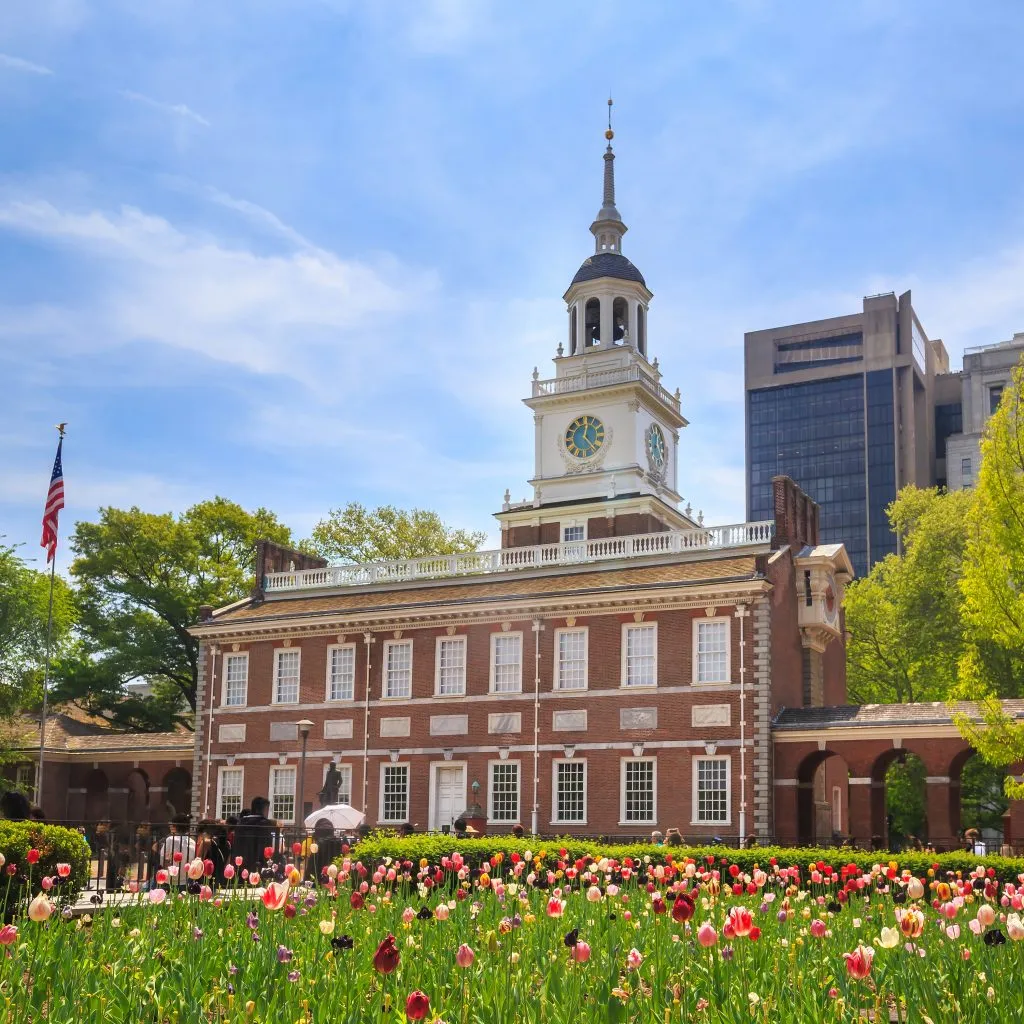 Washington DC
Our country's capital city is not only the seat of our national government, but it's also a fabulous place for a weekend trip on the East Coast!
Museum-goers will be delighted with the enormous array of impressive options to choose from in Washington DC.
Everything from the many Smithsonian Museums, to quirky options like the International Spy Museum, to meaningful stops like the US Holocaust Memorial Museum and the National Museum of African American History and Culture, is available.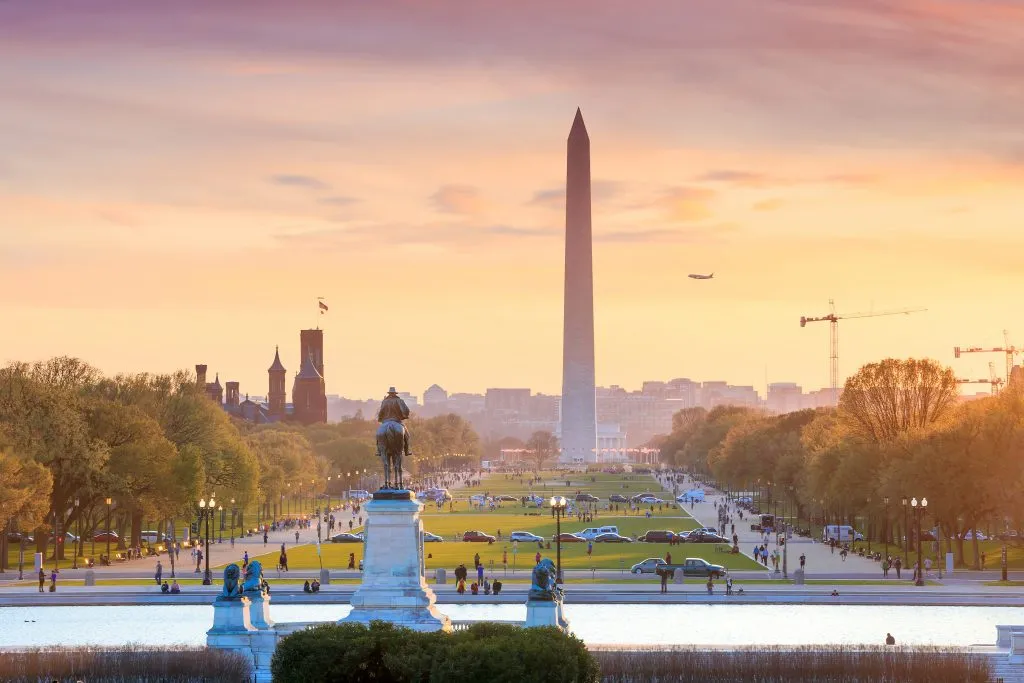 There are far more than you can visit in a single weekend, and as a bonus, most DC museums are free to visit!
Those interested in US History and government will also have plenty to keep them busy along the National Mall, including iconic stops like the Washington Monument and the Lincoln Memorial.
Touring the US Capitol is always an interesting experience, and if you plan ahead, you may even be able to tour the White House!
While Washington DC has plenty to offer year-round, there's no doubt that visiting during cherry blossom season is an incredible (but crowded) experience.
Where to Stay in Washington DC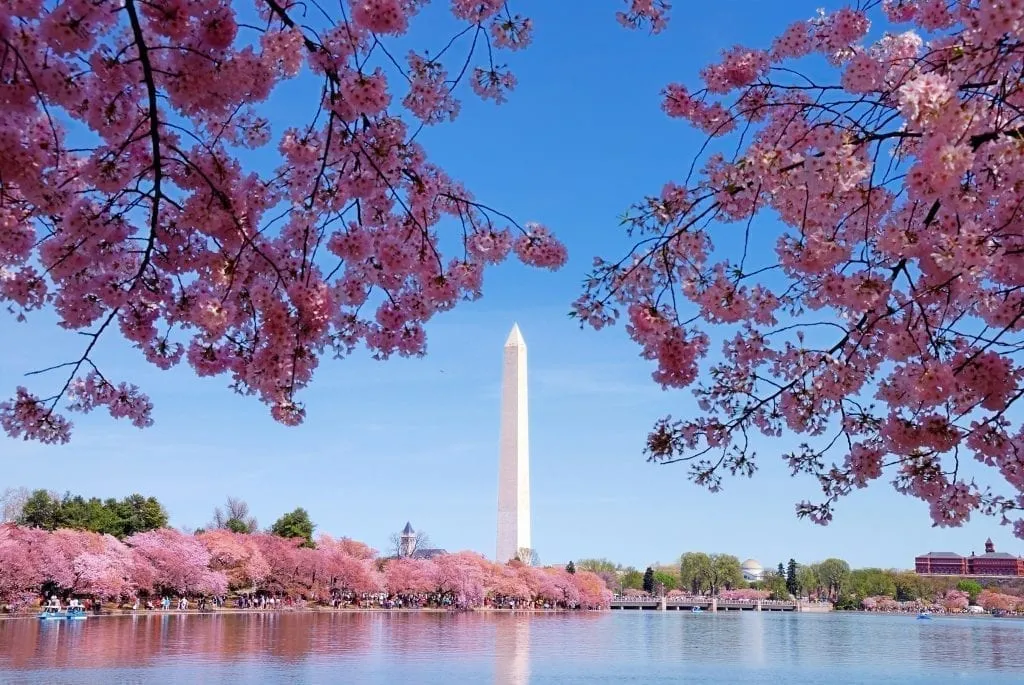 Baltimore
Compared to some of the other destinations in this travel guide, Baltimore is definitely a bit under the radar as far as cities to visit on the East Coast go (unless you're headed to a Ravens or an Orioles game, of course).
If you're looking for a coastal American city with plenty of history, art, and food to offer, though, Baltimore has you covered!
The Baltimore Museum of Art, George Peabody Library, Walters Art Museum, American Visionary Museum, and more, will keep any museum-hopper happy.
For American history buffs, Fort McHenry is a must, and for literary lovers, Edgar Allan Poe's House is tiny but interesting.
When it comes to wandering, the neighborhoods of Inner Harbor, Harbor East, Fells Point, and Little Italy have plenty to explore.
And, of course, no weekend in Baltimore is complete without chowing down on crab cakes!
Where to Stay in Baltimore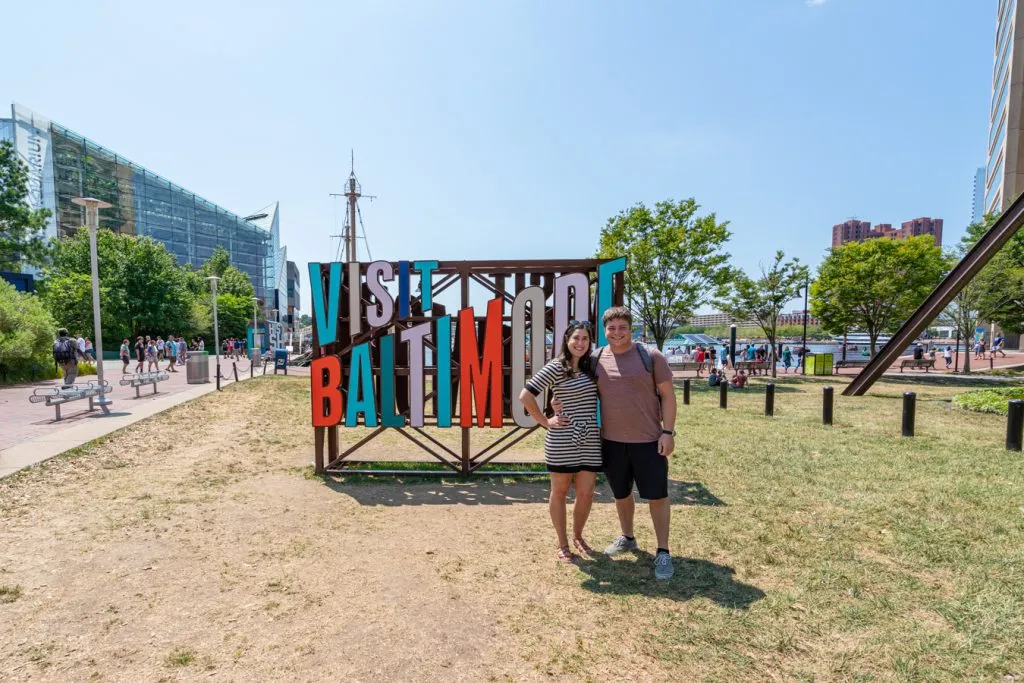 Alexandria
Alexandria may be located just south of Washington DC, but it can definitely hold its own as a standalone weekend getaway on the East Coast!
Set along the Potomac River, Alexandria is stately and beautiful, with plenty of gorgeous architecture, great food, interesting history, and fun shopping to offer.
Don't miss the iconic King Street Mile (and if you're interested in some of the less savory historic stories, consider coming back at night for a ghost tour).
The George Washington Masonic National Memorial is a must-see, and you can climb to the top for an excellent view of the city.
As far as museums go, the Stabler-Leadbeater Apothecary Museum is a fun stop!
Gadsby's Tavern–part fine dining restaurant, and part museum–gives modern visitors the chance to dine in the same space where many of the Founding Fathers once plotted against British rule.
Alexandria's most popular attraction, though, lies just 15 minutes south and technically outside of town: Mount Vernon, the former plantation of George Washington.
Where to Stay in Alexandria, Virginia
Southeast USA Weekend Getaway Destinations
Savannah
Without a doubt, the small but stunning city of Savannah, Georgia is one of the absolute best East Coast cities for a USA weekend getaway.
It also happens to be one of our favorite cities in the world, and we'll never stop revisiting it!
Featuring absolutely stunning architecture, 22 of its original 24 town squares, endless oak trees dripping with Spanish moss, and some of the best food in the country, exploring the best things to do in Savannah is always a blast.
While you're there, be sure to meander down beautiful Jones Street, check out Forsyth Park, hear some of the city's most enduring legends on a ghost tour, enjoy views from River Street, and take in some of Savannah's complex history at its various house museums and houses of worship.
Don't forget to set aside plenty of time to eat!
While there are dozens of incredible restaurants in Savannah, favorites include The Olde Pink House and The Grey for special occasions, The Collins Quarter for their legendary lavender mocha latte, and Leopold's Ice Cream for a scoop of their famous Tutti Frutti ice cream.
Have enough time for a quick day trip?
Tybee Island–also known as "Savannah's Beach"–is less than a 30-minute drive away, allowing you to easily combine a beach trip and city break!
Where to Stay in Savannah
Miami
Beautiful beaches, a unique culture that's all its own, fabulous architecture, and–of course–plenty of sunshine: you'll find all of this and far more by heading all the way south to Miami for your East Coast weekend getaway!
When it comes to beaches, South Beach is often considered one of the best urban beaches on the planet, and we'd have to agree.
Don't limit yourself just to the beach, though!
Be sure to explore Miami Beach's impressive Art Deco architecture, eat your way through Little Havana, admire street art in Wynwood, and check out the views from Biscayne Bay.
For a unique perspective on the city, consider taking a boat cruise–we were very impressed with how much we enjoyed ours!
For those who want to experience some unique nature in south Florida during their trip, consider also planning on a day trip to nearby Everglades National Park.
Or, if you have a few more days (say, an extra long weekend trip), you can road trip all the way to Key West, the southernmost point of the USA!
Where to Stay in Miami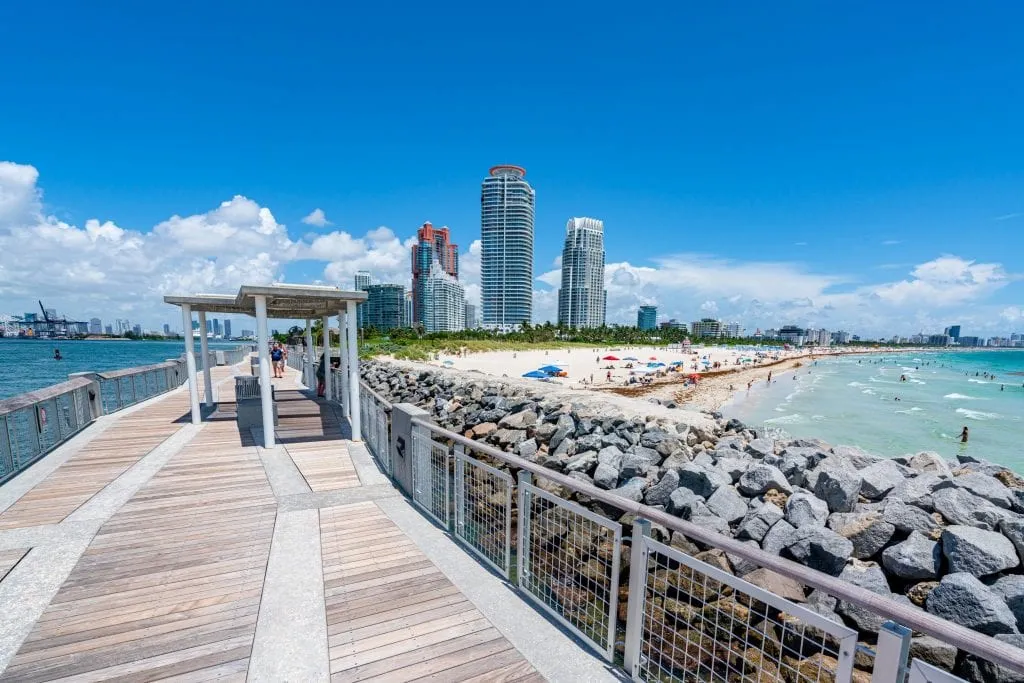 Charleston
Colorful, coastal, and downright charming, Charleston makes an absolutely delightful East Coast weekend getaway.
Don't mistake Charleston for all glamour, though: the city has a national reputation for its incredible food scene, played an important role in two of the USA's most important wars, and is home to an enormous amount of often heavy history.
While you're there, be sure to snap photos at beautiful Rainbow Row and The Battery, check out City Market, enjoy Waterfront Park, and tour the Olde Exchange and Dungeon (which is one of the places where the US Constitution was ratified).
The Old Slave Mart Museum is home to heartbreaking history and is an essential stop when working to understand the history of Charleston.
Those interested in US military history will no doubt want to visit Patriots Point to tour the former US naval ships docked there, and pay a visit to Fort Sumter to learn about its history (and enjoy the views).
Beach lovers, don't miss the chance to check out nearby Folly Beach!
Where to Stay in Charleston
Asheville
Of all of the weekend getaways on the East Coast covered here, Asheville is one of the best options for a group divided on whether to visit a city or the great outdoors.
Home to an epic craft beer scene, the incredible Biltmore Estate, plenty of street art, and delicious food options, there's no doubt that Asheville appeals to the city lovers among us.
Its location right next door to the Pisgah National Forest and Great Smoky Mountain National Park, however, make it a fabulous US weekend destination for outdoor enthusiasts, as well.
There are plenty of easy hikes near Asheville (many of them featuring waterfalls) that allow travelers of all skill levels to enjoy the beautiful mountain setting!
No matter what your interests are, try to make time during your trip to Asheville to drive a small piece of the Blue Ridge Parkway–especially if you're visiting in the fall and can enjoy the changing colors.
Often considered one of the most beautiful road trips in the United States, Blue Ridge Parkway is a drive not to be missed.
Where to Stay in Asheville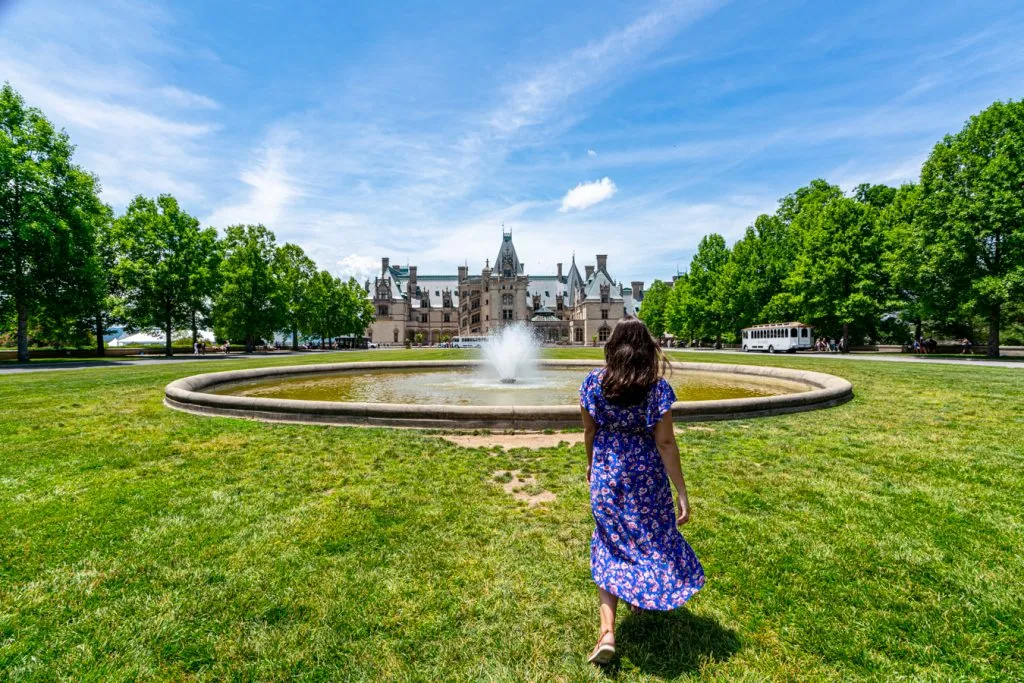 Atlanta
Sprawling, historic, interesting, and full of delicious southern food, Atlanta makes a fantastic weekend getaway on the East Coast USA.
The city's museums are worthy of a large swath of your time, with many of them centered around Centennial Olympic Park (where the 1996 Olympics were held).
In the immediate area, you can find the National Center for Civil and Human Rights (an absolute must-see when visiting Atlanta), the Georgia Aquarium, and the famous World of Coca-Cola.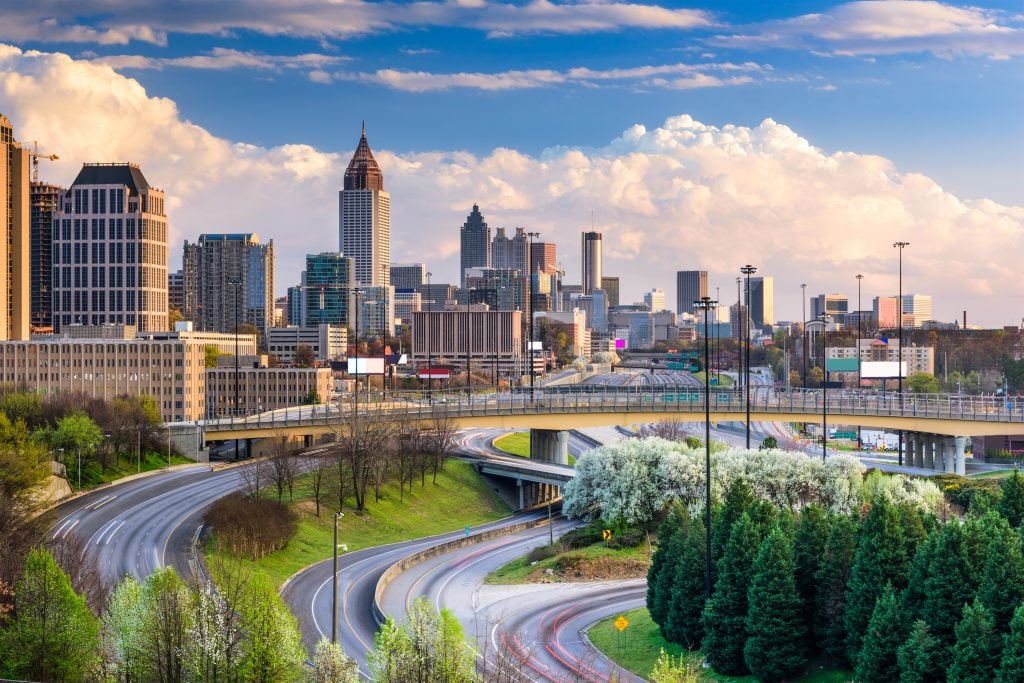 Of course, no visit to Atlanta would be complete without time spent at the Martin Luther King Historical Park, which is home to several sites important to the life of Dr. King and the Civil Rights movement overall.
Other interesting places to visit during a weekend in Atlanta include the BeltLine, Ponce City Market (for excellent food), and the Atlanta History Center.
Curious about filming locations?
Atlanta–and Georgia overall–are hotspots for filming movies and TV shows ranging from The Walking Dead to Stranger Things.
There are plenty of filming location tours available that are ready to help you find both iconic and hidden locations!
Where to Stay in Atlanta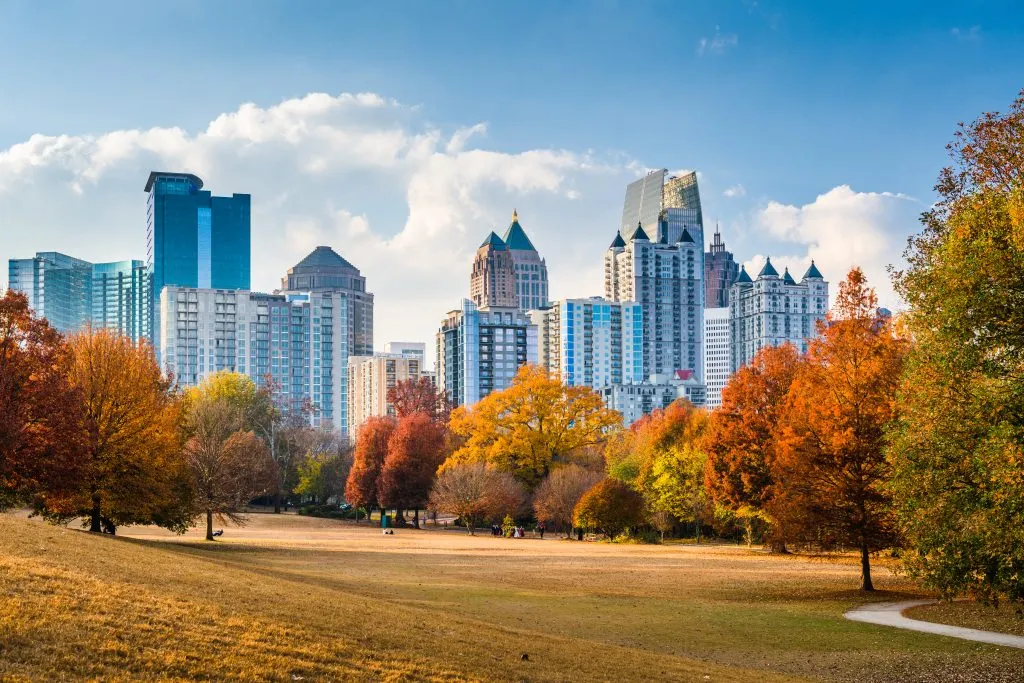 Orlando
Without a doubt, Orlando is not only one of the most popular East Coast cities to visit but one of the most popular weekend getaways in the entire USA, and that's for one important reason: theme parks!
From Walt Disney World to Universal, Orlando's world-class theme parks are an enormous draw for kids and adults alike, and they alone are a reason to visit Central Florida!
Whether you want to ride the classic Disney rides at Magic Kingdom, step into Hogwarts in Harry Potter World, or ride soaring roller coasters, you'll have a blast.
Away from its iconic theme parks, though, there is still plenty to do in Central Florida!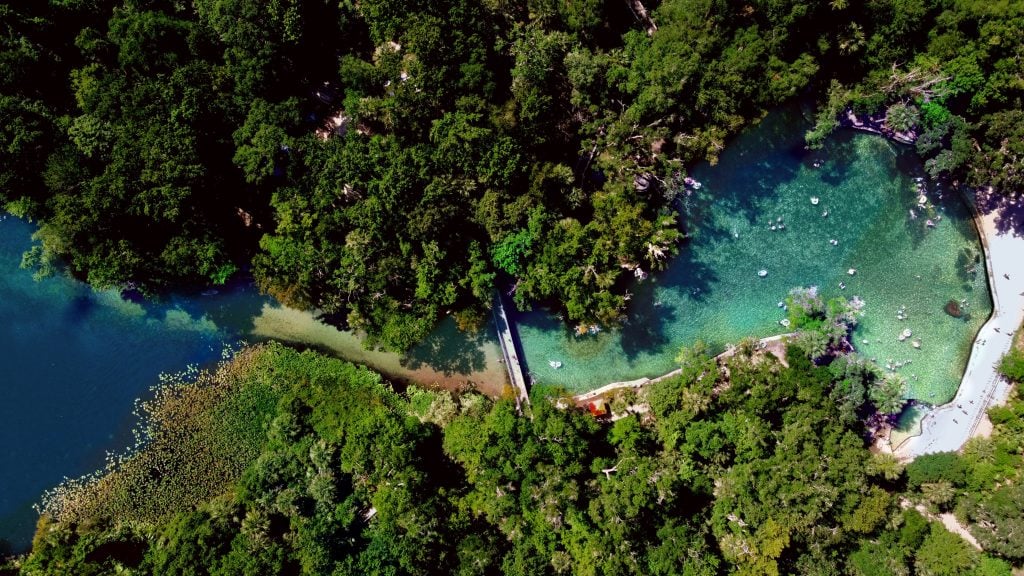 Canoeing at Wekiwa Springs was a favorite activity of mine as a kid and is a great way to experience a beautiful Florida spring without going far.
The Kennedy Space Center is about an hour away from downtown Orlando, and an incredible experience.
Looking for something closer to town?
Check out the Orlando Museum of Art or the Morse Museum of American Art during your East Coast city break!
Where to Stay in Orlando, Florida