Planning to visit Auschwitz–officially known as Auschwitz-Birkenau, or sometimes Auschwitz Concentration Camp–on an upcoming trip to Krakow?
If so, we've designed this guide to help you plan your visit to Auschwitz from Krakow, whether you plan to travel independently or via a tour.
As one of the most infamous Nazi concentration camps, Auschwitz is an extremely dark place to visit.
Here's everything you need to know before you go, as well as tips and advice based on our personal experience touring Auschwitz.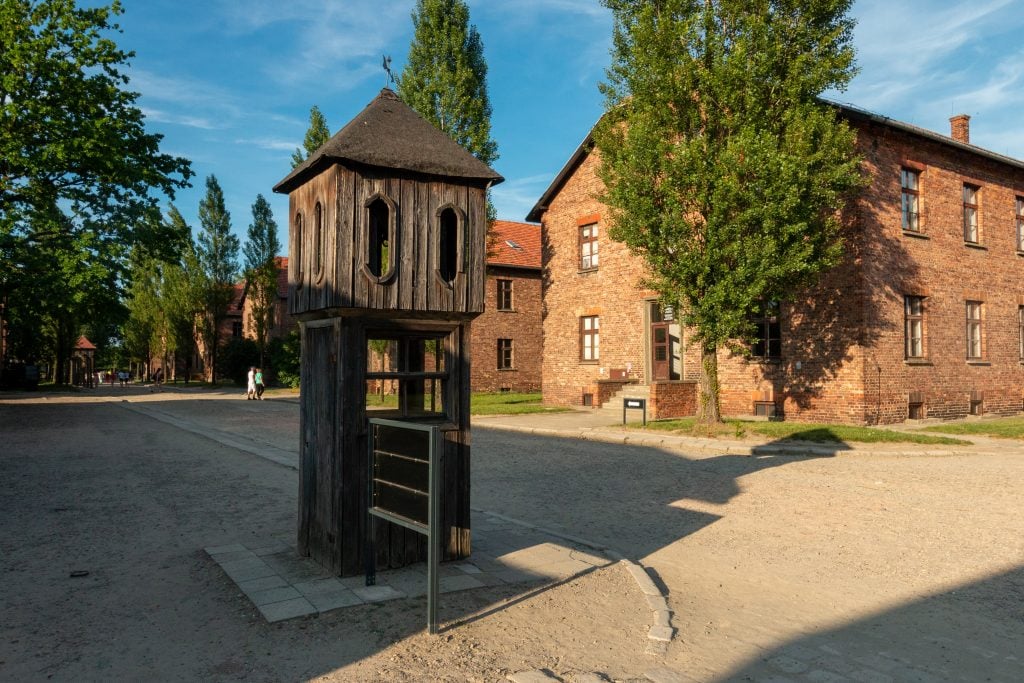 Some links in this post may be affiliate links. If you make a purchase through one of these links, we may earn a small commission at no extra cost to you. Please see our

disclosure policy

for more detail.
A Brief History of Auschwitz in Poland
Auschwitz Concentration Camp was initially established in 1940, in the suburbs of the Polish city of Oswiecim.
Its initial function was to house Polish political prisoners, and they were held in Auschwitz I, the oldest and, later, smallest part of the concentration camp.
The barracks in this section pre-date the Third Reich.
In 1941, Birkenau, or Auschwitz II, was built. This was where the bulk of the victims were held (up to 90,000 at times) and systematically murdered.
The haunting images of the Birkenau train station–the final destination of so many of the infamously inhumane train cars used to kidnap and transport Jewish people and other "enemies" of the regime–are world-famous to this day.
Before Auschwitz-Birkenau was liberated, the Nazis succeeded in destroying the gas chambers and other tools of mass extermination in Birkenau, and a ruin is all that is left of them today.
Several dozen forced labor camps were established as part of the genocide machine, the largest of which was Monowitz, which you'll often see mentioned along with Auschwitz and Birkenau.
However, nothing remains of the work camp today except a small memorial.
Why is Auschwitz so famous?
It's an awkward, uncomfortable question, but it's worth asking: why is Auschwitz a better-known landmark in Poland (at least outside of Europe) than equally horrifying places like Dachau or Bergen-Belsen (where Anne Frank perished)?
A large part of the reason is simply that Auschwitz was the deadliest Nazi concentration camp, murdering roughly 1.1 million people over 4.5 years.
Certain memorable but horrifying events from the Nazi regime, such as Josef Mengele's cruel experiments on humans and especially twins, also took place at Auschwitz.
Elie Wiesel's magnificent Night trilogy, detailing the horrors he survived as a prisoner in Nazi concentration camps, was partially based on his experiences in Auschwitz.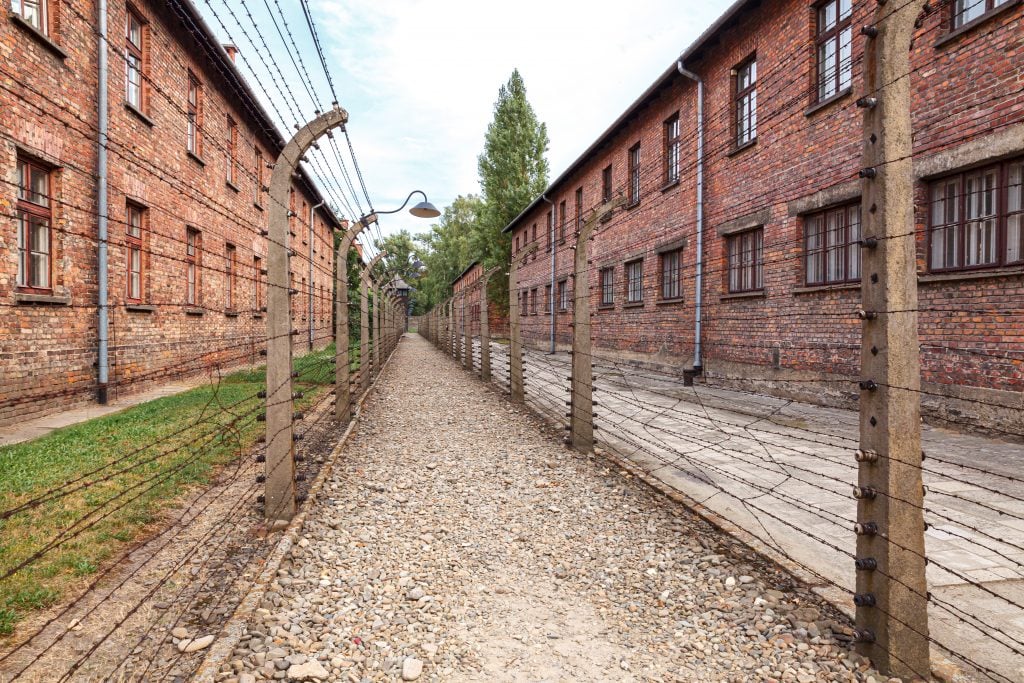 Should You Visit Auschwitz?
Before diving into the logistics of touring Auschwitz, it's worth asking: should you visit at all?
While there are certainly some people who feel that the fact that you can visit Auschwitz–that it has become, in fact, a tourist destination drawing more than 2 million visitors a year–is wrong, or at least awkward.
We struggled with whether to visit in the first place, and with whether to write about it, but ultimately, we walked away from our Auschwitz tour with a much deeper understanding of the tragedy of the Holocaust (what the Jewish community calls the Shoah), and of the level of cruelty that can be inflicted as a result of dehumanization.
What has stuck with me most from that visit was the fact that it brought home the sheer scale of the genocide, something that is easy to lose sight of in numbers and statistics, but much harder to do when walking past seemingly neverending rows of barracks or heartbreaking amounts of stolen belongings.
Ultimately, I would encourage anyone who feels the pull to visit Auschwitz and has a chance to tour it to go–but to be prepared for an extremely draining day.
How to Tour Auschwitz from Krakow: 3 Main Options
Before choosing the right method of visiting Auschwitz for you, keep in mind that the overwhelming number of visitors that the site receives tends to mean that tickets and tours booked directly through Auschwitz sell out far in advance.
If you're planning a last-minute trip to Auschwitz from Krakow, a third-party tour (more on that below) may be your best option.
That being said, here are the 3 main ways to visit Auschwitz.
Without an Educator
If you would like to tour the Auschwitz Memorial without an educator, you can do so, but you'll still need to book a time slot here.
Once you select your date, scroll until you find the option for booking an "individual visit without an educator".
These visits are free of charge, however, in our opinion, the context that the guides provide is well worth the price of admission.
Independent Transport + With an Educator
By pairing independent transport (bus, private taxi, or train) with an Auschwitz tour with an educator, you can get the best of both worlds–but you'll need to plan in advance because tours with educators sold directly through Auschwitz sell out quickly.
You can book your tour here.
Tours for individuals are 85 PLN (or about $22 USD) per person as of the time of writing.
With an Organized Tour
The easiest, but most expensive, option for visiting Auschwitz Concentration Camp is by booking a tour through a third party.
These tours are typically available at the last minute, and take place with the same excellent Auschwitz educators that you would have access to if you booked on your own.
Transportation is typically also included.
This is how we arranged our Auschwitz tour, and we were very satisfied with the experience.
A tour like this is the perfect option for someone who is planning their trip to Auschwitz at the last minute or who simply doesn't want to deal with the logistics of getting there on their own.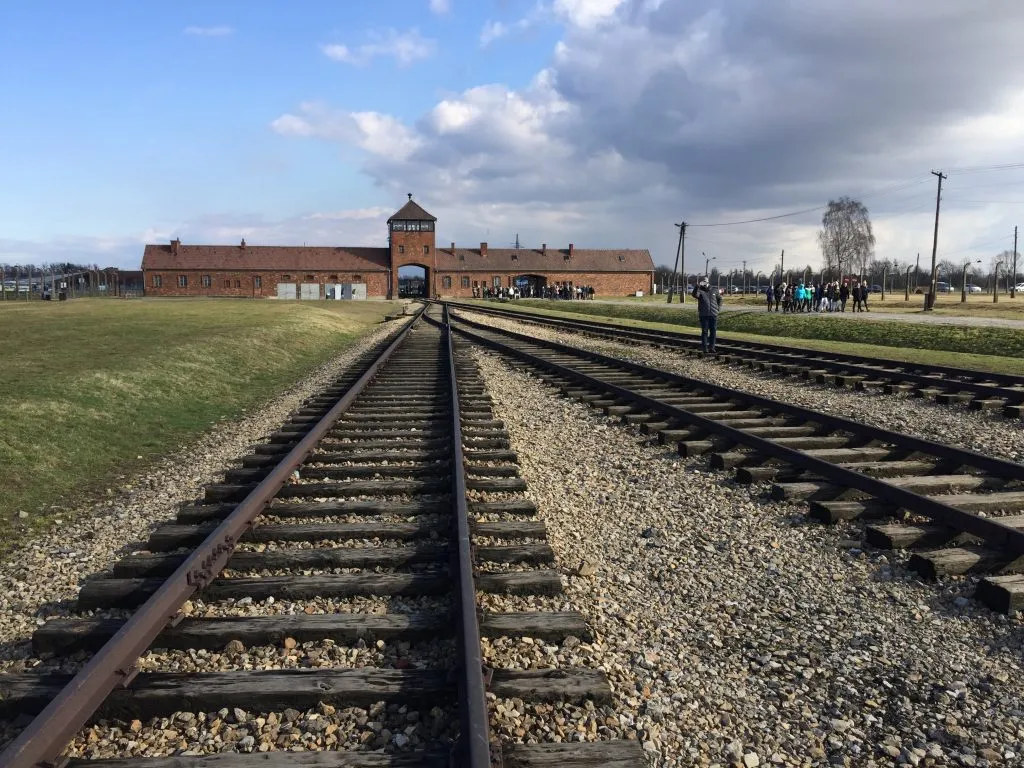 Our Experience Visiting Auschwitz-Birkenau
This section chronicles our personal experience taking an Auschwitz tour with an on-site educator–in structure, you can expect a similar experience if you choose to book a tour.
In travel, I've found that some days are fun, some days are meaningful, and some days are both. Occasionally, you have a day that is neither.
The day we visited Auschwitz-Birkenau falls solidly under the "meaningful" category. I cannot say a single moment of the visit was fun, but it was intensely powerful.
The museum and the guides were full of a million little details–things that are either overlooked by or forgotten during a general history class, that are really only seen when delving deeper into a subject.
They gave the horror of Auschwitz a human perspective, and we will never forget it.
Touring Auschwitz
The first part of our tour went through Auschwitz I, which was the smaller, more administration-driven camp. It was also the original camp, and the sister work camp, Birkenau, was built as the Nazis gained more power and brought more people to the site.
Auschwitz I is home to many infamous sights, including the Black Wall and entrance gate.
The entrance gate we see today is a replica, put in place after the original was stolen (and later recovered, to be stored safely away).
This area of camp also holds many diagrams and museum materials, showing the heavy impact the Nazis had.
Most disturbingly, it has the things: stolen goods from the victims and prisoners–piles of shoes stacked above our heads that go on longer than a football field, suitcases with names and addresses painstakingly written on them (as was the custom of the day).
Enough dishes to furnish every kitchen in Poland. Baby clothes. Canes, crutches, false limbs.
And finally–in a room that cannot be photographed–hair. So much hair, shaved off the heads of victims and prisoners as they arrived: beautiful braided hair, messy short hair, long hair, dark hair, light hair, curled and straight–gobs and gobs of it, too much to describe.
It is during this series of rooms that Auschwitz-Birkenau begins to rip your heart out–so many things, so much horror, and always the same message in the background: "This is only the tiny percentage that was able to be recovered…"
Jeremy is a pretty stoic guy, but not here. I have never seen my husband moved closer to tears in public than he was in this place.
As for myself, I can count the number of times I've cried in public on one hand–but this series of rooms is definitely on that list.
From here, the tour takes you through the "punishment" area–torture chambers, really, where people were starved and sleep-deprived and all manner of other awful things, as if simply existing in the horror wasn't torture enough.
The Auschwitz I tour concludes with two areas that stuck out to me: first, gallows, where Rudolf Hoss, the man who ran Auschwitz, was hanged shortly after the war.
What disturbed me most about this was not the gallows–how could anyone see anything but righteous justice in that death?–but the story our guide told, which I will never forget.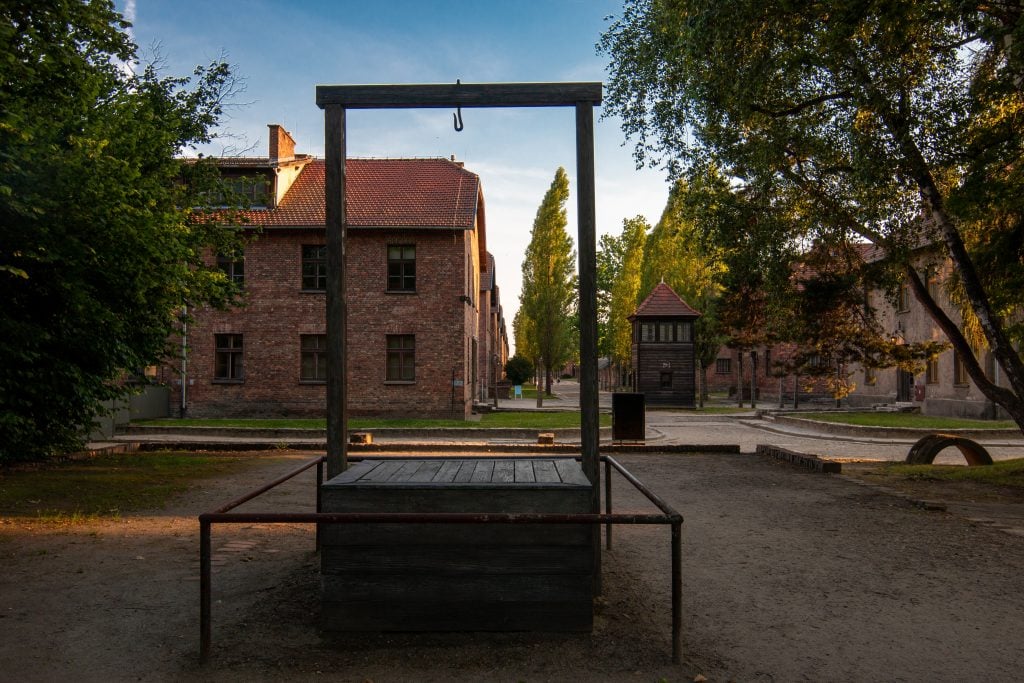 Apparently, a few months before our visit, a family of Neo-Nazis came to lay flowers at the gallows in honor of this man. They came to pay tribute to him and stayed for a private tour.
How the guide who handled that tour kept their composure, I have no idea–I wanted to throw up just hearing about it–and it's very clear that for most of the guides at Auschwitz-Birkenau, their presence there is less of a job and more of a calling.
I'm sure this family was not the first and will not be the last, but that does not make me any less disgusted by them.
From here, we visit the last standing gas chamber, the one that the Nazis were unable to blow up before liberation.
This image is also seared in my mind–it is impossible not to be moved by such a place.
Touring Birkenau
After finishing our tour of Auschwitz I, our group took a much-needed break before riding over for part two: Birkenau.
The break was long enough to grab a short meal, but there's not much selection nearby–a small gift shop and one food stand.
Birkenau holds the famous train station, the majority of the barracks, and almost all the (remains of) the gas chambers.
There is a different atmosphere here than Auschwitz I: Auschwitz I is packed in, close together: you can feel it closing in on you.
Birkenau overwhelms you in the opposite way: the sheer expanse of it chokes you–all you can see, from all sides, are the ghosts of horror.
We toured the famous barracks–the one we were in had murals drawn on the walls from trying to entertain the small children who were kept there.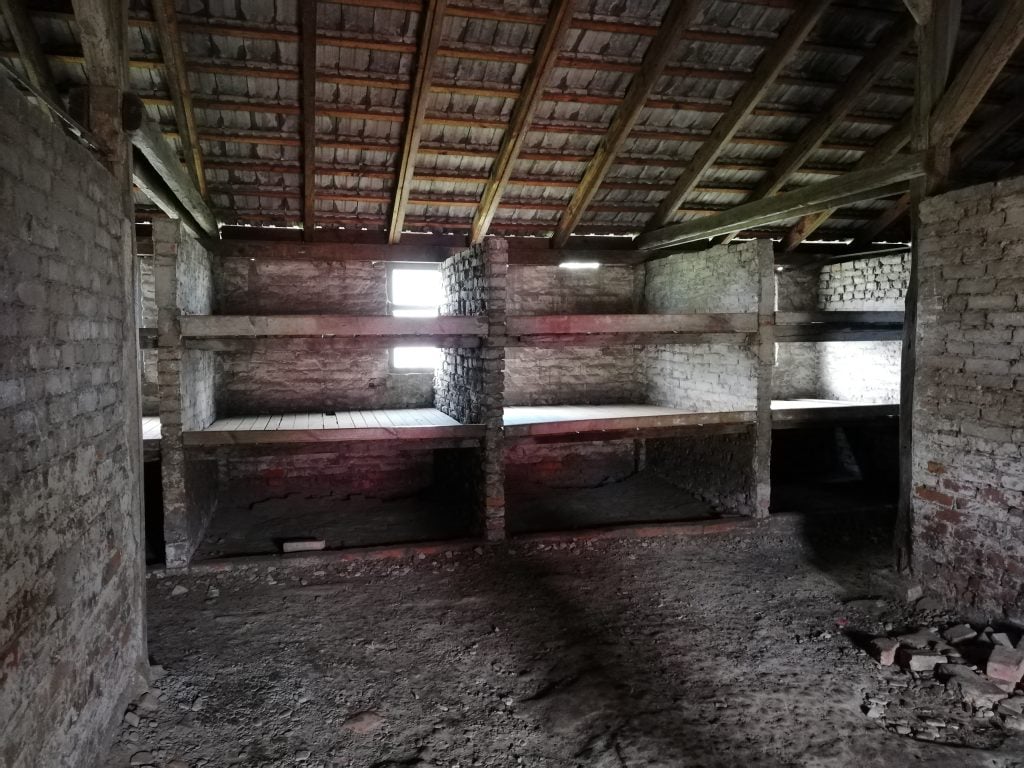 We saw Jewish Way, where most of the Jews who arrived were herded toward the gas chambers in the tree line.
There were also, impossible to miss, the crumbled remains of two gas chambers–having seen a horrific diagram of them earlier, it was disturbingly easy to pick out the layout of the different rooms and their purposes.
Here, also, lays the memorial.
I photographed the English one, but there are 32 identical plaques like this, in all different languages: one for the native language of each prisoner and victim.
When we were there, they had just recently added the 32nd–Slovakian, I believe, based on some new research that had been done.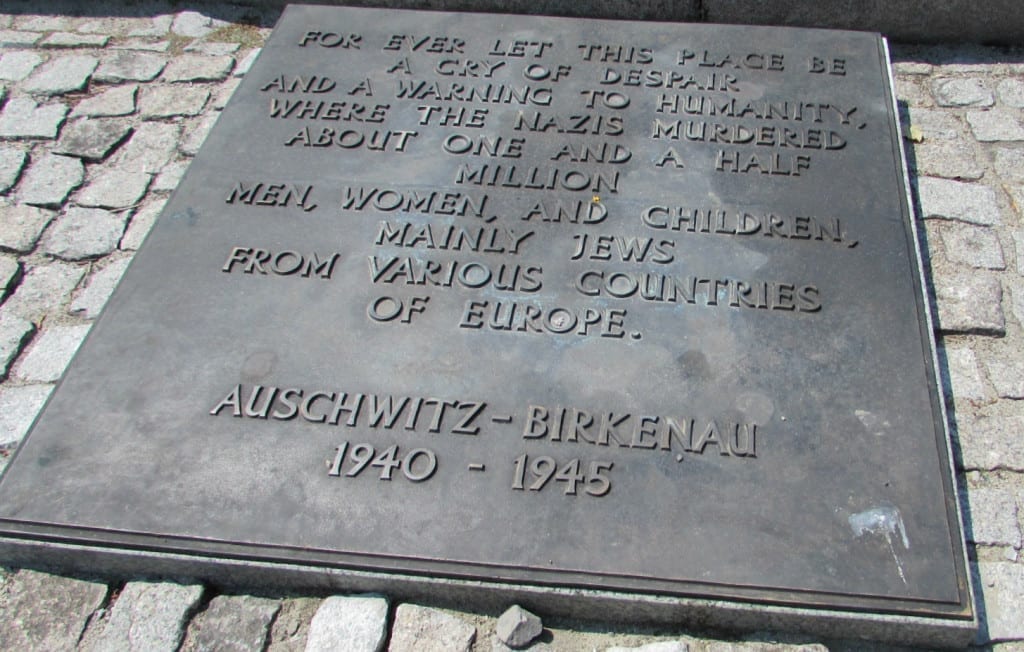 Takeaways From Our Auschwitz Tour
We learned so much during our chance to visit Auschwitz-Birkenau–the museum is very well put together, very informative, and of course, very heart-wrenching.
Though we learned about the Holocaust during school, in both history and English/literature classes, there is simply nothing like standing on the ground where more than 1 million people were brutalized, tortured, and exterminated because of bitter racism grown far out of control.
Our tour group was very quiet on the bus back to Krakow: the driver showed a film of the liberation of Auschwitz-Birkenau and the lifelong impact the experience had on survivors, and most of us watched.
Before and after that, though–silence.
Many people stared out the bus windows at the gorgeous Polish countryside, as we had on the way in–but you could tell, no one was really seeing the landscape this time.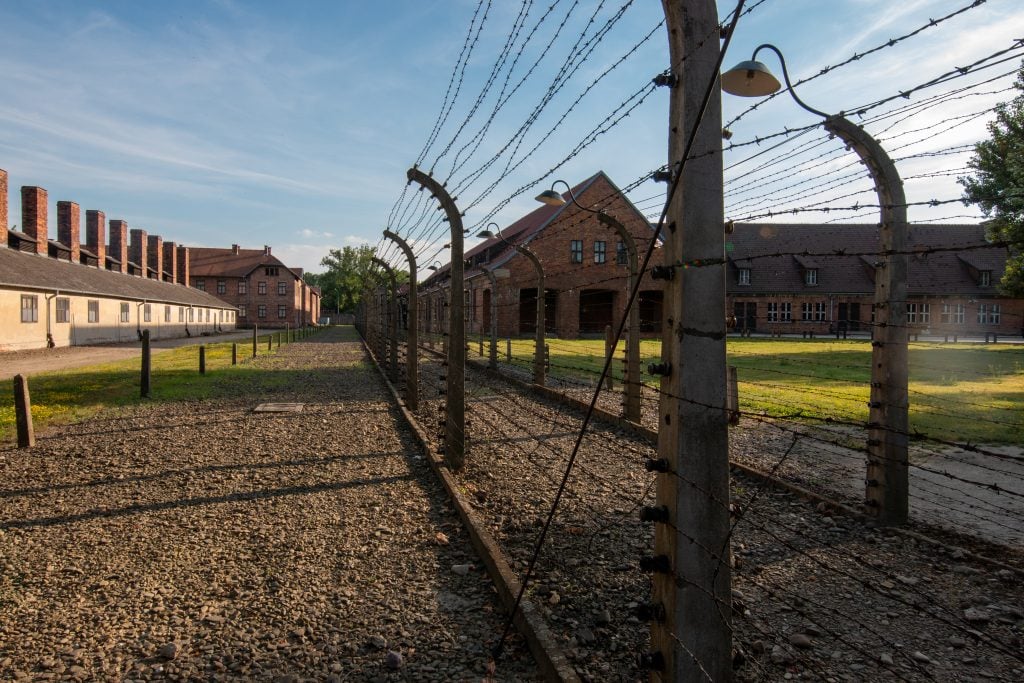 Tips + FAQ For Your Auschwitz Tour
What can you bring to Auschwitz?
Plan to bring as little as possible with you to Auschwitz.
No bag larger than a very small woman's purse will be allowed in–if you bring a backpack, it will need to be stored before entering (for those who take a tour, the tour bus usually works).
Cameras are allowed, and photos can be taken in most areas.
You also need to have your ID with you to tour Auschwitz, and if you booked your tour yourself, your entry pass.
Can you visit the Wieliczka Salt Mine on the same day?
Yes, but we'd recommend avoiding it if possible.
Visiting Auschwitz is understandably a very long, exhausting day in its own right, and combining it with the Wieliczka Salt Mine (which is magnificent and definitely deserves to be visited!), can make for a very tiring day.
However, with limited time in Krakow, it may be the only realistic option.
If you need to visit both sites in one day, we highly recommend booking a tour to take the logistical challenge out of seeing both places in one day–this one gets excellent reviews.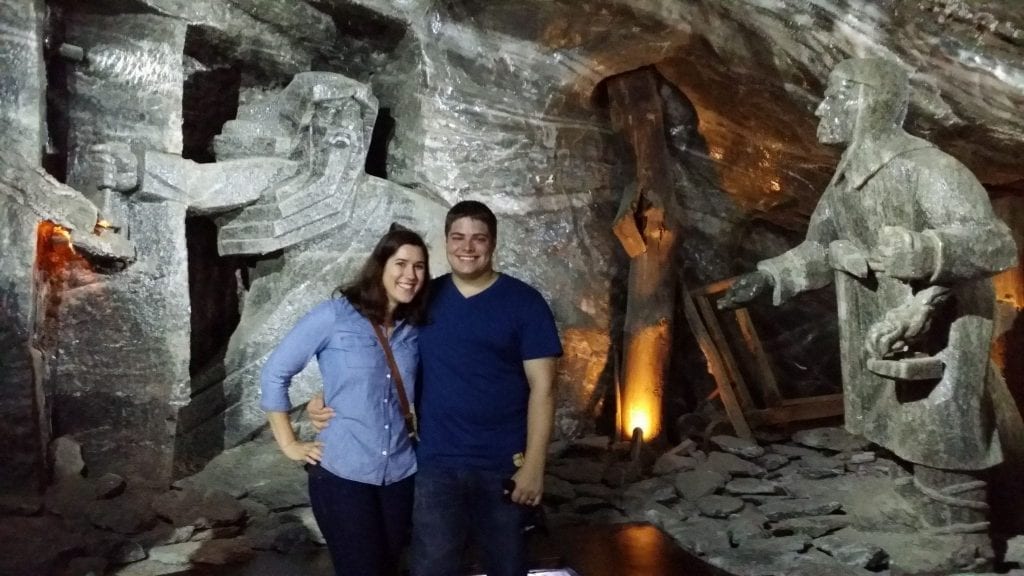 How much does it cost to visit Auschwitz?
It's free to visit the Auschwitz grounds.
However, taking a guided tour with an Auschwitz educator offers invaluable context and perspective, and we highly recommend it.
How long is an Auschwitz tour?
General tours run 3.5 hours, and you can also arrange extended tours of about 6 hours.
According to our guide, extended tours delve further into the barracks of Birkenau (we toured 1 barrack and one lavatory), show more gas chamber ruins (we saw two destroyed and one standing: more than enough), and also go out to "Canada".
Of all of those, I would have been most interested in seeing Canada, which was the prisoner's name for the area where all the stolen luggage and goods that the families brought with them to "resettle" was held.
Why was it called Canada? Because the prisoners knew of Canada as a rich country.
How far is Auschwitz from Krakow?
Auschwitz is 66 kilometers from Krakow.
With traffic and/or in a bus, you can expect to spend roughly an hour and a half getting to Auschwitz from Krakow (and vice versa).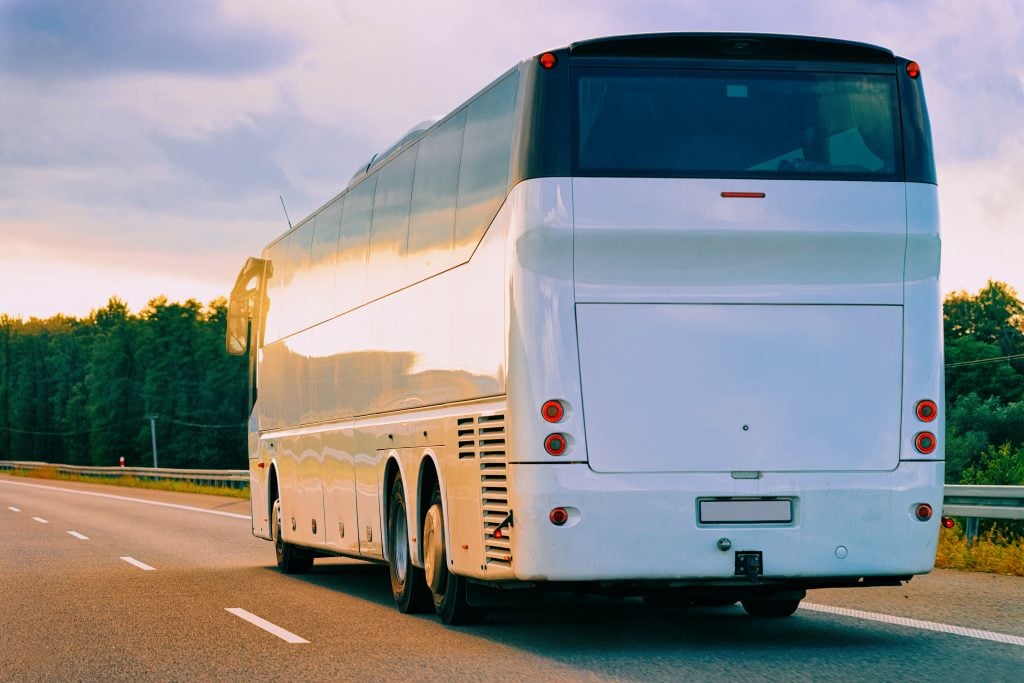 Are Auschwitz and Birkenau in the same place?
The camps are about 3.5 kilometers apart.
There are shuttles that will transport you between them when visiting Auschwitz.
They run every 10 minutes during the high season (April – October) and every 30 minutes during the off-season.
Please, don't take Auschwitz selfies.
This isn't a FAQ, exactly, but more of a plea–dark tourism destinations are sensitive and somewhat controversial for good reason, but surely we can all agree that taking smiling selfies in front of mass-murder sites isn't the best look, right?
Turn your camera outward instead when you visit Auschwitz: photos of most areas are encouraged and in my personal experience, definitely help keep the emotionally charged memories from our day spent touring Auschwitz from Krakow alive.