Why You Should Go:
Despite the fact that there are tons of things to do in Marrakech, there are a lot of reasons to hate the city: it's incredibly loud, it's smelly (meat, exhaust pipes, wandering cats), the drivers tend to behave as if the large pedestrian groups don't exist, and, of course: people are constantly harassing you to go places and buy things. It's incredibly easy to get lost in the maze-like souks, and the idea of a "set price" in the shops is laughable (for the most part: word on the street is that there are a handful government-run stores with set prices–we didn't see any of them).
Strangely, these are some of the exact same reasons that I fell in love with it.
Marrakech is so alive — it is teeming with people and activity, and has a captivating blend of the old and the new. You can never run out of things to do in Marrakech, it's the perfect first stop on any Morocco itinerary, whether you're visiting alone, with friends as a couple, or even traveling Morocco with kids.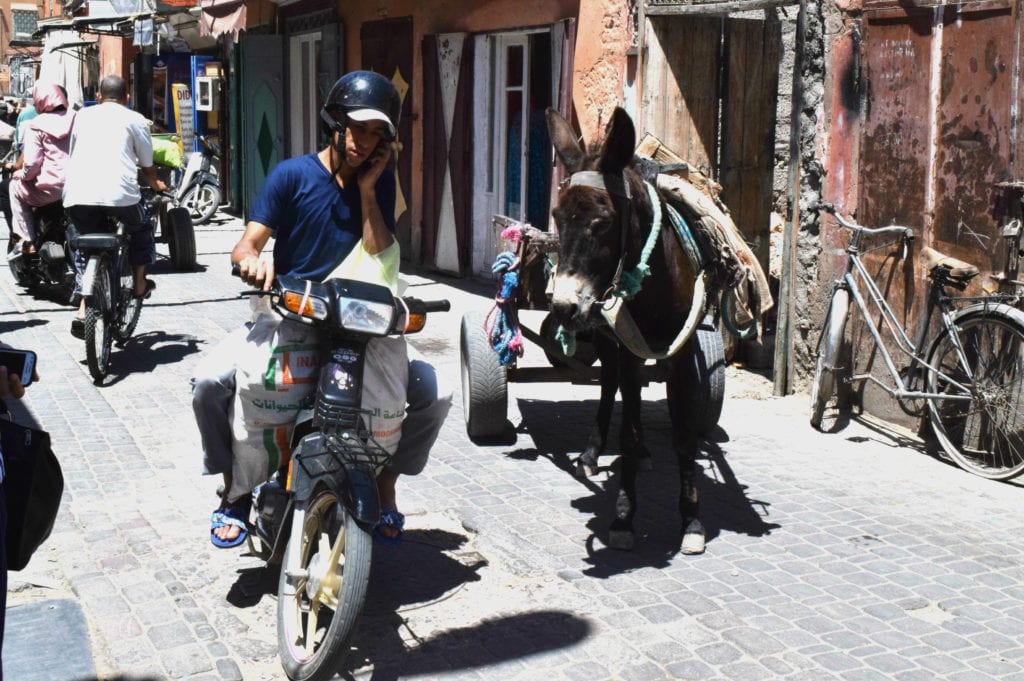 When we first landed, my immediate thought was that Marrakech was like no place else I had ever been. As it turns out, this initial impression was completely correct.
The prices, of course, are to die for when coming from a Western country: $15-40 a night will get you a hotel room in a traditional "riad", normally complete with a Moroccan breakfast (Moroccan crepes, bread, honey, oil, coffee and orange juice, perhaps with some pastries).
Marrakech is also the best major city to reach Morocco's little corner of the Sahara desert from–3 day/2 night and 2 day/1 night tours are sold on every corner.
Getting To & Around Marrakech:
If Marrakech is your first destination in Morocco (which is not unlikely, especially if you're coming from Europe–Ryanair flies here and to Fez), you will almost certainly arrive at the airport. A taxi will likely be your best bet to get to the "medina" (old part of the city), which houses the souks and all the attractions that tourists come for. Most likely, your riad will be in the medina. Be sure to haggle with the taxi driver–their first price will be insane.
If you're staying in the medina, once you reach your riad the rest of the medina is incredibly walkable. Inside the souks, walking is really the only option, and outside of them, we felt safe in most of the "touristy" areas.
If you would like to take a cab within the medina, 20-40 dirham ($2-$4) should get you anywhere you would like to go.
If you're planning your first trip to the city, the Casual Travelist has plenty of logistical tips for visiting Marrakech!
Don't Miss These Things to Do in Marrakech:
1. Visit the souks.
The Marrakech souks are, in a word, a marketplace. It appears that anything you want in the world is sold here, but the most popular items you will find are leather goods, lamps, carpets, metal trinkets (teapots, etc), "designer" sunglasses, and woodworking items (chess boards, carved camels). All of this appears to cater to the tourists, but that doesn't stop it from being a must on any Marrakech itinerary!
The shopkeepers will proclaim, of course, that their items are made locally and by hand–I have my doubts about this, as the exact same items and designs appeared again and again in not only Marrakech, but Tinghir, Fez, and Morocco's blue city, Chefchaouen.
Unlike the "hard goods", the spices and food stalls catered more to the locals–donkey carts full of onions, enormous piles of oranges, hundreds of tomatoes spread out on a rug. They look wonderful but beware of anything that has been washed in local water, especially at the beginning of your trip. Also, avert your eyes if you don't want to see something potentially unsavory when you spot animals: the chickens and sweet bunnies are not being sold as pets, and they don't get sent home alive.
The souks are the perfect place to try your hand at haggling–aim for a price about 25% of the initial asking price, and if you want to buy something for more than a couple of dollars (say, a leather bag), I recommend feeling out a few vendors over a day or two before making your purchase–it'll help you more accurately gauge what the item is worth.
Regardless of whether or not you want to buy anything, definitely don't skip the souks–they're one of the most Instagrammable places in Marrakech, perfect for wandering through with a camera in hand.
2. Hang out with the cats.
You can't really miss seeing the cats in Marrakech, as they're absolutely everywhere, but as an animal lover I greatly enjoyed taking the time to watch and pet them. Morocco is full of stray cats, and they are treated well by the locals. Cats can be found wandering through stores, sitting in restaurants, hanging out on rooftops, and meowing for attention on the streets.
Bizarre, for me, was the fact that these cats are not remotely scared of humans–unlike the terrified feral cats (or even standoffish house cats) in the United States, these cats almost unanimously wanted your attention and your pets, one even going so far as to jump in my lap!
While they are very sweet, many of them also appear somewhat thin and ill–be sure to clean your hands after every encounter.
3. Watch the sunset over Jemaa el-Fnaa.
During the day, the main square of Marrakech is full of carts selling fresh orange juice, salesmen selling all kinds of wares, henna artists, snake "charmers" and monkey "handlers".
I would avoid the last two things to do in Marrakech at all costs (the animals are mistreated and the men working there are extremely predatory to tourists), be very cautious if you would like to have henna done, and enjoy the orange juice.
Scams are said to be constant here, from monkey handlers throwing the animal on you and then demanding exorbitant amounts of money, to henna artists completing a "better" piece than the one you picked out and then demanding additional money after the fact. While we did fall victim to one scam in Marrakech, we actually had no problems in the square and greatly enjoyed it.
At night, though, Jemaa el-Fnaa gets even better. As the sun sets over the square, a food market opens up, and more and more people start gathering–people meet here for storytellers, for shopping, for entertainment, or just to socialize.
What is a busy place during the day becomes packed at night. On our last night in Marrakech, we grabbed seats at a rooftop restaurant with a view of the square and Koutoubia Mosque in the background, and watched the place come alive from above. At $20.00 for the two of us to eat dinner, we think this is one of the best things to do in Marrakech, and I recommend anyone who comes to the city spend one night watching the "show".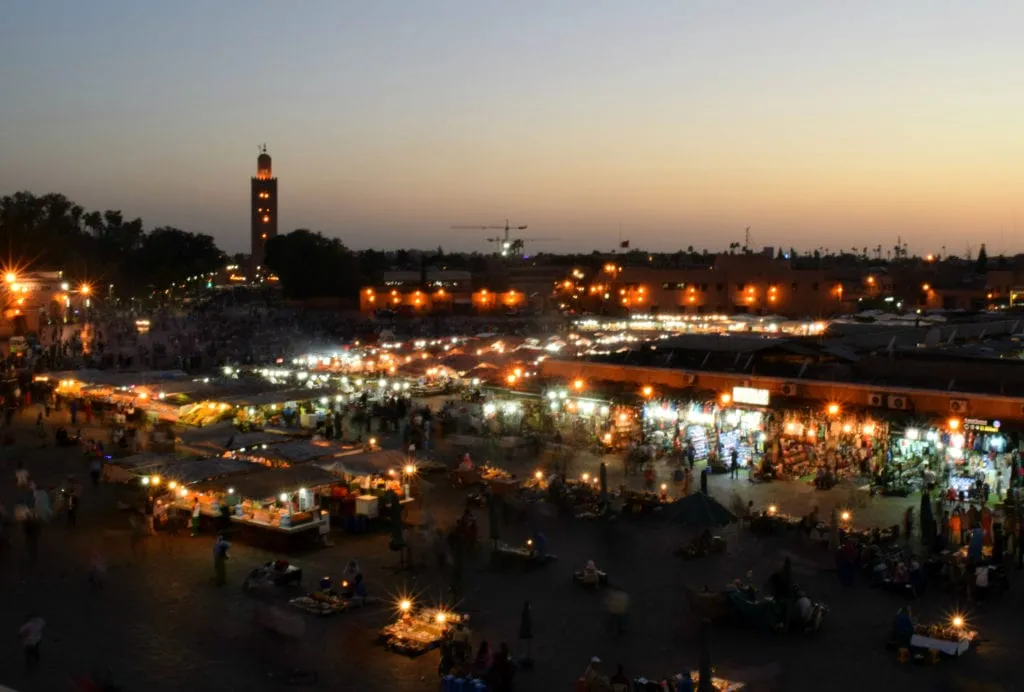 4. Visit Ben Youssef Madrasa (The Koranic School)
This ornate school is a peaceful refuge from the hectic souks right outside its doors, making it one of the most popular things to do in Marrakech. Founded in the 14th century and operating until 1960, Ben Youssef Madrasa not only educated future leaders of Islam, but also of any number of other professions over the years: judge, town leader, mathematician.
I found the building captivating. The carvings, especially in the main courtyard, are exquisite and ornate. We spent at least half an hour sitting in a shady spot in the courtyard, taking in the view and hiding from the sun.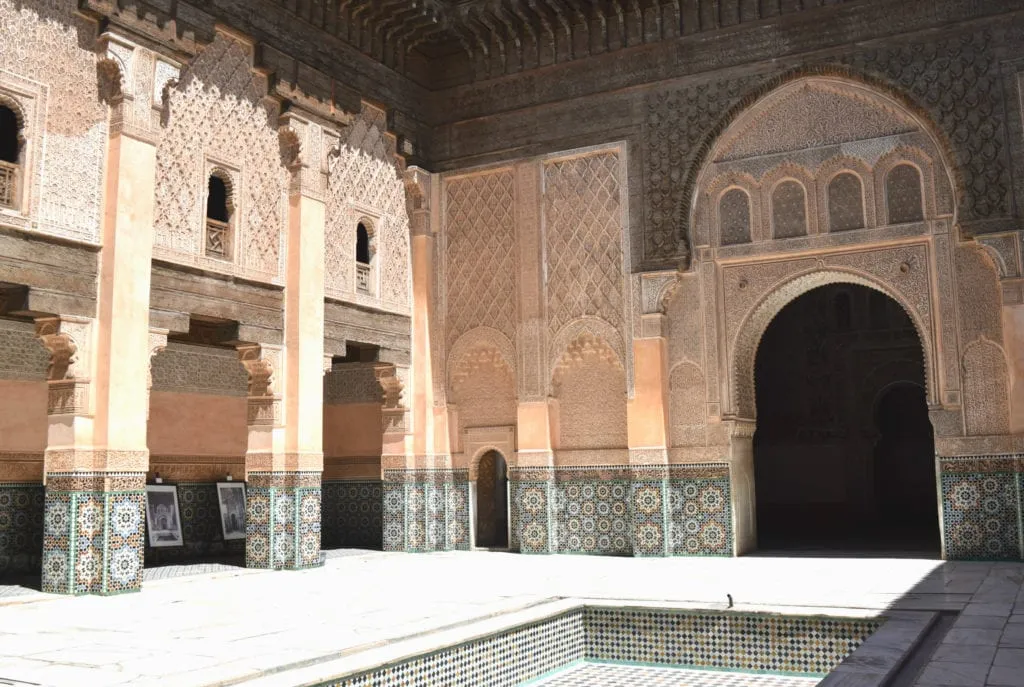 After a lifetime of being exposed to Christian traditions for decorating their churches, the departure to Islamic traditions showed a stark difference. The vast majority of mosques in Morocco ban entry for non-Muslims, so this was the closest we came to touring a mosque while there.
The lack of depiction of people and animals (standard practice for Islam) was not an intellectual surprise, but still gave an enormously different feel than the Catholic cathedrals across the Mediterranean, whose interiors tend to include paintings and statues representing of any number of Biblical figures. Instead, the decor at Ben Youssef Madrasa leaned heavily toward geometric patterns and written scripts.
Entry was inexpensive (and a fixed price–another relaxing aspect) at 20 dirham ($2) per person. No guided tour was required, and while there were unofficial "guides" inside who offered tours, they were much less aggressive than others in Marrakech and politely walked away when we declined.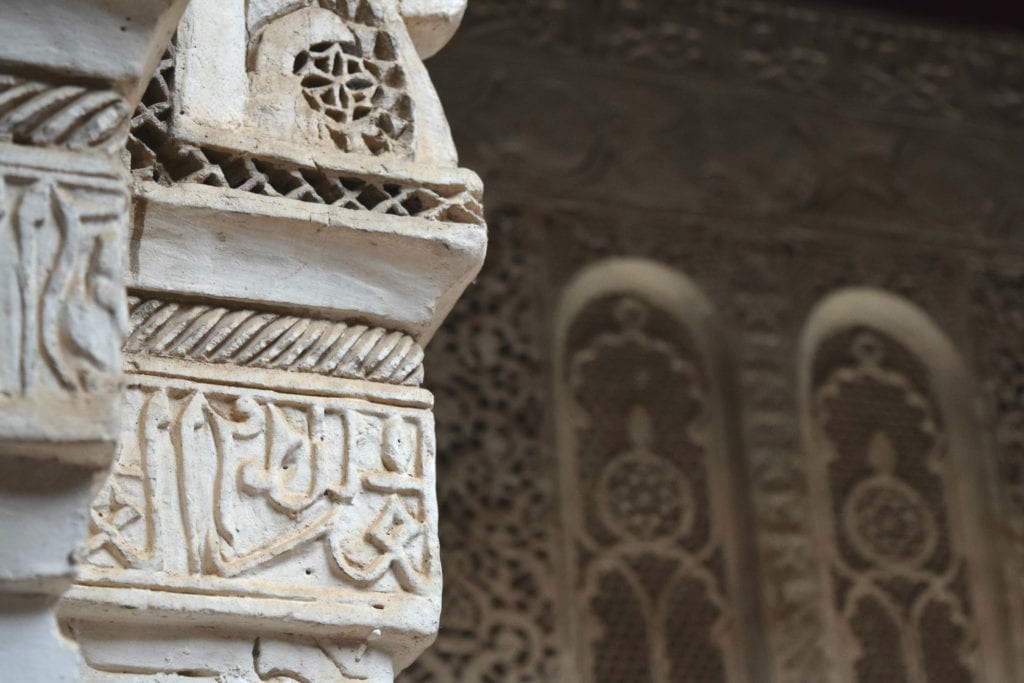 5. Enjoy the tea.
Honestly, I'm not a big tea drinker (or hot beverage drinker in general). You'd think that the heat of Morocco would make a hot drink even less appealing to me–but no. Moroccan mint tea is truly delicious, and unlike any other tea I've ever had–even if you, like, me, don't normally drink tea, it's one the list of "must try" things to do in Marrakech for a reason! Commit to trying at least a sip.
Each pot is brewed with fresh mint leaves in it–and not one or two, the way you might throw a leaf of basil into a whole cooking pot. No, these are entire handfuls of mint leaves (stem and all), shoved into each and every pot of green tea.
The result is delicious, and Jeremy and I had a blast trying to pour our various pots of tea "the Moroccan way"–the higher you hold the pot, the better.
Where We Stayed in Marrakech:

Riad Ineslisa — This was an inexpensive riad in the medina, and the cost showed. While it was walking distance (about 15 minutes) to Jemma el-Fnaa, the room felt insecure. Our room had only a very thin door with a simple lock, and had air flow from the lobby. This was both good, since there was no air conditioning, and bad, since there was very little privacy as far as noise goes. We wouldn't stay here again, but Marrakech is full of incredible riads to explore!
Some links in this post are affiliate links. If you click through one of these links, we may earn a small commission at no extra cost to you. We are committed to only ever recommending products and services that we personally use and like.