Why You Should Try Backpacking Koh Rong:
Do you want to relax? Try backpacking Koh Rong as part of your Cambodia itinerary: this tiny island is where you go to just be.
While our time on Koh Tao in Thailand was incredible, it was also energetic: we were scuba diving and/or exploring almost every day.
Koh Rong–especially when we were there in the off-season–was by contrast quiet and very peaceful. While you can find a small backpacker hub on the island, come to Koh Rong for the gorgeous jungle surrounded by long beaches with perfect, powder-white sand.
Getting Around:
We didn't see any paved roads while on Koh Rong. It's possible that there are a couple in the largest village on the island, which we didn't visit–but for the most part, expect dirt roads, ATV's, the occasional pickup truck, boats, and your own two feet to get you around.
Don't Miss:
1. Touring the island via ATV.
No matter where you stay on Koh Rong, there will be beaches and views that are not easily accessible by foot. An ATV tour is a great way to get an overview of the island.
2. Look for the bioluminescent plankton.
Koh Rong is known as one of the only places in the world that you can view bioluminescent plankton light up like brightly colored orbs in the water at night. The pictures look incredibly magical, and I desperately want to see them one day.
Sadly, we didn't find any: next time we'll take a tour with someone who knows what they're doing, and I recommend the same to you guys.
Supposedly, you can find them by agitating the water yourself, but Jeremy tried and failed–could have been the weather, or we could have been doing it wrong.
Either way: swimming into the sea when it is so dark that you can't even see your hand in front of your face is scarier in practice than in theory.
3. Visit 7 Kilometer Beach.
This is one of the prettiest beaches that I've ever seen–not only was the water beautiful and the sand soft between our toes, it was utterly deserted when we were there–we spent hours walking along it without seeing anyone but ourselves. It was an incredibly peaceful place–a huge contrast to the hustle and bustle of the party beaches in Southeast Asia.
4. Watch the sunset.
We saw one of the top ten sunsets of our lives on Koh Rong–even if you don't have easy access to a western view where you are staying (we didn't), make sure you arrange for some kind of excursion that will take you to watch the sun go down.
We watched the sunset as part of our ATV tour–it was the perfect end to our explorations of the island.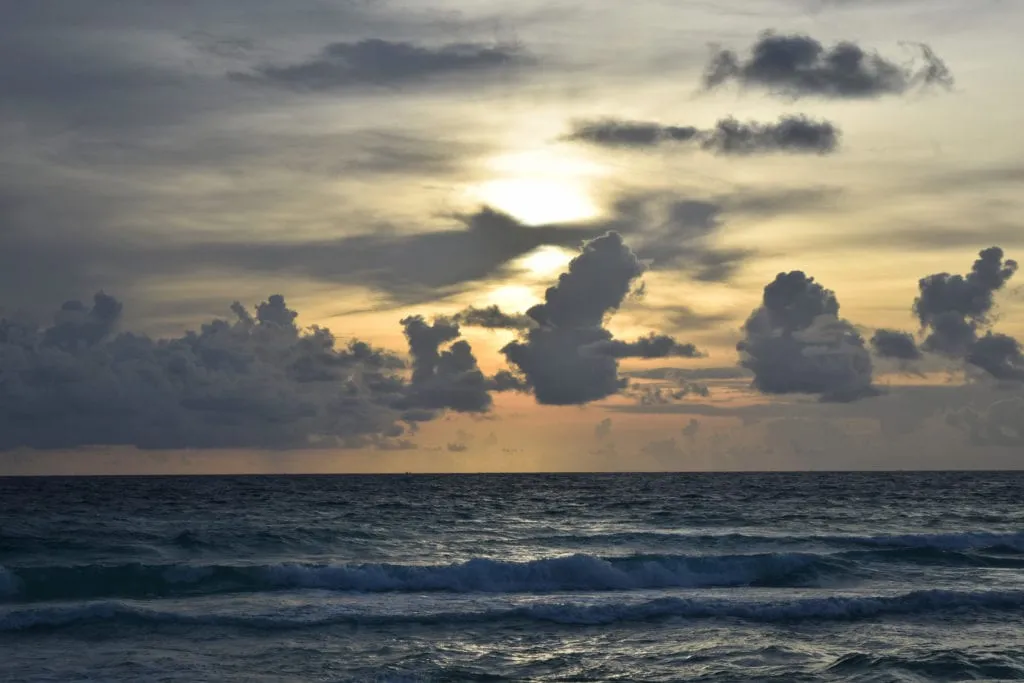 Koh Rong is all about things to do outside–with those views, how could you want anything else?
Keep in mind how remote Koh Rong is:
Koh Rong is a very small island with limited development.
While tourism is picking up there and you'll find plenty of people backpacking Koh Rong, the infrastructure is not what you would expect in other places in the world or even other places in Southeast Asia. When I was looking for properties to stay in, only two had the option of wifi–and it was just a handful of years ago that there was no wifi on the island at all.
As can be expected when visiting somewhere this remote in the developing world, we saw a striking amount of poverty on Koh Rong.
It was difficult to see the children without shoes and the homes with dirt floors and no electricity–these conditions were especially apparent during our ATV tour when we visited more rural spots on the island.
While none of us can solve poverty individually, I would encourage everyone to keep perspective here, especially if things do not go according to plan.
This resort was built to house the crew filming Survivor Season 32, and has now been turned over to the tourists.
Sok San is on the "quiet" side of the island–only a very tiny fishing village is nearby–and was a bit of a splurge for us. We knew that we wanted wifi and quiet, so decided to spring for it. It was definitely worth it.
The resort is located directly on 7 Kilometer Beach, so all we had to do was walk outside and we could be swimming. A five-minute walk would take us beyond the resort onto a completely private section of the beach.
The downside? There aren't many restaurants (or stores) around. We ate at the resort's restaurant, which was predictably overpriced–though breakfast was included, which helped offset costs.
The nearby fishing village did look like it had a handful of other small restaurants that were closed for the season, so if you're backpacking Cambodia during the high season, this may not be an issue for you.