Vibrant, colorful, and packed with interesting things to do, spending even one day in Seville, Spain is always a blast!
As the capital of Andalucia and one of the most popular places to visit in southern Spain, it's safe to say that you're never far from a fun attraction or a delicious plate of tapas when in Seville.
Whether you're planning to take a day trip to Seville from another incredible Spanish destination or you're using the city to kick off a full Andalucia road trip, you're bound to have an excellent time in Seville (or in Spanish, Sevilla).
We've now visited Seville 3 times and enjoyed each visit more than the last.
Have 24 hours in Seville or less and want to make the most of it?
This one day Seville itinerary will show you the highlights of the city, fast!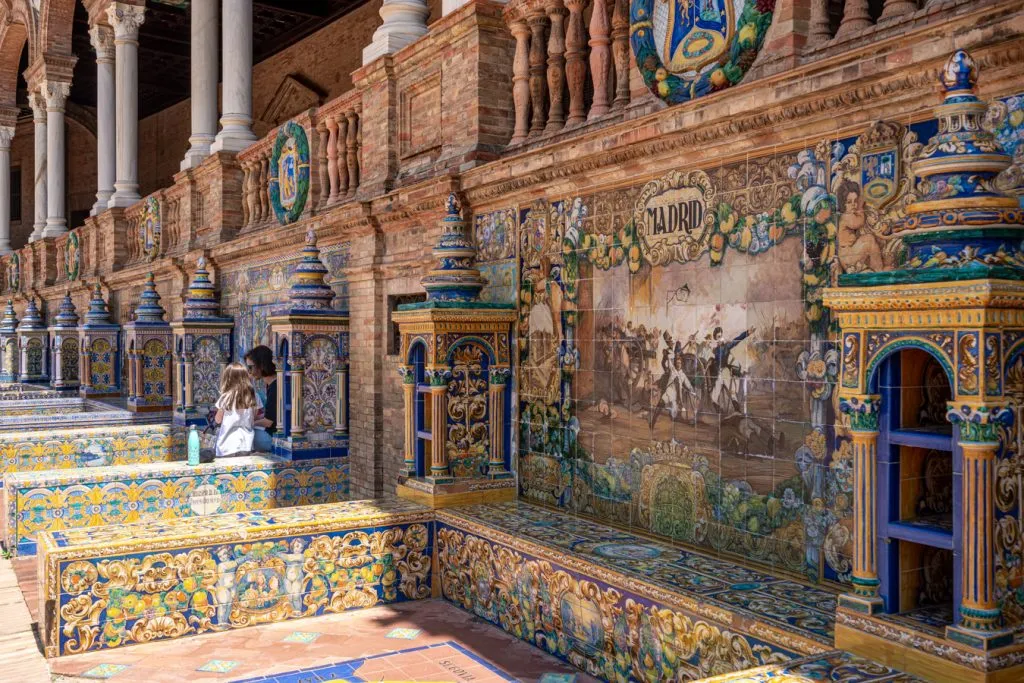 Some links in this post may be affiliate links. If you make a purchase through one of these links, we may earn a small commission at no extra cost to you. Please see our

disclosure policy

for more detail.
The Ultimate One Day Seville Itinerary
Start your morning by exploring the Royal Alcazar of Seville.
With a history that dates to the year 913, the complex of buildings and gardens that make up what we now call the Royal Alcazar of Seville are without a doubt a group effort (however much many of their earlier inhabitants would have despised that description).
From the Moors to the Catholic Monarchs to the Normans and beyond, more than a millennium's worth of rulers and artisans have put their stamp on the Alcazar.
The result is a palace complex featuring chapels and former mosques, Islamic-style architecture with obvious Christian details (such as animals and people being depicted in the art), and absolutely magnificent Renaissance-era gardens.
And, to top it all off, the Alcazar is now famous as a filming location–it played the Water Gardens of Dorne on Season 5 of Game of Thrones.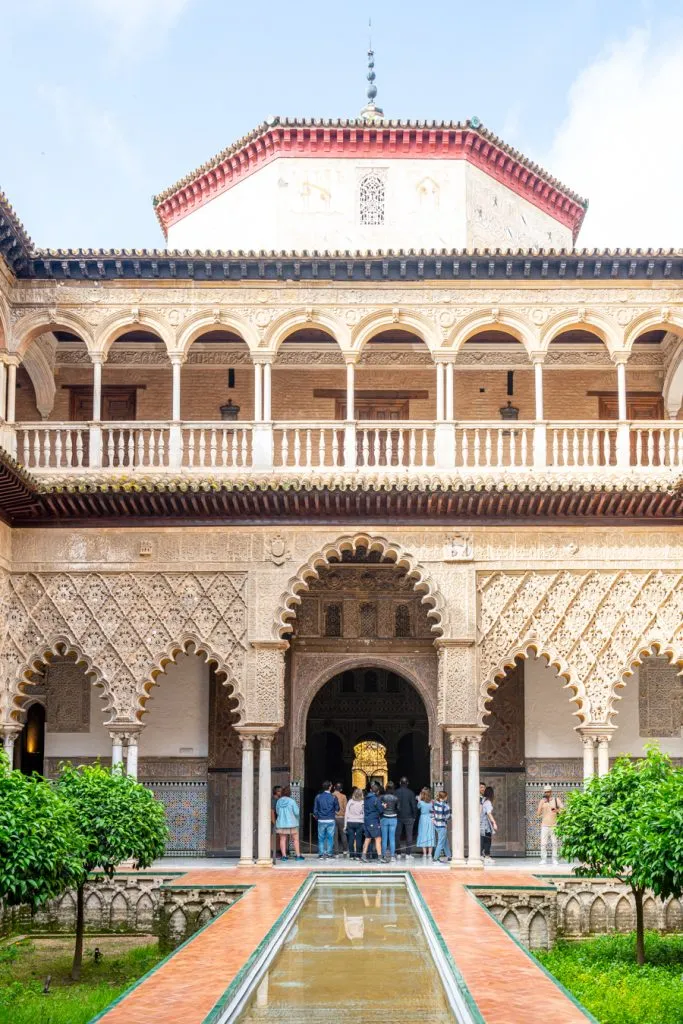 Touring the Royal Alcazar of Seville is one of the best things to do in Seville, so perhaps unsurprisingly, it gets crowded!
We recommend purchasing skip-the-line tickets to visit, though they only let you skip one of two lines–you'll be able to skip the ticket purchasing line, but still need to wait to have your ticket checked before entering.
Alternatively, if you want more context to your visit (the Alcazar, as beautiful as it is, can be a bit overwhelming), this popular guided tour is an excellent option.
Book your skip-the-line ticket to visit the Alcazar today!

Prefer a guided tour?

This one offers excellent context and will make your one day in Seville much simpler!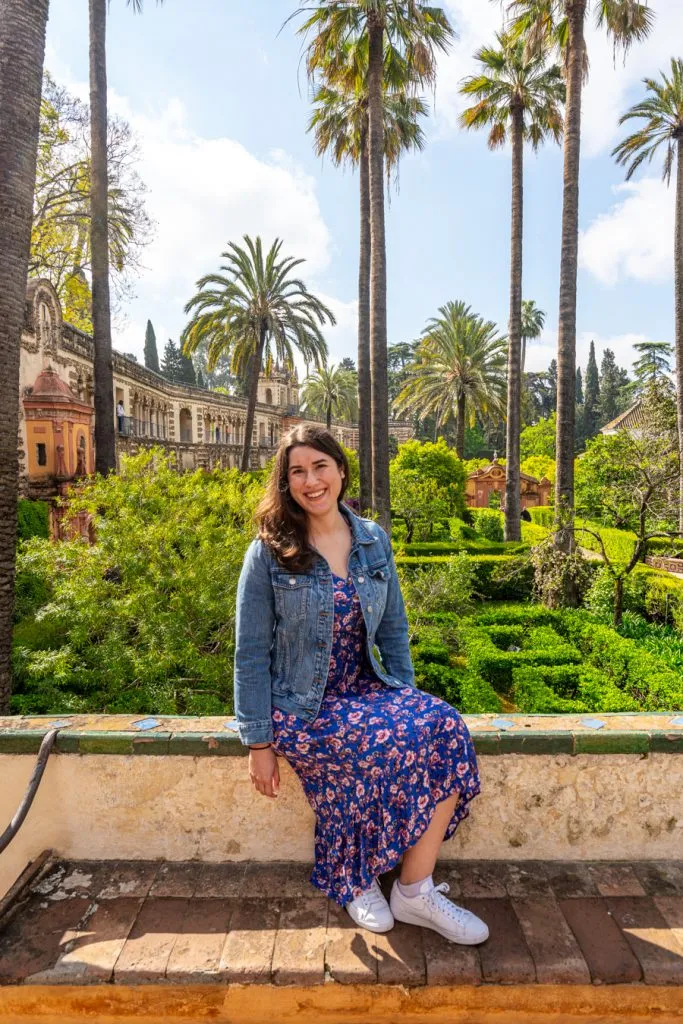 Step inside the magnificent Seville Cathedral.
As a UNESCO World Heritage Site and the largest Gothic cathedral in the world, the Seville Cathedral is impressive from the moment you lay eyes on it.
Gilded, glamourous, and a bit overwhelming, the cathedral is one of Seville's top attractions for good reason.
It's also a hop, skip, and jump from the Royal Alcazar, making it easy to visit both spots back-to-back!
Like many churches in Andalucia, the Seville Cathedral was built on the site of the former mosque, and some limited features from that era (such as the Patio de las Naranjas) remain.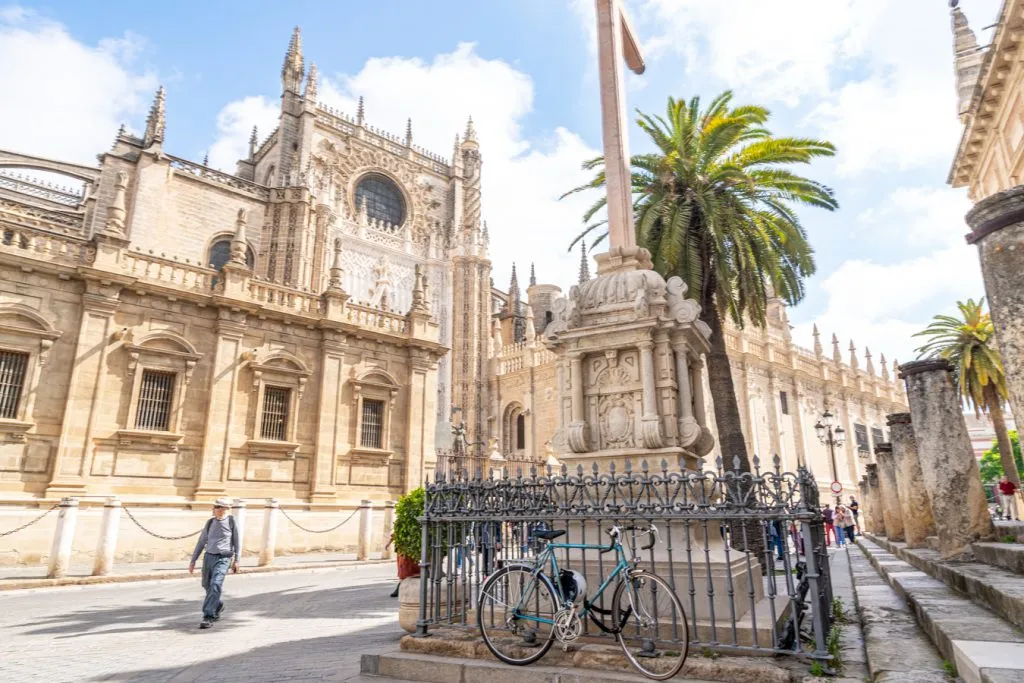 As you explore, keep an eye out for the stuffed crocodile (yes, really), and the tomb of Christopher Colombus.
Lines for the cathedral can get quite long, and we highly recommend purchasing skip-the-line tickets in advance.
Alternatively, if you sign up for the popular guided tour we discussed above, there is an option to combine both the Alcazar and the Cathedral into one tour.
Buy your skip-the-line tickets to the Seville Cathedral today!

Prefer a guided tour? This one gets fantastic reviews!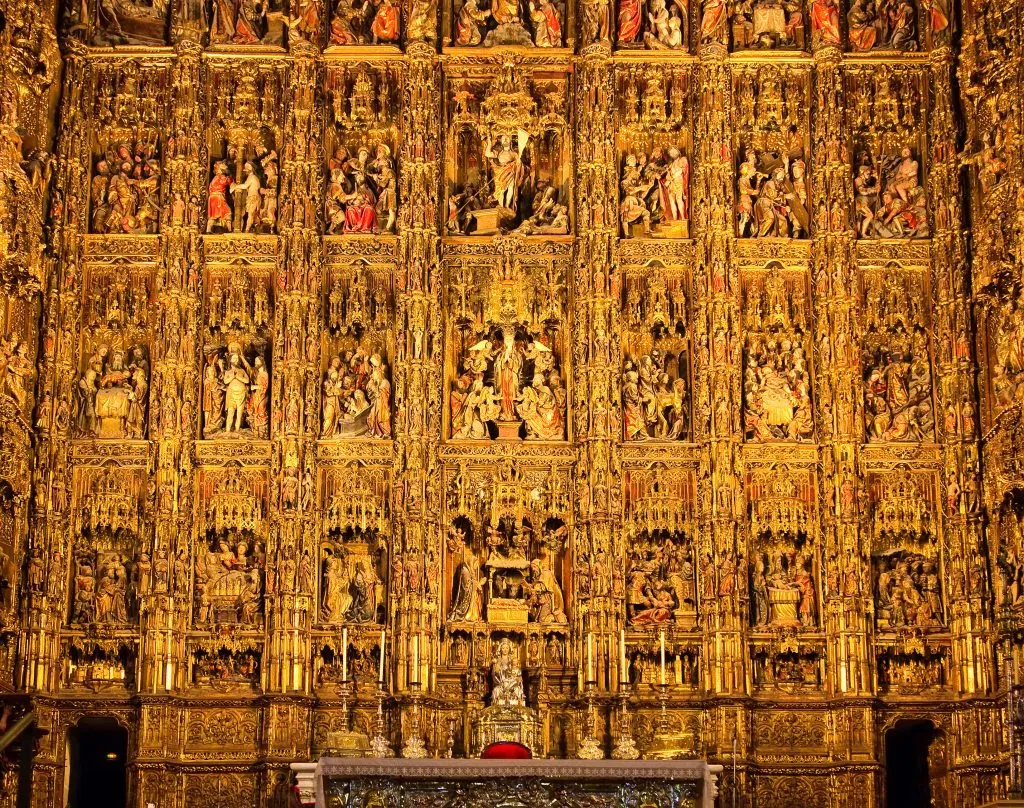 Get a birds-eye view of the city by climbing the Giralda (bell tower).
Once the minaret of Seville's most important mosque, the bell tower of the Seville Cathedral has a history stretching back more than 800 years and views stretching across a wide swath of the city!
Climbing the Giralda is included with your ticket to the Seville Cathedral, and is absolutely worth taking the time to do.
While the views of Seville are lovely, the real prize is in getting to admire the architecture of the cathedral itself up close: all of the intricate Gothic details are even more impressive when you're right up against them.
Meander through Barrio Santa Cruz and grab lunch.
Barrio Santa Cruz is both Seville's old Jewish quarter and its oldest neighborhood, period.
As a result, it's home to winding streets, narrow alleys, picturesque storefronts, and countless restaurants and tapas bars.
It's the perfect place for wandering aimlessly, and you should absolutely spend some time exploring here during your 24 hours in Seville.
When you're ready, find a cozy place to rest up and enjoy some lunch before heading to your next stop.
We had a great experience at La Bartola on our last trip to Seville, and can heartily recommend it!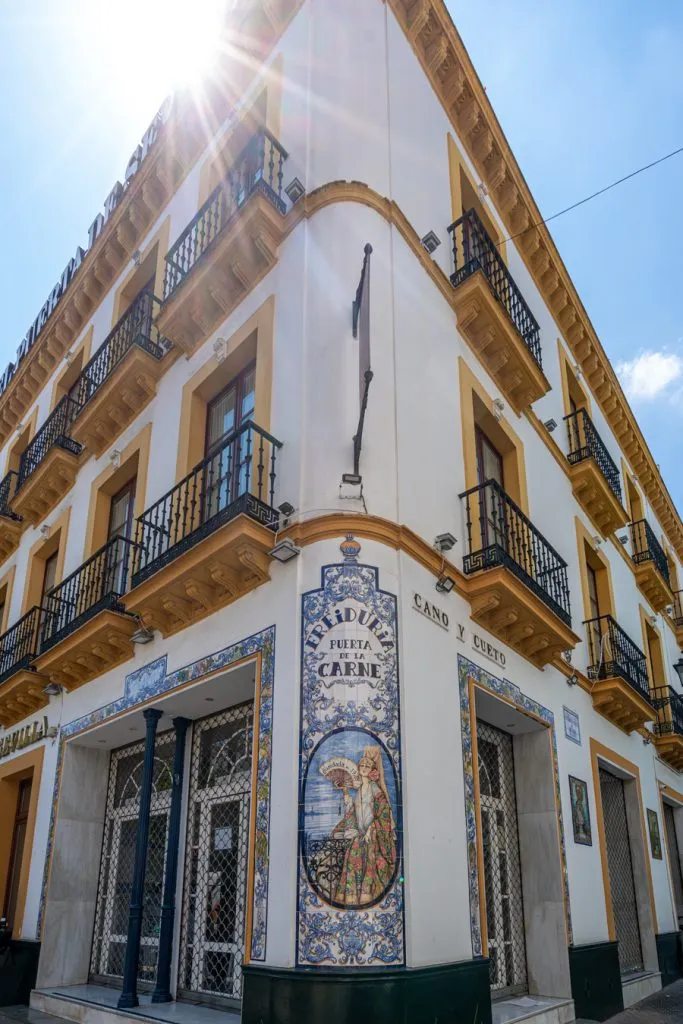 Marvel at the Plaza de Espana.
Built for the 1929 Ibero-American Expo, the Plaza de Espana is one of the most popular places to visit in the city and a must-see during your day in Seville!
Featuring a beautiful canal (that you can experience by rowboat if you choose), intricate architecture, and colorful tiles, it's an easy place to be dazzled by.
Head to the benches along the edge of the Plaza de Espana, and you'll see that each one is decorated to represent one of Spain's provinces.
The Plaza de Espana has been used as a filming location several times, including in Star Wars Attack of the Clones, when it played the city of Theed on the planet Naboo.
Once you wrap up at the plaza, be sure to enjoy a bit more of the shady and gorgeous Maria Luisa Park, too!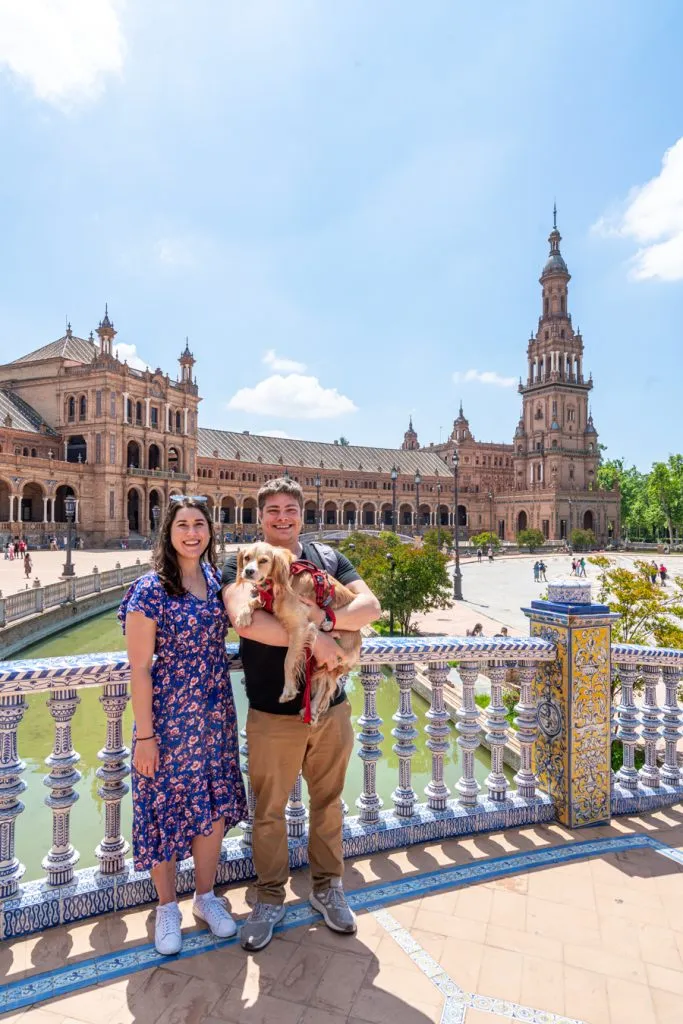 Stroll along the Rio Guadalquivir and check out the Torre del Oro.
As you make your way back from the Plaza de Espana to a more central location, mix up your views by taking a walk along the Rio Guadalquivir (in the summer, this may also offer a very welcome breeze).
As you walk, be sure to keep an eye out for the Torre del Oro, one of Seville's most recognizable landmarks.
Built in the 12th century by the Moors, the Torre del Oro started its life as a military watchtower that ran along the city walls.
It has also served as a prison, and today is a Naval Museum.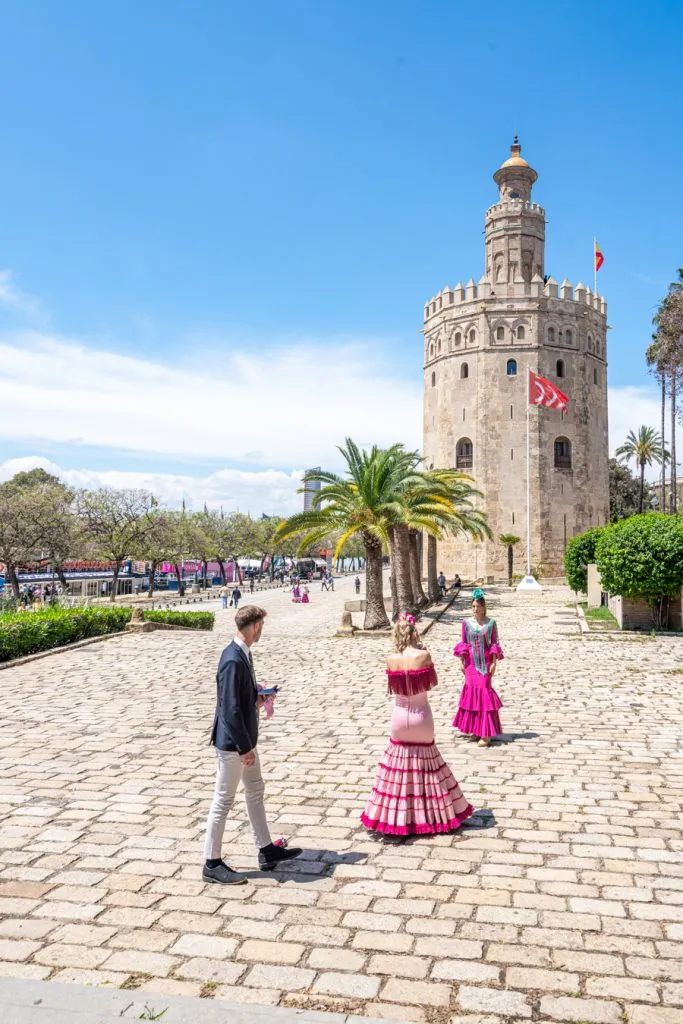 Kick off your evening by exploring Seville's tapas scene.
Spain is famous for its tapas, and while everyone wants to claim to be the origin… by most accounts, tapas got their start in Andalucia.
In other words, Seville is the perfect place to immerse yourself in tapas culture!
Enjoying tapas–small plates of food meant to be shared, that are usually priced around 2-4 Euro each–is an essential part of any trip to Seville.
While the Spanish tend to use tapas as a snack of sorts before they head to dinner around 9:00 or 10:00 PM, visitors–us included–frequently use tapas as a full meal.
While you can absolutely lead your own tapas crawl (we recommend trying at least 2-3 spots), if you want to leave absolutely stuffed and with new knowledge of Andalucian cuisine, joining a tapas crawl like this is a fantastic option.
Wrap up your one day in Seville with a classic flamenco show.
Flamenco is widely associated with Spain as a whole, but it originated in the south of Spain–and, according to some sources, it originated in Seville itself!
Whatever its birth story, though, there's no doubt that Seville is one of the best places on the planet for experiencing flamenco today, and there's no better way to finish up your quest to explore Seville in a day than with a flamenco show.
This wildly popular flamenco show is held in a venue dating to the 15th century and will give you an excellent taste of flamenco culture.
Where to Stay in Seville, Spain
When deciding where to stay in Seville, location is key as ideally, you'll want to stay within walking distance of Seville's best attractions.
We had a fantastic experience at Petit Palace Puerta de Triana on our most recent trip to Seville.
The hotel has a fantastic location (central but also quiet–a far from guaranteed combination in Spain), a delicious breakfast, and comfortable rooms.
Looking for something a bit different?
The incredibly popular Hotel Rey Alfonso X is an excellent choice, and its rooftop views are sublime!
If you'd like to stick to more of a budget, Hotel America Sevilla gets wonderful reviews and doesn't sacrifice too much in terms of location.
Meanwhile, for the height of luxury, you can't beat the absolutely stunning Hotel Alfonso XIII!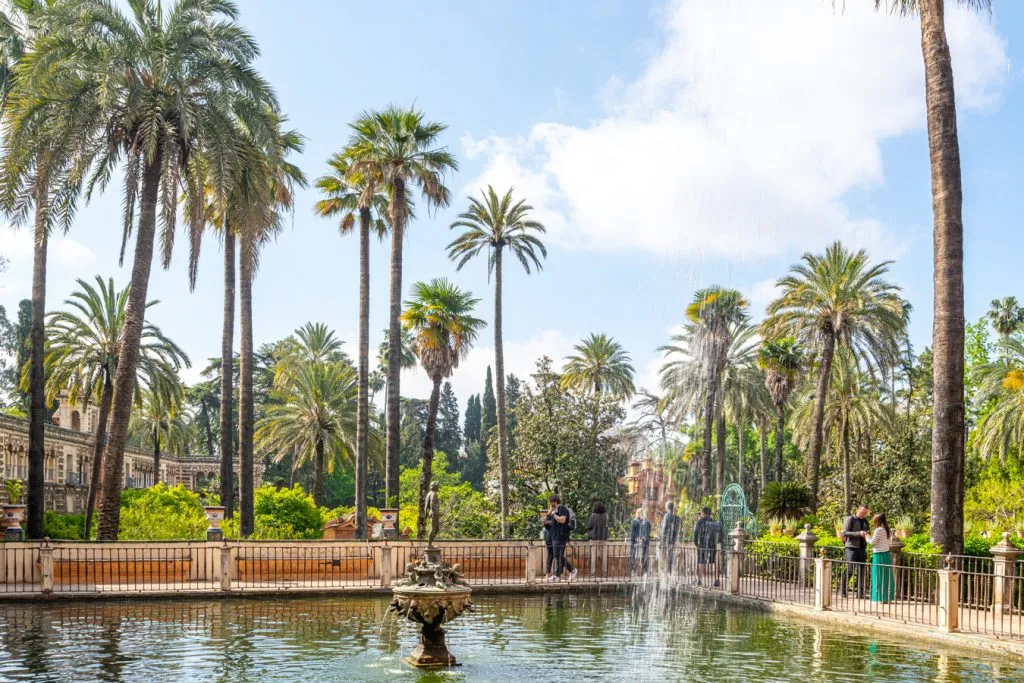 More than 24 Hours in Seville?
Lucky enough to have more than one day in Seville?
You definitely won't run out of things to do!
With more time in the city, consider taking a boat tour along the Guadalquivir River, chowing down at the Triana Market, heading to the top of the whimsical Metropol Parasol, and stepping inside a few of the museums you didn't get a chance to visit yet.
While we would not recommend attending a fight, if you're interested in the history of bullfighting in Seville, touring the Seville Bullring is an interesting cultural experience (you can read our thoughts on visiting Ronda's bullring here).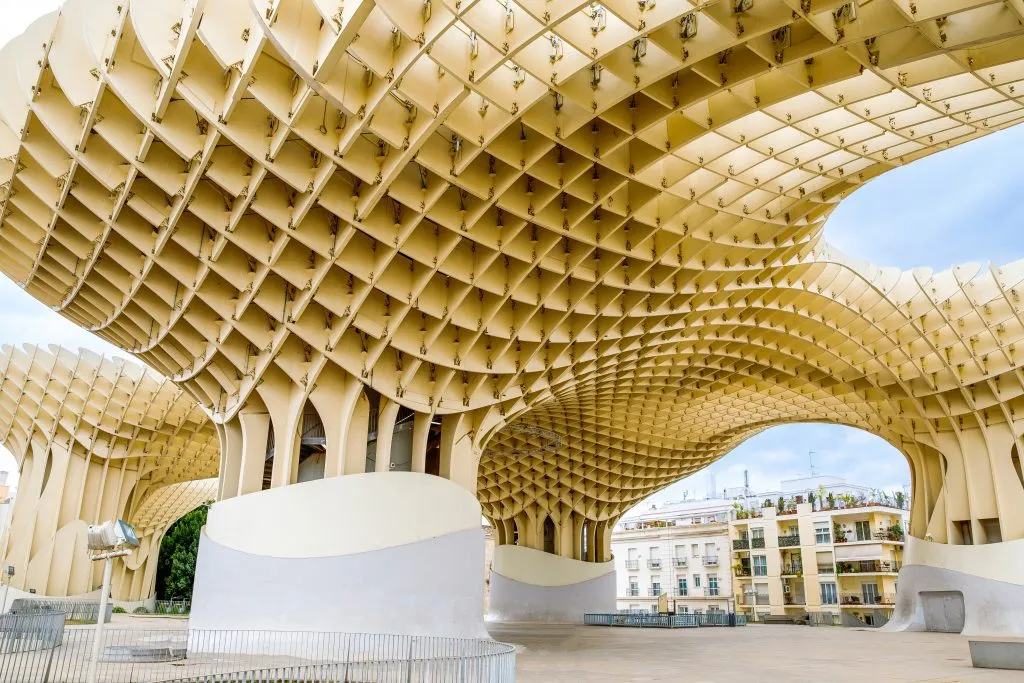 Visiting Seville with kids?
The city's theme park, Isla Magica, and its partner water park, Agua Magica, are regional favorites.
Seville is also ideally placed for enjoying some of the best day trips in Andalucia!
If you're sticking around town for a few days, consider heading out to cities like Cordoba, Cadiz, or Ronda in order to experience a different side of the region.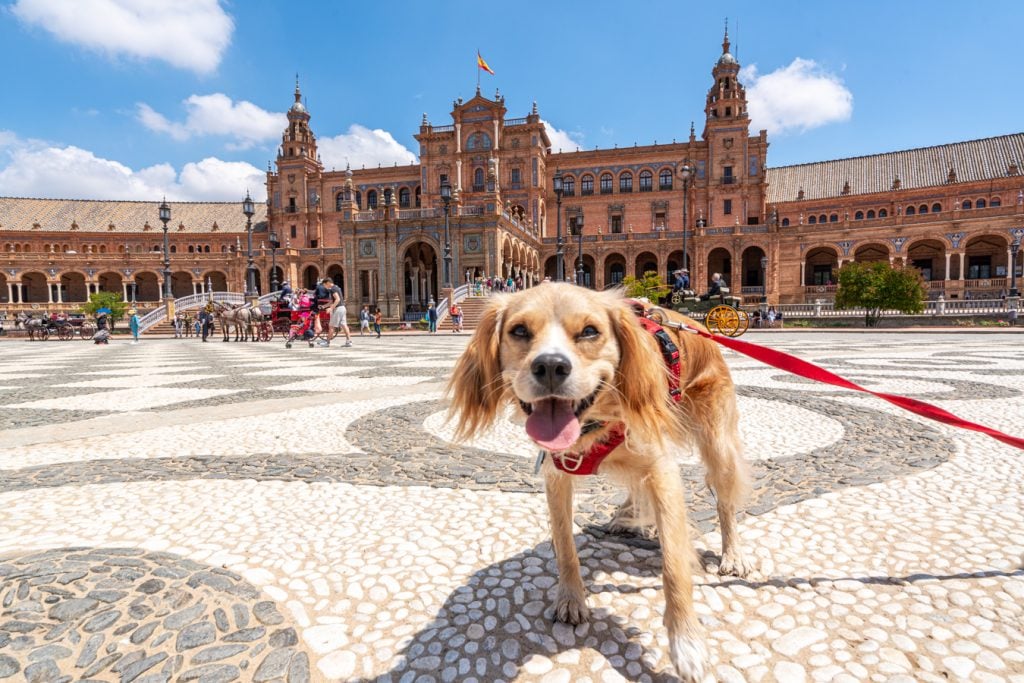 Getting Around During One Day in Seville
This itinerary for Seville in a day is designed to be entirely walkable, and as long as you're staying in a centrally located hotel, you likely won't need any other transportation throughout the day!
That being said–at the risk of stating the obvious–Seville gets incredibly hot during the summer, so if you want to save your feet and cool off, buses and taxis are available as well.
If you'd like to limit your walking as much as possible, Seville's Hop On/Hop Off Bus Tour will deliver you to and from many of the city's top attractions without needing to worry about finding your way.
Seville does have one metro line, but it's more of a commuter rail than anything, and you aren't likely to use it during your one day in Seville, Spain.
---