Stunning Caribbean beaches, mountain hikes, exploring the muddy Cocora Valley, chasing waterfalls, exploring the nightlife in the fashionable "city of eternal spring" in Medellin… Colombia's list of attractions is a mile long, but the sheer variety of things to do and climates to experience means that deciding what to pack for Colombia can be a bit tricky.
In Cartagena, it's all about shorts, tank tops, and bathing suits.
In Medellin, you'll want a light jacket to break out at night.
In the mud of the Cocora Valley, hiking boots will make your life much easier.
Planning a trip to charming Colombia? Here's what we suggest adding to your Colombia packing list!
Bear in mind that this packing list for Colombia is designed for a trip lasting 2-4 weeks that covers multiple climates in Colombia, and can easily be adapted to a larger packing list for South America if you're continuing through the continent!
It also includes some of our personal preferences, like bringing our computers along (since we work on them, it's a must!).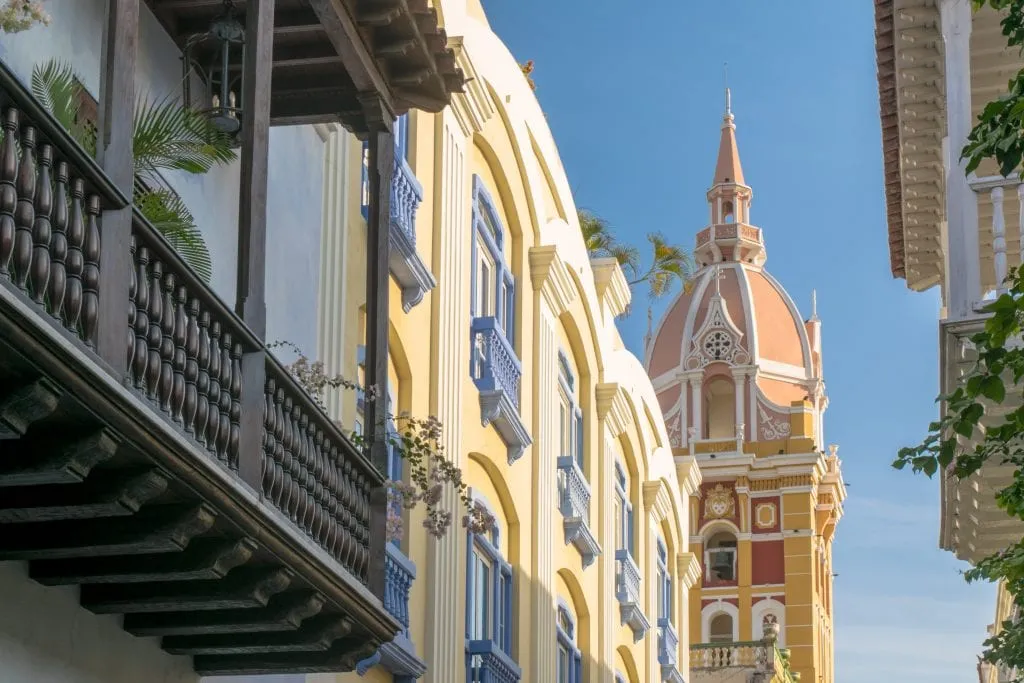 What to Pack for Colombia: The Ultimate Colombia Packing List
What to Pack for Colombia: Actual Luggage
Our sturdy North Face Jester Backpack has been downgraded after almost a decade of hard use–we still have it, but it's looking a little worse for the wear these days.
We updated to a swanky Swiss Gear backpack for our daypack, which has several different pockets including a laptop sleeve, and offers a little more protection to our laptops and camera gear while in transit (one of these days, we'll start carrying an actual camera bag).
We've been carrying the same backpacks since we initially purchased them for a 2015 Europe trip, and we are thrilled with how well they have held up! Almost two years of full-time travel later, they still look almost like new, minus one small hole in Jeremy's Gregory bag.
We recommend both of them highly, though if we were purchasing today we'd probably go 5-10 liters smaller each.
What to Pack for Colombia: Camera Gear
Virtually all of the photos we take for the blog and social media these days come from our Nikon D3300–our little starter DSLR has served us well. We have learned so much on this camera, and we thoroughly recommend it to anyone looking to get into manual shooting for the first time.
At a price point of around $450 for the camera body and kit lens (or a little more if you go for the recently released and updated D3400), you really can't beat it!
These days, we shoot all of our photos in RAW and edit them in Lightroom.
The key to good selfies of both of us together:: at less than $10.00, it's a bargain.
What to Pack for Colombia: Other Electronics
As we work online and earn our incomes on the road, it's incredibly important to us to have our computers and other electronic gear with us as we travel.
If you prefer to disconnect more on the road, absolutely consider leaving your laptop at home–but that would never work for us
What to Pack for Colombia: Miscellaneous Gear & Travel Essentials
We talk about our Steripen a lot on the blog–it's one of the most useful items we carry! We save tons of money, time, and environmental waste by sterilizing tap water as we travel instead of buying bottled water as we go.
The tap water is safe to drink in some areas of Colombia (like Medellin), but not others (like the Caribbean coast). Always double check when you get to a new area!
I can't even count how many times these things have come in handy on the road–they're so lightweight and easy to pack, and they will always be on a packing list for anywhere that we might swim.
Obviously, you'll need to skip this one if you're a carry-on only traveler, but if you check a bag, they come in so handy on the road.
We love our Pacsafe!
Whenever we leave our lodging for the day, we put our laptops and other valuables into this sturdy safe, attach it to the most secure thing in the room (like a pipe), and leave with peace of mind about the safety of some of our most valuable items.
I love this journal–for five years, you write just one line each day. Every matching date (ie, every February 3) is on the same page, so you can watch your life change year over year.
It may not be the most practical thing to carry abroad, but it comes with me everywhere these days.
Pens

Pocket Tissues/Toilet Paper x3

Copies of Passports

Actual Passports

Yellow Fever Vaccination Cards
The US recommends Yellow Fever vaccinations for entry into Colombia, though it is not required as of the time of writing.
Theoretically, you need to present the card to enter Tayrona National Park, but our understanding is that this is very rarely enforced (we weren't checked).
Regardless, the shot is good for 10 years (some agencies are now saying forever–always check updated research before traveling) and will absolutely be necessary if you're headed further into South America, so it's a good idea to have it taken care of.
We never leave to travel abroad without travel insurance, and Colombia is no exception. We use and recommend World Nomads for most trips around the globe, including to Colombia.
Read Next: The Ultimate Guide to Salento (+ Best Things to Do!)
What to Pack for Colombia: Portable Pharmacy
While some people advocate for simply buying medication as you need it, we definitely prefer having basic medication as part of our packing list for Colombia–and after I got terribly ill in Minca, a town with very little familiar medication available, that feeling was definitely reinforced (and the Pepto Bismol is definitely on this Colombia packing list because I didn't have any and desperately wanted some!).
These bands have been a game-changer in my lifelong battle with motion sickness–if you're prone to motion sickness, definitely shell out the less-than-$10 reasonable price tag and try them out!
… But as a backup, natural dramamine is always good to have on hand.
Excedrin Migraine

Ibuprofen

Imodium

Pepto Bismol

Allergy Medication

Antibiotic Ointment

Bug Spray
Bug spray is a must while in Colombia! The humid jungle areas are full of mosquitos that love to eat tourists alive–and the legs of tourists walking around town provide ample evidence of that.
What to Pack for Colombia: Female Packing List for Colombia
Kate's Clothes
Dresses x 4

Skirts x 1

Harem Pants x 1

Jeans x 1

Shorts x 2

Tank Tops x 4

Short Sleeve Shirts x 3

Long Sleeve Shirts x 2

Light Jacket x 1

Fleece Pullover x 1
Odds are, you'll be SO glad to have this in the Cocora Valley!
Underwear x 10

Socks x 5

Bras x 2
Sports Bras x 2

Yoga Pants x 2

Work Out Shorts x 1

Work Out Shirt x 1
There's a lot of debate among travelers regarding whether hiking boots are worth the size and weight they take up–for a Colombia packing list, our vote is a resounding YES, especially if you're planning on doing a major hike like the Lost City Trek.
However, even for the Cocora Valley, we were so glad to have them.
Baseball Cap x 1

Earrings x 1
Kate's Toiletries
Electric Toothbrush x 1 (with plastic head over case)

Toothpaste

Retainers & Case

Floss
Lush Solid Shampoo

Conditioner

Soap & Soap Case

Razors

Shaving Cream
Contacts

Contact Solution

Contact Case

Glasses
Probably not necessary for a two-week trip, but for anything longer, I love having this on hand. Our Colombia trip is a bit longer than a month, so it definitely goes on my list!
Hair Ties

Wide Tooth Comb
Kate's Makeup
As someone who doesn't wear makeup every day, I always feel a bit silly carrying so much of it around–but I love having it on hand when I want it, and I've never been bothered by throwing it into my purse while traveling. YMMV.
What to Pack for Colombia: Male Packing List for Colombia
Jeremy's Clothes
T-shirts x 7

Long Sleeve Waffle Shirt x 2

Light Jacket x 1

Fleece Pullover x 1
Khakis x 1

Jeans x 1

Casual Shorts x 2

Belt x 1

Work Out Shorts x 1
Flip Flops x 1

Boat Shoes X 1

Hiking Boots x 1
Odds are, you'll be SO glad to have this in the Cocora Valley!
Jeremy's Toiletries
Clearly, we share some of our toiletries (like shampoo) and don't pack doubles, but for clarity I'm going to list them all out here.
Electric Toothbrush (with plastic case over the head)

Toothpaste

Floss
Lush Solid Shampoo

Soap & Soap Case
This shaving soap comes in a solid puck, is easy to pack, and lasts forever for a fraction of the cost of traditional shaving cream–Jeremy swears by it!
Contacts

Contact Solution

Contact Case
As you can see from our packing list for Colombia, we are definitely not carry-on only packers or even particularly light packers… but after almost 2 years of full-time travel and approaching a month in Colombia, we can solidly say that we stand by everything on this packing list for Colombia.
It absolutely works for us… and hopefully for you, too!
Read Next: 2 Weeks in Colombia: The Ultimate 14 Day Itinerary