Nestled along the Tamega River, the small town of Amarante, Portugal makes for an excellent stop when heading out to the Douro Valley–because, as charming as it is, it doesn't take long to enjoy the best things to do in Amarante!
Boasting a long history (the town was originally founded in 360 BCE), charming views, and a memorable bridge, Amarante is a peaceful, relaxing place.
Whether you're looking for a day trip from Porto or a fun stop on a Portugal road trip, Amarante has a lot to offer.
Here's what to do in Amarante, Portugal, plus tips on how to get there!
Some links in this post may be affiliate links. If you make a purchase through one of these links, we may earn a small commission at no extra cost to you. Please see our

disclosure policy

for more detail.
Where is Amarante?
Amarante is located in northern Portugal, about 70 kilometers (44 miles) east of Porto.
This small town makes for an excellent day trip from Porto, either on its own or combined with other nearby destinations.
As Amarante is located right between Porto and the legendary Douro Valley, many day trips to the Douro Valley–like this popular one–include a stop in Amarante as well.
It takes a little under an hour to drive to Amarante from Porto.
The Best Things to Do in Amarante, Portugal
Stroll across the Ponte de São Gonçalo.
Beautiful and imposing, the Ponte de São Gonçalo (Bridge of São Gonçalo) is indisputably one of Amarante's top attractions–if not the top attraction.
The current structure dates to the 18th century and was built to replace a former 13th-century bridge.
Rumor has it that there was a bridge in this place as early as when the Romans called the city home, though records of that bridge have been lost to time.
The 18th-century version, though, is gorgeous and well worth admiring.
Just be cautious as you walk across it: while Ponte de São Gonçalo is mostly filled with pedestrians these days, it's not technically a pedestrian bridge, and a few cars drove across it as we explored!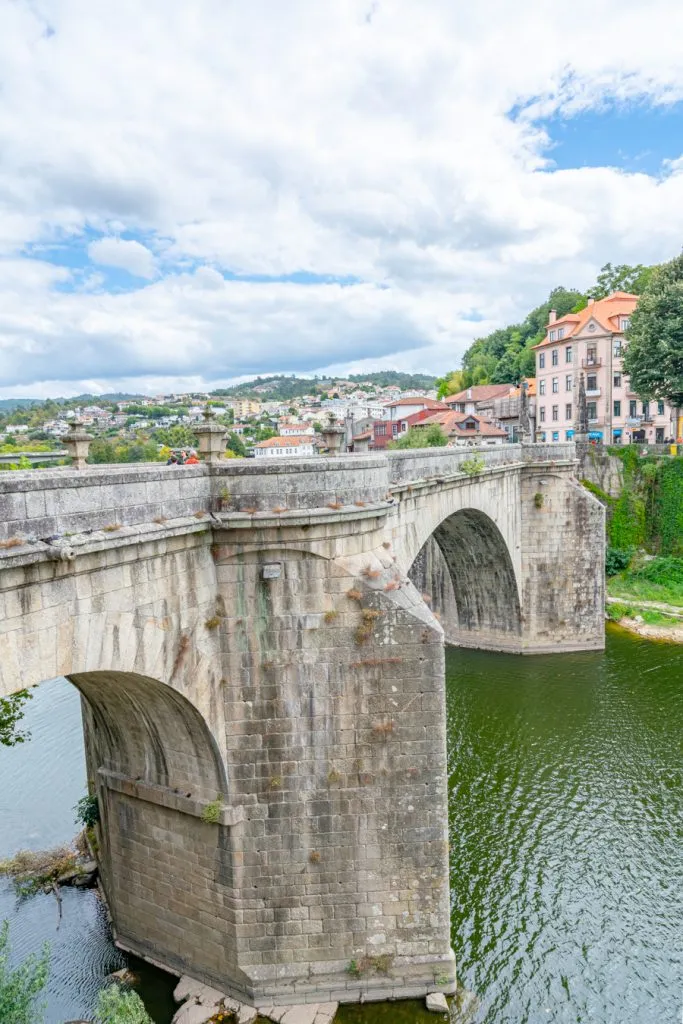 Marvel at the Church of São Gonçalo.
The church (and former monastery) of São Gonçalo is located right next door to Amarante's famous bridge, and is absolutely one of the best places to visit in Amarante!
In addition to being the current home of the religious artifacts that decorated the 13th-century version of the São Gonçalo Bridge, the Church of São Gonçalo is home to a magnificent altar and the tomb of São Gonçalo himself (it's located in a small chapel under the altar).
We absolutely loved being able to approach the altar in this church–since it wasn't closed off to visitors, we were able to inspect the gorgeous art from inches away, which was a delight.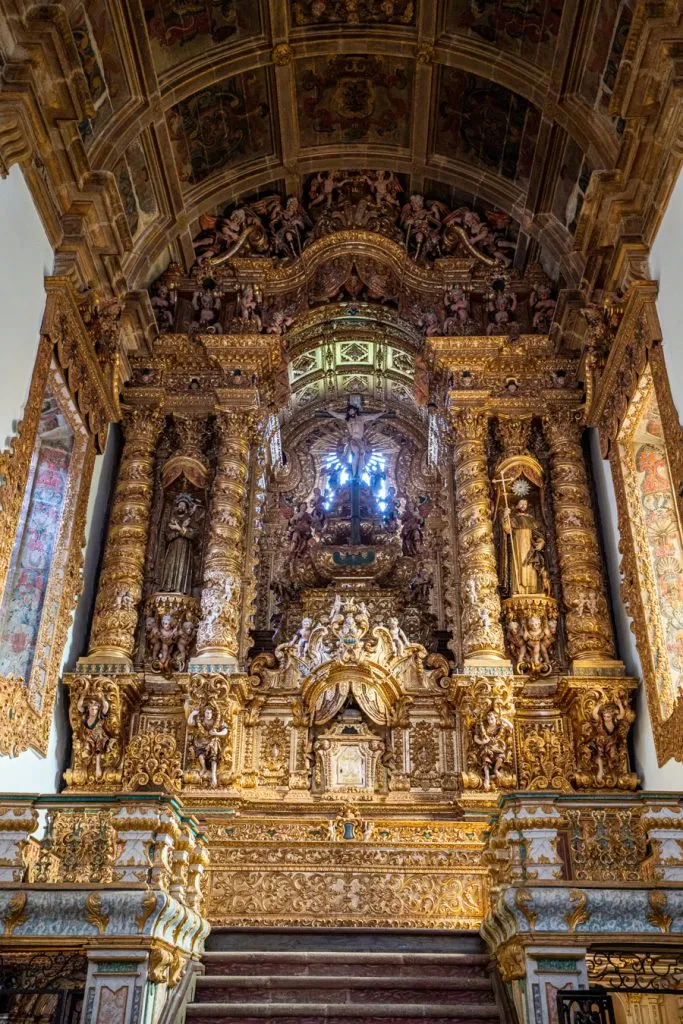 Wander along the banks of the Tamega River.
At several places along the water, you'll see staircases leading down to the banks of the Tamega River.
From an alternate and wonderful view of the São Gonçalo Bridge, wander along the paved trail that hugs the edge of the river.
During our trip to Amarante, we also saw people renting small, whimsically decorated paddleboats to those who wanted to enjoy the river further, which would undoubtedly be a fun Amarante travel experience!
Stop by Amarante's Municipal Museum.
When visiting Amarante, be sure to swing by the municipal museum.
Technically named the Municipal Museum of Amadeo de Souza-Cardoso, this local museum focuses on more modern art than you might expect!
The museum's namesake was a celebrated modernist painter, who was born in Amarante and lived from 1887-1918.
Check updated entry fees and hours (the hours vary by season) here.
Cozy up in a local tavern for lunch.
Rua 31 de Janeiro winds through the heart of Amarante's historic center–and in addition to souvenir shops and bakeries, you'll find lots of restaurants and taverns serving up local food.
Many of the taverns offer charcuterie plates, sliced when you order and sold by weight, which makes for a fantastic lunch.
We stopped at Taberna Don Rodrigo for several kinds of meat, cheese, olives, wine, and bread, and were absolutely thrilled with every component (I'm still dreaming about the cheese in particular).
Check out the Church of São Domingos.
Located near–but uphill from–the more famous Church of São Gonçalo, Amarante's Baroque Church of São Domingos is also well worth a visit!
It doesn't take long to see, but be sure to pay a quick visit to the small religious art museum located on-site as well.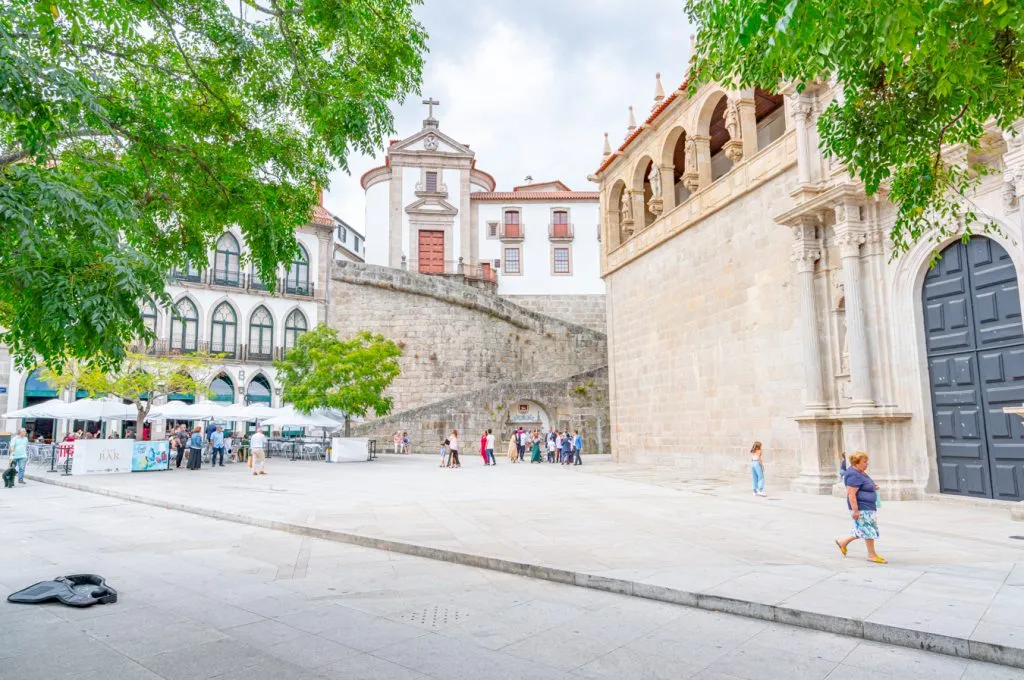 Shop for snacks at the Municipal Market.
Housed in a building nestled along the Tamega River, just a short walk downhill (past a lot of parked cars) from the Church of São Gonçalo, the Municipal Market is a fantastic place to shop for local fruits, vegetables, baked goods, and other treats.
The market is open Wednesdays and Saturdays, and sadly didn't coincide with our visit.
However, since we were visiting Amarante on a beautiful day, we did run into several food vendors set up around the building and close to the bridge.
In other words, we didn't leave empty-handed: some tasty bread and a kilogram of some of the best strawberries any of us have ever eaten came home with us!
Enjoy some pastries with a great view at Confeitaria da Ponte.
Portugal is well-known for its incredible pastries and desserts, especially those made with egg yolks!
In Amarante, there's no better place to try a few new-to-you pastries than Confeitaria da Ponte, which features excellent treats as well as an excellent view of the bridge and river from its patio.
Sample bolos de São Gonçalo.
Peek into a bakery's window in Amarante without knowing what to expect, and you just may find yourself wondering for a split second if you've been teleported to New Orleans.
Bolos de São Gonçalo, also called doces fálicos, are named for Amarante's beloved hometown saint… and yet, they're distinctly phallic-shaped.
The roots of these pastries are a bit of a mystery, but they're certainly an unexpected sight in Amarante!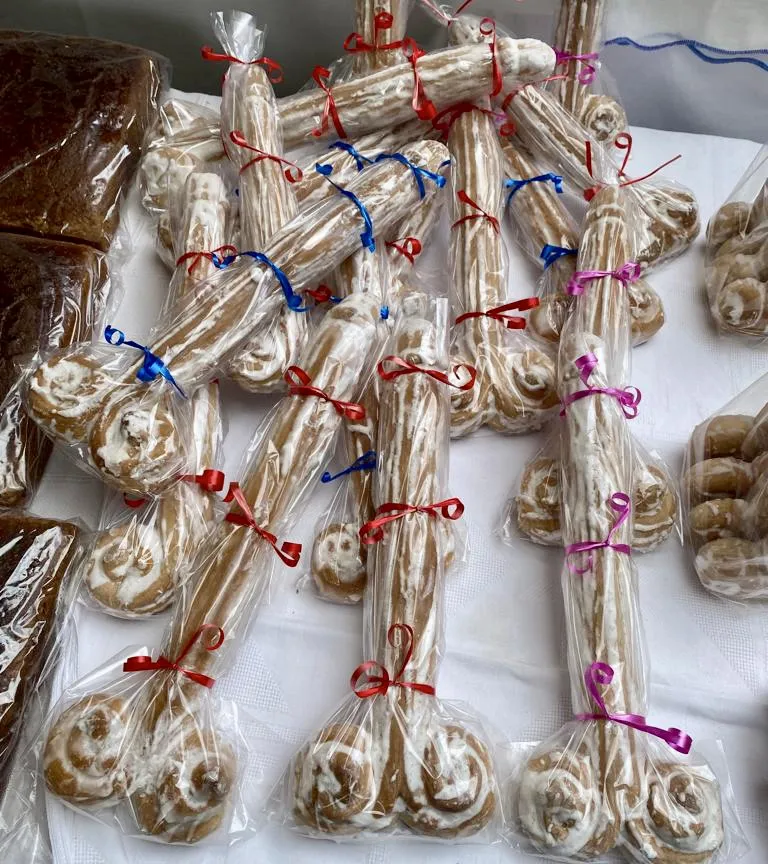 How to Get to Amarante from Porto
There are essentially 3 basic options for traveling to Amarante from Porto: come as part of a guided day trip (usually focused on the Douro Valley), drive into town, or take a bus.
Most travelers visit Amarante as part of a day trip like this, which is an excellent option for those who don't want to drive and who are trying to make the most of limited time in Portugal!
If you want to check out the best things to see in Amarante and experience the Douro Valley without worrying about driving (the roads can get a bit intimidating, especially near some of the best viewpoints), this tour is an excellent option.
Prefer to visit independently, or are you heading to Amarante as part of a broader road trip in northern Portugal?
If so, you'll find parking right by the Church of São Gonçalo.
If you need to rent a car, we recommend searching through Discover Cars, which will allow you to sift through all your options and choose the right car for you based on price, the reputation of the company that is renting it, and the terms of the rental contract.
As far as public transportation goes, local buses do come to Amarante, and Flixbus has routes through the town as well.
There is no train service to Amarante.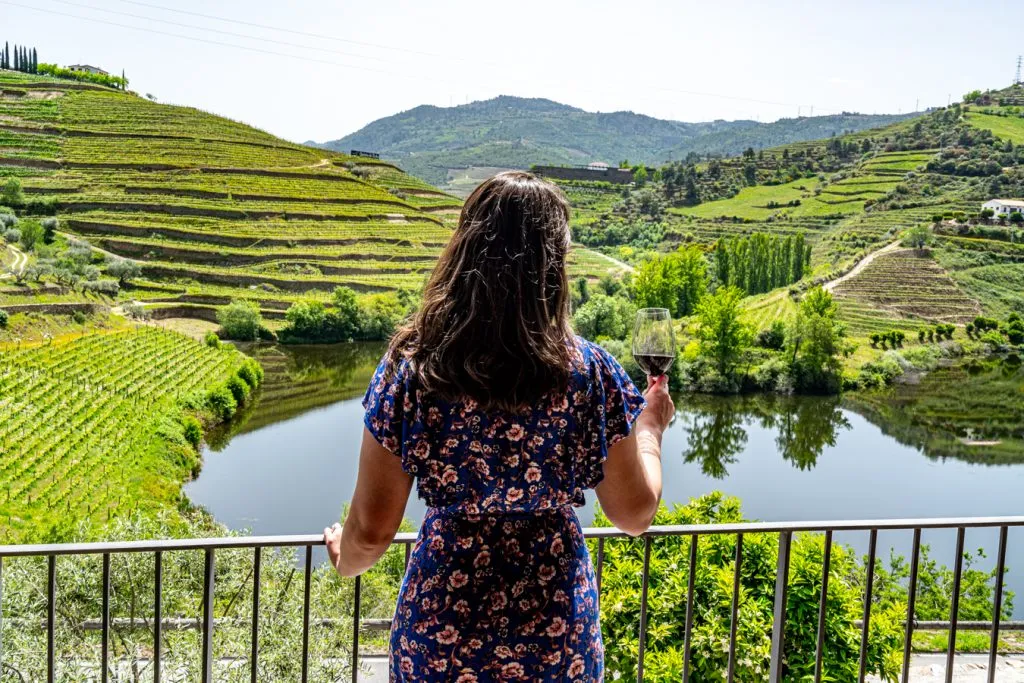 Getting Around Amarante
Once you're in central Amarante, Portugal, the town is incredibly walkable–in fact, there's really no other way to get around!
All of the Amarante attractions outlined in this blog post are easily within a 10-minute walk of each other, which makes exploring the best things to do in Amarante very simple.
---