From the dramatic coastline of the Algarve to the stunning terraces of the Duoro Valley, and from the quaint charms of Obidos to the otherworldly palaces of Sintra, there is no shortage of amazing places to visit on a Portugal road trip.
Nestled in the southwest corner of mainland Europe, driving through Portugal offers a neverending supply of sublime views and hidden gems.
Long an overlooked corner of the continent (though that has changed dramatically in recent years!), road trips in Portugal are bound to leave you hoping for more.
When we moved to Lisbon as American expats, we knew we wanted to spend lots of time exploring by car–and we have!
Even still, there are many Portugal road trip itineraries still left on our long wish list, so we've teamed up with several other travel bloggers to show you a wide variety of the scenic drives that the country has to offer.
Here are the best road trips in Portugal–plus some essential tips to keep in mind as you plan your adventure!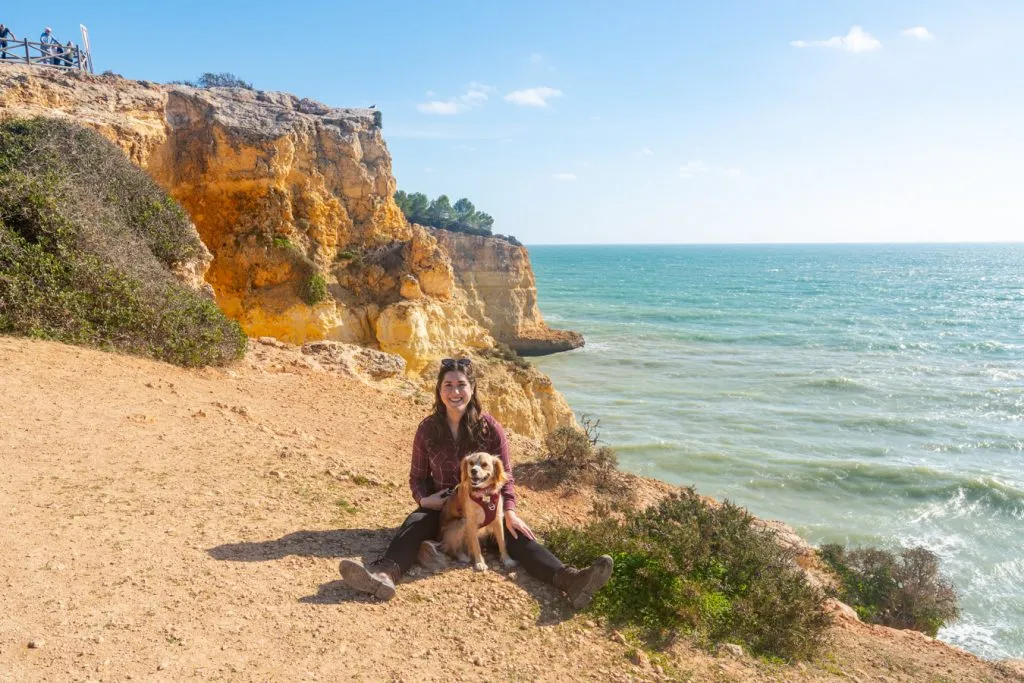 Essential Tips for Your Road Trip in Portugal
Rent the smallest car you can.
Especially if you're coming from the USA like us, you'll likely find Portuguese roads–especially in small villages and in the countryside–are smaller than what you're used to.
Save on gas, rental costs, and stress while driving in Portugal by renting the smallest car you can manage to fit yourselves and your belongings into.
We recommend searching for your (tiny) rental car through Discover Cars, which will allow you to sift through all your options and choose the right car for you based on price, the reputation of the company that is renting it, and the terms of the rental contract.
Shop rental cars for your Portugal road trip today!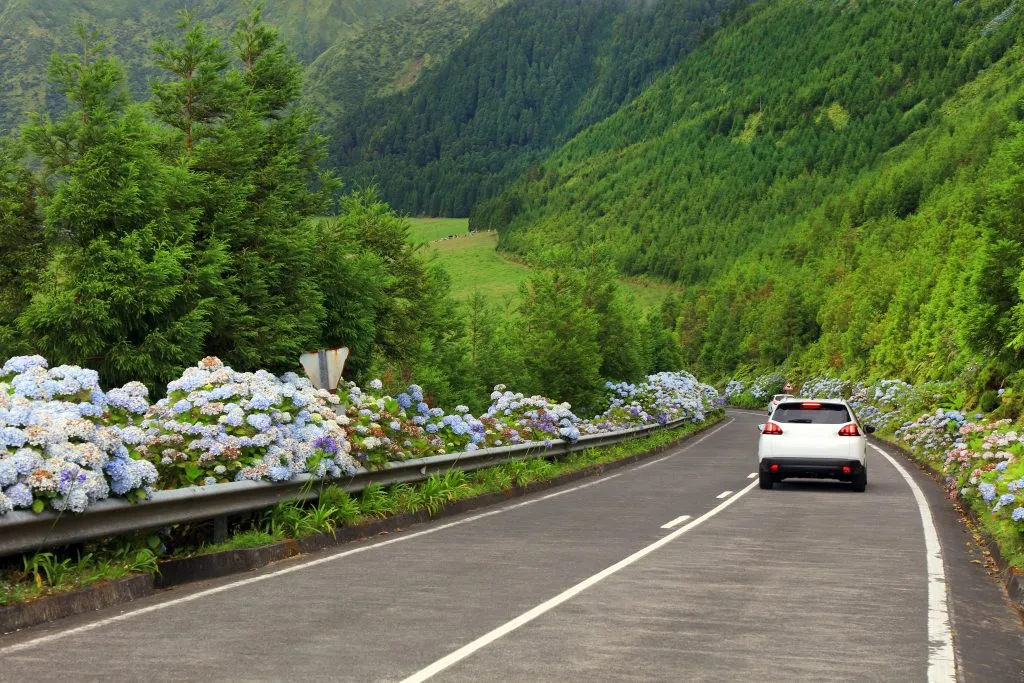 Plan on renting a manual, or prepare to pay.
Like the rest of Europe, manual cars are the norm in Portugal.
If you only drive automatic, you'll absolutely be able to find a car to rent for your road trip… but be prepared to plan ahead (especially if you're traveling during the busy season when the cars get reserved quickly), and to pay extra fees for the privilege.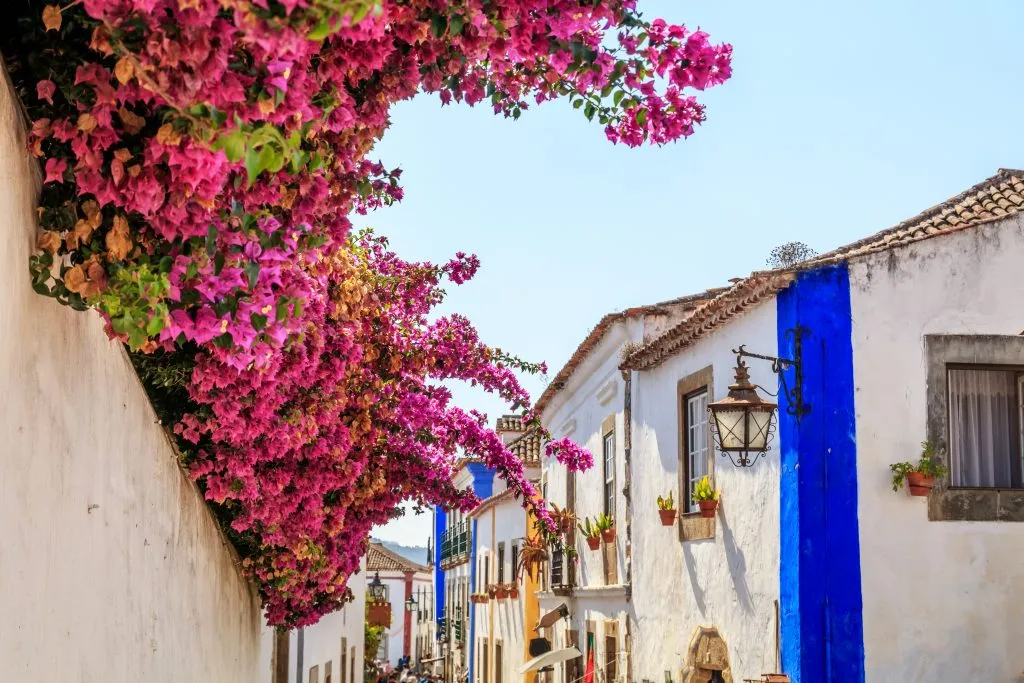 Prepare to pay lots of tolls.
Portugal is notorious for its number of toll rolls, especially on popular routes like driving from Lisbon to the Algarve.
The easiest way to pay the tolls is to get a "Via Verde" pass from your rental car company (they will almost certainly offer you one), which will keep a tally of your tolls and charge you automatically.
We generally get charged by the rental car company for the tolls we racked up using our "Via Verde" pass within a week or so of turning the car in.
Plan your parking in advance.
This especially applies overnight parking–ie, look for hotels that include parking or have a plan for parking listed–but also during day trips.
Whether you're visiting a small village, beach, trailhead, or city, knowing where to park before you arrive will save lots of time, stress, and often money.
For overnight parking, we use Booking.com and ideally look for places using the "free parking on-site" filter.
Depending on where you are going during your road trip in Portugal, though, free parking may not be possible–in that case, carefully check and see what hotels have reasonably-priced parking nearby.
A hotel that is an extra 10 Euros/night may end up being an excellent deal if there's inexpensive parking nearby!
Your life will be much easier if you have a Portuguese SIM Card.
This assumes your phone is unlocked, of course, but seriously: getting a local SIM card before taking off on your road trip in Portugal will make your life so much easier!
Having access to everything from a GPS to restaurant reviews is a huge benefit of traveling in the modern age, and bringing those tools along with you as you explore Portugal by car is a fantastic idea.
You can absolutely purchase a local SIM card once you arrive, but if you want to get everything set up before you go, you can also purchase an EU SIM card for your trip in advance.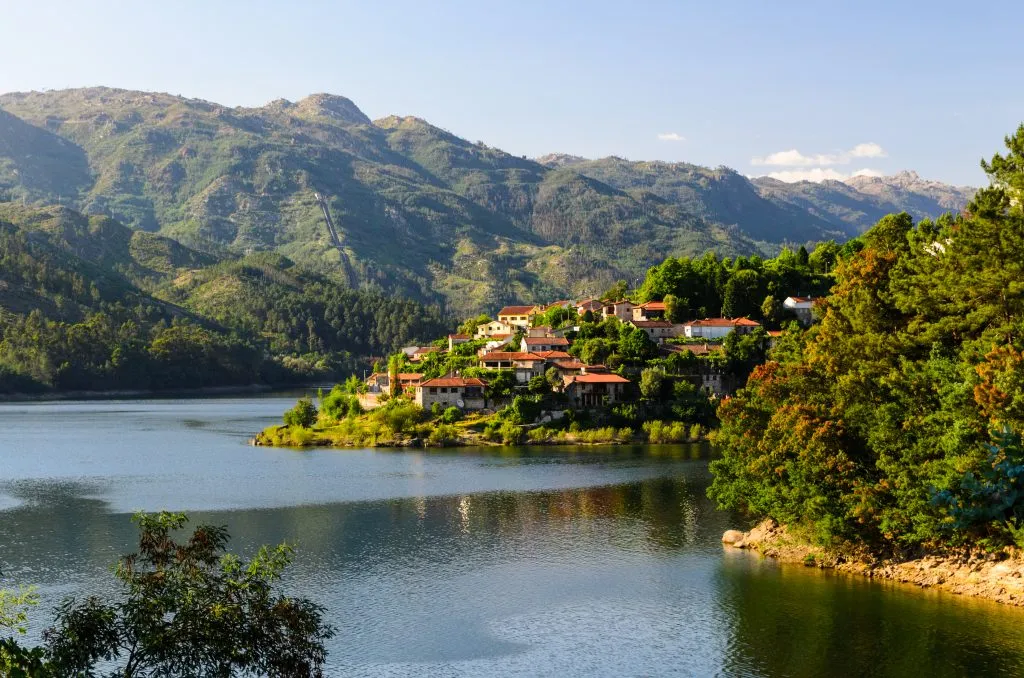 Know that you'll need reflective jackets in the car.
This is a standard rule in Portugal, and the jackets must be worn during any breakdowns or accidents.
If you're renting a car for your Portugal road trip itinerary, this will likely be included in your vehicle.
On the off-chance that you're driving your own vehicle into the country, though, it's important to keep in mind!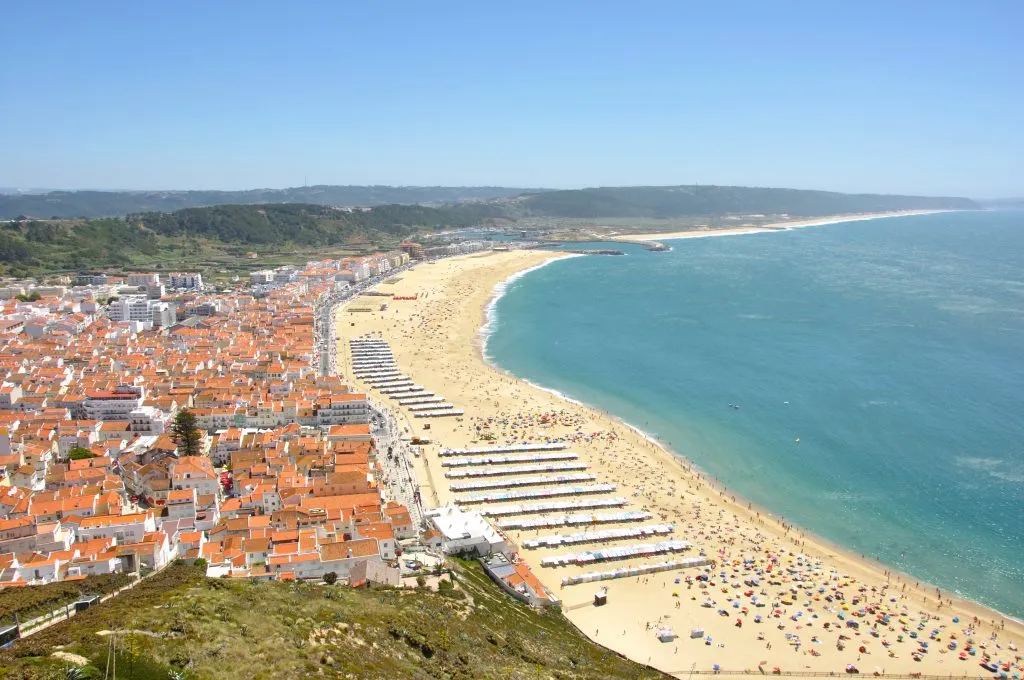 The Best Portugal Road Trip Itinerary Ideas
The Best of the Algarve Road Trip
From Campbell of Stingy Nomads
The spectacular Algarve coast in the south is one of the most picturesque places to road trip through Portugal.
The region is famous for little fishing villages with white-washed houses and cobbled stone streets, beautiful sandy beaches backed by jaw-dropping limestone cliffs, and delicious seafood.
A road trip is a perfect way to explore the charming towns and unique turquoise coastline.
With good roads and facilities and relatively short distances between towns, driving is easy in the area.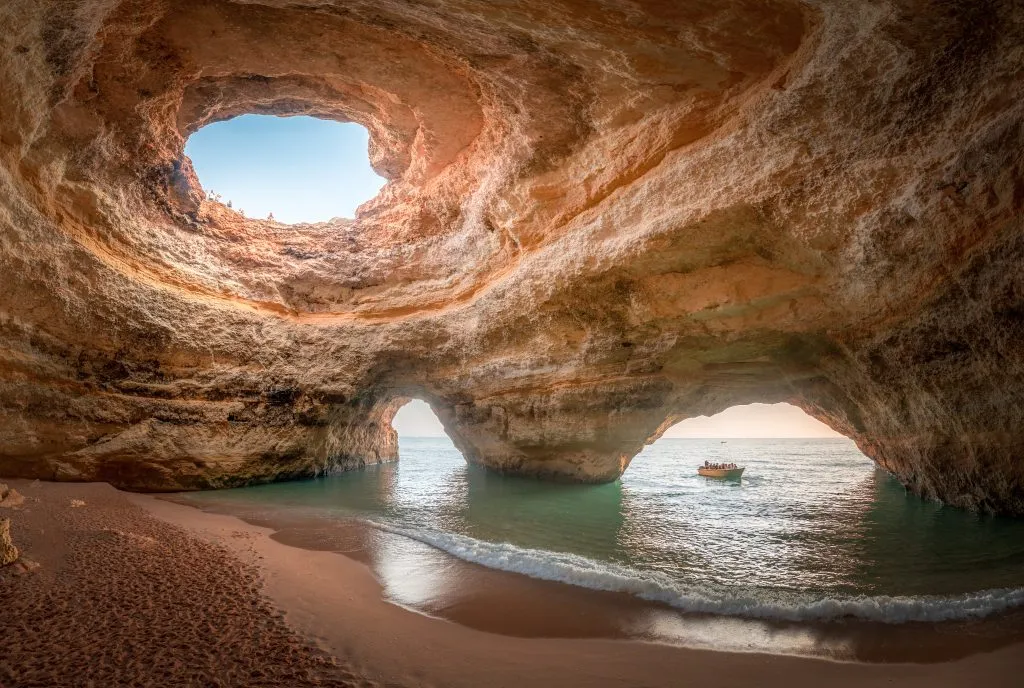 The capital of the Algarve, Faro, is a popular entry point to the region with an international airport.
Carvoeiro, about an hour's drive from Faro, is a small town packed with attractions.
Spend a day on one of the most beautiful beaches in the Algarve, Marinha Beach with golden sand and crystal clear water.
Visiting Benagil cave is a must-do activity from Carvoeiro and you can enter the famous cave by boat trip, paddleboard, or kayak.
If you enjoy hiking don't miss the striking Seven Hanging Valleys Trail.
From Carvoeiro drive to Lagos, home to a beautiful marina, one of the nicest old towns to explore, and plenty of unreal beaches.
Don't miss Praia do Camilo, Praia Dona Ana and Porto de Mos Beach.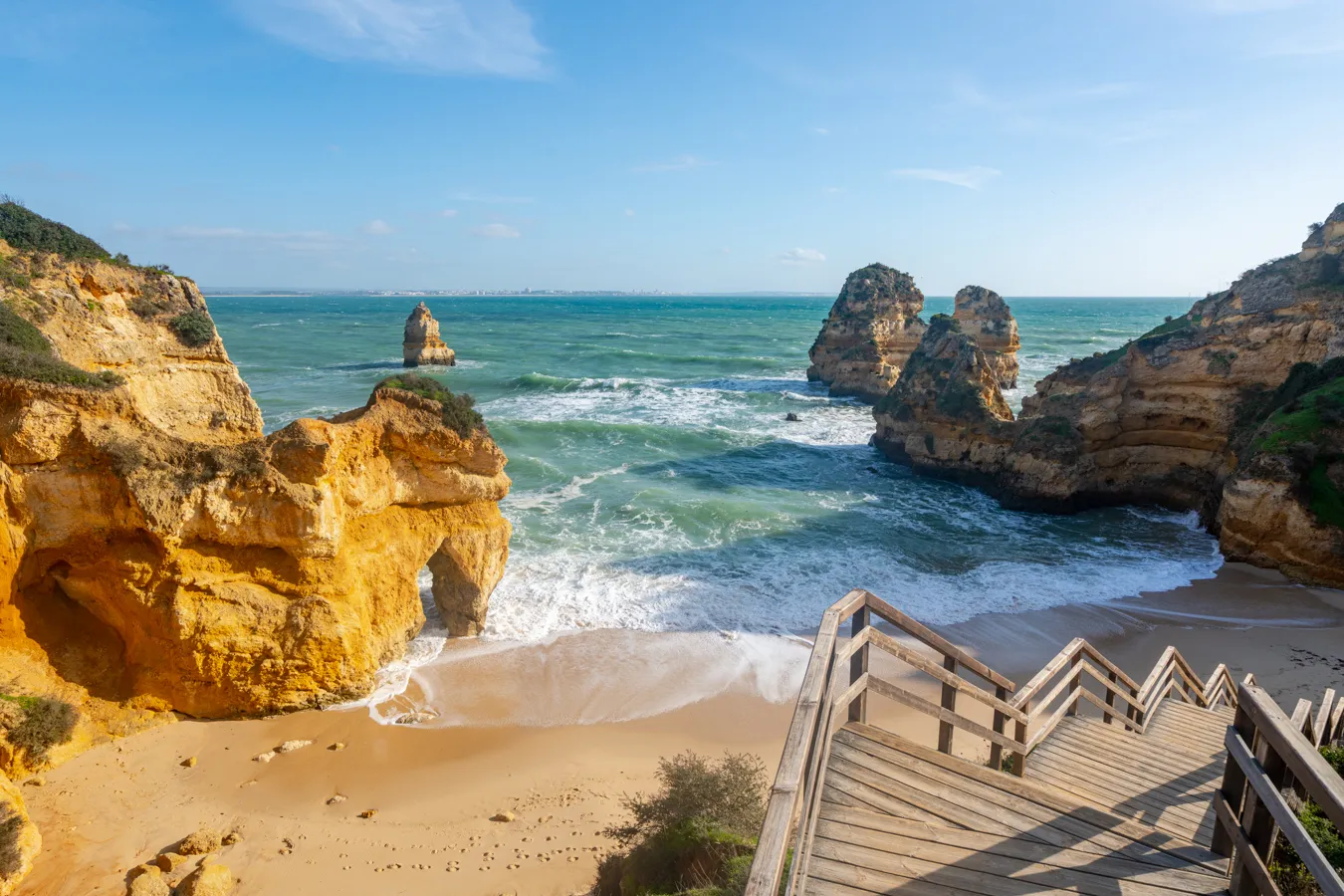 Keep on driving to Sagres, the south-western tip of Europe with dramatic scenery the Romans used to call the end of the world. The wild ocean here is known for excellent surfing.
Make your way back to Albufeira, this once fishing village has some beautiful beaches to enjoy.
Driving Distance
165 miles.
Recommended Road Trip Length
This road trip can comfortably be driven in 7 days.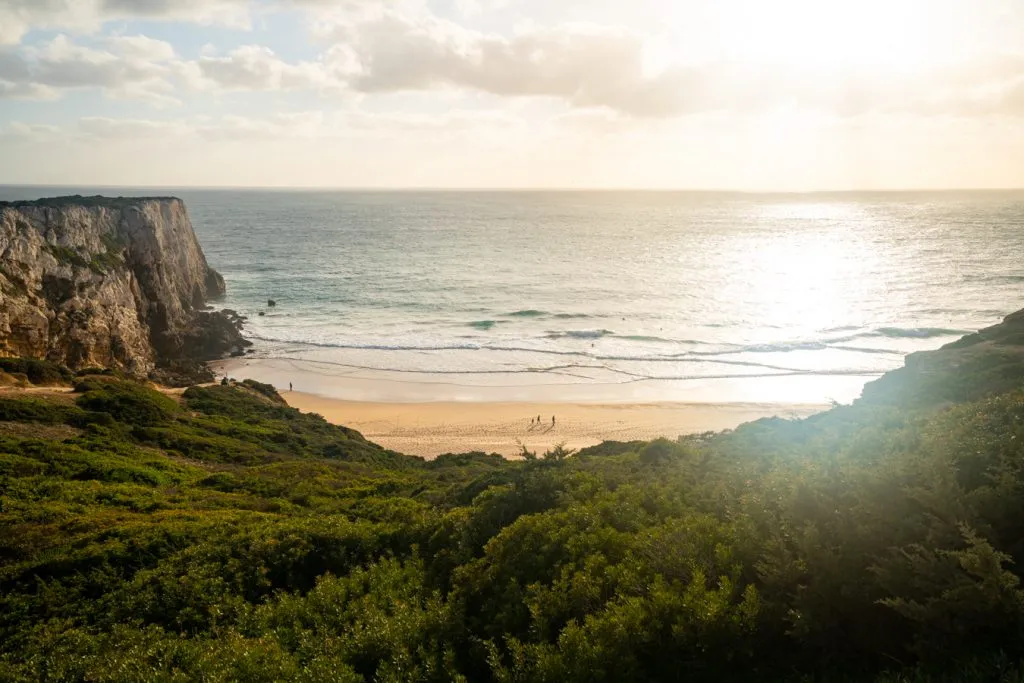 Loop from Lisbon through Portugal's Medieval Southern Interior
By Emily of Wander-Lush
Brimming with charming medieval towns, historic castles and majestic cathedrals, a road trip through Portugal's southern interior is a dream for history and architecture buffs.
This loop route starts and ends in Lisbon, making it ideal for travelers who are flying in and out of the capital.
Ease into things with a short but scenic drive to Obidos.
Just over an hour from Lisbon, this picture-perfect town of whitewashed houses and red roofs is a popular day-trip destination; linger on after the tour buses have departed and wander the quiet streets, visiting the impressive aqueduct and Obidos Castle.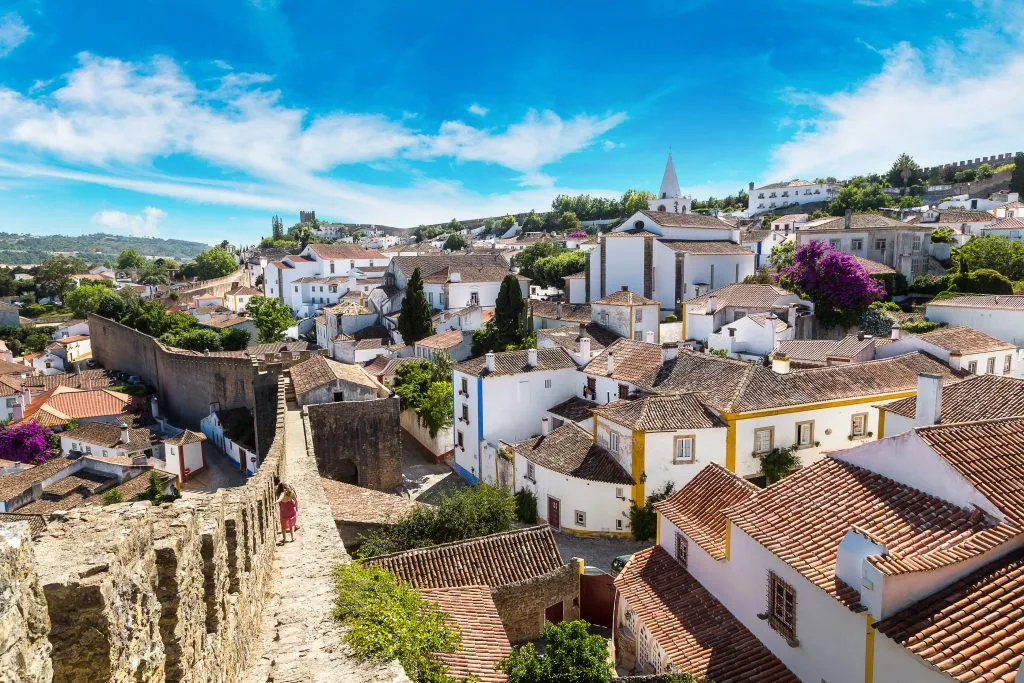 Allow two nights to see the various monuments, and make sure you budget enough time for getting lost down the cobblestoned streets.
When it's time to leave, duck inland to Santarem, a gorgeous Portuguese city on the edge of the Tagus River.
Catch the view from Santarem Castle and take in the gorgeous vernacular architecture before leaving the city behind to discover forests, wetlands, and river ecosystems in nearby Serras de Aire e Candeeiros Nature Park and beyond.
From there, it's a short drive to Tomar, a former seat of the Order of the Knights Templar and home to one of the finest examples of Portuguese Renaissance architecture in the Convent of Christ.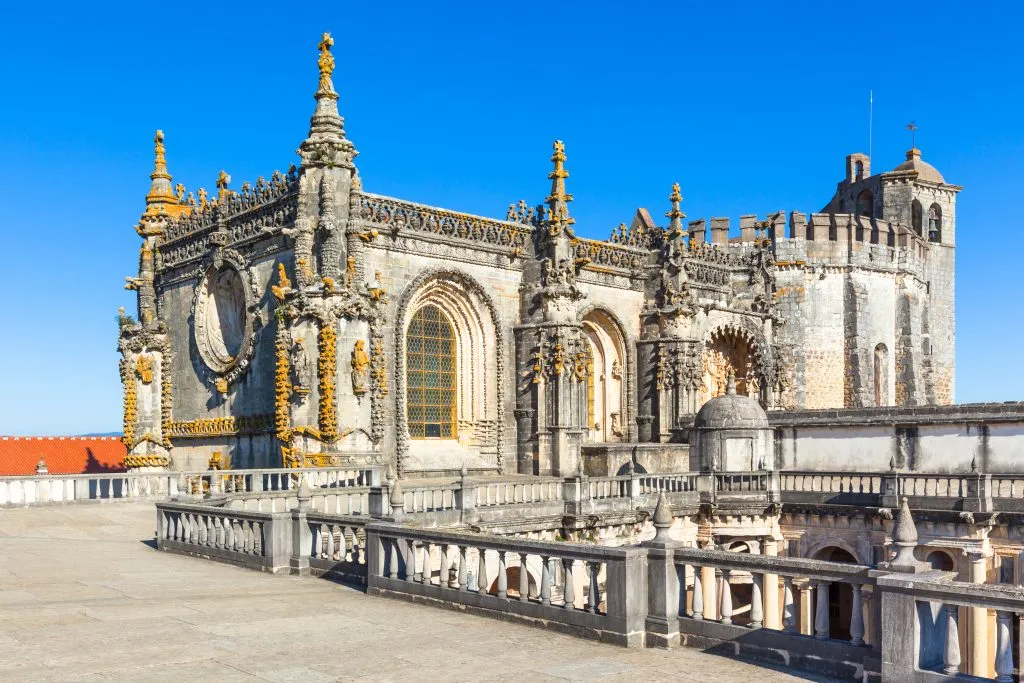 Set aside a full day to enjoy the longest leg of this drive as you take the scenic back-road into the Alentejo region, stopping at Arraiolos, Pavia, and any other picturesque village that catches your eye.
Finish up with a few days in medieval Évora, visiting the 12th-century Gothic cathedral and the mythical Chapel of Bones.
Driving Distance
318 miles or 512 km.
Recommended Road Trip Length
The total driving time for this Portugal road trip is just over 6 hours, but you should take your time on this historic route and make the most of each town.
A full week to 10 days is ideal.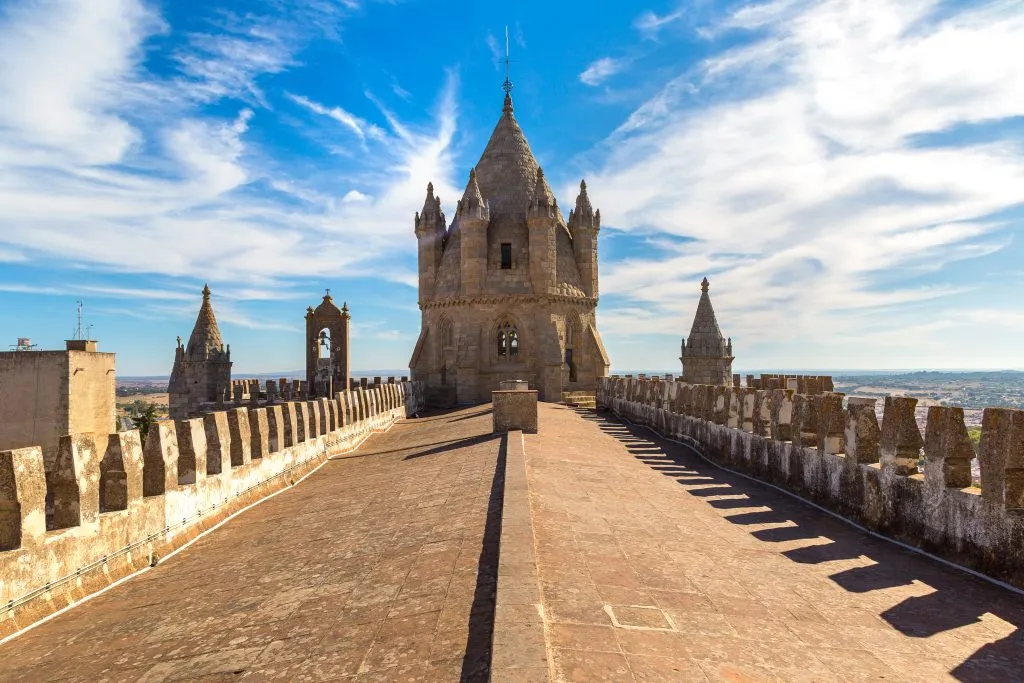 Lisbon to Porto Road Trip
From Or of My Path in the World
With so many beautiful places to visit between Lisbon and Porto, it's no wonder why driving from the Portuguese capital to the country's second city is such a popular road trip in Portugal.
From colorful palaces and castles to charming coastal towns to medieval villages and landmarks, there's a lot to see and experience.
First, you can visit Cabo da Roca, Europe's westernmost point.
After taking in the views of the Atlantic coastline, head to the UNESCO-listed Sintra, one of the best Portuguese cities for those who love fairytale palaces.
These include the Pena Palace, Quinta da Regaleira, and Monserrate Palace.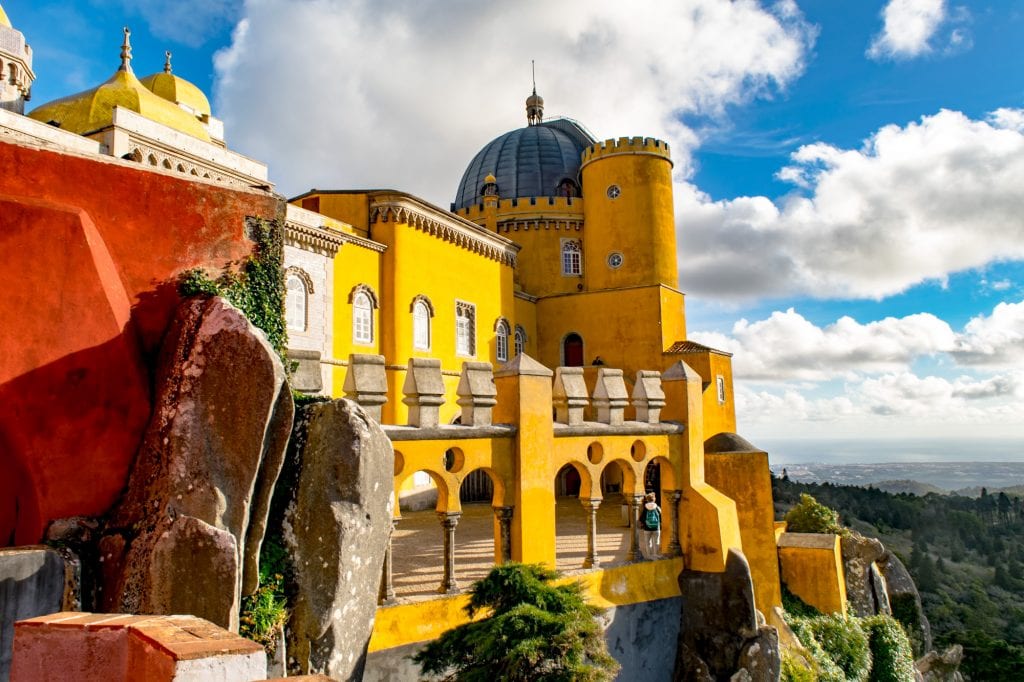 Next, visit Obidos, one of the most enchanting medieval villages in Portugal.
Stroll through the cobbled streets, walk along the walls, or even book a night at the Obidos Castle.
Continue to the city of Tomar, where you'll find the infamous Covent of Christ, and visit Coimbra, the home of one of the oldest universities in the world, and enjoy the local version of Fado music.
If that's not enough, you can also hike through the enchanted Bussaco Forest, and before arriving in Porto, stop at Vila Nova de Gaia for a tour at some of the best Port wine cellars in the area.
Driving Distance
About 351 miles or 565 km.
Recommended Road Trip Length
We recommend dedicating at least 5-7 days to this road trip, though it could easily be extended to 2 weeks.
Vicentina Coast Road Trip Route
From Alya of The Algarve Family
A road trip along the wild and beautiful Vicentina Coast in southern Portugal is an incredible experience.
The coast stretches between Odeceixe in the north and Sagres in the south.
The Costa Vicentina is still to be discovered by international tourists. It's very different from the popular southern Algarve.
The road trip can be done from Lisbon. The route follows the famous Fishermen's Trail, one of the most beautiful coastal hiking routes in Europe.
You can combine a road trip with a beach holiday or a weekend filled with outdoor activities such as hiking or surfing.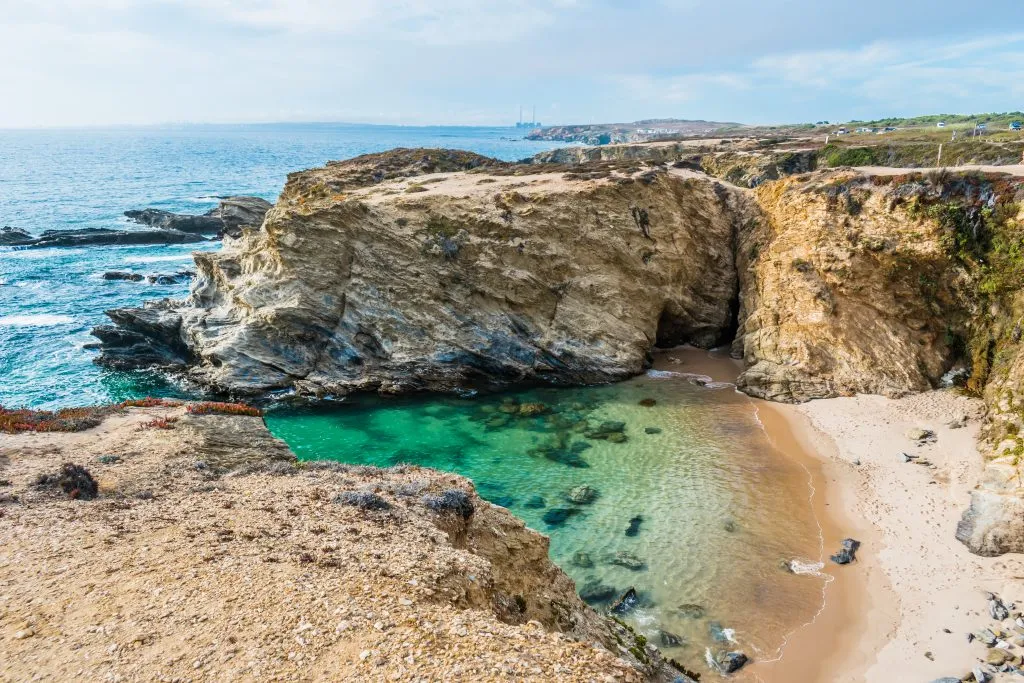 The Vicentina Coast road trip starts in the small town of Porto Covo, 170 km south of Lisbon, and finishes at Cabo de S.Vicente, the southwesternmost point of continental Europe.
From Porto Covo, drive about 45 km south towards Zambujeira do Mar.
It is a quiet town with a couple of beautiful beaches and stunning views of the rugged coast from the cliffs.
On the way make stops in Vila Nova de Milfontes, Praia do Almograve, and Cabo Sardão.
The next day continue driving along the coast from Zambujeira do Mar towards Sagres.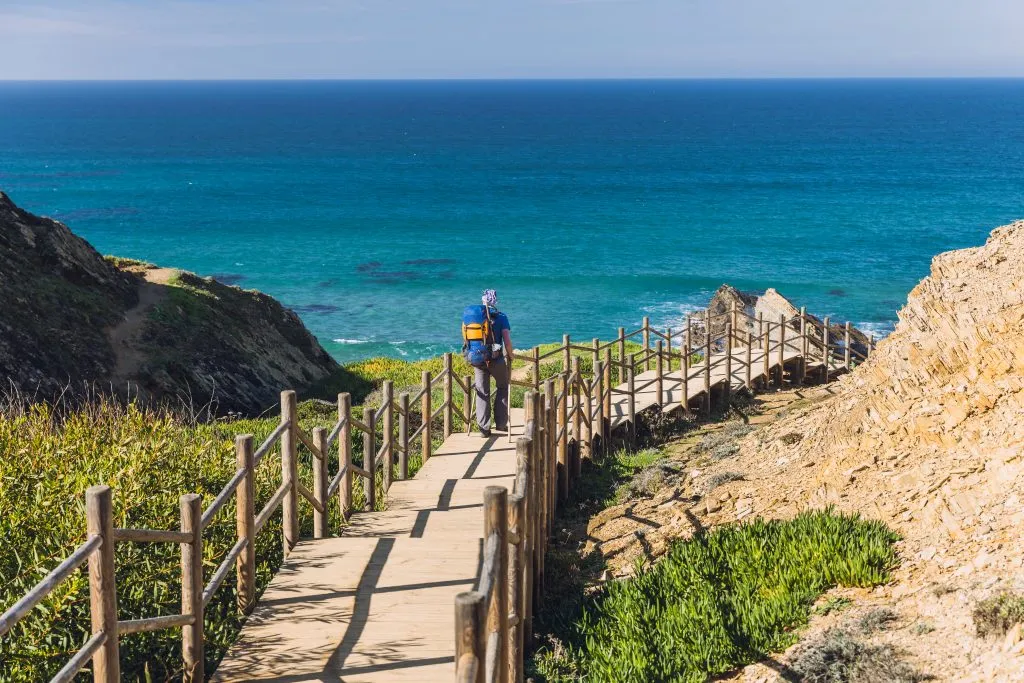 This part of the route has many stunning beaches and breathtaking lookout points.
Places to stop on the route are Odeceixe Beach, Amoreira Beach, Arrifana, Bordeira Beach and viewpoint point, Cabo de S.Vicente, and Sagres.
Driving Distance
105 miles.
Recommended Road Trip Length
This Portugal driving route is perfect for a 3-day weekend trip.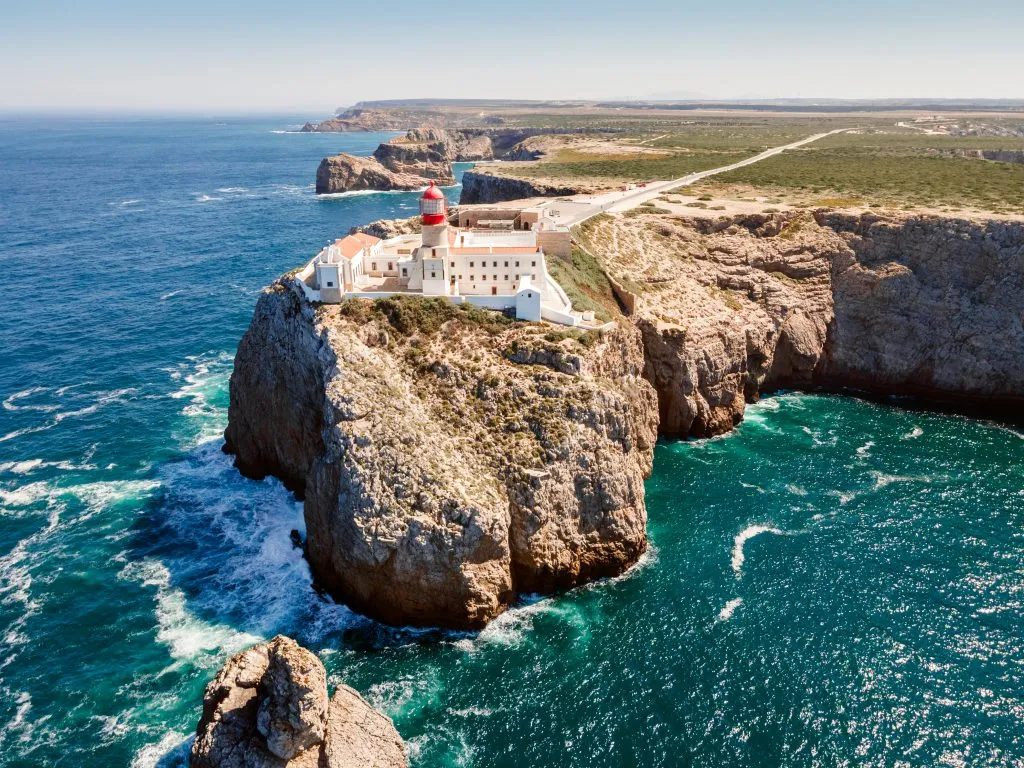 An Azores Road Trip on Sao Miguel
From Megan of meganstarr.com
One of the best road trips in Portugal (and the rest of Europe) is on the beautiful island of Sao Miguel in the Azores.
The island may be small (744 sq km / 290 sq mi), but it is jam-packed with incredible viewpoints, diverse landscapes, some of the best hikes in the Azores, and so much more.
The best way to see Sao Miguel is to rent a car and do a road trip!
On your first day, start off visiting the western side of the island.
Western Sao Miguel is brimming with lush greenery and volcanic lakes … which is a stark contrast to the eastern side of the island.
During this day, be sure to visit Miradouro da Boca do Inferno, Kings View (as well as the abandoned hotel called ʻMonte Palaceʻ there), Sete Cidades, and the sea stacks of Mosteiros.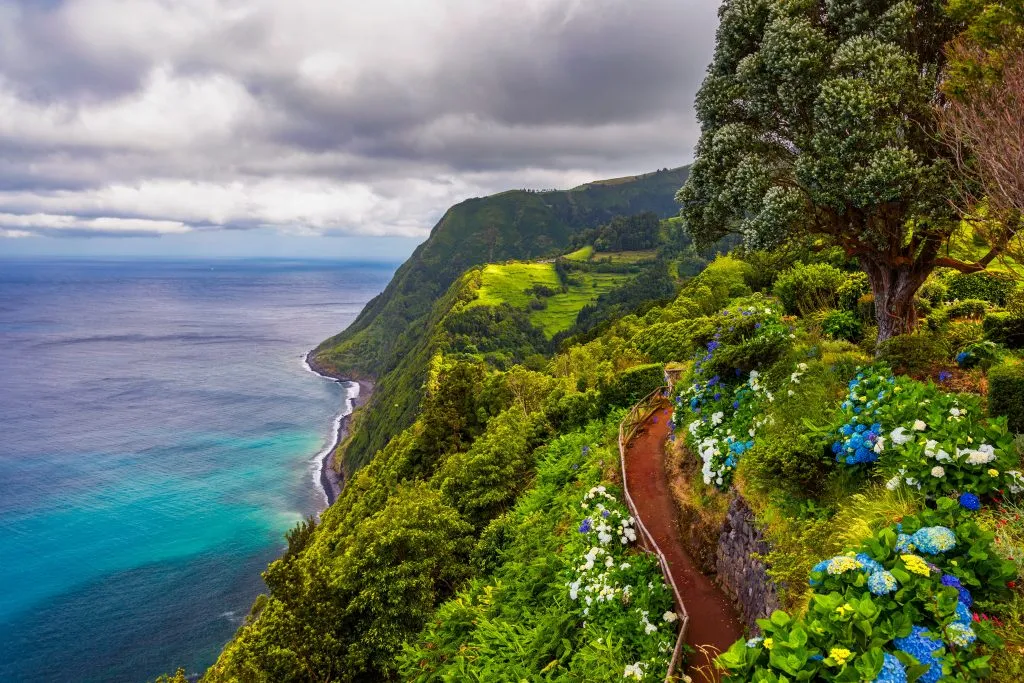 For the second day of the trip, you will be visiting the dramatic landscapes of central Sao Miguel.
Some of the best landmarks and places to visit are Pocos, the famous Pineapple Plantation, Lagoa, Estacao Emissora do Pico da Barrosa viewpoint, and Salto do Cabrito… one of the most beautiful waterfalls on Sao Miguel.
Finally, for the third day, you will head east! The east is the ʻhotʻ spot with a lot of hot springs and volcanic activity.
You can start your day in Lagoa das Furnas (be sure to try a Cozido das Furnas!), Parque Terra Nostra, and Salto do Prego.
End your day at the mind-blowing Miradouro Ponta do Sossego before heading back to Ponta Delgada (where you will spend your last day on Sao Miguel).
Taking a road trip of Sao Miguel will allow you to deeply connect with the island and never feel like youʻre spending more time driving than enjoying the scenery.
There are plenty of stops and the diversity of each will make you yearn for a second trip even before heading home from the first!
Recommended Road Trip Length
You will need a minimum of three days to travel the island (to get a good sense of it) and an additional day to spend in the capital city of Ponta Delgada.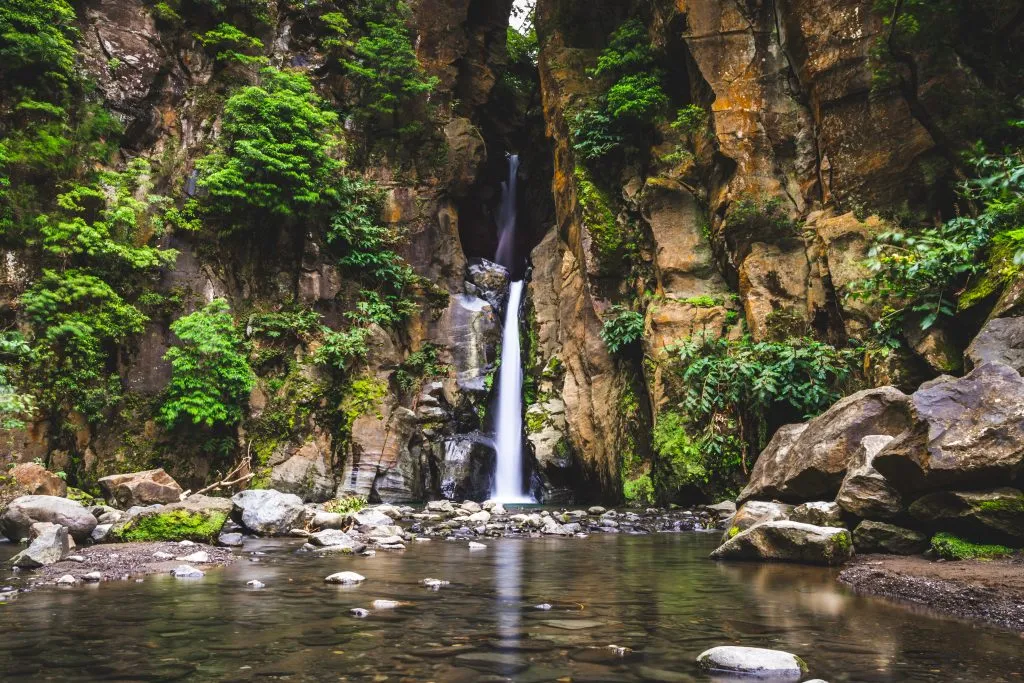 A Scenic Drive Up the Silver Coast
From Jenifer of The Evolista
A road trip from Lisbon to Nazare will give you an up-close look at why people love the stunning Silver Coast of Portugal.
The first village is Ericeira, a cool surf town, 30 minutes north of Lisbon.
Surfers flock here for the best waves in Europe.
Wander through the white cobblestone streets for shopping, delicious restaurants, and charming Ericeira hotels with ocean views for an overnight stay.
Next, head to Peniche for a dose of history. You'll find a well-preserved fort that dates back to the 17th century.
If you have time, take the 45-minute ferry to the Berlengas Islands.
The road heads inland to the walled, medieval city of Obidos. This picturesque town, filled with narrow streets lined with shops and cafes, is perfect to explore for a few hours.
Then you'll head back to the beaches of Foz do Arelho.
It's a beachy town overlooking a gorgeous lagoon where people enjoy a variety of water sports including SUP, kayaking, and windsurfing.
Last but not least is the town famous for big wave surfing, Nazaré.
So whether you're looking to catch some waves or relax and rejuvenate, you'll find plenty of things to do on a road trip from Lisbon to Nazare along the Silver Coast in Portugal.
Driving Distance
114 miles or 183 km.
Recommended Road Trip Length
The drive time is only 3 hours in total but you should definitely plan at least 2-4 days for the trip so you have time to explore and take advantage of the charming towns and fun activities available.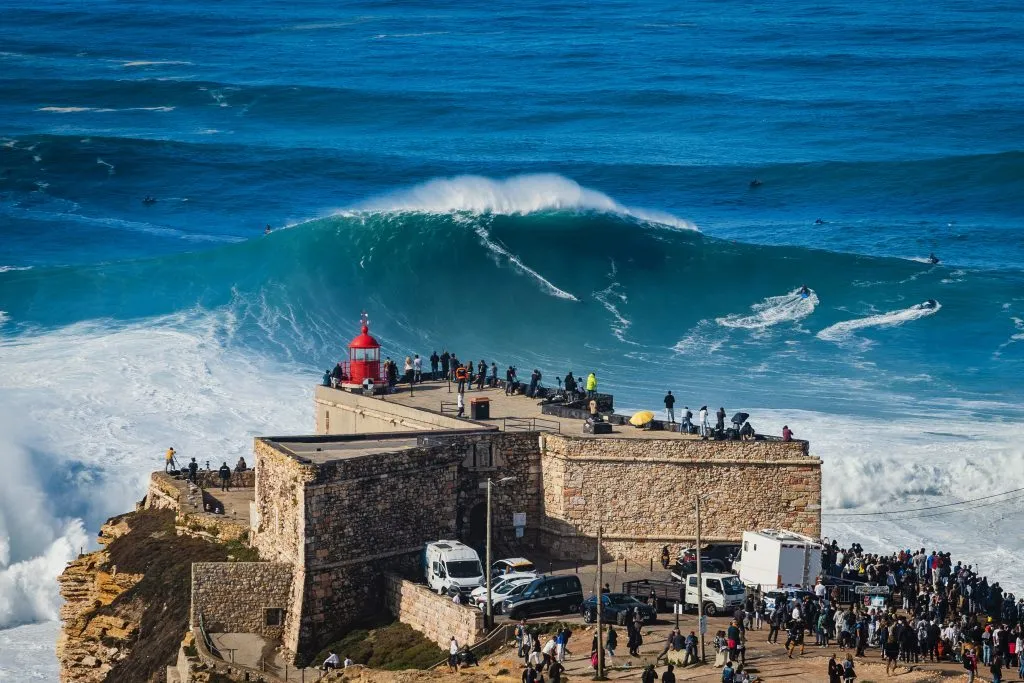 Offbeat Peneda-Gerês National Park Road Trip
From Coni of Experiencing the Globe
When a country has only one national park, and you love nature, you might consider a visit.
When it's a perfect loop from one of the country's top destinations, then you must add it to your itinerary.
Gerês is not on most people´s travel bucket list, but it absolutely should be!
Located only 60 miles from Porto, in the northern corner of Portugal, if you're into culture tourism, hiking, or sightseeing in nature, Gerês will make for the perfect road trip.
The park is huge, and everything you will want to see is spread out, so jump into your car early, maybe make a quick stop in Braga, and head to Rio Caldo, where you can find a few restaurants and hotels (and campsites), and where the day will fly by swimming or walking around the river.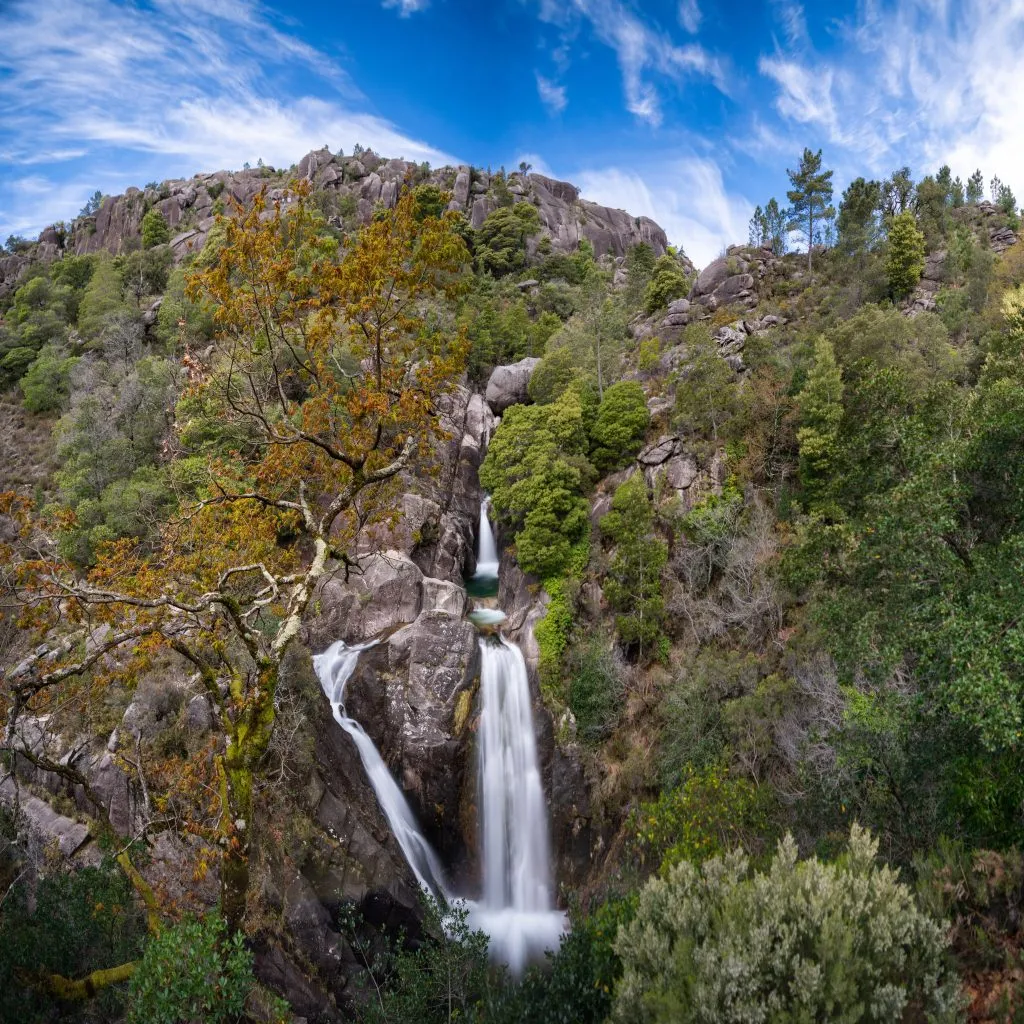 The next day, start by visiting the village of Gerês.
You'll see shepherds leading their cattle to graze, and grannies selling homemade goodies.
Stop in Miradouro Pedra Bela for incredible views, in Cascatas de Fecha de Barjas if you want a bit of a trek with an amazing waterfall for a swim at the end, or in Cascata de Pincães if you want an easier hike.
Finish the day by going down an old Roman road to Ponte da Misarela, known as the Devil's bridge, a beautiful man-made medieval building cohabiting with the stunning landscape.
You can find accommodation looping back to Gerês.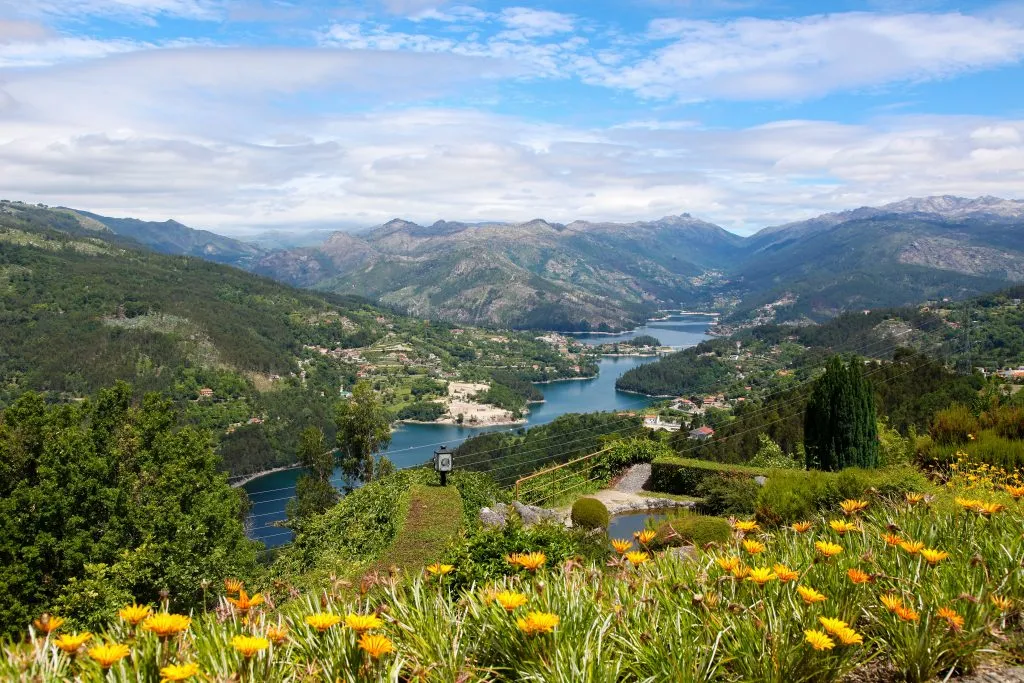 On the third day go towards Mata da Albergaria, a magnificent oak forest, and then to the small village with a top-of-a-hill castle of Lindoso.
Finish the day in Soajo, where you'll see Espigueiros, a collection of granite granaries built above the ground, where corn is still being kept.
Driving Distance
From Porto to the village of Gerês lay only 60 miles, and your north Portugal road trip itinerary will determine how much driving you'll do.
If you stick to the three days detailed above, you're looking at around 230 miles.
Portugal Driving Tip: if you're running out of petrol, from Lindoso cross into Spain. In a short 15-minute detour you'll find a gas station.
Recommended Road Trip Length
There are many other waterfalls, viewpoints, small villages, and sanctuaries that you can visit if you have more time.
A minimum to take in the most important sites is 3 days, but if you have a week or more, the park will keep you entertained.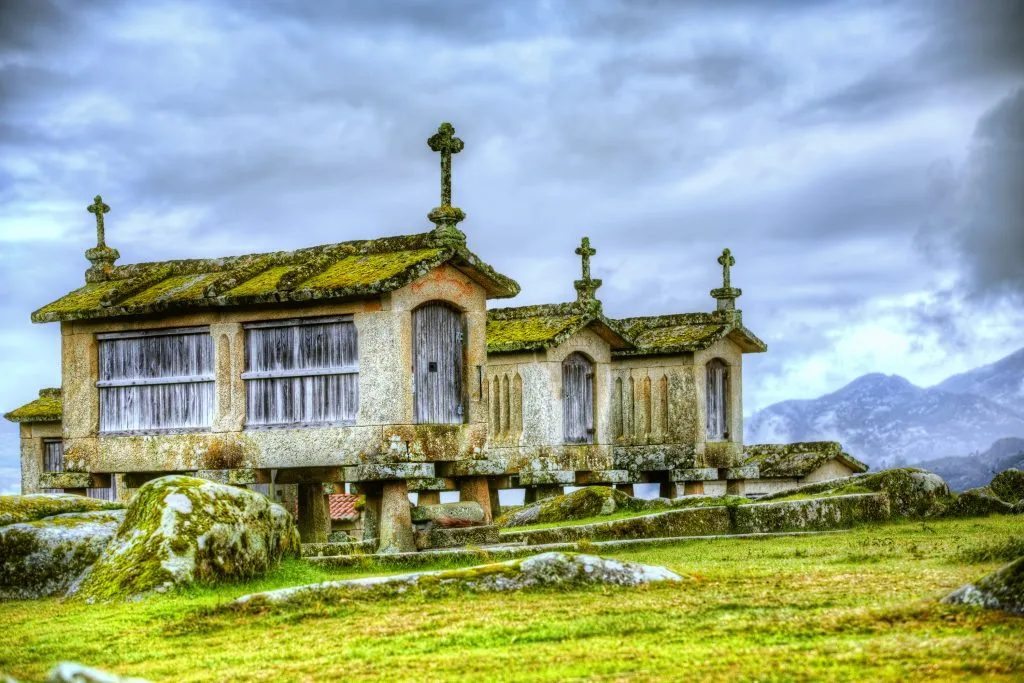 Porto + Duoro Valley Road Trip Loop
From Moumita and Sankha of Chasing the Long Road
The road trip from Porto to Douro Valley is one of the most incredible road trips in Portugal and is one of the best things to do from Porto.
This Portugal road trip is structured as a loop starting and ending in Porto.
Start your Portuguese road trip adventure by exploring the city of Porto, the second-largest city in Portugal.
The old Historic Centre of Porto, alongside the nearby Luiz I Bridge and Monastery of Serra do Pilar, are a UNESCO World Heritage Site.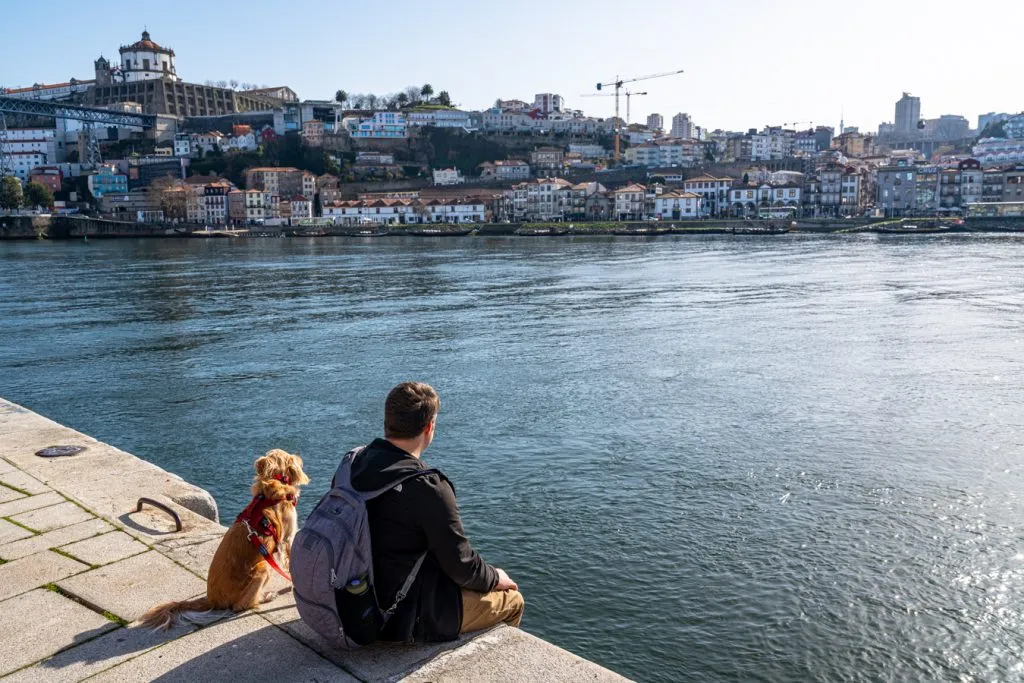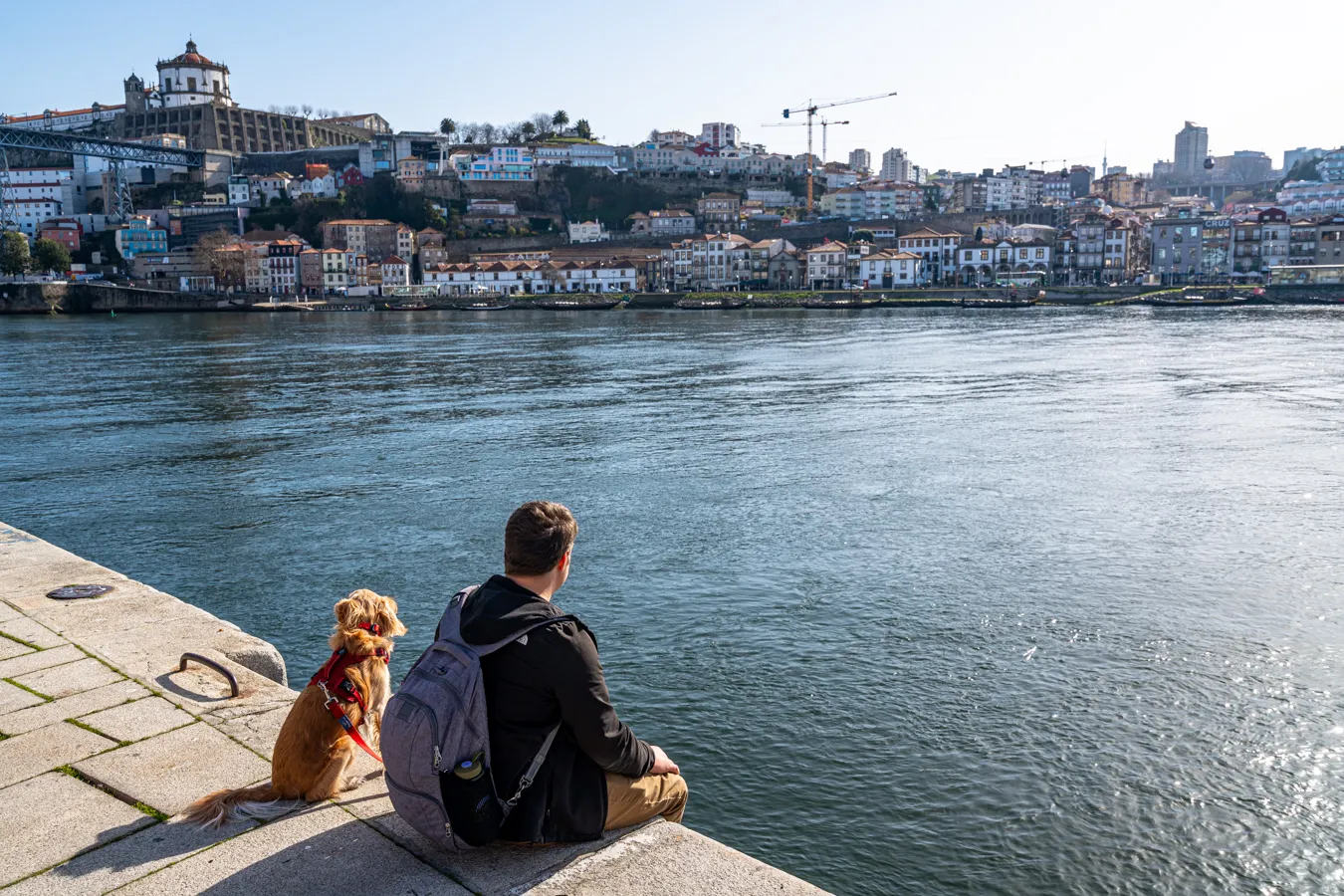 From taking a short cruise over the Douro River to exploring the magnificent Livraria Lello (one of the most beautiful bookstores in the world), Porto offers a lot.
Spend at least 2-3 days in Porto before exploring the Douro Valley.
The drive to Douro Valley is very scenic.
The entire valley is designated as a UNESCO World Heritage Site and is famous for its terraced vineyards.
You will be treated to stunning sceneries and some delicious wine and food. The road follows endless gorgeous vineyards over the lush green hills and the historic wine villages.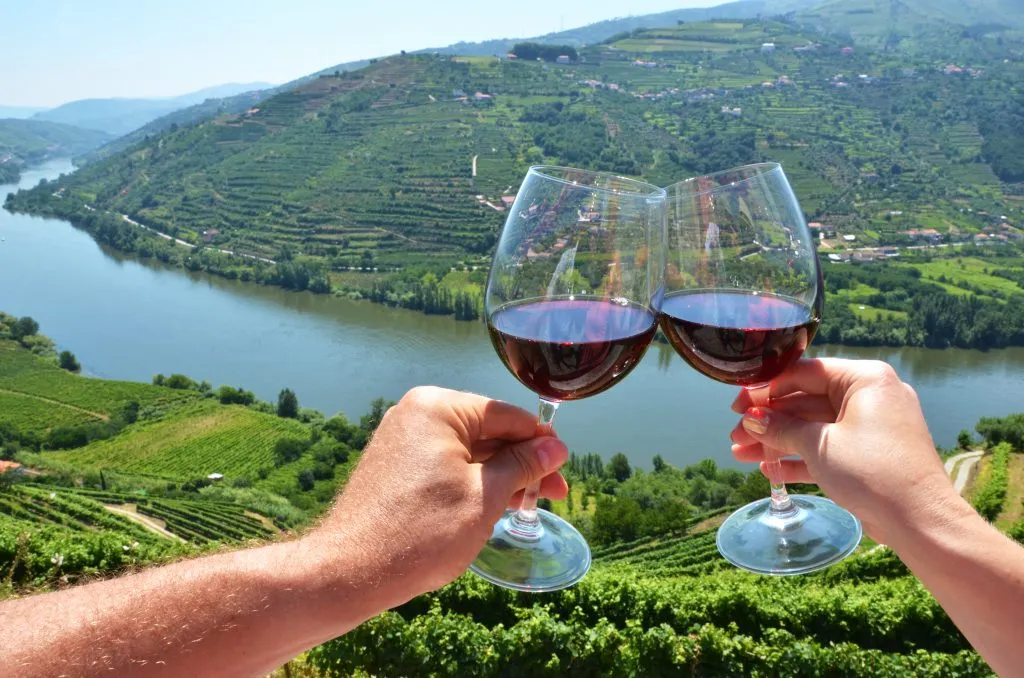 There are numerous miradouros (viewpoints) on the way, where you can stop to take photos and admire the view.
Don't miss the famous Double Viewpoint or Miradouro do Penedo Durao.
For wine lovers, many of the wineries here offer Port wine tasting and a tour of their cellar.
Be sure to stop by the small village of Pinhao, with its famously charming train station, along the way.
Driving Distance
About 127 miles each way.
Recommended Road Trip Length
It takes around 4 hours to drive between Porto and Vila Nova de Foz Coa.
We would suggest spending at least 4-5 days exploring Porto and the towns and villages of Douro Valley.
Island Road Trip on Madeira
From Marjut of The Smooth Escape
Madeira lies in the Atlantic Ocean, 700 miles off the coast of mainland Portugal.
Home to dramatic volcanic landscapes and lush vegetation, this sub-tropical island is known as the Hawaii of Europe.
The best way to witness the beauty of Madeira is by taking a road trip.
As the island is quite small, you can use the capital city Funchal as your base and take day trips via car to the different parts of the island.
Start your trip by spending a day in Funchal. With its tropical gardens, cobblestone streets, and endless ocean views, it's a fantastic city to explore.
Next, drive to Madeira's northwestern coast where you'll find towering cliffs, natural pools, and picturesque villages.
Make sure to visit the black sand beach in Seixal which is considered one of the best beaches in Madeira.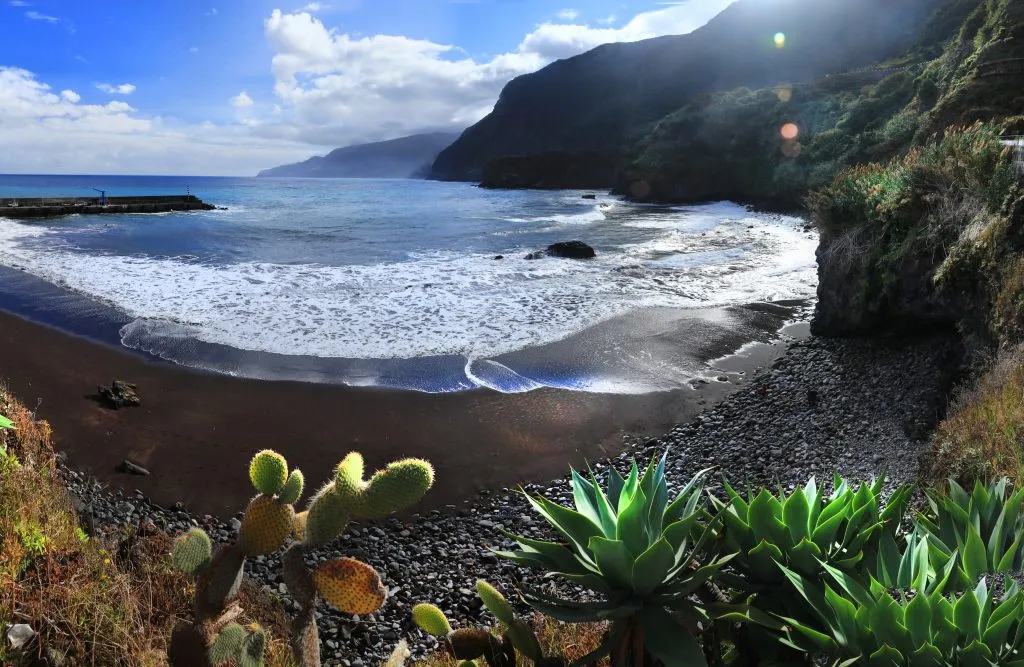 The next stop is Pico do Arieiro, the island's third-highest peak where you can enjoy striking views of the surrounding mountains and valleys.
If you're up for an adventure, you can hike the challenging trail to Pico Ruivo.
Visit also the traditional thatched houses in the village of Santana and do the scenic 'levada' walk to Caldeirão Verde waterfall.
Round off your trip by exploring the moon-like landscapes of the Ponta de São Lourenço peninsula.
Driving Distance
190 miles.
Recommended Road Trip Length
Although you could cover this whole distance in a couple of days, I recommend spending at least 5 days on this Portuguese road trip because there's so much to see and do along the way.
Alternate Lisbon to Porto Driving Route
From De Wet of Museum of Wander
Yes, you can drive from Lisbon to Porto in about three hours, but do you really want to do that if you could slow down and see rural Portugal and a stunning surf town along the way?
This road trip takes you inland from Lisbon to the Alentejo region with whitewashed villages, cork forests and vineyards before heading back to the coast.
Stop in Nazare on the Costa da Prata for the freshest seafood, long stretches of empty beach and enormous waves to surf before ending your trip in gorgeous Porto.
Leave Lisbon and head east towards Evora in Alentejo.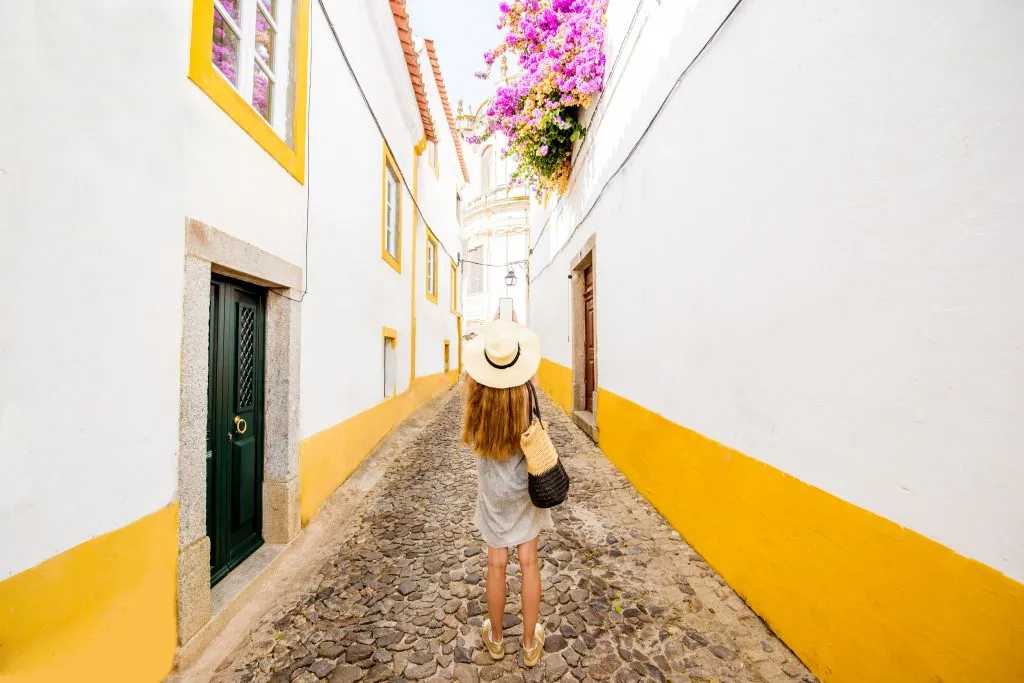 Evora is a stunning medieval town surrounded by a city wall.
In Evora, explore the cobblestoned old town, see the famous Bone Chapel and Roman Temple, dine on exquisite regional food, and do some wine tastings.
The countryside around Evora is peppered with vineyards, wineries, cork forests, and megalithic complexes to explore with your own wheels, too.
Then head back to the coast for some beach time and relaxation in Nazare.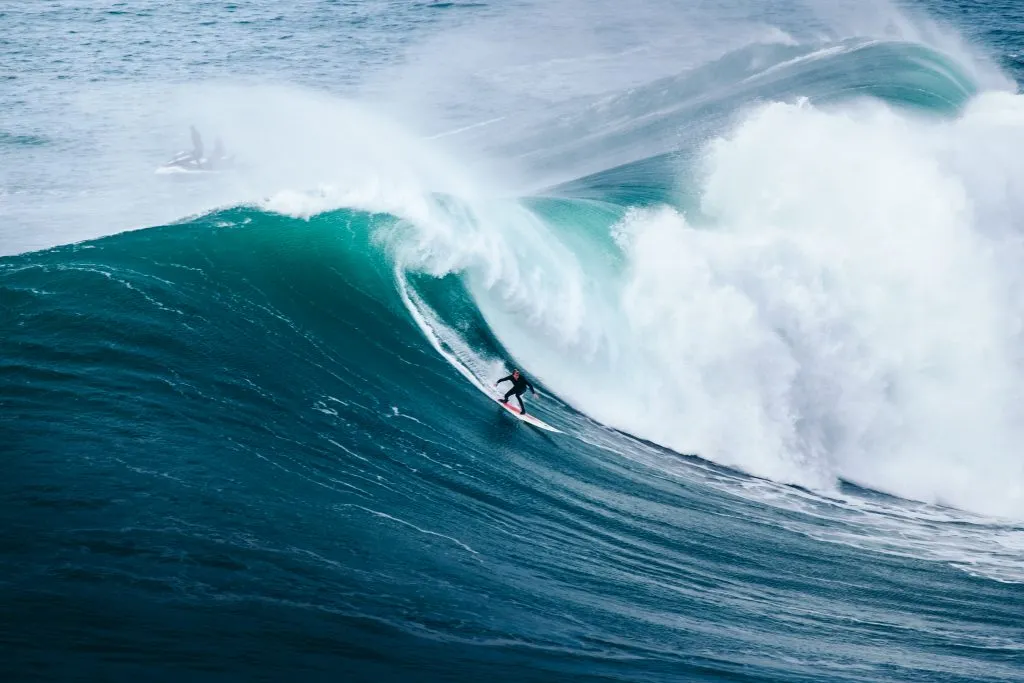 In Nazare, head down to the lighthouse and Praia do Norte to see (or surf) the giant waves that Nazare is famous for.
After visiting Nazare, it's about a two-hour drive to Porto, where your road trip ends.
Driving Distance
357 miles or 576 km.
Recommended Road Trip Length
You enjoy this Portugal road trip in a weekend, but five days or more will be much more relaxing.
---