When looking for the best hikes in Arches National Park, you're positively spoiled for choice: from quick jaunts away from the car to in-depth, longer Arches National Park hikes that cover multiple arches at once, there is no shortage of variety.
We've rounded up the best hikes in Arches National Park here, complete with information on their length and difficulty.
Trail lengths include the round-trip distance required to complete the trail and return to your starting point.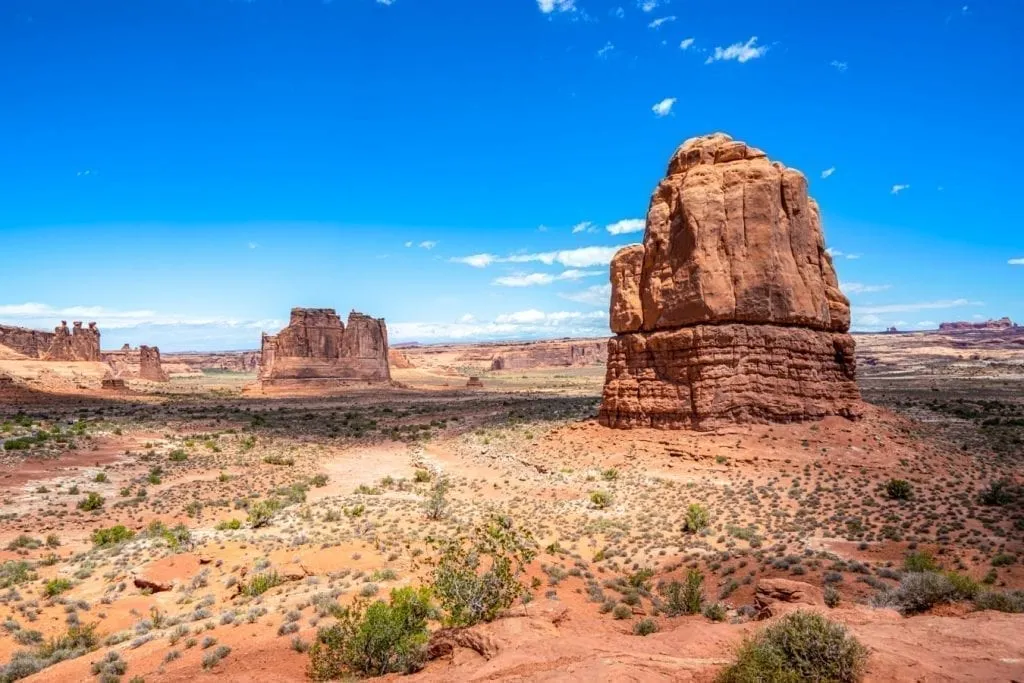 Best Hikes in Arches National Park Under a Mile Long
Only have a few minutes to spare?
These Arches National Park hikes can all be completed in a mile or less!
Double Arch
Of all of these hikes under a mile in length, Double Arch is our favorite: a short, semi-paved trail will take you directly to the impressive Double Arch, and if you're looking for a bit more of a challenge, you can even climb up one of the arches for a phenomenal view!
Despite being easy to access, Double Arch is one of the most impressive arches in Arches National Park!
Length + Difficulty of Trail
The Double Arch trail is 0.5 miles and easy to complete.
Balanced Rock
A visit to Balanced Rock really barely even qualifies as a hike: a short, paved trail will take you around the perimeter of this incredibly striking formation.
Length + Difficulty of Trail
The Balanced Rock trail is very easy and is 0.3 miles long.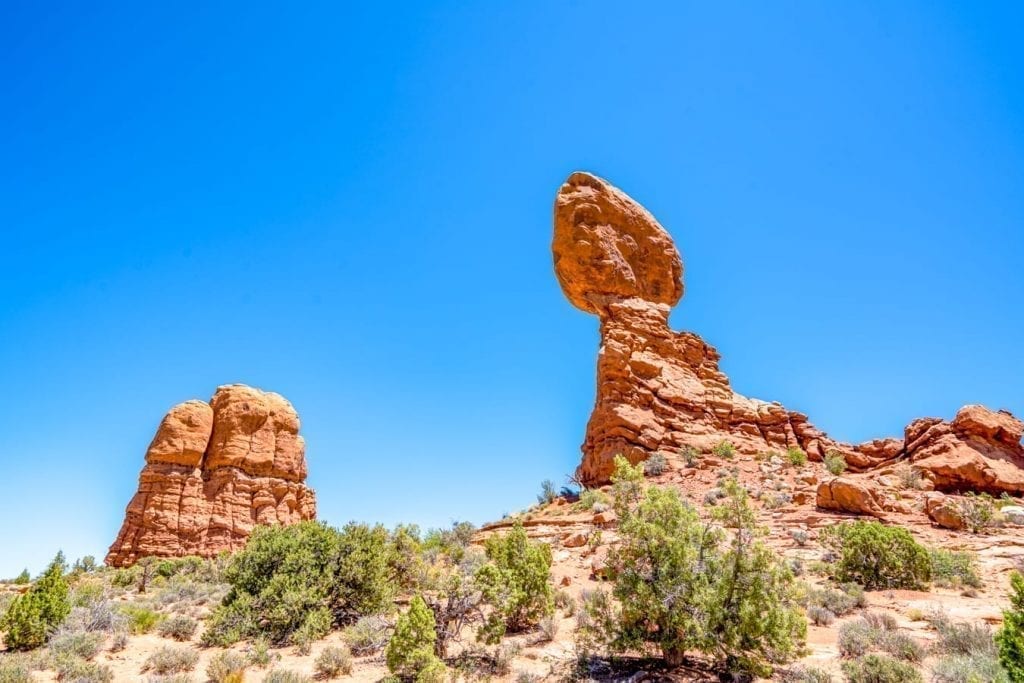 Skyline Arch
An easy, sandy trail quickly leads to the beautiful Skyline Arch and makes a fun detour when driving through Arches National Park.
Length + Difficulty of Trail
The Skyline Arch trail is 0.4 miles long and is an easy stroll over sand and rocks.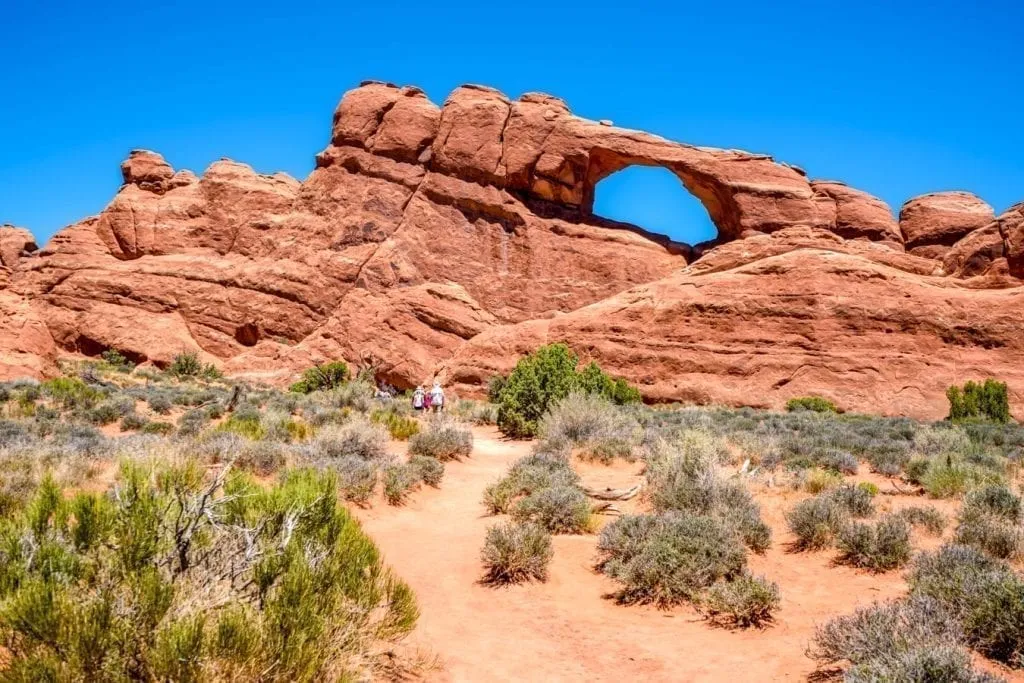 Windows Trail
If you're looking for a fun and easy way to see several arches within a limited amount of time, you can't beat the Windows Trail.
In less than a mile, you can experience 3 arches, including the incredible Turret Arch and both the North Window and South Window Arches.
Length + Difficulty of Trail
The Windows Trail is an easy 0.7-mile loop, much of it taking place on semi-paved surfaces, though you'll no doubt want to climb a bit closer to the arches!
If you'd like to complete the short primitive trail on the way back, the trail stretches to 1 mile in total and becomes slightly more difficult.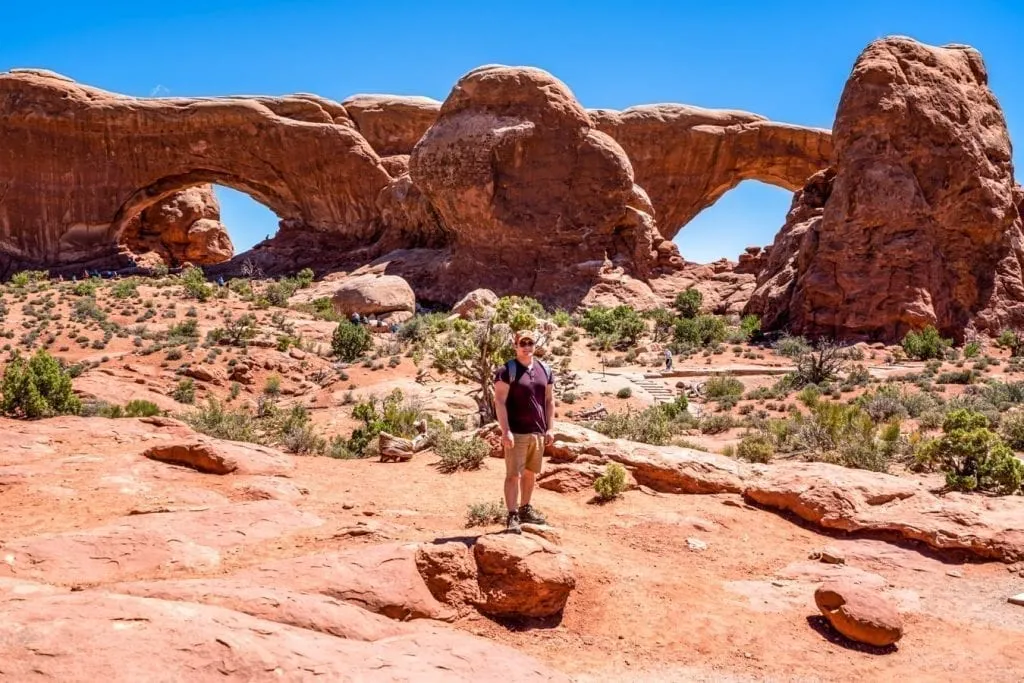 Sand Dune Arch
This easy, sandy trail leads you to an arch tucked into a slot canyon, and its unique location makes Sand Dune Arch a favorite in Arches National Park, especially for kids!
The arch and the area surrounding it are coated in incredible smooth sand–most beaches around the world would be envious–and in the afternoon, the whole area is shaded, making Sand Dune Arch a great place to catch your breath and cool off when hiking in Arches NP.
Length + Difficulty of Trail
The Sand Dune Arch reached along an easy, 0.3-mile trail.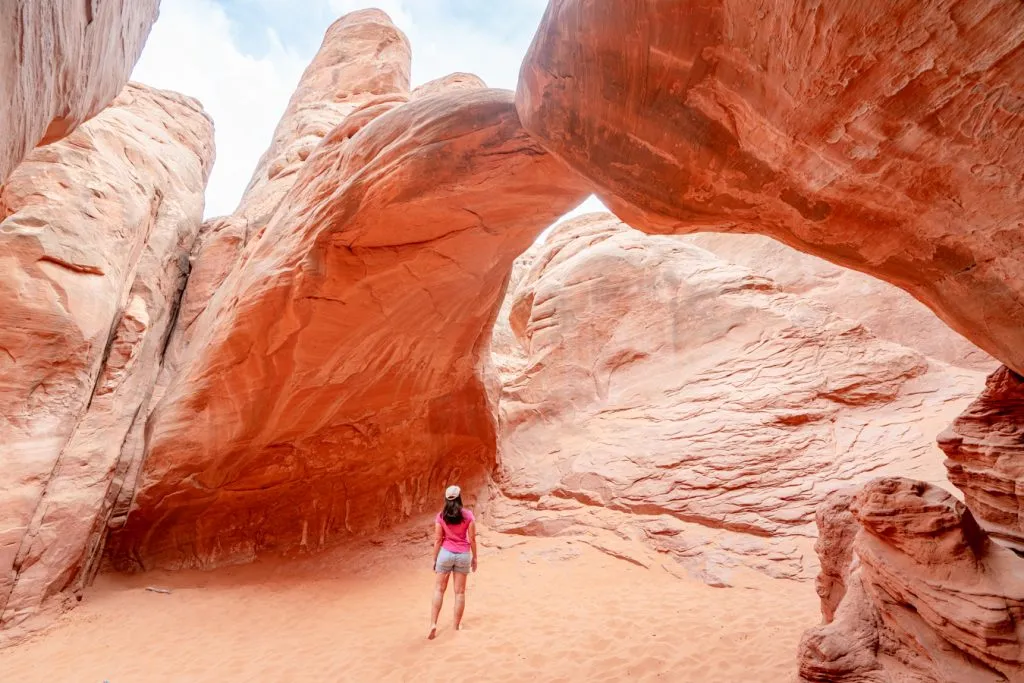 Delicate Arch Upper Viewpoint
If you'd like to check out Arches National Park's most famous arch without hiking all the way to it, the Delicate Arch Upper Viewpoint will give you a quick look.
The path is rocky, uneven, uphill, and devoid of even a hint of shade–but it is short!
However, in our opinion, the view from the Upper Viewpoint isn't significantly more impressive than the view from the Delicate Arch Lower Viewpoint, which is a mere 100-yard walk along a paved pathway from the parking lot, so if you don't feel like making the climb, no worries.
Length + Difficulty of Trail
The Delicate Arch Upper Viewpoint trail is 0.5 miles long, and the trail is fairly strenuous for its length.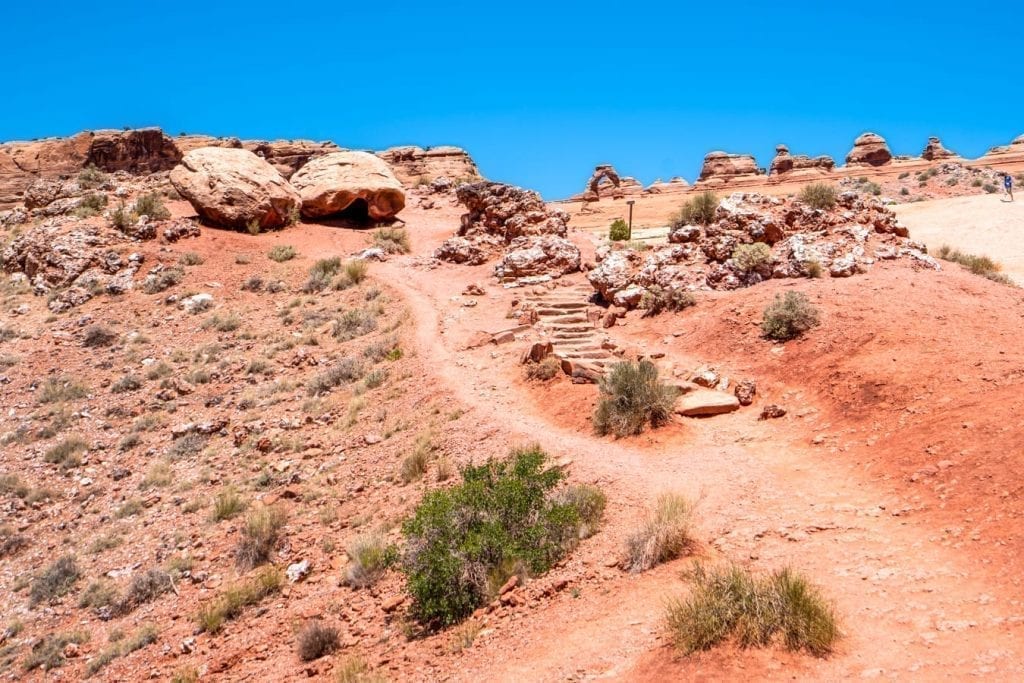 Fun 1-3 Mile Arches National Park Hikes
The Arches National Park hikes in this section include some of the most iconic arches in the park, and are definitely worth adding to your wish list!
Delicate Arch
The hike up to Delicate Arch is not easy–especially on an extremely windy day like when we hiked it–but it is absolutely worth it.
The trail involves a steep climb up an open sandstone hill, as well as a hike along a narrow portion of trail with a drop on one side and a high wall on the other, in addition to several easier portions.
At one point, as you near the end of the trail, you'll spot another arch on the left side of the trail–be sure to climb up to see through it, because it offers a picture-perfect view of Delicate Arch (and also has an incredibly fun name–this is the Twisted Doughnut Arch).
This is one of our personal favorite hikes in Arches National Park (us and most other visitors, honestly), and if you only do one hike in the park, consider making it this one!
Length + Difficulty of Trail
The Delicate Arch hike is 3 miles long and is considered difficult. You'll gain 480 feet in elevation, and there is very little shade to be found along the trail.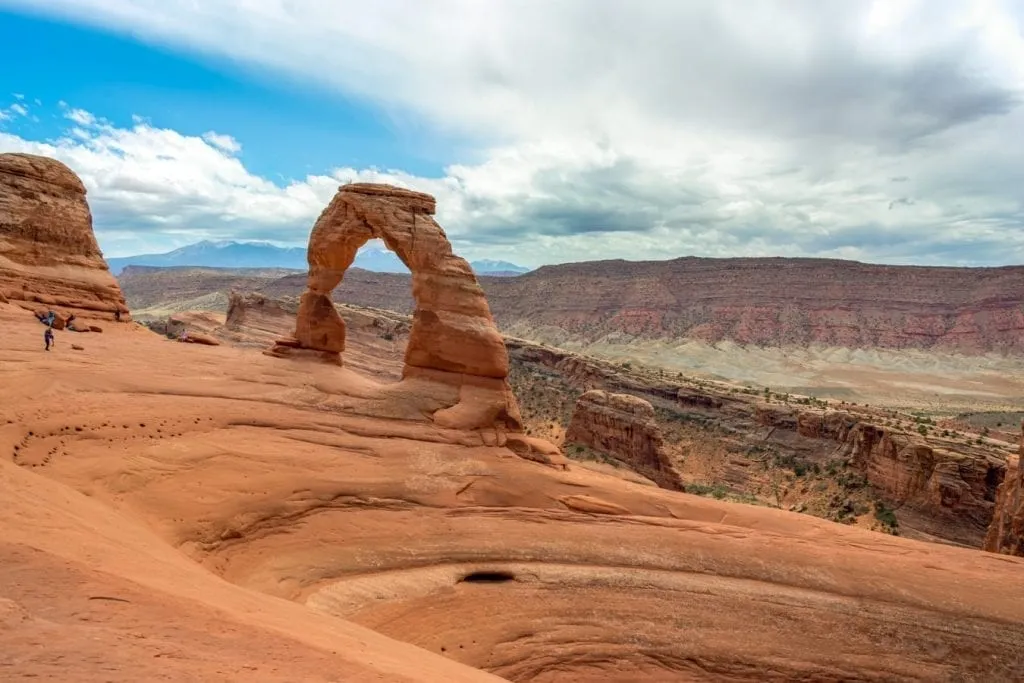 Park Avenue
Despite being one of the only trails on this list to not include an arch, stunning Park Avenue is still well worth the visit.
We recommend starting at the top and walking toward the Courthouse Towers, as the views as you descend are just incredible.
Length + Difficulty of Trail
Park Avenue is an out-and-back trail that is one mile each way–note that the National Park Service recommends that if you ascend back up to your car, that you do so on the trail and not along the road.
If you have someone pick you up at the end of the trail, it is only 1 mile long and quite easy if you head downhill.
If you need to return to your car, it's a 2-mile hike and you'll be climbing uphill in the second half.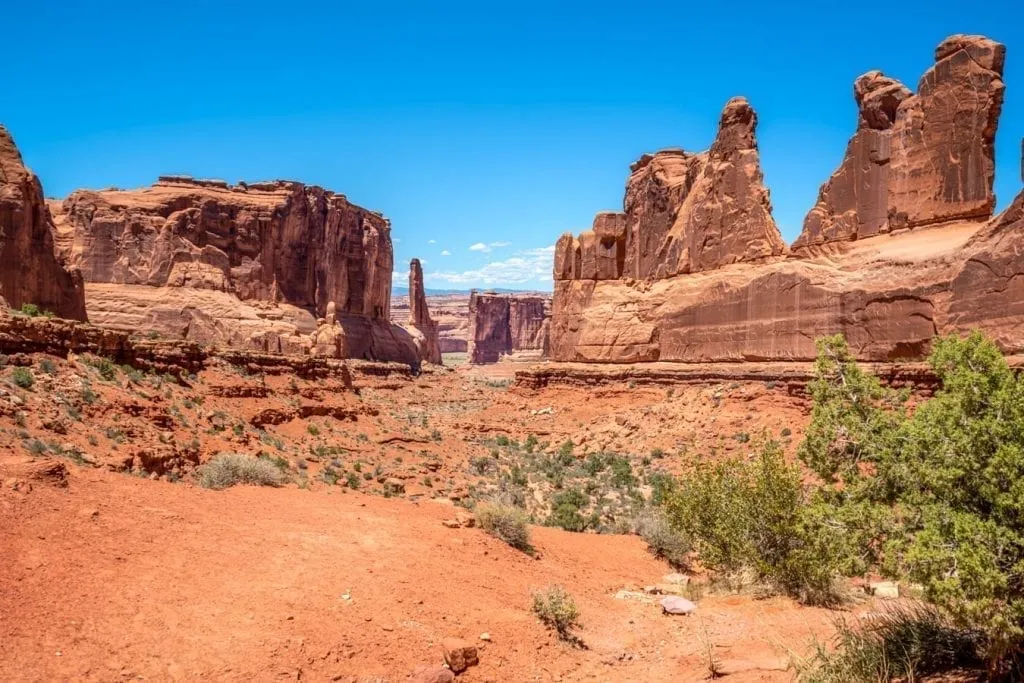 Broken Arch
Despite its name, Broken Arch is not broken at all, but cracked.
The arch is, however, enormous and beautiful, and well worth the easy walk across an open field that it takes to reach.
In addition to the beauty of the arch itself, there are gorgeous views of the La Sal Mountains visible from Broken Arch–be sure to climb through the arch for the best views!
Broken Arch is easily combined with Sand Dune Arch, as they're located off of the same trailhead.
Length + Difficulty of Trail
The Broken Arch trail is rated as easy, and is 1.3 miles long.
Landscape Arch
Measuring a whopping 306 feet long, and at some places narrowing to a mere 7 feet, Landscape Arch is one of the most visually impressive arches in all of Arches National Park.
Next to Delicate Arch, Landscape Arch is probably the most popular and revered arch in the park, and it is absolutely worth prioritizing!
Unlike most arches on this list, you can't walk under Landscape Arch–it's behind a fence in order to protect it–but the view is still phenomenal.
Length + Difficulty of Trail
Visiting Landscape Arch involves a 1.6-mile hike along an easy, packed trail–however, that length doesn't include a couple of possible quick side trips, including one to the next arch on this list!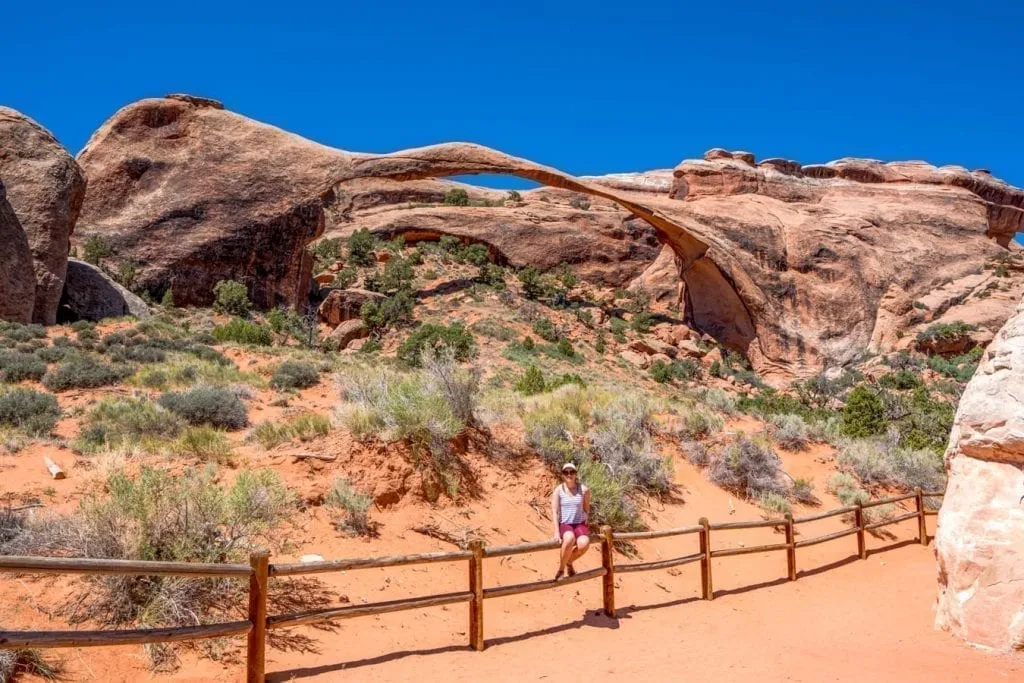 Pine Tree Arch
It is possible to visit Pine Tree Arch as a detour on your way to Landscape Arch, and you absolutely should!
If you're short on time, you can also visit it as a quick, standalone Arches hike.
Pine Tree Arch is enormous, beautiful, and features a stunning view over the desert through its center.
Along the way, consider making a (very) short detour to also check out Tunnel Arch–it's not nearly as impressive as Pine Tree Arch, but since it's so close by, it's worth a quick peek.
Length + Difficulty of Trail
If you visit Pine Tree Arch as a standalone hike, the trail is 1 mile long and is fairly easy.
More commonly, Pine Tree Arch and Tunnel Arch are visited as quick detours on the way to Landscape Arch.
Navajo Arch + Partition Arch
Hiking to Navajo Arch and Partition Arch is a common addition to a hike for those exploring the Devils Garden, and the arches are located beyond Landscape Arch but before Double O Arch (more on that trail below).
Even if you don't want to commit to hiking all the way out to Double O Arch, it's well worth your time to continue past Landscape Arch to visit Navajo Arch and Partition Arch, which are among the coolest arches in the park!
Length + Difficulty of Trail
To visit these arches, you'll hike 3 miles in total (that figure includes visiting Landscape Arch on the way).
This is not an easy trail–you'll definitely want sturdy footwear and to be prepared for some very minor rock scrambling–but it is incredibly rewarding and suitable for a wide variety of hikers. No technical expertise is required!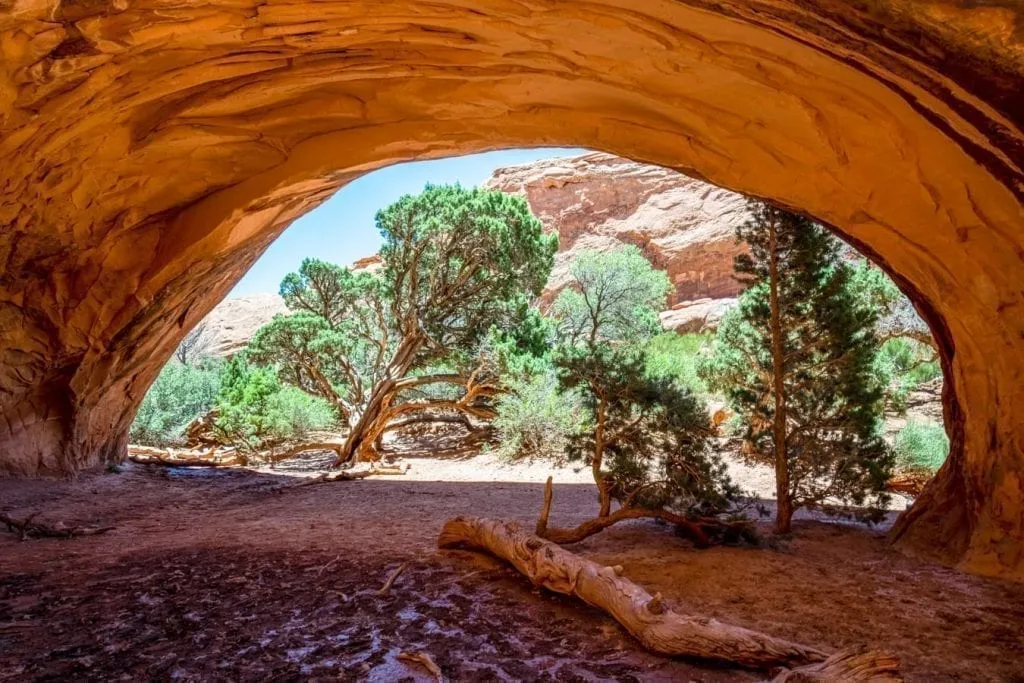 Longer Hikes in Arches National Park
Double O Arch
Double O Arch is a beautiful arch, there's no doubt about it–but it is almost overshadowed by the joy of hiking to it!
The trail to Double O Arch–particularly the trail between Landscape Arch and Double O Arch–is exciting and invigorating, includes phenomenal views of the surrounding landscape and the La Sal Mountains, and is one of our favorite hikes in Arches National Park!
Length + Difficulty of Trail
Hiking to Double O Arch and back is a 4.2-mile trek, and does involve some minor rock scrambling and quite a bit of time on ledges raised high in the air.
They're wide enough that, even though I'm scared of heights, I found them more exciting than terrifying, but keep the ledges in mind if you tend to be scared of heights!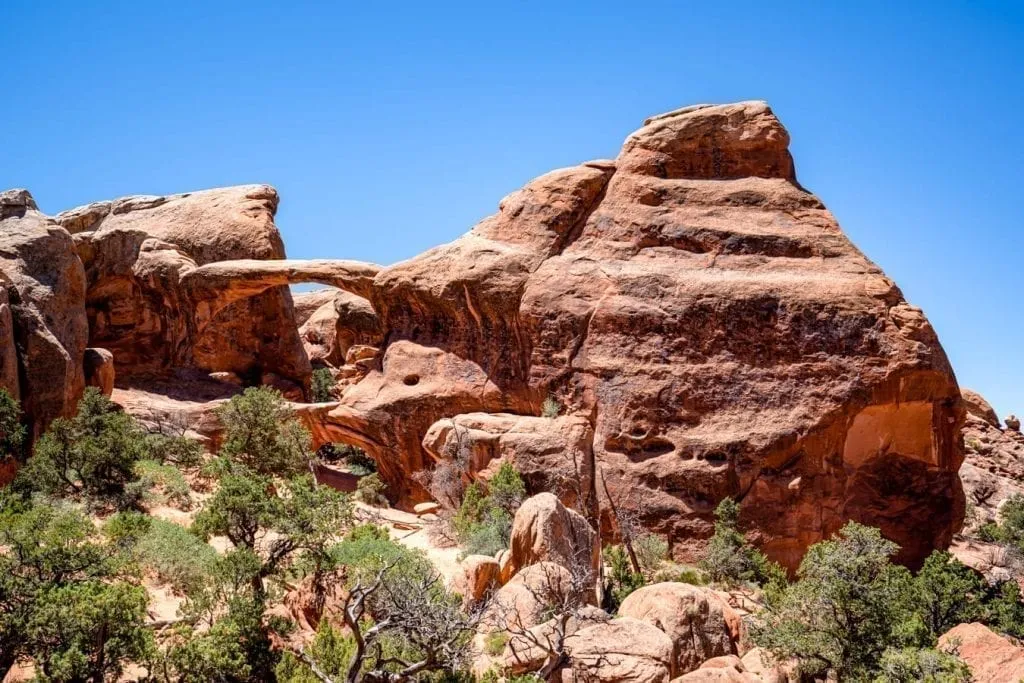 Fiery Furnace
Of all the Arches hikes listed here, the Fiery Furnace is entirely unique, and it is the only one that requires either obtaining a permit in advance or joining a ranger-led hike to complete.
This maze of slot canyons and rock fins is incredibly fun and exciting to explore, but it does require more physicality than just strolling down a trail: be prepared to maneuver through tight spaces, use your hands and feet to navigate along the canyon walls, and climb through the maze.
Despite the name, though, Fiery Furnace is actually one of the (literal) coolest hikes in Arches National Park: the furnace gets more shade than most of these trails, and it is therefore a (relatively speaking) cooler environment than many of Arches' hiking trails.
Length + Difficulty of Trail
Fiery Furnace is considered a difficult hike, and the ranger-led version is about 2 miles long and takes roughly 3 hours to complete.
If you're interested in hiking Fiery Furnace during your time in Arches National Park, check out the National Park Service page here for more information about permits.
Devils Garden Trail
The Devils Garden Trail, complete with an optional portion along the Primitive Trail (which can include a side visit to Private Arch) is the longest trail in Arches National Park, and it is incredibly fun!
Many of the arches already included on this guide to hiking in Arches National Park are located along the Devils Garden trail, including Double O Arch, Landscape Arch, Navajo Arch, and Pine Tree Arch.
If you complete the entire trail, including all detours and the Primitive Trail, you'll visit seven arches in all (and, in our opinion, hike along some of the loveliest and most exciting trails in the park).
Length + Difficulty of Trail
Completing the entire Devils Garden Trail, including the Primitive Trail, is a 7.2-mile hike that includes exposed edges, lots of sun exposure, and a few spots that involve some very minor scrambling.
You won't need any technical knowledge or equipment for this hike, but you will need plenty of water, some snacks, and sun protection!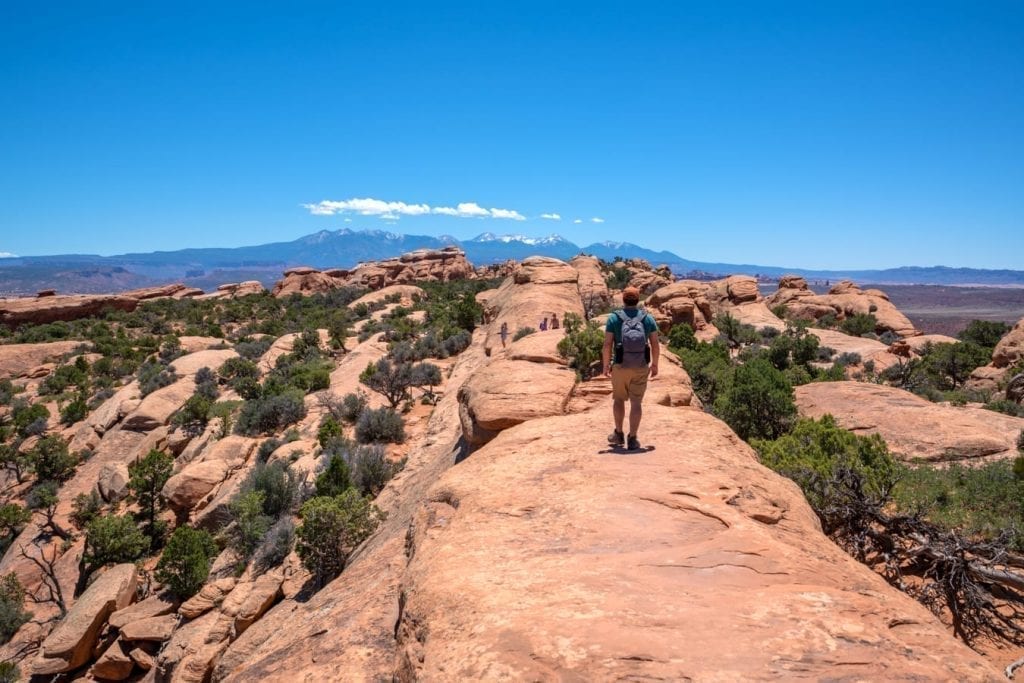 Our Personal Favorite Arches in Arches National Park
Personally, our favorite arches in the park include Delicate Arch (of course), Landscape Arch, Double Arch, and Navajo Arch.
We also love the Windows Trail for the excellent cost/benefit balance (Turret Arch is particularly stunning on this trail, and nabbing three beautiful arches in one mile is hard to beat), and the gorgeous Pine Tree Arch.
For sheer fun with little-to-no challenge, Sand Dune Arch and Broken Arch make a delightful combination.
The Double O Arch is also unforgettable, though possibly ever-so-slightly overshadowed by the joy of hiking the stunning trail to get there.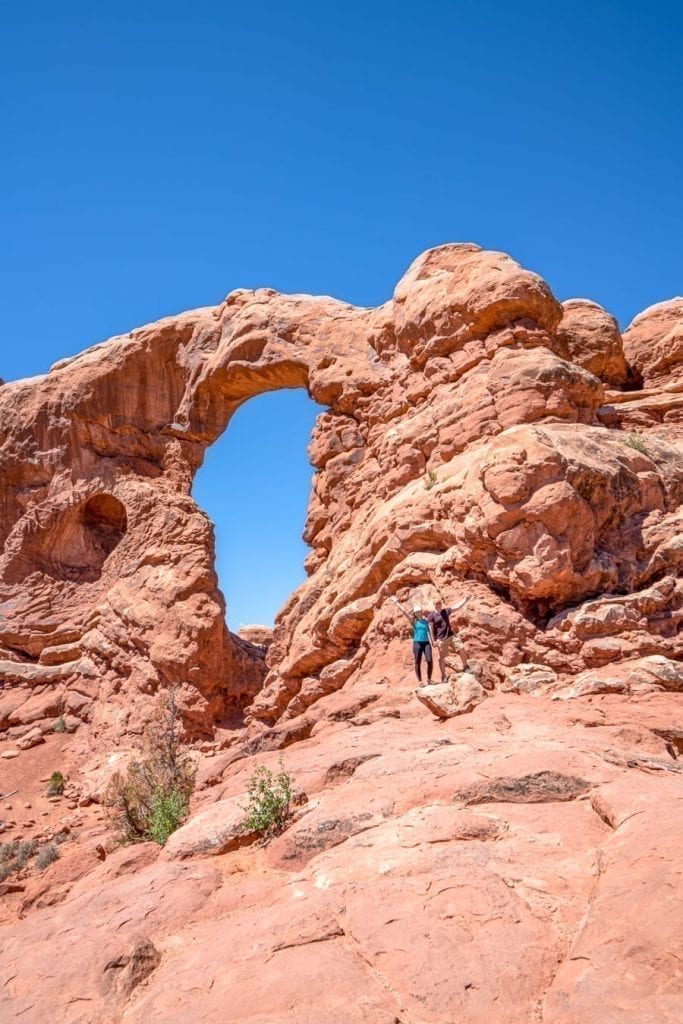 Tips for Hiking in Arches National Park
Check to see if you need a reservation.
Starting in April 2022, Arches National Park is piloting a reservation system to enter the park between 6:00 AM and 5:00 PM.
This applies daily between April 3 and October 3, so be sure to book your dates as soon as you can!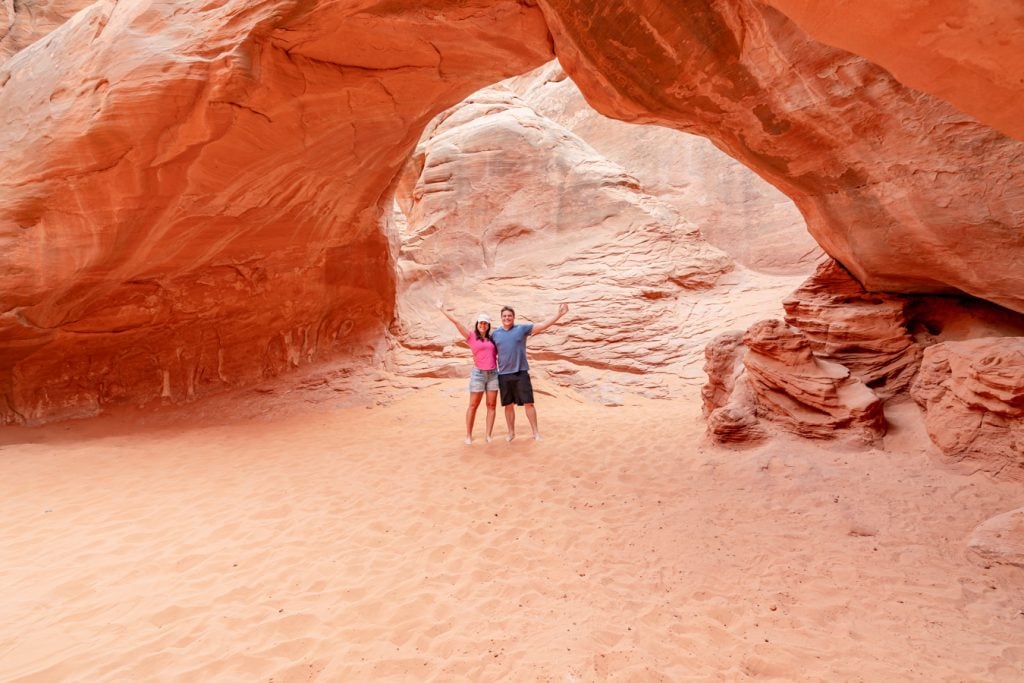 Use a national parks pass.
For the incredibly affordable price of $80, an America the Beautiful pass will grant you general access to all US national parks and federal lands for an entire year!
It's truly one of the best deals in travel, and considering that Arches National Park costs $30/car to visit, national park lovers will break even on the cost very quickly.
Don't forget your sunscreen!
The desert sun is relentless, and nothing will ruin the day after your Arches National Park hike quite like a sunburn!

Be sure to bring plenty of sunscreen, reapply regularly, and make sure you have additional sun protection like a hat.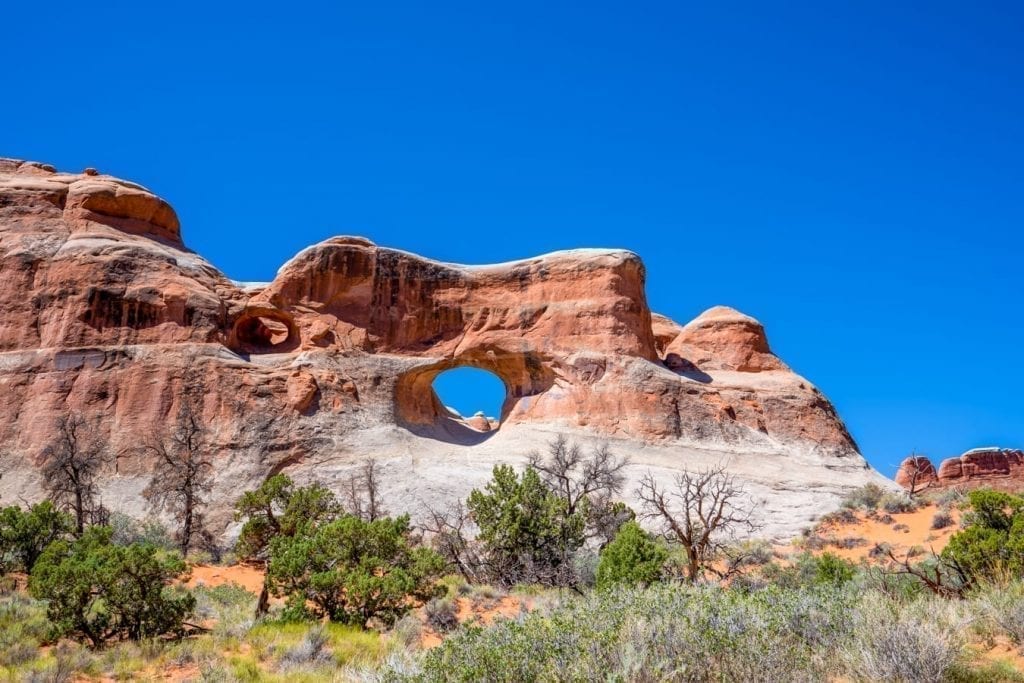 Be sure to bring enough water.
It's common to underestimate how much water you'll need in the desert.
For longer hikes, the National Park Service recommends a gallon of water per person, per day when hiking in Arches National Park.
Consider hiking popular trails at off-peak times.
This is especially true during the busy summer months, when popular hikes like Delicate Arch and Landscape Arch can become congested in the middle of the day (plus, by waking up early or arriving late, you can dodge the heat as well as the crowds).
If you choose to stay closer in the park by camping (perhaps even in a campervan with wifi) you'll have a better chance of getting an early start and beating travelers staying in Moab to the trails.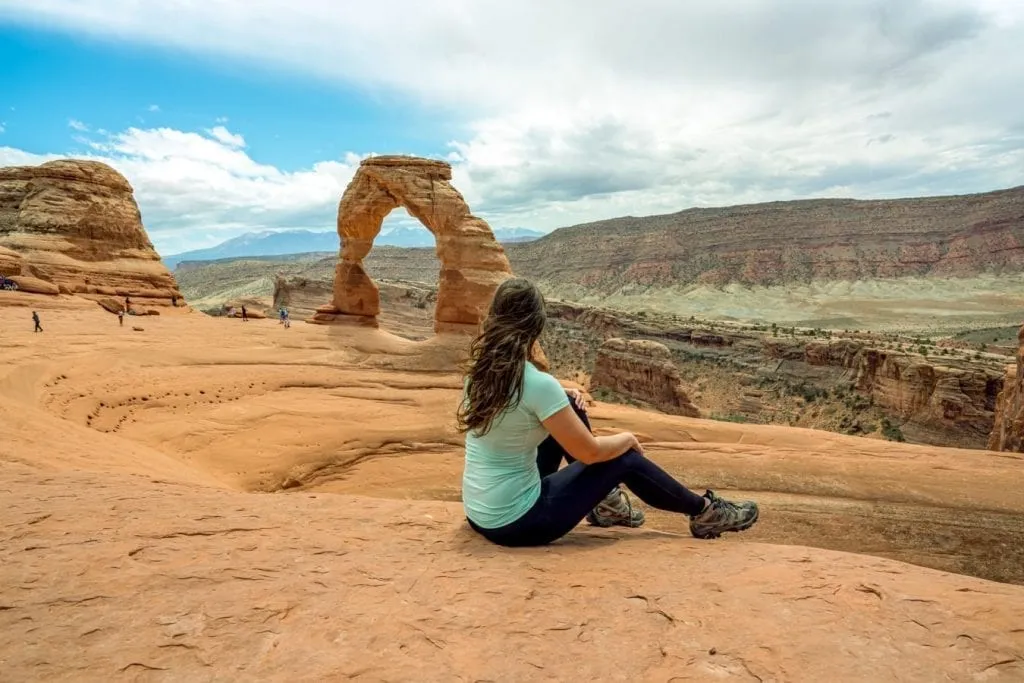 Keep weather conditions in mind.
Of course, given the desert climate, heat is a popular topic when discussing hiking in Arches National Park, but it's equally important to consider winter trail conditions.
If you're visiting Arches in winter, some trails may be coated in ice or snow, so proceed carefully and inquire about trail conditions before setting off.
Arrive for your Arches National Park hike with a backup plan.
Roads leading to certain parking lots–for example, to Devils Garden, Delicate Arch, or the Windows Trail, can be closed off if the parking lot is full and the trails are at capacity.
Be sure to arrive with a couple of Arches National Park hikes in mind for your day–that way, if your first choice isn't available, you'll know exactly where to head next to ensure you still have an excellent day hiking in Arches.