Without a doubt, Delicate Arch is the most famous of all of Utah's many, many arches. As the crown jewel of Arches National Park, the Delicate Arch trail is one of the most popular trails in the park.
Freestanding, magnificent Delicate Arch soars 52 feet into the air, and is one of the most incredible things to see in the state–so much so that it even features on Utah's license plates!
Want to see the incredible Delicate Arch for yourself?
Here's everything you need to know about completing the Delicate Arch hike… plus a couple of other ways to squeeze in a quick peek at the arch!
Some links in this post may be affiliate links. If you make a purchase through one of these links, we may earn a small commission at no extra cost to you. Please see our

disclosure policy

for more detail.
What's it Like to Complete the Delicate Arch Hike?
The Delicate Arch trail is lots of fun, with varied views throughout the trail.
There are plenty of places to detour for a few hundred feet in order to seek out a different view, and though the trail is fairly short at a mile and a half each way, the views vary dramatically throughout the hike.
However, the Delicate Arch hike is not a simple stroll: you'll gain 480 feet in elevation, much of it by hiking up an unforgiving sandstone hill without an ounce of shade in sight.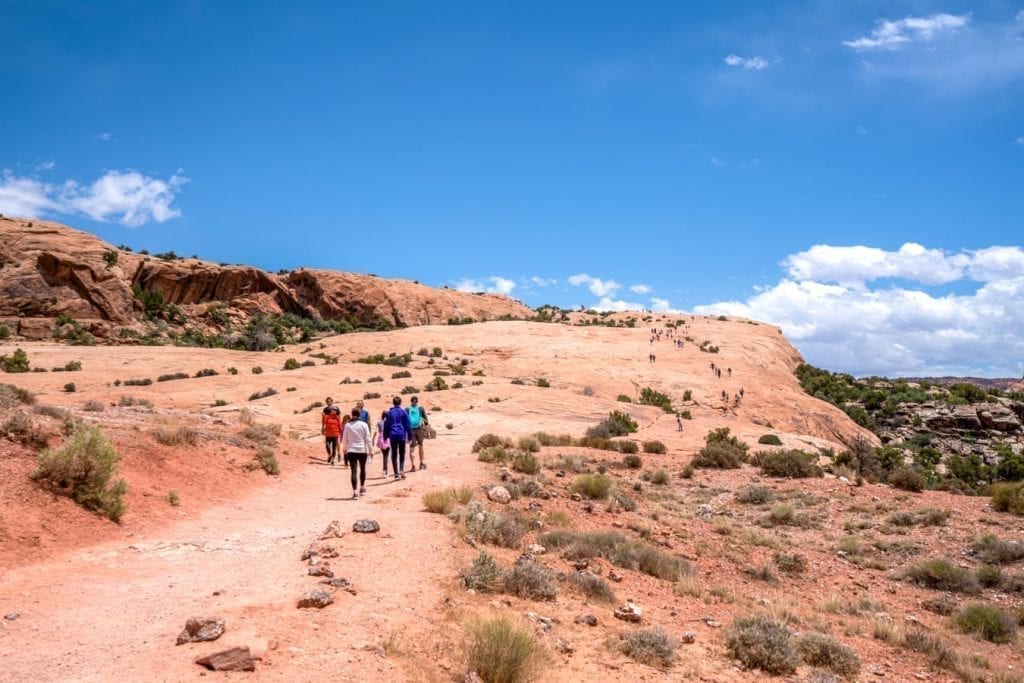 The elements are definitely a consideration when hiking the Delicate Arch trail: the hike is blisteringly hot in the summer, might be icy in places during the winter, and offers virtually no sun protection.
For those who are scared of heights, there is also one section where you'll need to hike along a narrow path, with a high wall to one side and a steep drop-off on another. It's not terrible–I'm no fan of heights and it didn't bother me–but you should know to expect it.
All of that being said, the Delicate Arch hike is incredibly rewarding and definitely worth experiencing when visiting Arches National Park!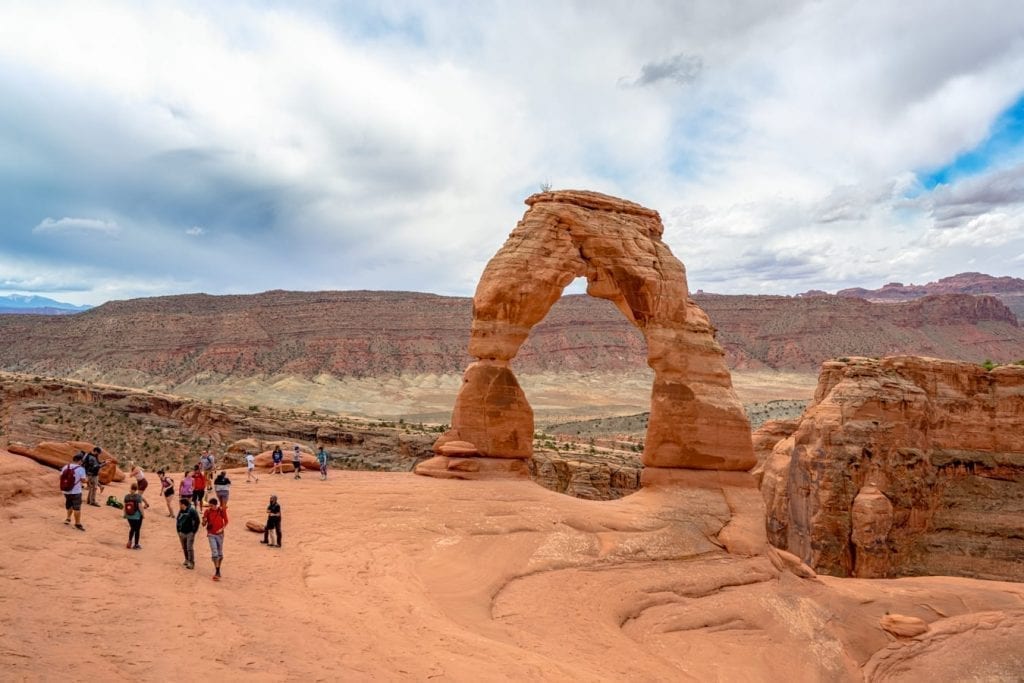 How Long Does the Delicate Arch Trail Take?
Plan on about a 2-3 hour hike in order to complete the Delicate Arch trail.
This can vary based both on your hiking speed and how long you spend at the arch.
Personally, we spent about 3 hours on the trail in total, including plenty of time to stop and take photos at different viewpoints, and especially to relax and enjoy the view of Delicate Arch at the end of the trail.
The final view of Delicate Arch includes plenty of comfortable places to sit and relax, and we chose to hang out for a while and have lunch there, which we highly recommend!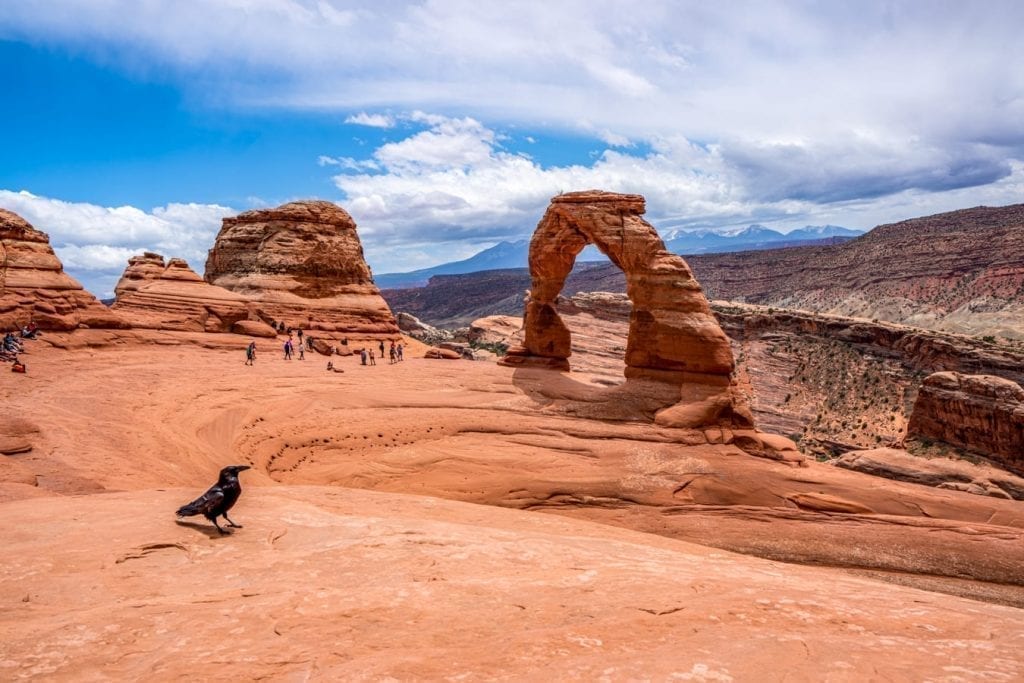 Getting to the Delicate Arch Trailhead
The Delicate Arch trailhead is located (of course) within Arches National Park.
When you're on the park loop road, you'll want to look for signs for Delicate Arch and Wolfe Ranch and make a right turn there.
If you're heading to Delicate Arch from the park entrance, you'll pass Balanced Rock, the turnoff for the Windows Trail, and Panorama Point before reaching the correct turn.
If you reach the turnoff for the Salt Valley Overlook and/or Fiery Furnace, you've gone too far along Park Loop Road.
Once you've turned right toward Wolfe Ranch, the trailhead will be on your left a little more than a mile down the road. There's a parking lot on each side of the road, you can't miss it.
There are bathrooms available at the trailhead.
If you don't stop at the parking lot but instead continue driving, in another mile you'll reach the parking lot for the Delicate Arch Upper Viewpoint and the Delicate Arch Lower Viewpoint.
If you're looking for the trailhead, you've gone too far if you reach this dead-end and will need to turn back.
We'll talk a little more about the viewpoints–and why you might want to visit them–later in this post.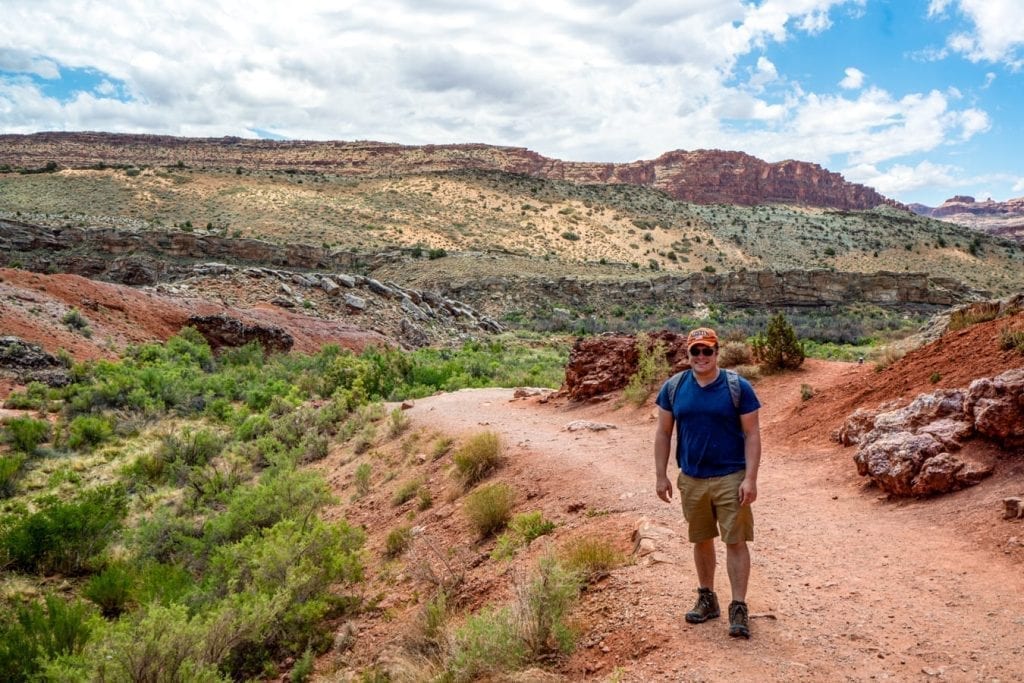 What to Bring on the Delicate Arch Trail
Water
Bringing enough water is extremely important when completing a desert hike like the Delicate Arch trail.
To give a general idea, the National Park Service recommends bringing at least one gallon of water per person, per day when hiking in Arches National Park.
Snacks (Or Lunch)
While the Delicate Arch hike is short enough you don't need more than a small snack or two, the view of the arch at the end of the trail is a fantastic place to eat lunch!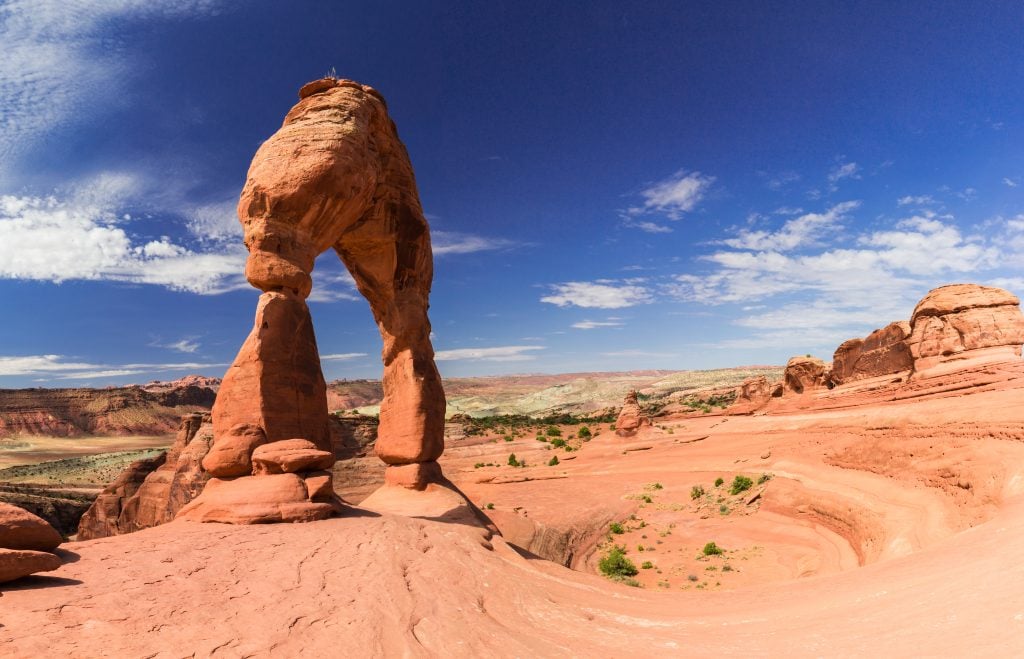 Sunscreen
Sun protection is paramount when hiking in Arches National Park, and that includes the completely unshaded Delicate Arch trail.
Hat
Don't rely solely on sunscreen for your sun protection: it's important to bring a hat as well.
Hiking Boots
While sneakers are an okay option for hiking to Delicate Arch, hiking boots are more comfortable.
I wear Merrell Moab hiking boot and Jeremy wears the Oboz Bridger BDRY boot, and we both love our boots.
As much as I love my KEEN Whisper Sandals for hiking in general, I wouldn't recommend hiking sandals on the Delicate Arch trail due to sections of loose sand and gravel on the trail.
Tips for Completing the Delicate Arch Hike
Don't miss the chance to peer through the Twisted Doughnut Arch.
Shortly before you reach the end of the Delicate Arch trail, as you're walking along a fairly narrow strip of sandstone with a steep wall to one side, you'll be able to look up at that wall and see an arch above you.
From there, you're only a few seconds of climbing away from reaching the Twisted Doughnut Arch and one of the coolest views of Delicate Arch–don't skip it!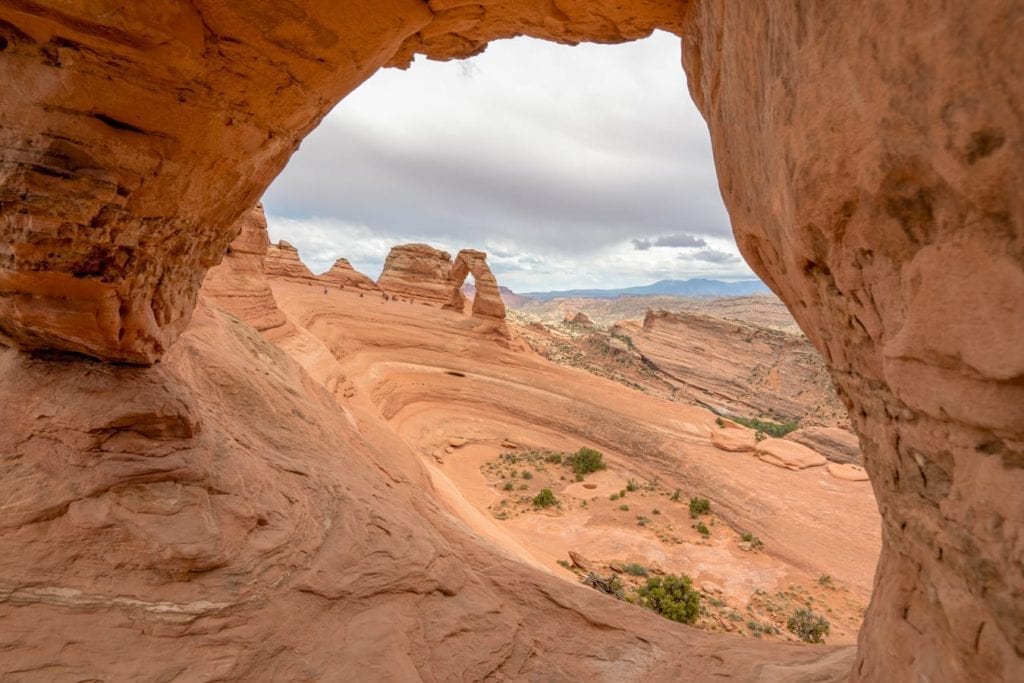 Be sure to check out Wolfe Ranch.
In the late 19th century, John Wesley Wolfe moved to what is now Arches National Park, living for years in virtual isolation with his son, and later, further extended family.
The cabin visible right by the Delicate Arch trailhead today was built in 1906 and was the Wolfe family home.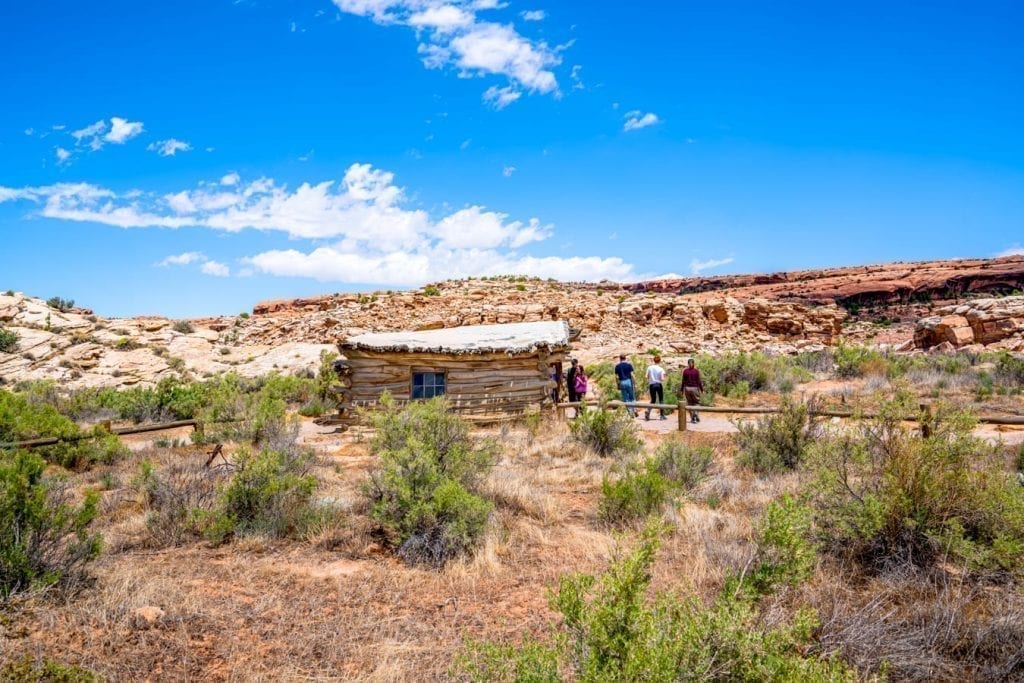 … and the petroglyphs.
A short, roughly 10-minute detour near Wolfe Ranch will take you to see striking petroglyphs carved by the local Native people, potentially as early as the 1600s.
The petroglyphs are incredibly interesting and likely carved by the Ute or Paiute people.
Keep the heat and lack of shade in mind when making your hiking plans.
I mentioned this above, but it bears repeating: there is little to no shade along the Delicate Arch Trail, and summer temperatures can reach 110 degrees!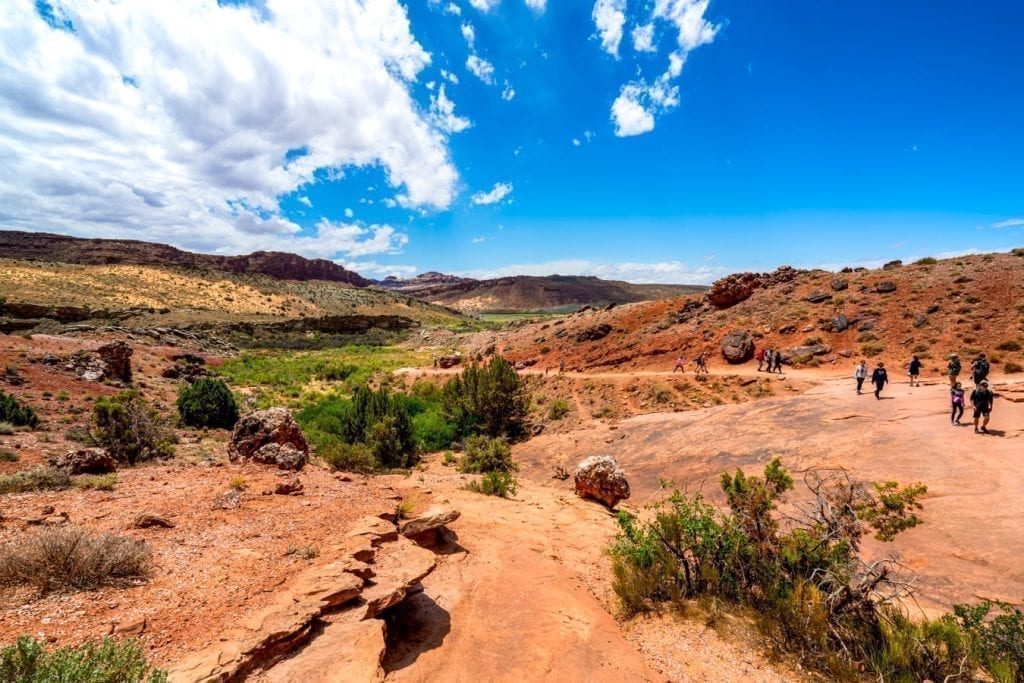 Get an early start to avoid the crowds.
The Delicate Arch hike is one of the most popular trails in Arches National Park, and it does get crowded.
If you'd like to avoid the heaviest crowds, consider hiking on a weekday, in the offseason, and–the easiest factor to control during your trip–early in the morning.
Luckily, given that it's a short drive to the park if you're staying in Moab, that's not too hard to pull off.
Alternatively, hike to Delicate Arch for sunset.
While Delicate Arch does get crowded at sunset, it's for good reason: it's one of the best sunset spots in the park!
If you do want to complete a sunset hike, though, be sure to come prepared and remember that you'll need to complete the hike back in the dark (with a headlamp, of course!).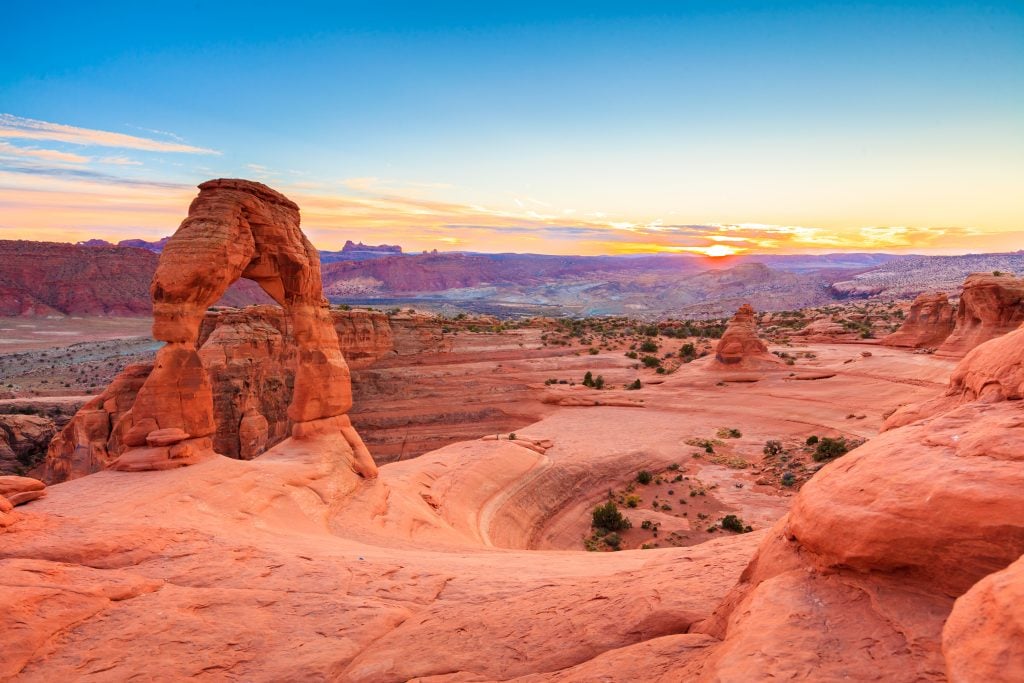 Other Ways to Visit Delicate Arch in Arches National Park
Don't have the time or inclination to complete the Delicate Arch hike?
You can still squeeze in a quick peek at the arch from either the Upper Viewpoint (which requires a 0.5-mile hike) or the Lower Viewpoint (which is located a mere 100 yards of strolling across a paved pathway from the parking lot).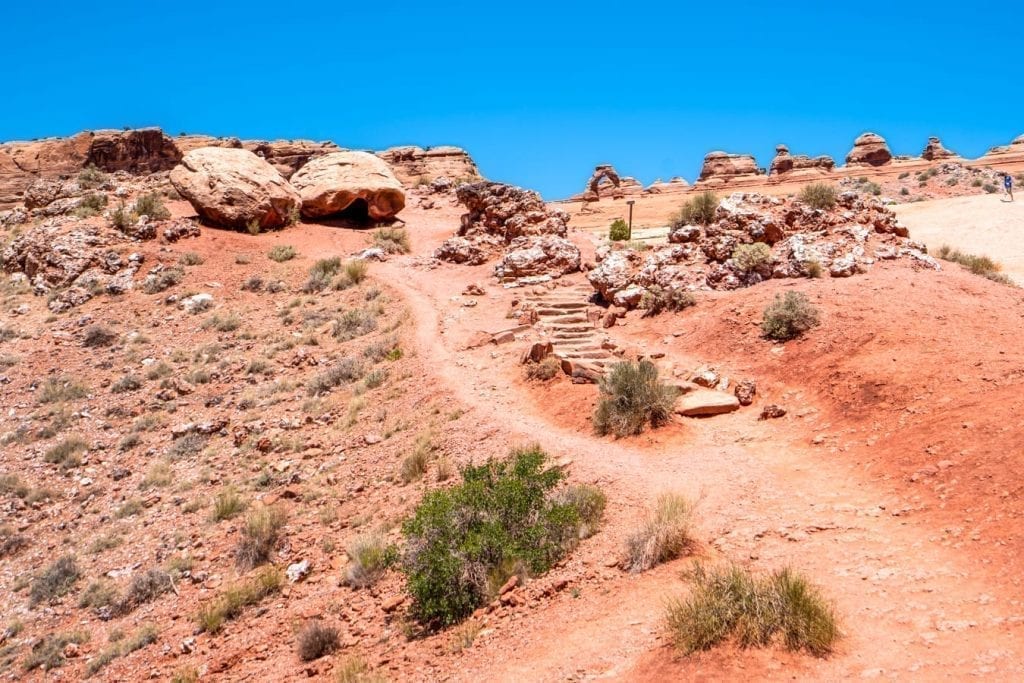 Neither of these views holds a candle to the view at the end of the Delicate Arch trail, but they're definitely a better option than leaving the park without seeing Utah's most famous arch for yourself!
Both viewpoints can be accessed from the same parking lot, located about a mile by car past the Delicate Arch trailhead.