Visually stunning and packed with history, the best things to do in Lagos, Portugal are bound to captivate you both on and off the water.
Located in the western part of Portugal's famous Algarve region, Lagos is the perfect base for exploring the best things to do in southern Portugal.
Let me put it like this: if you've seen photos of Portugal's coastline, you've almost certainly admired grottos, beaches, and cliffsides located within a short drive–or in some cases, walk–of Lagos.
We are completely smitten with this laid-back Portuguese beach town, and can't wait to enjoy the best activities in Lagos again and again.
Planning a trip soon?
Here's what to do in Lagos, Portugal!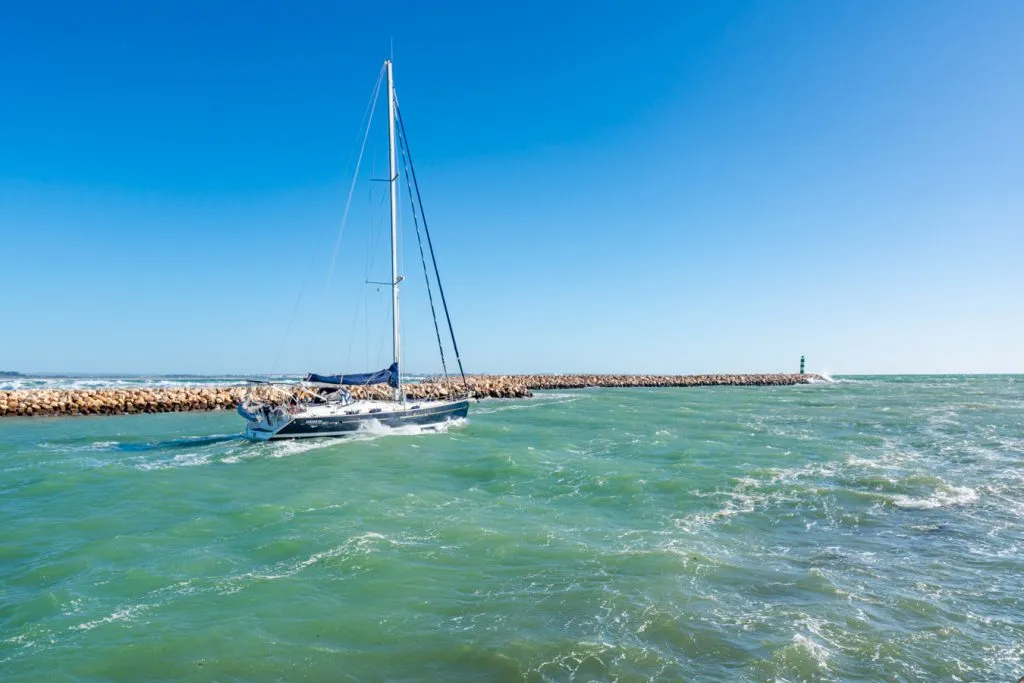 The Best Things to Do in Lagos, Portugal
Marvel at the beauty of Ponte da Piedade from above.
This picturesque headland is known for its dramatic limestone cliffs featuring grottos, arches, and more–and it is one of the most beautiful places in the Algarve.
Walking along the top of Ponte da Piedade features stunning view after stunning view, each more gorgeous than the last.
And, even better, you can climb down a steep staircase to admire the view from the water level, too!
This is one of the most famous attractions in Lagos, and it was our first stop as we drove into town.
We couldn't bear to even check into our hotel before stopping to admire it!
… and take a grotto tour to appreciate the formations from below.
Want even better views of the stunning Ponte da Piedade–say, from on the water?
Ponte da Piedade boat tours like this are incredibly affordable and one of the most popular activities in Lagos!
As a bonus, you'll get excellent views of some of Lagos' most famous beaches as you cruise from town to Ponte da Piedade as well.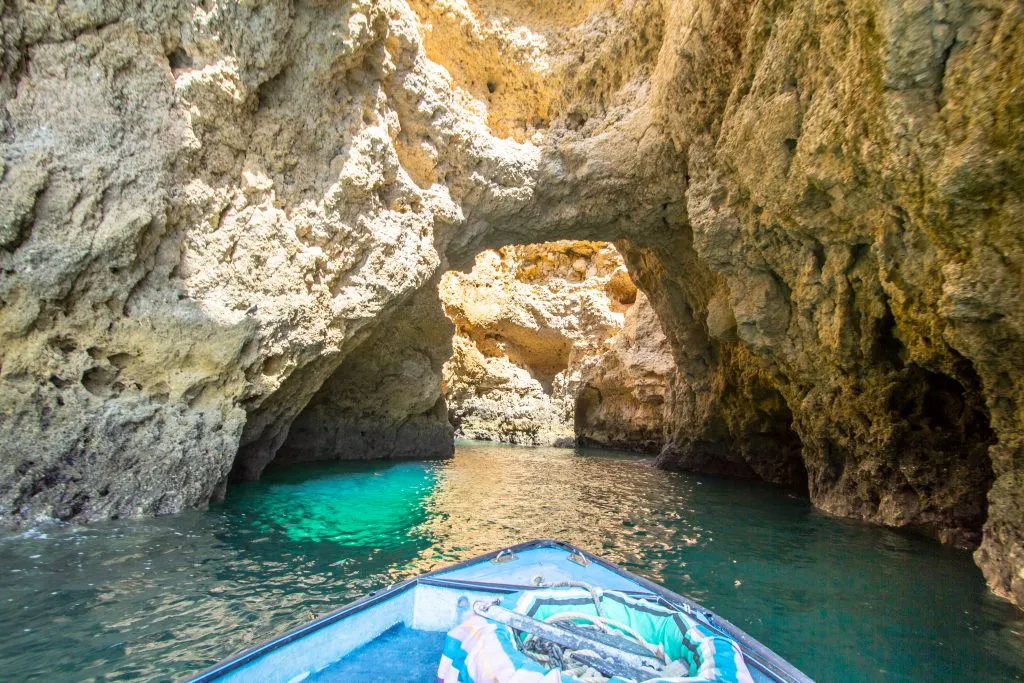 Step inside the magnificent Igreja de Santo Antonio.
Gold, gold, everywhere: the glittering Igreja de Santo Antonio is one of those churches that is simply jaw-dropping.
Dating to 1707 (though it was rebuilt in 1769), this baroque church is absolutely stunning.
Featuring 18th-century azulejos on the bottom half of the walls, and incredibly detailed, gilded woodwork on the top half, this church is one of the most memorable Lagos attractions.
A small museum is attached to the church, and a 3 Euro fee covers access to both.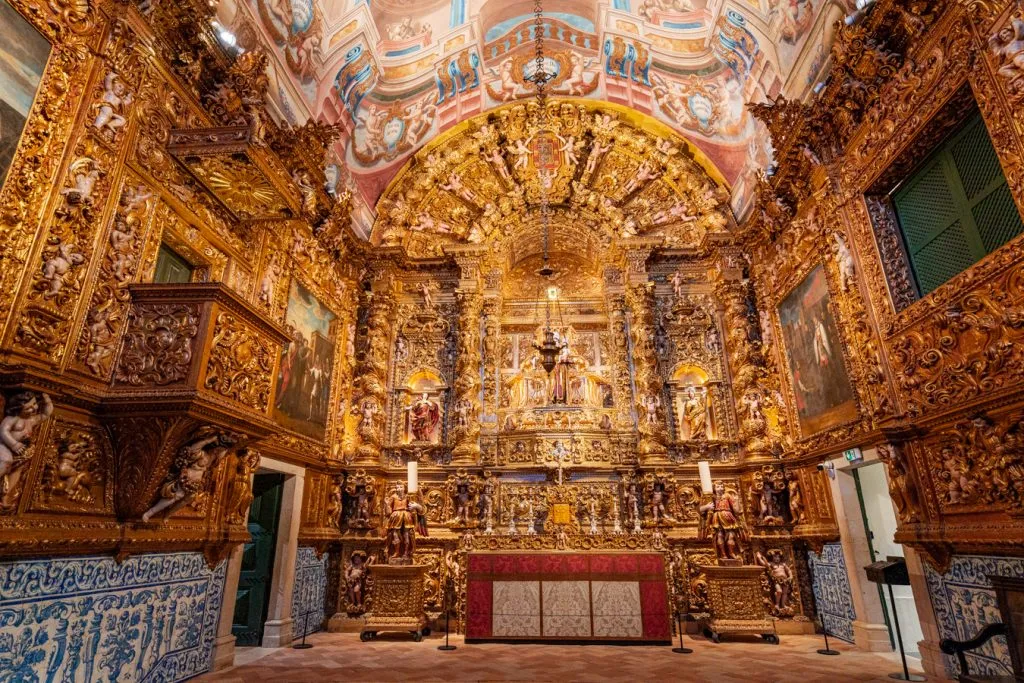 Climb down to the gorgeous Praia do Camilo.
One of the most picturesque beaches in all of Portugal, the small but gorgeous Praia do Camilo is easily one of the best attractions in Lagos.
To reach it, you'll need to climb down about 200 wooden steps, but it's absolutely worth the work.
(If you need to rest a bit once you climb back up, though, Camilo Restaurante is located right at the top of the steps and gets good reviews).
Once you reach the sand, be sure to turn left and head through the small tunnel for yet another beautiful (and even smaller) beach.
Explore Lagos' historic center.
Colorful buildings, laid-back seafood restaurants, small museums, cobblestone streets: there are plenty of reasons to spend some time exploring the center when visiting Lagos, Portugal!
Lagos is one of the best towns in the Algarve not just for its natural beauty (which is of course magnificent), but also because of its charming center.
We'll cover some of the top attractions, such as the Igreja de Santo Antonio mentioned above, throughout this blog post, but slowly meandering through town and seeing what you find is a fun Lagos activity in its own right!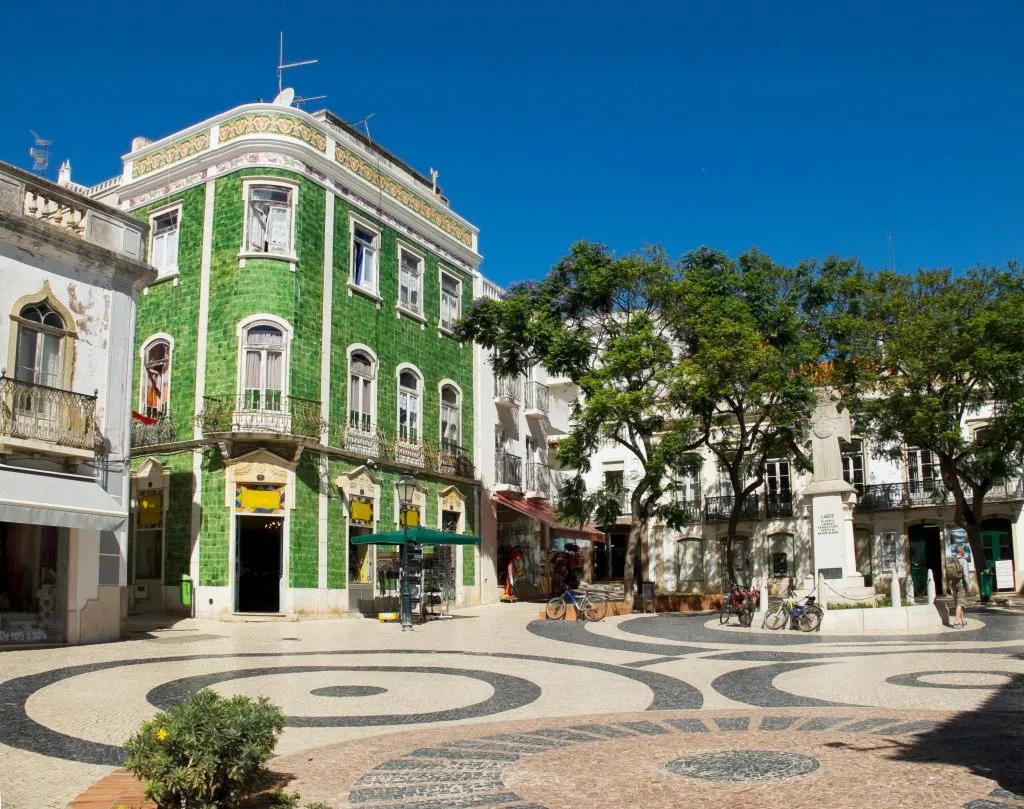 Learn sad but important history at the Slave Market Museum.
While Lagos is primarily known for its beauty today, it does have dark stains on its history–most heartbreakingly, for being the location of the first slave market in Europe.
The market dated to 1444, though the current building mostly dates to the 17th century.
Today, it holds a small museum discussing the history of the trade and of the people enslaved in Lagos.
Check out the city's stone walls at Jardim da Constituicao.
This small, shady park is the perfect place to rest your feet while exploring Lagos.
It's also bordered by Lagos' historic stone walls and across the street from the Fort Ponta da Bandeira, making it an incredibly picturesque place.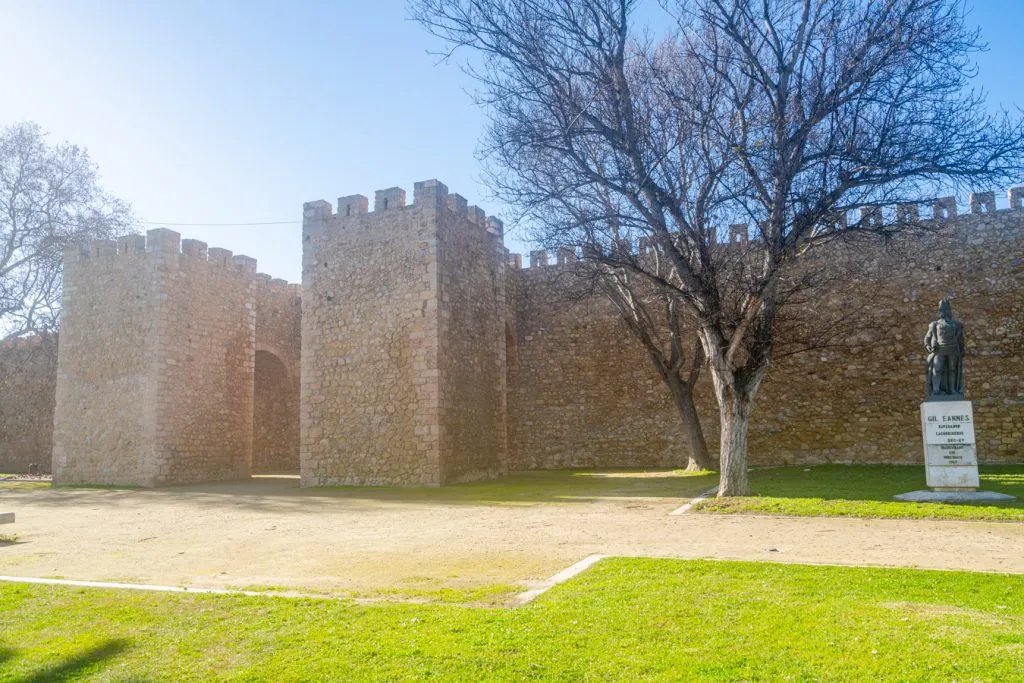 Spend a day on the stunning Praia de Dona Ana.
As the biggest beach at Ponte da Piedade and one of the most popular beaches in Lagos, you can expect big crowds here in the summer–but they're worth it to enjoy this gorgeous spot!
Tour the waterfront Fort Ponta da Bandeira.
Located where the river meets the ocean, this 17th-century military fort is a memorable addition to Lagos' coastline.
You can tour the fort, and the views from the upper terrace are beautiful!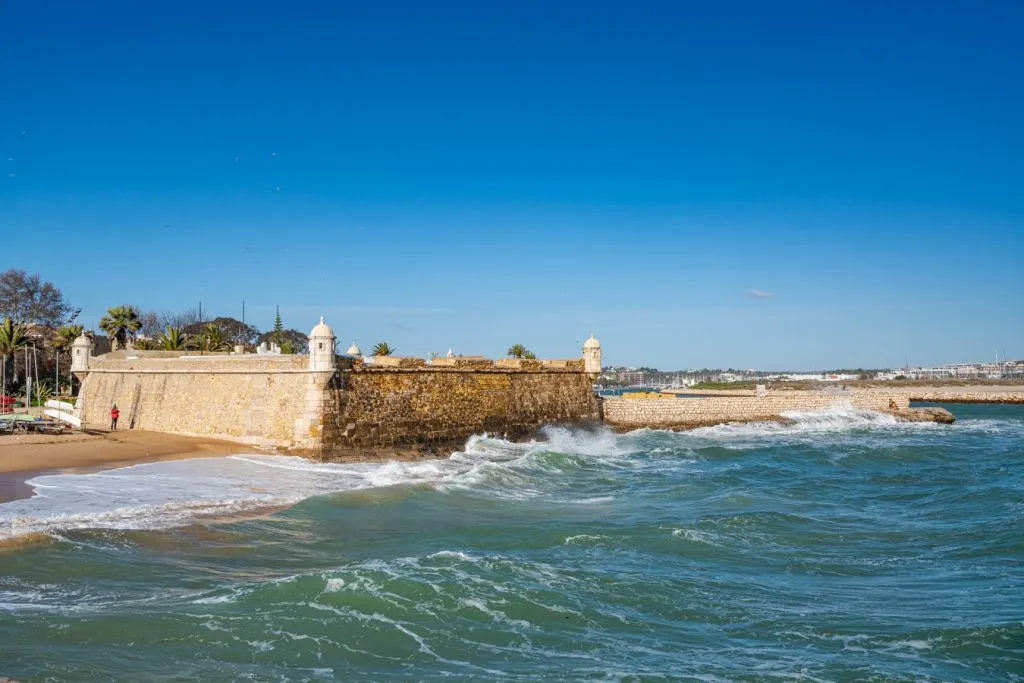 Relax on the sand at Meia Praia.
As the undisputed biggest and easiest-to-access beach in the Lagos area, it's no surprise that Meia Praia is a popular place to stretch out on the sand!
Stretching for 4 kilometers, you'll find that the crowds at Meia Praia are densest close to the Lagos Marina, as it's the easiest walk from town.
The further you walk, though, the more space you'll have.
Set off on a dolphin-watching cruise.
Want to appreciate the beauty and playfulness of dolphins in the wild?
Add a dolphin-watching cruise to your list of what to do in Lagos!
This popular dolphin cruise is run by a company with 30+ years of local experience and is bound to offer an experience you won't forget anytime soon.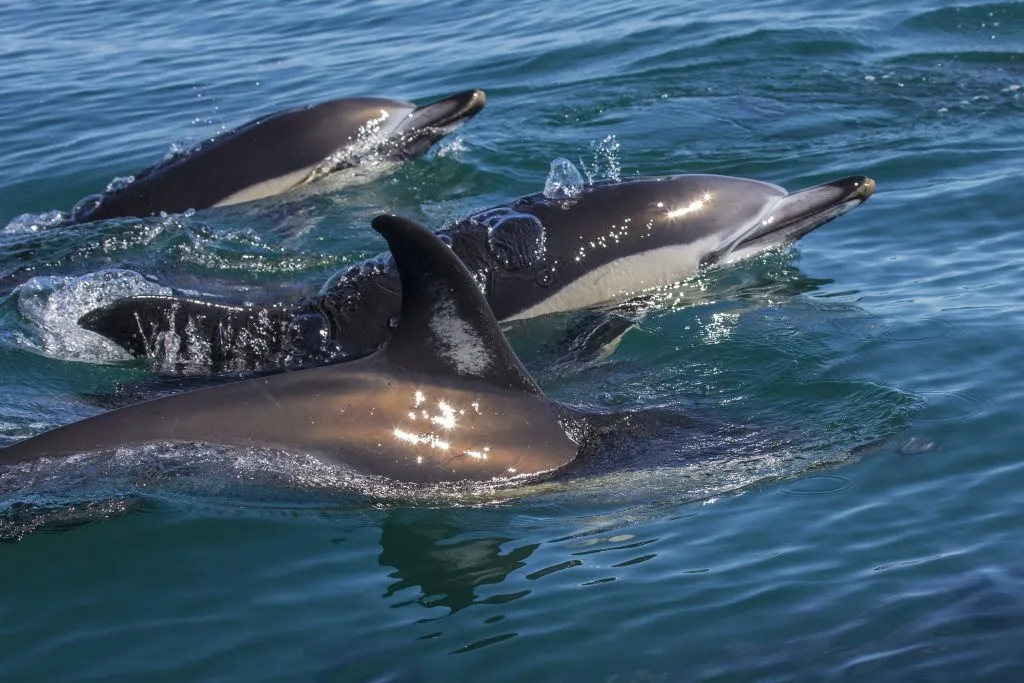 Check out the rock tunnels.
Many of Lagos' beaches are connected to each other via small, manmade tunnels in the cliffs.
These make it all the better to save you the extra energy spent climbing up and down wooden stairs (though prepare to do lots of that when visiting beaches in Lagos).
These tunnels are mostly utilitarian, but they're also quirky and extremely memorable!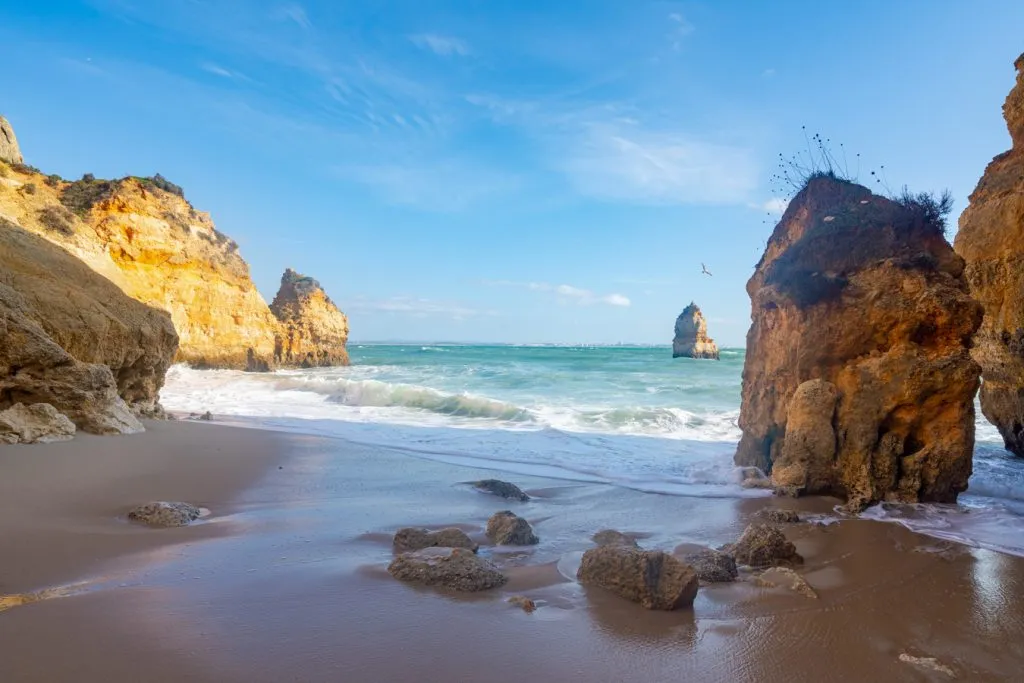 Stroll along the Bensafrim River from the Lagos Marina to the fort.
This beautiful walk along the river is a fantastic way to appreciate Lagos at a leisurely pace, perhaps with a scoop of gelato in hand.
During the summer, you'll see plenty of souvenir stands and tour operators out here, and in the winter, you can expect to have it mostly to yourself.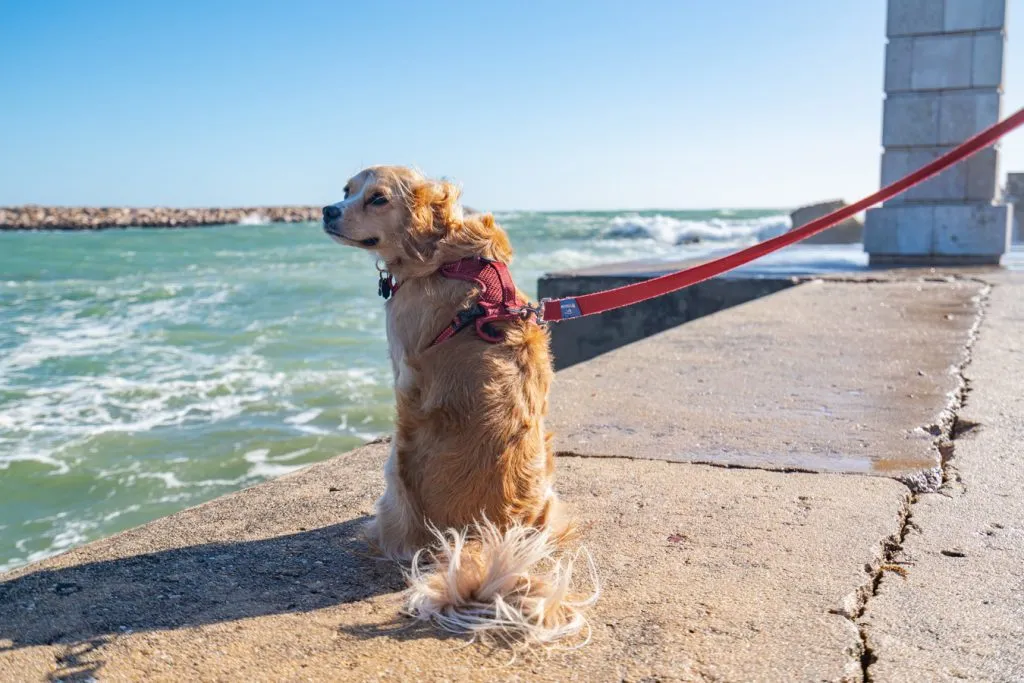 More Stunning Attractions Near Lagos
Kayak to Portugal's famous Benagil Cave.
This absolutely gorgeous cave is an iconic spot in the Algarve, and experiencing it yourself is one of the best things to do near Lagos!
In order to access Benagil Cave, you'll need to do so from the water–and kayaking (or SUPing) the 200m required is the perfect option.
Don't want to kayak or SUP?
You can still visit Benagil Cave, but here's the catch: regulations prevent boat tours like this popular one from letting participants disembark in the cave.
If you want that iconic view of Benagil Cave from standing on the small beach inside, you'll have to sweat a bit to get it!
However, a boat tour has its benefits as well, including more time to visit several other sea caves in the area.
Book your Benagil Cave kayaking tour or small boat tour today!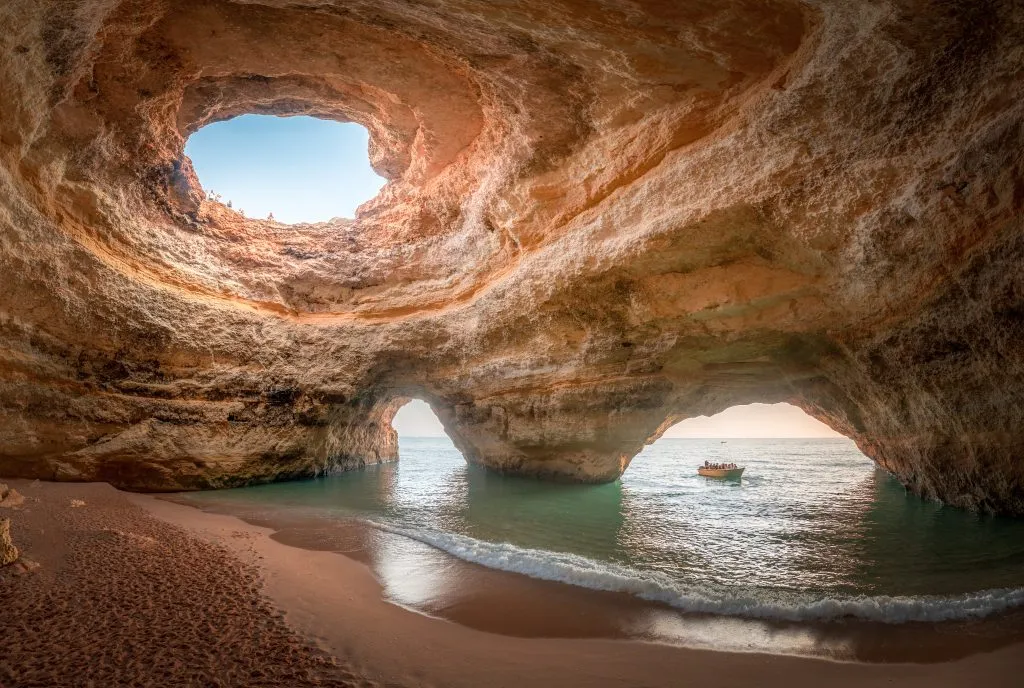 Hike the stunning Seven Hanging Valleys Trail.
Often considered one of the best hikes in Portugal, the Seven Hanging Valleys Trail stretches 6 kilometers each way and runs from Praia da Marinha and Praia de Vale Centeanes.
This out-and-back trail is absolutely stunning and one of our favorite places in Portugal!
Featuring absolutely magnificent views all the way through, every step of this moderate trail is a delight.
You'll even hike right over the Benagil Cave, though a fence prevents you from being able to see into the cave very well.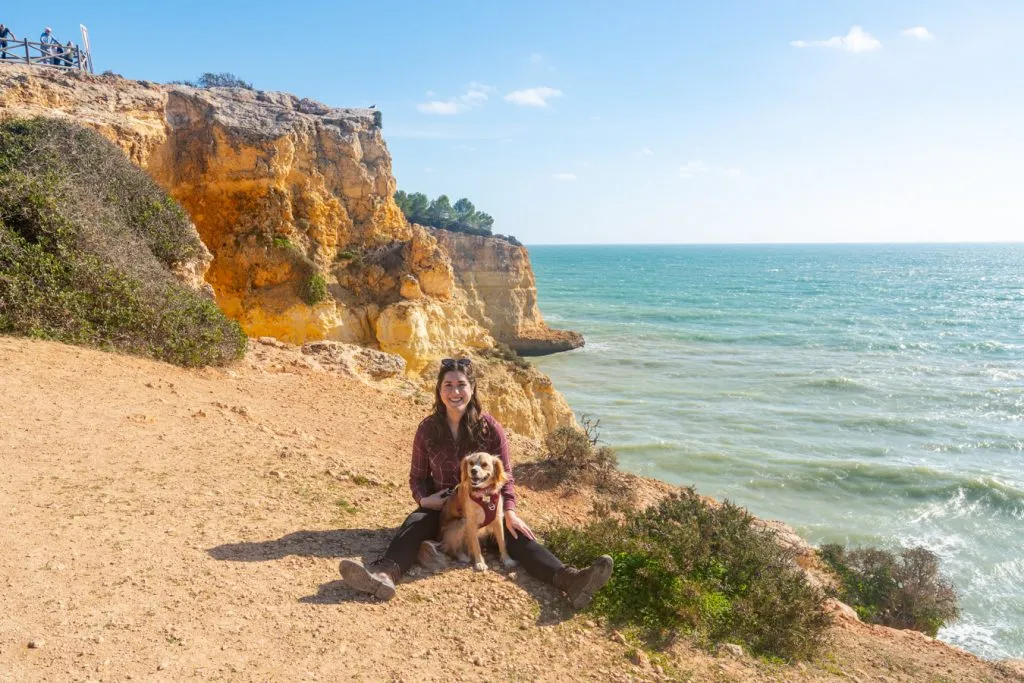 Visit Praia da Marinha, one of the most beautiful beaches in the world.
As Praia da Marinha is one of the endpoints of the Seven Hanging Valleys Trail, you're sure to admire it from above if you complete the hike.
The beach is worth acknowledging separately, though, because frankly, it's just that gorgeous.
Countless publications, including the Michelin Guide, have ranked Praia da Marinha as one of the most beautiful beaches on Earth over the years, and to see it in person is to fully understand why.
Admire the Algarve's landscape on horseback.
Ever wanted to ride a horse on a beach?
Here, you can!
We're big proponents of admiring stunning landscapes on horseback, and where better to do so than the wild and rugged Algarve?
This horseback riding tour is incredibly popular and makes a memorable addition to your trip to Lagos!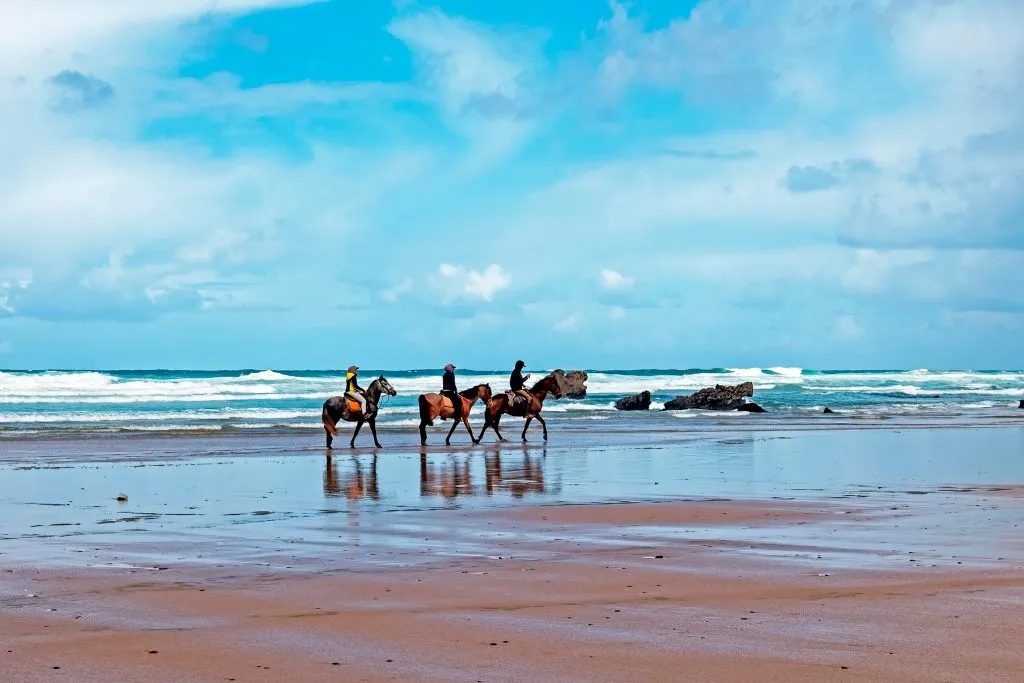 Head to the end of the world in Sagres.
The tiny town of Sagres, Portugal is located at what feels like the end of the world–and once upon a time, that's what it was known as!
Cape St. Vincent is the southwesternmost point of mainland Europe (not to be confused with Cabo da Roca near Lisbon, the westernmost point of mainland Europe), and it alone is worth visiting Sagres for.
Beyond its history, Sagres is primarily known for the variety of surfing available on its gorgeous beaches, but even if you don't plan to surf, it's still worth a quick half-day trip from Lagos, Portugal!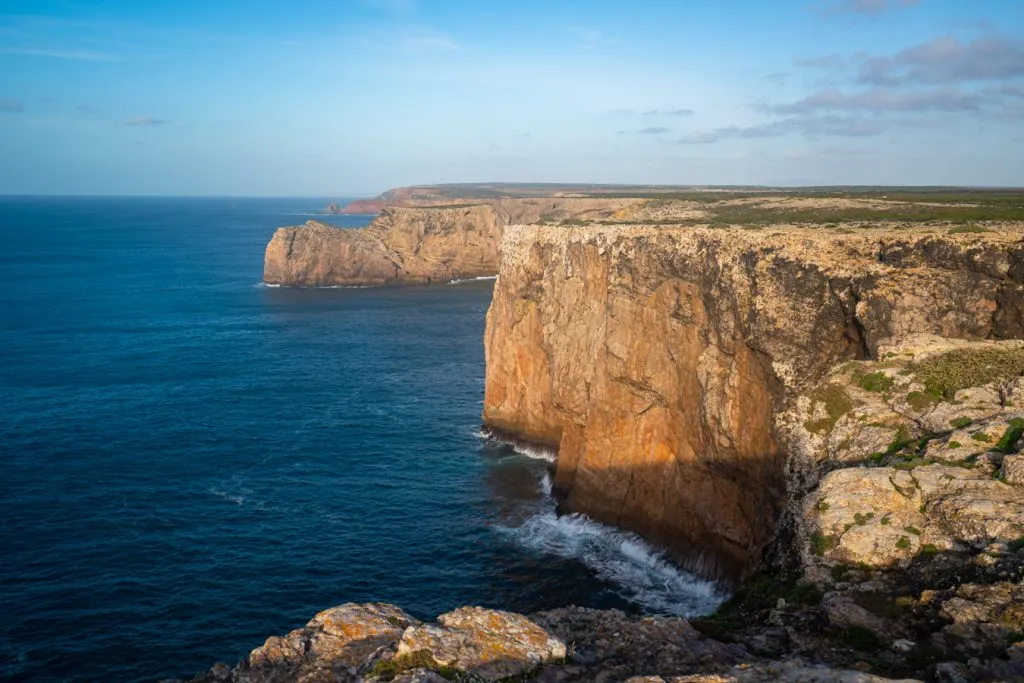 Where to Stay in Lagos, Portugal
While you can have an amazing trip to the Algarve by renting a house or apartment outside of town, since this blog post focuses on Lagos itself, our hotel suggestions will too!
Each of these properties boasts excellent reviews and a prime location within walking distance of many of the top things to do in Lagos.
Budget
Dream Lagos B&B — A fantastic included breakfast, private room, and free parking are all waiting for you at Dream Lagos B&B–and as the rave reviews indicate, you won't be disappointed.
The trade-off?
To stick with a smaller budget, this property is a bit further out than the others, though still walkable–you'll need about 20 minutes to get to Meia Praia and 25 to get to Igreja de Santo Antonio.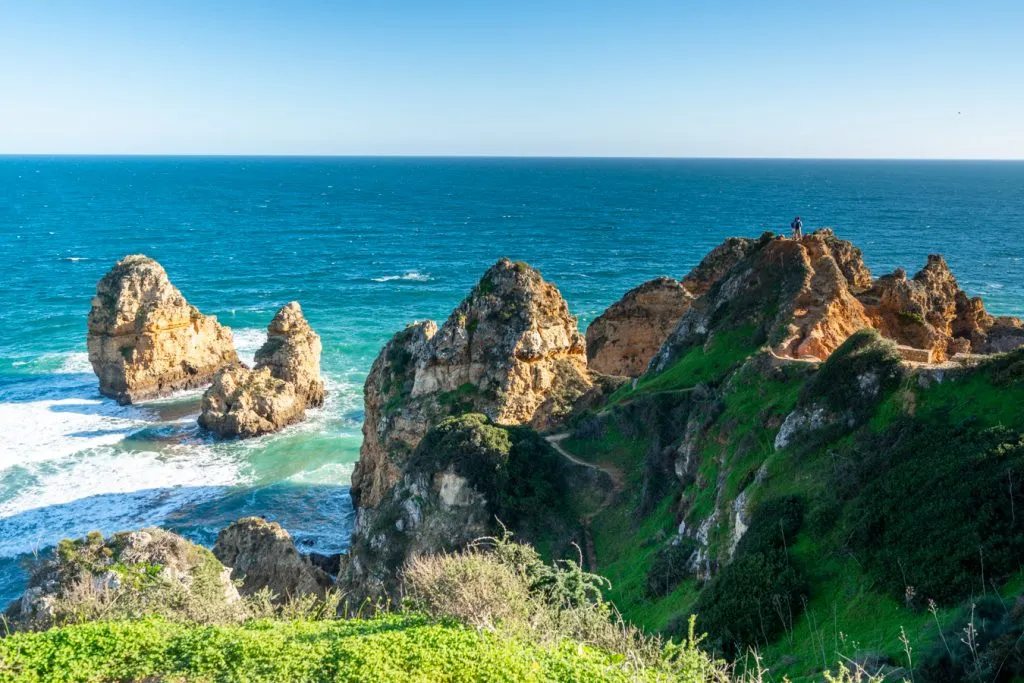 Mid-Range
Hotel Lagosmar — Featuring excellent reviews and a perfect location right across from the Lagos Marina, Hotel Lagosmar makes an excellent base in Lagos!
An included breakfast comes with some packages, and the rooftop terrace features beautiful views of the water and town.
Luxury
Tivoli Lagos — We adored our stay at this 4-star resort, and would be thrilled to return to enjoy the beautiful property, gorgeous pool, restaurants, and delicious included breakfast again.
With free parking (almost) on-site, comfortable rooms, and incredibly easy access to Lagos' attractions, Tivoli Lagos is a fantastic place to stay.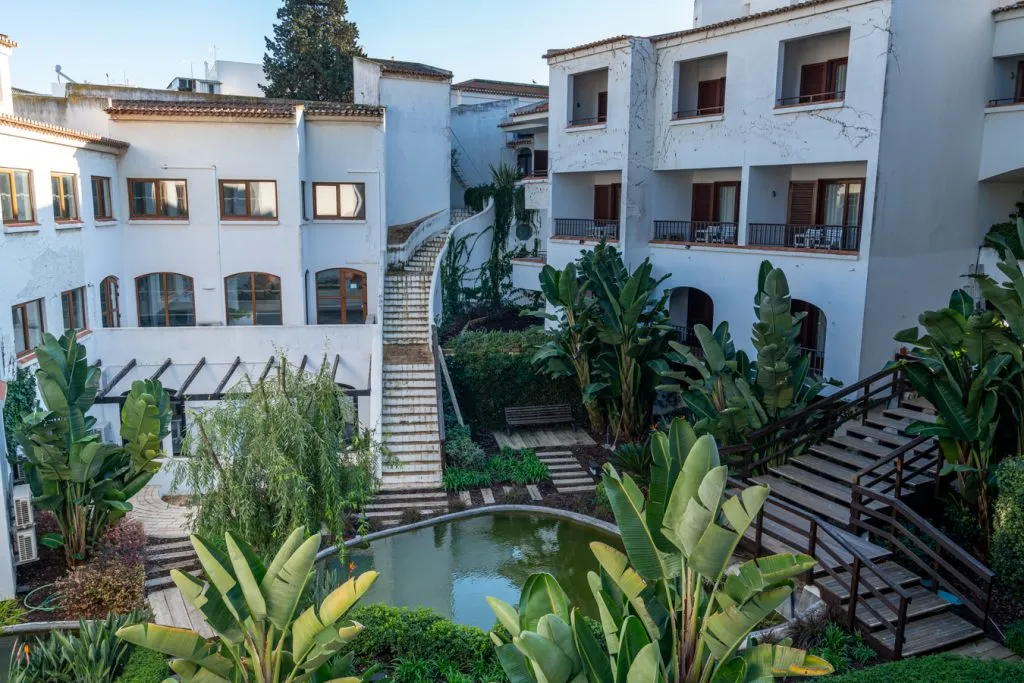 Getting Around When Visiting Lagos
Lagos itself is a fairly compact place, and you can easily walk from centrally located hotels, the train station, and the bus station to just about any of the historic attractions in town.
With enough time (a bit under an hour each way), you can even walk to Ponta da Piedade!
Part of the joy of visiting the Algarve, though, is road tripping along the beautiful coastline to all of the other small towns, gorgeous beaches, exciting hiking opportunities, and more that you can find.
For that reason, we highly recommend renting a car when visiting Lagos if you hope to get beyond the town itself.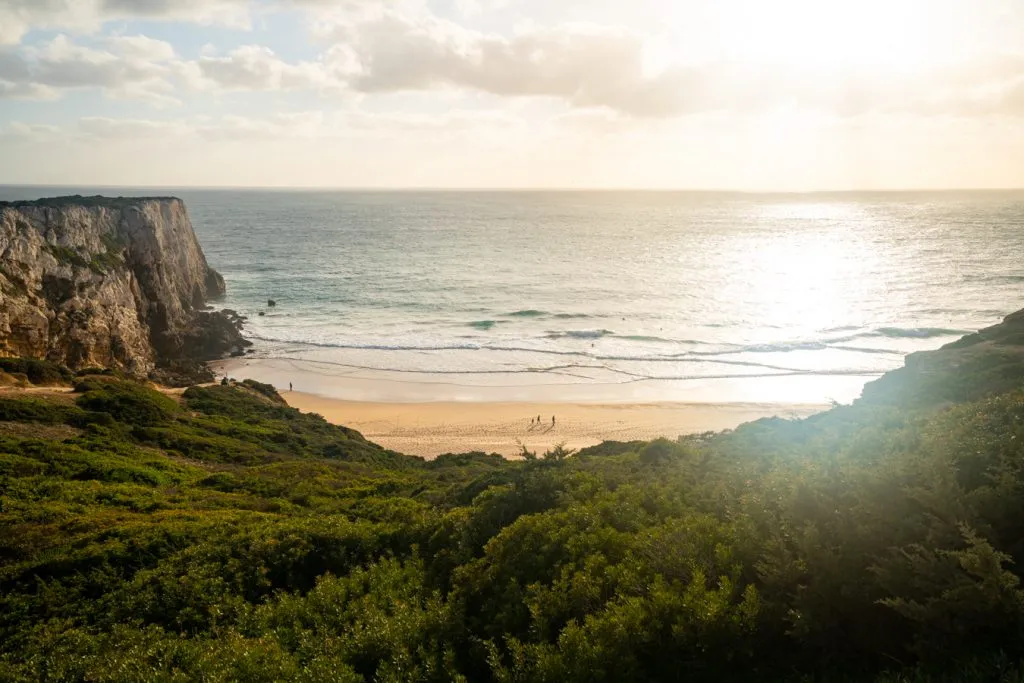 However, if you would rather not drive, you can still explore all of the Lagos attractions discussed in this blog post with a combination of lots of walking, some bus travel, and some guided tours.
If you plan to rent a car, we highly recommend searching through Discover Cars, which will allow you to compare prices and inclusions of multiple companies at the same time and choose the best car for you from there.
Shop rental cars for your trip to Lagos today!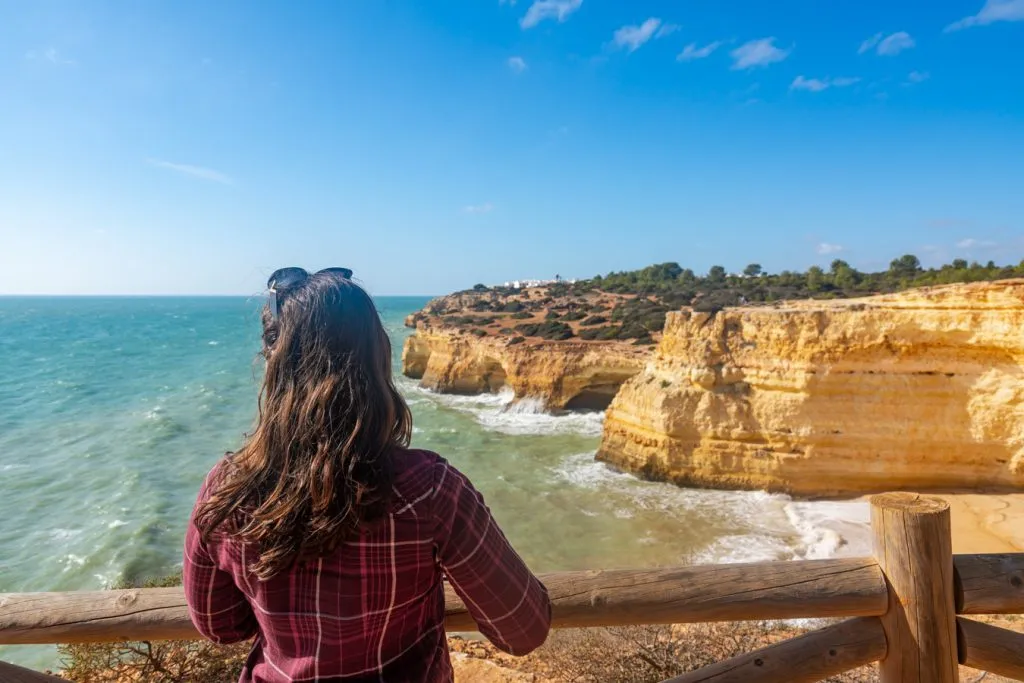 When to Visit Lagos, Portugal
As a beach town on Portugal's southern coast, Lagos thrives during the summer.
The summer months bring hot, sunny weather perfect for enjoying the beaches (though if you're from a hot climate like us, the water may still be a bit cold for you–think about 66°F/18°C).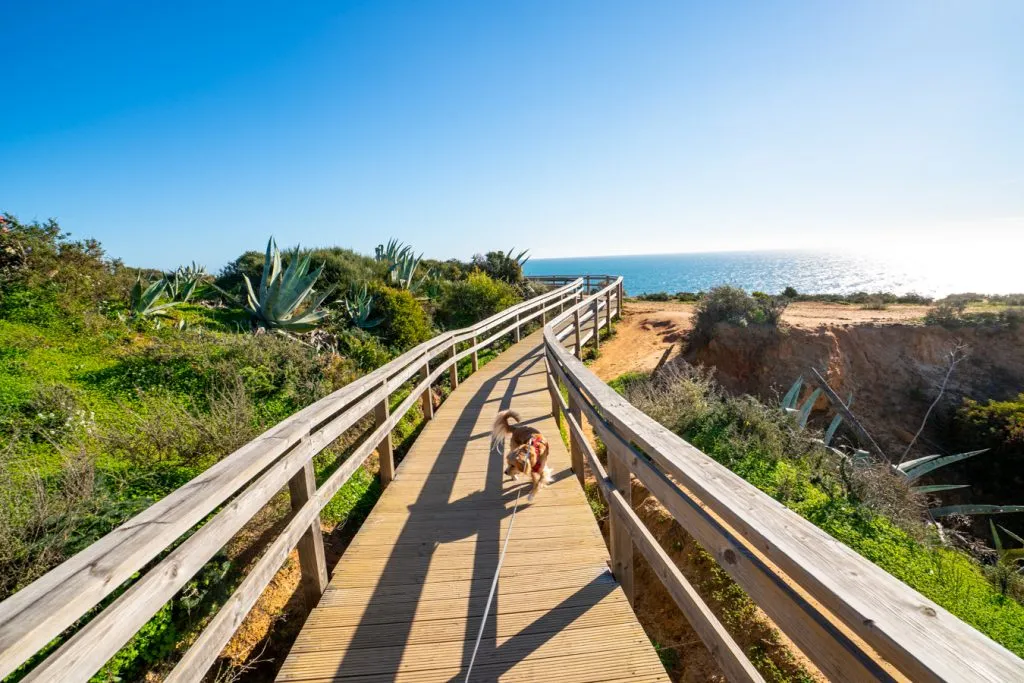 Unsurprisingly, summer is also when you'll find both town and the beaches packed with crowds, and hotels and restaurants offering their highest prices.
For better rates, especially if you don't need to swim, consider a shoulder season trip in April/May or September/October.
While Lagos can get (comparatively) cold and rainy in the winter, temperatures are still extremely mild and the region does get plenty of sun in the winter, too!
We enjoyed a magnificent winter trip to Lagos with full sun, no crowds, and temperatures around 62°F–in other words, absolute paradise when it comes to exploring the best things to do in Lagos, Portugal.
---