Portugal is famous as a winter sun destination with (relatively) warm weather–but what's visiting Portugal in winter actually like?
Here's a hint: you'll need to pack a coat… but you'll also be able to spend sunny days on the beach!
We spent more than a year living in Lisbon as American ex-pats, and winter is one of our favorite seasons in the country.
From the decreased crowds at tourist attractions to beautiful beaches to those not-too-rare warm, sunny days (I'll never forget wearing a T-shirt out and about on New Year's Day in Lisbon!), December, January, and February have plenty to offer visitors.
Here are the best things to do in Portugal in winter–plus some essential travel tips that will help your (mainland) Portugal winter trip go off without a hitch.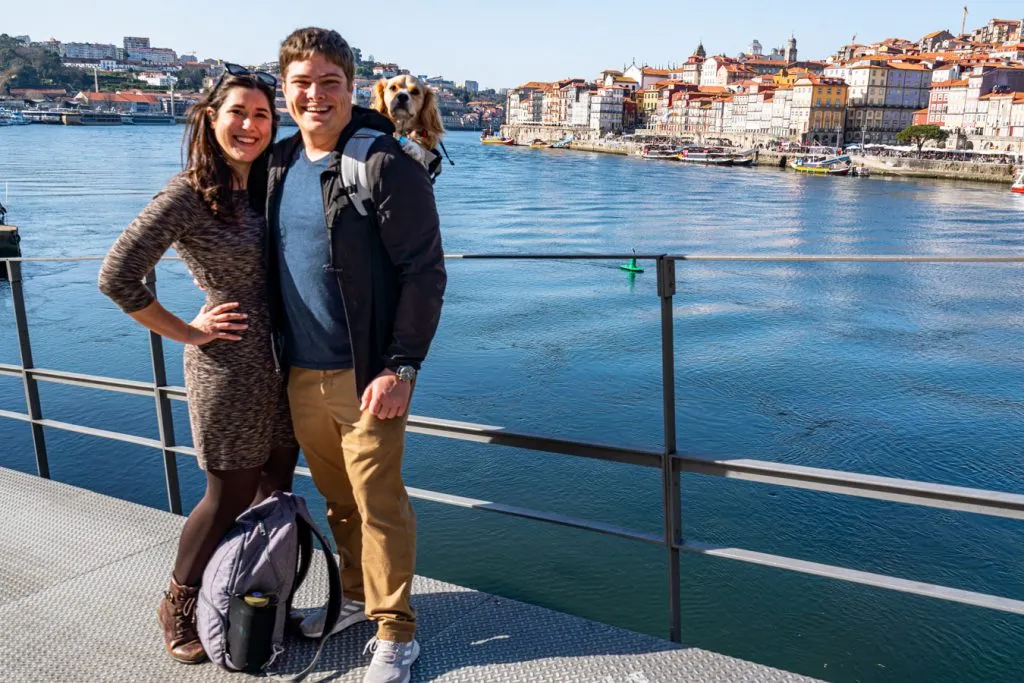 Typical Winter Weather in Portugal
A good rule of thumb when deciding where to go in Portugal this winter is that the further north you go, the rainier and colder it generally becomes.
In Porto, for example, January is the dreariest month, with average high temperatures of 57°F/14°C and 13 rainy days (which still does give plenty of time for the sun to shine most years–like in the above photo!).
In Lisbon, you can expect average highs of 59°F/15°C and 10 rainy days.
In Lagos, one of our favorite towns in the Algarve, average highs hover around 61°F/16°C and it is typically less rainy than further north.
While January is the coldest month in Portugal, December and February averages are very similar.
There are exceptions to every rule, though, and unfortunately, luck with the weather can greatly impact your trip.
We've enjoyed sunny winter trips to Porto and also spent almost a week straight stuck inside due to near-constant rain in Lisbon.
One thing is for sure, though: even if it's warmer or colder than average during your Portugal winter vacation, the temperatures are definitely still very mild overall!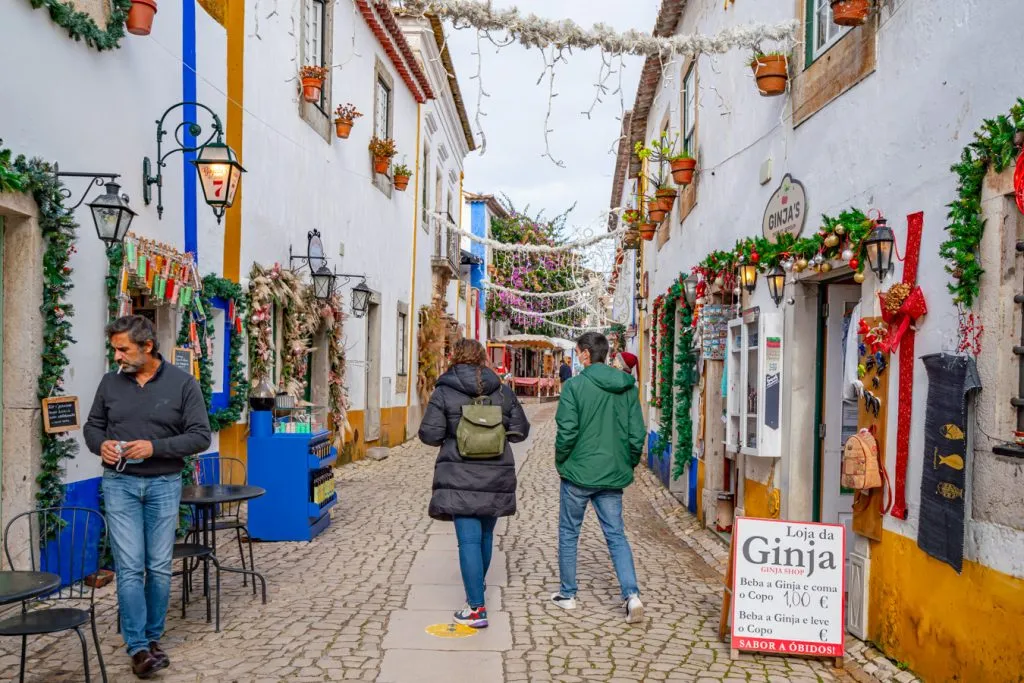 The Best Things To Do in Portugal in Winter
One of the best reasons to plan a winter trip to Portugal is because it is such a year-round destination!
With the exception of very seasonal attractions like swimming in the Algarve, winter in Portugal is much like any other season as far as sightseeing goes.
The pastéis de nata are just as delicious, visiting the Jerónimos Monastery is still a must, and the coastal areas still offer stunning views.
For that reason, we curated this list of mainland Portugal's winter attractions to show off the things to do in Portugal that particularly shine in the winter months.
Here's what to do in Portugal in December, January, or February!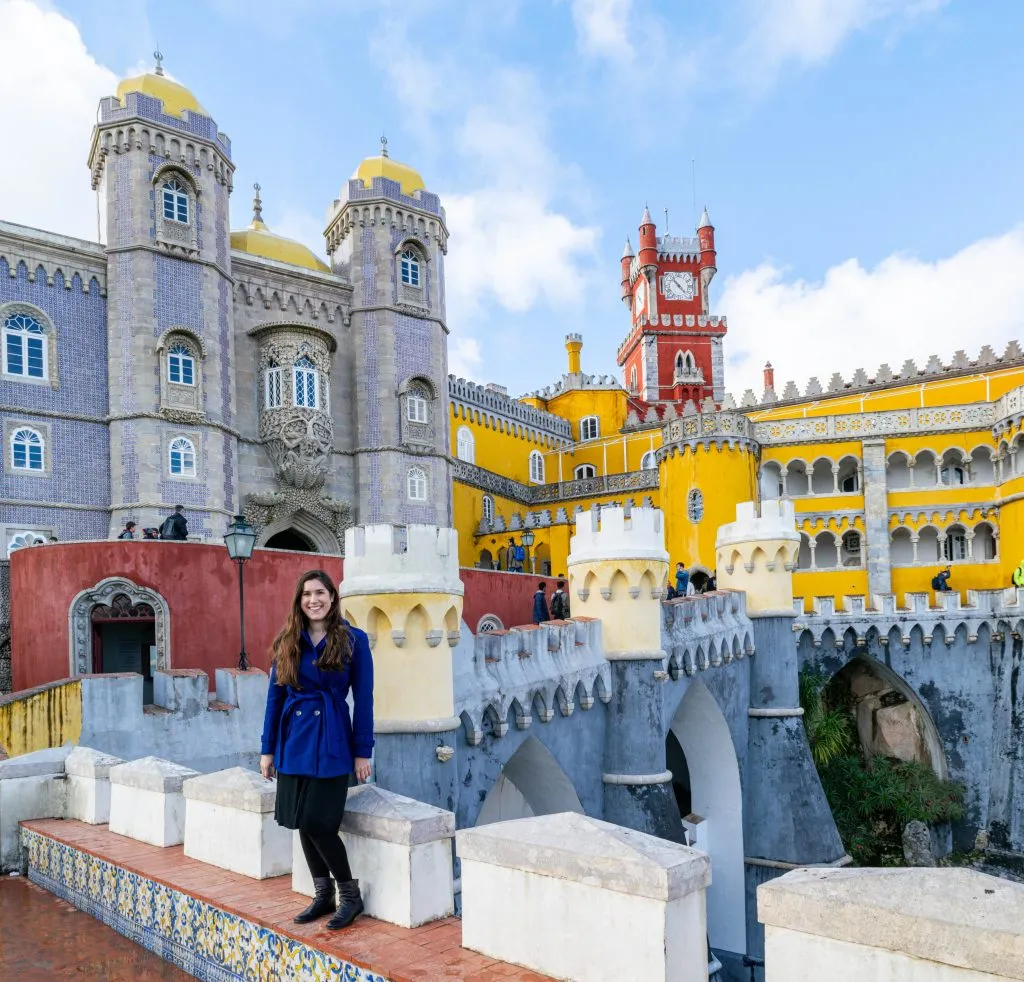 Go hiking in the Algarve.
While the Algarve is beautiful in the summer, it's often too hot to enjoy the hiking trails as much as in the off-season!
Sure, you won't want to swim–but from admiring the views from Ponta de Piedade to hiking the stunning Seven Hanging Valleys Trail to the odyssey that is the Fisherman's Trail (which extends well past the Algarve!), winter is a wonderful time for a hike in Portugal.
Be sure to keep an eye on the weather and pack plenty of light layers, though!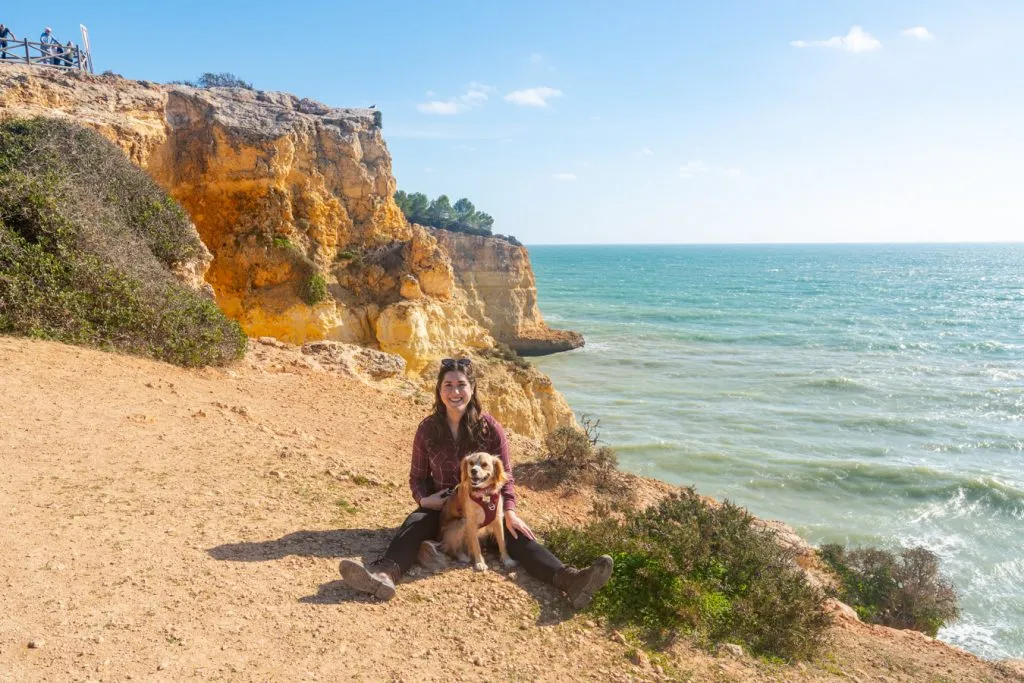 Visit the Christmas Village in Óbidos.
Generally speaking, Portugal isn't known for its Christmas markets (you won't find anything remotely resembling the markets in Germany or Austria here)–but Óbidos' Christmas Village (Vila Natal) offers its own delightful charm!
Óbidos is one of the best places to visit in Portugal year-round, though it's often overlooked in favor of more popular places close to Lisbon, like Cascais and Sintra.
With a historic center that remains enclosed in its medieval walls and a magnificent atmosphere, it's the perfect place for a Christmas market held inside the walls of a castle.
Games, attractions, and shows feature heavily here, including an ice skating rink that overlooks the surrounding countryside!
Be sure to make time for a few of the other cool things to do in Óbidos, too, such as walking along the castle walls, sipping ginjinha from a chocolate cup, and admiring the Porta da Vila.
… and Portugal's other Christmas markets and festivals.
While we wouldn't necessarily plan a Christmas trip to Portugal specifically for the festivities, if you happen to be visiting Portugal in December, it's definitely worth enjoying them!
Lisbon has a handful of markets to sample, most notably the Rossio Christmas Market and the Wonderland Lisboa Festival in Parque Eduardo VII (one of our favorite places in the city at any time of year).
You'll find a few in Porto as well, with the main market being held in Praça da Batalha (right next door to one of our favorite Porto hotels, NH Hotel Porto Batalha).
Cascais and Sintra both offer Christmas markets as well.
Again, these markets are not nearly as immersive or detailed as what you'll find in Central Europe–but they're fun places to add to your itinerary when visiting Portugal in December (or in a few cases, very late November).
Enjoy wide open spaces at Portugal's most famous beaches.
Want to see what iconic spots like the Praia da Marinha, Praia da Ursa, and Praia do Camilo look like without crowds of beachgoers and umbrellas?
When visiting Portugal in winter, you can skip the early-morning alarm clocks and simply show up whenever you like!
While, yes, you'll likely want to wear something more like hiking clothes than a bathing suit, it's hard to imagine more stunning views.
We loved getting to have Praia do Camilo all to ourselves on this sunny January day:
Visit Évora without having to battle the heat.
As the capital of Portugal's Alentejo region, the delightful city of Évora is known for many things: its Roman ruins, yellow-and-white paint job, 7,000-year-old megaliths, its Gothic cathedral, and–perhaps above all–its fascinating bone chapel.
It's also, however, one of the hotter places in Portugal that travelers are likely to visit, thanks to its inland location and searing climate.
While average high temperatures in August reach 86°F/30°, summer temperatures of 100°F/38°C are far from unheard of during a heat wave (great for grapes, though–hence the many delicious wines from Alentejo).
To see Évora at its best sightseeing weather, consider grabbing a jacket and paying a visit during the winter!
Marvel at the world's biggest waves in Nazaré.
The beautiful beach town of Nazaré has a seasonal personality: by summer, it's merely a charming beach town, with winding streets, a long stretch of sand, and great views.
But by winter, it's one of the most unique places to visit in Portugal–because this is where expert surfers ride the biggest waves in the world.
"Big wave" season runs primarily from November to February, and visitors flock to Nazaré to admire the surfers at work.
The phenomenon doesn't happen every day, but you can track your odds of seeing giant waves here.
If the forecast cooperates and you have a chance to see the biggest waves in the world during your trip to Portugal this winter, we highly recommend heading out to Nazaré!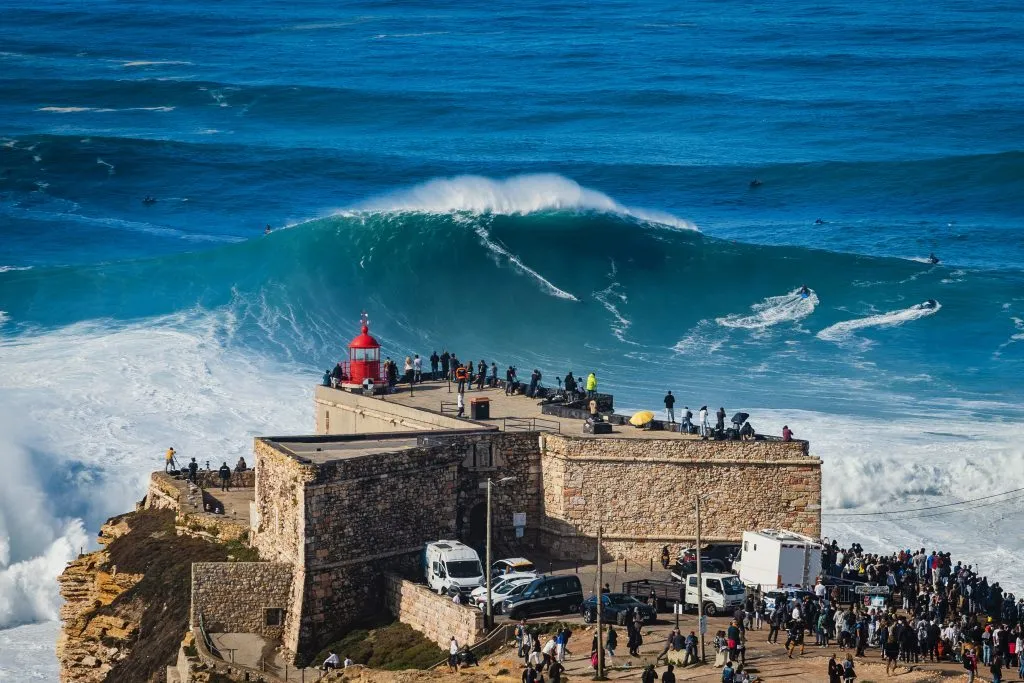 Avoid the crowds at Sintra.
Beautiful Sintra, with its magnificent palaces like the colorful Pena Palace, otherworldly Quinta da Regaleira, and historic Moorish Castle–and that's just scratching the surface–is a true fairytale-level destination.
It's very justifiably one of the most popular day trips from Lisbon, and we love it and have visited many times.
… And, we also tend to avoid it during the high season due to the intense crowds, which seem to get heavier every year (and many of our ex-pat friends concur).
That makes winter an incredible time to visit!
It is best to wait for a clear day, as the gorgeous views are a big part of the fun of Sintra.
If you want to cover as much ground as possible, taking an organized day trip to Sintra is very effective at helping you see as much as is reasonable in a day.
Rather travel independently?
No worries: a 40-minute train ride from the heart of Lisbon, an easily navigable bus, and a timed entry ticket (we recommend pre-purchasing yours) will absolutely get the job done as well.
Book your day trip to Sintra today!
Cozy up at a port lodge for an indoor tasting.
Heading over the Vila Nova de Gaia–the "other" side of the Douro River when visiting Porto–to enjoy a tour and tasting at one of the city's iconic port lodges may be one of the best things to do in Porto year-round, but it's especially fun in winter!
There's something very cozy about sipping different ports inside a warm tasting room while the weather outside is cold–and, this being Porto, quite possibly rainy.
We love Quinta dos Corvos and have a tendency to return again and again, but there are tons of port lodges to choose from.
If you're a big fan of port, you may even want to sign up for a tour like this to make the most of your tastings!
Book your Porto wine tour today!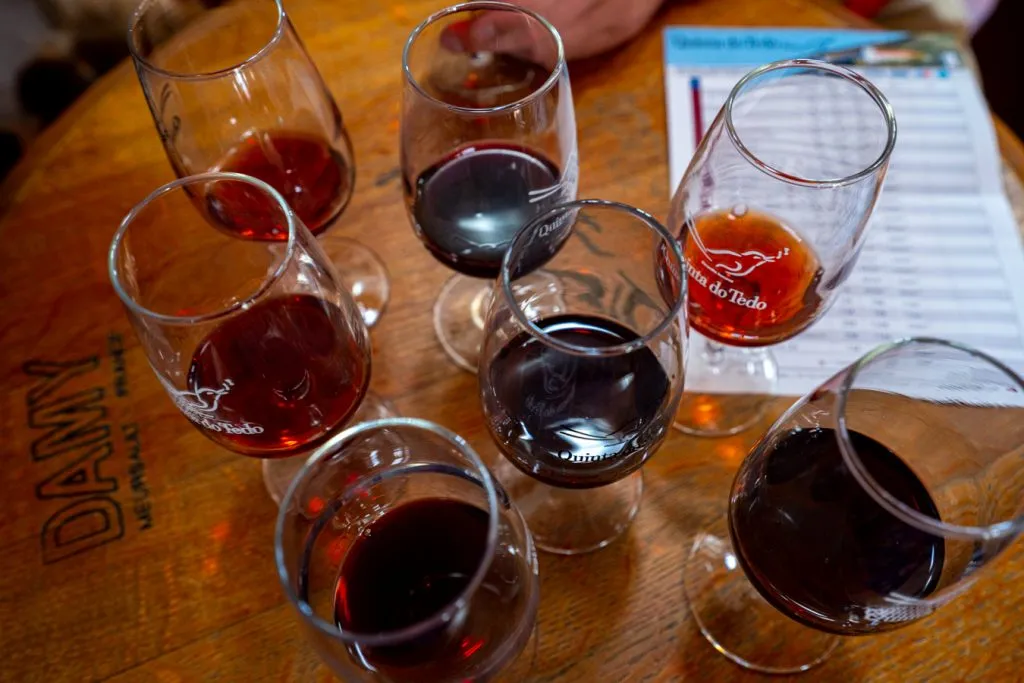 Enjoy hearty Portuguese food at its best.
From caldo verde to bifanas to the (in)famous francesinha to chouriço to the ever-present bacalhau à brás and beyond, there's no doubt that warm, hearty Portuguese food shines in the winter.
There are plenty of lighter dishes too, sure–but many of the classics call for cool weather to truly shine at their best.
Climb to Portugal's most famous miradouros without breaking a sweat.
Porto and Lisbon are both famously hilly cities with lots of viewpoints to enjoy–and they're arguably more fun to experience in winter than in the summer!
There's no doubt that climbing steep hills is much more pleasant in cool weather than hot weather, making a winter trip the perfect excuse to ascend a bit higher than you would normally.
We loved enjoying this view from the famous Miradouro da Graça in December: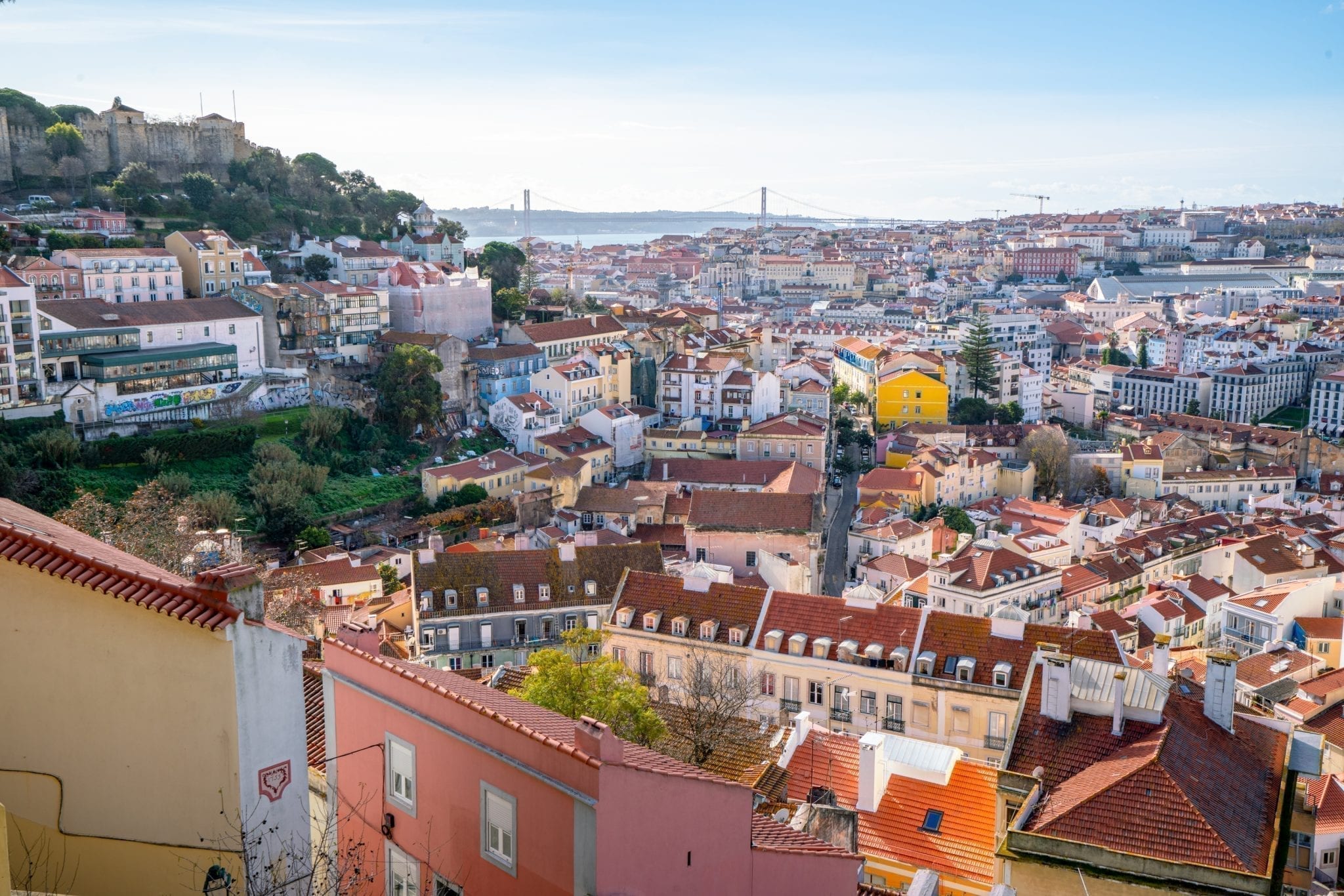 Warm up with a glass of ginjinha.
Ginjinha, also known as ginja, is Portugal's most popular liqueur.
And, as someone who typically doesn't care for liqueurs, let me say–this one is absolutely fantastic, and a great way to warm up during a winter day in Portugal!
Made with morello cherries among other delights, ginjinha is served in a small, shot-sized glass (which is sometimes made of chocolate), but it is meant to be sipped.
We've tried many brands in Lisbon, Óbidos, and beyond, but remain partial to Ginjinha Espinheira (it's fabulous).
For a memorable place to pick up this Portugal memento, head to the popular and centrally located A Ginjinha bar in Lisbon.
Avoid the cruise ship crowds in Portugal's famous cities.
Lisbon, in particular, is a popular cruise ship destination, and days when multiple, large floating cities dock can really impact the flavor of the city!
This extends to areas within day-tripping distance of Lisbon as well, especially Sintra and Cascais.
By visiting over the much quieter winter months, you'll automatically have far fewer people to compete with when sightseeing in those areas!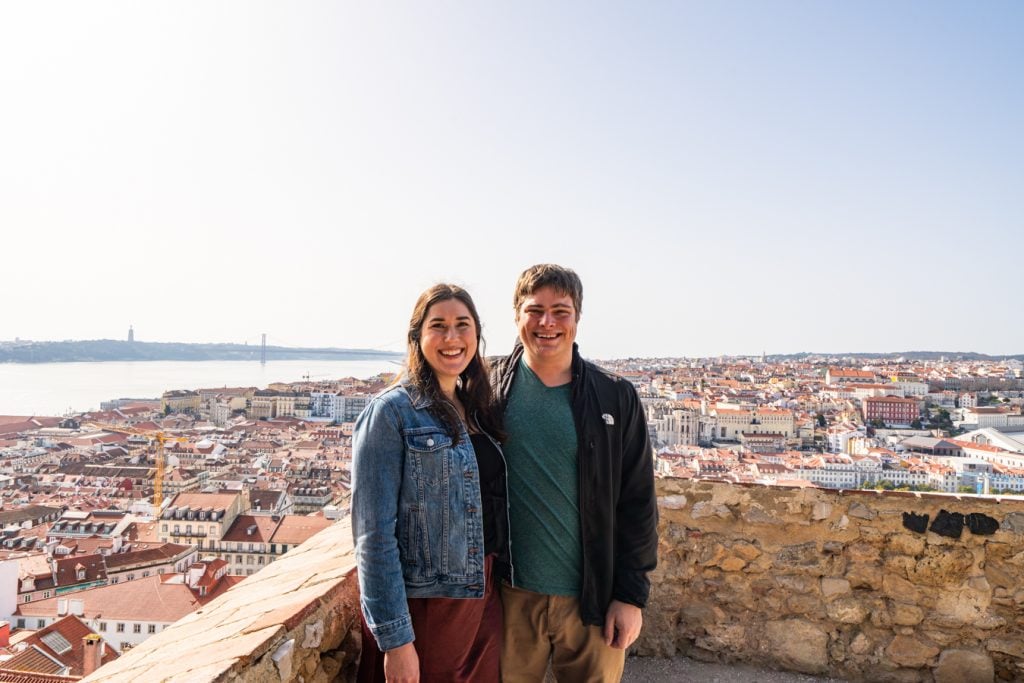 Essential Tips for Visiting Portugal in Winter
Prepare for rainy days.
Here's a good rule of thumb: the further north you go, the higher your risk of dealing with rain during your trip to Portugal.
… But wherever you visit, be prepared for rain or shine!
For example, before moving to Lisbon, we once experienced an unlucky December trip where it rained almost every. single. day. that we were in town.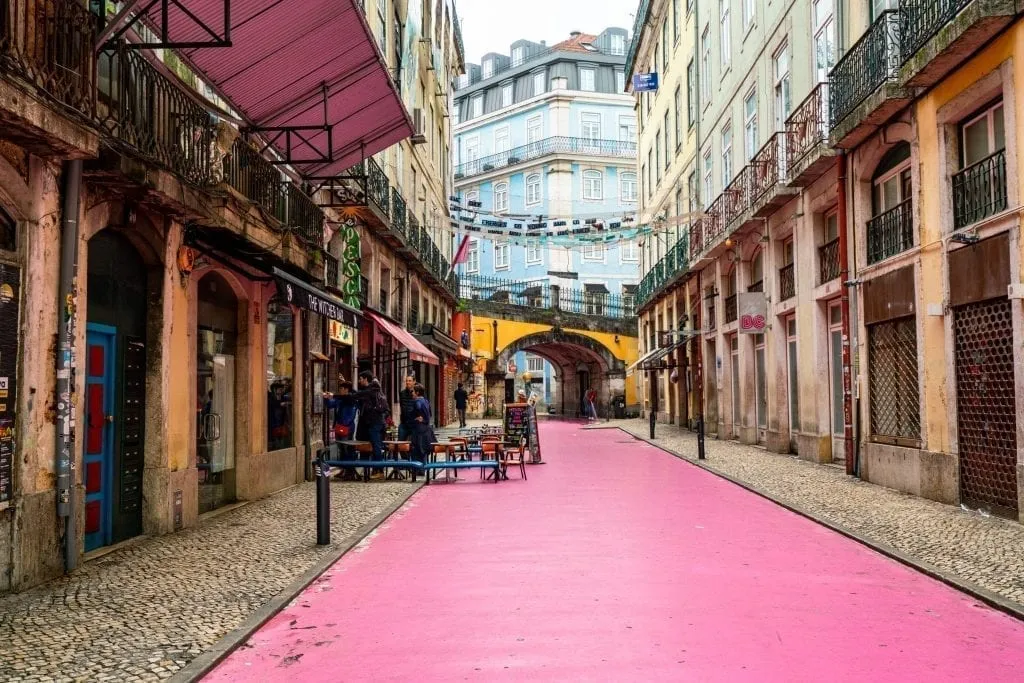 That's far from a guarantee, though!
On the flipside, we've also visited notoriously rainy Porto in January and been greeted with blue skies every day.
The bottom line is that while relatively warm, sunny weather is far from a guarantee in Portugal during the winter, your odds are better there than most other winter destinations in Europe.
And, luckily, if you don't end up with excellent weather during your Portugal winter getaway, there are still plenty of indoor activities to enjoy.
Watch your step when the pavement is wet.
Those pretty stone walkways that you see across Portugal?
Here's the thing… they're incredibly slippery when wet, especially if they happen to have fallen leaves sitting on them.
Named Portuguese pavement (or calçada portuguesa), these walkways are beautiful, distinctive, and a bit of a hazard in the rain.
Watch your step, especially on hills, and opt for shoes with some grip on them!
Think layers when packing for Portugal in winter.
Light layers are the name of the game when deciding what to wear in Portugal during winter.
Depending on the weather, the time of day, and exactly how many hills you've climbed lately, you may find yourself walking around in a t-shirt… or reaching for a peacoat.
Anything heavier than that is unlikely to be necessary, but of course, be sure to double-check the weather before showing up in Portugal in February without a jacket!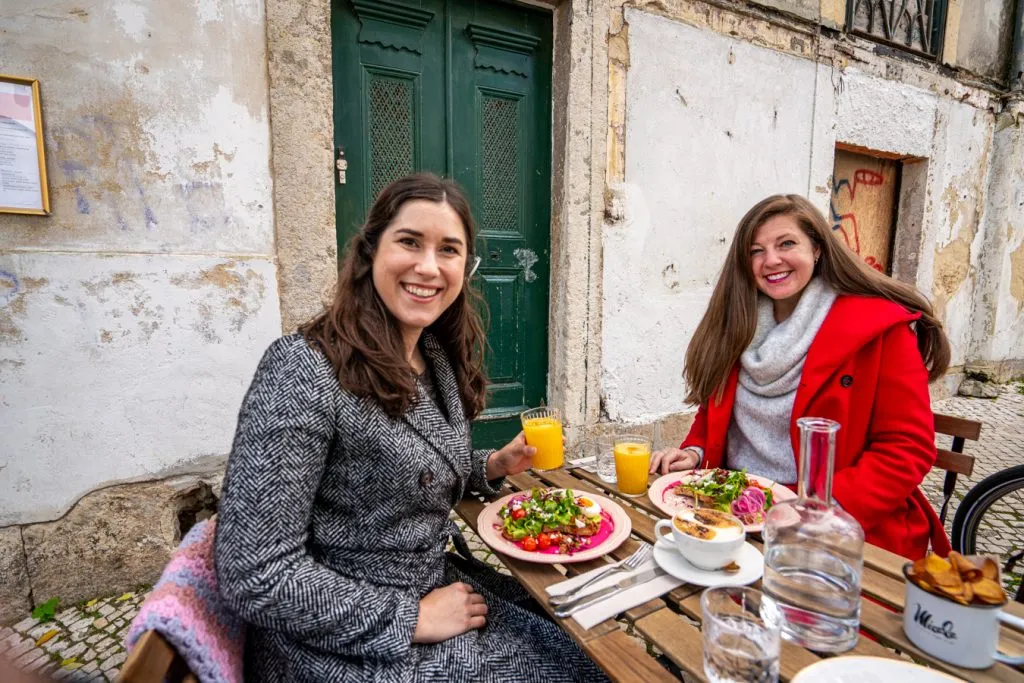 Keep heating in mind when choosing where to stay.
A big plus and minus of Portugal's year-round mild climate is that central temperature control systems are much less common here than in many places around the world.
In the summer, that means a lack of air conditioning in some hotels… and during winter in Portugal, it means keeping an eye out to make sure your hotel has heat.
That's not solely because of the temperature, either: Portugal struggles with dampness, mildew, and mold in many of its buildings over the winter months (learning how to fight the mold is a constant topic in ex-pat Facebook groups).
In fact, in many places without temperature control, it's often warmer outside than inside during the day!
It's not a huge problem for visitors, but if you're concerned about dampness in your room or you have allergies, it's best to keep it in mind when deciding where to stay in Portugal in winter.
Don't come to Portugal for the Christmas markets.
I mentioned this above, but it's worth repeating: Portugal's holiday festivities are fun, but they're not worth planning a trip for specifically.
While there are certainly Christmas events and decor, it's not what I would call a Christmas destination per se.
If holiday cheer is what you're looking for, Central Europe is going to be more your cup of tea (but of course, you're very unlikely to experience any of the winter sun that Portugal offers up there).
FAQ About Winter in Portugal
Is it worth visiting Portugal in winter?
While winter may not be the most typical time to plan a trip, it's definitely worth visiting Portugal in winter!
In our opinion, a bit of risk of rain is a small price to pay for smaller crowds, lower prices, and very high odds of enjoying some beautiful, sunny days in a gorgeous country.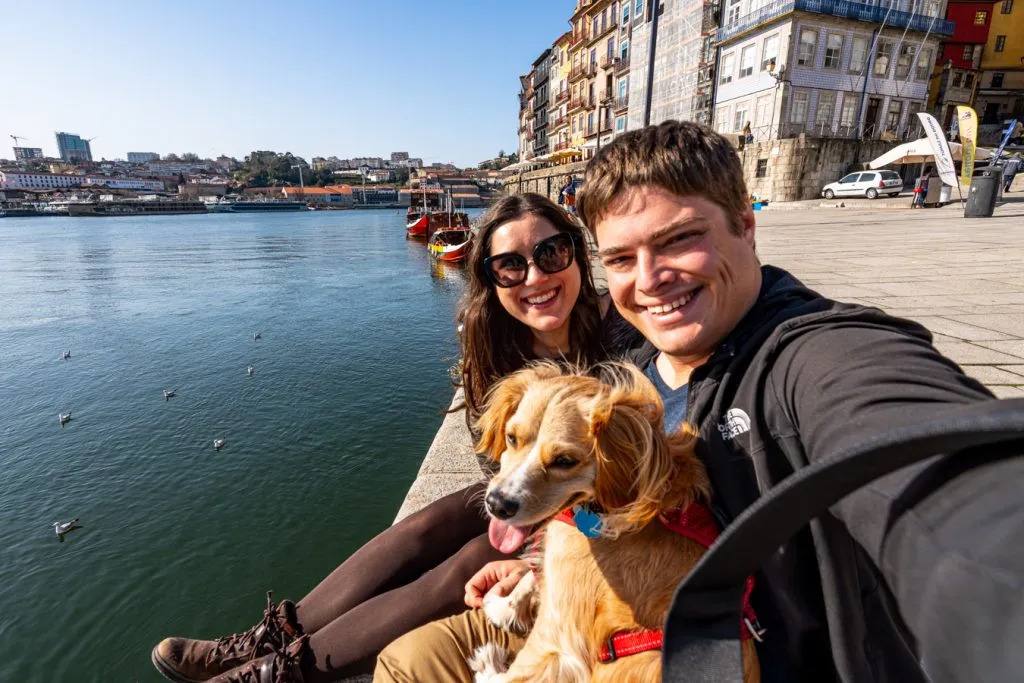 Can you swim at the beaches during winter in Portugal?
Technically, if you have a thick wetsuit you can swim in Portugal in winter.
However, it's not generally done, and winter is certainly not a typical swimming season in Portugal (frankly, we grew up in hot climates and the water is too cold for us even in the summer).
Unless you're a surfer, we wouldn't plan to actually get in the Atlantic Ocean during a winter trip to Portugal.
Can you ski in Portugal?
Yes, you can technically ski in Portugal–most famously, in Serra da Estrela.
For most first-time visitors to Portugal in winter, this is more of a point of interest than something to plan your trip around.
We certainly wouldn't recommend traveling a far distance specifically to ski in Portugal, but it is cool to know that while you're enjoying coastal views in the Algarve, someone is hitting the slopes within the borders of the same small country.
What are the best places to visit in Portugal in winter?
All of mainland Portugal remains open and ready to receive visitors over winter, though very small, offbeat villages (like Monsanto) will generally see closures over the holidays.
A typical 10 day Portugal itinerary that covers Lisbon, Sintra, the Algarve, and Porto is equally doable in January or July!
Some of our particularly wonderful places to visit in Portugal in winter are Sintra (to avoid the crowds), the Algarve (to hike), and Nazare (for the waves).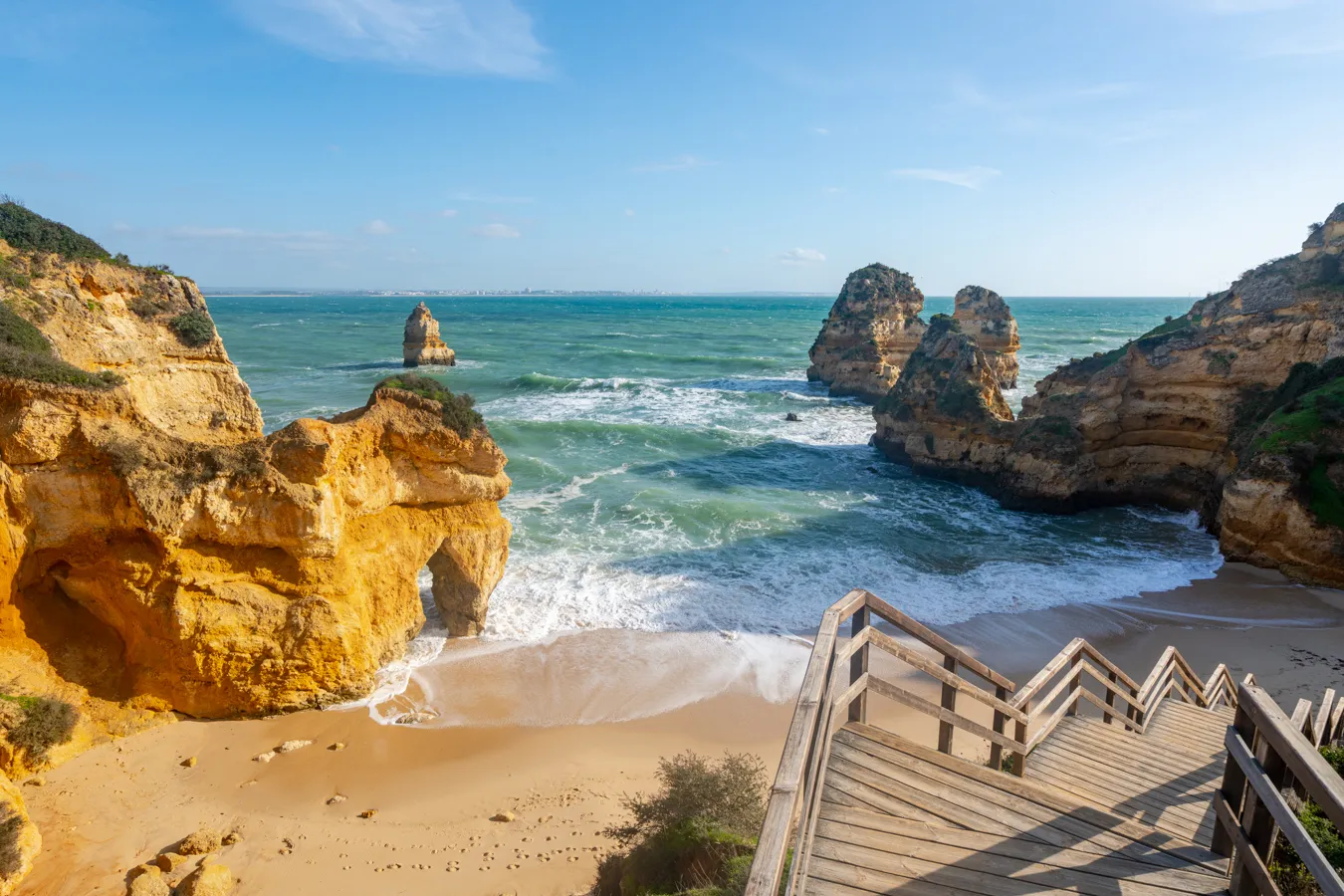 How cold does it get in Portugal over the winter?
The weather in Portugal over the winter can vary dramatically depending on where you visit and your luck with the weather at that time–but you can expect mild temperatures overall!
For popular places to visit in Portugal like Lisbon, Sintra, Porto, and the Algarve, a good rule of thumb is that you'll want to pack light layers, a peacoat, and an umbrella–but definitely not a parka or snow boots.
We go into more detail about average temperatures in the "typical winter weather in Portugal section toward the top of this blog post.
Is it better to visit Portugal in December, January, or February?
December, January, and February all have something to offer when planning a trip to Portugal over winter!
January is typically the coldest and rainiest month in most of the popular places to see in Portugal–but just barely, and it also offers some of the lowest crowds.
December offers holiday festivities and attractions, but crowds tend to be slightly higher than in January and February.
Again, it's only slightly, though!
With the exception of holiday season events like Christmas markets, your winter visit to Portugal will likely be quite similar whether you visit in December, January, or February.
What to Pack for Portugal in Winter
Before jetting off to Portugal this winter, we recommend taking a look at our full winter packing list for Europe.
True, you won't need as heavy of clothes in Portugal as you will in many parts of the continent over the winter months, but you'll still be enjoying a decidedly off-season trip.
That being said, here are some essentials you should be sure to bring with you during a winter trip to Portugal!
Travel Insurance — We don't ever suggest traveling without travel insurance–anything can happen, and this is definitely a case of better safe than sorry.
We recommend checking prices and inclusions with Safety Wing for trips to Portugal.
Travel Adaptors for Portugal — If you're coming from outside of Europe, you'll definitely want to make sure you can plug in your electronics once you arrive!
Comfortable Day Bag — We currently use Pacsafe's sleek anti-theft backpack and love it, but if you don't want to shell out the cash for this trip, that's totally understandable.
Just aim for something comfortable to wear, not flashy, and medium-sized–we used a Northface Jester backpack for years and loved it as well.
Umbrella — There are very good odds that you'll need an umbrella at least once during a Portugal winter getaway!
Lotion — Winter travel can be rough on the skin–so be sure to pack a moisturizing lotion.
Lip Balm — You know what's not fun? Eating a spicy, salty bifana with chapped lips.
Portable USB Charger — Avoid having your phone die when you're out exploring by throwing a portable USD charger in your day bag!
They also come in particularly handy on long flights.
Hand Sanitizer — You'll be glad you have this when you polish off your millionth pastel de nata during your winter holiday in Portugal!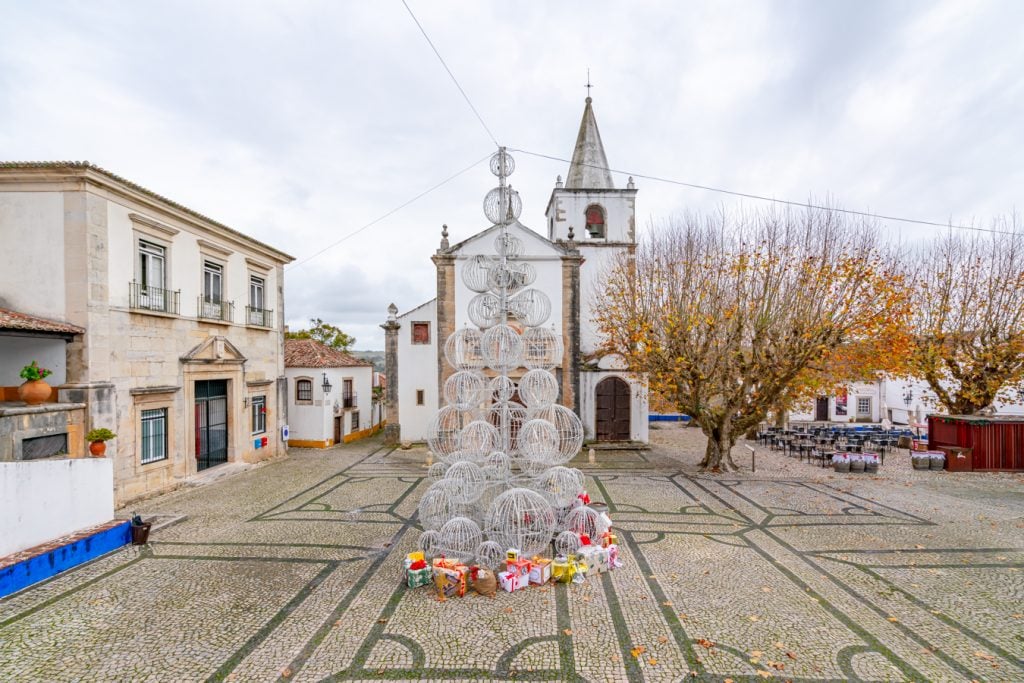 Read More About Visiting Portugal
Planning a trip to Portugal this winter and eager to keep reading?
You can browse our many Portugal blog posts here, or check out these guides: