Soaring 105 feet into the air, Moab's Corona Arch is incredibly impressive to behold–just as magnificent, if not more so, than many of the popular sandstone arches in Arches National Park!
And, as a bonus, the Corona Arch trail is free to visit, as it is located on BLM land near Moab, Utah, rather than in the nearby national park.
We absolutely loved our time at Corona Arch, and highly recommend it for travelers looking for a fun, fairly quick hike while in Moab.
Here's everything you need to know before starting the Corona Arch hike!
Some links in this post may be affiliate links. If you make a purchase through one of these links, we may earn a small commission at no extra cost to you. Please see our

disclosure policy

for more detail.
What's it Like to Hike to Corona Arch, Moab?
Hiking to Corona Arch is an absolute blast.
The trail is interesting and varied, with sights ranging from rugged landscapes to train tracks (you actually cross a set of train tracks early in the hike) along the way.
Hiking to Corona Arch itself is about 1.5 miles each way, and the trail is an out-and-back.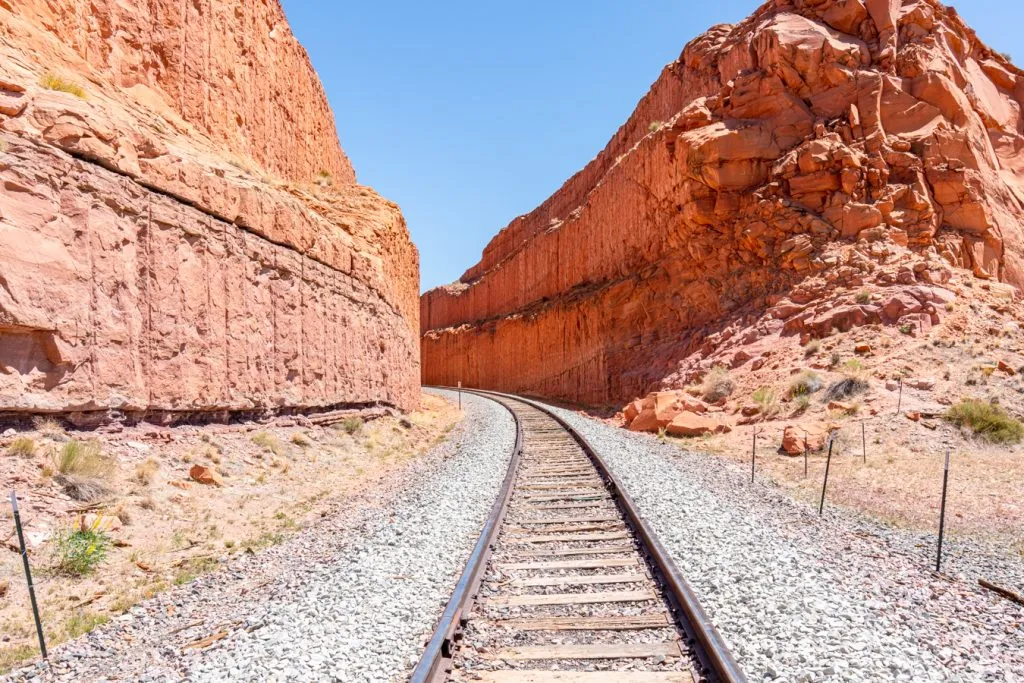 There is a short section of very, very mild scrambling–even calling it scrambling feels like a bit much, honestly, but you'll want your 3 points of contact to ascend.
There are a few other small challenges along the way, such as a section of safety cables that you'll need to use to climb up a section of slickrock (there are footholds also cut into the rock, making it a fairly simple affair), and a very short ladder soon after.
For the most part, though, the Corona Arch trail is a straightforward hike, and incredibly easy to follow. Turquoise paint lines the path anywhere where it's possible to accidentally go off course.
You'll spot the arch far before you reach it, but be sure to make it all the way there.
There's nothing like hiking underneath Corona Arch to fully appreciate its size!
How Long Does it Take to Hike the Corona Arch Trail?
Most online estimates suggest that the Corona Arch hike takes about 2 hours on average.
We added on a visit to Pinto Arch–more on that below–and took a couple of very long breaks to enjoy the views of each arch.
With those caveats, we still exited the trail just under 3 hours after we started.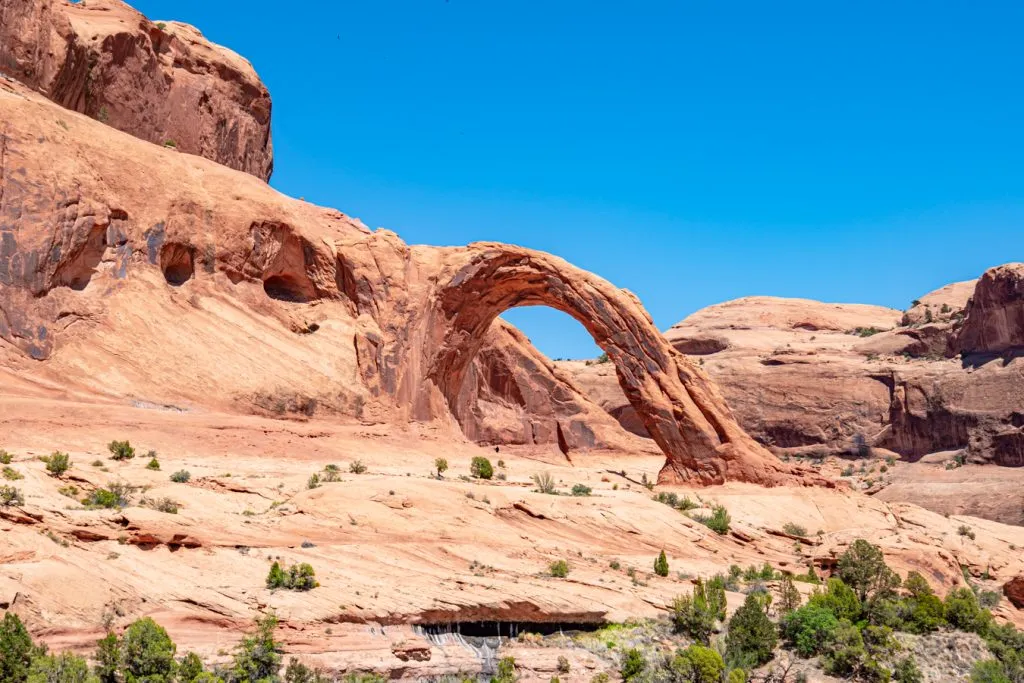 Getting to the Corona Arch Trailhead
The Corona Arch Trailhead is located about a 20-minute drive outside of Moab, Utah.
You can find it along UT-279 S, across the street from the Colorado River. If you're approaching from Moab, the trailhead will be on your right.
The trailhead is clearly marked, with a sign, a parking lot, and a composting toilet onsite.
If you're using GPS to navigate, be sure to navigate to "Corona Arch Trailhead" rather than simply "Corona Arch"–the second will direct you to a road open to 4-wheelers that leads to an overlook.
About Pinto Arch + Bowtie Arch
Corona Arch is no doubt the main attraction, but it's not the only arch on this trail!
Bowtie Arch is located right by Corona Arch–you can even capture them both in the same photo as you approach.
Pinto Arch is another matter: you'll add 30+ minutes to your hike by taking a detour for Pinto Arch, but it's a beautiful, peaceful spot, and the formation itself is gorgeous.
You also get magnificent views of the Colorado River from the Pinto Arch section of the trail!
If you have time to add Pinto Arch to your hike, we definitely recommend it, but certainly wouldn't prioritize it over Corona Arch.
Consider heading to Corona Arch first, and then hitting Pinto Arch on the way back.
What to Bring When Hiking to Corona Arch
Water
Hiking in the desert is not to be underestimated!
While the Corona Arch hike is only about 3 miles round-trip, you'll want quite a bit of water along the way. Bring more than you think you need!
Snacks
While the Corona Arch trail is short enough that you don't necessarily need to eat a meal along the way, it's incredibly satisfying to eat a snack while resting in the shade underneath the arch.
And, there's no doubt that you'll be hungry once you get there!
Sunscreen
Ideally, bring a bottle of sunscreen with you in order to reapply during the hike.
With little-to-no-shade along the trail and the intense desert sun to contend with, you absolutely need sun protection when visiting Corona Arch!
Hat
Don't leave sun protection to sunscreen alone: you should definitely have a hat with you when hiking the Corona Arch trail.
Hiking Boots
This isn't a place for hiking sandals: a combination of gravel, sand, and sandstone trail sections means that hiking boots are by far the most comfortable option.
If you don't have boots, opt for something like closed-toe tennis shoes.
I wear the (aptly named) Merrell Moab hiking boot and Jeremy wears the Oboz Bridger BDRY boot, and we both love our boots.
Tips for Visiting Corona Arch
Corona Arch is dog-friendly.
Unlike Arches National Park and Canyonlands National Park, the Corona Arch trail is dog-friendly, making it a great option for visiting an impressive arch with a fur friend.
The trail is mostly unshaded.
If you hike in the late afternoon as we did, you'll be able to grab some shade along the way thanks to the gigantic sandstone walls in some areas–but even still, most of the trail is completely unprotected, and the desert sun is brutal!
The late-afternoon light is lovely for photos.
… But, of course, that also means you'll be hiking in the heat of the day, so plan accordingly!
Be sure to hike through the arch.
… not only to appreciate its incredible size, but because the views of the arch are even better from the opposite side!
Set your GPS directions to the "Corona Arch trailhead".
If you set them for the Corona Arch itself, your GPS will lead you onto a 4-wheel drive only road.
There are compost toilets available at the trailhead.
We do recommend bringing your own hand sanitizer, though–it was out of stock in the restrooms the day we hiked the Corona Arch trail.