This post about visiting Montparnasse Tower in Paris was sponsored by Get Your Guide.
As the tallest building (and only skyscraper) in central Paris, Montparnasse Tower is, if nothing else, absolutely unmistakable.
Stretching 210 meters high and featuring a modern, black exterior that is mostly glass, Montparnasse Tower sticks out like a sore thumb in the Paris skyline and is often derided as the ugliest building in Paris–a pronouncement I simultaneously agree with and feel that our generation should probably hold back judgment on. After all, they once said the same about the Eiffel Tower!
Questionable aesthetics aside, though, the building certainly has its perks for visitors to the City of Lights, the most important of which is the fact that by visiting Montparnasse Tower, you can be treated to one of the absolute best views of Paris.
Here's what to know about visiting Montparnasse Tower in Paris, from why to go to how to get there.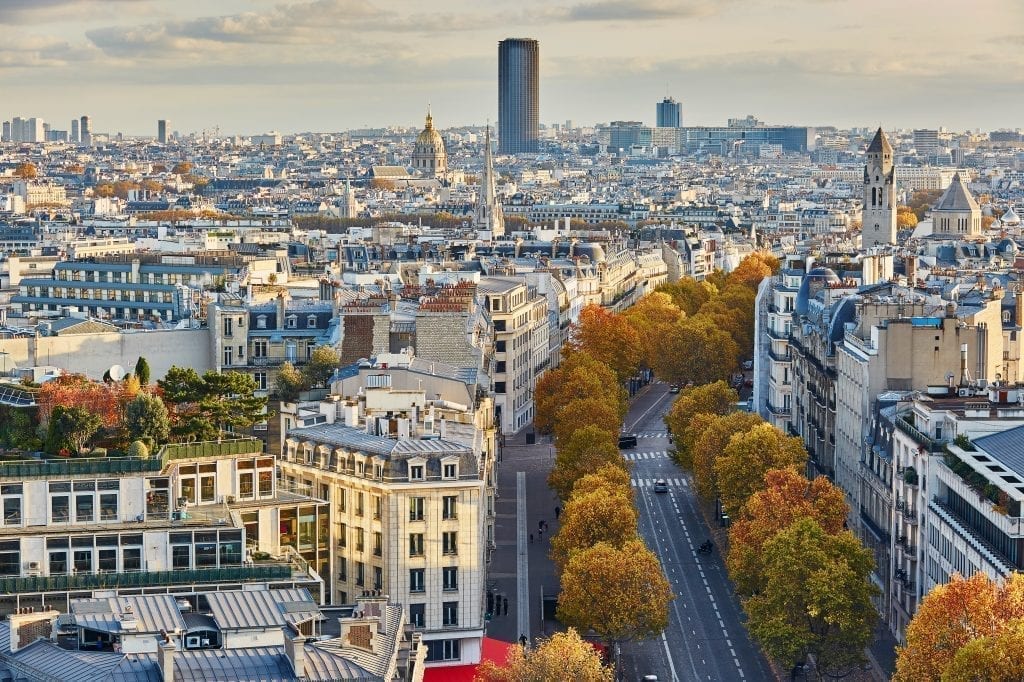 Some links in this post may be affiliate links. If you make a purchase through one of these links, we may earn a small commission at no extra cost to you. Please see our

disclosure policy

for more detail.
A Brief History of Paris' Montparnasse Tower
Montparnasse Tower may be an extremely modern building by Paris' standards, but it still has quite the involved history.
The Montparnasse neighborhood and building both take their names from a then-rural hill that once stood in the area, Mount Parnassus, named for the home of the muses in Greek mythology (the hill was razed in 1725, so you won't see it today).
By the 18th century, the area surrounding what is now Montparnasse Tower began filling up with cabarets, theaters, restaurants, and the artistic clientele who would patronize them, a pattern that continued into the 20th century. Iconic institutions such as the brasseries La Coupole and La Rotonde got their start in the early 20th century and still operate in Montparnasse today.
At the time, the area was outside the city limits of Paris and exempt from certain taxes on things like alcohol, making it an attractive place for people living a bit outside the lines of society (not unlike more-famous Montmartre, which had a similar reputation in the late 19th century to what Montparnasse enjoyed in the 1920s and 1930s).
Lost Generation-era writers such as Oscar Wilde and Ernest Hemingway, among many others, patronized the local businesses through the 1920s.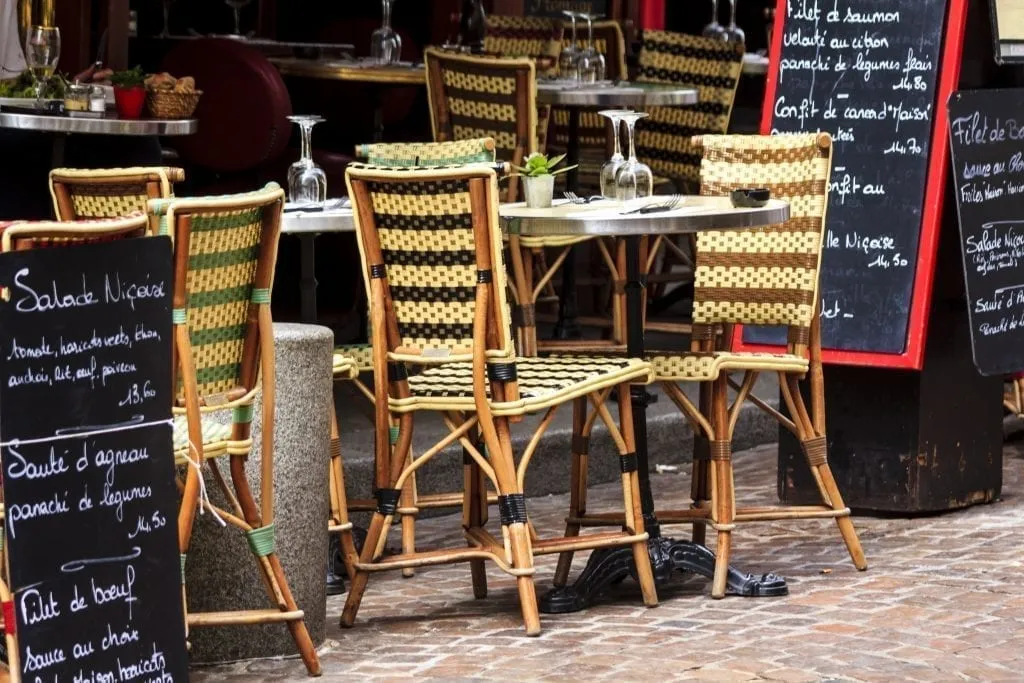 Once the Great Depression hit, times turned for the Montparnasse neighborhood, and the then-Gare Montparnasse train station needed to be moved–the sight of which would eventually become Montparnasse Tower.
The Montparnasse Tower that visitors can see today was first proposed in 1959 and was swiftly met with vicious opposition from those that proclaimed that the building would ruin Paris' skyline.
Ten years and many battles later, though, President Georges Pompidou of France approved the building. The president was very interested in modernizing the capital–you might also recognize his name from Centre Pompidou, Paris' modern art museum.
Construction began on Montparnasse Tower in April 1970, and the building was inaugurated in June 1973.
Despite the modern, office-building feel of the tower itself, the neighborhood of Montparnasse maintains its reputation for cabarets, theaters, bakeries, and restaurants to this day, and it is a lively section of Paris.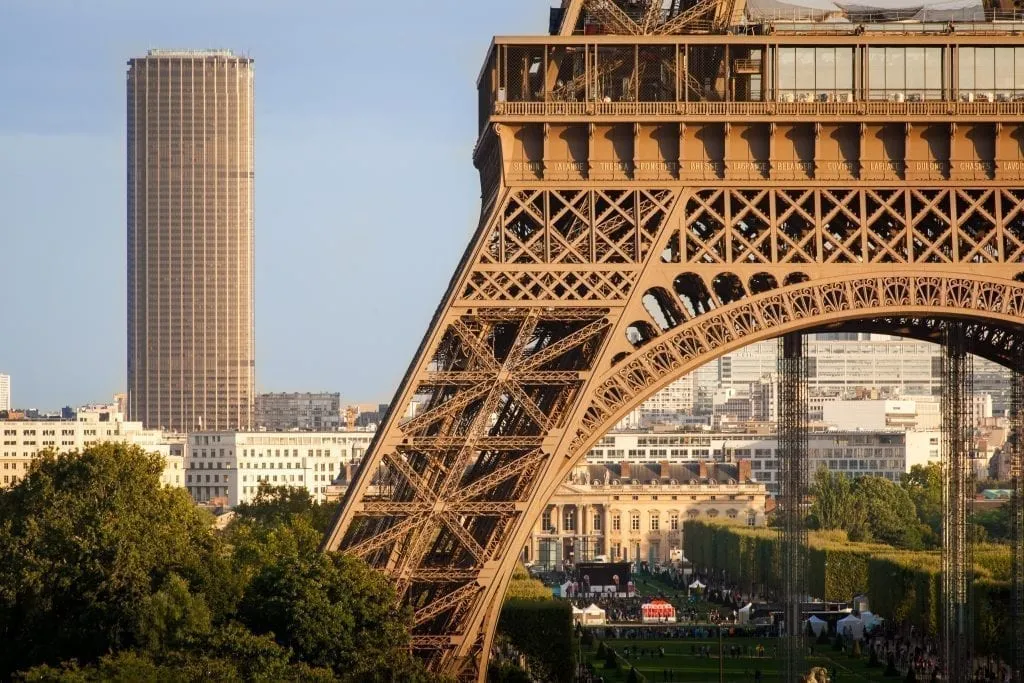 What's the View from Montparnasse Tower Like?
The 360-degree view of Paris that you can enjoy from Montparnasse Tower is simply stunning!
Paris is famous for its beautiful views of the Eiffel Tower, and Montparnasse Tower boasts what is arguably the best view of the Eiffel Tower in all of Paris, and is located at a perfect angle to snap photos of the Iron Lady.
Many more of Paris' most distinct buildings are clearly visible as well, including the Panthéon, the Louvre, Notre Dame, Les Invalides, and Sacré-Cœur.
It's a captivating sight, and well worth a visit.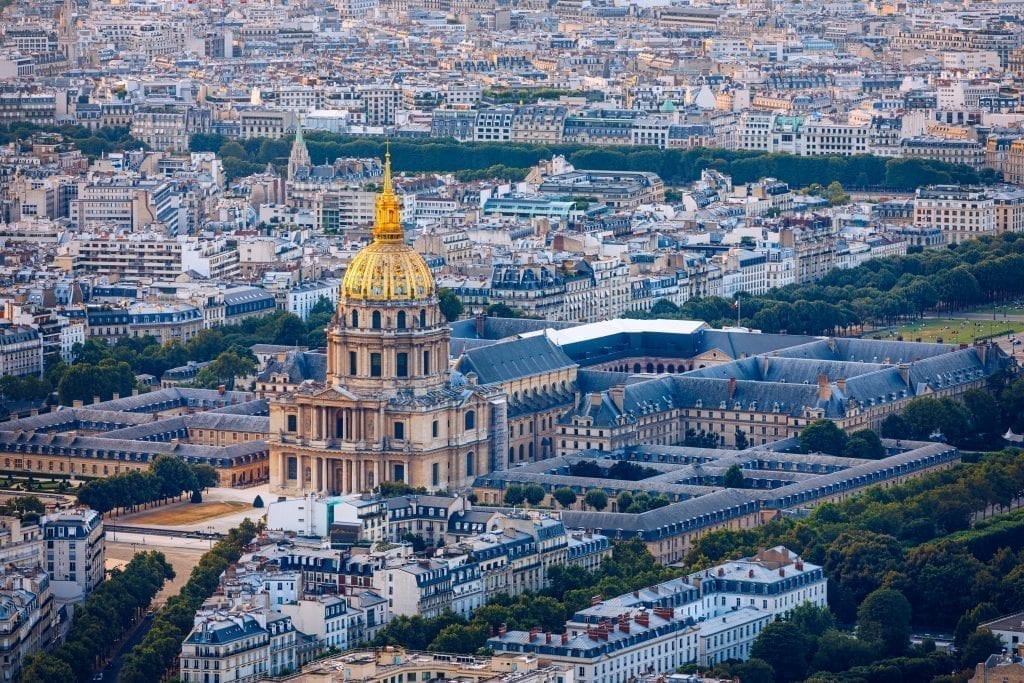 How to Visit Montparnasse Tower in Paris
If this were a guide to visiting the Eiffel Tower, the Arc de Triomphe, or even the Paris Catacombs, the step-by-step process for how to visit would be several steps longer.
Since this viewpoint only gets a fraction of the crowds that some of the more popular landmarks in Paris experience, though, visiting Montparnasse Tower is quite simple!
Here's how to visit:
Book skip-the-line tickets online.
Don't waste any time in line: book skip-the-line tickets for Montparnasse Tower before even arriving in Paris!
Since the tower is only open certain days of the week–more on that in a later section–you'll want to plan when to visit in advance, especially if you only have a few days in the city and need to organize your time carefully.
If you're planning on hitting up many of the best museums and attractions in Paris, you may also want to consider The Paris Pass, which includes access to Montparnasse Tower among its many benefits.
Buy skip-the-line-tickets for Montparnasse Tower today!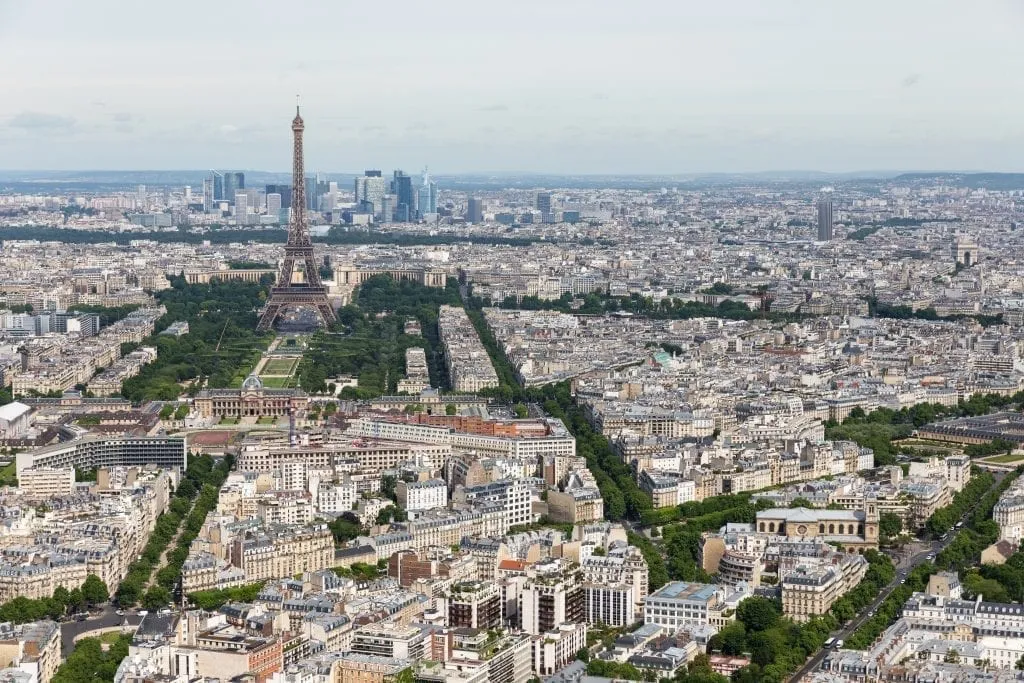 Head right up!
The 56th-floor observation deck of Montparnasse Tower is accessed via an elevator that they tout as Europe's fastest (Panoramapunkt in Berlin would dispute that claim, but the 38-second ride up 200 meters into the sky you experience in Montparnasse Tower is indisputably impressive).
In other words–no slog up 19th-century staircases, which makes visiting Montparnasse Tower decidedly less labor-intensive than some of Paris' other viewpoints.
From there, you can climb 3 flights of stairs to the 59th-floor rooftop terrace.
Enjoy the view.
In addition to the 56th-floor observation deck and 59th-floor rooftop terrace, Montparnasse Tower is also home to a rooftop bar–so if you'd like to toast an excellent trip to Paris with a glass of champagne overlooking the city, you sure can.
The rooftop terrace plays host to plenty of different special events throughout the year. Many of the additional experiences cost extra, but it's definitely worth an additional fee to, say, go ice-skating on top of Paris!
A fine-dining, restaurant, Le Ciel de Paris ("The Sky of Paris"), is also located on the 56th floor, and makes a lovely alternative to the restaurants located inside the Eiffel Tower if you'd like to enjoy a special-occasion dinner with a view–after all, at Le Ciel de Paris, you get to watch the Eiffel Tower sparkle as you enjoy your dinner, rather than sit inside it!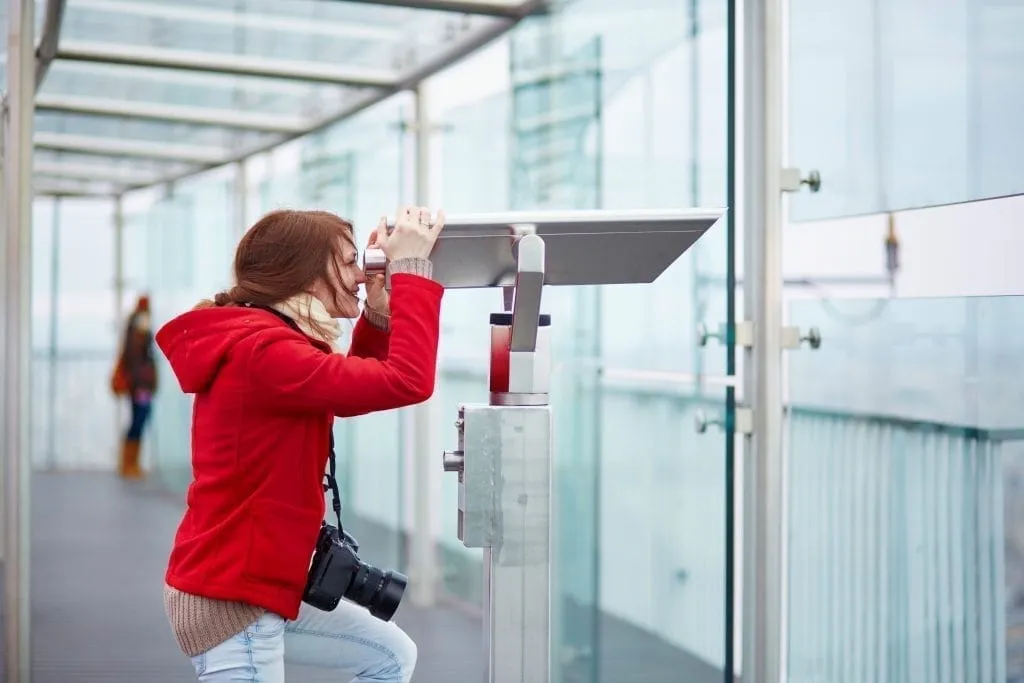 How to Get to Montparnasse Tower
Montparnasse Tower is easily accessed from the Montparnasse-Bienvenüe metro station. Lines 4, 6, 12, and 13 stop there.
You can also access Montparnasse Tower through Paris' bus system, or–my favorite option–you can simply walk.
The tower is located a 15-minute walk from the Luxembourg Gardens or a lovely 40-minute stroll from Notre Dame. The route from Notre Dame to Montparnasse Tower passes through Paris' Latin Quarter and is a fantastic way to experience the city!
What to Do After Visiting Montparnasse Tower in Paris
After enjoying the magnificent view from Montparnasse Tower, consider sticking around the neighborhood for a bit!
Stroll down the Boulevard du Montparnasse, follow in the footsteps of Lost Generation writers and have lunch at Le Select, La Coupole, or La Rotonde, snap photos of the historic theaters that line Rue de la Gaîté, and see some beautiful sculpture (for free!) in the quiet Musée Bourdelle.
Be sure to also tour the Montparnasse Cemetery, home to several notable graves, including those of Simone de Beauvoir, Jean-Paul Sartre, Charles Baudelaire, and Susan Sontag.
From there, head over to the nearby Paris catacombs to get underground and explore one of the most unique attractions in the city (but you'll definitely need to plan this one at least several days in advance, so have your reservation ready before setting off to visit Montparnasse Tower!).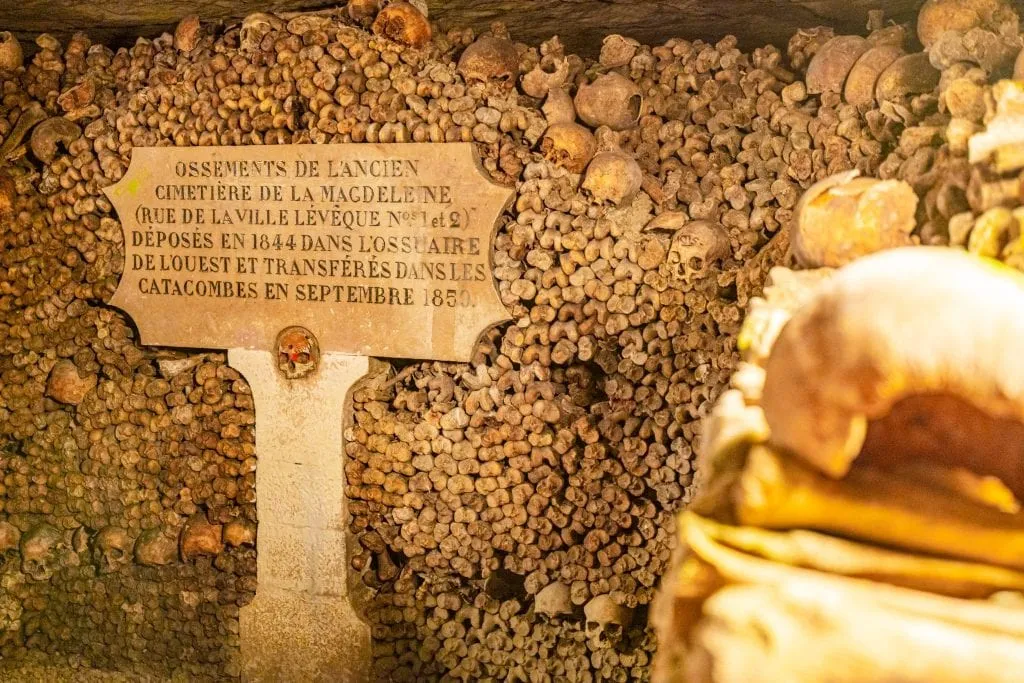 Hours + Essential Info for Visiting Montparnasse Tower
Paris' Montparnasse Tower has its observation deck and rooftop terrace open for visitors from 11:00 AM to 10:30 PM each Wednesday, Friday, Saturday, and Sunday.
Because of the fact that it is only open for 4 days out of the week, we recommend planning ahead for visiting Montparnasse Tower as you sketch out your trip to Paris.
Unlike many of the best views of Paris, Montparnasse's 56th-floor observation deck is wheelchair accessible, making it a fantastic viewpoint for travelers who want to experience the Parisian skyline without needing to climb any stairs.
The 59th-floor terrace is accessed by climbing 3 floors of stairs, but the view from the 56th is pretty magnificent all on its own!
---