Put simply, the Paris catacombs are a winding maze of tunnels that stretches deep underneath one of the most famous cities in the world and plays host to roughly 6 million artfully arranged human skeletons… and with a description like that, is it any surprise that the idea of visiting the Paris catacombs has fascinated visitors for centuries?
This is a place where centuries worth of Paris' dead have come to rest, a place that has been the sight of many an illicit party, and a place where rumors of deaths and disappearances of impetuous explorers are never far away.
It's also a place that–done safely and legally–is incredibly simple and interesting to visit.
Here's how to tour the Paris catacombs, and what you need to know before you go.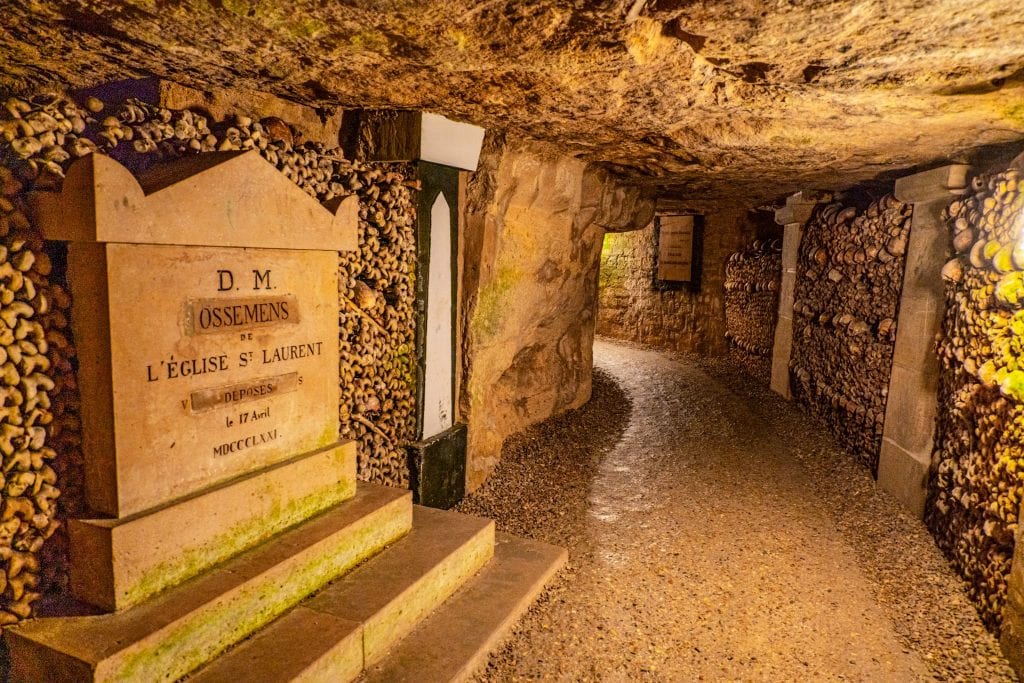 Some links in this post may be affiliate links. If you make a purchase through one of these links, we may earn a small commission at no extra cost to you. Please see our

disclosure policy

for more detail.
A Brief History of the Paris Catacombs
The story of the Paris catacombs starts long before there were human skeletons involved, but we'll try to keep it very brief here.
If your trip to Paris has already taken you to the Louvre, Notre Dame, or the Latin Quarter, then you've observed plenty of Paris Stone–the easily identifiable limestone that gives many Parisian buildings their typical charm.
Well, that stone had to come from somewhere, and in the 18th century, it primarily came from quarries underneath Paris.
This wasn't the first time the area had been quarried–the Romans got that started long ago–but it did eventually lead to a tipping point, because in 1774, the city was horrified when 300 meters of Rue Denfert-Rochereau were swallowed by the now not-so-solid ground.
Fast forward a bit, and King Louis XIV decides to solve two problems at once: he already has people at work trying to reinforce the literal ground beneath Paris' feet, and he also has a problem with a very dirty city that is overflowing with all manner of unsavory things–including dead bodies.
In a move deeply unpopular with the populace and the Church, the King ordered that bodies be removed from Paris' unhygienic cemeteries and placed underground, starting with those in the Saints Innocents cemetery that was closed due to overflowing conditions in 1780 and then emptied into the catacombs 1786.
Those of you familiar with French history can probably see what comes next: revolution, which of course interrupted this whole catacombs process for a bit.
Once the dust settled on the revolution, though, the Paris catacombs were cleaned up, with bones being arranged in artful ways and organized in order to allow better access for visitors and mourners.
In 1809, the catacombs were officially opened to the public, and they've been attracting visitors ever since, with a whopping 480,000 touring the Paris catacombs in 2018 alone!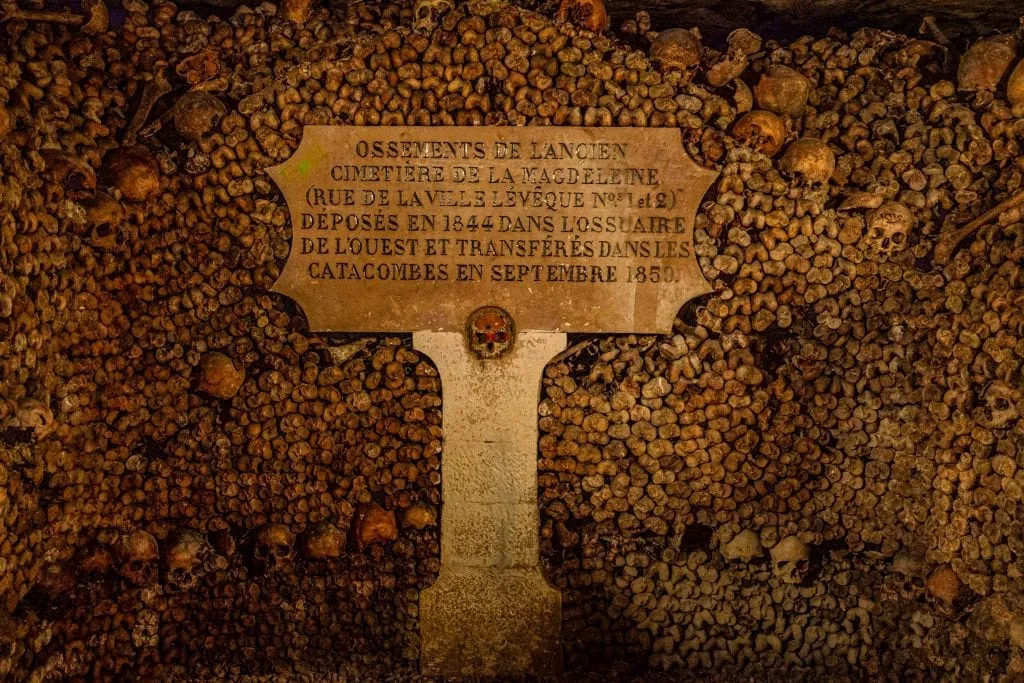 What to Know Before Visiting the Catacombs in Paris
Only 200 people are allowed to tour the Paris catacombs at any given time.
While this can make booking tickets in advance practically essential, especially during high season, it pays off in a big way once you're actually inside the ossuary: the place feels almost deserted when visiting, and you're likely to have at least a couple of moments without another person in sight if you wish.
Paris is very strict about this rule, and they carefully track people entering and leaving.
On our most recent visit to the catacombs, I actually had to wait a few minutes after entering for Jeremy to join me, since I was the 200th person to enter and he couldn't come in until someone left.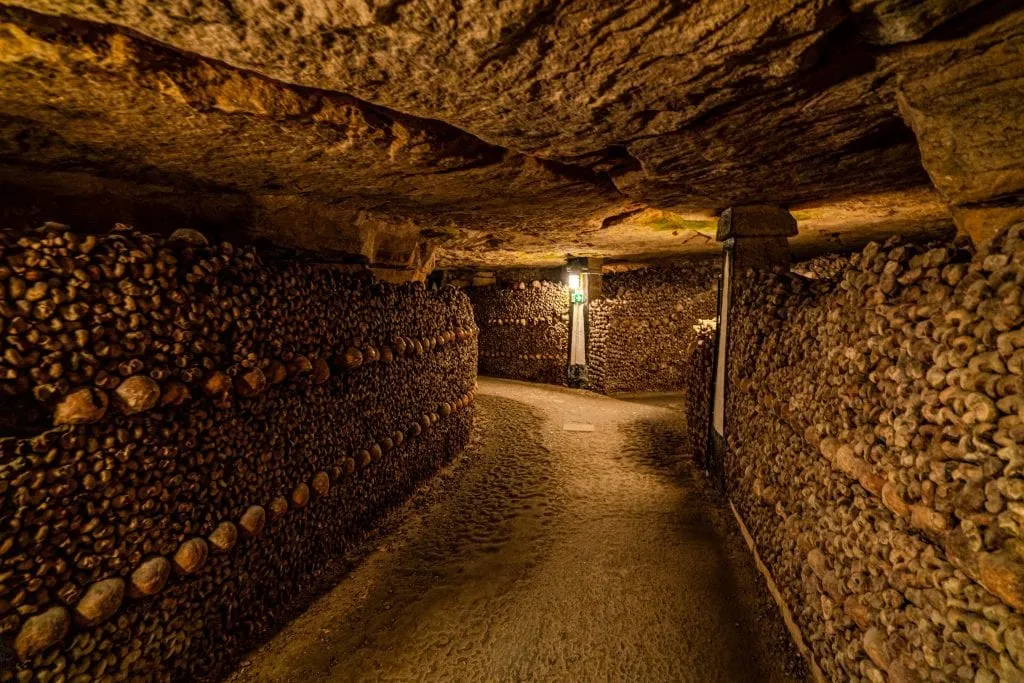 You should definitely book your Paris catacombs tickets in advance.
Given the strict rule above, it should come as no surprise that the lines for the Paris catacombs get insanely long–I'm talking hours long.
On our first visit, we waited more than 2 hours to visit the catacombs on a cold day in January, and most recently, we had to book tickets 2 days in advance in order to get a time slot.
Since most of us only have a finite number of days to enjoy Paris, we absolutely recommend booking your skip-the-line Paris catacombs tickets as far in advance as you're able to commit.
… And don't expect to get tickets the same day you book.
As I mentioned above, we had to book 2 days in advance in order to get tickets on our most recent visit, which was in mid-September. As of the time of writing, timed tickets are available starting 3 days from now.
If you have your heart set on a Paris catacombs tour, book your tickets ASAP!
Check availability & book your skip-the-line tickets for the Paris catacombs today!

Prefer a guided tour? This popular one is an excellent option!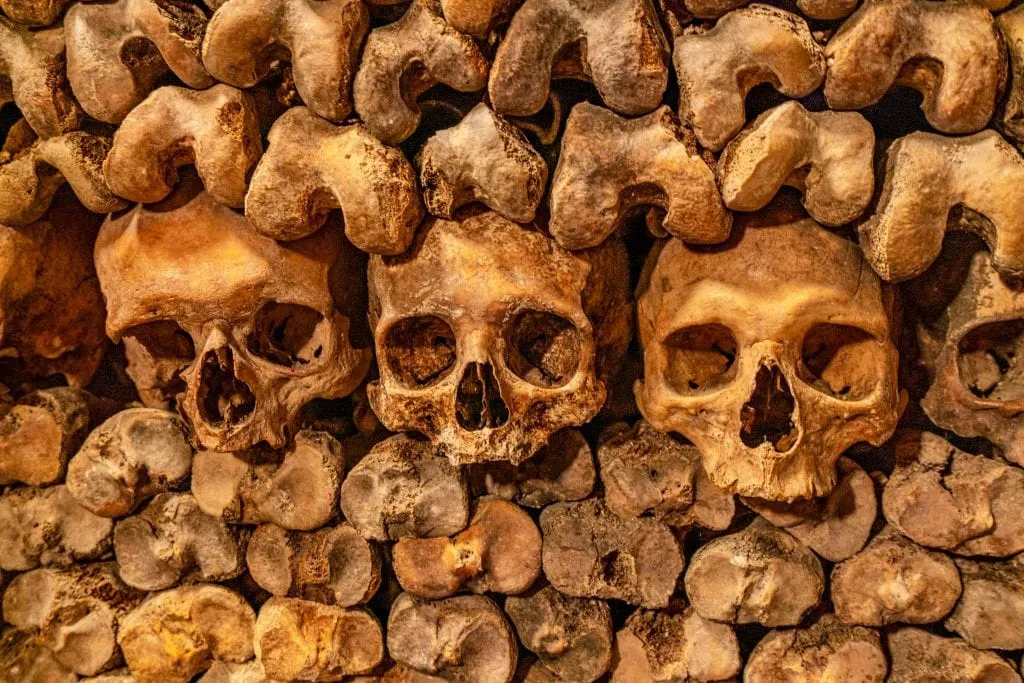 Absolutely can't book in advance? Get there early.
Like, really, really early. Thirty minutes to an hour before they open is best, and will give you the best chance of getting in early enough to still spend the bulk of your day enjoying other places in Paris.
The catacombs in Paris are not wheelchair accessible.
Visiting the Paris catacombs requires walking down 131 steps, followed by a roughly 1.5km walk on somewhat narrow, uneven, and possibly damp surfaces, followed by an additional 112 steps back up to street level.
If that isn't something you can comfortably do, the catacombs in Paris probably aren't the right destination for you.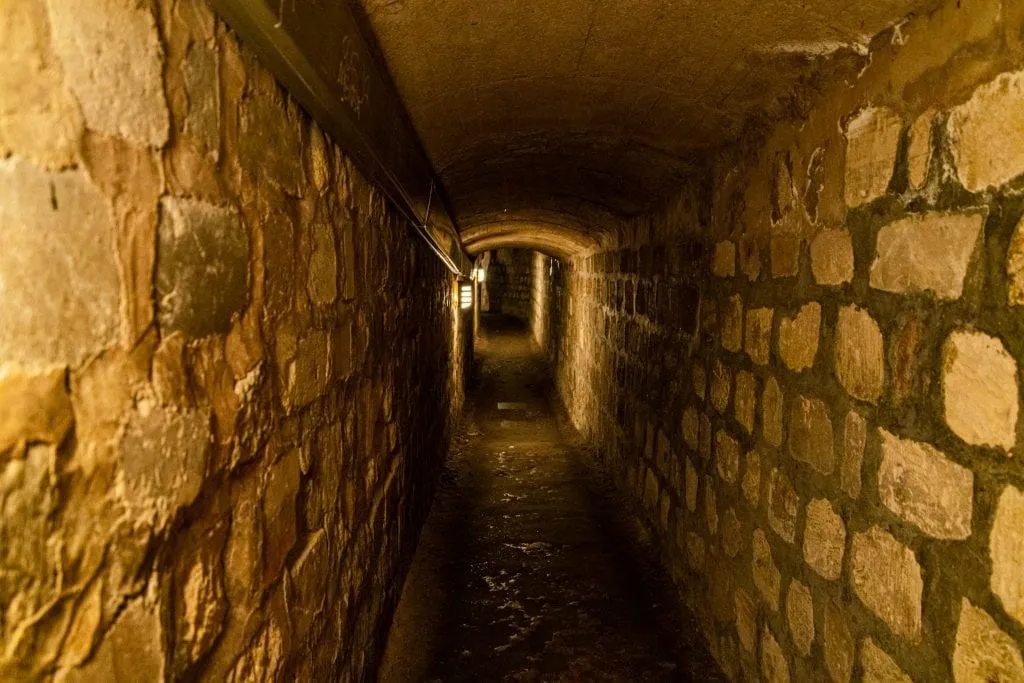 Dress the part: wear comfortable shoes and bring a jacket.
The Paris catacombs are a cool 14 Celsius / 57 Fahrenheit year-round, and often a bit damp as well, so this isn't the place for sundresses!
Opt for comfortable shoes to navigate the slightly uneven terrain, and bring a jacket for comfort.
I tend to get cold, and was comfortable in a cotton dress worn with tights, boots, and a light jacket. Jeremy rarely gets cold and stayed comfortable in slacks, boots, and a t-shirt.
Don't bring large bags with you.
Anything over 40cm x 30cm isn't allowed inside, and there is no luggage storage on site.
You also won't be able to carry backpacks in their usual way, and instead, the catacombs request that you carry them in front of you or by hand.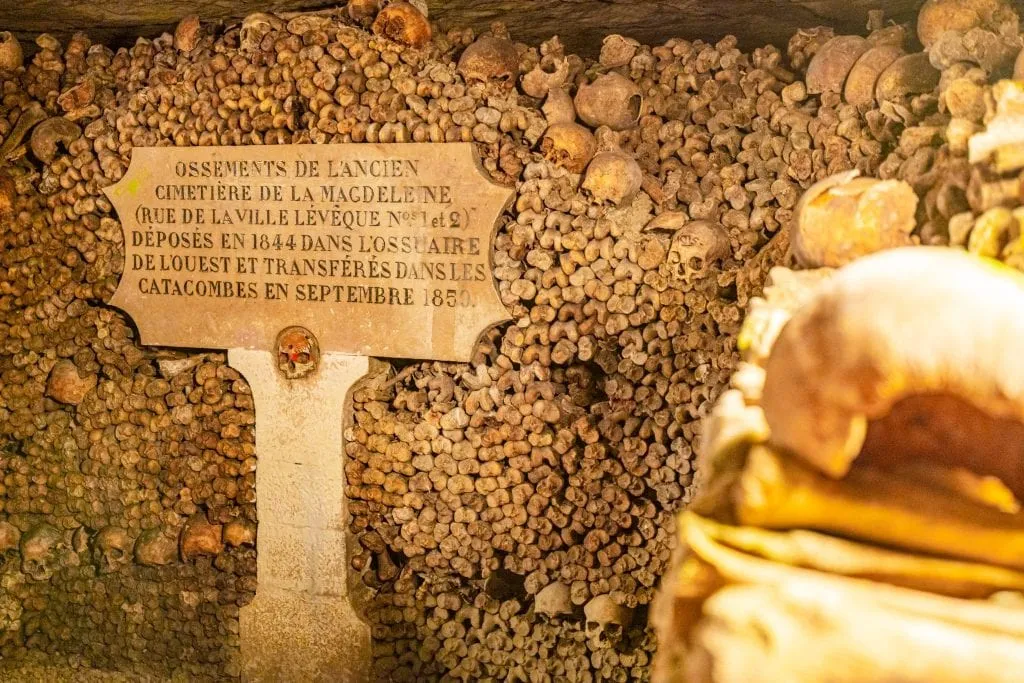 Should be obvious, but: don't touch the bones.
I know, I know, this shouldn't need to be said, but given that I recently witnessed a child hugging a 4000-year-old statue in the Louvre, it's probably worth noting that just because there's no barrier between you and 6 million skeletons doesn't mean you should touch them.
The exit to the Paris catacombs is not in the same place as the entrance.
It's only a few minutes walk away, so not really a big deal, but if you have someone waiting for you to emerge up top, it's worth knowing that you won't pop back up right where you started!
The gift shop is kind of bizarre.
Not super important, but just so you know, if you've ever wanted a goblet covered in skulls to add to your decor, this is definitely the place to get it.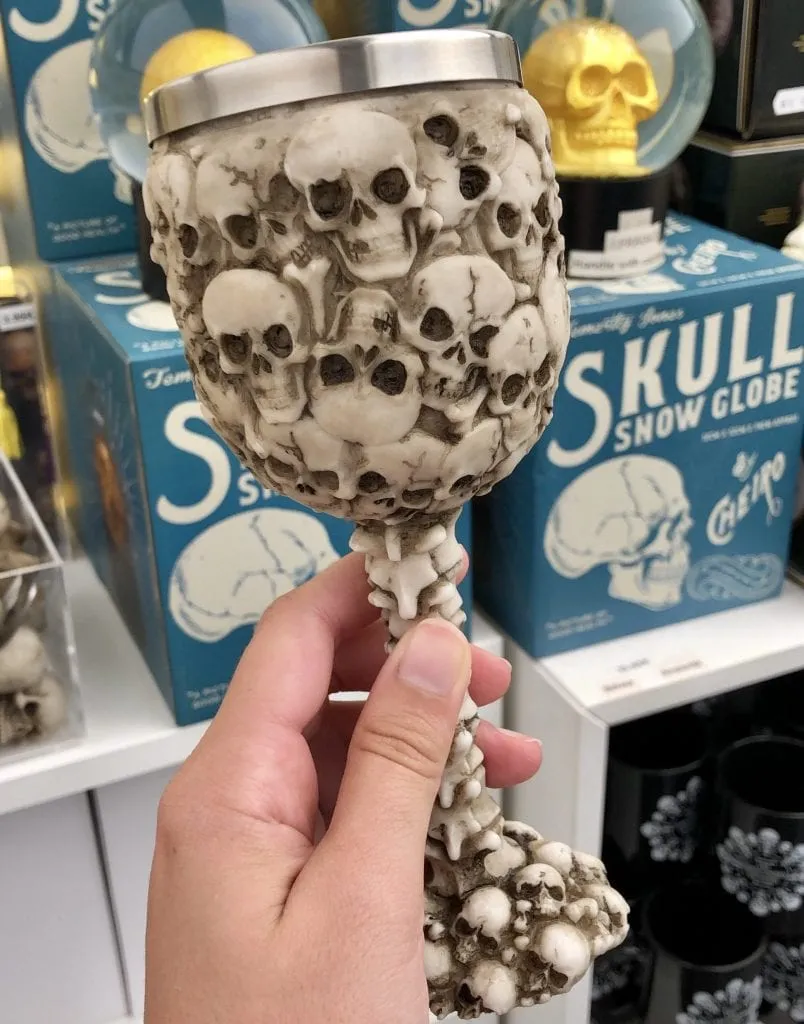 … However, there are restrooms there.
If you'd like the chance to use a free (or more accurately, included) toilet before moving on with your sightseeing, exiting the catacombs is a great opportunity to do so.
How to Visit the Paris Catacombs Independently
If you'd like the visit the Paris catacombs independently, we recommend booking a skip-the-line ticket here for your preferred date (though keep in mind that the tickets do regularly sell out days in advance–the earlier you can book your tickets, the better!).
You'll receive a scheduled time to visit Paris' catacombs, and when you date and time arrives, you can simply walk past the (often enormous) line of visitors and stroll right into the catacombs.
This is exactly how we visited on our most recent trip, and we can attest that it was way easier and more comfortable than our last visit, which involved waiting outside for more than two hours on a cold day in January.
The skip-the-line tickets linked here do include an audio guide, which is incredibly valuable and adds a lot of context to the visit. Cost of an audio guide onsite if you don't have it included in your ticket is 5 Euros.
Check availability & book your skip-the-line tickets for the Paris catacombs today!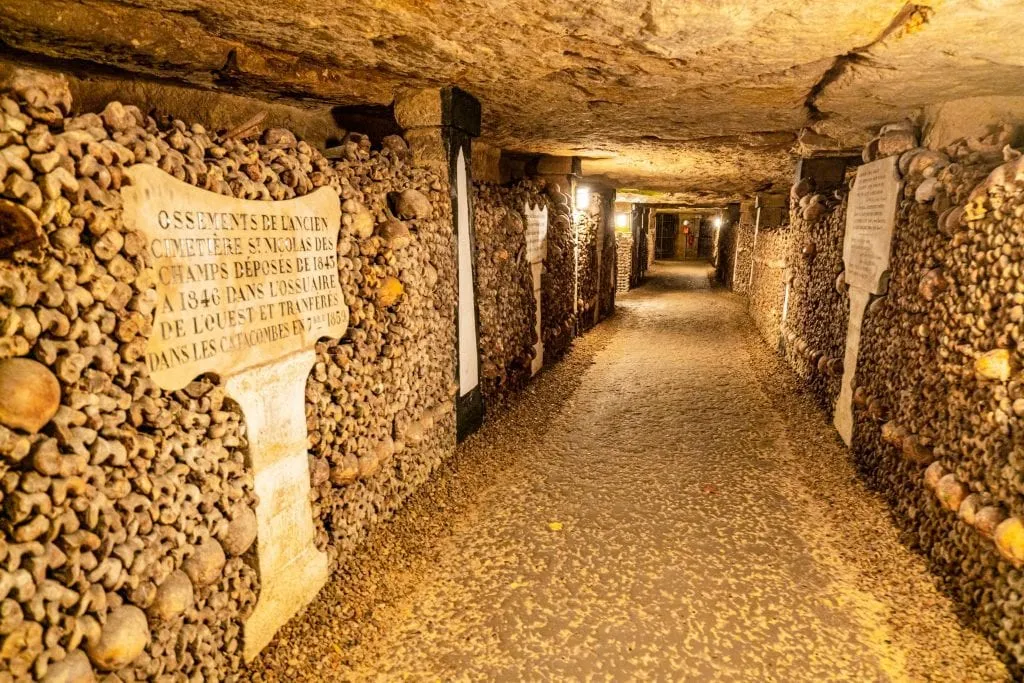 Should you take a Paris catacombs tour?
If you're particularly interested in the history of the catacombs, or simply want to get behind the scenes and visit rooms and sections that are not open to the average visitor, then a Paris catacombs tour is absolutely the right choice for you!
The catacombs are truly one of the most remarkable underground sights we have ever seen, and the long, torrid history of the catacombs, from religious rituals to illicit parties to the politics of their initial construction, makes this the perfect place for an in-depth tour.
This popular tour from Take Walks is the perfect option, combining small group sizes and compelling guides with behind-the-scenes access that will allow you to see more rooms than you would with a normal ticket.
Book your special-access guided Paris catacombs tour today!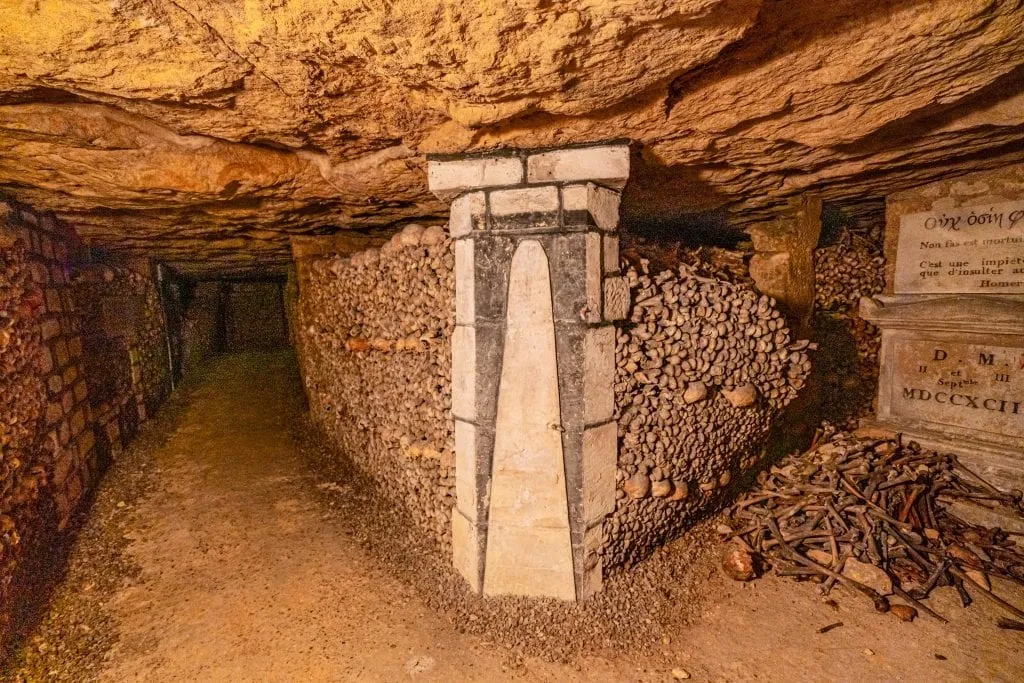 How to Get to the Paris Catacombs
Like most places in Paris, the easiest way to reach the catacombs is by metro.
You can get to the Paris catacombs on Line 4, Line 6, or via the RER B train.
The entrance to the Paris catacombs is located just outside the Denfert-Rochereau metro stop, in a fairly modern-looking, nondescript building that in no way implies what an interesting place lies beneath its feet.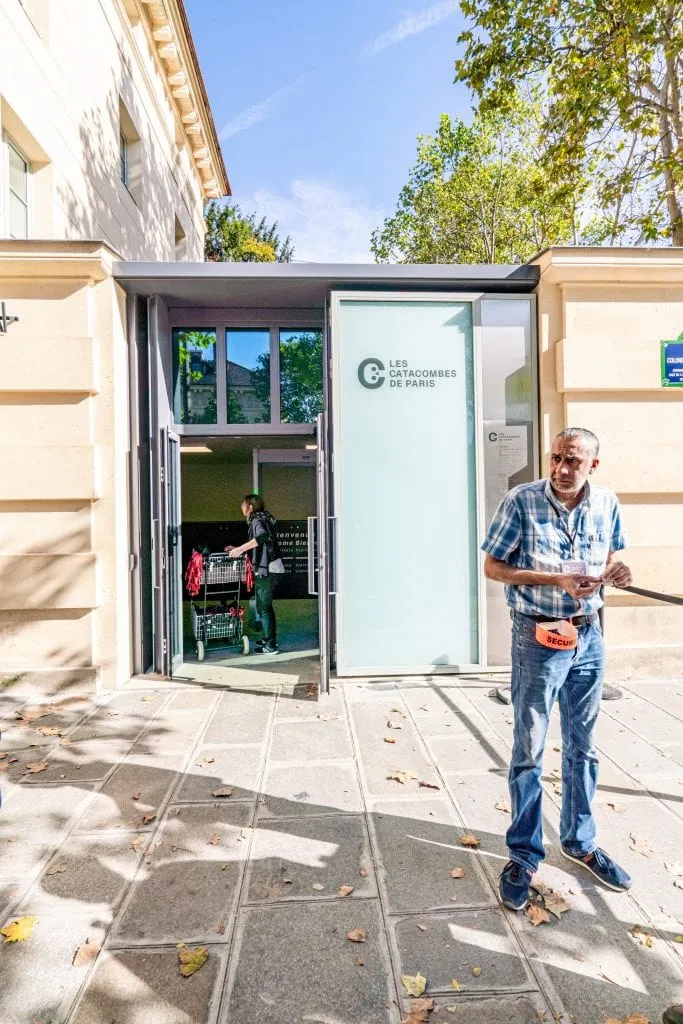 Hours + Essential Info for Visiting the Paris Catacombs
The catacombs are open from 10:00 AM to 8:30 PM, with ticket sales stopping an hour before closing.
They're closed on Mondays and just a few other days of the year: January 1, May 1, and December 25.
Ready to book your Paris catacombs tour or tickets?

Book your skip-the-line tickets here or in-depth guided tour here!