I have to admit, I feel a bit silly typing out the word "instagrammable" (have I reached peak millennial?), but it's just true: there are a ridiculous number of instagrammable places in Florence.
And whether the word "instagrammable" makes you cringe a bit inside or you are 110% enthusiastic about the Instagram life, there's no denying that Florence is insanely photogenic.
If you're looking for the most instagrammable places in Florence, this is where you need to go.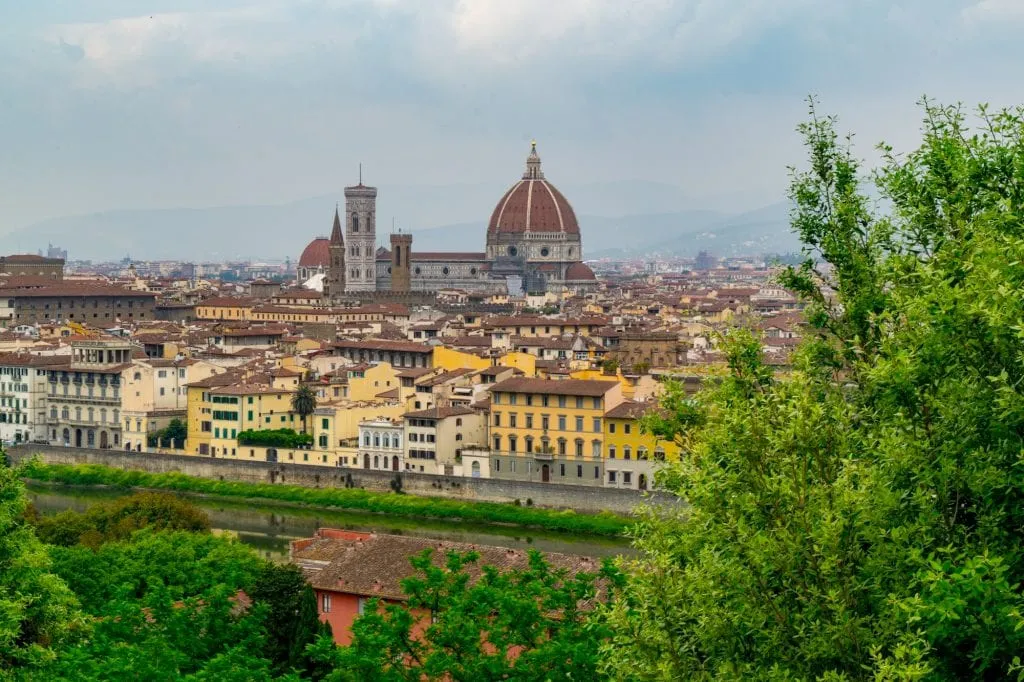 Some links in this post may be affiliate links. If you make a purchase through one of these links, we may earn a small commission at no extra cost to you. Please see our

disclosure policy

for more detail.
The 19 Most Instagrammable Places in Florence
Towers & Overlooks
Piazzale Michelangelo
Hands down, if you're looking for the most instagrammable place in Florence, this is it: Piazzale Michelangelo is one of the most popular photo spots in Florence for good reason.
From Piazzale Michelangelo, you'll have amazing views over all of Florence, including the Ponte Vecchio Bridge, the Duomo, and the Palazzo Vecchio.
Giotto's Bell Tower
While the cupola of the Duomo (the cathedral is technically called the Cathedral of Santa Maria del Fiore, but it's better known simply as "the Duomo") is popular to climb, we prefer the view from the bell tower next door: not only will climbing Giotto's Bell Tower give you amazing views over Florence, it'll allow you to get some up-close-and-personal shots of the epic cupola as well.
Tower of San Niccolo
The Tower of San Niccolo is the hardest to access of Florence's instagrammable spots, but if you get the chance, it's very rewarding: the views of the Arno River, Ponte Vecchio, and beyond are supposed to be stunning.
Why is it hard to access? The tower is only open for limited hours in the afternoon during the summer months–it's closed entirely the rest of the year.
Markets & Food
Mercato Centrale
Florence's most popular food market is Instagram heaven: from elaborate fruit stands to intricate cheese displays, this market is the perfect place to break out your camera.
Keep in mind that the bulk of the market breaks down by 2-3pm each day, so for the best shots, come earlier in the day.
San Lorenzo Market
Right outside the Mercato Centrale sits the outdoor San Lorenzo Market, which boasts leather goods and souvenirs galore.
While the leather here is not known for its quality–you'll need to duck into one of Florence's revered leather shops for that–the displays are eye-catching enough to rate it among the most instagrammable places in Florence.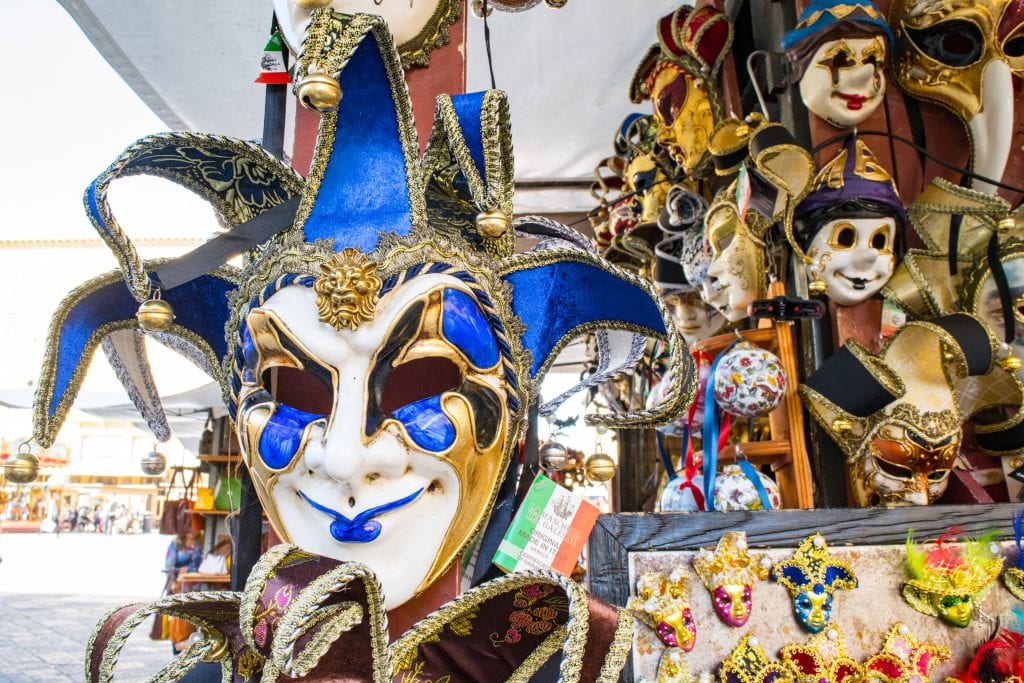 Panino Shops & Trattorias
Florence is bursting at the seams with adorable panino shops and trattorias–you'll see them on every corner–so be sure to stop into some of each for some epic shots (and delicious food).
Mercato Nuovo & the Porcellino Statue
Want to ensure you come back to Florence? In between taking some instagrammable shots, rub the nose of the Porcellino statue!
Good luck aside, the Porcellino statue still makes a great photo opportunity–and the Mercato Nuovo it is located right next to is another excellent opportunity to get some shots of leather goods and souvenirs.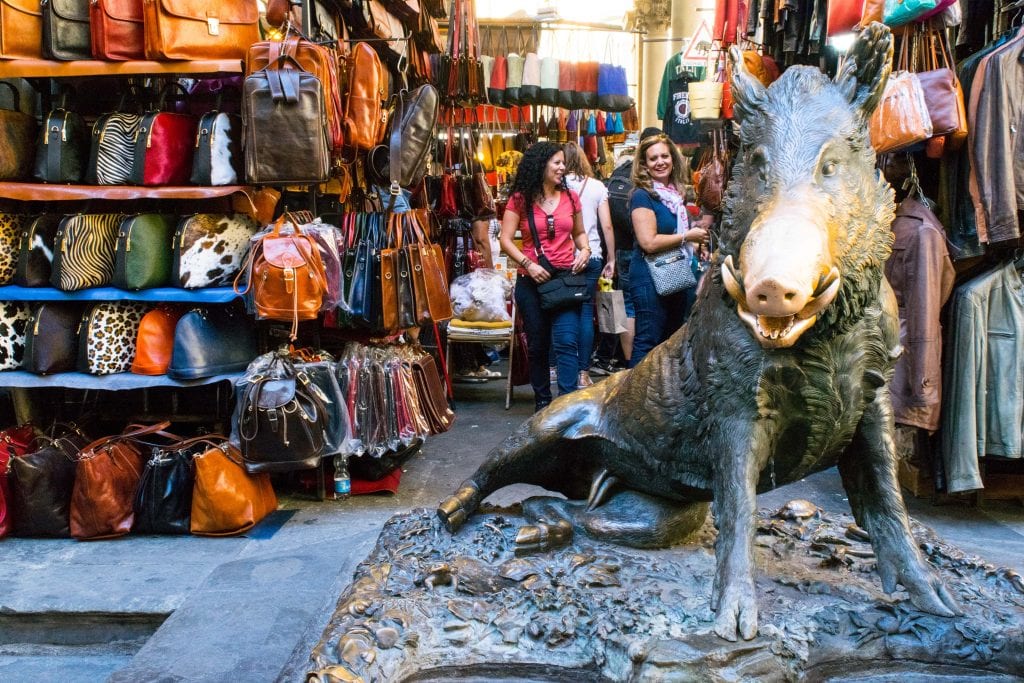 Piazzas
Piazza del Duomo
If you've seen one Instagram photo of Florence, it's probably from the Piazza del Duomo: as the center of Florence's tourism world and home to the Duomo, the baptistery, and several museums, no hunt for instagrammable spots in Florence would be complete without plenty of shots here.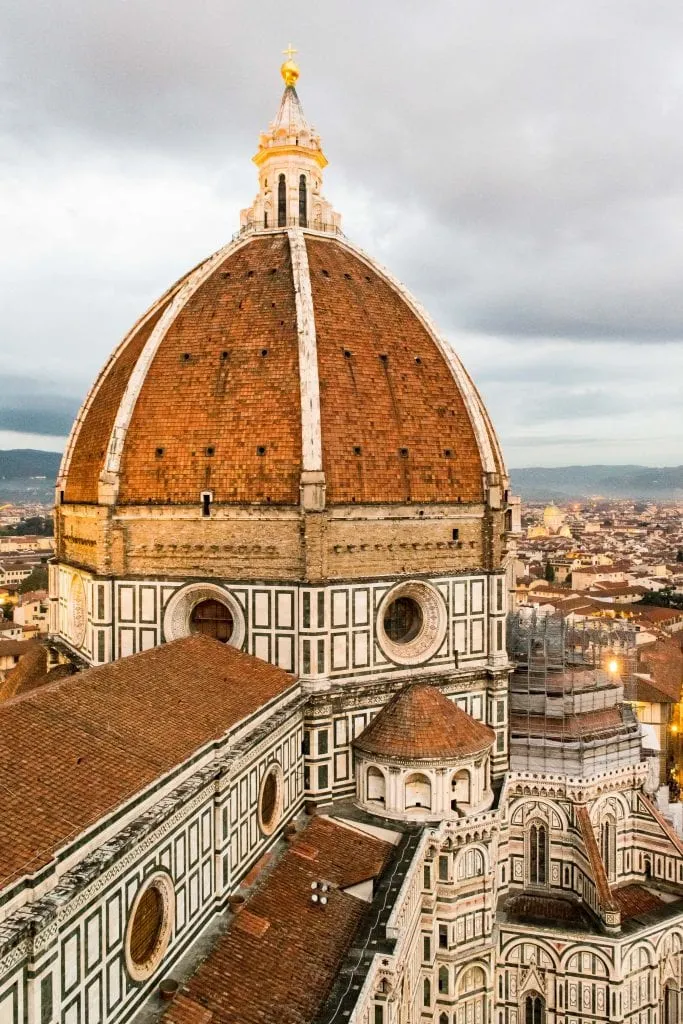 Piazza della Repubblica
A historical square and a beautiful carousel–that's Instagram gold.
The Piazza della Repubblica is one of our favorite places to snap photos in Florence!
Piazza della Signoria
Home to the Palazzo Vecchio, the gorgeous Neptune Fountain (which is unfortunately covered up for renovations at the moment), and an outdoor display of gorgeous statues, the Piazza della Signoria is bursting with instagrammable photo opportunities.
Gardens
Boboli Gardens
The Boboli Gardens easily make the list of most instagrammable places in Florence.
Once the haunt of the wealthy Medici family, the gardens were laid out in the 16th century and have been maintained since.
While there are beautiful views of Florence in the gardens, our favorite spots face away from the city and boast views of the stunning Tuscan countryside (check out the area near the porcelain museum for our personal pick for the most instagrammable spot in the gardens!).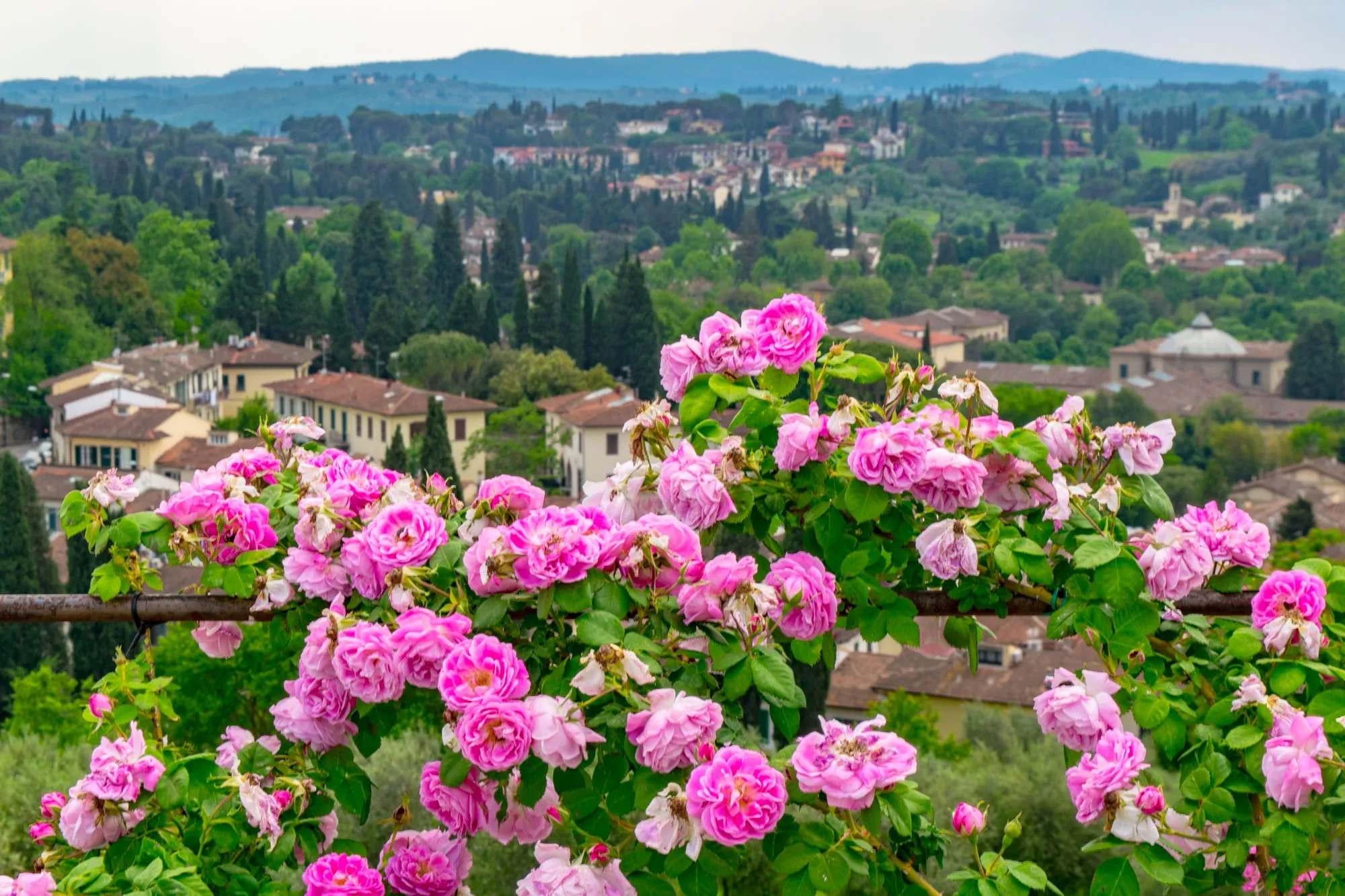 Bardini Gardens
While smaller than the Boboli Gardens, the Bardini Gardens are home to great views over Florence–but more importantly, a stunning tunnel of wisteria that blooms in the early spring.
Rose Garden
Located just underneath the Piazzale Michelangelo, the Rose Garden offers similar views to the famous Piazza–but with fewer crowds and beautiful roses in the foreground!
A bonus for hitting up the Rose Garden on your quest to find the most instagrammable places in Florence? If you go in the spring, the entire garden smells amazing.
Bridges
Ponte Vecchio
As one of the best-known landmarks in Florence and (in my biased opinion, anyway) prettiest bridges in the world, no list of instagrammable spots in Florence would be complete without the Ponte Vecchio.
The bridge is lined entirely with glistening jewelry shops (the only type of business legally allowed to exist on the bridge). The result is a bridge that practically glitters, and pulls your eye in a thousand directions as you walk across it.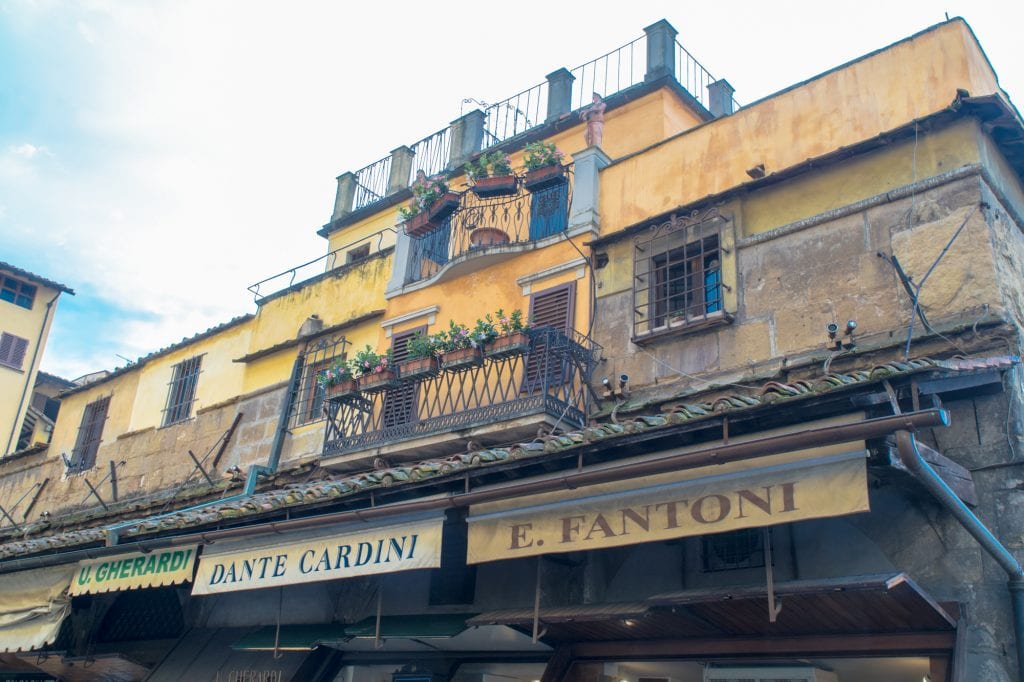 Ponte Santa Trinita
As lovely as photographing the Ponte Vecchio as you stroll across it is, for the full effect of the beauty of the bridge itself, you have to step a little further back.
The nearby Ponte Santa Trinita Bridge boasts beautiful views of the Ponte Vecchio and is one of our favorite spots to photograph the famous bridge.
Other Instagrammable Spots in Florence
The Exterior of the Uffizi
The Uffizi may be one of the most famous art museums in the world, but you don't even have to step inside to start appreciating how beautiful it is.
The 16th-century structure was built by Giorgio Vasari to house administrative buildings for Florence (hence its location right next to the Palazzo Vecchio, which is still the functioning town hall of Florence), and is gorgeous.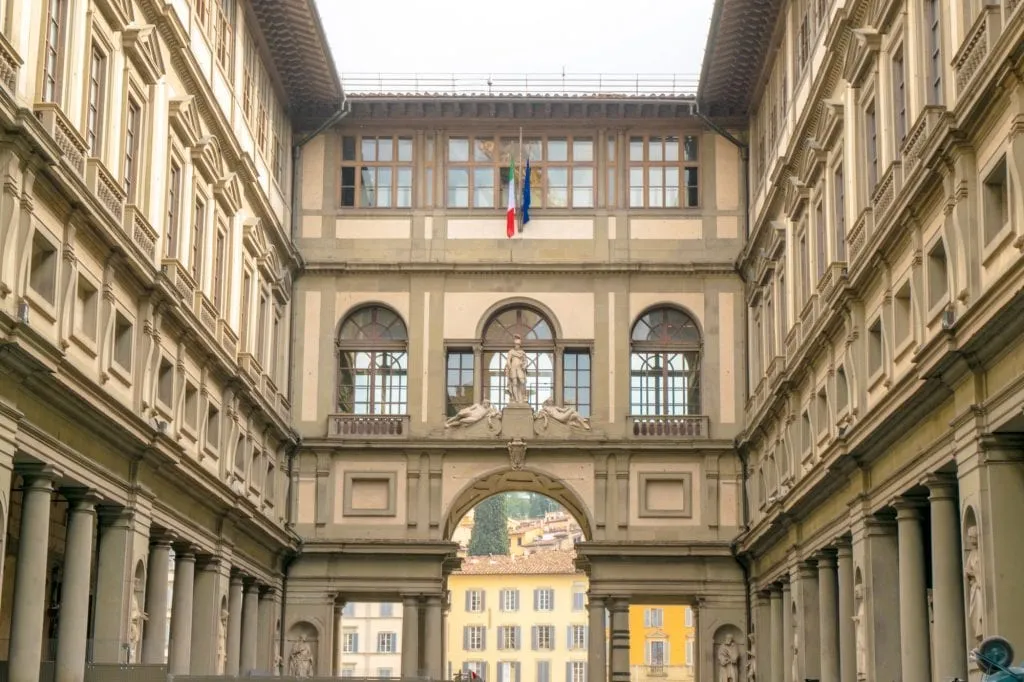 San Miniato al Monte
Piazzale Michelangelo a bit crowded for you?
Hike up a bit further to San Miniato al Monte!
Not only will most of the crowd melt away, you'll have a chance to photograph both an overview of the city and the 1000-year-old church!
While you can walk up to the church, if climbing isn't your thing, consider joining a vintage Vespa tour–not only is it a fun way to access the view, a vintage Vespa provides plenty of Instagram matieral in its own right!
Book your vintage Vespa tour!
Santa Maria Novella Pharmacy
Tucked behind an unassuming door a short walk from the Santa Maria Novella Train Station sits the stunning Santa Maria Novella Pharmacy.
Don't be confused by the name: this isn't a modern pharmacy, but a 600-year-old perfumery and apothecary.
Not only is the interior incredibly beautiful and a dream to photograph, you can also pick up some great Florence souvenirs while you're there!
Tips for Getting Instagrammable Photos in Florence
Like most popular touristic cities around the globe, you'll need a few tricks up your sleeve to take your best Instagram photos in Florence.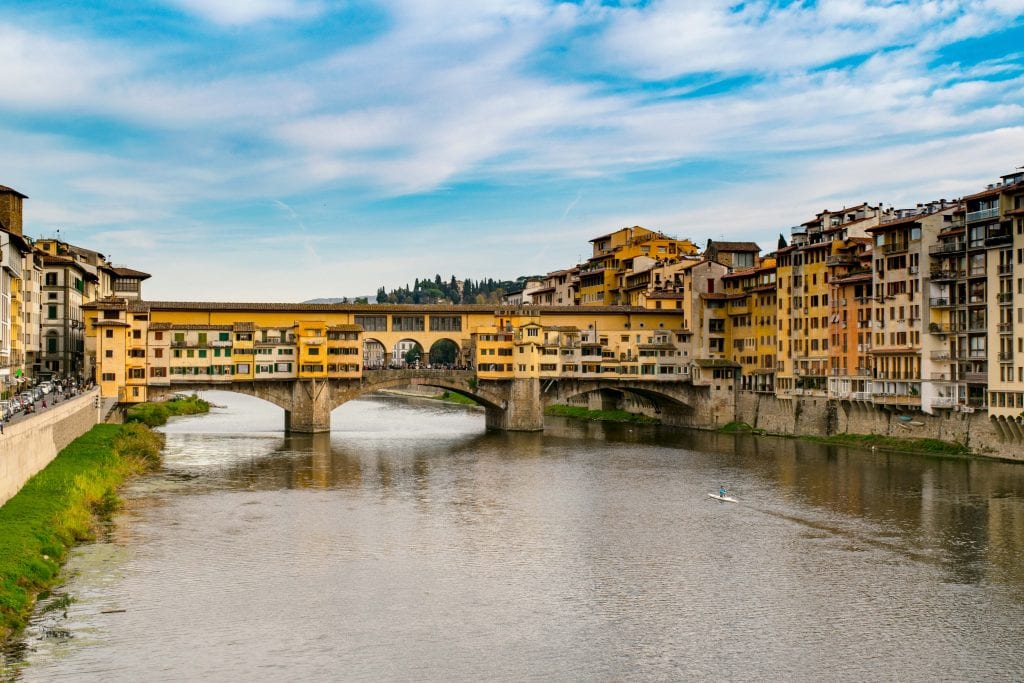 Get up early.
This could apply to anywhere, not just getting Instagram shots in Florence, but this city is definitely easiest to photograph without enormous crowds around you–and getting up early is the simplest way to avoid those crowds.
If you do manage to drag yourself out of bed early (good job, seriously), I recommend heading directly to the Piazza del Duomo and embracing your chance to photograph the Duomo without swarms of people around it.
Embrace golden hour.
The golden glow of Tuscan light is always amazing… but during golden hour, it gets even better.
Golden hour is the perfect time to hit spots like the Ponte Vecchio, the Ponte Santa Trinita, and The Piazzale Michelangelo.
Don't be afraid of the rain.
Honestly, I believe Florence is frequently at its prettiest right after a rainstorm (and the fact that the crowds disperse when the rain sets in doesn't hurt, either).
Be patient.
You won't regret waiting the two minutes it takes for the people standing behind you to clear out of your shot.
Give yourself a couple of minutes to try to get the framing right, and you'll cherish your photos that much more for years to come.
Be respectful.
In a world of Instagram, inexpensive DSLR and mirrorless cameras, and excellent cameras on smartphones, it's no surprise that constant photo taking can become a bit of a contentious topic–everywhere you go, it seems that more people are taking more photos than ever before.
In general, I don't think you need to shy away from taking photos and enjoying instagrammable places in Florence, but some people definitely take it too far. My biggest tip for Florence is simple: don't be one of those people.
It's really quite simple: don't hog photo spots if you see other people waiting. Don't take photos of things that have signs stating not to photograph them. Don't climb on structures that you aren't supposed to climb.
In other words, just be a reasonable person. It's not that hard, and we'll all be better off for it.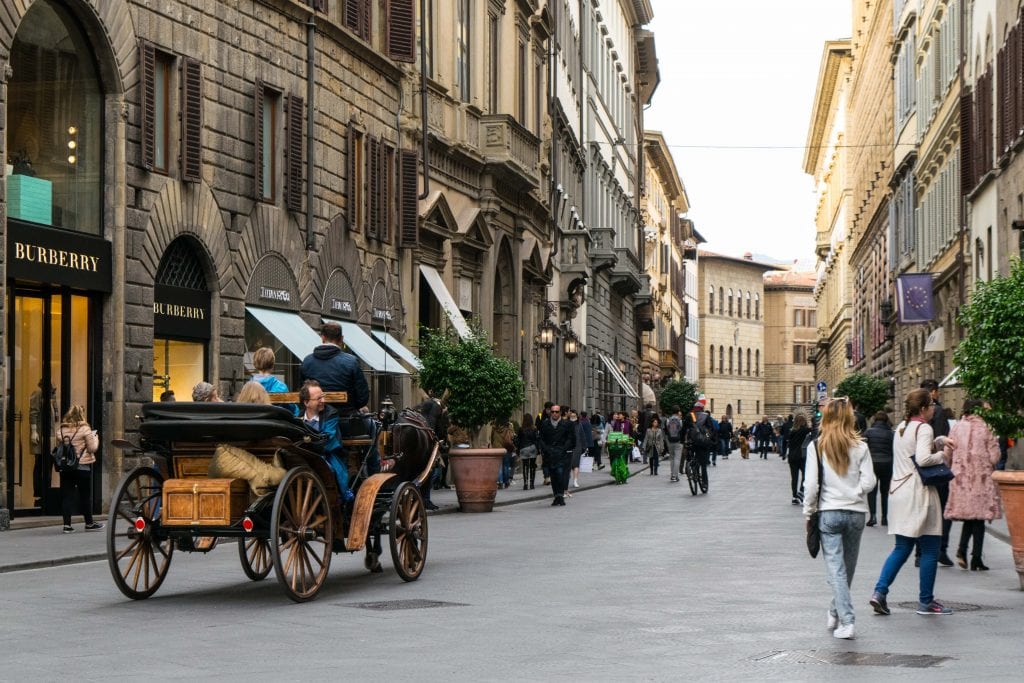 Where to Stay in Florence
Both of these hotels in Florence are midrange in price, boast an excellent, walkable location, and have wonderful reviews–we wouldn't hesitate to stay in either one!
Bargello Guest House — Located in the heart of Florence, this property is only a short (read: less than 5-minute) walk away from some of Florence's highlights like the Palazzo Vecchio. Staying here, you'll be within easy walking distance of the best of what Florence has to offer.
Ghirlandaio Firenze Guesthouse — Housed in a 19th-century building, this guesthouse is tucked away a bit further from the action than the other–which in Florence means that you're still just a 15-minute walk from the Duomo!
If you're in Florence for an extended visit, we loved the small but perfectly located Airbnb Apartment in the Heart of Florence (Never used Airbnb before? Sign up with our link for a discount on your first stay!), but we tend to prefer hotels for shorter stays these days.