There are so many reasons to adore traveling in Mexico: its cities, its food, its culture, its people, and more have charmed us beyond measure. It will always be one of our favorite countries in the world, and one of the many, many reasons that we adore it is the abundance of incredible waterfalls in Mexico.
When it comes to tourism, Mexico tends to be known for its beaches and food, sometimes its cities, and occasionally its deserts–but turquoise waterfalls aren't exactly what the country is known for.
That should change.
Mexico's waterfalls are some of the prettiest and most varied in the world, and we've rounded up the best of them here.
Want to check out some of the stunning waterfalls in Mexico during your next trip? Here's where to look.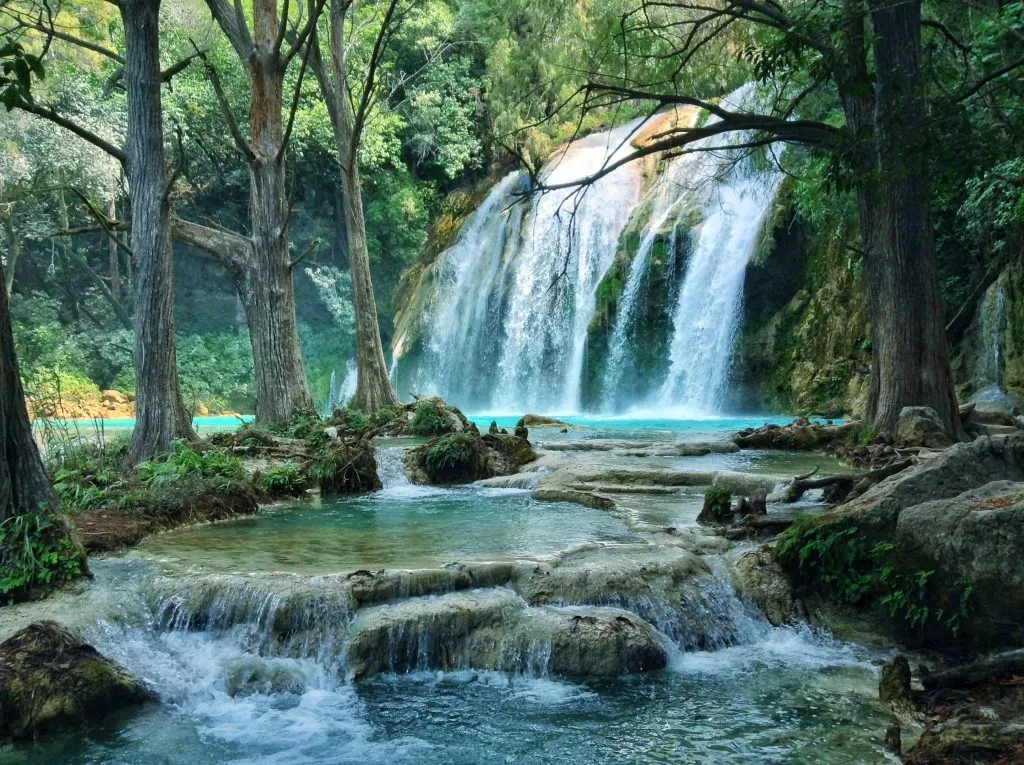 Some links in this post may be affiliate links. If you make a purchase through one of these links, we may earn a small commission at no extra cost to you. Please see our

disclosure policy

for more detail.
Tamul Waterfall
From Inma of A World to Travel
Hidden in a narrow, high-walled canyon, the Tamul waterfall on the Gallinas River rushes toward the neighboring Santa María River in the northern area of the municipality of Aquismón, in the Huasteca Potosina.
With 105 meters of height and up to 300 meters of width when it is the season of rains, the best way to enjoy it is booking an active tourism experience with some of the local and certified companies.
If you decide to go by boat, you can expect an hour and a half pleasant boat ride where the surreal color of the water, the vegetation, and the rock formations will not leave you indifferent.
Very close to the waterfall, they will let you bathe and get on a big stone in the middle of the stunning river to take selfies with the Tamul waterfall as the perfect background until you get tired. A must.
Base yourself in Ciudad Valles and make sure you have at least a few days to enjoy this raw and untamed region where turquoise rivers and waterfalls, lush jungles, deep caves, and other marvels will compete for your attention day in day out.
The enchanted garden of Xilitla, Tamul waterfall, God's bridge, or Sotano of the Huahuas are just some of the many natural wonders one can enjoy at the Huasteca Potosina, the epicenter of active tourism and preferred cooling-off spot of San Luis Potosi.
Hierve el Agua
From Margherita of The Crowded Planet
Hierve el Agua is truly one of the coolest sights near Oaxaca, and though it may not technically be one of the waterfalls in Mexico in the most traditional sense, it's well worth a day trip.
At first glance, Hierve el Agua looks like a frozen waterfall, but with a closer look, you'll realize that it's in fact petrified! The calcium carbonate-rich water has left sediments over centuries dripping down the cliffside, looking like an icy waterfall.
Hierve el Agua translates as 'the water boils', in reference to the springs located on top of the cliff, where water 'bubbles up' from the ground, resembling boiling water on the stove.
The Zapotec people, who lived in the area 2000 years ago, used the water from Hierve el Agua to irrigate their fields, and it is still possible to see traces of this irrigation system. Nowadays, the water from Hierve el Agua is channeled to create two infinity pools on two separate levels, where it is possible to swim – a great way to escape the heat!
Hierve el Agua is a great day trip from Oaxaca, and the easiest way to reach is with a tour from Oaxaca City, which can cost as little as $250 MXN.
Shoestring travelers can also reach it by collectivo from Oaxaca, however, it is necessary to wait for the collectivo to fill up (which may take hours!) and change collectivos (which means waiting again) in a nearby town called Mitla.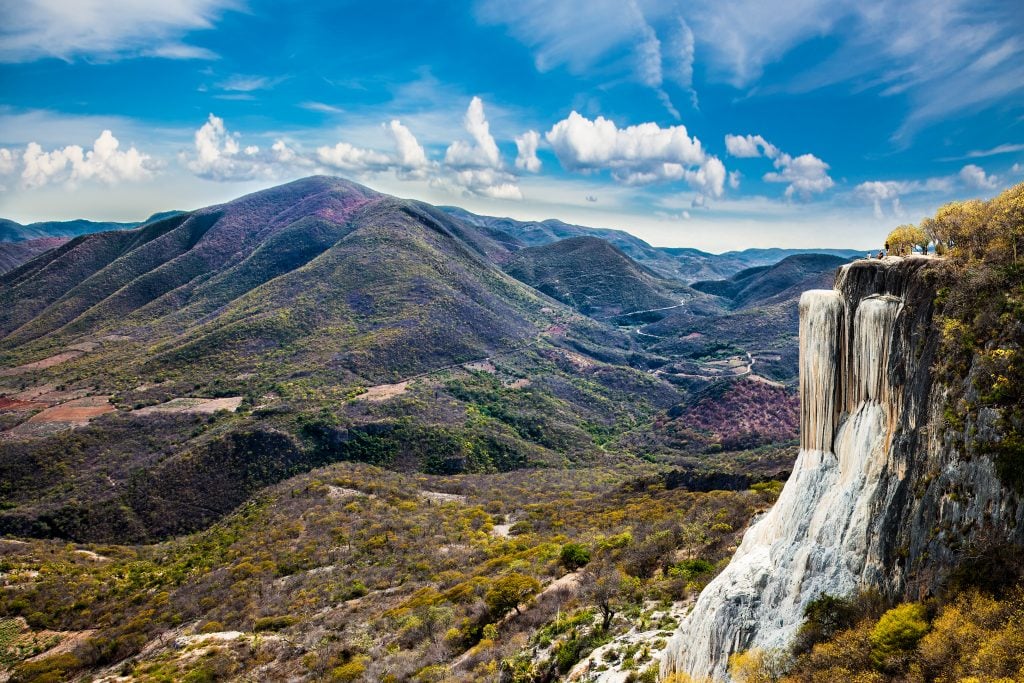 El Chiflon
Nestled deep inside the forests of Chiapas, El Chiflon is one of the most beautiful waterfalls in Mexico and a must-see when visiting Chiapas.
This chain of five waterfalls is home of some of the brightest turquoise water we have ever seen, and the combination of the brightly colored water and deep green of the forest makes for an incredibly majestic combination.
The tallest waterfall at El Chiflon, nicknamed the Bridal Veil, naturally commands the most attention–but the smaller waterfalls are stunning as well.
El Chiflon makes an excellent day trip from nearby San Cristobal de las Casas, and it is a swimming hole and picnic spot for locals and tourists alike.
For those hoping to get an unforgettable view of the Bridal Veil, ziplining is also available for around $10 USD/person.
To this day, El Chiflon ranks as our favorite waterfall in the world, and it is definitely one of the most majestic waterfalls in Mexico: be sure not to miss it if you're visiting Chiapas!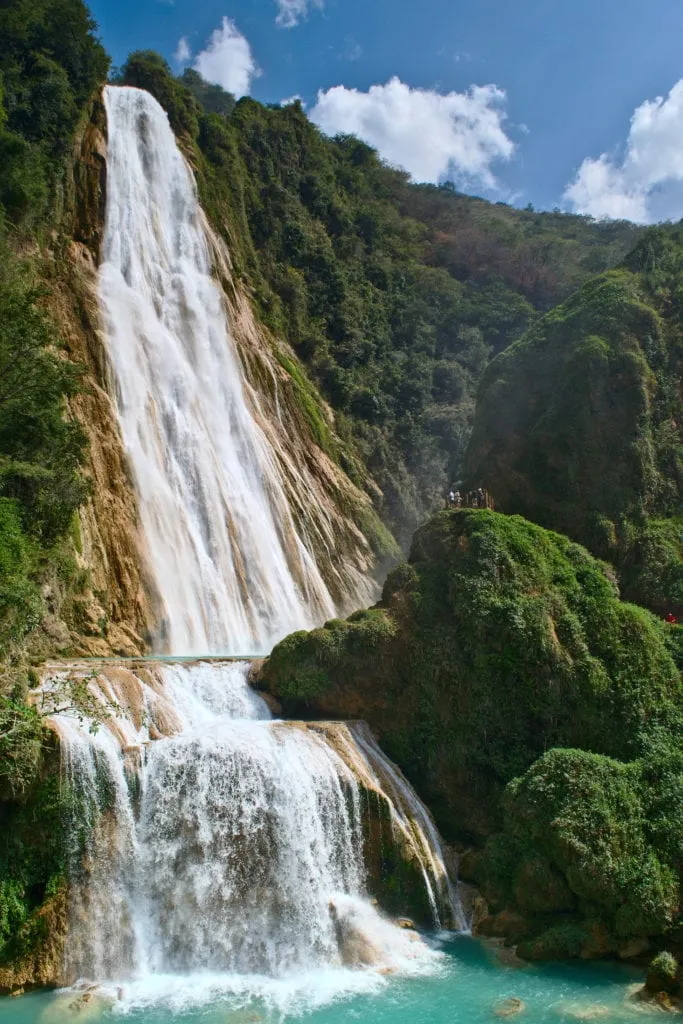 Agua Azul
From Claudia of My Adventures Across the World
Agua Azul is easily one of the prettiest waterfalls in Mexico.
Located in Chiapas, almost on the border with Yucatan Peninsula, it is not an easy-to-reach place. It takes a good 4 hours drive to get there from San Cristobal de las Casas, on a very bumpy road; or one and a half hours from Palenque.
Either way, Agua Azul is so beautiful that it is worth the effort required to visit.
Agua Azul is made up of a series of small waterfalls and natural pools completely immersed in the jungle of Chiapas. The water is of the most beautiful turquoise color, and incredibly clear and clean.
However, keep in mind that during the rainy season the river carries lots of mud and debris, and the water doesn't look as clean or clear after the heavy rains. Because of this, the best time to go is during the dry season, especially in March and April.
Something to keep in mind is that as the area is very wet and humid, it can get quite muddy and slippery. Make sure to wear good shoes to walk around and, needless to say, wear a swimsuit and carry a towel if you plan to swim in the pools.
Agua Azul is a favorite of locals, who love spending weekends there, or even days such as Christmas or Easter. The area is packed with souvenir shops and a number of good places to eat at more than reasonable prices.
There's also a lot of children that try to sell trinkets and snacks, though it is recommended not to accept anything from them in order not to encourage to work and to make sure that they return to school.
Misol Ha
From Nat of Natpacker
The beautiful Cascada de Misol Há is found in Chiapas state, on the road from San Cristóbal de las Casas to Palenque.
It is about 13 miles from Palenque and is often included in trips from Palenque to San Cristóbal de las Casas and vice versa, or visited as a day trip from Palenque.
These trips are very easy to find and probably the easiest way to see the falls.
Misol Ha itself is a single 35m drop that falls into an almost perfectly circular pool, surrounded by tropical vegetation, and the surrounding jungle and beautiful circular pool make Misol Ha a very picturesque spot.
Similar to Agua Azul, the high mineral content of the water gives the pool a rich blue color. Although often compared Agua Azul, it is not as built up… yet.
There is a path around the pool, which leads you behind the waterfall itself. There is a small cave behind the waterfall, which is about 20 meters in length.
The pool is also suitable for swimming – though getting out is easier said than done! Thankfully ropes have been placed to help you get out over the slippery rocks. The water is cool and fresh and the pool big enough for a decent swim.
There are also cabins where you can stay. It's in a good location for this as it is close to archaeological sites and other waterfalls in Mexico.
Basaseachic Falls
Located in Copper Canyon, specifically in Basaseachi National Park, Basaseachic Falls stands a whopping 807 feet tall and holds the designation as the second-tallest waterfall in Mexico.
Magnificent to behold, this waterfall is off the beaten path but extremely rewarding for visitors who seek it out.
Unlike many of the falls listed here, it does dry up considerably during the drier months, so consider visiting during the rainy season (July through September) to see Basaseachic Falls at its most impressive.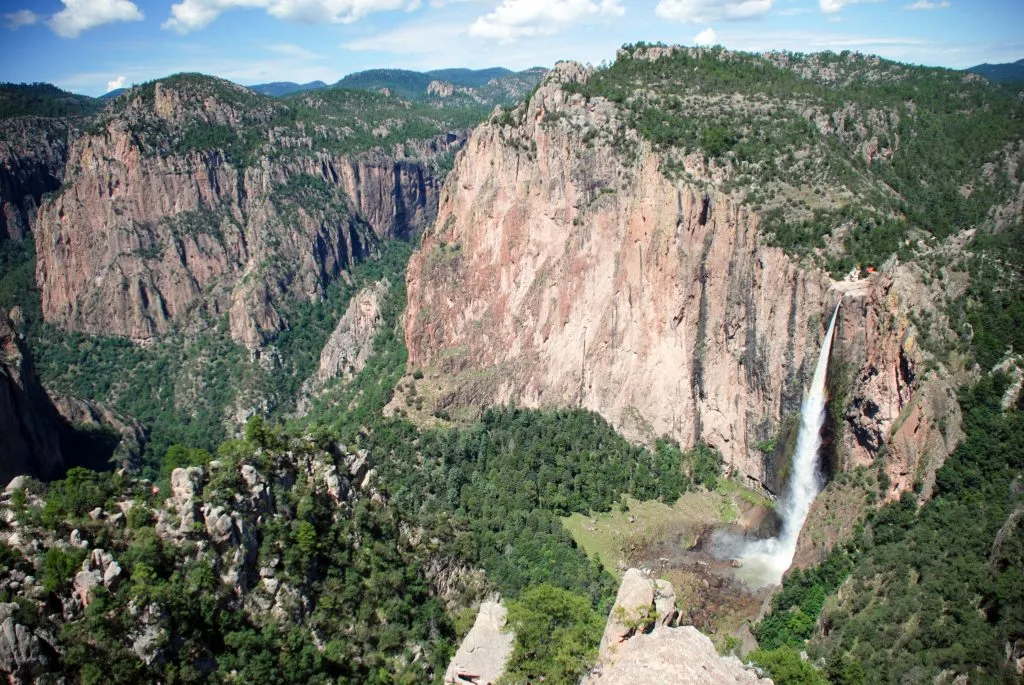 Pozas Azules
From Isabella of Boundless Roads
Pozas Azules is one of the must-see waterfalls in Mexico, although it might seem a little remote for many, as it's located in the state of Guerrero.
However, if you travel to Mexico City and you wish to have an exotic weekend, this is where you should consider heading off to.
You can take a bus to Taxco first. it's just a beautiful 2-hour ride, and you will arrive in one of Mexico's Magic Towns, famous for its silver craftsmanship, jewelry, winding roads, stunning views over the city and the valley and the little VW beetle cars driving around like crazy.
So while you will enjoy a rooftop dinner and splurge in jewelry shopping, you should also save half a day to get to Pozas Azules, a gorgeous waterfall located a 1-hour bus drive from Taxco.
Little vans (combies) leave from the bus station every hour. Once you get there and pay the entrance fee of 30 pesos, you will have a short walk to reach the stunning turquoise water natural pools formed by the limestone rocks of the river.
There are 8 pools in total and many more small waterfalls, but normally only the first 2 are open in low season. If that happens, and you wish to have a little adventure, hire a local guide and for a tip, he will walk you up upstream where the other pools are and you might get the chance to have them all for yourself.
I enjoyed it more than staying in the first main one, which was a little too crowded for me.
The buses run every hour both from Taxco to the waterfalls and back.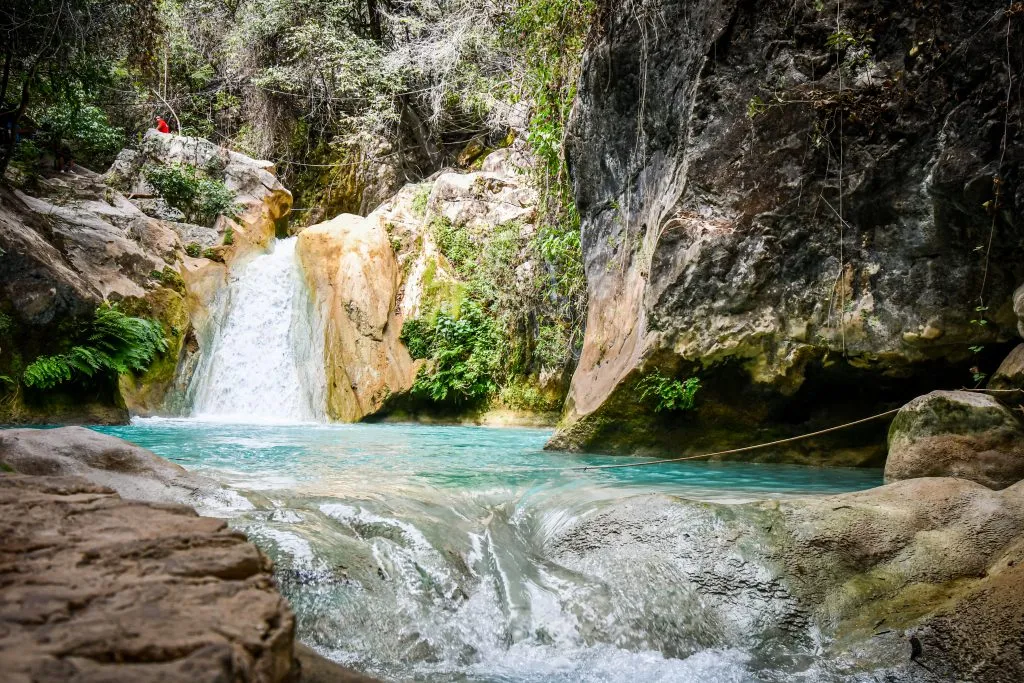 Cusarare Falls
From Patrick of German Backpacker
While most tourists visiting waterfalls in Mexico stick to the southern parts of the country such as the Yucatan peninsula, I highly recommend exploring the rather remote and non-touristic north of the country–you'll find natural beauty and hidden gems, such as the Cusarare Falls close to Creel, Chihuahua.
The falls are located in the Copper Canyon, which is one of the most beautiful parts of Mexico, and by some measures is larger than the Grand Canyon in the US!
I visited the Cusarare Falls as part of a journey on "el chepe" – the spectacular train ride taking you from Los Mochis (at the West Coast) all the way to Chihuahua City. Since the train line runs through the middle of the canyon, you'll have incredible views of Copper Canyon.
I decided to spend a few days in the small town of Creel to explore the surroundings. The easiest way to do that is to book a day tour taking you to the most beautiful spots around Creel, including the waterfall.
To reach the Cusarare Falls, we had to walk through the forest for a few minutes until we reached the top of the falls.
The area isn't very touristic; however, you'll see some locals selling handmade souvenirs.
There are stairs taking you directly to the pool of the waterfall. It's fun to climb on the stones to get as close as possible to the water – just be careful, since it gets very slippery here.
I enjoyed climbing around the falls and taking some beautiful pictures – especially since there weren't many other tourists.
Make sure you don't miss the beauty of Cusarare Falls on your next Mexico trip!
Cola de Caballo
From Kaila of Nylon Pink
This beautiful fan-type waterfall is located in Villa de Santiago, Nuevo León, roughly 40 km (25 miles) from Monterrey. It's one of the prettiest Mexico waterfalls and a wonderful destination for people of all ages and is accessible via a short, non-trying hike along the cliffs.
Admission is 40 pesos which equals around $/€2, and there's a half-day guided tour available for roughly $66 or €57. On guided tours, you'll get picked up in Monterrey and learn about the local history during the scenic ride to the waterfall.
Once inside, there are tons of birds, butterflies, and flora to admire, as well as many wonderful views.
The guide will educate you about the local wildlife and there will also be plenty of photo opportunities. The waterfall itself is 25 meters (82 feet) high and cascades down in a shape that reminds you of a horse's tail, hence the Spanish name.
The path to the waterfall is paved with cobblestone and fairly easy to traverse. You can rent a horse and carriage for a couple of pesos to take you part of the way towards the waterfall if you so wish.
Once at the site you can swim, enjoy a cookout at their barbecue pit, or just relax and enjoy the nature around you. Bringing a picnic is highly recommended, especially if you're there with your family, but there are also vendors around the area that sell food and souvenirs.