There were a lot of things that we were expecting from the southern Mexican state of Chiapas: fun things to do, low prices, a colorful city in San Cristobal, and mountain views.
What we weren't expecting was to discover a destination that appears to be designed for outdoor lovers like us.
If you love waterfalls, wildlife, and bargains, here are are the best things to do in Chiapas–and why you need to visit immediately!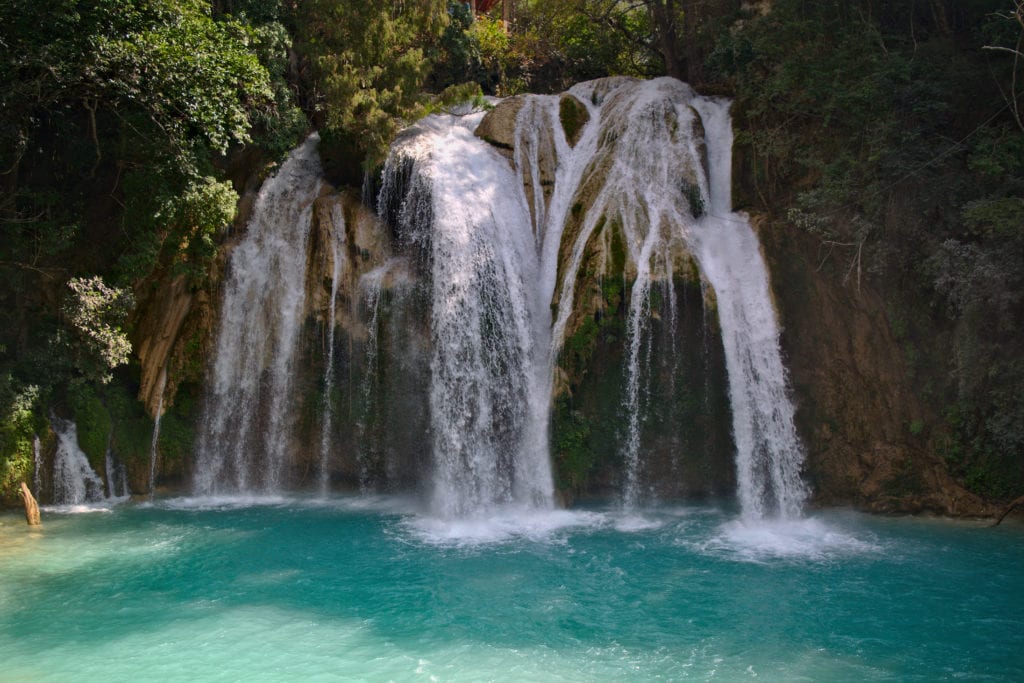 Some links in this post may be affiliate links. If you make a purchase through one of these links, we may earn a small commission at no extra cost to you. Please see our

disclosure policy

for more detail.
The Best Things to Do in Chiapas
Stare in wonder at El Chiflon.
Rainbow Falls at El Chiflon became our new favorite waterfall the second that we laid eyes on it.
Enormous and cascading into a beautiful turquoise pool, one of our favorite aspects of the Rainbow Falls is that rather than falling in one giant bucket of water, it falls along the cliff it runs over–the effect is beautiful.
Some of the smaller waterfalls at the park were also beautiful, and reminded me forcibly of the Plitvice Lakes in Croatia.
Hike to El Chilfon and don't want to head back down?
Don't worry: as long as you didn't go up the "wrong" (left) side like us, you can zipline most of the way back down!
Our wrong turn worked to our benefit, however–looking at where the viewing platform is on the opposite side of the waterfall, I think that we got the better view.
When we head back to this area at some point in the future, visiting El Chilfon again will be one of our first things to do in Chiapas, Mexico.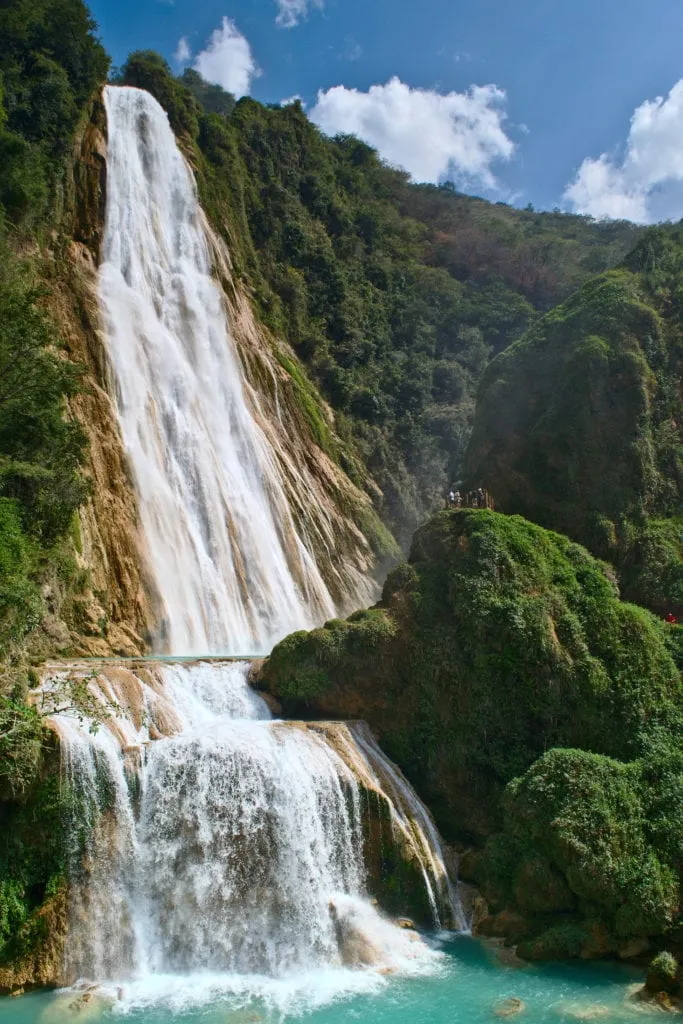 Enjoy the beauty of the Lagos de Montebello.
I never expected to find a view that reminded me of the karst cliffs of Thailand while in Mexico–but the Lagos de Montebello fit the bill.
These lakes are said to often be covered in mist, which held true for when we visited, but they were still beautiful (even if we didn't feel up for the kayaking, which is one of the most popular Chiapas travel experiences there).
Go horseback riding in the countryside.
I have always loved to ride horses and took several years of lessons as a teenager, and Chiapas is the perfect place to explore on horseback.
Our three-hour tour took us through farmland, forest, and small villages–and most notably, the Templo de San Juan (more on that below).
Both a plus and a minus: the guides were very hands-off, and let us essentially do what we want, including trotting and cantering at will.
As an experienced rider, I adored the experience, but as many of our group members had never been on a horse before, I also found it fairly risky.
Make sure that you stay safe and know your own limits because you'll need to set them yourself.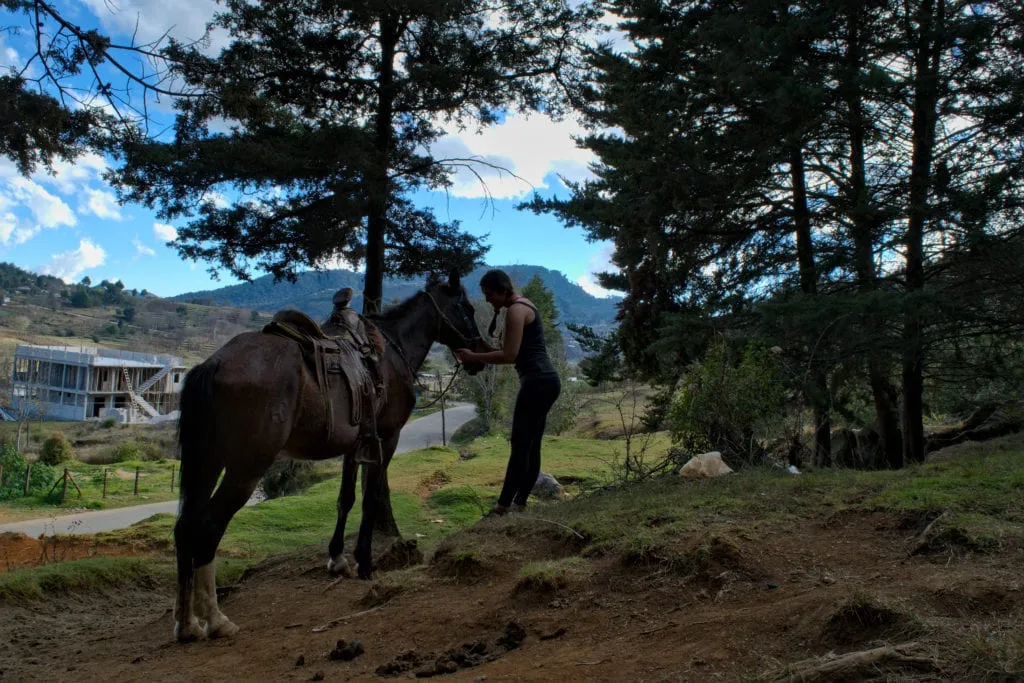 Visit the unforgettable Templo de San Juan.
Enormous amounts of incense. Chanting in a language that was not Spanish or Latin (it's Tzotzil, the local indigenous language).
No pews. Straw all over the floor.
Hundreds of candles burning directly onto the ground, no candle holders in sight. A chicken in a box, waiting to be sacrificed at the end of a ritual.
No priests. Very few crucifixes. Plenty of statues of saints. One small Jesus statue off to the side of the altar.
Is this a Catholic church?
That's what the Templo de San Juan, considers itself, but it is, without a doubt, the most unique house of worship that I've ever entered.
The church, which is located in the village of Chamula, strictly bans all photography inside and was vehement about enforcing it–and yet I have never wanted to take photos so badly in my life.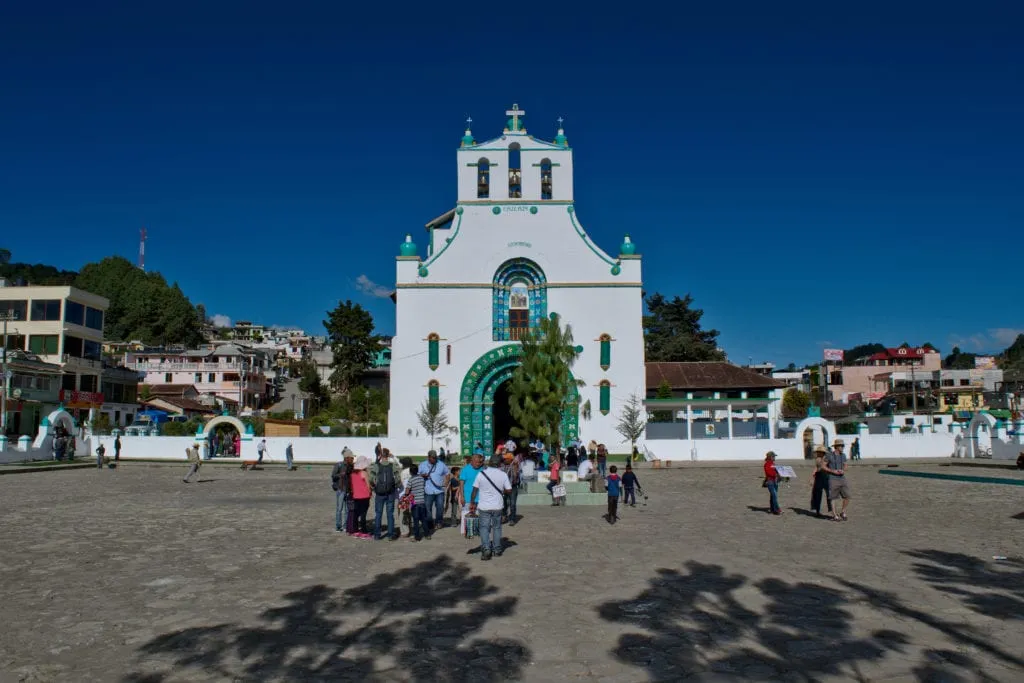 Climb the ruins of Palenque.
Not all of the incredible ruins in Mexico are available to climb anymore, including the famous pyramids at Chichen Itza.
That is for the best–Angkor Wat is a great example of a world-class site that is being damaged by its numerous visitors.
That being said… it's still incredibly fun to climb ruins, and when you find sites (usually lesser-known ones) that let you scramble over them, it's a blast.
Palenque is a perfect example of this–the best views of the city are from sitting on top of some of its buildings.
Admiring this view was one of our favorite things to do in Chiapas!
Discover the colors of San Cristobal.
It's easy to overlook the city of San Cristobal in all of the nature that surrounds it, but there are plenty of things to do in San Cristobal, and the city itself is also worthy of some attention.
San Cristobal makes a perfect base for travelerss visiting Chiapas, Mexico.
The city is reasonably priced has plenty of transportation and tourism companies available to arrange excursions, there are tons of food and dining options.
This is where ee had our first Pad Thai since Asia–definitely not as good as on Koh Tao, but still great!
Most strikingly, San Cristobal de las Casas is so colorful, making it a joy to explore.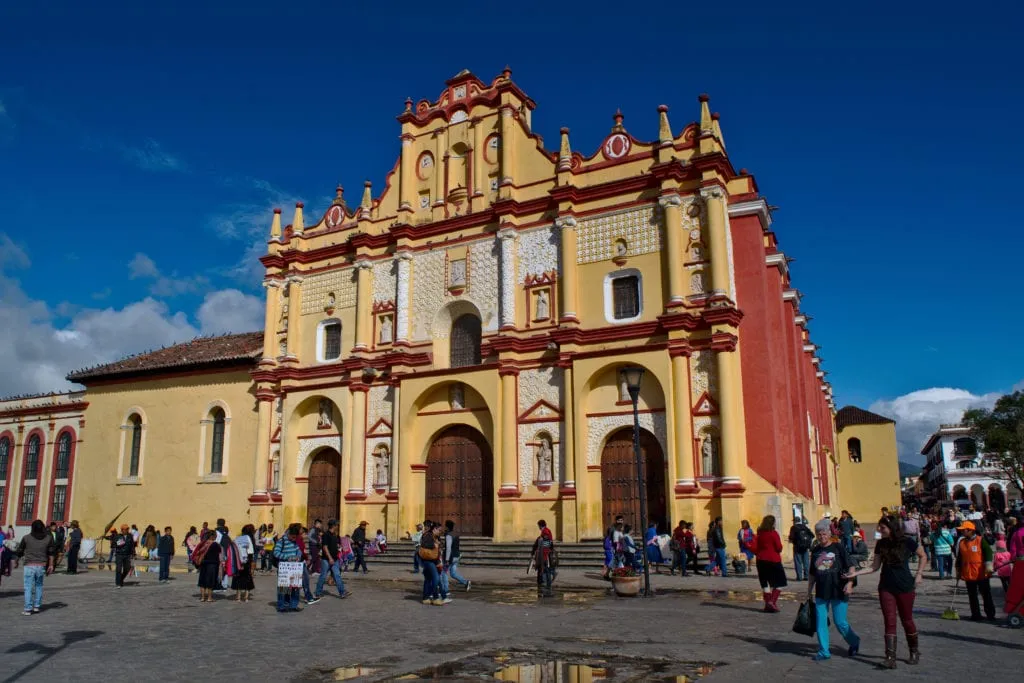 Climb behind beautiful Misol-Ha.
Sitting at the base of Misol-Ha is like sitting at the bottom of a cavern: there's so much beauty above you.
Want to explore an actual cave?
For 10 pesos, you can explore the cave situated behind Misol-Ha–just be prepared to get very wet on your way there!
Take a boat ride through Sumidero Canyon.
I love canyons–they're a great reminder of how enormous the Earth really is.
The walls of Sumidero Canyon reach over a kilometer high in some points, and there's nothing more relaxing than enjoying a slow boat ride through it.
… As long as you're not scared of alligators, that is!
We spotted a couple of adults and one baby sunning themselves during our cruise through the most famous canyon in Chiapas.
Get underground at the Grutas de Rancho Nuevo.
This striking cavern is beautiful enough for the first 350 meters–but if you want to have an unforgettable (if potentially terrifying) adventure, you can continue into the cave further than the light will follow you.
That's right: armed with a flashlight and helmet, you can continue a bit further into the cavern to experience absolute darkness.
If you've never experienced the absolute complete darkness that a cave offers before, it's definitely a memorable experience!
Visit El Arcotete Eco Park.
Whether you want to explore caves, try your hand at ziplining, or even go rock climbing or rappelling, you can find it at El Arcotete Eco Park, which is located an easy 15-20 minute ride from San Cristobal.
Go swimming at Agua Azul.
Just like the smaller waterfalls at El Chiflon, Agua Azul gave me Croatia flashbacks–this time to Krka National Park, complete with the option to swim at the bottom of the falls.
Keep in mind that you can't swim just anywhere: some areas are much more dangerous than others, so be sure to follow the signs!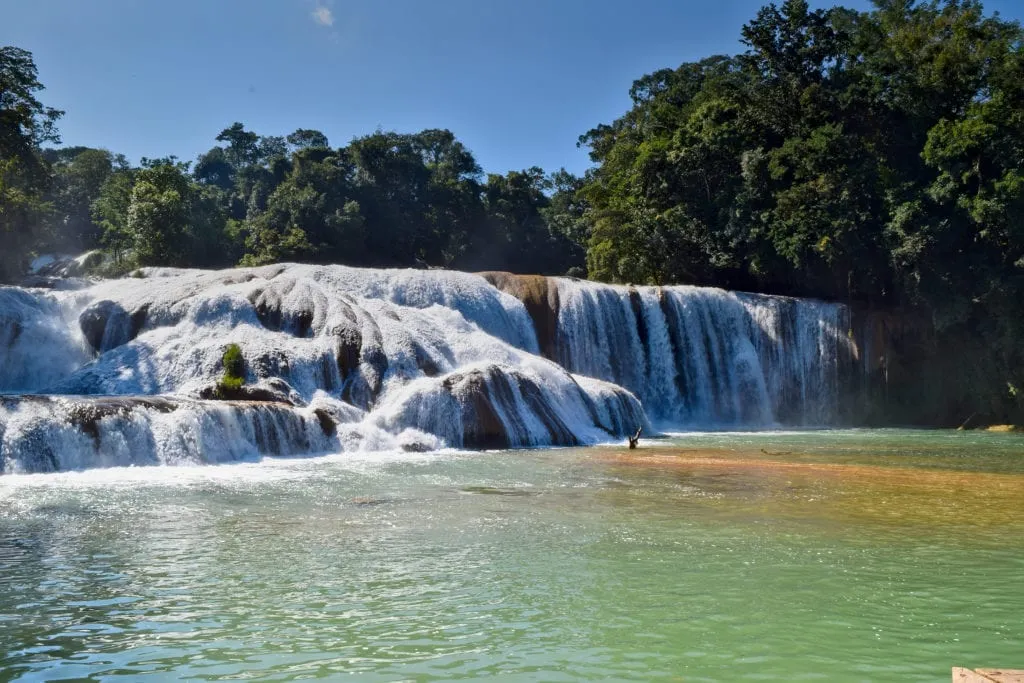 How much does it cost to visit Chiapas, Mexico?
Chiapas is one of the most affordable states in Mexico for travelers hoping to backpack Mexico on a budget.
Three-hour horseback riding tour? $10 USD.
A full-day trip to El Chiflon and Lagos de Montebello, including entrance fees? $16 USD.
Tour of the Sumidero Canyon, including transportation there and back? $15 USD.
The prices here are so low that with a moderate budget, you can easily do an excursion a day without breaking a sweat.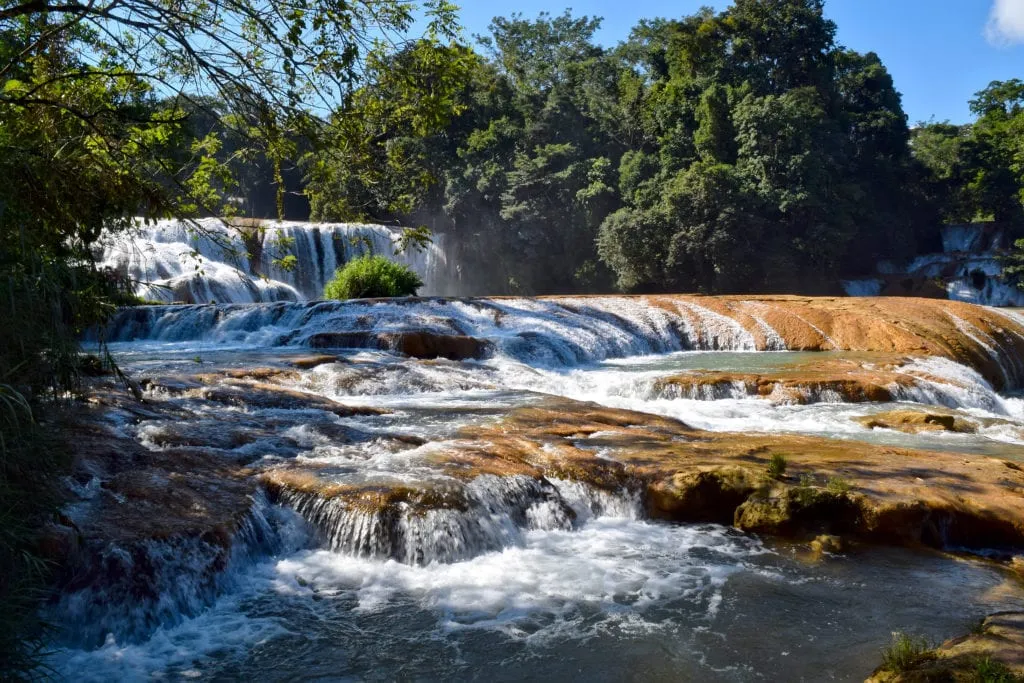 Don't start checking off the best things to do in Chiapas without travel insurance!

We use and recommend Safety Wing for their affordability, ease of purchasing & the clarity of their contract!