June 24, 2019
2 Days in Florence: The Ultimate Florence Itinerary
Italy
Ah, Tuscany: who could ever resist such a classic and beautiful travel destination? Two days in Florence will never be enough to explore every nook and cranny of the charming capital of Tuscany, but it's definitely enough to see the highlights (and eat tons of gelato).
After more than six trips to Florence, we stand by this 2 days in Florence itinerary as the best way to see the highlights of the Cradle of the Renaissance with limited time (after all, no matter how gorgeous it is, you need to leave time in your Italy trip to see more of Tuscany beyond Florence!).
We intentionally left the itinerary fairly fluid, without scheduled meal times or specific times noted for certain activities–we want this 2 day Florence itinerary to work for multiple schedules.
What to See in Florence in 2 Days
Day One in Florence
Start with the Galleria dell'Accademia.
After putting on some comfortable walking shoes and grabbing a cappuccino and pastry at whatever bakery catches your eye, it's time to see David!
Since you're short on time with only 2 days in Florence, we recommend either purchasing tickets to the gallery or a tour in advance to avoid what can be a long line. We waited in line for about half an hour in the middle of a weekend day in early November–word is that it can easily be triple that during busy periods.
The Galleria dell'Accademia is fairly small, you'll be unlikely to spend more than an hour there unless you're an enormous art buff. David is definitely the star of the show (and absolutely worth seeing–the statue blew us away when we saw it in person!), but the musical instrument display and unfinished Michelangelo sculptures are definitely worth seeing as well.
Don't worry about lines: book your tickets to see David today!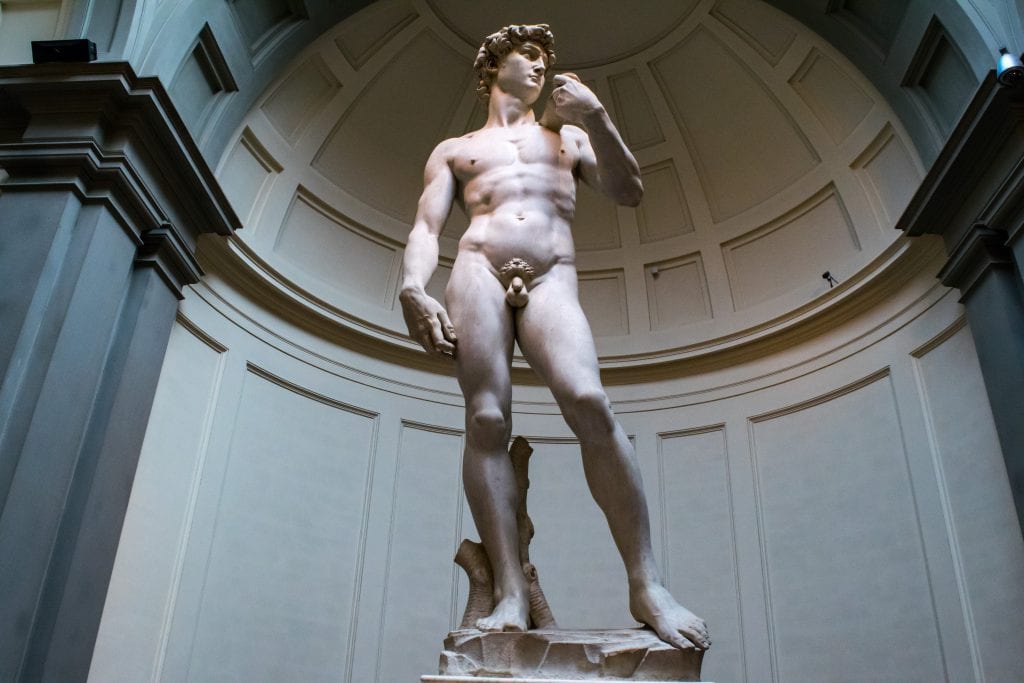 Walk over to the San Lorenzo Market.
Florence's famous outdoor leather market is bustling and beautiful–it's a great place to shop for small souvenirs, people watch, and take photos.
What we wouldn't necessarily recommend is buying expensive leather goods from a stall here without further research (and plenty of haggling). We definitely aren't leather experts, but suffice it to say that not all leather goods are created equal, and a tourist market can be a great place to overpay for a substandard product if you don't know what you're looking for.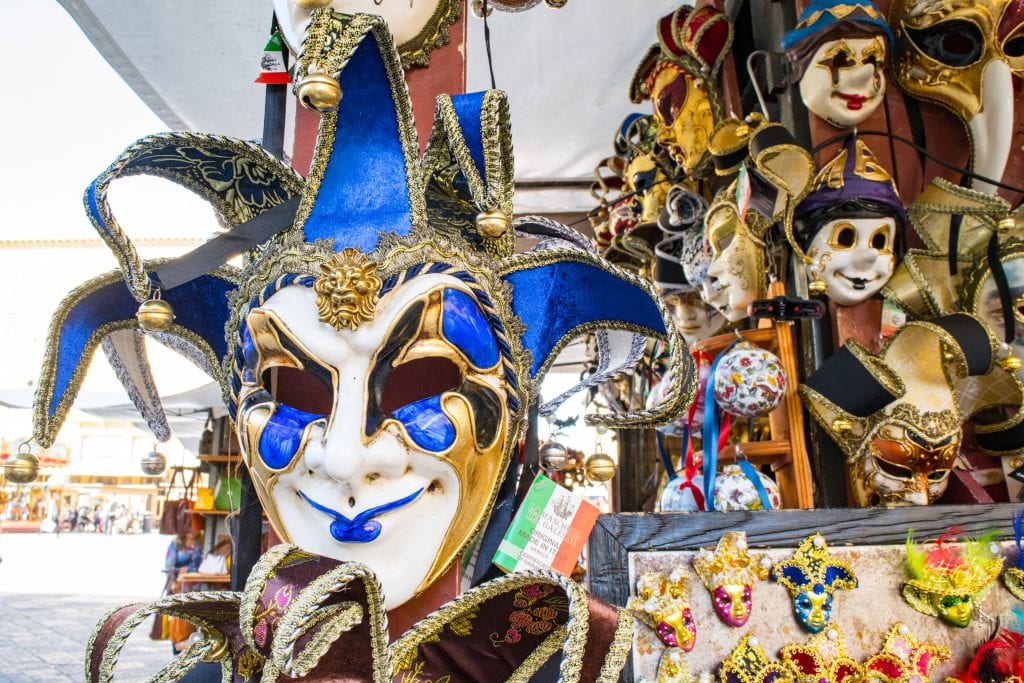 Head into the Mercato Centrale.
Right next door to the outdoor San Lorenzo market sits the indoor Central Market, one of our favorite places in Florence.
Mercato Centrale is bursting open with delicious food six days a week until around 2:30pm (it's closed on Sundays).
The ground floor includes food stalls selling everything from fruit to fish to olive oil, and a few stalls selling cooked meals such as takeaway pasta.
Upstairs, you can find even more stalls selling prepared food, as well as tables to sit at and in one corner, a kitchen designed for cooking classes. This is a great place to grab lunch if you're hungry at this point!
We visited this market at least six times during our month in Florence, but there's definitely one purchase that stands out: we kept our apartment stocked with delicious 63-month aged parmesan for the month we were there, and we are already getting cravings for it again.
Stroll back toward the Duomo.
No visit to Florence would be complete without a visit to its iconic cathedral!
The Duomo itself is free to enter, but the surrounding museums (including the bell tower, cupola, baptistery, and the underground ruins below the Duomo) all require a ticket.
Combined tickets for all portions of the museums, which are the only kind of ticket available, can be purchased at a few offices around Florence–we bought our tickets from an office directly behind the Duomo.
Keep in mind that a climb up the cupola will likely need to be scheduled days in advance, so plan to book ahead of time or simply climb the bell tower instead–we did that and loved the view.
Plus, when you climb the bell tower, you have an amazing view of the cupola itself!
Lines can get long for all of the attractions, but the time of day can have a huge impact. We timed our climb up the bell tower for sunset, thinking that the line might be long, but we actually only had to wait 5-10 minutes–much better than the 45-minute wait being estimated when we stopped by in the middle of the day!
Have your heart set on climbing the cupola? Make sure you get the chance to visit by booking your climb before arriving in Florence!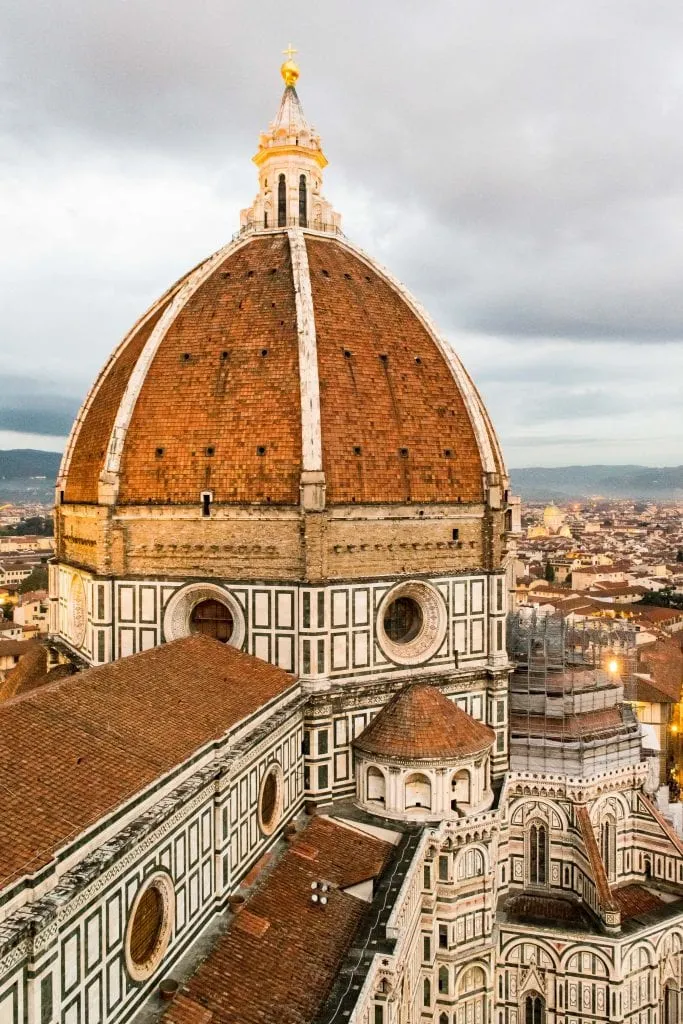 Head to the Santa Croce Church.
From one church to the next: after finishing up at the Duomo, walk over to Santa Croce Church to see another iconic cathedral (Santa Croce actually has a more ornate interior than the Duomo) and some very memorable tombs–including those of Dante and Galileo.
Settle in for a great sunset at Piazzale Michelangelo.
Florence's skyline is unique: for years, buildings were not allowed to be built higher than the base of the cupola on the Duomo, and the result is a somewhat uniform skyline, with the incredible cathedral and cupola erupting out of it.
One of the best places to admire this view? From the Piazzale Michelangelo.
It's a bit of a hike to get up there–20 minutes of walking from Santa Croce Church, quite a bit of it uphill, or you can grab a cab–but it's worth it to go a bit out of the way.
Time your visit for sunset and grab a glass of wine while there for an especially memorable evening!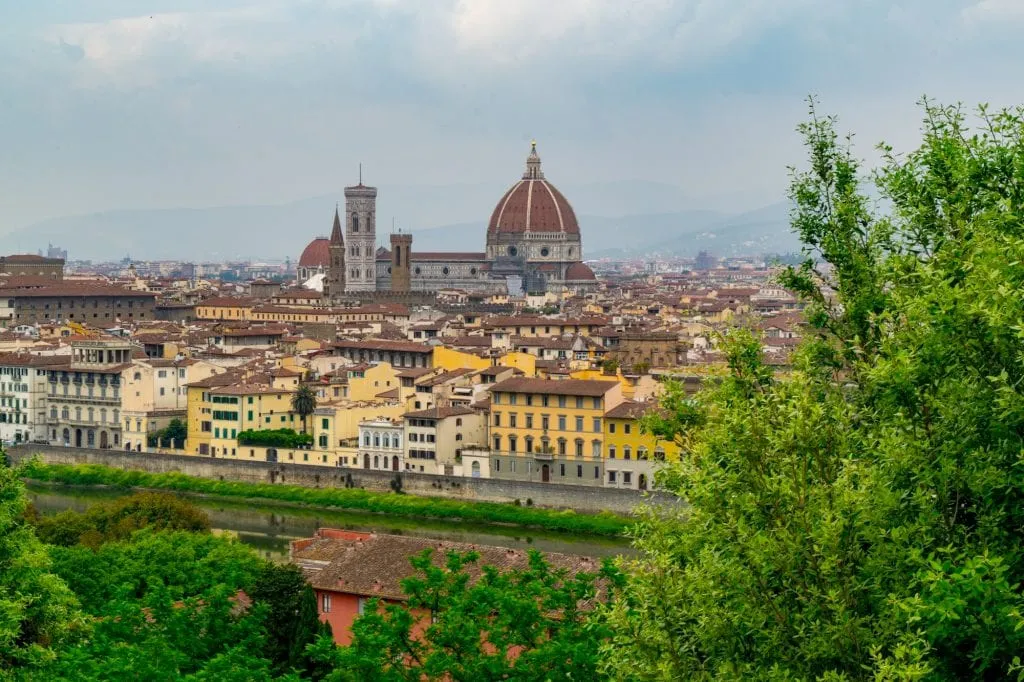 Day Two in Florence
Wake up and walk toward the Piazza della Repubblica.
This piazza is home to Florence's beautiful carousel–be sure to stop and take a photo, or even ride it if you're feeling inclined.
Stroll toward the Fontana del Porcellino and stop to rub the pig's nose.
The walk from the Piazza della Republica is filled with some of Florence's most high-end shopping, so if you're looking to splurge on designer clothes or sunglasses, you've come to the right place!

Even without the inclination (or cash) for shopping, though, the street still makes a beautiful walk: it's almost always busy, and as you get close to the Fontana del Porcellino, you'll see some street artists start to pop up here and there.
The Fontana del Porcellino consists of a large bronze boar (what else, in Florence?) with an extra shiny nose: legend says that if you rub his nose, you'll be guaranteed to come back to Florence one day!
The fountain is located behind a small leather market that fills up the square, on the far side from where you'll be approaching from if you are coming from the Piazza della Republica.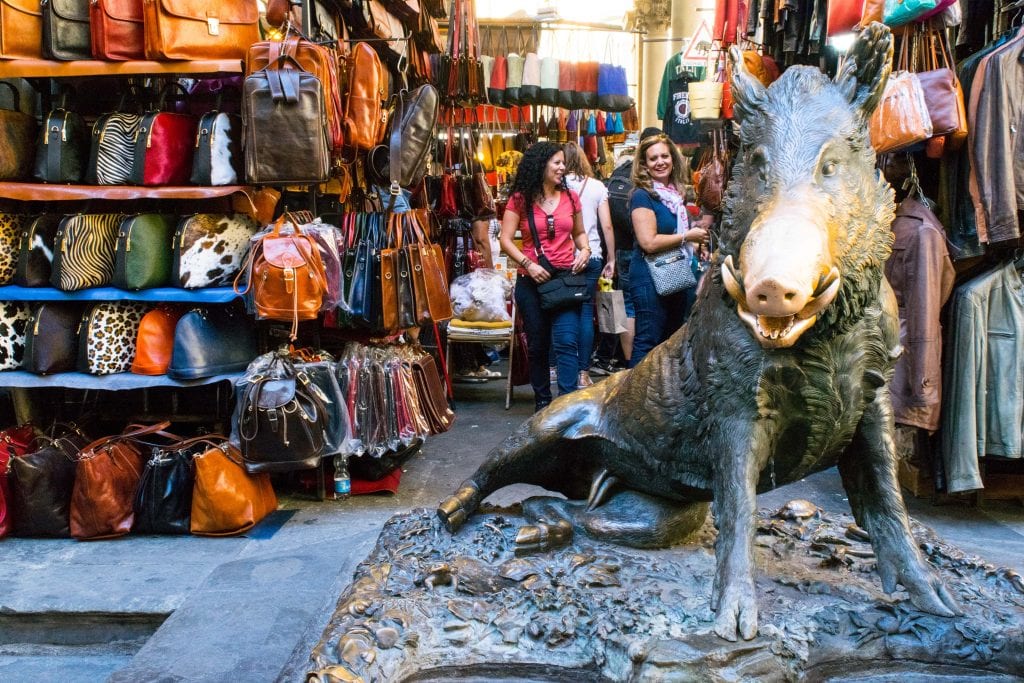 Wander toward the Piazza della Signoria.
Just a short walk away from the Fontana del Porcellino sits the Piazza della Signoria–one of the prettiest piazzas in Florence.
This piazza is home to the Fountain of Neptune (unfortunately closed for renovations as of November 2017, but hopefully it reopens soon!), the Palazzo Vecchio, and a small open-air museum that shows off some absolutely incredible statues.
We loved taking a seat and people-watching in this piazza–we spent a memorable night this fall eating some gelato on the steps that lead to the statues while listening to a talented busker and enjoying the hustle and the bustle of the city around us. It was absolutely magical!
Enjoy some time at the Uffizi.
Right next door to the Piazza della Signoria sits the famous Uffizi museum.
How long you spend at this world-class art gallery can be highly dependent on your personal preference (and penchant, or lack thereof, for art in general), but the Uffizi's website recommends a 3-4 hour visit, or 2 hours for a fast pass through of all the masterpieces.
Like the Galleria dell'Accademia from yesterday, we definitely recommend purchasing either tickets or a tour in advance, as the lines for the museum can get very long and end up taking a big chunk out of your day.
Skip the line & book your Uffizi tickets now!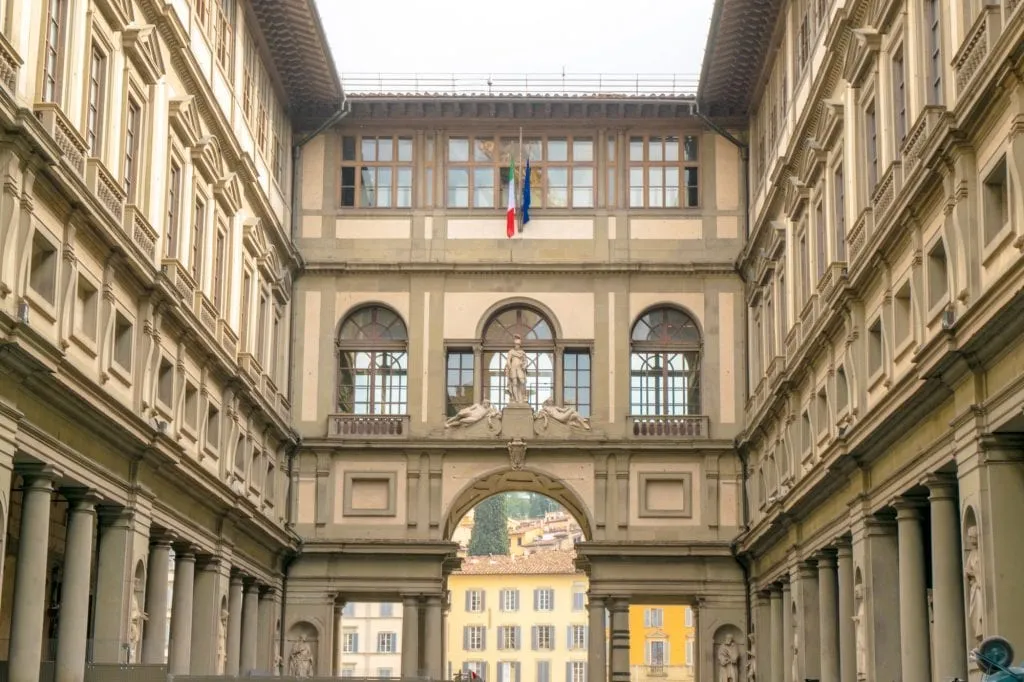 Take a stroll across the Ponte Vecchio bridge.
After all that art, I'm sure you're hungry!
When you're finished at the Uffizi, make your way to the Ponte Vecchio bridge that is nearby, and stroll across while admiring the jewelry sparkling from every shop window and the views of the river on either side. The Ponte Vecchio is iconic, and we enjoyed the walk so much we did it at least 10 times while in Florence!
Once you're on the other side of the river, it's time to find food: there are countless restaurants to choose from, but if you're hoping to eat pizza during your 2 days in Florence, the best place in the city is right around the corner.
Very few pizza places in Florence actually use the wood-burning oven that is necessary to make "true" Napoli-style pizza–it's a bit more of a southern Italian tradition, hence the "Napoli" in the name–but Gusta Pizza has one and uses it well.
The pizza lived up to the hype: we loved it and definitely recommend it.
If the restaurant is crowded (it probably will be), feel free to take your pizza to go and enjoy it outside–we ended up eating ours in front of the Palazzo Pitti!
Make your way to the Boboli Gardens.
Right after stuffing yourself with pizza is the perfect time to go for a walk, right?
The Boboli Gardens are the perfect place to stroll around, (hopefully) soak up some sunshine, and enjoy beautiful views of Florence.
Be sure to make yourself up to the garden in near the Porcelain Museum for some magnificent views over Tuscany!
Head back across the Arno River via the Ponte Santa Trinita.
After wrapping up at the Boboli Gardens, it's time to head back across the Arno River–but first, go ahead and pick up a scoop (or two, who's counting?) of gelato!
Wee never eaten a bad gelato in Florence (and wee sampled more than our fair share), but one of the shops we particularly love is not far out of the way: Gelateria Della Passera serves delicious, creamy, homemade gelato for very competitive prices, and their gelato makes the perfect snack to eat when heading back toward the Arno River.
This time, cross the river via the Ponte Santa Trinita to get an amazing view of the Ponte Vecchio itself!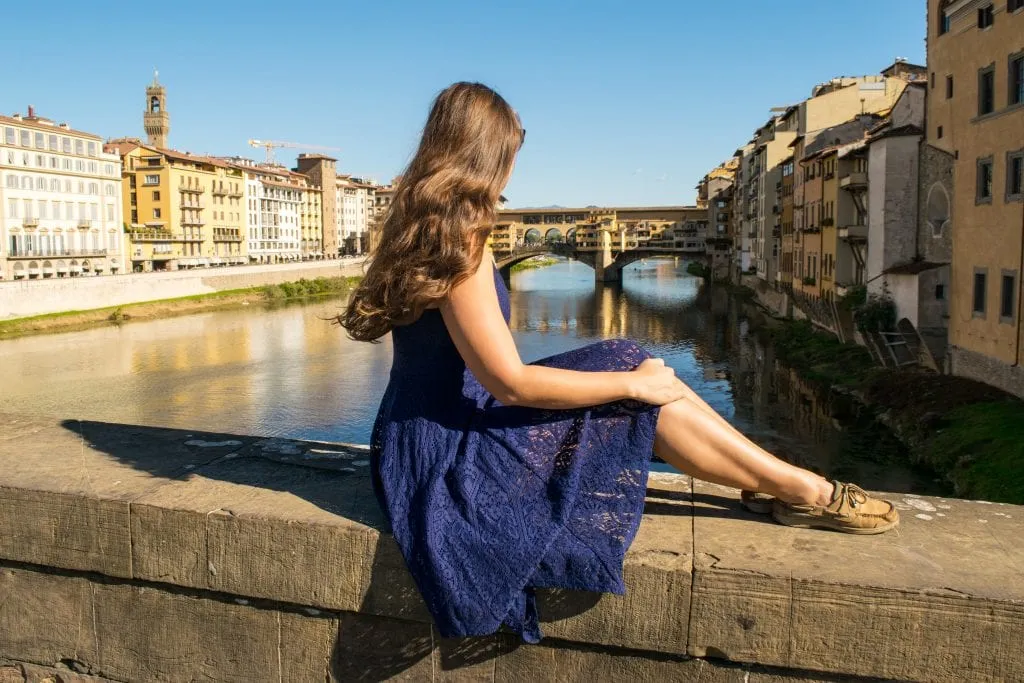 Where to Stay in Florence
Budget
B&B Le Stanze del Duomo — Though Florence hotels can be a bit pricey and stretch the definition of "budget", B&B Le Stanze's beautiful rooms and an impeccable location in Florence will be sure to have you swooning!
Midrange
Bargello Guest House — Located in the heart of Florence, this property is only a short (read: less than 5-minute) walk away from some of Florence's highlights like the Palazzo Vecchio. Staying here, you'll be within easy walking distance of the best of what Florence has to offer.
Luxury
Hotel Lungarno — Nestled right against the Arno River and home to one of the best views of the Ponte Vecchio in Florence (not to mention some of the best views of the rest of Florence from their top deck), Hotel Lungarno is our personal "if we ever really want to splurge" hotel in Florence. You can't go wrong using Hotel Lungarno as your base for one day in Florence!
Getting Around Florence
Florence is a small, compact city. Assuming you're staying within a comfortable walk of the city center, for most people, this entire two days in Florence itinerary can be completed on foot!
Buses and taxis are available in Florence, but we very rarely use them–Florence is just too much fun to wander through to bother with anything else, and due to driving restrictions in the historic center, buses and taxis can't always get you where you're going anyway.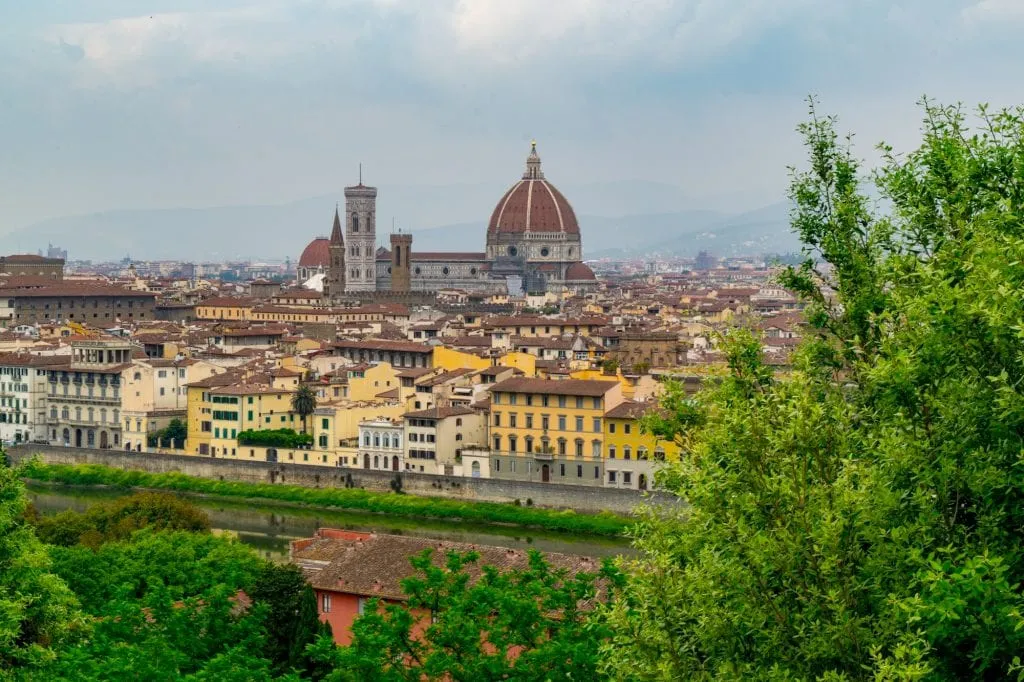 Planning an Italy Trip: How Many Days in Florence?
We're big believers that however much time you have available is the right amount to visit a destination, but that doesn't help much when it comes to planning an itinerary and making choices between different areas of a country!
We have visited Florence six times and counting, on visits ranging from one day to one month–in other words, we completely love it and don't think that you can spend too many days in Florence.
On an Italy trip that might also be balancing how many days in Florence with how many days to spend in Rome, Venice, and other Italian highlights like Cinque Terre, the Amalfi Coast, and/or Lake Como, we still recommend spending at least 2 days in Florence.
If you have the opportunity to spend more than 2 days in Florence, definitely take advantage of it! Extra days can easily be filled up with day trips to other Tuscan villages, a cooking class, a Vespa tour, art classes, or dozens of other activities that will be calling your name once you get to Tuscany!
Museum Closures in Florence
Keep in mind that some of the biggest museums in Florence, including the Uffizi, Galleria dell'Accademia, and the Palazzo Pitti (which is home to the Boboli Gardens) are closed on Monday, so if one of your 2 days in Florence is a Monday, you might need to make some adjustments!
The Duomo and Duomo museums are open on Mondays, and all the museums close on some holidays.