The thing about visiting Becan is that despite the fact that it is now our favorite Mayan ruin site in Mexico, beating out even other top contenders like Ek Balam, Palenque, and Calakmul, we never intended to go there at all.
Our arrival was a happy accident, brought on by the fact that we were willing to make an overnight trip from Bacalar in order to set ourselves up for a visit to remote Calakmul (which, for the record, is also amazing).
We arrived in the small town of Xpujil on a hot and sticky afternoon, having thoroughly enjoyed our short road trip from Bacalar, to find that our hotel (the downright delightful Hotel Casa Maya en Calakmul) needed a few more hours to prepare our room.
After heading briefly into town and splitting half a chicken for lunch, we decided to check out the Becan ruins, which–as it turns out–is located practically around the corner from where we were staying and should've been on our radar in the first place.
And after giving in to our whims and visiting the Becan ruins, we can't seem to stop shouting from the rooftops about it.
Becan is just that cool.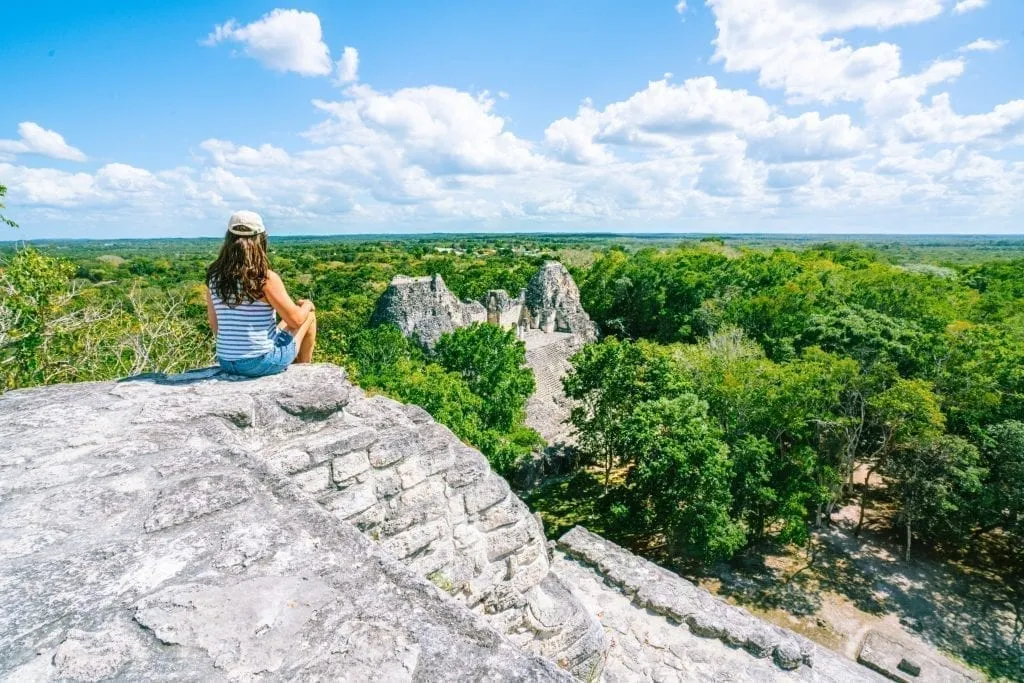 Some links in this post may be affiliate links. If you make a purchase through one of these links, we may earn a small commission at no extra cost to you. Please see our

disclosure policy

for more detail.
A Brief History of Becan
Once a thriving capital city of the Rio Bec province, Becan was a powerful force in its region, featuring a moat surrounding the city, powerful structures built over many centuries, and sprawling plazas.
While the oldest structures in Becan date to as early as 500 BCE, its moat and surrounding walls were constructed somewhere around 100 AD to 250 AD, and the bulk of the more impressive structures were built even much later than that–starting around about 550 AD.
That's a bit dizzying to imagine, considering we've already covered around 1000 years of history there, but Becan was just getting started: it thrived from around the 7th to the 12th centuries, more or less, before the city was eventually abandoned around 1200 AD.
Today, 20 structures have been excavated and are open to visitors, and the size and scale of the city are incredible to imagine when standing in the center of it.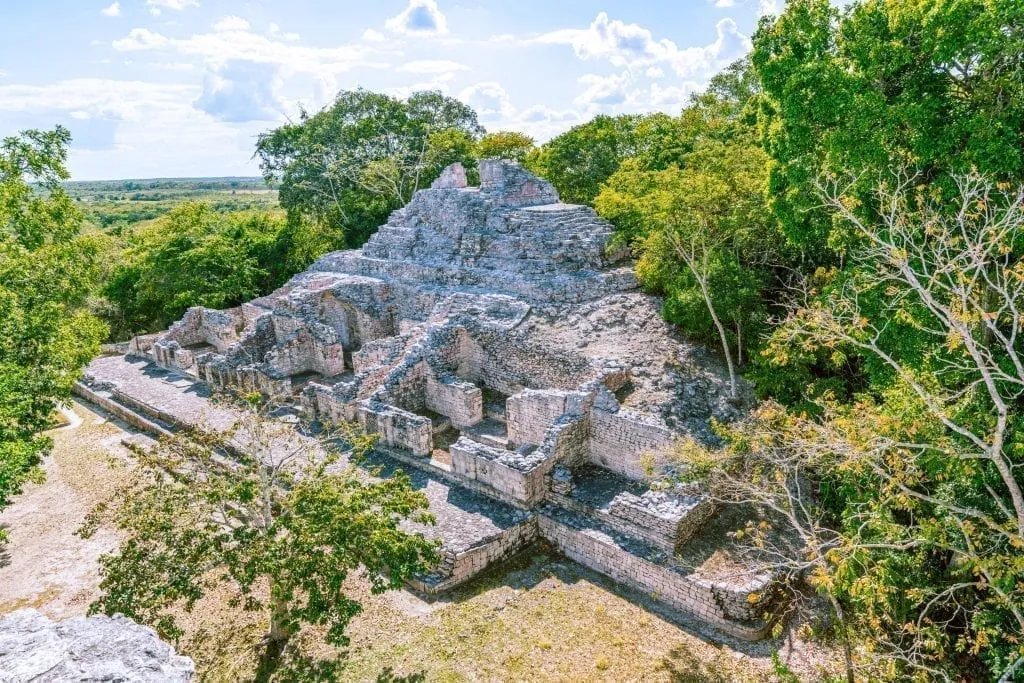 The plazas are expansive, the pyramids impressive (the tallest stands at about 30 meters), and the location of the moat clearly visible in many places.
In the modern age, Becan was "discovered" in 1934, and was then given its current name, which translates as "ravine formed by water".
The original name of this impressive city that once held so much power, though, has been lost to time.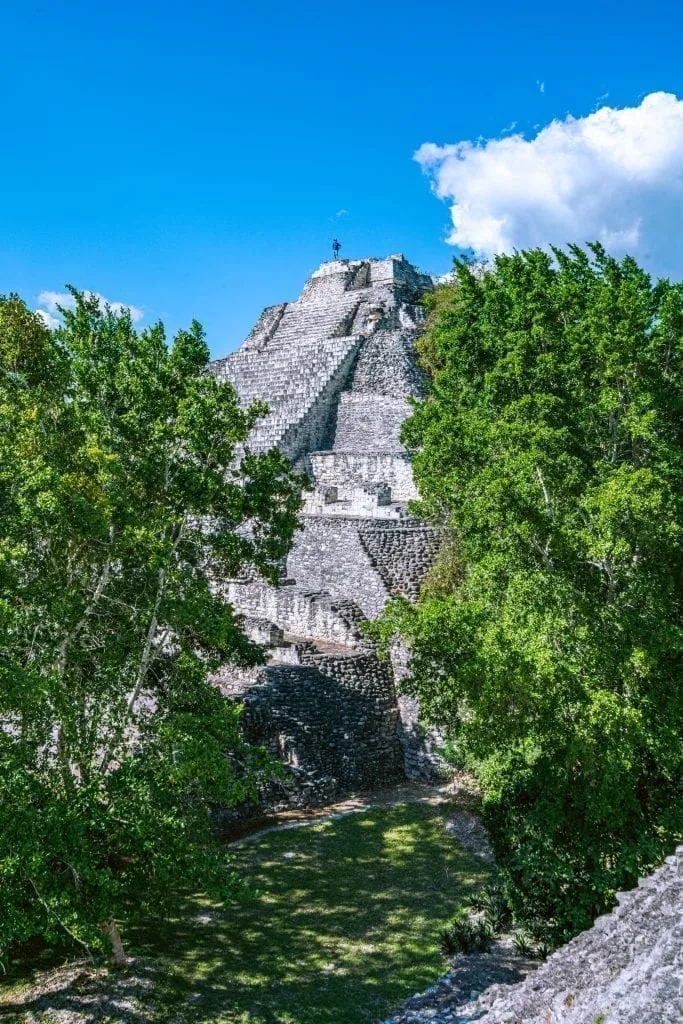 What's it like to visit Becan today?
Absolutely phenomenal.
When we visited Becan on a random afternoon in February (in other words, during one of Mexico's higher tourist seasons), we only shared the enormous city with maybe a dozen other people, and it was incredibly easy to spread out so that we more or less felt like we had the complex to ourselves the entire time.
We climbed pyramids, admired jungle views, spotted wildlife, ducked in and out of small rooms, and soaked up all the history we could find.
Despite its emptiness and being located decidedly off the beaten path in Mexico for tourists, Becan is very well-signed, including signs in English, and it was easy to learn more about the city's past throughout our visit.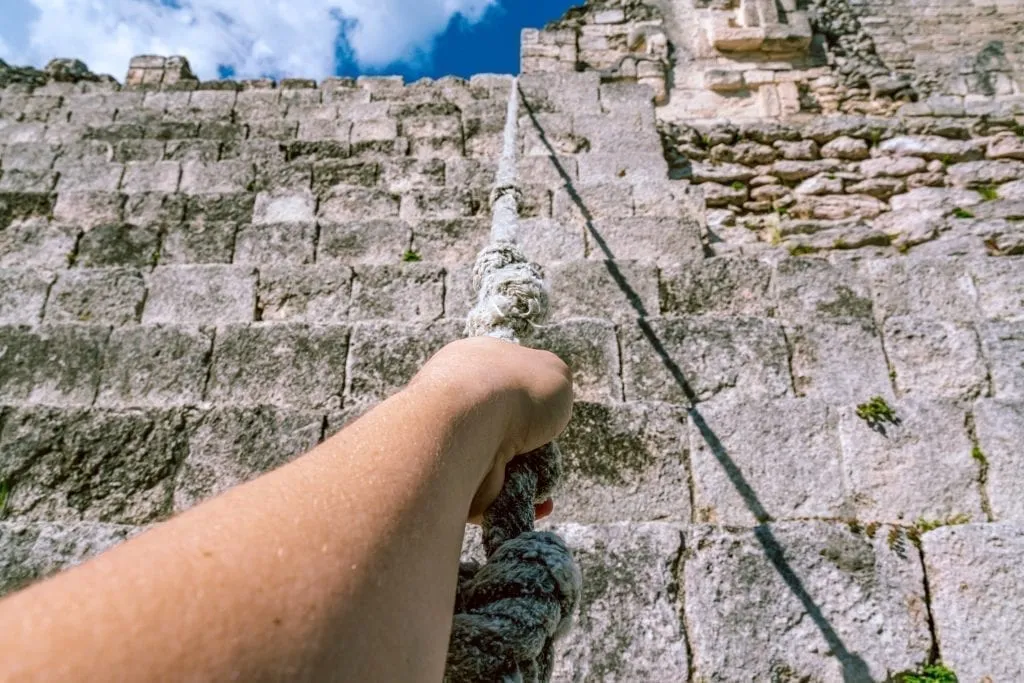 How Long to Spend at Becan
Based on our visit, I would say 3 hours is a solid amount of time to plan to spend in Becan, which should give you time to check out each of the structures and climb several.
It's definitely still worth visiting even if you only have an hour to spare, though (some of the coolest structures are only a short walk from the entrance), and if you're a huge history or archaeology buff, you could likely happily spend half a day or more exploring Becan!
How to Get to the Becan Ruins
By far, the easiest way to get to Becan is to drive there.
The Becan ruins are located about an hour and a half north of Bacalar, and the route makes for an incredibly easy drive, with most of it taking place on the Mexico 186 highway.
There is plentiful parking at Becan, and overall, it's a very simple day trip from Bacalar for independent travelers who don't mind driving themselves.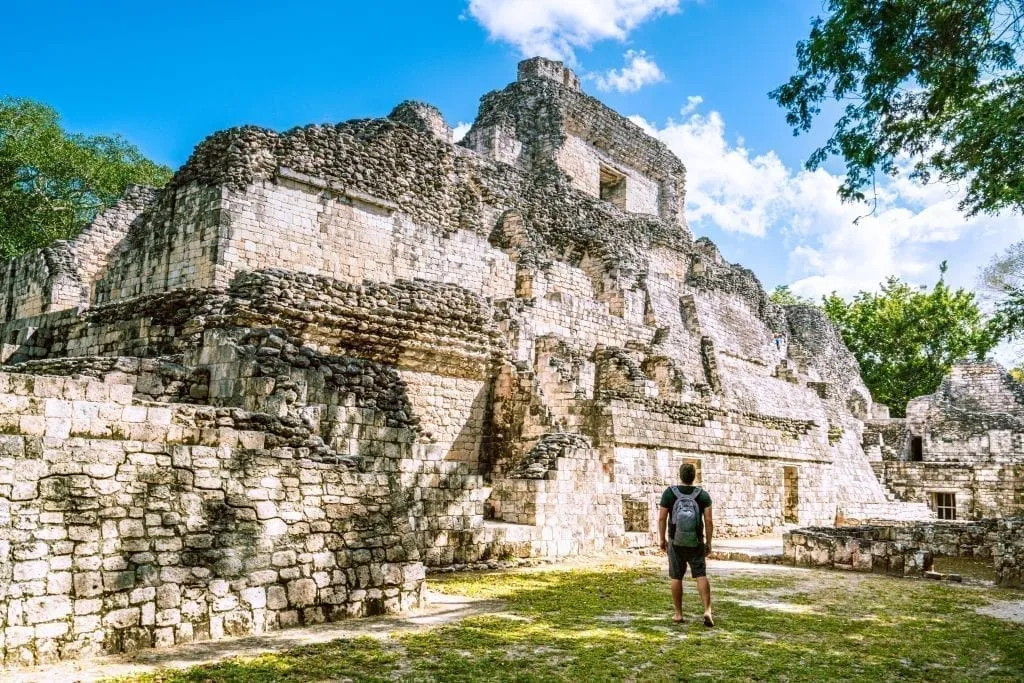 If you're traveling between Mexico and Belize by bus in either direction, you'll likely pass through the border town of Chetumal, which is also a fairly convenient place to day trip to Becan from.
Any further afield than that, though, and you're really looking at an overnight commitment–for example, Tulum is a little under four hours away.
If you'd rather not take a day trip, you can spend the night nearby and use the area as a launching pad for visiting Calakmul as we did.
In addition to Becan, there are several other interesting Mexico ruins in the immediate area, including Xpuhil, so if you're spending the night, you'll find plenty of places to explore!
Cost of Visiting Becan in Mexico
As of the time of writing, Becan costs 65 pesos (about $2.75 USD) per person to visit.
Be sure to bring cash along with you for your tickets!
What to Bring to Becan
Water
So. Much. Water. We brought a couple of liters per person and still wished we had more.
Snacks
Especially if you're planning a longer visit, or just really like the idea of chowing down on a candy bar while sitting on top of a 700-year-old pyramid.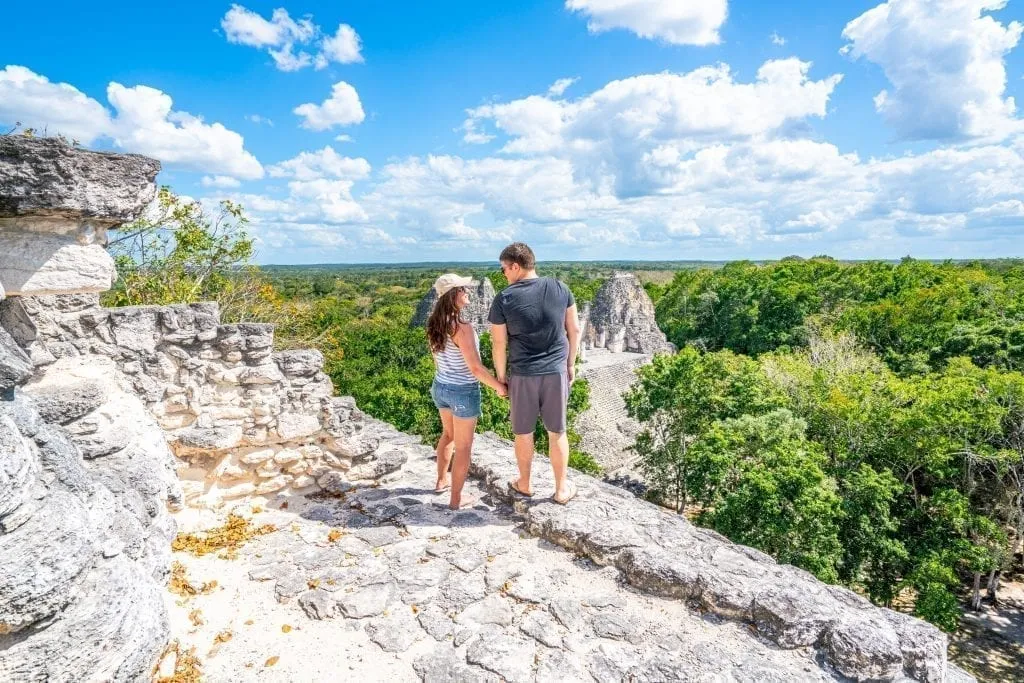 Hat + Sunglasses
You'll be grateful for the sun protection.
Sunscreen
If you're anything like us, you'll need to reapply during your visit!
Pesos
To pay your entrance fee–small bills are definitely preferred, and I wouldn't count on breaking any huge bills at Becan.
There are ATMs in nearby Xpujil if needed.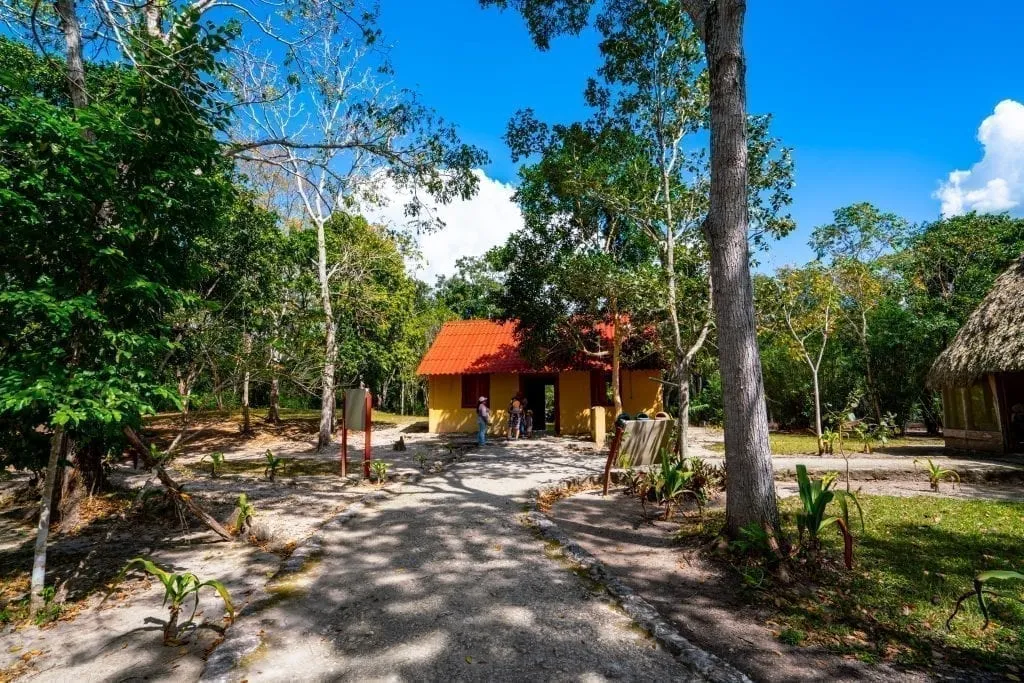 Where We Stayed Near the Becan Ruins
We loved staying at Hotel Casa Maya en Calakmul when visiting Becan and Calakmul, and it's literally less than a mile from the first!
The service was outstanding, parking on the (basically deserted) street was included, the room spacious, and our morning started with a fantastic included breakfast in the garden.
Dinner, while not included in the rate, is affordable and wonderful, and definitely worth planning for–however, there's a set menu, so if you're a picky eater or have specific dietary needs, it may not be the right choice for you.
Be sure to step out into the garden at night at least once during your stay–the number of stars you can see from the hotel is truly magnificent.