Known for its beautiful cayes, excellent scuba diving, gorgeous turquoise water, and many opportunities for adventure, there are far more fun things to do in Belize than can possibly be covered in one trip!
We spent almost two weeks exploring the beauty of Belize, from its beaches to its Mayan cities to the incomparable ATM Cave–but we still barely scratched the surface of this exciting country.
So, in order to create this Belize bucket list, we teamed up with several other travel bloggers to curate a guide to the top attractions in Belize!
Whether you want to climb a Mayan pyramid, take a flightseeing tour of the famous Blue Hole, relax with your toes in the sand on one of the best beaches in Belize, or even rent an entire island (!), we have you covered on this guide to what to do in Belize.
Here's what to add to your list of things to do in Belize to ensure that you plan a trip you'll never forget.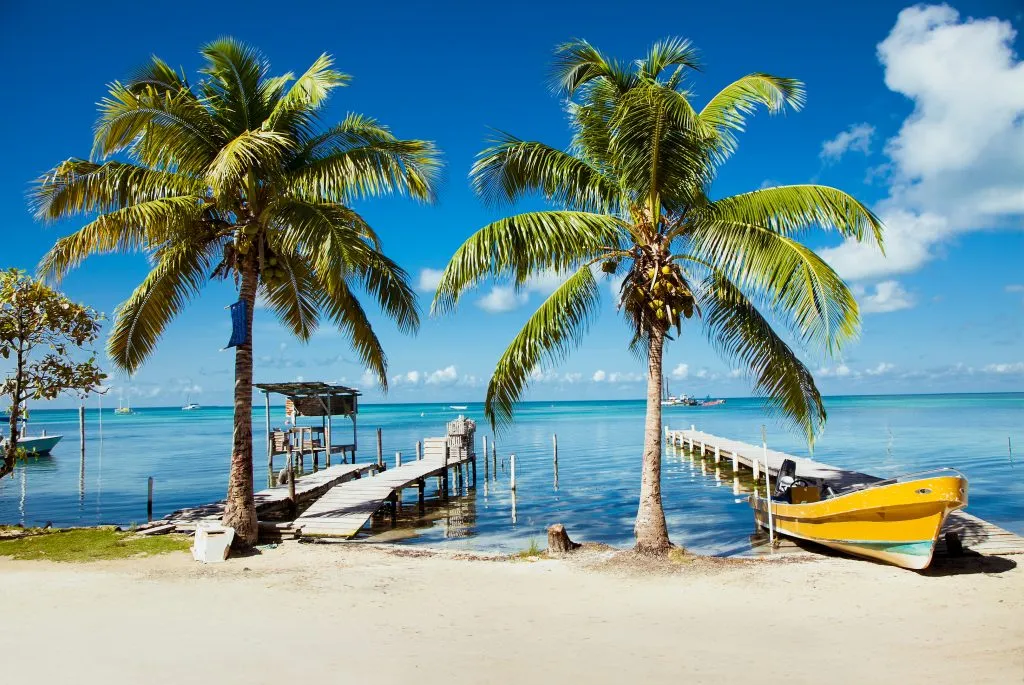 The Best Seaside Things to Do in Belize
Take a sunset cruise on Caye Caulker.
From Daniel and Ilona of Top Travel Sights
Joining a sunset boat tour in Caye Caulker is one of the best things to do in Belize.
It is also one of the most relaxing activities on Caye Caulker and the perfect way to end a day.
Sunset cruises usually start around an hour before sunset, so the boat has time to cruise along the coast.
This allows you to enjoy a drink and admire the island's colourful houses and palm trees from a different perspective.
The cruise then takes you to the western side of the island, where the sun sets.
Here, you can watch the sun go down in the sea as it lights up the sky.
Multiple companies offer boat tours on Caye Caulker, and it pays off to compare offers to see what they include.
Typically, you will have some drinks and snacks included, but there's also the option of enjoying dinner on the boat.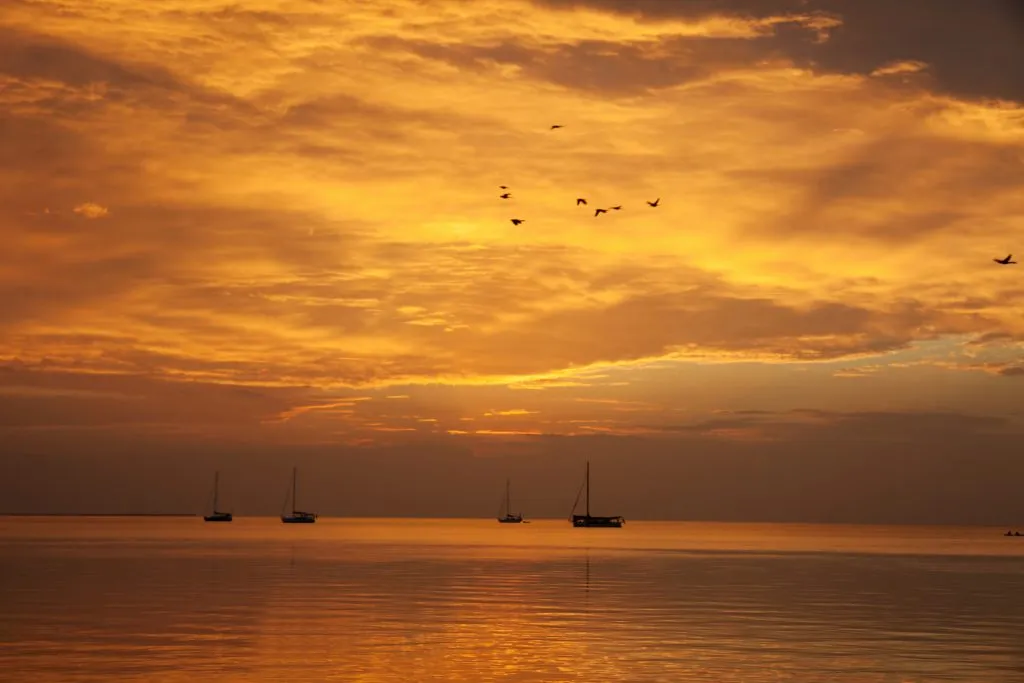 Go scuba diving in Belize.
From Daria of The Discovery Nut
Located near the second largest barrier reef in the world (the Mesoamerican Reef System or the Great Mayan Reef), Belize is a world-class diving destination.
Diving enthusiasts from all over the world flock to Belize to explore its pristine coral reef and dive in the famous Blue Hole, a large marine sinkhole right off the coast of the country.
The best way to access the Blue Hole and the Mesoamerican Barrier Reef is from Ambergris Caye, the largest island in Belize.
Many tour companies in San Pedro, the largest town on Ambergris Caye, sell diving tours to Hol Chan Marine Reserve (which means a small channel in the Mayan language), and if you have never dived before, you can get your diving certification here as well.
There are daily flights to Ambergris Caye from Belize International Airport that take about 20 minutes.
If you are traveling on a budget, you can also catch a taxi to the boat terminal and take a boat from there to San Pedro, the largest city on Ambergris Caye which will take about 40 minutes to 1 hour.
Regardless of how you choose to travel, scuba diving is, hands down, one of the best Belize attractions, and it belongs at the top of your Belize bucket list!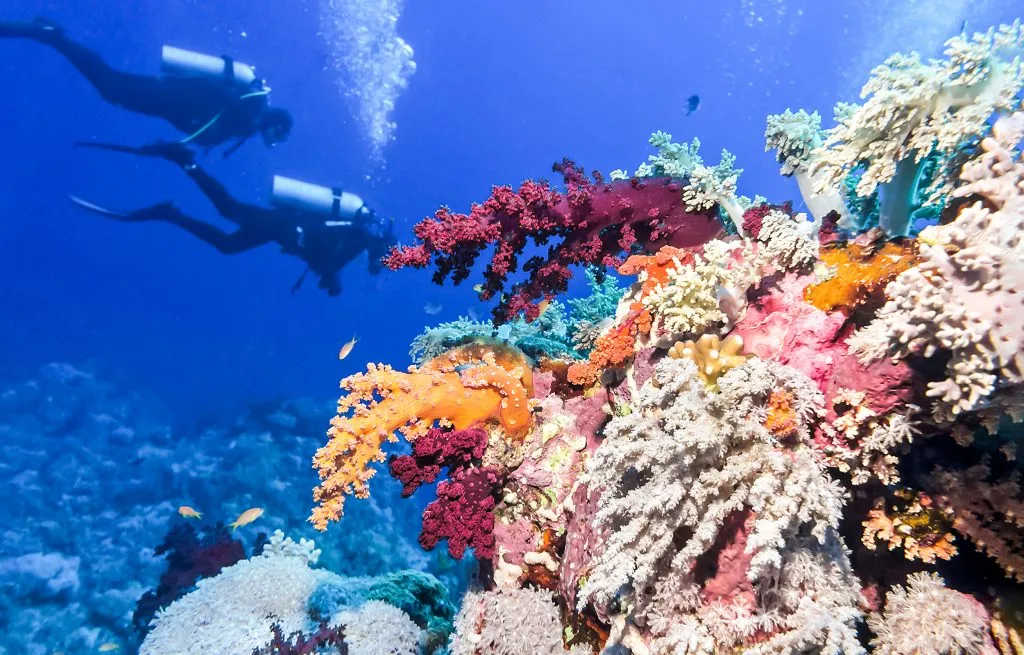 Live the slow life on Caye Caulker.
From Erika of Erika's Travelventures
If relaxing and unwinding is high on your list of things to do in Belize, Caye Caulker is the perfect place to spend time.
The island's unofficial slogans are literally "Go Slow", and "No shirt, no shoes… no problem."
Caye Caulker's eastern coastline is the best place to grab a hammock or a picnic table to enjoy the sunny weather and the sounds of the ocean.
A number of local restaurants and cafes here can serve you fresh ground coffee, detoxifying fruit drinks, or refreshing Belikin beer (the beer of Belize) with local delicacies like lobster or fried plantains. Whatever you need to feel the most relaxed!
To cool off from the sun, there's a nearby tiki bar where you have a drink in the shade, or jump right into the clear blue waters.
Spend the entire day here like many travelers do, stay for a brilliant sunset, and recharge your batteries in Belize.
Swim with stingrays and (nurse) sharks at Shark Ray Alley.
While your days away on Ambergris Caye.
Ambergris Caye is most widely known for its reef, which is the second-largest in the world.
Staying on Ambergris Caye has a relaxed feel with a slow relaxed pace.
Choose accommodations at a beachfront resort in order to spend the most time possible relaxing at the beautiful white sand beaches or swimming in the aqua blue ocean. Don't miss the beautiful sunrises and sunsets!
Walking around the town of San Pedro to visit the shops and restaurants is another fun thing to do.
If you are staying at a place that has a barbeque, you can hire a personal chef to cook locally caught lobster for you.
Ambergris Caye is an incredibly relaxing place, and relaxing is definitely one of the top things to do in Belize!
Take a day trip to Laughing Bird Caye National Park.
Spend a night (or more) on a private island.
Adventurous Attractions in Belize
Go caving with the dead at Belize's ATM Cave.
Without a doubt, one of the best things to do in Belize is touring the ATM Cave.
This is the #1 reason that many travelers visit San Ignacio (us included), and this adventurous Belize attraction is not to be missed.
Actun Tunichil Muknal (ATM) is a sacred Mayan historical site, and the name translates to "Cave of the Stone Sepulcher."
The Mayans believe caves to be the opening to the underworld, and remains of offerings as simple as corn in clay pots and as brutal as the full skeleton of a human sacrifice victim can be seen right where they were left long ago–give or take a little water movement.
This is a wet cave and essentially has two major draws in one tour: first, the Mayan history and relics, and second, the adventure portion.
The natural formations are stunning, and the obstacles–from climbing a roughly 15 ft. rock to reach a new room to squeezing into a tunnel so tight that rock touches your neck on both sides at the entrance–make this the perfect place to get adrenaline racing.
Be prepared to get wet, get a workout in, see some unforgettable sites… and to not get any photos of it.
Absolutely no cameras are allowed in the ATM Cave, so come prepared to keep only memories.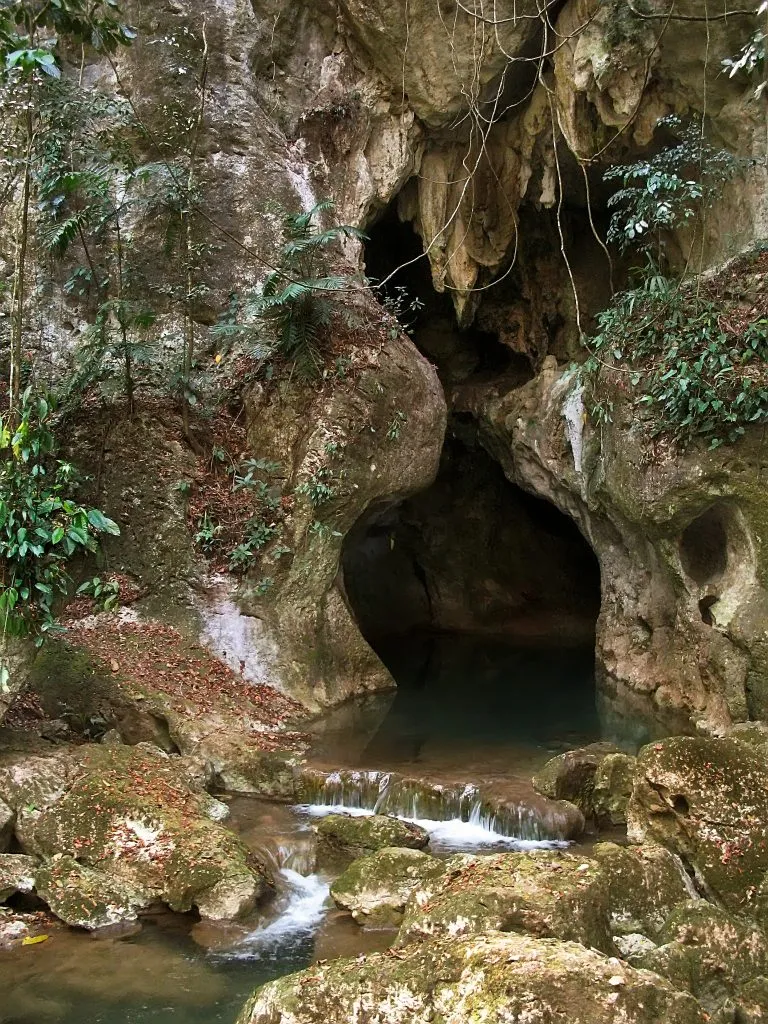 Try cave tubing.
From Kylie of Between England and Iowa
Cave tubing in Belize is a unique way to experience Belize and a great way to enjoy the natural landscape.
Tours typically start with a short hike, maybe 25 minutes or so, through the rainforest with all of the gear for the float.
Tubes, helmets, head torches, and life vests are provided.
During the walk there are lots of different flora and fauna, there's even a monkey troupe that calls the area home.
The river float lasts for around 1 hour 30, the tubes are all tied together in a train formation while floating through the caves.
The caves are significant in the Mayan faith.
The guide will point out various rock formations that represent animals and figures in the Mayan stories and myths.
Cave tubing can be combined with other activities such as zip-lining, ATV riding, or a visit to 'Altun Ha' Mayan ruins.
For something a bit more strenuous, you could opt for booking a kayaking tour of the caves rather than a float.
Book your cave tubing excursion in Belize today!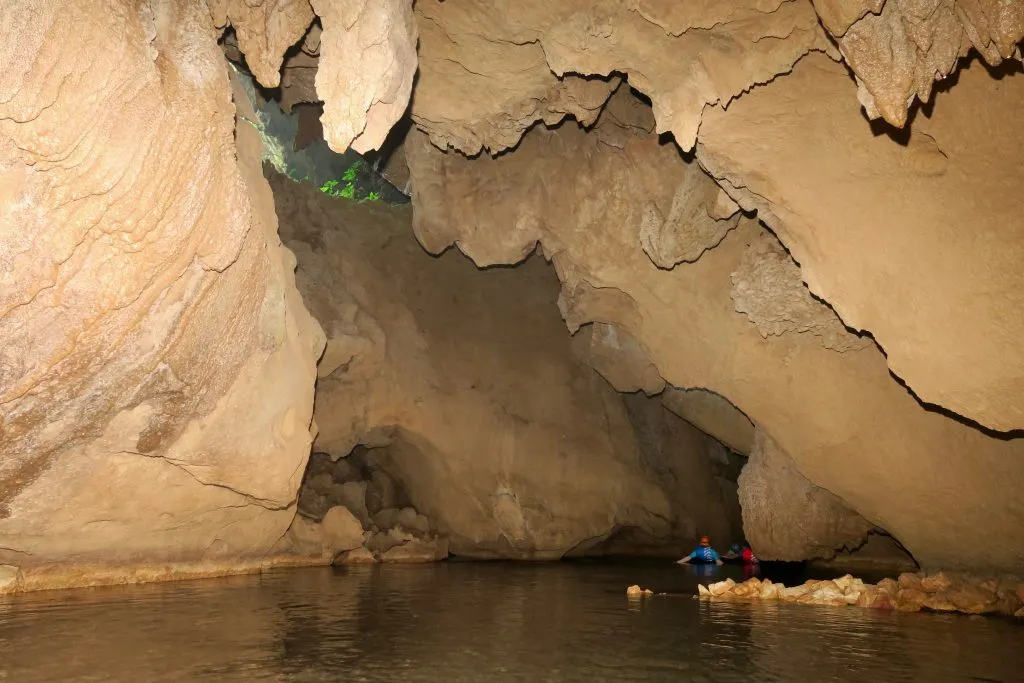 Visit the other Blue Hole of Belize.
From Kat of World Wide Honeymoon
You likely already know all about the famous Great Blue Hole in the middle of the Caribbean Sea.
It is well-known for diving, boating, and snorkeling.
However, did you know that there is a blue hole in the middle of Belize too?
Essentially, Belize's inland blue hole is a cenote.
So if you're familiar with cenotes in the Yucatan Peninsula, then that is exactly what you'll find here at St. Herman's Blue Hole National Park.
It is a sinkhole made from limestone collapsing and exposing the groundwater underneath.
Many people today love to visit them as they tend to result in an incredible swimming hole in the jungle!
Located near Belmopan, the capital of Belize, this national park has two caves (perfect for cave tubing!) as well as this big blue hole.
You can go for a swim and cool off in this relaxing blue hole as you admire the bright hue of the water.
It is a perfect addition to any Belize itinerary!
So whether you want to swim, float, go spelunking, or take photos for the 'gram, St. Herman's Blue Hole National Park is an unmissable attraction in Belize!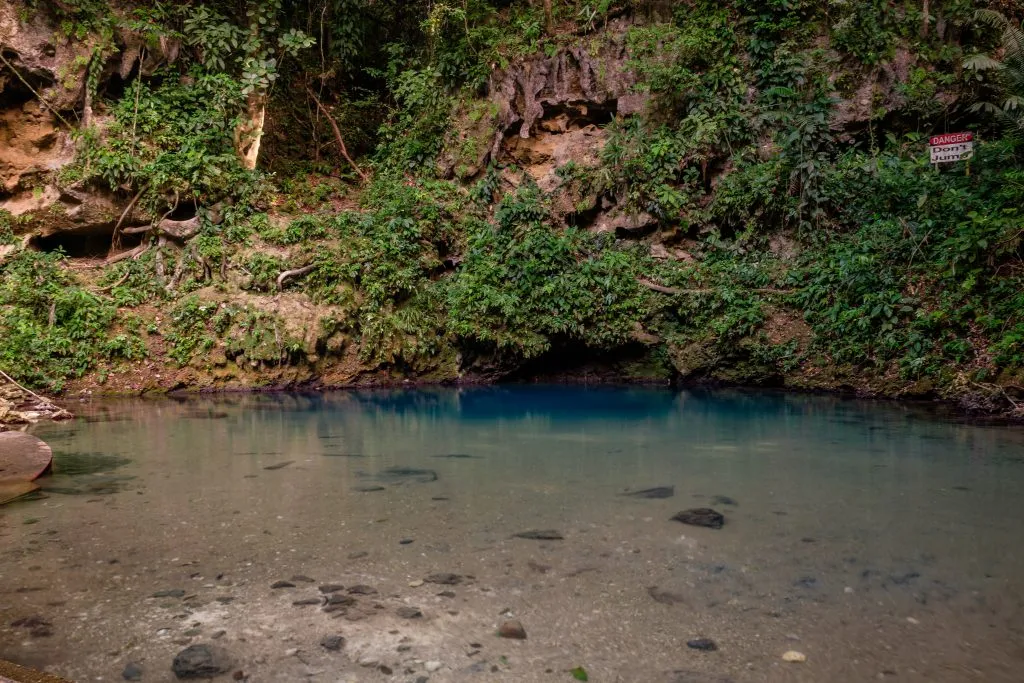 Step inside the Rio Frio Cave.
From Melissa of Parenthood and Passports
Rio Frio Cave, located in the Mountain Pine Ridge Forest Reserve in western Belize, is one of the most easily accessible cave systems in the small Central American country.
One of the only dry caves in Belize, a visit to Rio Frio Cave does not involve swimming or wading through water or any strenuous hiking.
This makes Rio Frio one of the best attractions in Belize to visit with kids.
The approach walking up to the cave is nothing short of jaw dropping.
The mouth of the cave is a 65-foot limestone arch that greets guests just a short walk from the parking lot.
Like many caves in Belize, Rio Frio is believed to have been a sacred burial site for the ancient Maya.
And while it isn't as well known as many of the other Mayan ruins in Belize, archaeologists have discovered Mayan relics in the cave, which confirm the cave's historic purpose.
You can follow the shallow river all the way through the quarter mile cave, or wander near the entrance and gaze at the stalactites and stalagmites that have formed over the centuries.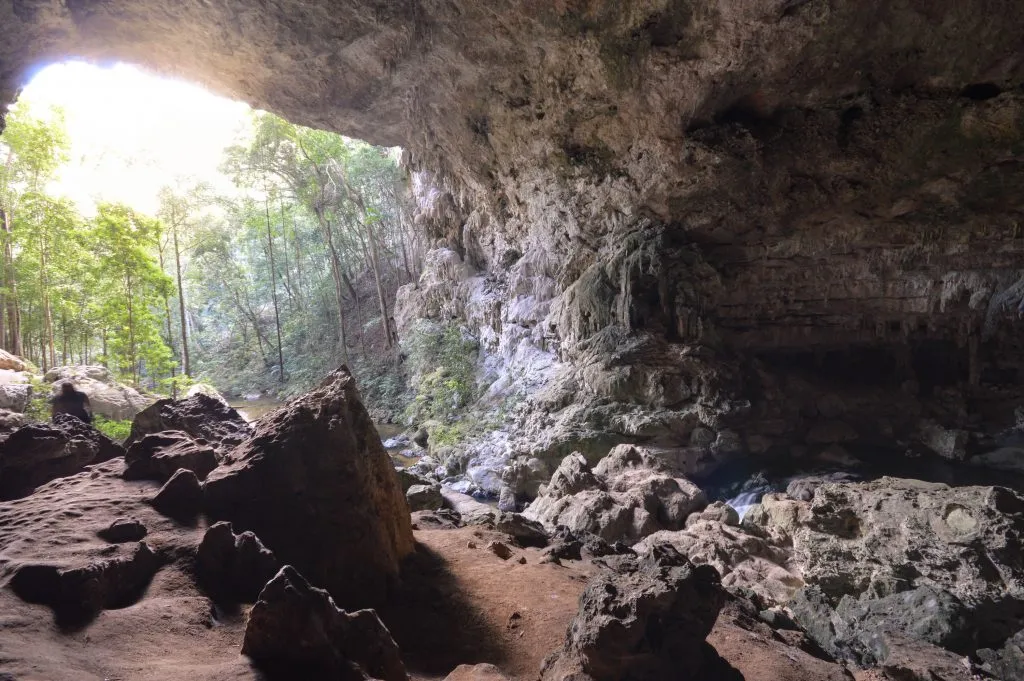 Historical + Cultural Belize Bucket List Experiences
Explore the Mayan city of Caracol.
From Daniel of Layer Culture
The prehistoric Mayan city of Caracol is both the biggest and one of the most well-preserved ancient Maya cities in Belize.
For any traveler looking for a magical experience that will take them away from the sandy shores to a remote archaeological site, visiting Caracol is one of the top things to do in Belize.
Located within the Chiquibul Forest Reserve just 40km from San Ignacio the hieroglyphic inscriptions that can be found amongst the gigantic pyramids tell a story of an ancient civilization from which 180,000 people once lived.
Jungle vacation packages can be found as well as 2-3 day hiking trips that give visitors a full expedition tour.
When considering personal safety in Belize with visiting Caracol in mind, be well prepared and have the right gear to be able to withstand the dense Jungle climate.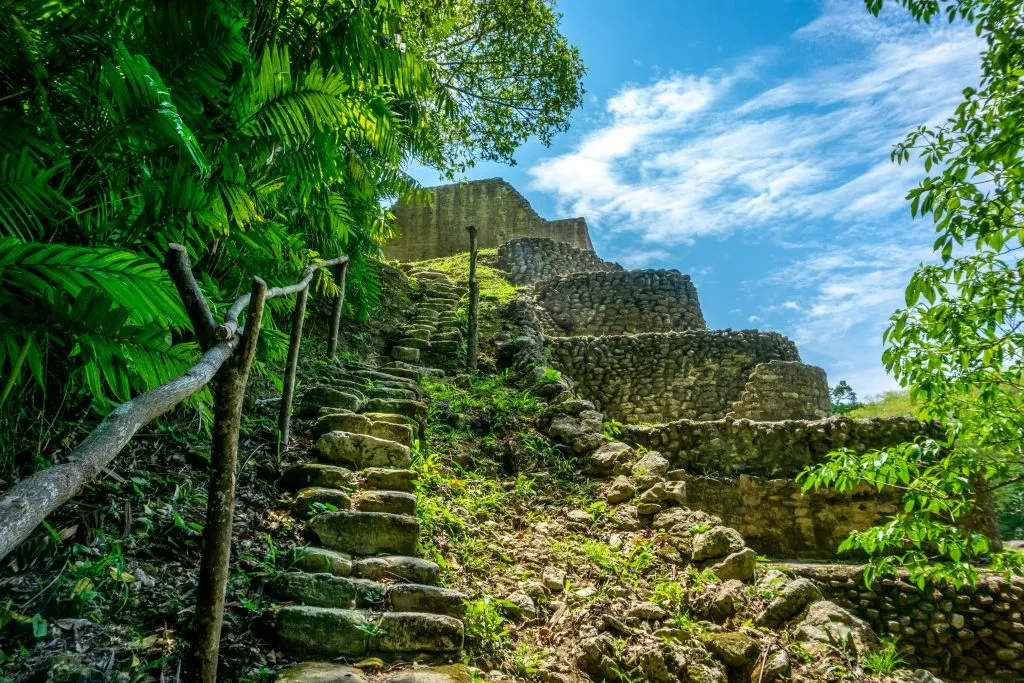 Attend the Placencia Lobsterfest.
From Tanya of Can Travel Will Travel
Belize is famous for its festivals, of which there are many throughout the year.
One of the most popular is the three-day Lobsterfest, held annually to mark the start of the Lobster season.
It's held on different weekends in different cities to avoid clashes, but the best (at least according to the locals), is in Placencia.
Tourists and Belizeans arrive from all over the country to devour mountains of lobster dishes made every which way, including grilled lobster, lobster ceviche, lobster thermidor and lobster kebabs.
People are also encouraged to help the environment by dining on lionfish dishes, in an attempt to reduce numbers of the invasive species.
Visitors come to Lobsterfest for the food, but stay for the entertainment and fun.
There's all day and night long beach parties with live music, well stocked bars, games, contests and competitions, and arts and crafts.
Placencia Lobsterfest is definitely an experience to include in your itinerary if you're in Belize in June, there are also plenty of other exciting things to do in Placencia to keep you busy for a while.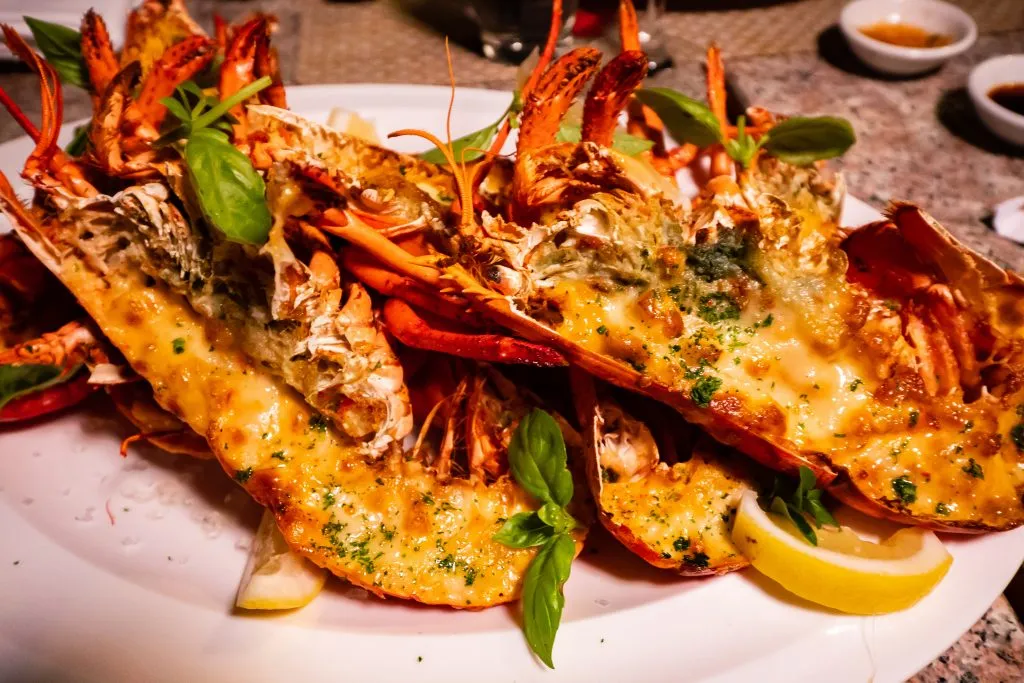 Climb to the top of a Mayan temple at Xunantunich.
From Sean of Living Out Lau
One of the most impressive Maya archaeological sites to visit in Belize is Xunantunich, or "Maiden of the Rock" in the Maya language.
From the archaeological findings, it is believed the Xunantunich was a civic ceremonial center.
Perched over a hilltop overlooking the Mopan River, Xunantunich has a total of 25 temples and palaces, and excavation is still happening today.
Out of all the temples in Xunantunich, there is one that you must visit: El Castillo.
Translating to "The Castle" in English, El Castillo is the second-tallest structure in Belize at around 40 meters (130 feet) tall.
Unlike many of the Mayan ruins, it is possible to go up the El Castillo, where you will find sweeping views of the nearby valley.
Visiting Xunantunich is one of the things you must do in San Ignacio!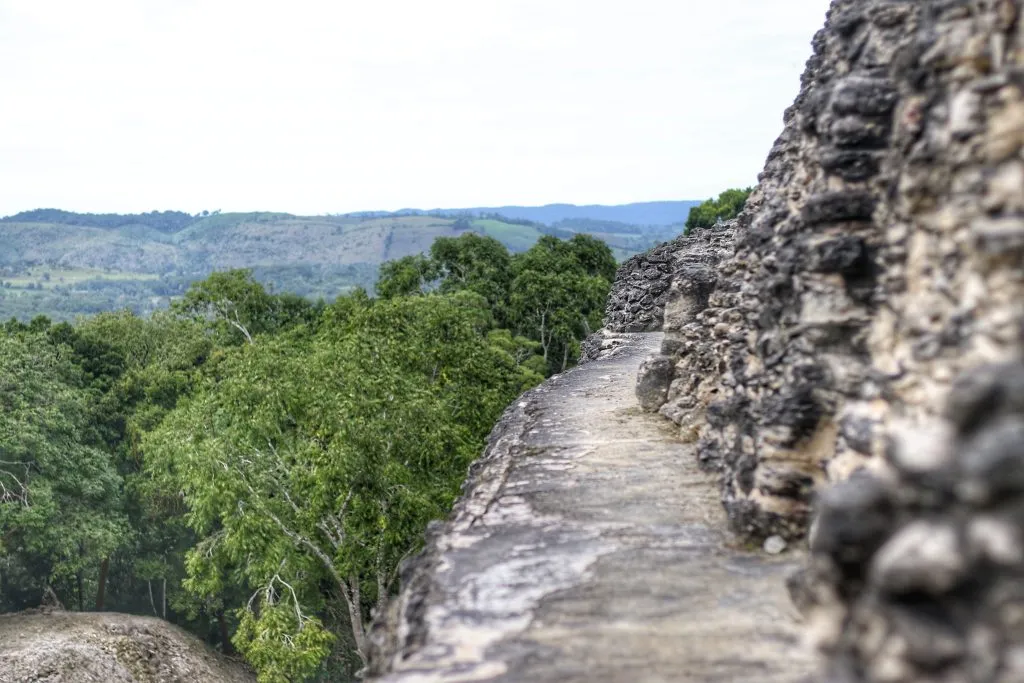 Explore the Cahal Pech Ruins.
Located within walking distance of San Ignacio, Cahal Pech is one of the easiest Mayan ruin sites in Belize to visit for those already planning a trip nearby (though, admittedly, the walk to Cahal Pech from San Ignacio is uphill).
This beautiful, shaded ruin site dates back to 1200 BCE, and at its peak, was home to between 10,000 and 15,000 people.
It's lovely to explore on foot, and the shade throughout much of the complex is very welcome in the heat.
The name itself translates to "Place of Ticks", which is admittedly not the most appealing name in the world–but the city itself, overlooking San Ignacio and Santa Elena, was important to trade routes in its time, and is one of the oldest Mayan cities in Belize.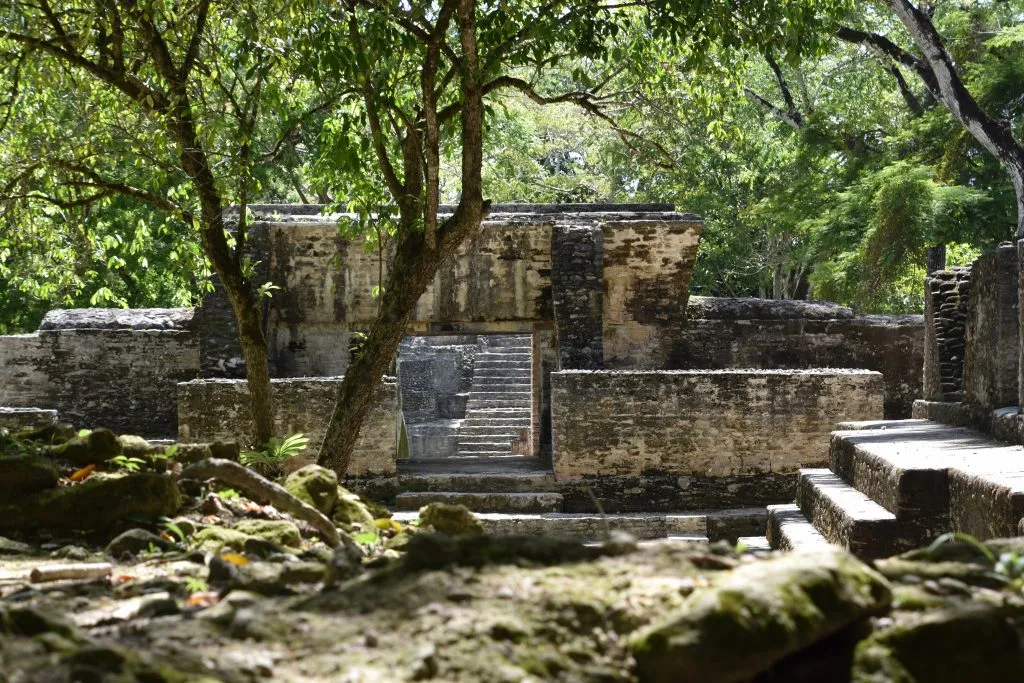 More Fun Things to Do in Belize
Visit the Green Iguana Conservation Project.
At the Iguana Sanctuary in San Ignacio, Belize, you'll have a chance to learn far more about the lizards that you'll no doubt see every day when visiting Belize.
Here, you can hold and feed the iguanas while learning more about the conservation of this fascinating threatened species.
The project is based out of the gorgeous San Ignacio Resort Hotel, which also happens to be a fantastic place to stay while exploring San Ignacio!
Learn about conservation at the Belize Zoo.
From Brodi of Our Offbeat Life
Started in 1983, it is one of the only zoos in the world that is comprised almost entirely of rescued wildlife.
In addition to signs around the zoo giving facts on various species, each animal also gets a sign that describes how it came to live at the Belize Zoo.
While self-guided day tours are how most people enjoy the facility, the zoo also offers a private night tour that must be booked at least 24 hours in advance.
In order to accommodate visitors as much as possible, the Belize Zoo is fully wheelchair accessible.
This is also a bonus for families with small children because it means their strollers also won't have trouble accessing exhibits.
The cost to enter the Belize Zoo is $15 USD for adults and $5 USD for children. Belize citizens and residents are charged $7 BZD for adults and $2 BZD for children. Parking at the zoo is free.
The zoo is open seven days a week from 9 AM to 5 PM, except when it closes at 4 PM on Sundays.
Ride in a chicken bus.
Chicken buses (converted North American school buses) are common across Central America, and Belize is no exception.
For long rides, the buses cannot be considered particularly comfortable, but they are an extremely memorable cultural experience and definitely worth trying it!
Chicken buses between the most popular places to visit in Belize are generally a great place to meet other travelers, and not as hot as expected (open windows make everything better).
We had great experiences with chicken buses across Central America, and Belize was our first place to try them out.
It took a little getting used to, having the money handler on the bus find out where we were going and say things like, "Here, get off at this deserted corner and the right bus will pick you up in 5 minutes"–but they were always right and we didn't have any trouble getting around.