So you've marveled at the landscape, taken a scenic drive, gone for a hike or two… and now it's time to enjoy some of the best Moab restaurants!
Deciding where to eat in Moab, Utah is an excellent problem to have.
This delightfully small (and fairly walkable) town is packed with excellent places to eat–a must for a travel destination bordered by two national parks.
We've enjoyed several trips to this magical corner of Utah, and have sampled many of the best restaurants in Moab along the way.
If you're heading to Moab soon, consider stopping in some of these fantastic Moab cafes and restaurants!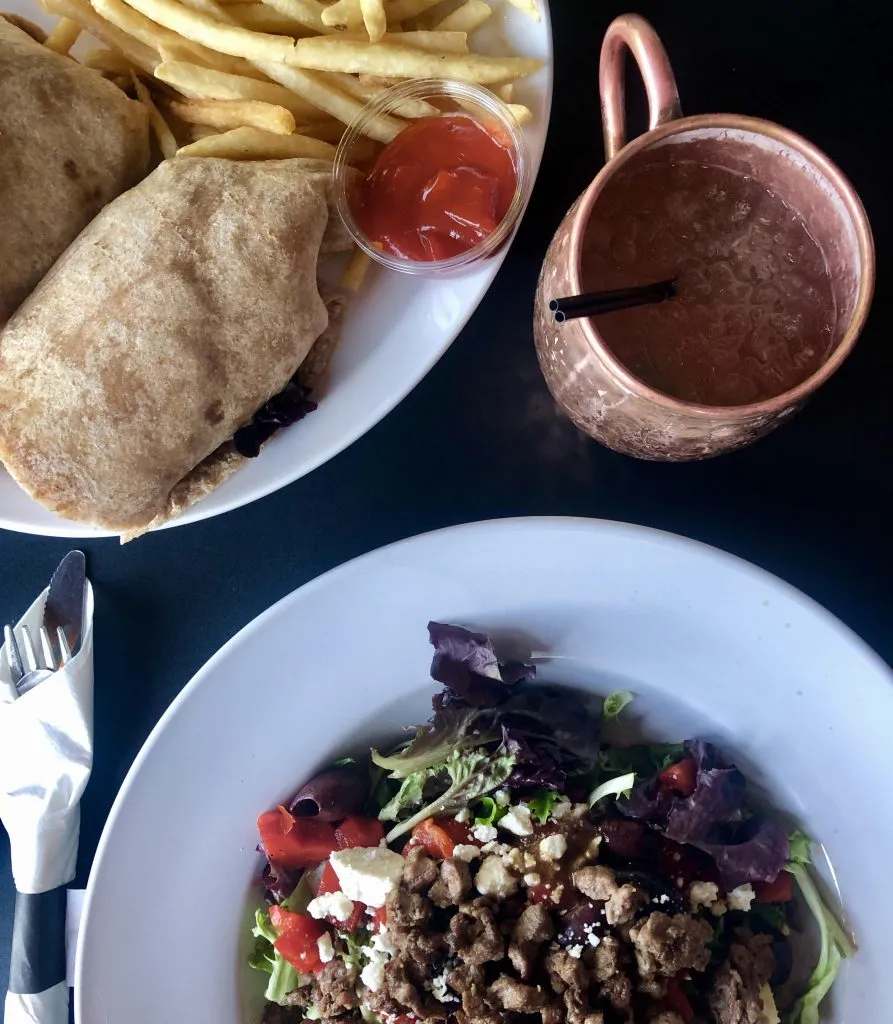 Some links in this post may be affiliate links. If you make a purchase through one of these links, we may earn a small commission at no extra cost to you. Please see our

disclosure policy

for more detail.
We've also linked each restaurant's website or Facebook page below as part of this Moab dining guide.
Be sure to double-check operating hours, especially if you're planning to explore Moab's food scene over the winter!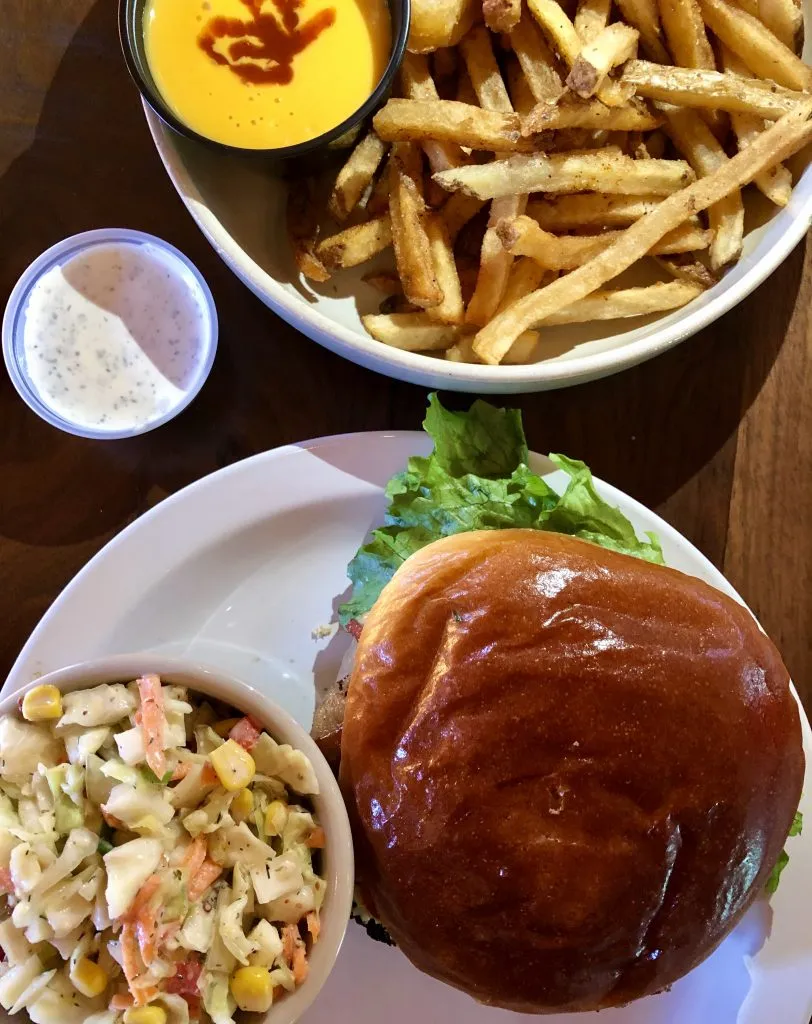 Casual Restaurants in Moab, Utah
The Spoke on Center
Located right in downtown Moab, The Spoke on Center is one of the most popular Moab restaurants for good reason!
Featuring excellent burgers, a fantastic Cobb salad, incredible fries, great ice cream, and spacious outdoor seating on their covered patio, you can't go wrong with a visit here!
Wait times can get long, so consider stopping by at a non-peak time.
Moab Grill
This down-home, rustic restaurant in Moab has an enormous interior with plenty of seating, sports on in the background, and a menu big enough that everyone will find something perfect for them.
… That being said, we highly recommend ordering the Reuben when enjoying a meal at the Moab Grill!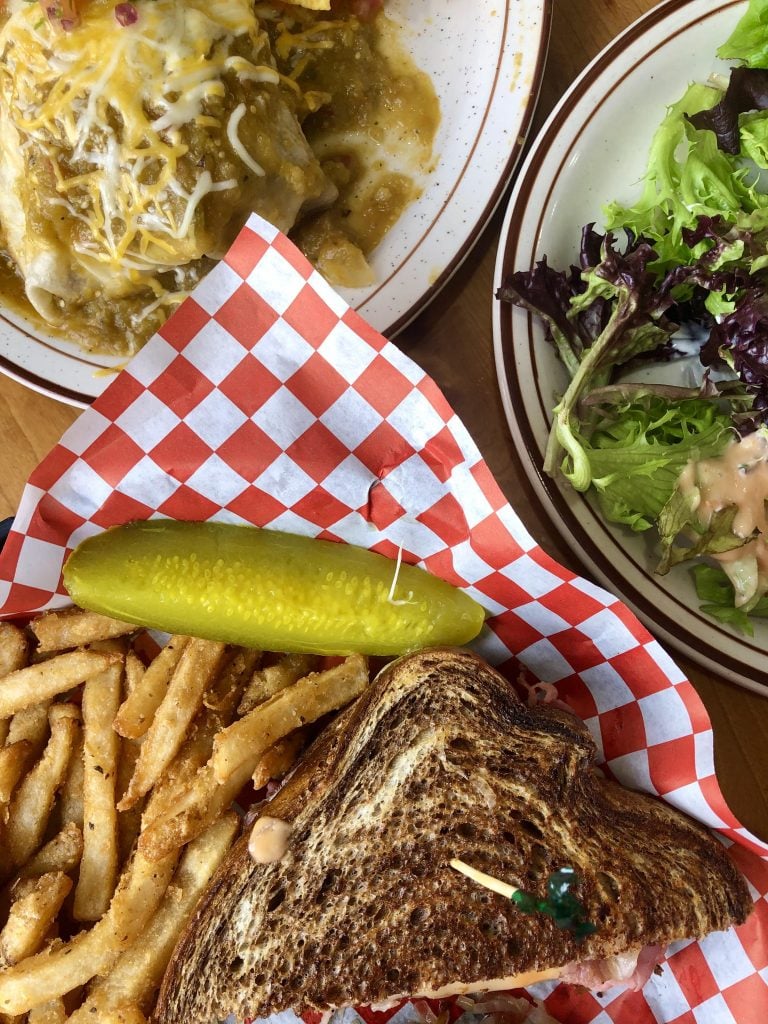 Trailhead Pub
As one of the newest places to eat in Moab, UT, Trailhead has some stiff competition–but it more than lives up to the challenge.
Housed in a historic building downtown, Trailhead serves up an absolutely delicious burger, perfect for devouring after a long hike.
The pub pretzel is also a great snack!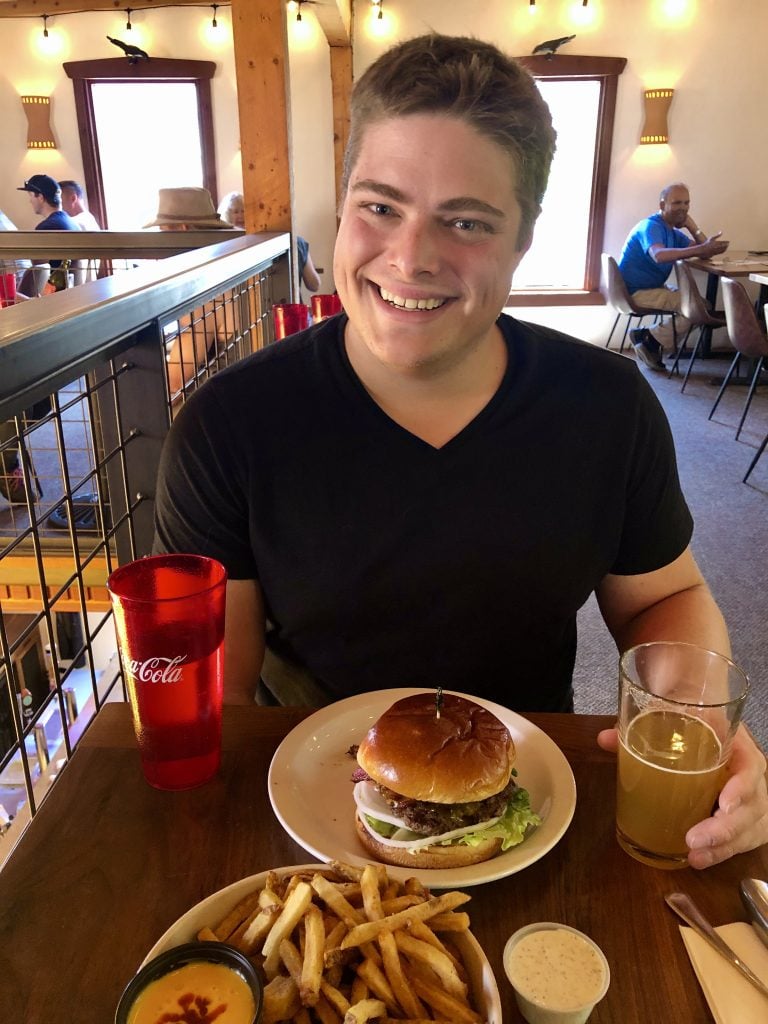 Moab Diner
This classic, All-American diner is as photogenic as it is fun, serving up a 1950s theme and tasty food in Moab.
With all-day breakfast and big portions, the Moab Diner is an excellent place to fuel up before or after a hike.
The Sweetwater Skillets and green chili items are popular–but don't miss the cinnamon rolls, either.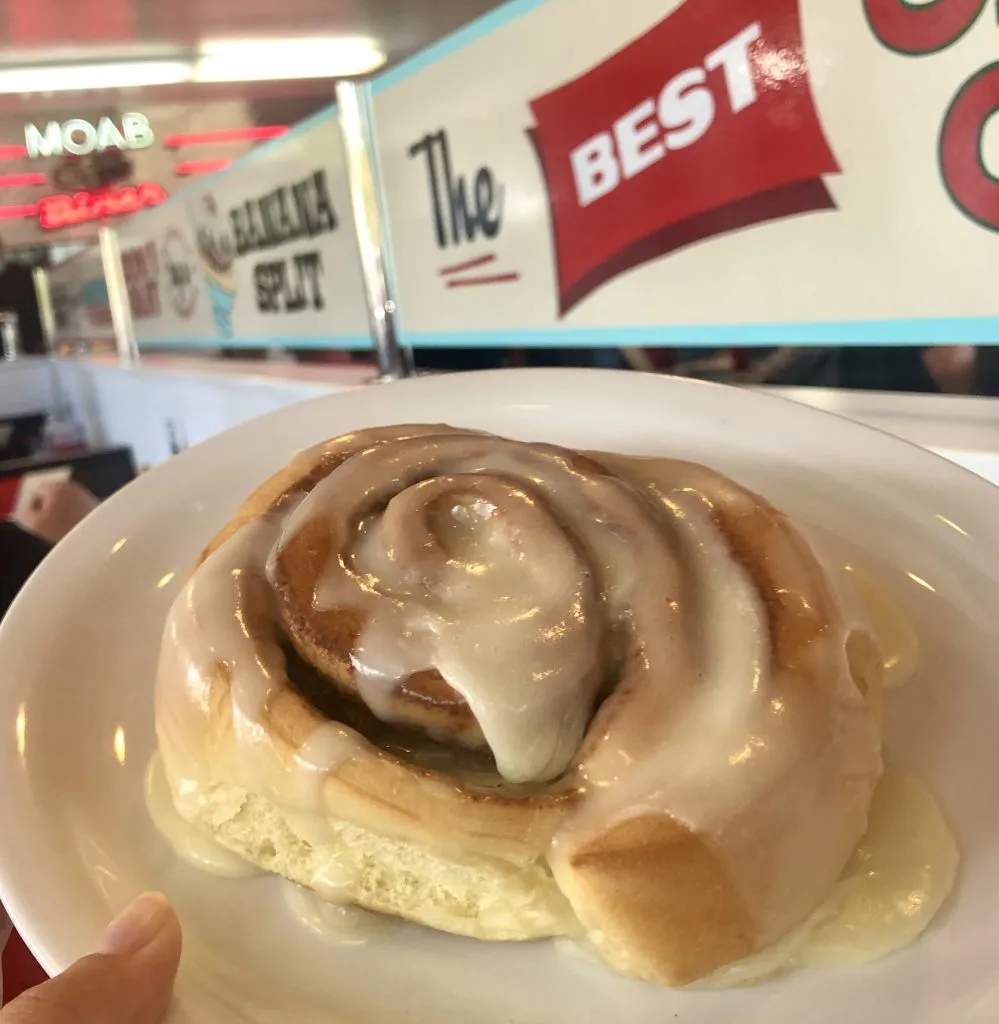 Fiesta Mexicana
Traditional Tex-Mex dishes in a colorful dining room within walking distance of downtown Moab: there's a lot to love about Fiesta Mexicana.
The lunch specials are tasty, filling, and downright affordable–especially by comparatively pricey Moab's standards.
Gloria's Corner Cafe
Though "cafe" is in the name, Gloria's Corner Cafe is more of a full-service restaurant in downtown Moab, with an expansive menu and a gorgeous, shady patio!
I had a solid steak salad there, but the bigger star of the night was the tasty Mexican Mule we ordered.
Open for breakfast, lunch, and dinner, the menu shifts throughout the day (for example, they stop serving breakfast at 2:00).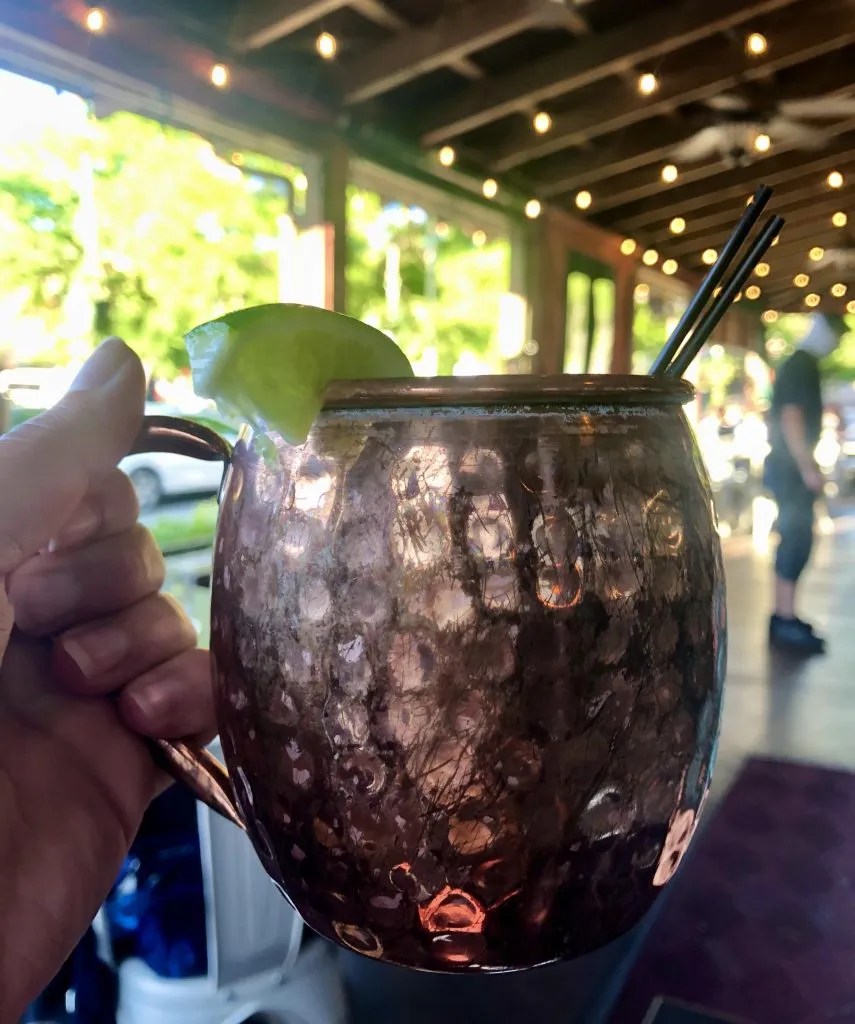 Antica Forma
Looking for excellent pizza in Moab, Utah?
Antica Forma, located right on Main Street, offers fantastic, Neapolitan style, wood-fired pizza perfect for the whole family.
If you want to mix it up, the pastas are a great option as well.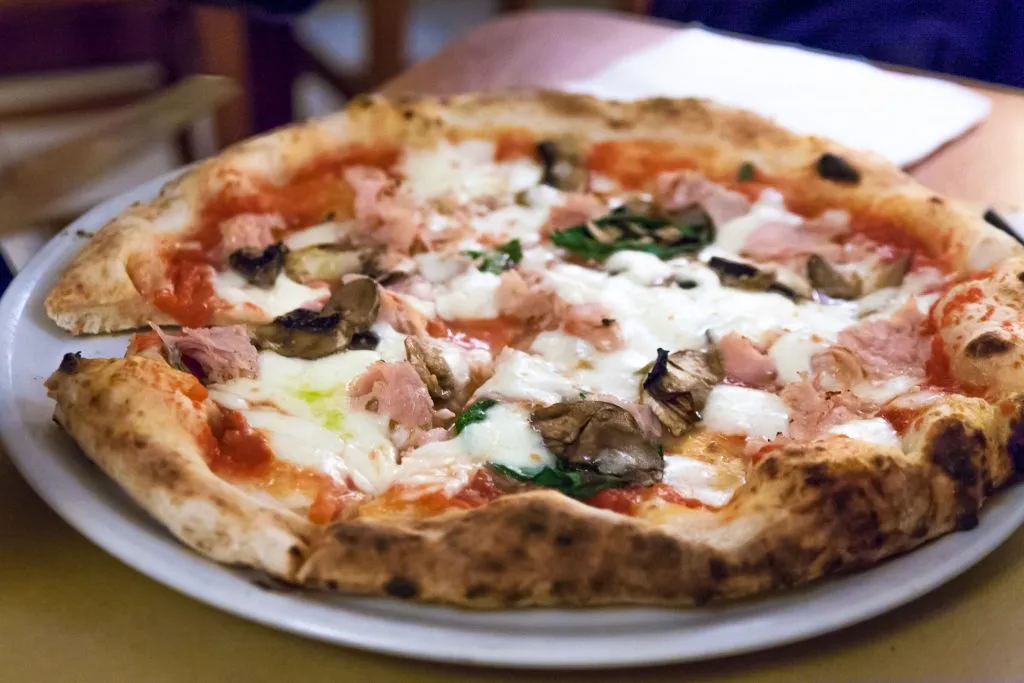 Cafes + Coffee Shops in Moab
Moab Coffee Roasters
Indisputably one of the most popular coffee shops in Moab–and the place where some other local businesses source their beans–Moab Coffee Roasters is a must-sample for coffee lovers in Moab!
In addition to a charming interior, Moab Coffee Roasters has a spacious outdoor patio, perfect for relaxing and enjoying a cup of morning coffee in the sunshine.
(Oh, and for those of you dealing with summer heat during your trip to Moab: they also have gelato!).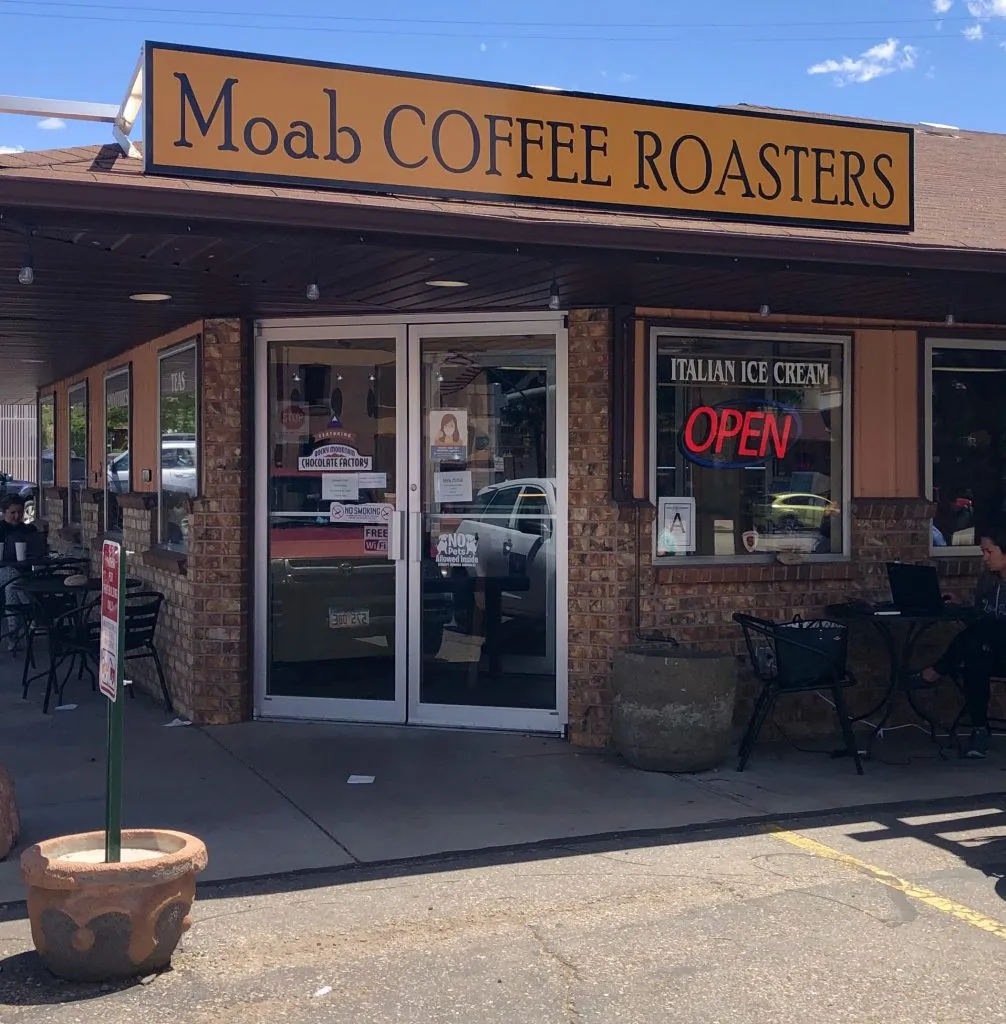 Moab Garage Co.
Great coffee and great food all in one place–there's a reason that Moab Garage Co. is widely considered one of the best coffee shops in Moab!
The food is great (try the Garage Burrito for breakfast), if sometimes a bit over the top (deep-fried PBJ, anyone?).
Moab Garage Co. is also a great place to open your laptop for a while if you're trying to work while traveling.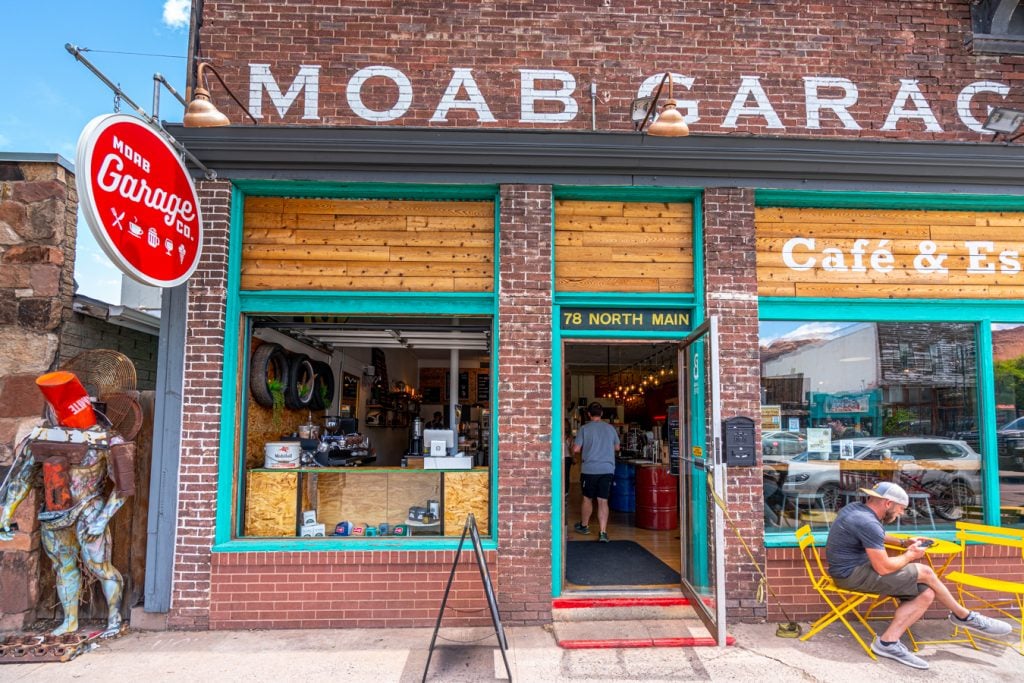 Cafe Italiano
Coffee, smoothies, paninis, omelets, and more, all served out of a darling green food truck in downtown Moab–what's not to love about Cafe Italiano?
On a beautiful day, grabbing a bite to eat or drink at the small tables set up in the sunshine in front of Cafe Italiano is a great way in the morning.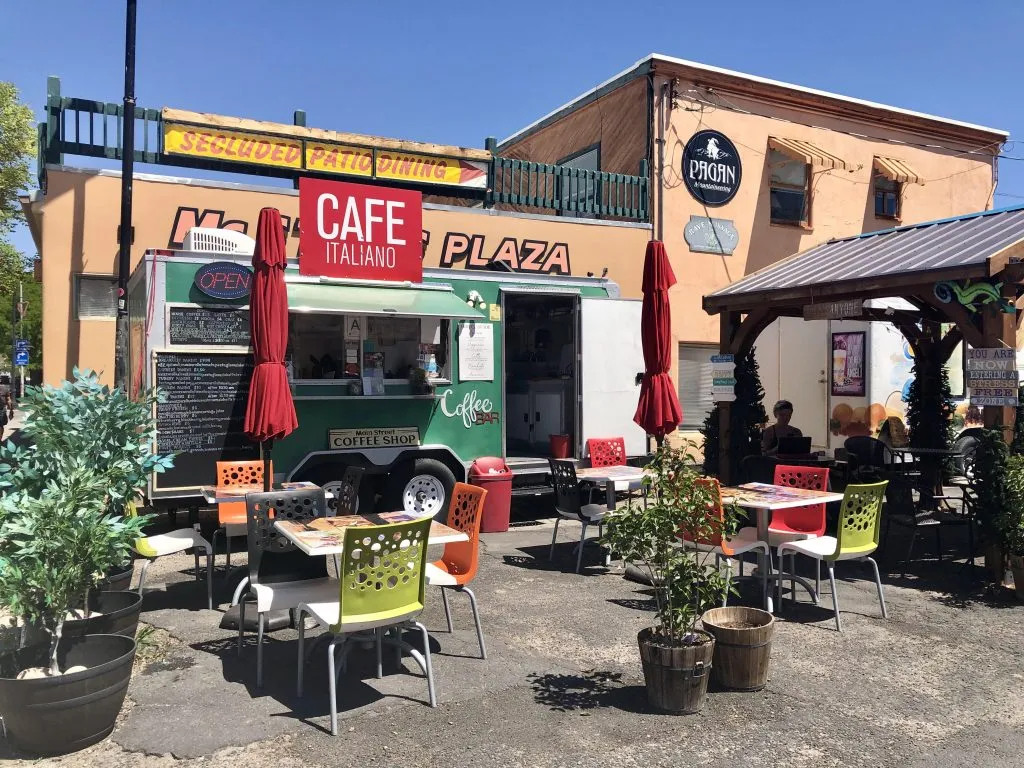 Red Rock Bakery and Deli
Looking for delicious breads and other baked goods?
Head to the Red Rock Bakery and Deli, home to some of the best breakfast sandwiches in town!
If you want to pack a picnic lunch on homemade bread or bagels–or even just pick up a sweet treat to celebrate reaching Delicate Arch with–this is also the place for you.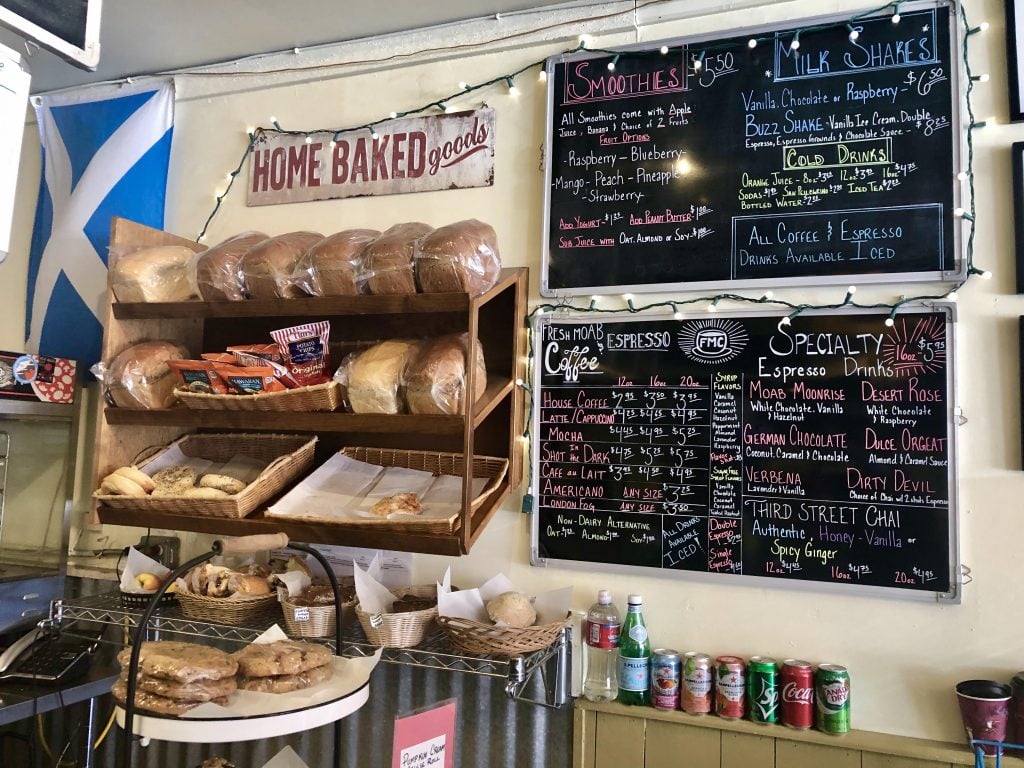 Jailhouse Cafe
This beloved cafe is often considered to serve the best breakfast in Moab–and while there's stiff competition, it's easy to see why Jailhouse Cafe is so beloved!
A celebrated member of the Moab restaurant scene for almost 30 years, Jailhouse Cafe serves up breakfast classics (heavy emphasis on their delicious eggs benedicts) in downtown Moab.
Open from 7:00 AM to 12:00 PM only, be sure to show up early to avoid a wait!
(Also note that Jailhouse Cafe closes over the winter).
More Places to Eat in Moab
Sunset Grill
Looking for a special occasion restaurant with great food in Moab, Utah?
Make a reservation at Sunset Grill!
Boasting an environment that allows "every table a view", Sunset Grill is a long-standing, classic steak-and-seafood joint with arguably the best dinner views in town.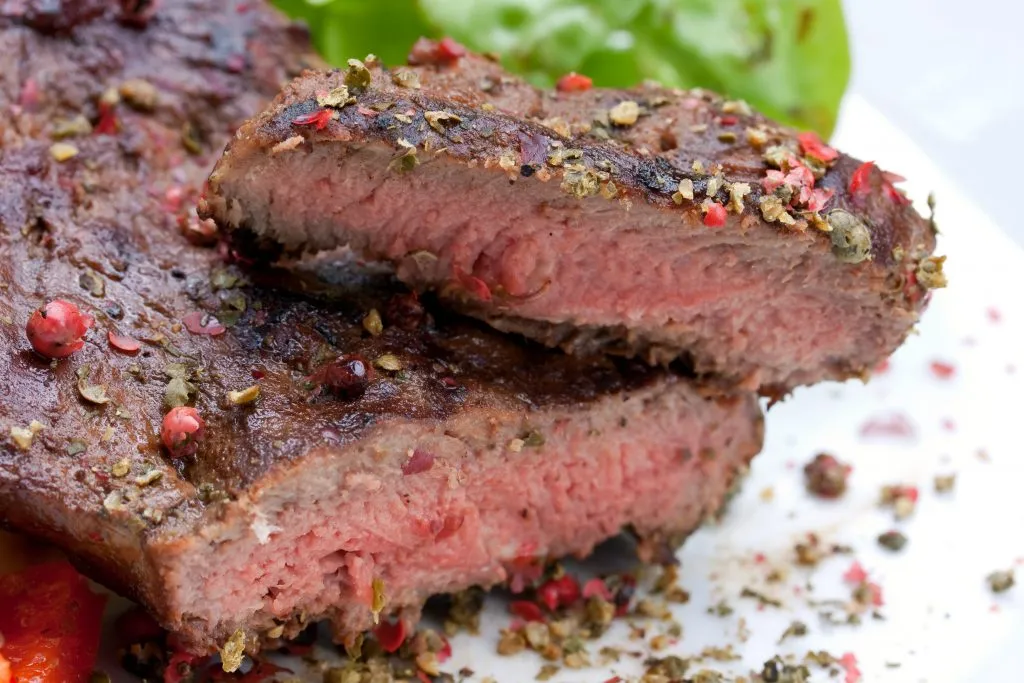 The Blu Pig
Located a bit outside the center of town, The Blu Pig is known for its hearty portions of barbecue.
If you're looking for somewhere to settle in for a giant dinner after a long day spent exploring, this is the place for you!
In addition to excellent barbecue and other favorites like wings, The Blu Pig is also known for something else entirely.
As the only one of these Moab restaurants to offer live music 7 nights a week, dinner at The Blu Pig is more than just food–it's an experience.